Have you ever dreamt about becoming a superstar? Maybe you wanted to be a famous singer and smile from the stage?
Another popular dream is to be a musician. Which musical instrument would you like to play? Think thoroughly and make a choice.
If you have chosen to start playing the guitar or ukulele, then you need to stop reading and check another article: 7 Best Ukulele learning apps for Android & iOS.
Still, if you are passionate about drums, then you are reading the right thing. It's a good idea to try a simulator app before taking up a new hobby. It will help you to understand if you like it or not.
When a simulator is good, it will make you feel a real musician who's playing in a famous band
Most of the apps are available in App Store and Google Play for free. The only thing you need to do is to download.
REAL DRUM: Electronic Drum Set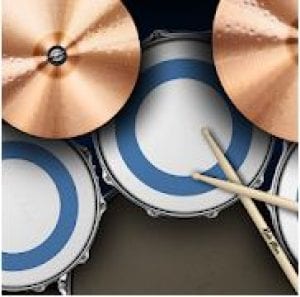 It's high time you started practicing your musical skills! REAL DRUM is the best app for taking up this hobby. Why? Well, there are at least three reasons that will make you fall in love with the application.
Firstly, the app is a realistic simulator that is hardly different from real life. You will be surprised with a perfect animation.
Secondly, you will discover a wide range of functions and most of them are free of charge: 60 various rhythms, professionally recorded sounds, 33 cool loops right there, in the app; new sets of personalized kits that are constantly being added, and other great stuff.
Thirdly, you will find a good learning space in REAL DRUM. There are more than 60 video tutorials available for you. Of course, you don't need to pay for it – it is absolutely free.
The app supports multitouch, which makes it even more realistic.
This application is constantly being updated – you will find a new feature or a handy tutorial every day. Every week you will get a new drums kit with its own unique features.
So don't wait – you can become a drummer today.
REAL DRUM is available in App Store, as well as in Google Play. The download is free.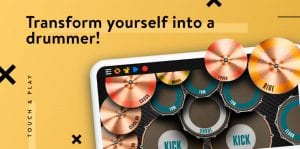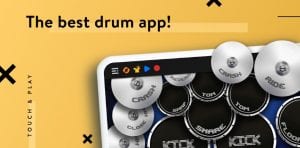 You may also like: 9 Best harmonica learning apps for Android & iOS
Drums – real drum set games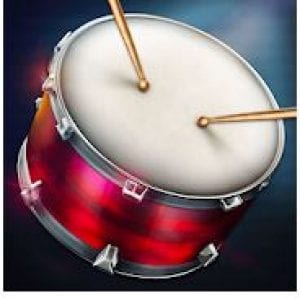 If you are looking for taking up a new musical hobby then you need to check this application. This app is perfect for those who do not really like traditional ways of learning, such as taking classes or watching video lessons on YouTube.
For sure, there are lessons in this application, but it is not the key feature. Drums are more about playing a game than taking lessons. Once you have learned something, you need to master the skill. You can do it through hard work and practice.
Still, there is another way – competition. Set new records and beat them. Use this option as a motivator to become a better drummer.
There is a cool mode called 'free', which means you don't have to follow any instructions, just play the way you want. No limitations will be imposed on you in this case.
You can get the app on App Store, as well as on Google Play for free if you are satisfied with a basic version. If you are not, you can always go premium.
Week subscription will cost you 7.99$ and a year will cost 40.99$. If you buy any type of subscription, there will be no ads. All the in-app purchases will be included in your subscription plan.
Still, all this stuff is not necessary for a beginner. You can do without it, just using the basic features of the app.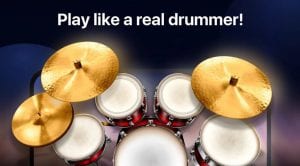 X Drum – 3D & AR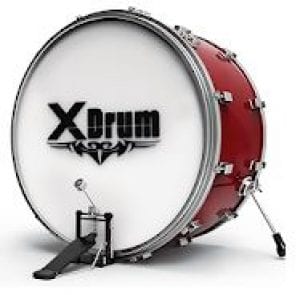 Here comes a great app! This application was created for people who know (at least a bit) how to play the drums. If you have ever tried real drums or maybe you even played in a band, you should like X Drum.
Even though this app can not boast off a top-notch graphics quality. The drums you'll see in the application look quite primitive, a bit cartoon-like.
The range of functions that you will find is impressive. Here are only a few of them:
Cool and easy-to-understand loops that are free of charge.
Special octave control that will help you change the melody for the best.
A huge drum kit that is being updated all the time.
Sample songs to start with.
The electronic beat sounds that will enrich your music.
Recording options: save your beautiful melodies and use them again.
Once you have downloaded the app, you will be able to use most of the functions. Still, we need to tell you about the subscription.
You can use the app with all of its functions for 7 days. Then you will have to choose the type of subscription if the app appeals to you.
The most popular option is to pay monthly. It will cost you 2.99$. When you choose the subscription, you get full access to all the services, such as unique song loops, premium functions, and beat samples. There will be no ads as well.
To make a purchase, use your iTunes or Google Play account.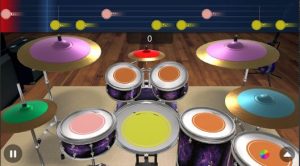 Simple Drums Rock – Realistic Drum Simulator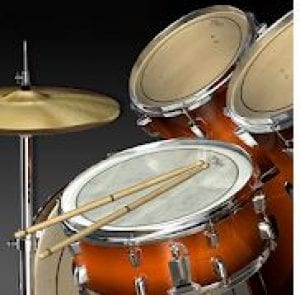 This is one of the most realistic music simulators in Google Play. It contains a wide variety of functions: there are 6 drum kits with a top-notch sound. Combine them to get the best beat for a song.
Another cool feature is a quick time of response. The moment you touch the screen is the moment you hear the sound. There won't be any delay that can make a mess out of a melody.
Every drum kit has its own volume settings, so if you need different kit volumes for a clear melody,  it's not a problem.
By the way, if you like learning how to make music and you have some composing skills, check 12 Best Daw Apps (for music PROs) for Android & iOS.
The app supports multi-touch, which makes it so realistic. Don't forget to record yourself while playing so that you don't lose a cool beat.
What is more, Simple Drum Rock can boast off cool graphic effects and perfect animation. It will make the process of playing even more comfortable and exciting.
If you try drums simulator for the first time, you need to start with this one. It will be easy thanks to the app's simple and friendly interface.
The application is free of charge. It contains a bit of ads, which does not distract from playing.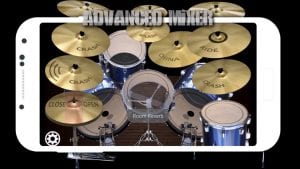 Drum Simulator 3D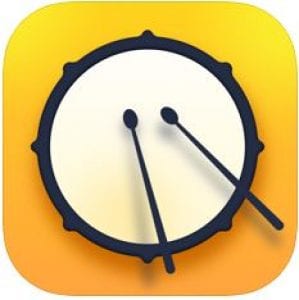 This application is top-notch, epic, and very realistic! You can choose between a few different drum kits or combine them all.
Drum Simulator is a good option for those who want to practice playing the exact melody. If you have a beat of your favorite song and you would like to play it yourself, here you go.
There is a thrilling challenge game mode that can teach you to play fast and make no mistakes even being in a hurry. This a cool skill for a beginner, make sure you practice it. What is more, it is possible to create records and compete with other players.
There are also special sound packs that you can use in your melody. They were professionally recorded so the quality of sound is perfect.
You will also discover the option of recording your beats. Don't ignore it to save the best ideas.
Even though this application is cool in general, it has a pretty serious disadvantage – the time of download is painfully slow. You will have to wait a few minutes, even if your Internet connection is 100% great.
Still, if it's not a huge problem, you will like Drum Simulator 3D, as it combines various types of modes: learning, playing, and competition.
Drum Simulator 3D is available for iOS users only.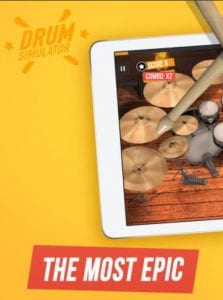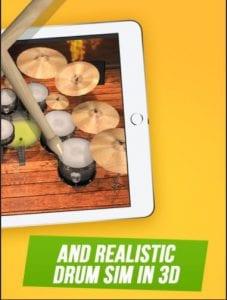 Simple Drums Deluxe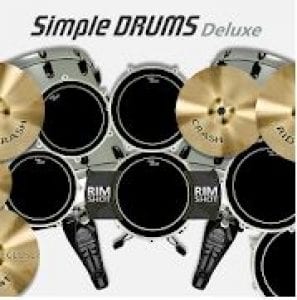 This is another drums simulator that will make you love playing music and make the beats. This application is a lot more complicated than most of the other apps from the list.
So if it's your first drums simulator, it can be a bit difficult to enjoy all the functions. Maybe it would be better to start with another one.
If you are an experienced user, then Simple Drums Deluxe can become your favorite application. There are 8 drum kits, each of them has its own sound.
Some of the best features of this application are:
High-quality percussion sound. The beats you will create are going to sound great and professional.
More than 40 loops are already on the app.
Top-notch volume Mixer. Use it if you want to create something unique or just play your favorite song.
Perfectly advanced animation. You will feel like a real musician as if you are playing the real drums.
Multi-touch support.
Super quick response time!
The app usually works without any bugs, which makes it so reliable. It is rated 4.2 out of 5 in Google Play.
Simple Drums Deluxe contains ads and in-app purchases. Still, all the basic features are free of charge.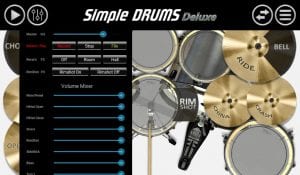 Drum Set Pro HD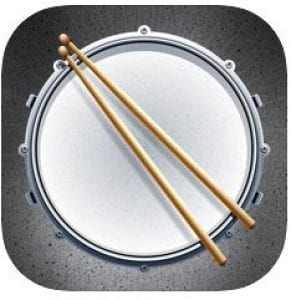 It's time to check the pro-level apps! Here is one of them. It contains all the advanced functions you might need: various sets(electro, industrial, hip-hop, and many others), music recording, song loops.
This app will work perfectly on tablet or smartphone. It supports multi-touch and has a quick response time, so your sounds will come with no delay.
Another cool thing is the graphics. In this app, you will enjoy the life-like atmosphere, where you will find yourself a cool drummer playing real drums and creating beats.
The sound in this app will be better than in the other applications in this list because it was created for professional users.
Drum Set PRO contains a great variety of ads. If you find them distracting (that you probably do), you can buy a 'no ads' option. It will cost you 0.99$.
The only disadvantage is that the app is available for iOS users only.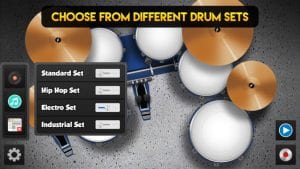 DrumKnee Drums 3D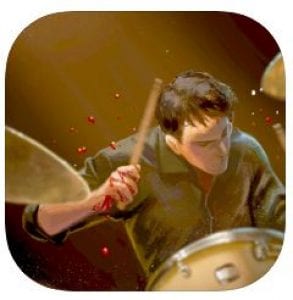 This is a highly realistic app that will make you a cool drummer. You can play in a hard mode, like a drummer from your favorite band – via using not only your hands but also your knee.
How to do it with your smartphone? Well, that's simple, just place it on your knee and here you go. Follow the beat and keep the rhythm.
The app can boast off a great lifelike graphics that will make your game even better, adding good images to good sounds.
The drums and percussion sounds were recorded in a professional studio, so you will get the same effect when you move your knee, kicking the phone.
You can customize drums according to your tastes and preferences. For doing this, go to settings.
The only downside of the app is that only iOS users can enjoy this thrilling drums simulator game. The application is free with ads.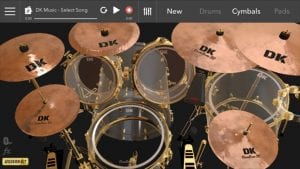 You can also check: 11 Best music composer apps for Android & iOS