I'm pretty sure that at least once in your life you needed help with one of the school or university subjects. And there is nothing shameful about tutoring! In fact, it's cool that you want to ask for help to understand the subject better.
And in the following article, you will find free tutoring apps that will help you to find tutors and tutorials as quickly as possible!
And before you start, don't forget to check the best exam preparation apps for students so you could rock it on the next exam session!
Varsity Tutors Live Tutoring
According to the developers, Varsity Tutors Live Tutoring was created to give students on-demand access to individualized, one-on-one tutoring in a range of academic areas. This is definitely the leader of the niche since it's relieved so much appraisal from students all across the country.
But is this app is that good as it promises to be? Let's find out!
Main features:
You can communicate with professional tutors in real-time via screen sharing, live video chat, and interactive whiteboards
Students can schedule and attend lessons using the app's flexible scheduling options at any time
You can track your progress, store and review previous lessons, and get personalized lesson plans based on your personal needs
Varsity Tutors has teachers that are experts in a variety of subject areas, including math, science, language arts, and social studies.
All tutors go through a thorough screening procedure that includes background checks and subject area evaluations. Moreover, tutors are prepared to assist kids of all ages and skill levels, from kindergarteners to recent college grads.
It provides a range of scheduling choices that can be tailored to the requirements of any student. The convenience of booking and attending classes from the comfort of their homes allows for flexible scheduling for students.
Having tested the app, I can confirm that Varsity Tutors is quite accessible for any type of user. However, I think younger kids would still need some assistance if they want to use it as well. And keep in mind that depending on a subject, the services can vary in price.
Varsity Tutors also offers individualized progress tracking, access to thousands of practice questions and flashcards, and a variety of study aids and test-taking techniques.
In summary, I can confirm this is an effective app with its practical and efficient approach to get individualized, one-on-one teaching in a range of academic disciplines. The search for tutors here is fast enough and their diversity of them makes this app a true leader in the niche.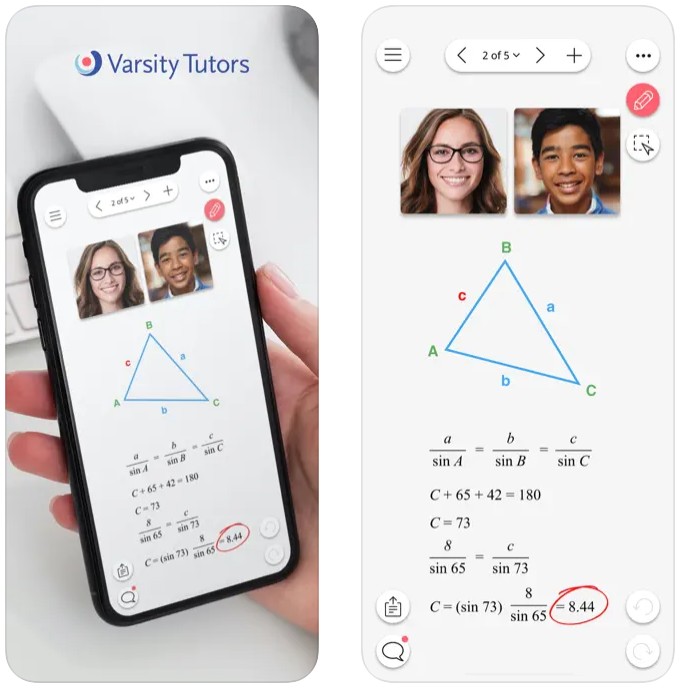 You may also like: 9 Best CISSP Exam Preparation Apps for Android & iOS
Wyzant – Find a tutor
Next to the Varsity Tutors app goes Wyzant which also has the reputation of a reliable service for finding a tutor.
Main features:
Find tutors by subject, location, and availability is one of its key advantages
Students can filter their search results based on their unique needs and preferences
The app provides teachers with typical academic courses as well as exam preparation, music lessons, and other specialty topics
The app claims that tutors on Wyzant have all been thoroughly screened and are vetted professionals. I checked – and can confirm that only competent and reliable tutors are featured on the marketplace as a result.
Here you will find a lot of profiles of tutors that are available for examination by students, and they contain information about their education, professional background, and client feedback.
To discuss their needs and arrange a lesson, students can create a profile, search for teachers, and send them a message.
But I also noticed this app has more drawbacks than Varsity Tutors. For instance, several students have voiced concerns with the scheduling function that works wrong in many cases. In addition, some users have mentioned that the app occasionally loads slowly.
There are also some basic features such as checking lesson history, tracking progress, and engaging with tutors via messaging. And what I especially liked is that the app has a referral scheme that enables users to earn points by bringing new users to the website.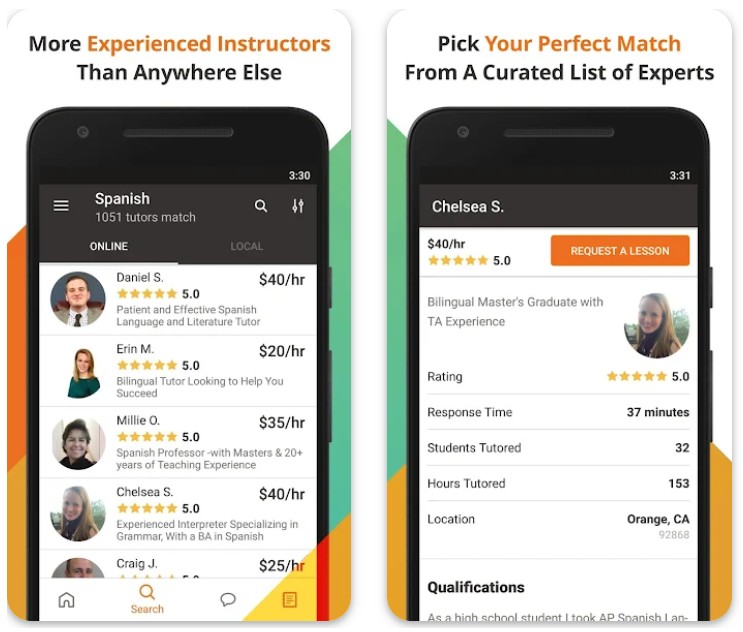 PhotoStudy – Live Study Help
PhotoStudy is a little bit different type of app, but it's also really effective if you want to get help with your studies. What is more, it provides an excellent interface design in comparison to the two previous apps.
Main features:
You can upload a picture of a homework assignment or difficulty and communicate with tutors in real time to get help
Chat component where users may interact with tutors and ask follow-up questions or get clarification on ideas
A rating system that enables users to comment on and grade their interactions with tutors
The app claims it has an elaborate system of scanning the professional background of tutors. However, I couldn't check this fact myself. Several subjects are covered by the app, including math, physics, history, and English.
The app will connect students with a tutor who is competent to help them with their homework once they merely upload a photo of the assignment. After that students can interact in real-time and receive step-by-step instructions.
But you should keep in mind that there are complaints about the app's technical faults, such as poor loading times or trouble connecting with tutors.
Among other interesting features, there is a capacity to save images of previously asked questions for future reference and the capacity to monitor development over time. And just like in the previous case, the app has a referral scheme that enables users to earn points by bringing new users to the website.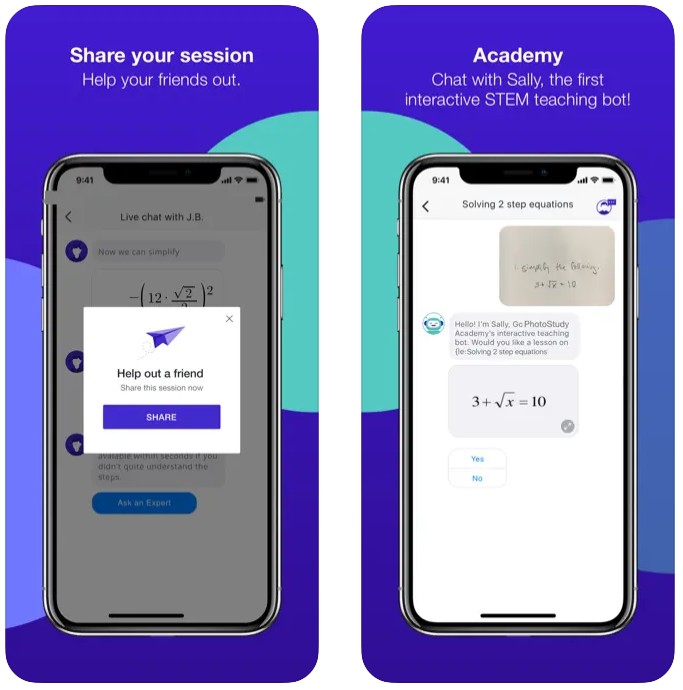 Study.com
It used to be a popular internet portal where you could find tutors and assistance in your studies. Now they have also released an app with the same name. As with any app of this type, it's a little bit bulky and it has a controversial user interface design, but if you are looking for a good tutor, you'll probably find them here.
Main features:
Unlimited access to practice tests and video courses
Opportunity to make personalized study schedules
Ability to monitor progress and receive certificates
The app connects students with trained tutors who can offer them specialized help on a 24/7 basis
The tutors on Study.com are specialists in their fields who have been put through a rigorous selection process to make sure they possess the knowledge and skills required to help students with their inquiries. Several subjects are covered by the app, including math, physics, history, and so on.
Students can use the app's sophisticated search tool to filter results by subject, level, and learning style. Once a student has chosen a course of study, they can access study materials like study guides, practice tests, and video sessions to help them comprehend the material better.
The resources in the app are also developed by seasoned teachers and subject-matter experts, guaranteeing the accuracy and relevance of the data.
I had some issues with the app when I wanted to access some functions – it was freezing and showing errors, but in general, I haven't found any serious drawbacks.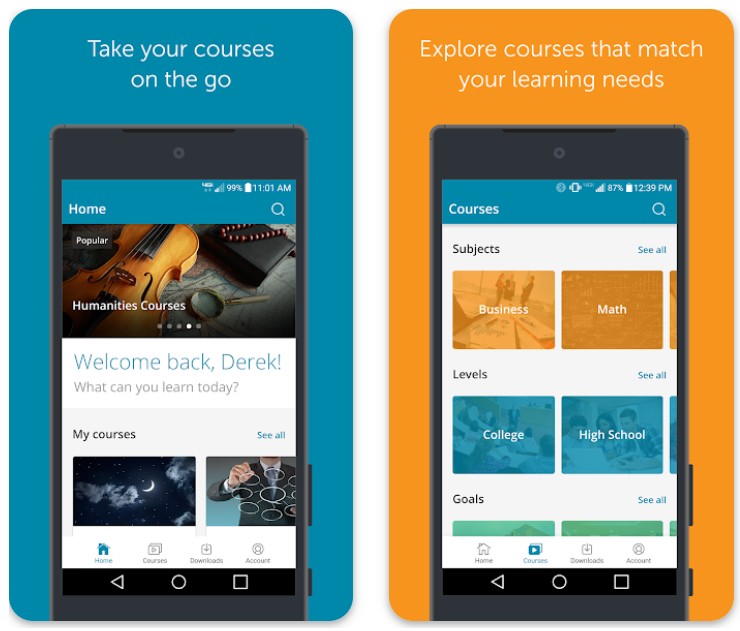 GoStudent | Private Tutoring
GoStudent definitely has one of the best marketing positionings in this niche. But is it as good as it wants to seem?
Main features:
Live one-on-one sessions with trained instructors
Access to homework assistance, and exam planning
A progress monitoring tool
Here students can filter results using the app's thorough search tool based on subject, level, and availability. Once a student has chosen a course of study, they can schedule a live, one-on-one tutoring session or request assistance with their assignments.
The resources in the app are also developed by seasoned teachers and subject-matter experts which are supposed to guarantee the accuracy and relevance of the data. Several users have, however, reported technical problems with the app, such as trouble scheduling sessions or accessing particular features.
The capacity to schedule repeat tutor sessions, the choice to reschedule or cancel sessions, and the capability to give feedback on tutor sessions are some of the app's further productive features.
I can personally say that the GoStudent app is a credible learning tool, even though it doesn't provide as wide a selection of tutors as other competitors.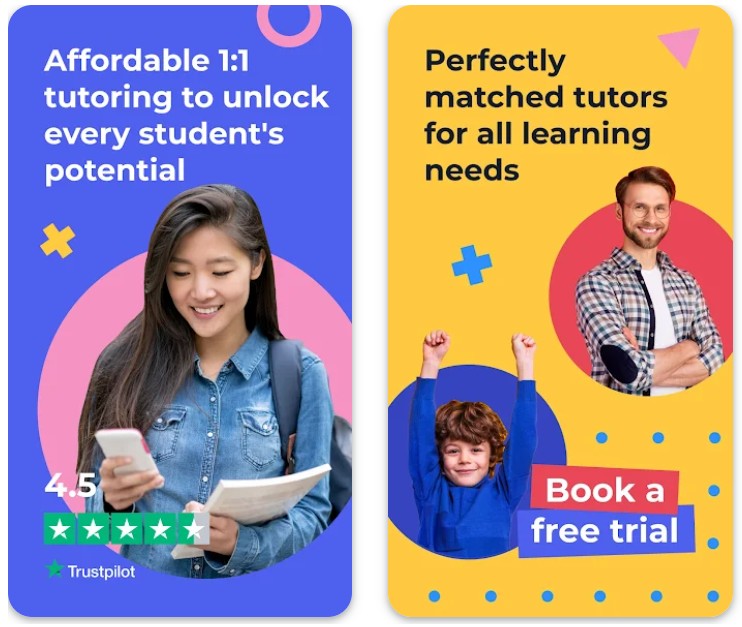 You may also like: 8 Best Free GRE Preparation Apps (Android & iOS)
Math & Science Tutor – Algebra
As you already guessed, this app is focused on finding the tutors and helping students with various math problems.
Main features:
Video tutorials
Practice activities
Tests
The app is made to assist students develop their math skills in a pleasant and interesting way. It also covers a wide range of math topics, from fundamental arithmetic to calculus.
Several categories, including Arithmetic, Algebra, Geometry, and Calculus, are available on the app's main menu. Users only need to choose the subject they wish to learn more about, then view the instructional video, to utilize the app.
You can also test your understanding with practice exercises and quizzes after watching the tutorial. Math & Science Tutor gives students quick feedback on correct and incorrect responses.
For me, the fact that Math Tutor DVD, a reputable supplier of math lessons and educational materials, created the software lends credibility. The resources in the program are made by skilled math instructors, ensuring that the data is correct and current.
However, the main weakness of this app is that it doesn't provide live tutors for math.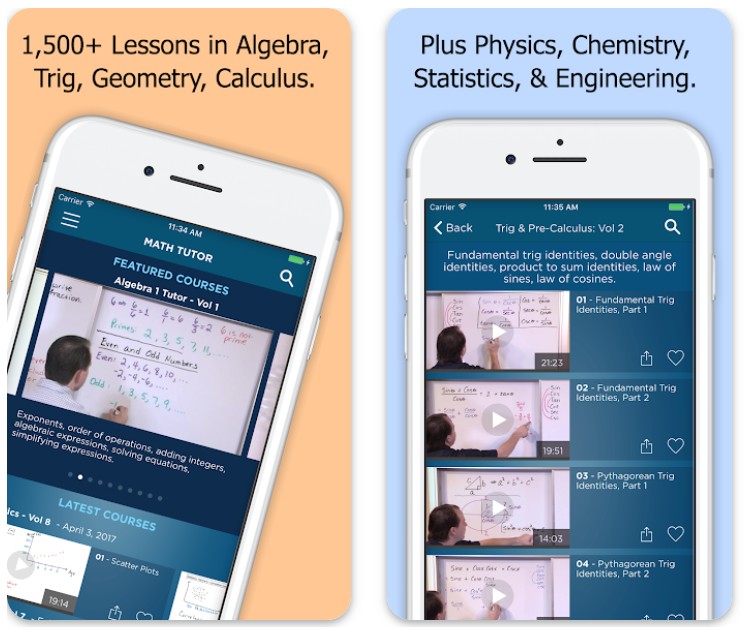 AmazingTalker: Language tutors
In opposite to the previous app, this one offers to find the best language tutors. Currently, it's one of the leaders in this niche, so let's see what's on the inside.
Main features:
Finding and booking qualified tutors
Setting up sessions
Taking part in interactive language classes
A large number of languages, including English, Spanish, Chinese, French, and others, are supported by the app.
First, you can examine a list of available tutors under each language category and filter them based on their rates, availabilities, and other factors.
Simply choose the language you wish to study and browse the tutors that are offered. Visitors can examine the tutor's profile, which contains information about them, their teaching background, and testimonials from past students.
A lesson can be scheduled at a time that is convenient for the user once they have found a tutor they like.
All of the tutors on the app are certified language teachers with the necessary training and expertise, giving the app credibility. Also, if a student is dissatisfied with their lesson, the app gives a money-back guarantee.
The app's possible drawback is that, depending on the teacher and language being taught, classes may be expensive. Some users have also complained about technical difficulties with the app, including problems scheduling lessons or connecting to their teacher.
The app also offers the opportunity to take part in group courses, access resources, and learning materials, and monitor progress over time.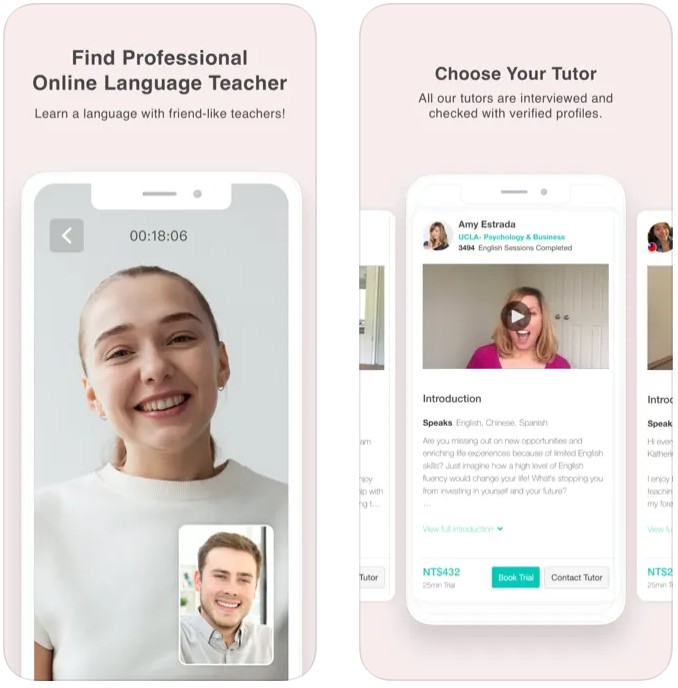 edvi – 1-to-1 Live Tutoring
This is a less popular app where you can also find tutors online. Let's see if it's credible.
The key functions of the app include finding and booking tutors, setting up appointments, and taking part in private or group tutoring sessions. All the most popular disciplines are supported.
Users can navigate through many academic groups, like math, science, and English, under the main menu. Examine a list of available tutors under each academic group and filter them based on their rates, availabilities, and other factors.
Students simply choose the subject they need assistance with and explore the tutors who are available on the app to use it.
One potential flaw of the app is that the cost of sessions can be high, depending on the tutor and subject being taught.
All in all, the app is quite trustworthy, but you should keep an eye on its pricing policy which I found a little bit unjustified.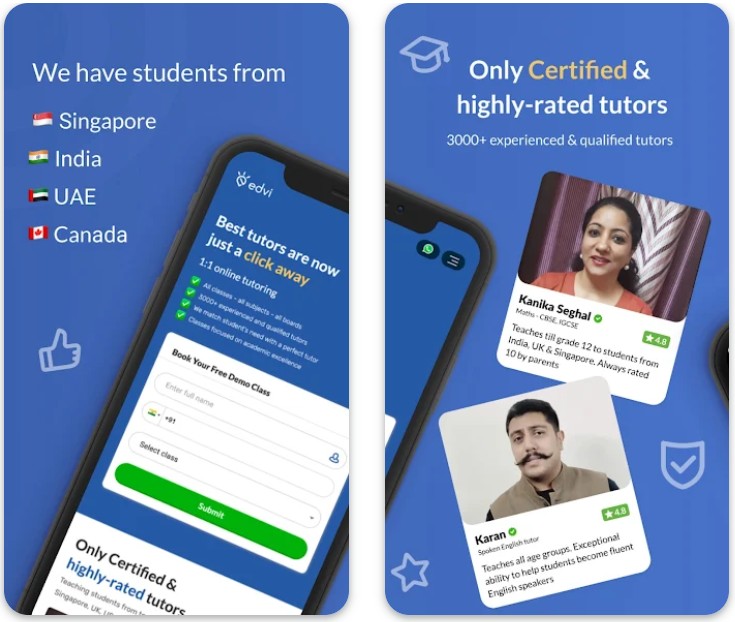 Kadama – Find a Tutor
Frankly speaking, at first, I was quite skeptical about this app, because it's highly promoted on Google Play. But it seems their promotion pays itself back and the app is quite popular among students.
Here the major features allow students to search for and book instructors for conversation practice, set up appointments, and engage in language exchanges with native speakers.
Language learners only need to choose the language they want to practice from the app's list of tutors before using it.
Students who want to practice speaking and listening with native speakers are the perfect audience for this app. Just like the other ones the app claims that it has only certified tutors and each of them has a reviews section.
There are some occasional bugs with schedules so pay attention to that if you decide to use the Kadama app.
But I liked that here you have a chance to practice with native speakers and practice your language skills, as well as access rare learning resources, and monitor your progress over time.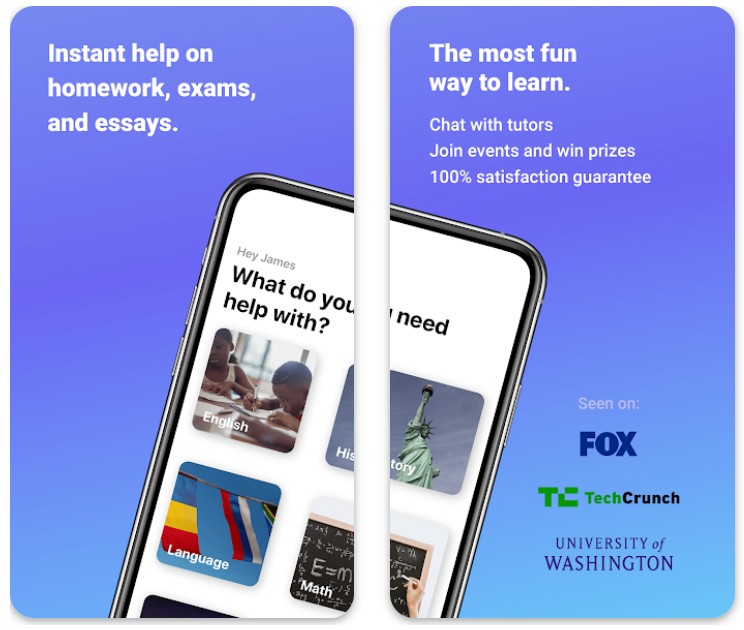 You may also like: 11 Best TOEFL Preparation Apps for Android & iOS
Yup — Math Tutoring App
Another math tutoring app. By the way, math is quite a difficult subject so finding a good tutor can really be a headache in this case. But will Yup make this task easier?
Here, the ability to communicate with a live math instructor in real-time is one of the app's most notable features. The app matches students with tutors who can assist them with their particular math difficulty using AI-powered technology.
Students need to take a picture of their math problem or type in their query on Yup in order to locate the ideal teacher – at least that's what the developers claim.
Yup then analyzes the issue and matches the learner with a tutor who is knowledgeable in that field using sophisticated algorithms. To seek assistance with the difficulty, students can then have a live chat with their tutor.
Since all tutors are licensed math teachers, college professors, or math professionals with appropriate expertise and credentials, the app may be trusted.
The costs may vary depending on the background experience of the tutor.
Other aspects might seem controversial, but the way that Yup matches students with tutors using AI-powered technologies sets it apart from its competitors. Due to the fact that students can get assistance quickly and simply without having to waste time looking for a tutor on their own, the app is more practical than other tutoring services.