Bullet journals or notebooks were always popular among people despite their occupation and lifestyle. It's almost impossible to find anyone who has never used the notebook to write down tasks. Needless to mention those whose work collaborates with everyday schedule and todo lists. 
To begin with, bullet journals are created to help people to be more organized and not to skip any important event or task. Thanks to a digital world development we can replace traditional paper-based notebooks with software for our PC or mobiles. Being honest, traditional notebooks are not that portable. Thus, many bullet journal apps for Android and iOS platforms have been developed recently.
Considering the pros and cons, we can find that the positive aspect of using bullet journal apps overweight negative that can appear in the inconvenience of using a small screen of mobile for activity planning. However, many consider digital bullet journal apps a great alternative that allows doing all things that could be done with paper notebooks. 
Trello
Trello is considered the most popular app among businessmen, project managers, and other job representatives as it's very convenient and is well-qualified to replace a notebook. It is marked as an Editor`s Choice on the Play Market. It is also free to download with the suggested premium package.
Trello is known for its flexibility in customizing. There is so many options built-in that definitely will simplify your working processes.
Main features:
Trello consists of boards and cards. The process is easy. Create a to-do list filling cards with task details and move these cards to other columns from the moment you had progressed in activities. Simply drag a card from one place and place it to another.
Cards can be colored in different colors for better perception and selection.
Option to set the location and attach the calendar data to the to-do task.
Turn on notifications that eventually appear on the main screen and in the notification bar.
Don't try to keep every task in mind. Installing and attuning the app to your schedule, you will tackle multiple problems of your daily life.
You may also like: 6 Best people counter apps for Android and iOS
Asana
Asana is more a project management app than a simple bullet journal as it can connect employees in one platform of working tasks, their progress, notifications, and task reporting. However, it still consists of all notebook functions but on a global scale – for all your colleagues.
Main features:
Add tasks, ideas and reminders organized in projects and todo lists. Details like dates, followers, and files can be added to the task.
Users can edit tasks, mark them as done upon completing and notify your colleagues about it directly through the app.
Definitely, there is an option to add a due date, followers that must be informed about task progress. Even files can be attached as well as a comment for better task comprehension by others.
.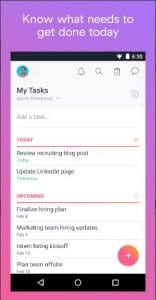 One of the additional and advanced features is an ability to make changes in lists while you are temporarily offline, for example, in the subway. All changes will be saved and fixed upon restored connection. It also integrates with the web version. Thus, all data can be seen from different devices.
The free version has limited functionality. If you need to use Asana for personal activities related to family or your own deads, the free version would be enough for you. If you need the app for corporative purposes, it's better to get the premium version. It offers an unlimited number of members in collaboration, while the free version enables users to add no more than 15 members.
TickTick
TickTick is a good alternative to most popular todo list apps like Trello or Asana. It's less known and heard though it's marked as an Editor Choice on the Play Market, and was downloaded more than 1 million times keeping a high rating. Therefore it deserves paying attention.
First and foremost, TickTick has all functions of the advanced bullet journal despite that from the first sight its UX looks too simple and plain. Users can add tasks with due dates, follow the progress and set reminders. Everything like in the traditional digital todo list software.
Secondly, the most attractive and significant in this app is that it integrates with Calendar on your device. What this will give us? Simply the ability to see all tasks and appointments in Android Calendar. To add more, several widgets will lay the role of a reminder and controller.
Last but not least, the app has one unique feature. It has an infamous built-in Pomodoro timer. You are given 25 minutes to any of your tasks to do. Then take a rest according to the Pomodoro technic. Thus, TickTack will support you in completing tasks not letting you get exhausted and keep productivity on a high level.
Momento
Momento is a quite traditional note-taking app that plays the role of a diary. It's less likely suitable for work process organizations but is nice to use as a life companion. Besides note-taking, the app collects data from your social media, emails, calendar and create one big database.
Undoubtedly, you can add files and photos, as well as PDF files as mostly used nowadays. Reminders are also can be set through this app. Without this function, the app would lose in front of other apps on our list as to what can be more important than to be in time for your appointment or interview.
Afterall, Momento will display the chronological history of your life events with details and pictures during different time periods. So you will know how many times you went to a particular place like the cafe in the city center or how often you go running in the park.
Task Management
The next app is our list is claimed to be the real helper for a work process. It helps organize tasks related to different projects and to make todo lists. And as long as its a more work-oriented app it allows users to communicate with each other through this app. All this helps to organize the working process and solve different ussies related to task management.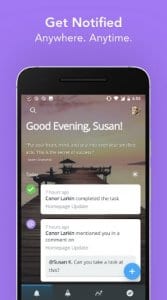 From the first sight, we can think that the app is a simple to-do list and notebook. Though it's not exactly like this. While all projects are shared with all project-related employers the information in the app is still thoroughly secured. Anyone can check the progress of the project: managers can evaluate team productivity and velocity.
Create an unlimited number of projects and monitor the accomplishments of all tasks through just the screen of your mobile. Comment the working process and task.
The app has a free version and a paid version. Of course, the paid version has more features like numerous project groups, checklists, up to 200 Mb for one file and statistics.
Evernote
Evernote is yet another digital todo list for mobile devices. Luckily it is available for free for both platforms iOS and Android. It allows you taking notes and add tasks, attached files like photos. Moreover, the app has a built-in scanner that can read hand-written notes. In the end, you will have a mobile version of a notebook. The free version offers up to 60 Mb space monthly for uploaded files and photos.
You can organize your private work processes using this app if you are an individual or freelancer. It can be used not with work-related purposes like housework or supermarket visiting. Everything you were using paper-based notebooks for can be now transferred into Evernote. Trip planning, monthly tasks, annual personal achievement plans, ideas, and dreams. Organize them in one project or to-do list.
Evernote has a huge number of constant users and fans. It has been downloaded more than 100 million times and called an Editor`s Choice. The premium version offers 10 Gb of uploads monthly, offline access to your notes, ability to scan business cards and organize them in the app.
Wunderlist
Wunderlist is known to anyone who is a little bit following digital processes and modern contraptions. Networkers and internet marketers have already found it the most useful tool to organize their processes especially in the world of digital marketing, design, and business overall.
All tasks from now on in one program well organized and followed. Since its a mobile version, thus you should neither to keep tsks in mind nor to carry a paper-based bullet journal. Additionally, the app enables you to share todo lists with your colleagues, friends or family members.
However, the app doesn't restrict to only work process use. People use it for all kinds of activities, whether its a list of todo things for the wedding organization shared with all involved in the process or preparation a grocery purchase list.
To say more, the app lets you attached PDF files, photos, presentations, and even set reminders. While some features are free to use, others will require a monthly subscription and , therefore, a monthly payment.
Todoist
Todoist is yet another app that has been presented on the mobile apps market for many years but has become popular in just the last couple of years. Many people are quite satisfied with the app, especially it offers free features package and easily replaces traditional notebooks.
Mainly the app helps to organize tasks and projects. It allows integration for partners, employees and project participants.
Users can add tasks at the moment they get an idea, organize them adding reminders and deadlines. The app supports tasks prioritizing for a better work organization.
Other advanced features include a home screen widget and notification. Moreover, Todoist is supported on all kinds of platforms including iOS and Android, web browser versions, plugins for different email services like Gmail or Outlook. Undoubtedly, it supports email notifications and integration.
Thought some of the mentioned futures above included only into the premium package, for example, push notifications will be available only after purchasing a subscription for one year. It costs $29 for one payment for one year.
Tasks
Tasks is a simple bullet journal replacement that you can find on the PlayMarket as unfortunately, we didn't find an iOS version by far. This app supports widgets and notification. Sometimes we can forget that we wrote something and this way notification can do us a great favor. The same principle is applied for widgets. If the recently important list of tasks is visible on a home screen, it may significantly simplify your life.
The interface is user-friendly and uncluttered with an option to change a theme according to your preferences. To begin with, we can create as many lists as we want and it doesn't matter what is the purpose, event or a project. Even if you are going to do some cleaning, create a list mentioned what exactly you must not skip today.
Work purposes: write all your tasks sorted by projects. The app doesn't support adding users to check your list like in Asana. So its more of a solitary use app.
The task adding form is simple with all the necessary additions. There is a field for details, and an option to choose a list, add notifications data, and of course, the accomplishment marking space.
Journal it!
A real supporting app for the keenest on writing tasks, ideas, and events people. Journal it! is an app that belongs to the group of "todo apps" though it can be considered as a personal diary as well. And in this case, definitely, no one will read your secret thoughts and moments. It even has a feature enables you to attach photos, add details about your mood and track your overall daily activity.
There is a built-in calendar with marked days with special events, tasks or actions that should be completed. Of course, you can add details in the area called "notes". You can add habits, and track them setting the app reminder. For example, you have decided to drink more water. The app will notify you that this is the time now for a new glass of water.
Additionally, notes or tasks can be organized into different sections: work, trips, journeys, places, categories and so on. The app has two themes that you change whenever you want. The dark and the light theme. Plus you can secure your app and your sacral precious life details either with the password or with the fingerprint if your phone allows you.