13 Best Instagram Repost Apps for Android & iOS
If you consider yourself as a man of ideas, you'll surely like this post. In our opinion, only an inventive and modern person uses repost apps on Instagram downloading them from Google Play or App Store. There is no doubt that it allows us to save some time and make good use of it by taking more new shots instead.
You may also like: 11 Best Instagram layout apps for Android & iOS
Are you still interested in how to do it? Then, let's start reading the article from which you will learn how to use this highly effective tool. We have described 13 best Instagram repost apps in detail and now would like you to profit from the post. All suggested apps are top-rated and used by thousands of people.
Ezrepost+
To begin with, we strongly advise you to use this app. Ezrepost+ will let you repost photos and videos from your Instagram account, feed, or likes. That sounds an ordinary idea, but that's not the half of the story.
You will be able to repost media without watermarks, to repost it from private accounts, to repost full-sized photos as well. One more convenient function is the ability to save videos and photos in your phone SD Card. Just download and enjoy it!
You may also like: 9 Best Instagram Hashtag Apps for Android & iOS
Regrann
It is one of the Top Instagram repost apps as well. Regrann – Repost for Instagram is an official Instagram repost app so there is no need to make a new account in the app. You won't have any difficulty in reposting the media which you liked. Just follow instructions.
One more advantage is that you can send it to any downloaded app where it is possible. Moreover, it is very simple in use. You will surely like this multifunctional tool, make no doubt.
Regrann Pro is an upgraded version of this app, it's also available for you, but it's paid.
Repost for Instagram
We have also included this app in the list of best Instagram repost apps. Repost for Instagram is quite a helpful one which will let you repost your favorite photos and videos from Instagram – just open post you liked, then copy its Share URL, open the app, and repost.
The main argument for using it is that it supports multiple videos and photos which are very popular nowadays. And what is more, this app can copy tags and the whole text as well. You don't hesitate over this great choice, do you?
Repost it!
This app is one of the leaders among the best Instagram repost apps as well. Besides standard operations, Repost it! will allow you to repost by username or by link.
Reposting from Timeline – one more very helpful function: you can browse your recent timeline and repost your favorite daily posts. The main feature of this app is that now you are able to repost Stories. Isn't it a nice app? If you agree – Repost it!
Reposta – Repost for Instagram
Reposta is the app that includes the best features of all Instagram repost apps. With the help of it, you will be able to repost all photos and videos wanted or save them on your phone without any watermarks.
It also supports multiple images and videos and there is no login required. Besides many app's functions, it's super fast.
We guess, now you are about to download this assistant which will help you in repost operations for sure. There's a large number of users all over the world which means that it is an excellent app for your phone.
Reposty for Instagram
If you keep focusing on reposting, we would like to offer you the one more brilliant app. Actions are the same: open Instagram, choose a post, select 'Copy Link', or 'Share Link…', then repost.
As you can see, the User Interface is quite easy. Moreover, this app is for those whose aim of searching is somehow connected with watermarks: with the help of this app, you can replace, edit, or remove watermarks.
Reposty for Instagram is worth being downloaded because it has its own collection of watermarks as well. Sounds good.
SwiftRepost
One of the most popular apps for Instagram reposts. The most prominent feature of this app and what helps it to stand out from all the other apps is that it allows the user to download several images simultaneously. This incredibly convenient feature is the fact that made SwiftRepost so popular.
However, it includes one flaw of all the Instagram downloads apps – when you save a picture or a video, the app saves it without mentioning the real author of the content.
By the way, we recommend you to read the post in order to learn about the best apps for sharing photos.
Repost: For Instagram
This app is appropriate for those who like to control everything. Here you can even choose a color and position for attribution overlay.
What about the features of the app, they will please everyone for sure as well. The app has such functions as reposting photos, reposting videos, and multiple media posts on Instagram.
There's something new here, which has no any app mentioned above – Repost: For Instagram fixes detection of posts from Instagram business profiles. It's quite interesting, don't you think so?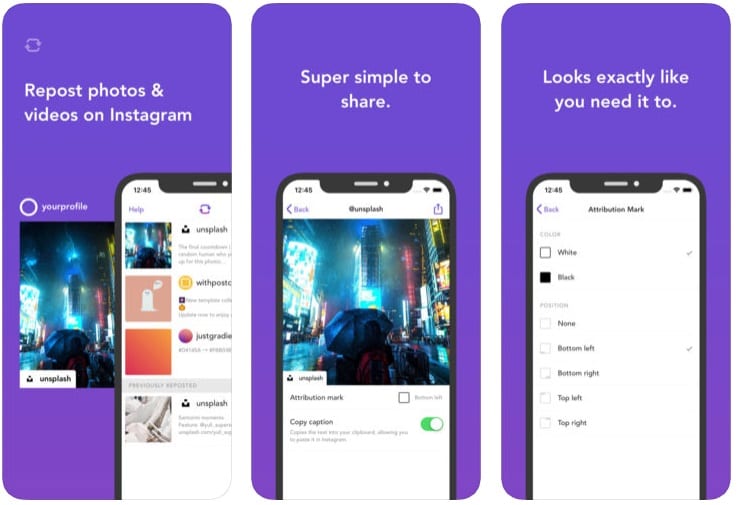 Multi Repost
This app is not so popular as the previous one but if you are an Android user you can try this out. The feature that this app is different for is its ability to download several files at a time form Instagram. However, be prepared that the user interface here is quite difficult to handle.
By the way, it allows you to do the repost with mentioning the name of the real author in the description – it inserts the caption automatically, which is very convenient. Plus, all the videos and photos are saved with the watermarks, which is the right thing in terms of using the content of another account.
Repost For Instagram by huan LU
This is another Instagram repost app that is trending right now. Probably, the best feature of it is that it has the beautifully designed interface and the app is super easy to work with. Well, probably its pinky interface will be appreciated by the female audience.
What you need to do here is to log in with your Instagram account and then you will see the "repost" function under every post you see. You can repost both photos and videos.
Another cool feature of this particular app is that it allows you to choose whether you want to save or remove the watermark – the unique function that you won't find in any other Instagram Repost application.
Save And Repost For Instagram
Among all other Instagram repost apps, this one is quite decent at least because it doesn't have that big amount of ads. All you need to do is to copy the link of the post that you want to get from Instagram into this app and it will download this file.
The only drawback of such repost is that the app won't address the author of the publication so you basically steal another person's post. However, it is a good way to download pictures and videos from Instagram.
Repost IG
The icon of this app would probably catch your attention if you would be choosing between dozens of similar apps on Google Play. But is it capable to hold it longer than a second and is this app worth a try? Well, Repost IG has a user-friendly and intuitive interface that detects when you are ready to download them.
All you need to do is to copy the link of the post on the Instagram and the app will start the downloading automatically. All the files will be downloaded in excellent quality. This is one of the most popular apps in this category on Google Play even though some users complain it doesn't always work right.
You may also like: 15 Free Instagram Followers Apps (Android & iOS)
REPOST VIA INSTANT
Currently, this is one of the best apps for repost on the market. It allows you to quickly repost all the photos and videos that you may find on Instagram. All you need to do is to log in with your account and open Instagram via Instant and you will see the "repost" button near with each post.
After you reposted certain images of videos, they will be saved in the app' library. The advantage of this app is that it completely ad-free. The disadvantage is that it works well not on all devices.