Today our review is about multiplayer chess apps for both: Android & iOS devices.
At this list, we concentrate your attention on multiplayer chess games. If you are interested in any kind of chess game – make sure to check this post: 15 Best free chess apps for Android & iOS.
Chess Prince
Chess Prince is the game for two players. A game takes place on a square board, made of 64 small squares, from eight squares from each side.
Each player begins with sixteen figures: eight pawns, two horses, two elephants, two rooks, one queen and one king. The purpose of a game is that each player to try to checkmate the opponent's king. If the king of the player is trapped and has no opportunity to escape the threat by a rival then it is considered that he's checkmated.
The process of the game consists of two contestants, one by one are making attempts to defeat each other by moving figures according to a certain pattern. The first move is made by the white side. Just skip few paragraphs if you know the rules 🙂
Figures, except a horse, during the gaming process, are considered moving in a straight line on the board pitch, which is "passing" all fields between initial and final lines therefore all these fields have to be free. If on the way of a figure there is another figure, then it is impossible to move a figure in the field behind it. An exception is the horse course (see below).
The place of a square, occupied by a figure, is impossible to step on.
The king goes to distance 1 down, horizontals, or diagonals.
The queen goes to any distance down, horizontals or diagonals.
The castle goes to any distance on a vertical or horizontal.
The elephant goes to any distance on diagonal.
The horse goes in the square, being at distance 2 down and 1 across or 1 down and 2 across from the current position.
Unlike all other chessmen, the move of a horse is made out of the board plane, that is the horse directly moves ("jumps") from the initial field on final and no figures standing on other fields can prevent the movement of a horse. In particular, the horse can go in the field even if it is completely surrounded by other figures.
The pawn goes with capture on diagonal to one square forward-to the right or forward-to the left, and without capture — down to one square forward. If the pawn in this party didn't do the courses yet, it can take the course without capture on two fields forward.
The direction "forward" is called the direction to the eighth horizontal for white or to the first for black. When the pawn goes to the last horizontal (for white — on the eighth, for black — on the first), a player has to replace her with any other figure of the same color, except the king (transformation of a pawn).
The transformation of a pawn is a part of that course that moves to the last horizontal line. Thus, if, for example, the figure turned from a pawn threatens the opponent's king, then this king as a result of the course a pawn on the last horizontal immediately appears in check.
In addition, this game has an upgraded design, including 7 different colors of chessboards, 6 different backgrounds that you can choose. With the possibility of cancellation of actions, this app has different levels of difficulty so both beginners and advanced players can feel comfortable while playing chess.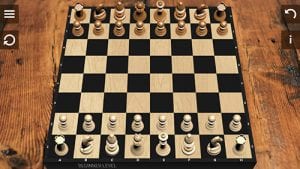 You may also like: 21 Best crossword apps (Android & iOS)
Chess Free by Al Factory Limited
Another great app for playing chess which is programmed in order to make your gaming process more exciting and useful. This app was called the best one among all others in the chess games industry. It got the highest score among 30 other chess apps.
Here you will find 12 levels of difficulty to adjust your skills to the game, so you will not have problems training alone before you are starting your chess battle with more skilled friends. The game has two different modes each one of those will permit you to have different amounts of pieces of advice during the game.
In this app, the chess tool "Treebeard" is applied. The cool thing about it is that this tool is capable of program actions very similar to human ones. If you are a player for the first time you can choose the level where the app will teach you how to conduct the process properly.
You will evolve your chess playing skills and will avoid the most common mistakes. What is more, there is a function "To show how your computer thinks" which will allow you to analyze the way of your rival's thinking. You are also in control of your game statistics which will increase your rank.
The game includes 8 kinds of chessboards and 7 different types of chess sets. In the more "Review," you can always get back to your previous victory and overwatch your moment of glory. However, since the game is free it includes a decent quantity of advertisement in it.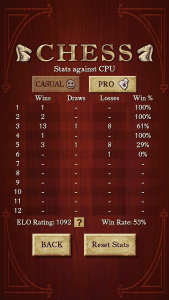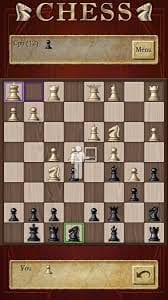 Chess Free by Optime Software LLC
This chess app is made especially for you to feel comfortable while playing games – it is adopted for the iOS system. You can play with a friend or train alone – it is always up to you. And the fancy design and beautiful framing will make this process even more enjoyable.
Save your progress – a wide range of name configurations and score tracking allow you to do that. Here you can also choose your difficulty level according to your preferences.
This app also includes a very useful function – an automatic saving. So next time when you get an unexpected call or your battery dies your game progress will be saved.
As you launch the app you see a compact menu where you can choose the number of players, look for other games, and explore other different options. If you choose one player mode you will get a set of options and a line that allows you to regulate the level of difficulty. In options, it is possible to reset the time mode.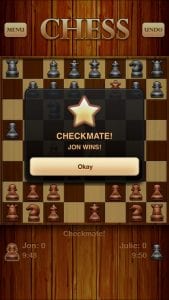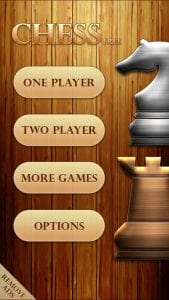 Chess by cnvcs.com
Another chess app with a wide range of functions. As usual, you can choose the way you are going to play – against black or white, a computer or a friend, of course.
The game includes 10 levels of difficulty. One essential feature of this app is what distinguishes it from other apps like this – is that this version has more than 38000 chess puzzles which are divided into 13 sections.
The game supports online gameplay and it is also possible to play with each other via Bluetooth and Wi-Fi. You can choose the design of your game yourself – the game has chessboards and piece sets, a lot of them are available in 2D and 3D mode.
Your progress in the game will always be saved automatically, and in addition to that, you can randomly go to any point in the current game. If you change your play mode to view mode you can observe your previous game process, notice your mistakes, learn more, etc.
From first sight, it is obvious that this app includes the way much more functions than a usual one. You permanently have unlimited access to the additional options, menu, where you can build your gaming process according to your preparations.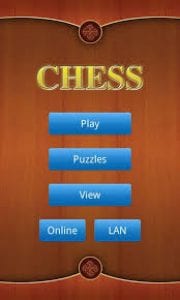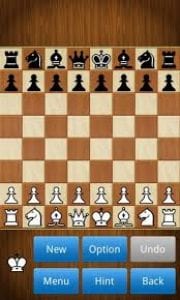 Really Bad Chess
If you and your friend feel a little bit dangerous you can choose to play this extraordinary version of a simple game called "chess". You will not find the figures you got used to here, all the rules are broken.
Now you have a big variety of choices to make – you can have 8 knights, 4 bishops and 3 pawns, seriously. Compete with your friends in Weekly and Daily challenges, change the background of your chessboard.
A lot of different experts and magazines note, that in this app you will rediscover the chess under the new angle. You will see how interesting it may be to play when old pieces have much more power or when you have more than a couple of superpowerful figures.
Despite the density of variants in this game, it is still harmonic and comfortable for any type of player. You and your friends can even change the patterns of action and practice your skills in the unusual atmosphere which you are not used to.
The interface itself is quite simple and except this ability to change the rules the app does not have any special features. In case if you prefer classic chess with a wide range of settings – this app may be a little tricky for you.
So if you are a little tired of playing the same old chess every day or you just quit playing after learning the rules – this app is the breath of fresh air for you!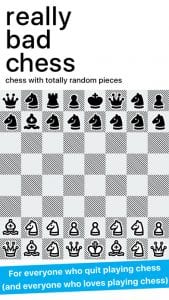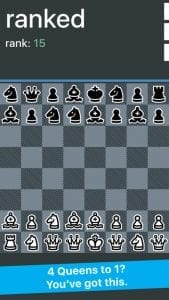 You may also like: 15 best Sudoku apps for Android & iOS
Chess Online
The main service of this application is the site chessfriends.com. On a web server play more than 1.5 million people – from amateurs and schoolchildren to professionals. You can play a game with one of them or sharpen your skills in games with artificial intelligence.
Chess Online has several modes. Ranking games help you keep track of your progress, while unrated games allow you to improve your skills, call your friends for a game, or meet new players. Each user has a real rating – pick your own equal opponent and have a great time.
Computer games have 20 difficulty levels. You can track your performance in a separate tab – everything is clearly and beautifully presented in the form of charts and tables. Calculate the steps ahead, prevent mistakes and wrong moves, and get the most out of your opponent's game – Chess Online lets you do it all.
Chess Time – Multiplayer Chess
Here we have the classic multiplayer chess. This app was created as a global chess community for correspondence chess players. Via this chess network, you can find your rivals to play with all around the world and compete with them. You can also communicate by a chat, tag your favorite opponents, etc.
However, you always have a chance to play against your friends. As you launch the app you can see the set of icons which you can click on: to go to the game, see the leaders in this category, invite or like your friends, create or change your account, go to the settings or read the information about the app.
In case if you are getting a little bored with a game you may change the theme and the sets of the app. If you have problems with questions about some definite levels then you go to a special game level chat. There is a history of recent games which includes the rating of the best players and even the rating of the best countries.
Invite your friends to join you on this app! In its general aspects, the app itself is classic and contains all typical characteristics for a chess game. Create your own account to save and study your progress or demonstrate it to others. It should be noted that since the app is rather new, some technical problems may occur while playing chess.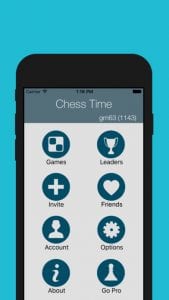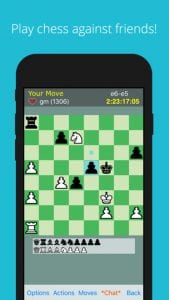 You may also like: 15 Best Logic Game Apps for Android & iOS
Chess With Friends Free
Playing chess is a well-calibrated strategy, thoughtful tactics, and self-confidence. This is exactly how kings behave when conducting war.
Do not allow to capture your king – play at full strength and captivate more enemy pieces.
It is not always possible to meet with friends and spend a few hours playing. When it is possible to play a game online – it is incredibly convenient.
To sharpen your skills, you can play with the bot. After these matches, you can easily track your progress and statistics. You can also assess your own skills. In the future, you choose your opponent's level – and the computer will play the complexity you need.
For games with friends and acquaintances, you need to connect Chess With Friends to your Facebook account. They can join you online. Gaming chat allows you to communicate right during a battle – break your opponent's attention, distract him or her, and defeat him or her insidiously!
Chess allows you to develop your own intellectual abilities, improve your playing skills, and get closer to your dreams of a 100% win rate. Learn new combinations to achieve your goals with Chess With Friends.