Punctuality is the politeness of kings. You've certainly heard it at least once in your life, and you don't know what it's about. Actually, punctual people are really polite, because they don't waste other people's time on their own faults.
If you are constantly late for something, you can make people around you uncomfortable and look too irresponsible in their eyes. Despite the fact that smartphones have many reminders and notes, and you will keep a diary, you can still forget about something important.
The same goes for work. If you are doing something non-standard – for example, working on shifts or on a special schedule, it is sometimes easy to get lost in time and forget about your shift.
This may also apply to office workers – in a series of weekdays it is easy to forget about a meeting or an important report. That's why we suggest you move the standard diary to your smartphone. We have found 11 free and convenient applications for shift work, representing comprehensive calendars.
You may also like: 11 Best family calendar apps for Android & iOS
Shift Days – Work Tracker
If you use an iPhone or iPad, you can easily visualize your work schedule using the Shift Days app. You don't need to clog your own calendar with additional events – use only a separate app for your work.
Not only will you be able to keep track of your shifts, but you can also view your working hours as soon as you open the app. You can see an entire month (current by default) right away, so managing your work life is incredibly easy for you.
You can assign abbreviations to be displayed immediately so that you can instantly view all of your work information. All shifts are color-coded, and you can customize the colors according to the number of working hours.
You can take short notes for a quick reminder. By the way, the week can start any day that is convenient for you.
You can conveniently share your schedule with friends and colleagues on social networks or via email, keeping them informed about your busy schedule. Synchronize Shift Days across the cloud and use the app on all your devices.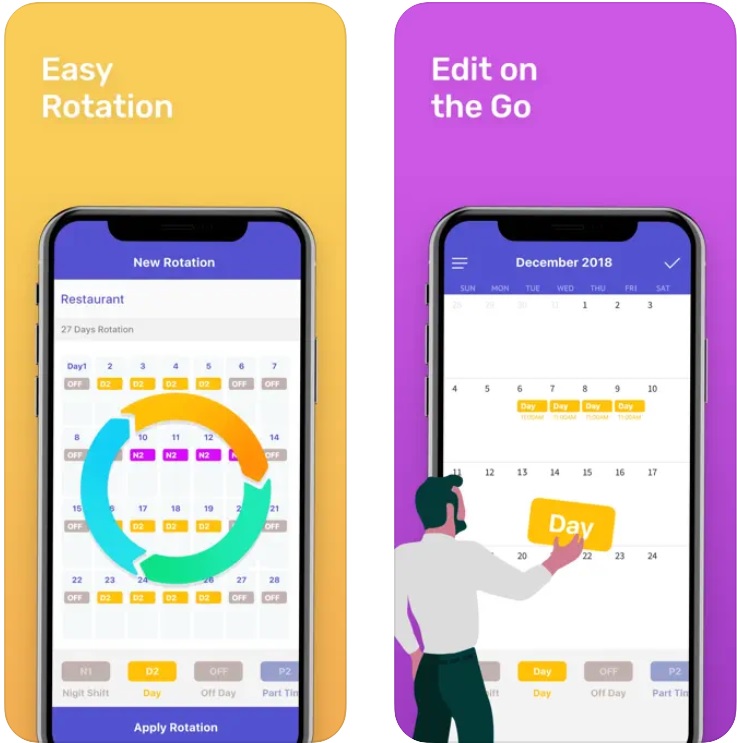 You may also like: 13 Bill Reminder Apps For Android & iOS
MYDUTY – Nurse Calendar
MYDUTY is a special application for medical professionals who want to keep track of their shift schedule. Working in a hospital or clinic has a huge responsibility that really requires concentration.
You will be able to manage your work shifts in the application, as well as pre-plan your vacation. MYDUTY has an excellent interface, which even has icons with cute characters.
The calendar will show you exactly which days you have your work shifts. If you are not working alone, but together with colleagues, a great solution would be to keep this calendar together.
When you add your colleagues to the group, you can all together adjust the work schedule. Each employee will have his own color – you choose it yourself, and the calendar will immediately show a colored result.
You can also set up a system of reminders, which will come to you periodically. MYDUTY is really appreciated among nurses and other medical staff, because it is very easy to use.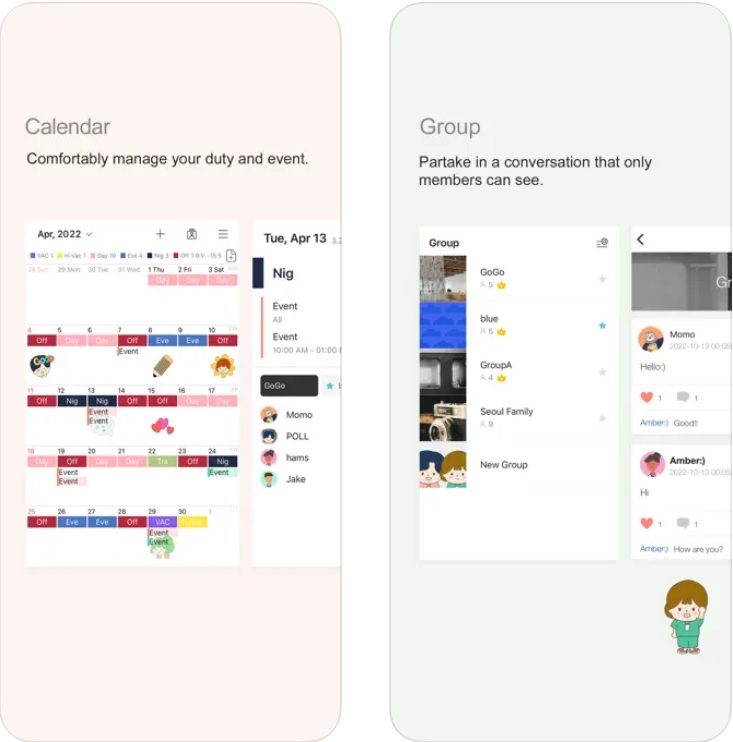 ShiftLife Organizer
If you need to accurately plan your entire schedule, you may like ShiftLife Organizer. It's easy to add workdays, holidays, training days, and other things that are important to you.
You can not only organize your schedule but also calculate the salary you will receive. In ShiftLife Organizer it is easy to record the length of your working day to get the salary you are entitled to.
In ShiftLife Organizer you can count work shifts and overtime and the application will automatically calculate the sum. The application will really be indispensable for you, as it will have all the accounting in it.
By the way, you can set up notifications not only on your smartphone but also on other devices – for example, a smartwatch or tablet. Also ShiftLife Organizer can automatically fill in your shifts for some time ahead.
For each calendar, you can set up all the background images and symbols yourself. You can share your schedules with colleagues to compare them to each other.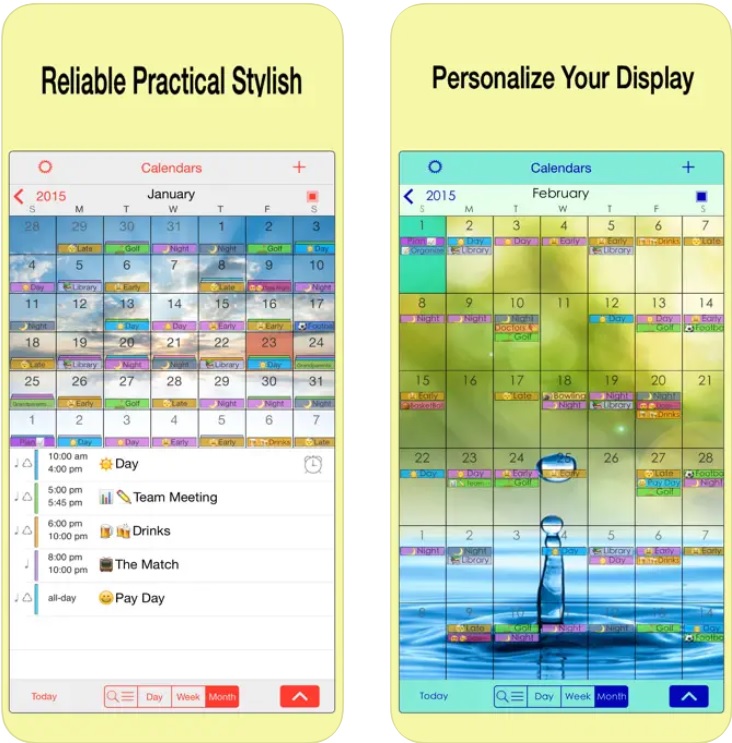 Shift Work Schedule
If you are working on a moving work schedule that is compiled with your participation, the Shift Work Schedule will really help you to understand the work. You don't have to study numerous settings for a long time – just open the application and start filling in your shifts by dates.
The application already has standard working schedules by default – for example, a day, three or two working days – two weekends. You can use them if they suit you.
Of course, you can also fill in all the dates by yourself. Just click on the day you are interested in the calendar and you can set the appropriate mark. After filling in, you don't need to log in to the application all the time – you can put Shift Work Schedule as a widget on your desktop.
Its size is adjustable and will show you either the current week or the whole month at once. In total, the Shift Work Schedule can be used by up to 8 users at a time – for example, the family work schedule.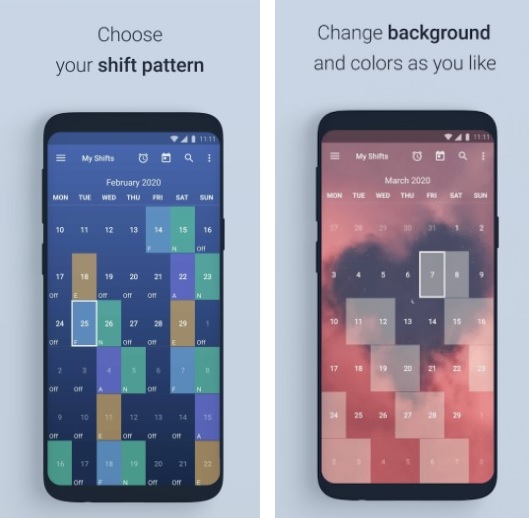 Nalabe Shift Work Calendar
The Nalabe Shift Work Calendar app is a smart service that can calculate work shifts. It displays days in specific colors depending on the upcoming shift.
The first time you run it, you need to specify the type of shifts you work (day, night, day) while selecting a color marker for each type.
After entering the time interval and the start of the shift, the whole calendar calculates the work schedule for each day. Then, it colors them in the selected item. It is allowed to change the schedule due to the addition of a sick or vacation interval.
Another interesting feature of this app is the function of the automatic calculation of earnings. To calculate, you need to specify the amount of pay for each shift. After that, you can display the earned amount for an arbitrary period of time.
For user convenience and quick perception of information about shifts, you can install widgets on the desktop. In the widget area, you can display information about upcoming shifts, the time of the next lift, and payroll statistics.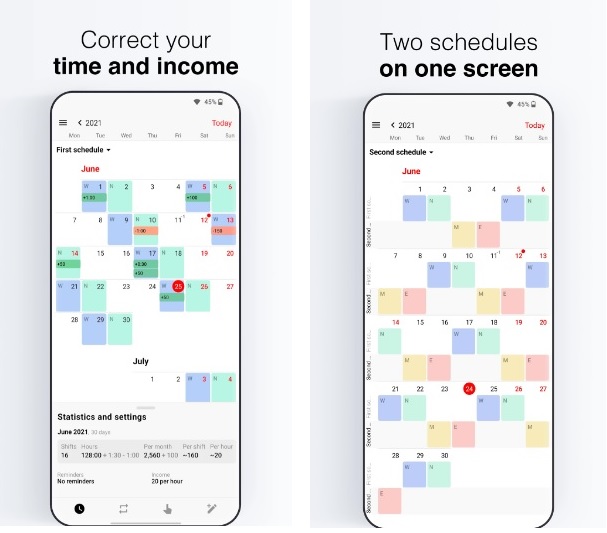 Shift Worker
No time to keep an accurate eye on your shifts and what's going on in your life? In that case, Shift Worker will help you navigate all your shifts.
With this application, you will quickly get all the precise information about your work schedule, as well as turn all this routine into the most common thing for yourself. A whole month of shifts can be entered in a few minutes, and the whole year at once also does not take you much time.
In Shift Worker you can add your own type of shifts that you have. This way you can fill in even faster, and in the future it will even be done automatically. Different colors can be defined for different types of shifts – so that everything becomes clear at a glance on the calendar.
For each date, you can create separate personalized notes to remind you of important things. Have all shifts moved? It's no problem, because Shift Worker can shift your entire work schedule in a couple of clicks.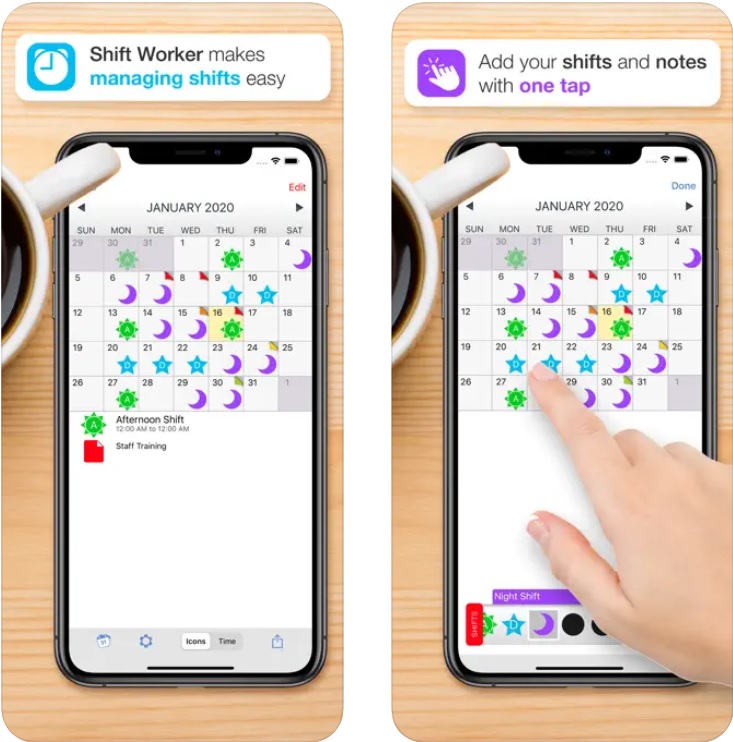 Timesheet Time Salary Clock
With this useful app, users can easily track their productivity in terms of earnings, hours worked, and costs. The app is conveniently structured, so users can easily navigate it.
The interface of this app is not only intuitive and straightforward, but also beautifully designed. Here users can find minimalistic backgrounds, laconic design, and graphs.
This app will greatly facilitate the tracking of time, because here you can immediately see several factors that reflect the user's performance. Among these factors, users can check:
working hours
money earned
money earned per hour
pauses, and others.
Also, this app will free users from having to manually calculate the exact amount of money earned and the number of hours spent on work. For convenience, users can easily export their data to an Excel spreadsheet.
In addition, in order to keep other members of the work team informed, a user can create groups with other users. This feature has an interesting point, which is that the creator of the group can view the data of other members, but they cannot view the data of the creator.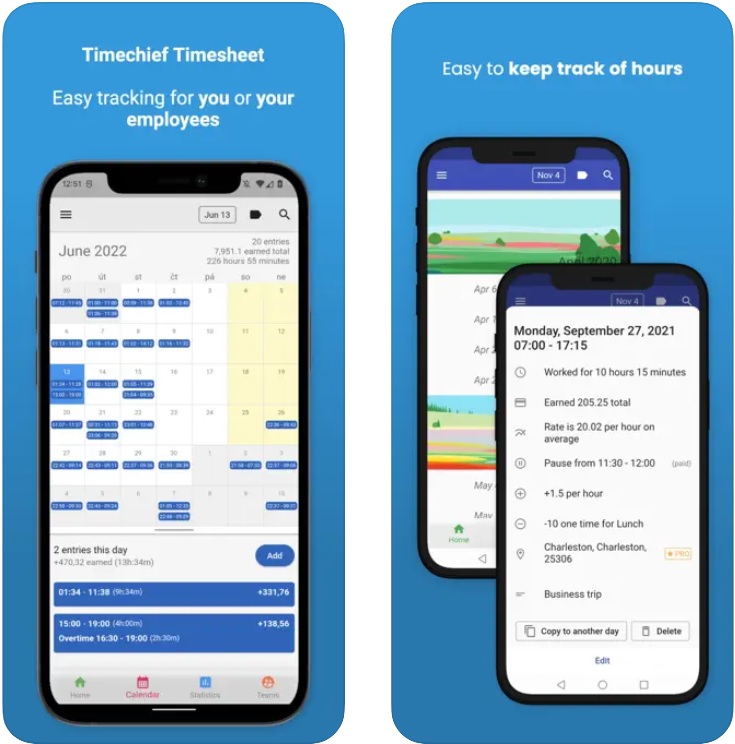 You may also like: 12 Free calendar apps for Android
Supershift – Shift Calendar
Supershift is more like a standard business planner. The design of the application is more formal and strict, and it allows you to track not only work shifts, but also personal affairs.
However, the application perfectly copes with work schedules and personal life, and you will be able to keep track of all this. Even if you do something other than work (for example, training in the morning or yoga in the evening), the app will remind you of that.
In Supershift you can create a whole report about your work. It will contain information about your earnings, hours worked, overtime and much more. For a more comfortable viewing, Supershift provides customization of the interface and themes.
By the way, the application has an automatic countdown timer – until the upcoming shift or until its end. You can set up a special widget that will always display this information to you – whenever you look at the screen.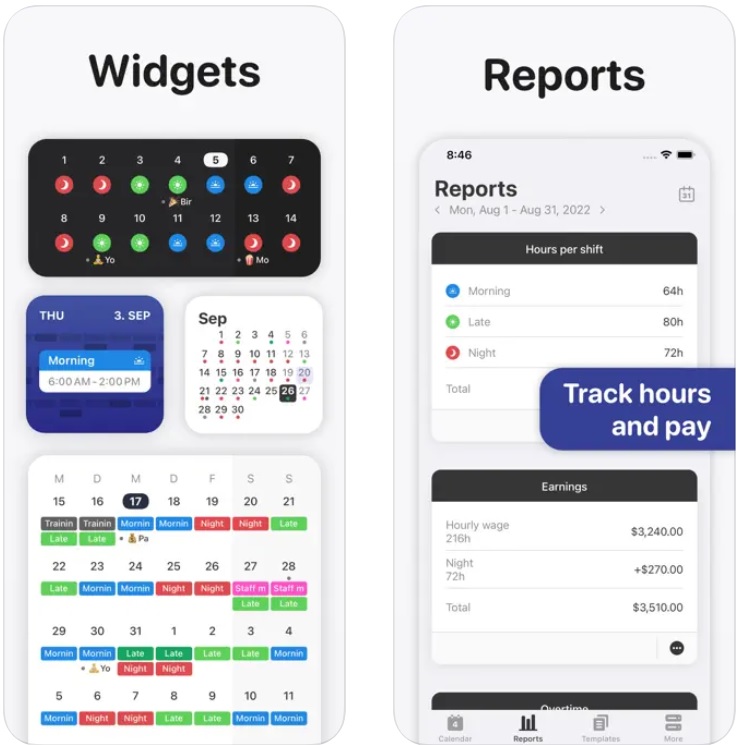 My Shift Planner – Personal Shift Work Calendar
To control your work and personal life, you really need to plan everything. You can't just relax if you think you need to get up for work tomorrow morning.
After downloading the application, you can start planning immediately, as well as use the built-in schedule templates. You can also explore custom templates that are easily processed by the application, no matter how confusing they are.
My Shift Planner is really easy to set up – even the most complex models. If you've already contributed something to your calendar on your smartphone, you can import data into My Shift Planner. Everything will quickly appear in your new work calendar.
Each color in your calendar means a specific event or task, so you'll even visually understand everything at once. You can display 3 of your upcoming shifts and their dates on your smartphone home screen. Also, My Shift Planner has built-in holidays for many countries – including regional holidays in your country.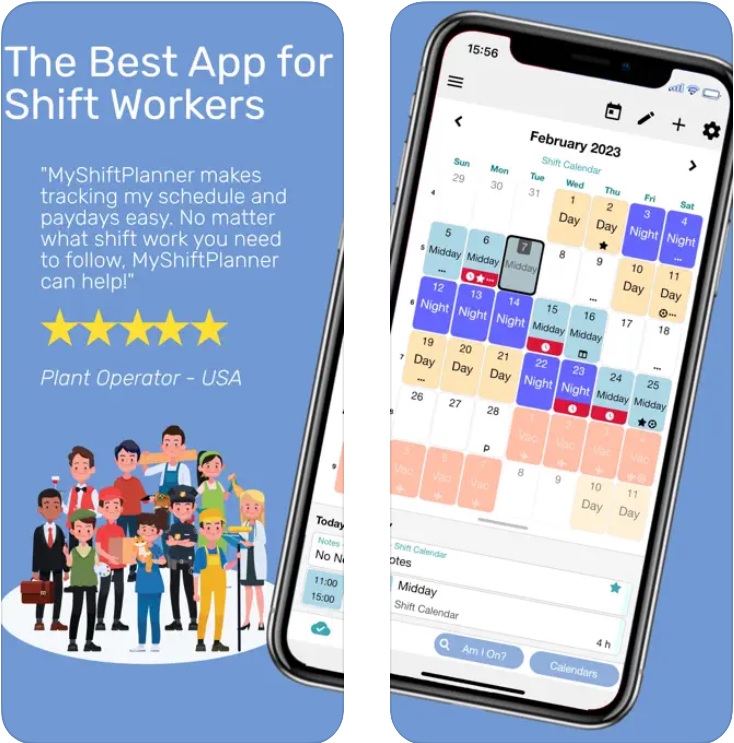 Work Shift Calendar by LRHSoft
If you need a clear application interface, we recommend you to pay attention to the Work Shift Calendar. Simple enough and intuitive enough, this interface will tell you what to do.
You can easily control your working time, income, and do not miss a single task or meeting. The application's statistical system will help you quickly adjust your schedule.
Work Shift Calendar allows you to set up your own shifts, as well as to separate work and leisure time. Your working time will be easily controlled and your income will be calculated based on this data.
By the way, for those people who can work 2 shifts a day, this feature is also available. If you are afraid that you will forget about something important, we recommend to set an alarm connected with this day. When switching from an old device, simply import all the data and your schedule will remain the same.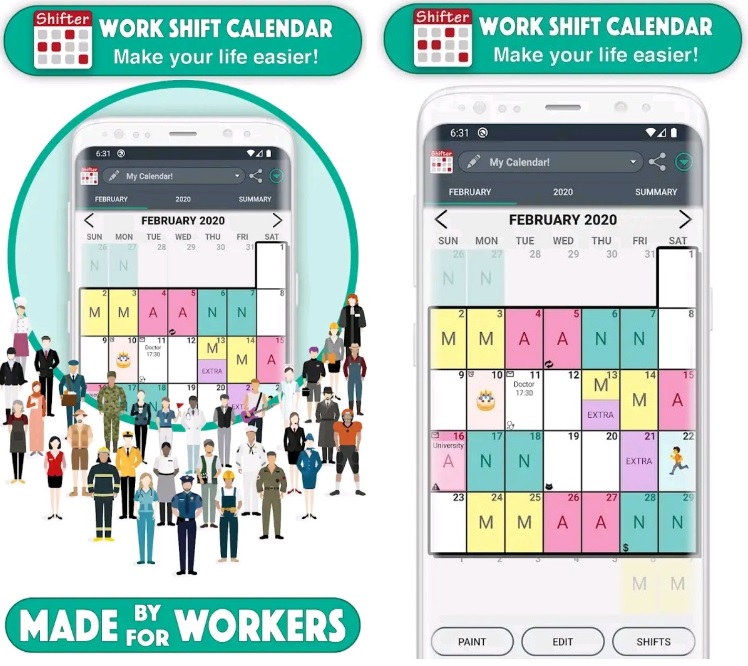 You may also like: 9 Best Cross-Platform Note Taking Apps
SHIFTAR
Shift tables are not the most convenient way to present your schedule. You can change them all the time, scratch them off and write them all over again – but in fact, it's very uncomfortable.
You can transfer this table to your smartphone. For example, the SHIFTAR application allows you to manage both work shifts and personal events and plans. It is an incredibly simple application that allows you to intuitively fill in all your data.
You will be able to start typing in your scheduled shifts right away – of course, at the beginning it will be an unfamiliar job, but then you can quickly control everything. To speed up the filling process, SHIFTAR has a special feature that allows you to add shifts with one touch.
There are several designations that you enter yourself – evening, day, night shifts, and other information. In just a couple of minutes you can fill in the calendar for the month completely.
Like some other applications, SHIFTAR can also calculate your salary for these days, making it very convenient for further budget calculation.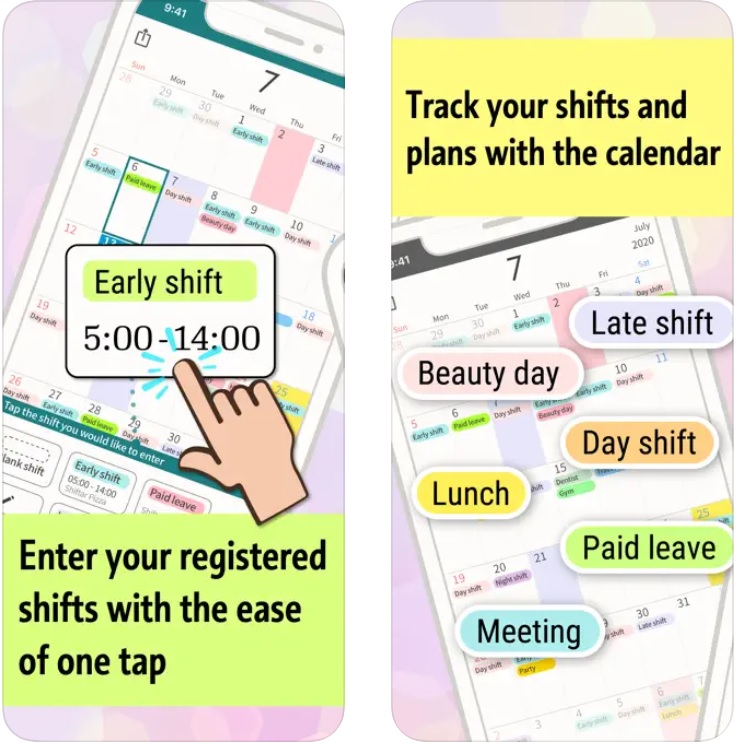 Bonus: Shift calendar
Shift Calendar is not a free app, but it's efficiency of a work shift calendar is above all the doubts.
Schichter – Shift calendar- this is an app that will allow you to never forget about upcoming events or about things that need to be done. Shift calendar has quite a lot of functions so that you can use it as your personal diary, calendar or diary.
One of the main functions that you should pay special attention to are:
A field for entries (here you can record your thoughts and ideas, dividing them into appropriate categories and dates in the calendar. Also, in this function there are many tools for highlighting text, adding main points, and much more)
Reminder function is a simple function that consists of calendars divided into blocks, as well as a table with a separate block for each day of the calendar. Here you can write down your plans and what needs to be done. You can set a reminder and this app will send you a notification either at the moment when your plan should come to fruition, or in advance)
Design function (this function implies the presence of all kinds of designs for your calendar, for example, various stickers, bright text separators, a huge set of different fonts and underlining tools, and much more).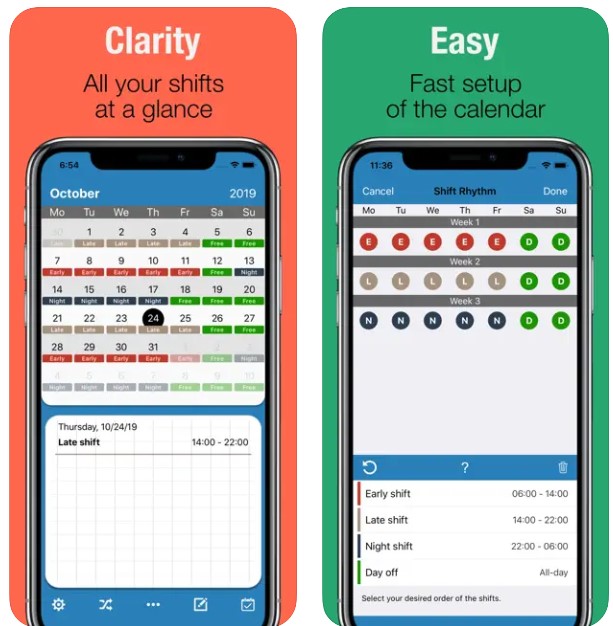 You should always keep track of your time, memorize all meetings, work shifts, and deadlines. You can't let other people down by breaking your own work schedule and not following agreements. If you want to be punctual and not forget anything, you really should use such applications.
Carrying a diary is uncomfortable – and you can easily leave it at home or forget to write down the date. You will always see on the screen a visual display of schemes and cases, which in the future will help to plan future daily affairs. We hope you found what you wanted!