Cars are everywhere these days. They help people to move easily over huge distances. Even simple city travel becomes much more comfortable with a car. Getting there 10 minutes before work, going to the mall at the weekend, buying groceries from the supermarket, and taking them home safely – all this becomes a reality.
But a car is a rather expensive purchase. Some cars can be comparable in value to apartments and houses, and sometimes even more expensive to use. And not all people are ready to settle for the most budget option.
Or you do not have an urgent need to purchase it – for example, you work from home or all the necessary places are within walking distance of your apartment. Then you only need the car occasionally or for long journeys.
You can also check: 15 Best Ridesharing Apps for travelers (Android & iOS)
In this case, you may need a rental car to help you. Unlike ridesharing, if you rent a car, you use it yourself, without any extra people. You can rent it in person and take the train alone.
Car hiring is very common now. In large cities, car rental points are almost everywhere, even in car dealerships. The car can be found for every taste, wallet and special requirements. Whether it is a convertible, a limousine or an old Peugeot, you can even find them if you like.
As always, a smartphone comes to your rescue. In today's world we do not go anywhere without phones and landlords understand this. Therefore, we have developed special applications to search for car rentals. Owners of smartphones iOS and Android right now can choose the most pleasant option from our top of the best applications for car rental in 2019.
Getaround – Instant Car Rental
Getaround is an application that allows you to easily find the car of the desired brand and model. On Getaround you can not only book and rent a car but also provide your car for rent.
How does it work? If you are a driver, then you have definitely thought about how much money is required for the vehicle. Gasoline and fuel costs, maintenance, scheduled inspections – and so on.
Constant car washes, oil changes, etc. are of great value to owners. You can recover at least some of the costs if you rent your car. Getaround service compensates the owners for 1000 dollars for the use of their car. This way, your costs will be lower and the car will only be used at a certain time.
Renters can also find a car nearby. If you wish, you can put a filter on the search – brand, desired model, operating time. For just 3 dollars per hour, you get a great option for a vacation, a trip to the store, or out of town.
Use Getaround and you will get included in the price of insurance on the road and an easy way to travel long distances. You just need to download the app to your smartphone and that's it – no subscription or additional fees required.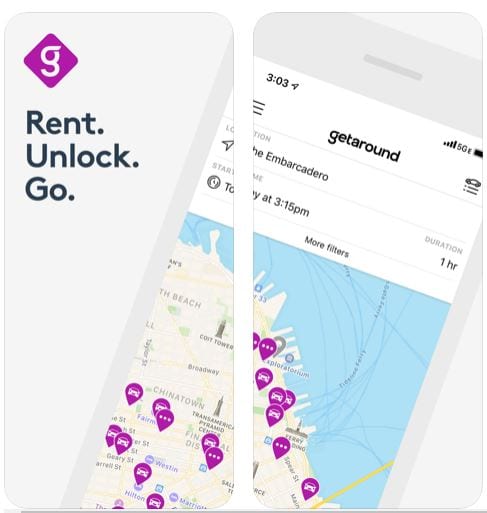 You may also like: 11 Best car locator apps for Android & iOS
Zipcar
A free car rental application is available in nearly 500 cities in the United States, Canada, Taiwan, the United Kingdom, and other countries. In addition to cities, the service can also be used in small villages and towns. Zipcar's geographical reach is amazing.
While the installation of the application is free, membership itself requires a monthly fee. They range in size from $6 a month for the simplest package.
Hourly car payments range from $8 to $10 per hour depending on the car itself. You can rent an hourly or daily car with fuel, gas, and insurance included.
With Zipcar, you can easily find and reserve cars nearby, such as a Sedan, hybrid, van, or minibus, depending on your requirements. Just set up your search filter and go on a trip almost immediately!
With the help of the alarm system, you can easily find your rented car, as well as extend the lease for the time you need. You can book online as well as put it down. The handy application fully satisfies the requirements of users.
If you do have a problem, Zipcar support will always try to solve your problem. The quality assurance is also that the application is the development of one of the leading car rental companies.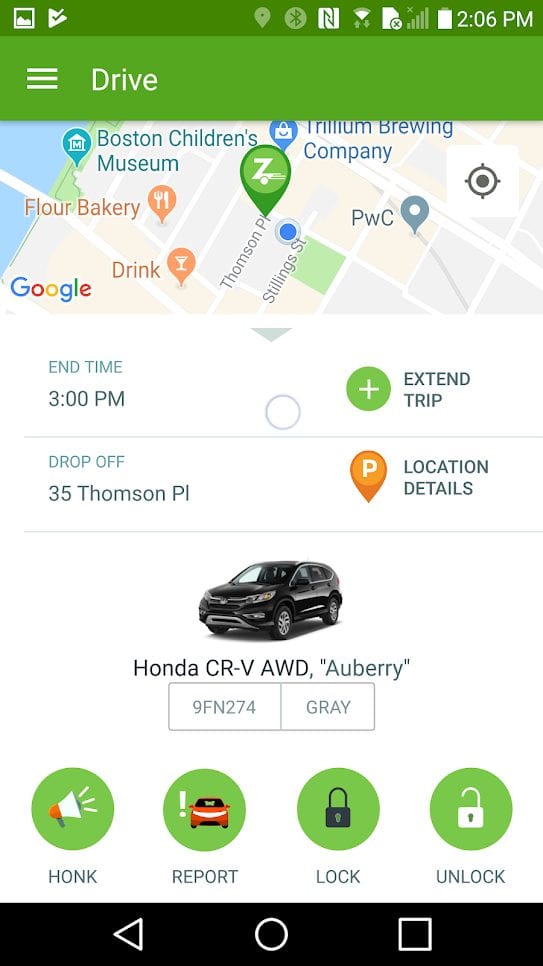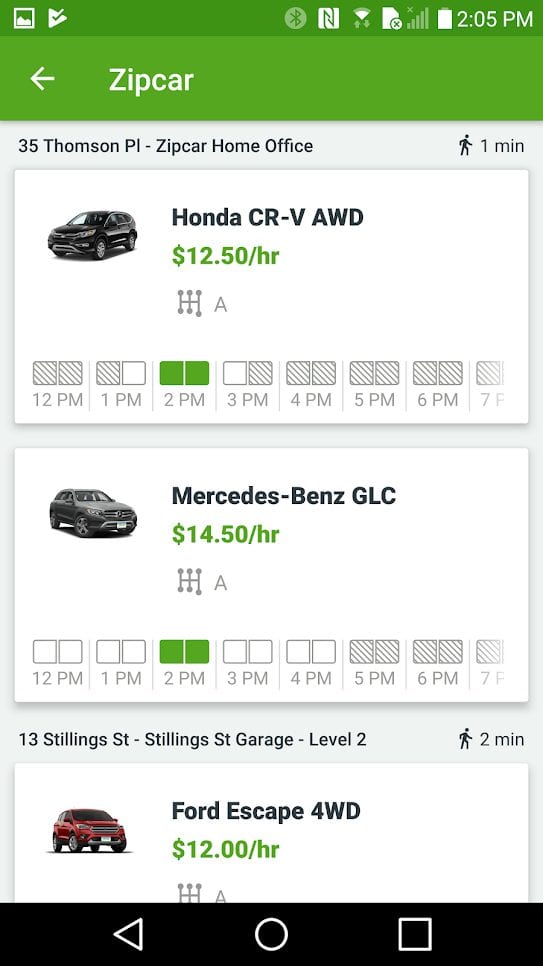 Turo – Better Than Car Rental
Turo is directly a car rental market. Renters and landlords meet directly here. Turo allows you to get in touch directly with the owners of vehicles in the world's largest powers. Canada, the UK, Germany, and the USA are already connected to the program. Users can choose from more than 850 models and types of vehicles.
If you want to find a car to help you move, or just go to the place where you can most easily get there by car, then use the Turo. This way you can save up to 30% of your rental money – as agencies usually charge you a much higher fee.
Booking a car is incredibly easy and takes just a few clicks. When you confirm the car, you will already have access to it – the whole process can only take a few minutes. Choose the perfect car – to meet your friend from the airport, go to your parents' cottage, or travel with friends.
From the luxury cars to the simple, cheap Volkswagen or minivans, Turo offers you the perfect car. Finding the right car for every situation is now a reality.
There are also guarantees for car owners: for each train, Turo provides insurance up to 1 million. So you do not have to worry about your property: in an emergency, the company compensates you for everything. Find the car of your dreams or use an unnecessary car to your advantage.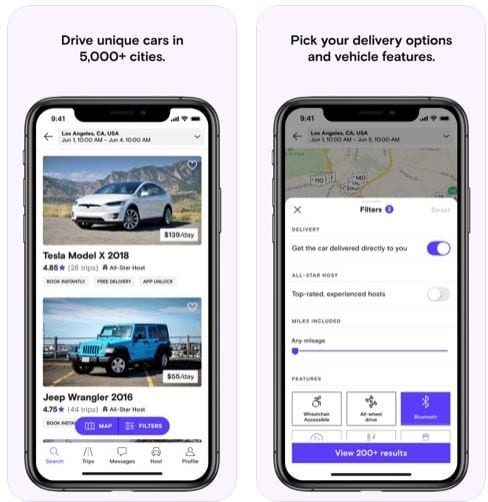 Enterprise Rent-A-Car
Another application for easy car rental. Enterprise is a long-established company in the field of carsharing. That is why it is so easy and fast to find transport with them!
The company is so large that it has more than 7 thousand offices around the world. This is exactly what ensures geographical availability for application users.
Register your account and start booking. Enterprise Rent-A-Car after registration gives you access to the view of possible booking options. Allow access to your location and the service will show you all the options nearby. You can set up a search filter and choose a car with the necessary characteristics – availability of air conditioning, mileage, available dates of booking.
Also, Enterprise Rent-A-Car has an Enterprise Plus account version. In this way, you will be able to book an accelerated reservation and additional points for car rental. They can be used for further use of the service.
Rentals are available at the rental locations, so you can quickly find the nearest one in the app. All the details are also visible to you in your account – rental history, car characteristics, available booking time, time, and cost. Bonus points can be redeemed for extra days of rental – so you can make use of them profitable!
If you are constantly using an Enterprise in the same place, you can make it your favorite and have quick access to cars in the area. Enterprise Rent-A-Car support is always available. If you have any questions or problems, agents will try to solve them or replace the vehicles. Everything for your convenience!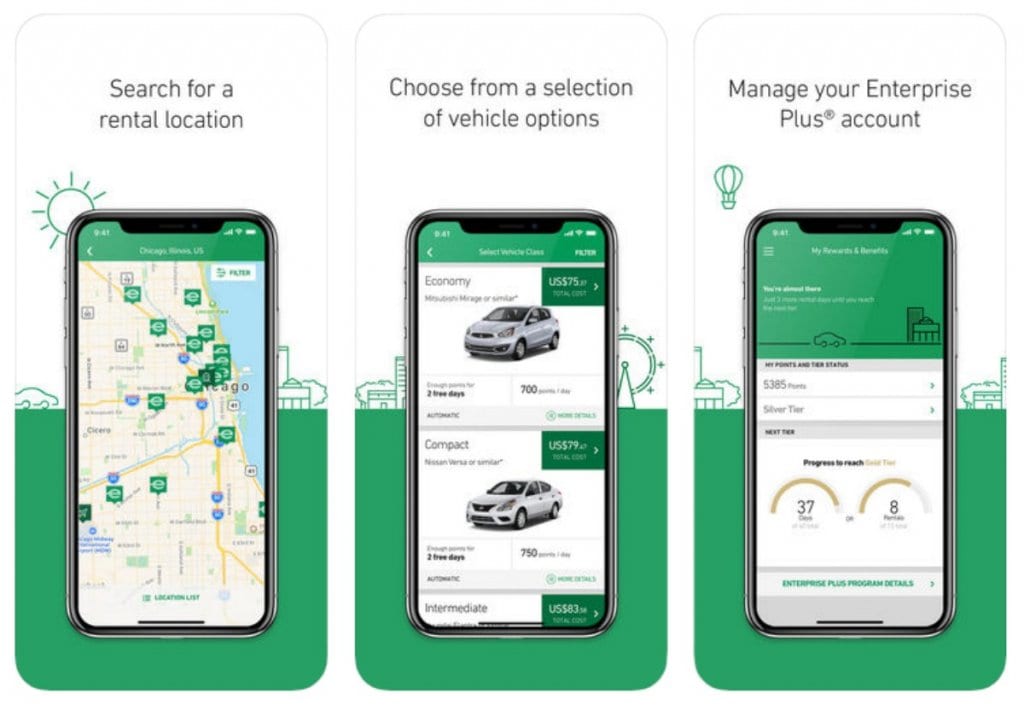 Silvercar by Audi
Silvercar is the development of the leading automotive company Audi. How much we have heard about this brand of transport and how much respect it evokes in many people – high-quality assembly, excellent design, friendly staff in car repair shops and holdings.
Audi is a representative class car and it cannot but cause a feeling of reliability. Now it is incredibly easy to get access to the cars of a high level.
Silvercar relieves you of paperwork, lengthy document processing, and queues at rental outlets. All you need to do to drive a quality car is to install the app on your iOS or Android device and fill in a few boxes.
You just select the necessary dates and the application shows you the possible options. Choose the car to your liking – model, color and even the number of seats. All this is specified in the description of each car.
Now you do not have to wait at the airport your car or call a taxi. Simply order a rental via Silvercar and the car will be waiting for you on arrival.
Toll roads and fuel stations are also tracked in the application. You can route your way around the toll-free road and get there at a lower cost – all thanks to Silvercar. Every car has heated seats, Wi-Fi, satellite radio, and more, and a leather interior will give you even more fun.
Feel like an incredibly important person or a wealthy businessman – this will give you even more confidence, and a trip with comfort will only give you a pleasant experience.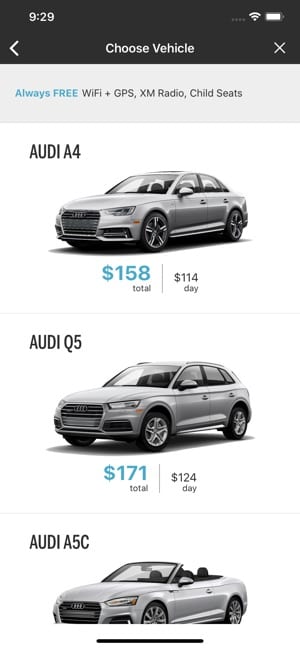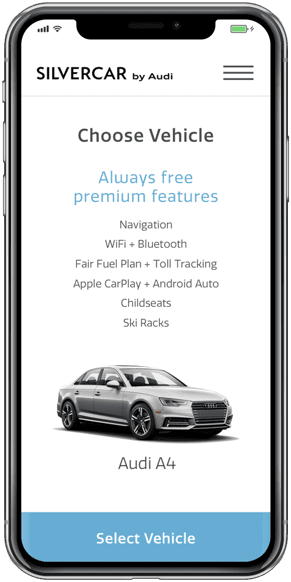 You may also like: 4 Best free rides apps & discounts for Android and iOS
CarzUP – car rental app
CarzUP is the largest car rental service. Its sphere of influence includes more than 20 largest world rental companies.
To pick up the car now becomes improbably simple – any model, mark, color, requirements to the salon – the company will pick up all necessary under your inquiries and will try to satisfy completely wishes, of course, in your car will not be the driver Michelle from the film "Taxi", but, for example, it is possible to find the car with the leather salon to you for sure.
If you are located in the United States, Canada, or the UK – feel free to download CarzUP. The app will help you find your own personal transport quickly and easily for a couple of days or more.
You do not even need a bank card to make a reservation – so you do not have to worry about your financial security. You do not have to worry about insurance. If you need additional car insurance, you just pay an extra 11 dollars per day and you can use the vehicle without worry.
CarzUP allows you to compare prices between different suppliers. So you can even benefit from it and find a cheaper option. To make sure you remember your rental, you can even give yourself a notice or a reminder on the day you book. All your rented cars are in the same column, so you won't get confused about your orders.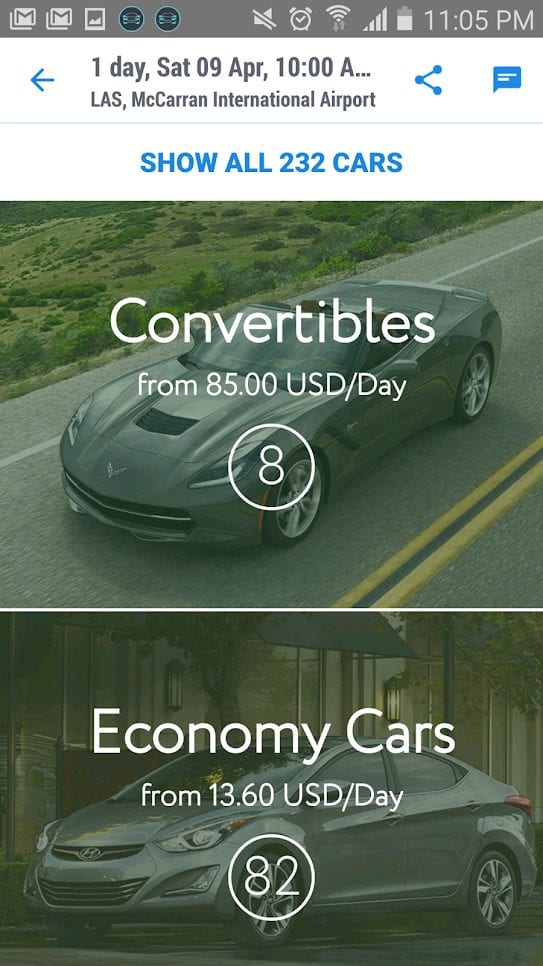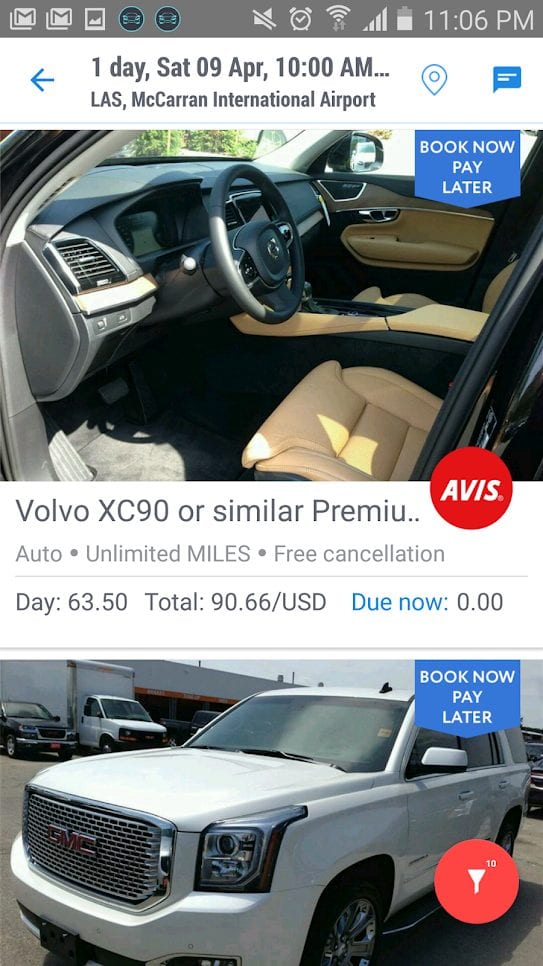 Rentalcars.com Car hire App
Did you have to go somewhere by car and it was not available? And you do not even know who to ask for a favor? You do not need to ask someone for a car or call a taxi service! Now you can use the Rentalcars app.
The entire order is done in just 4 steps. Choose all the dates you need – you almost have the car. Whether it is a business trip or just a desire to sit in the driver's seat, Rentalcars has the right solution for you.
The service works with the largest car companies around the world and works for almost 50,000 cities and megacities. The geographic reach of Rentalcars is amazing and now you can find cars not only in your own country but also when traveling abroad or on holiday.
All cars in Rentalcars access are delivered by official representatives and for this reason, have quality assurance. In addition to all of these benefits, Rentalcars' developers guarantee you low and fair prices. There is no crazy interest from the landlords at the rental locations. Everything is fair and profitable!
The app is available in more than 40 languages and all prices can be viewed in a currency you prefer. Wherever you are, support agents will solve all the problems – you can call them at any time of the day. The company has representatives and affiliates in 163 countries, so wherever you are, Rentalcars will always be in touch with you.
Book a car or cancel a reservation at any time via the app. All transport issues will now be resolved in a few minutes.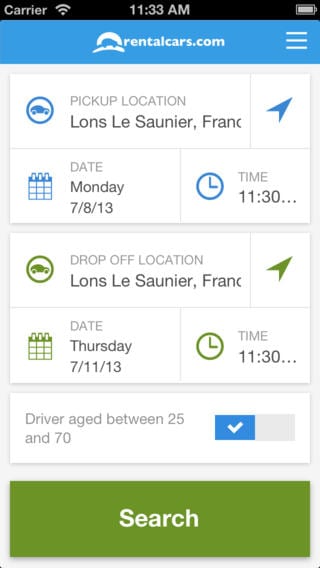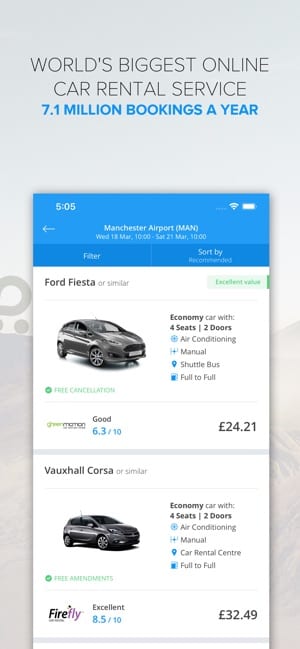 Virtuo
Everyone (well, at least most of people) is dreaming of riding the fancy car without having to work for ages for it. We often stop on the street when we see another fancy vehicle to enjoy its esthetic and beautiful looks. But who said this life is available to the rich and famous only? With the car rentals, all your dreams can come true! (At least for the weekend).
As you already guessed, Virtuo is famous more for the car rental service itself, and not the app in the first place. It is even better than now they released their app as well because more people have access to it.
In this service, you will find all types of cars for any occasion. Want to impress someone without extra hassle? Why not renting that CLA Mercedes for a couple of hours?
But don't think that Virtuo is the app for luxury car rental only. You can find here quite budget options for getting one point to another without paying extra money for it.
The whole process of getting the car here is pretty standard – you first need to book the car at a certain location. Here you won't need to pick up the keys from the office from the previous lessee because the cars are opened from the app, just like in all the modern car-sharing services.
The app requires no paperwork at all. When you first install the app, you just need to upload the copy of your driving license, sign the agreement about the terms of use and that's it. What is more, the app have a convenient system of damage reporting – just in case.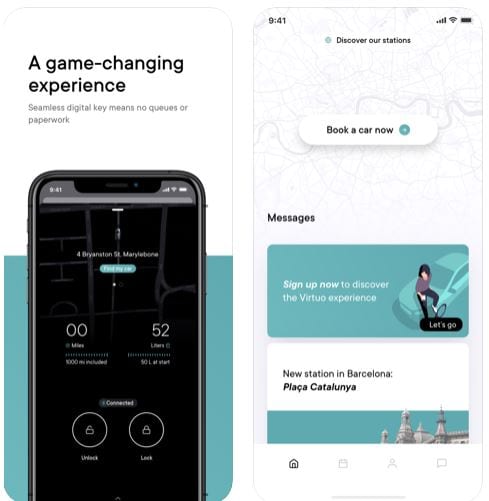 Europcar – Car & Van Hire
An application that will help you quickly find a car in the UK and a number of other countries. Just like the SIXT, the service has its own vehicle rental locations.
But there is already an order of magnitude more – more than 5,000 locations geographically located in Britain and 132 other countries around the world. The developers of Europcar say that they take care of all your transportation needs – you just have to enjoy your travels.
The service is available 24 hours a day, 7 days a week, so you can book at any time that is comfortable for you. If necessary, you can change the details of the order or cancel it at all.
Also you are provided with twenty-four-hour support on the roads – in case you are involved in an accident or something unusual has just happened – the support service will take your call and help to solve the problems.
There are also promotional offers. Exclusive Europcar promotions and discounts are available all over the world – hurry to use the most profitable applications.
When using Europcar for a long time you can choose your favorite cars and they will be automatically offered to you when you make your next booking. If you give the app access to the GPS tracking system, it will help you navigate the new route or tell you where the nearest Europcar service center is.
The app saves you time and money. Firstly, the prices are quite democratic and not overstated. Secondly, you can save time at the check-in desk on arrival – Europcar will already provide you with a car on advance booking.
No matter what the purpose of your trip is, Europcar will be your assistant and companion. Even a child seat is provided – if you have a child, the service will provide a child seat. All you need to do is calm down and focus on your holiday.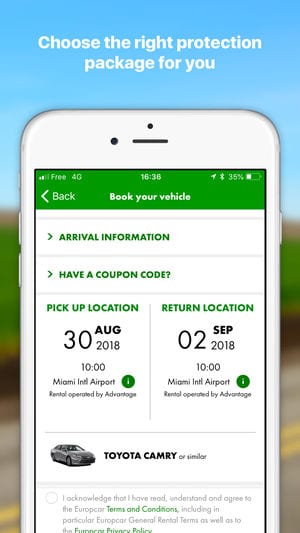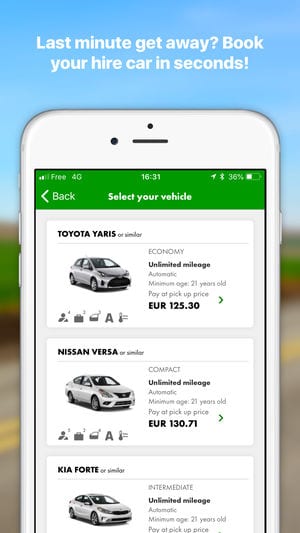 Budget – Car Rental
For some people, especially for students who are broke renting a car is a synonym of luxury. But in fact, does the car rental have to cost you a leg? Absolutely not. Nowadays you can find all types of services on the market with the offers for any budget – including renting cars.
By the name of this app, you can definitely say you don't have to save your several wages to get a vehicle here. Considering the signing up in Budget it is beneficial to have your account on Fastbreak, if you are a member there, you can use that account to log in here.
Just choose the location where you want to rent a car and make your reservation. It is better to make the reservations 24 hours in advance so you would definitely get the car you want. Your account will take the management of all your current rentals and will save all the information about the past ones, just in case.
And don't think that if this is a budget car rental you are going to drive the half-dead vehicles all way down here. The cars presented in this app are quite decent, they are just more affordable family-friendly models, such as Peugeot, FIAT, and so on. There are a lot of hatchbacks.
What is more, you can customize your account in this app – you can choose the preferable location, the preferable car brand, protection and coverages, communication preferences, and many more.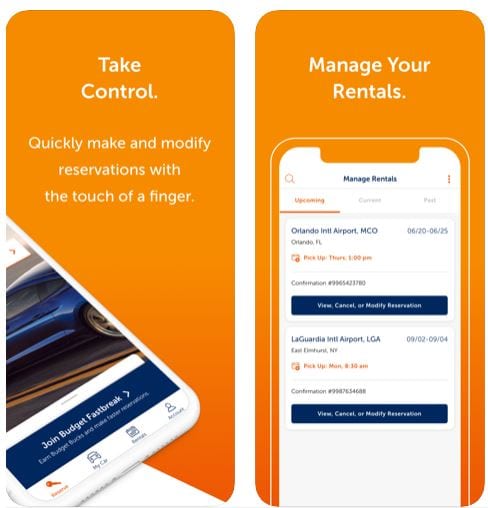 You can also check: 15 Best Taxi Apps for Android & iOS
Hertz Car Rental
This is not just one of the most popular apps for the car rental, but it is one of the most famous offline car-rentals in the world. The developers of this app definitely deserve the appraisal, because it is difficult to imagine a more user-friendly interface that would be so convenient in usage.
Do you need a car? Just enter the location where you will need that car and the app will find an option for you that will be available at that specific spot. Well, of course, not each little town is available on the map, but the prevailing amount of cities and famous tows always have the representatives of Hertz.
After you selected the location and a car, you can mark the time of the day when you want to pick it up. The app will make the reservation and will remind you about any updates of it. It will also remind you several times about the car rental itself. By the way, you can order the car delivery – someone will deliver the car to your address.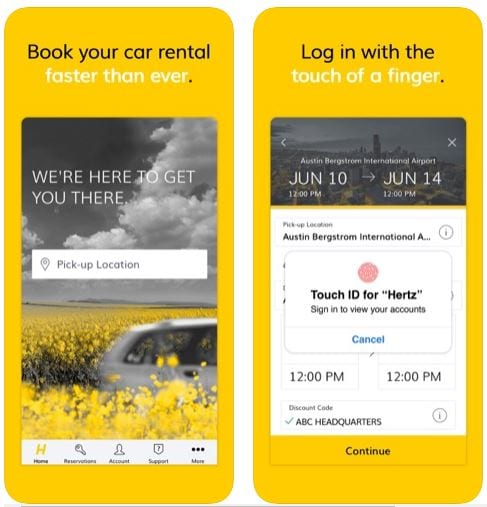 Traveling is great. But you can use all these services not only for travel. Just go out of town with your friends, go to the big supermarkets for shopping and not worry about having a hard time getting your bags home, repairing and transporting materials, or even moving – for all these purposes you can rent a car directly from your smartphone.
Transport mobility is necessary for a modern person – it is the only way you can always be on time, not to be late and not to miss the best moments of your life. Live brightly, ride the best cars!