Some may say that spying is a violation of personal boundaries, but it is the only way to learn hidden facts, the disclosure of which can improve your or someone else's life. That is why such services are still popular.
If you pay attention to the apps that are presented on mobile marketplaces, you will notice that among them there is no full-featured service that includes all the necessary tools.
Yet, you can still find high-quality services on the Internet, among which we have reviewed these best spy apps with free trial 2023 for Android & iOS. 
Do you suspect your significant other of cheating on you? Just use these free couple tracker apps.
mSpy
mSpy is a multifunctional phone tracker. The app is paid but comes with a free trial. It is designed for caring parents who are interested in getting information about their children.
Your child will not know that you are using the app, because your phone will not have a label for it. But you will know about virtually every action that happens on the phone.
Who was called and what was talked about, what social media correspondence is about, what sites your child is visiting, and other information that your child gets from the phone. Including screenshots of pages viewed and actions on the phone screen.
To start using the app, you must go through the registration process. Your own account, which will be created in the app, will allow you to track your child's device. Next, you choose a data plan that suits you and is compatible with your devices.
The necessary setup will only take a few minutes. That's it, you can start working in the app. Information about your child's use of the phone is updated regularly.
There is an extremely important notification feature. It allows you to quickly get information that your child may be in trouble. You need to reflect certain words in the control panel. If the child indicates them, you will receive the appropriate notification.
Also, the app allows you to get data on the location of your child, they will be reflected on the map. The lock function allows you to block a program you don't like. Your child simply won't be able to use it and download it again.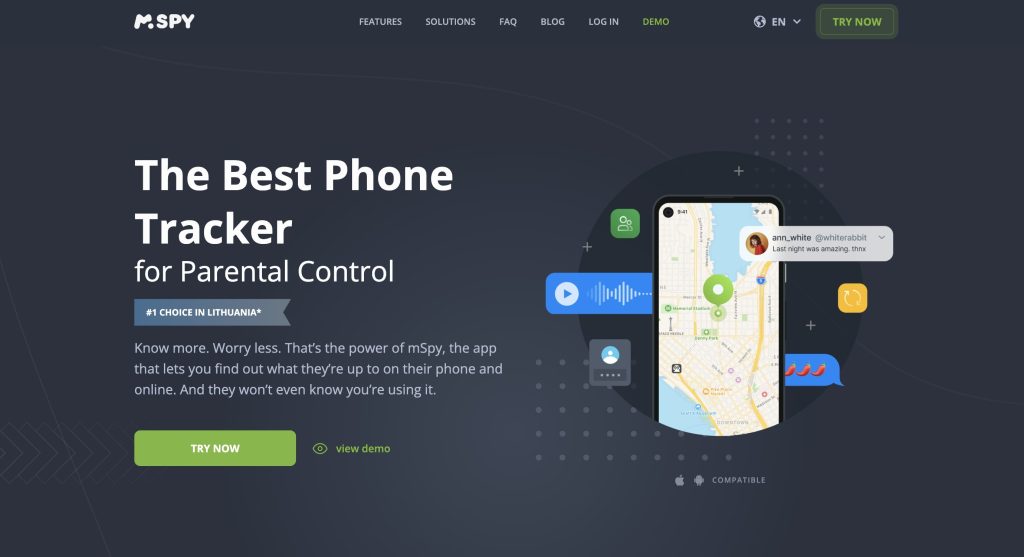 Many other features are just as important for parents' peace of mind. The app lives up to its claims and is worth the money you have to pay to use it.

You may also like: 11 Best Home Security Apps for Android & iOS
XNSPY
The XNSPY app allows you to track your phone. After a free trial, you can choose from several tariff plans, which differ in the set of monitoring options.
It is quite simple to use. You download and install it on your device. Everything takes a few minutes. It is necessary to log in to the app using the created account. Users get to keep track of the social networks the person uses, and track mail and phone calls.
You will be able to see the phone book and even record a conversation. Available to view correspondence in messengers, as well as information about the users's whereabouts.
You will be notified of certain activities on the user's phone. This concerns not only conversations and correspondence but also the location of the phone. To do this, you will need to define a list of places and words, people who cause an alarm.
You will be notified when this information appears on the phone or when the location changes. There are other features that allow you to check the user's digital life and know about his or her surroundings and plans.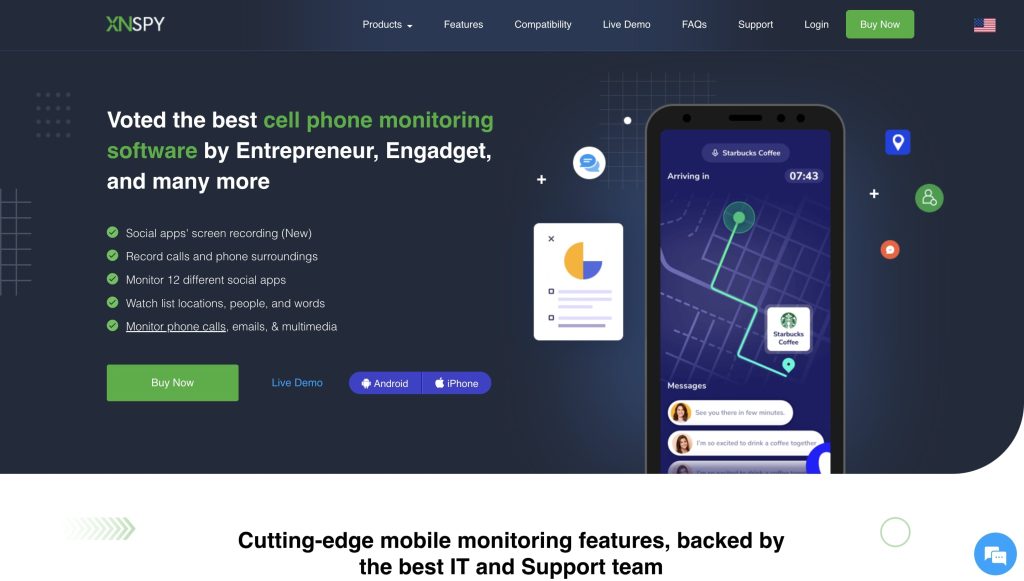 The capabilities of the app will not only provide you with a certain level of peace of mind by keeping you informed but also allow you to intervene in times in the person's life when specific threats arise. For example, cyberbullying.

Cocospy
Cocospy allows you to track phones and tablets. Its capabilities allow you to monitor discreetly. Your child or employees will not know that they are being watched.
The operating procedure is as follows. Create an account, install the app on your device and start monitoring. Users are able to see a list of contacts and calls that were made by your child or received on their device.
Information about the duration of conversations is available. You can view chats in messengers, as well as get information about the media files that the child exchanged with the interlocutor.
There is access to information about the sites he or she visited, how much time he or she spent on a particular page and how often he or she accessed it. If there is a need to monitor the movements of the child, this is also possible.
Besides, users of the app have the opportunity to set on the map certain territorial boundaries. When your child crosses them, you will receive a notification. The contents of the phone – photos, videos will also cease to be a secret for you. You will get access to them as well.
The functionality of the app allows parents to have the necessary information about the virtual life and environment of the child. This will help you be relatively calm, as well as promptly respond to the child's problems.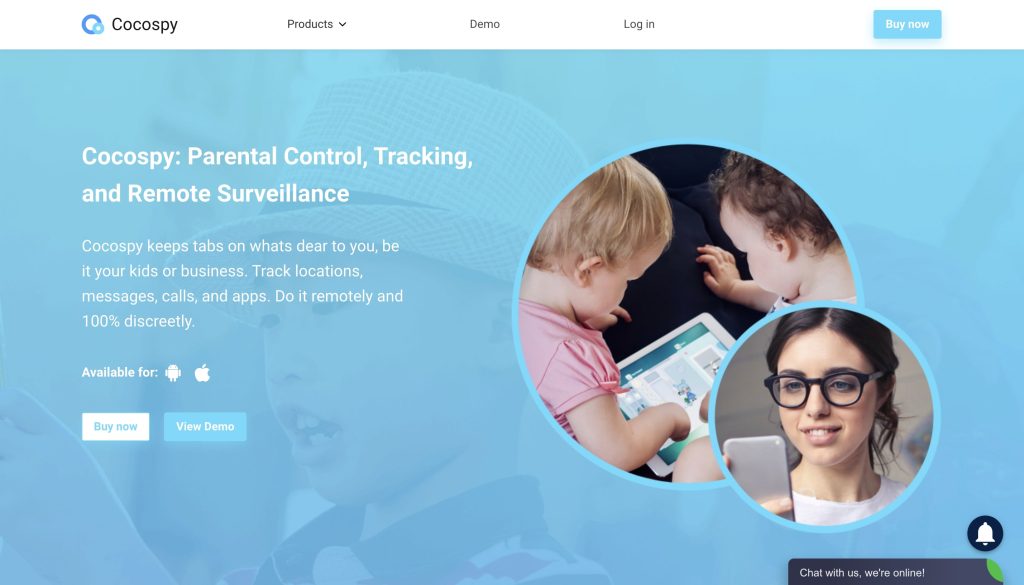 You can use the program not only for personal but also for work purposes. Information about employees will allow you to check the rational use of working time and their personal qualities.

uMobix
uMobix is an app that allows caring and concerned parents to track their child's phones. After a free trial the app is paid, but it is essentially the cost of your peace of mind.
Installing the app is a quick and easy process. Many parents face the need to organize control over what happens in the virtual life and phone of the child. The app will be a reliable assistant in this delicate matter.
Information about what's happening on your phone or other device is available in real-time and constantly updated. You will get information about the calls made, including their duration and the data of the interlocutor.
You'll be able to see SMS messages, even deleted ones. His or her correspondence and any activity in social networks and messengers are also available for viewing. If necessary, it's easy to track your child's location.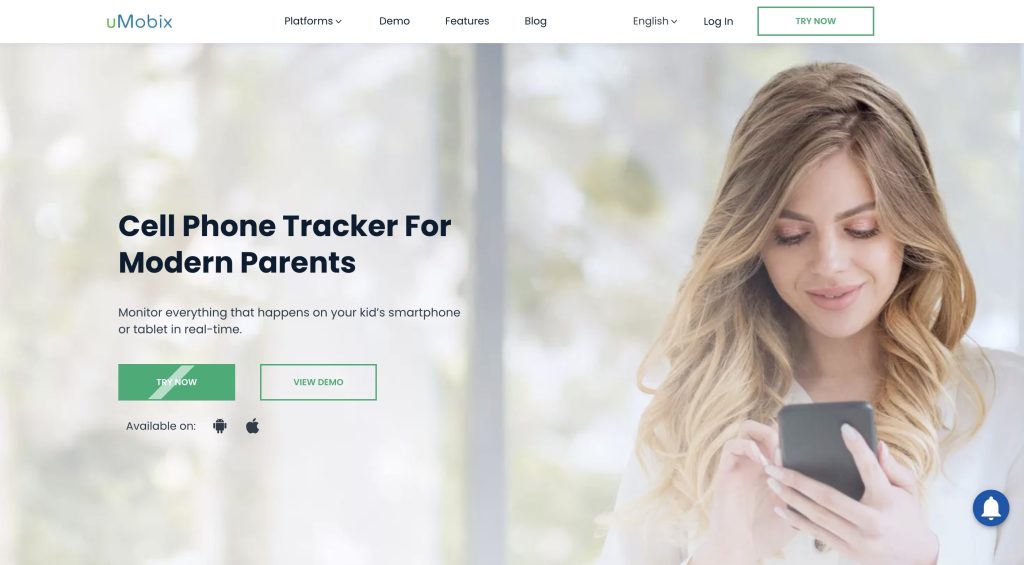 Access to his or her phone's camera and microphone will provide information about who and what is currently around. There are other tracking and control options, including the ability to restrict your child's access to certain phone features. The amount of authority you have depends on the plan you choose.

You may also like: 15 Free Phone Monitoring Apps for Android & iOS
Hoverwatch
Hoverwatch allows you to track the phone of your child, partner, or employees. It is multifunctional and easy to use. Unlike most similar ones, it is free.
To start using it, you need to register and install the program on your phone. The features of the app allow you to track inconspicuously those people whose phones you monitor. First of all, these are children. Because they are not always able to assess the potential threat and stop unsafe dating.
Parents can get information about calls, received, and sent messages. You'll be able to see your child's correspondence in messengers and the social network Facebook. The geolocation function allows you to get information about the movements of the child.
The app allows you to get information about almost all activities on your phone. Every time your child's phone screen is unlocked, the camera takes a picture of the screen and you get this data. You will also be able to check your child's activity on the Internet.
You will have access to information about the sites he or she visits, including the date and time of browsing. There is also a unique feature. Users of the app continue to track even when the SIM card is changed. You will be informed when the user plans to do so.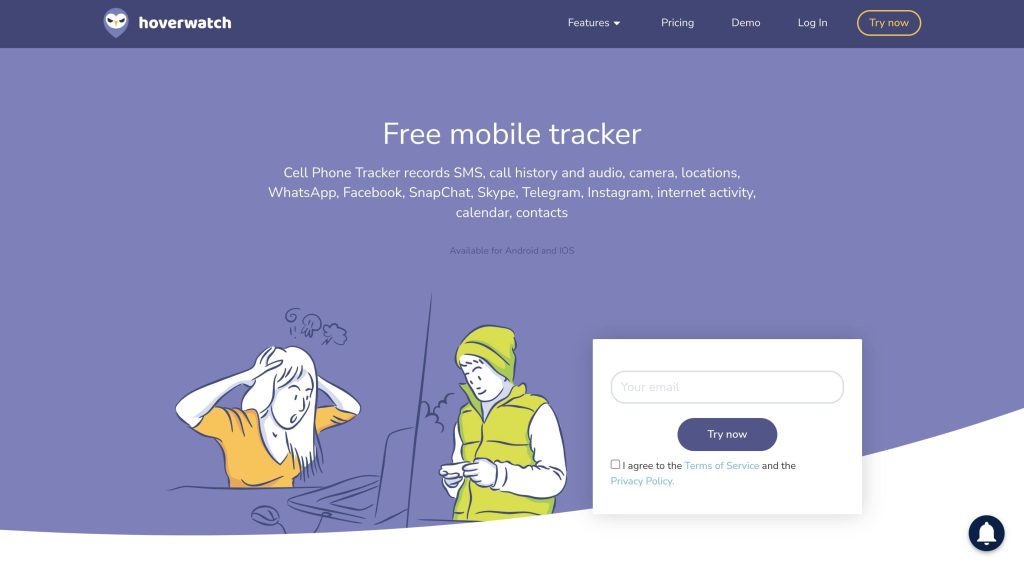 These are not all of the app's features. There are many other effective monitoring instruments as well. A great tool to know about events in the life of a monitored person.

SPYERA
SPYERA is a multifunctional app for monitoring phones and other devices. An indispensable assistant for parents and business owners, which allows you to get information in real-time.
The program is paid, which is due to the level and quality of monitoring. At the same time, you can get acquainted with all the features for free during the trial period. Installation is simple, and it is easy to use. Organizing device monitoring is first about protecting what matters to you. Family or business.
You get information about everything that happens to the device you are interested in. Information about calls on your phone or in messengers and other apps. The service comes with the ability to listen and record them.
It is possible to listen to the environment surrounding your child or employees. If necessary, you can even take pictures or videos of what's happening. Users of the program get access to all correspondence in messengers, e-mail, and other installed programs.
View incoming messages, including deleted ones, and the address book. Calendar entries let you know about upcoming meetings and other planned events in the life of a child or employee. And a host of other tracking features to ensure some level of security for your child.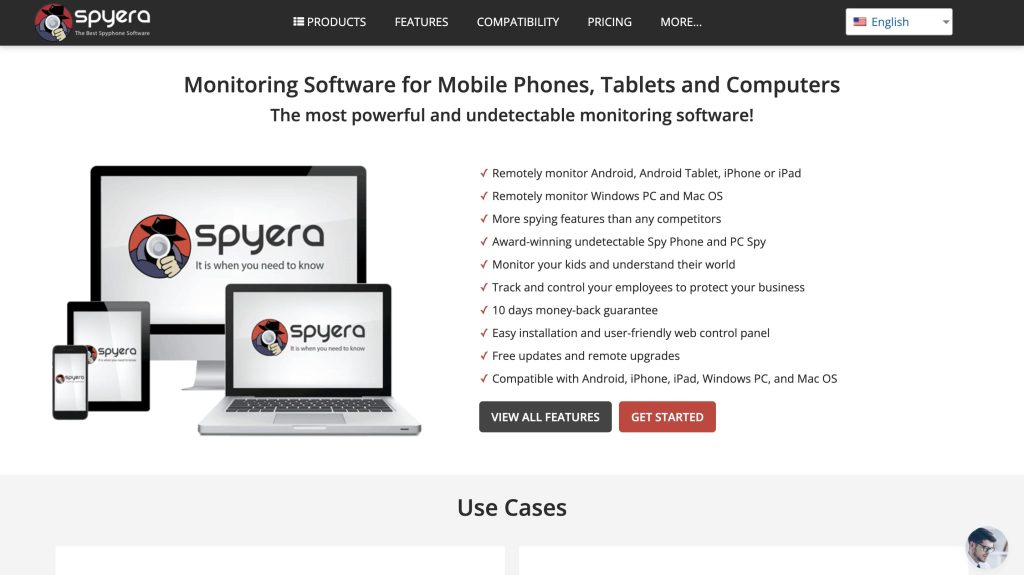 For business owners, it is an opportunity to avoid industrial espionage or misuse of employees' time.

You may also like: 15 Best Family Locator Apps for Android & iOS
FlexiSPY
FlexiSPY allows you to track the chosen phone as well as computers and tablets. Free for users. Easy installation and quick remote registration. Allows you to monitor covertly, that is, unnoticed by those you are monitoring.
You get information about everything that is happening on your cell phone or computer screen. You can view the correspondence in messengers and social networks. You will get information about the apps that have been installed on the monitored device. You'll know how often the user uses them.
Get information on all person's movements. With access to downloads, you'll know about all the photos and videos that were taken with the phone camera. Parents and business owners will be able to check the sites visited by the supervised person.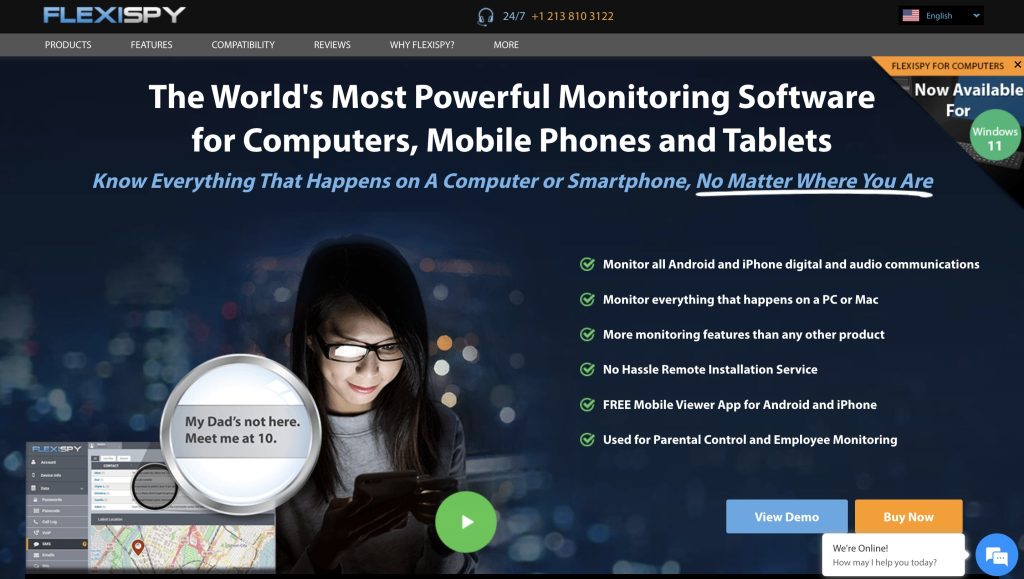 The app can track the phone or other device's microphone. This allows you to listen to your surroundings and, if necessary, respond to them promptly. This is an excellent tool that allows you to organize quality monitoring without any hassle or expense.