All communication has moved to messengers, as it is the most convenient way of communication in any field. This can be communication with relatives and friends from anywhere in the world, or business correspondence when it is important to quickly resolve an urgent issue.
Thus, it is crucial that the messenger meets all the requirements and includes all the necessary functions. Moreover, an important requirement is also the security of communication and strict confidentiality of data.
A few apps can boast of such a set of tools, so we have reviewed for you these best instant messaging apps in 2023 for Android & iOS. They really do differ from the rest of the mass of similar services in the best way.
For all of those who want to keep their personality safe, we recommend using these best anonymous texting apps.
Telegram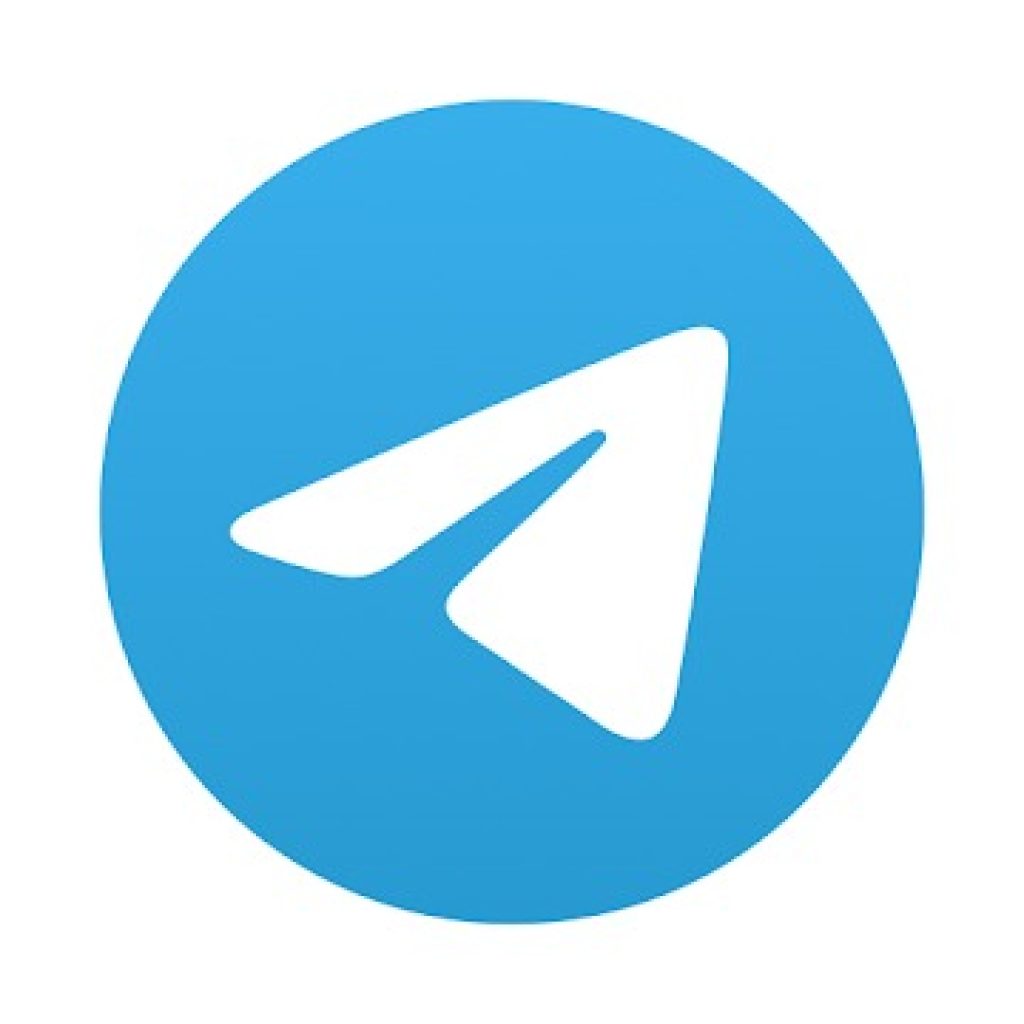 Telegram is a messenger for correspondence as well as communication with users from all over the world with secure access.
No wonder a huge number of people use the app, as it has a user-friendly interface and knows how to synchronize data to save everything important. Log in to the app via laptop, smartphone, or tablet.
It is worth noting that Telegram can work offline or with a weak internet connection, which is really handy. Download this program and send in correspondence large files, and photos in unlimited quantities.
The app is safe and reliably protected from scammers. If you're not sure about the safety of your correspondence, you can make it easily hidden. You will be able to belong to different communities, save the necessary information in your favorites, and much more.
What's more, create your own chats with things that interest you and promote them. In Telegram, you will be able to work together, it is a large-scale platform for all users.
Besides, here you will find a large variety of tools that will make it easy to edit images. You will be able to create your own stickers on any topic and then use them in communication via messages.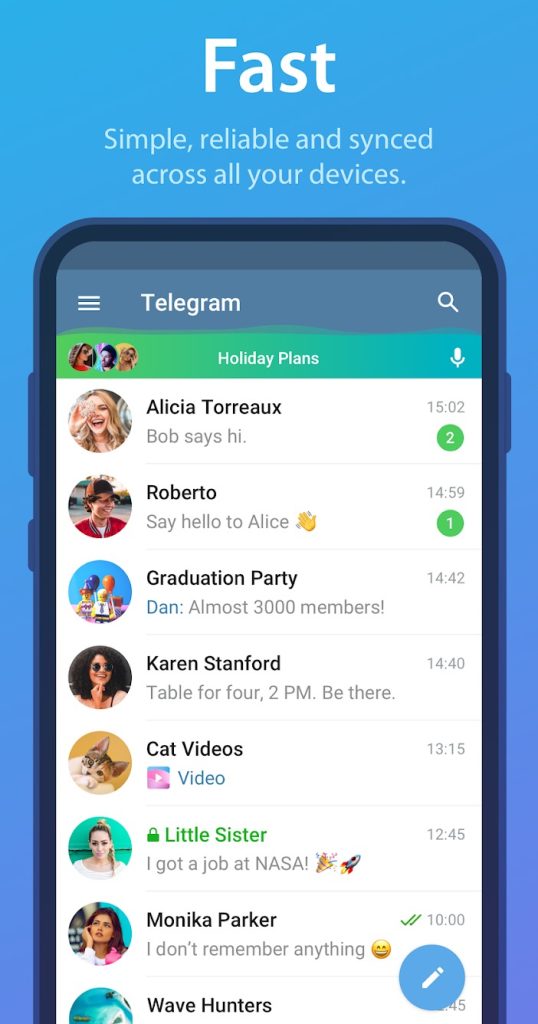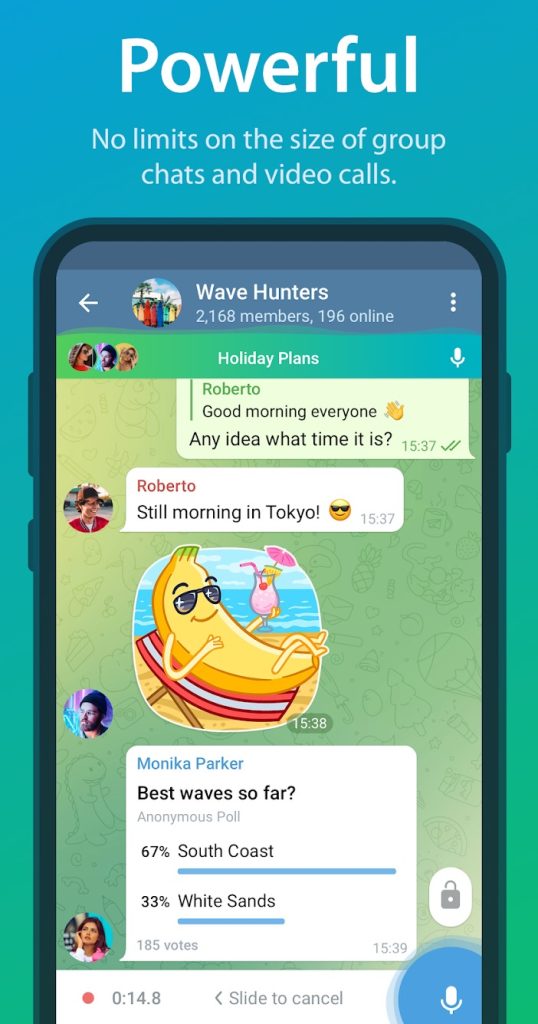 Telegram messenger is actively in demand. Exchange messages quickly and enjoy the functionality and ease of action.


You may also like: 9 Best Call History Apps for Android & iOS
Kik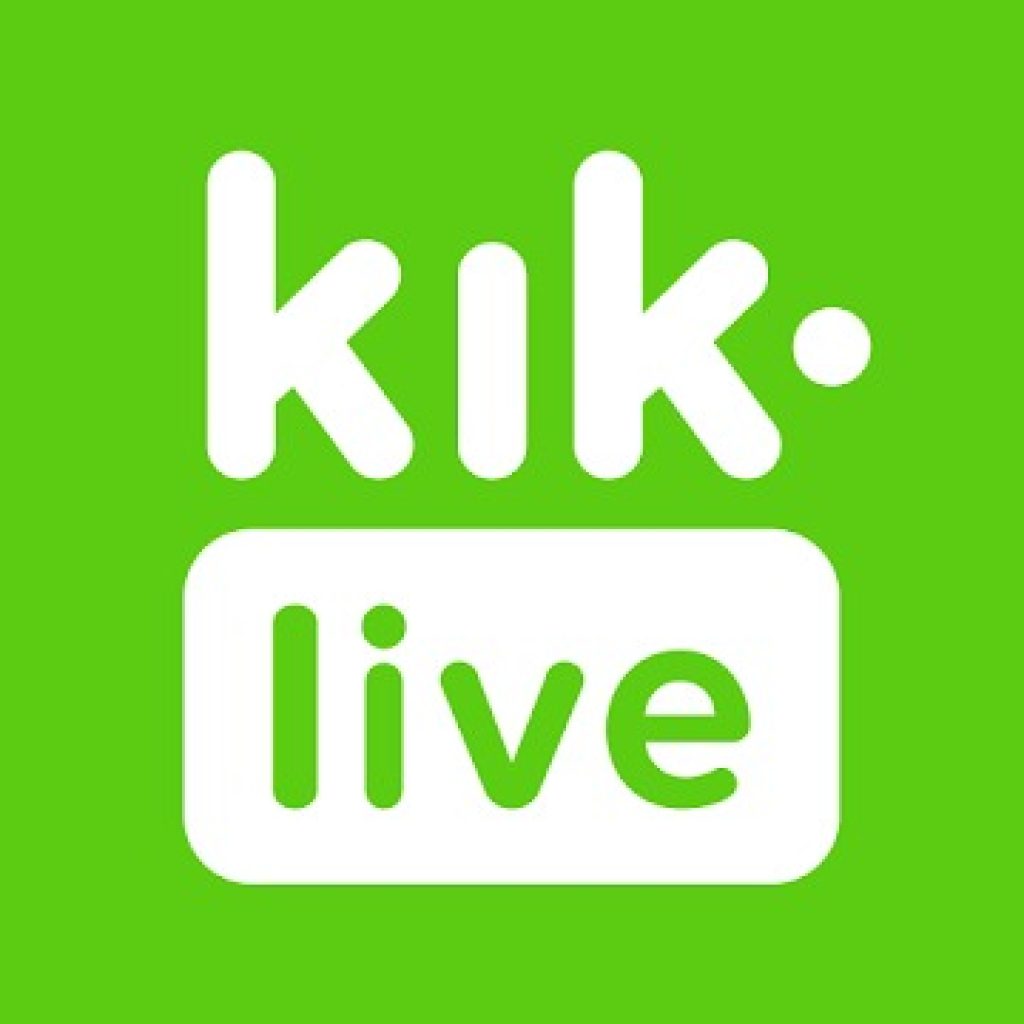 Kik is a multifunctional app with the ability to correspond with your friends, relatives, and colleagues.
Have you been looking for a convenient messenger? Then this program is for you. You can use Kik from any device. Here you can meet new friends, and find like-minded people in your favorite business.
Communicate with a person or create groups where users can join and have an interesting conversation. Chat on various topics, and have a conversation about absolutely everything you want.
Moreover, with such a great app, you can become famous by conducting live broadcasts and activities on a daily basis.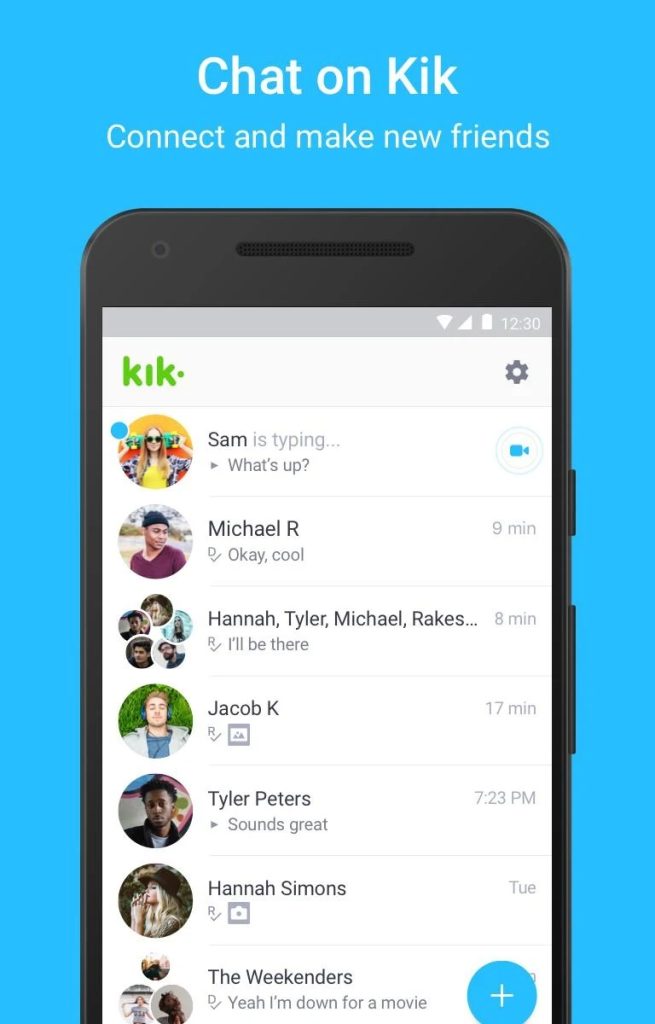 Install Kik and find people you are interested in, correspond and enjoy.


BiP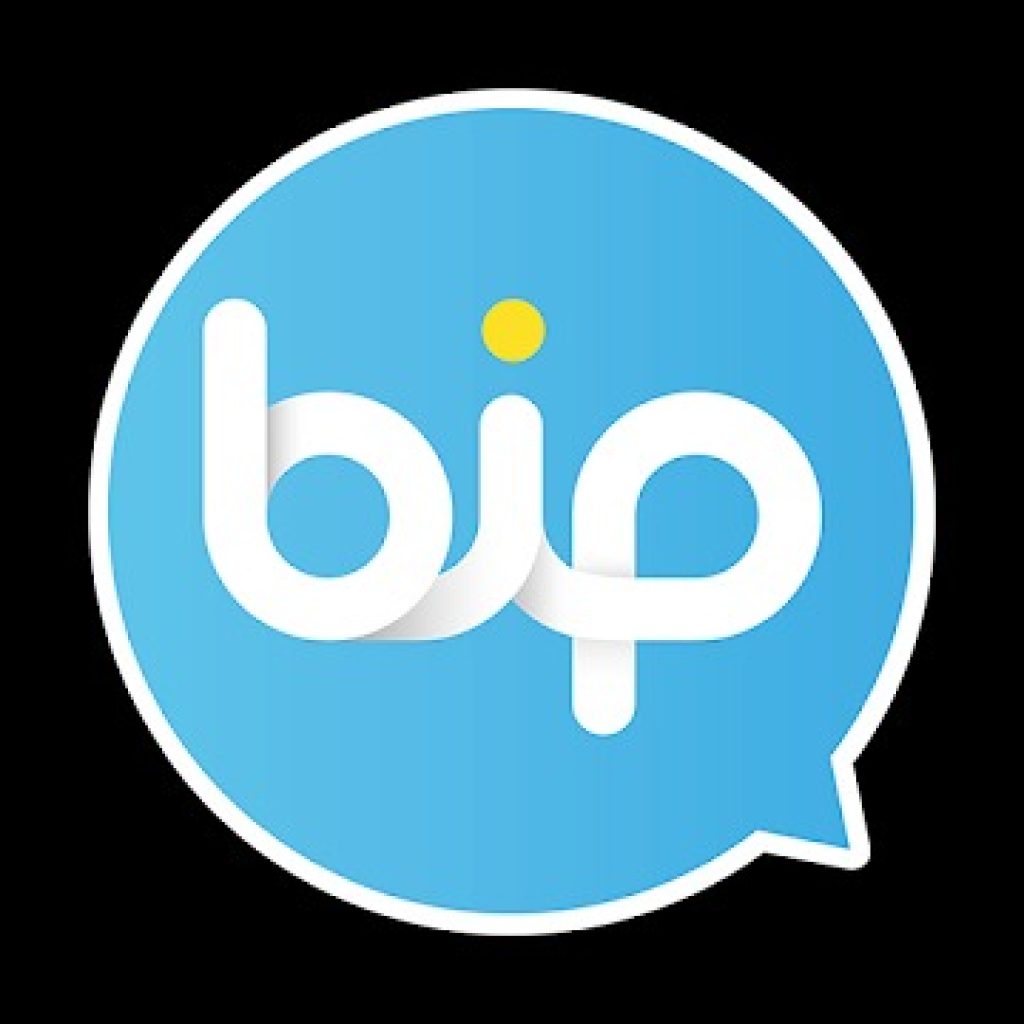 BiP is a program for communicating via texts and calls. In this messenger you can quickly send messages, take pictures, call people, and much more.
Include geolocation as well as displaying your status for convenience. Moreover, send your friends voice messages, and files.
The app is good at protecting all your data, so you don't have to worry about anyone reading your correspondence. In any case, you will be able to make your chat visible only to yourself or several users of the app.
Besides, this app has interesting features such as correspondence with stickers that display your emotions and replace boring communication. Have fun with a lot of people around the world, it's very exciting!
Actively visit the app and post statuses every 24 hours to let people know more about you. What's more, you'll be able to communicate in different languages with the built-in translator.
Here you will find useful information. For example, check the weather, learn about habits, and interesting facts.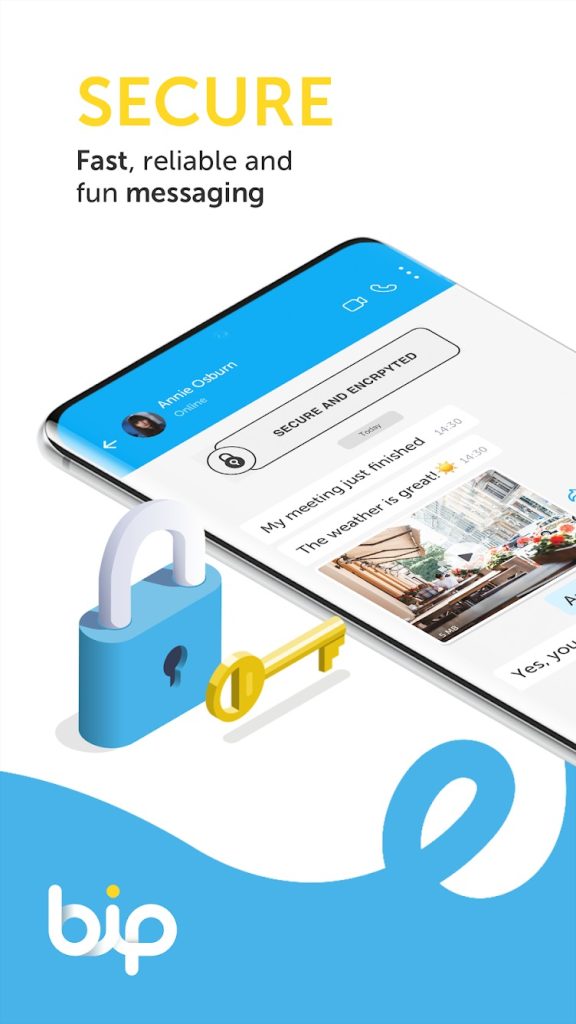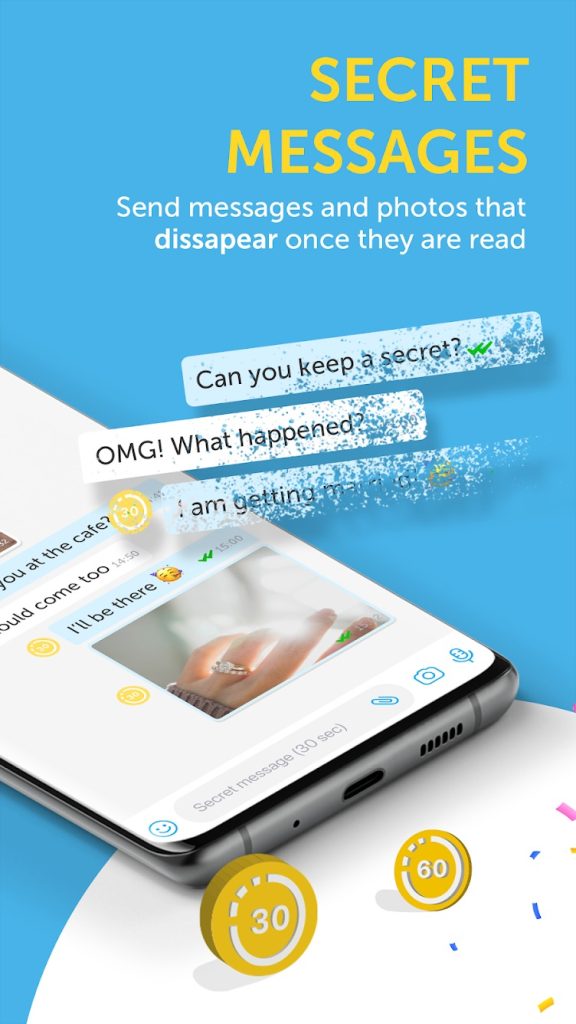 For all the features you want to remove or on the contrary add to your work, you will be able to go to the settings. BiP will allow you to communicate well at a distance.


GroupMe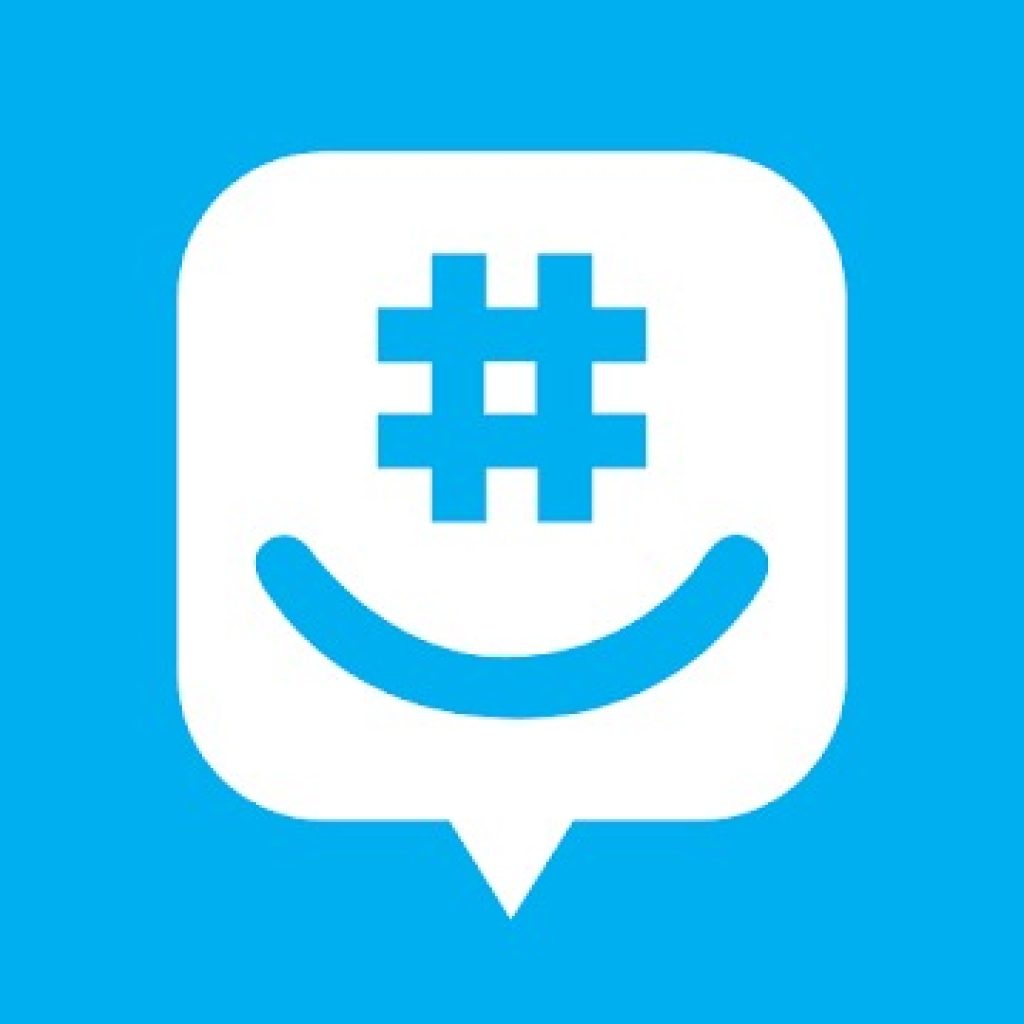 GroupMe is a program for virtual communication.
Would you like to have an interesting conversation not only with your friends and colleagues but also with people from different countries? If so, GroupMe will not disappoint you.
With this app, you can create general chats for a large number of people and discuss different topics. Add everyone you enter through a phone number as well as by mail.
It's no surprise that GroupMe has a lot of popularity, as new users will have no trouble figuring out how the app works. Receive notifications from all the correspondence and chats you're in instantly.
You'll be able to make notifications silent if you wish, so they don't distract you from other things. Make your correspondence as fascinating as possible. Send GIFs and emojis to your conversation partner, the app also supports sending photos.
What's great is that the program is optimized for all devices. Gather a large group of friends, and like-minded people and start a full networking experience.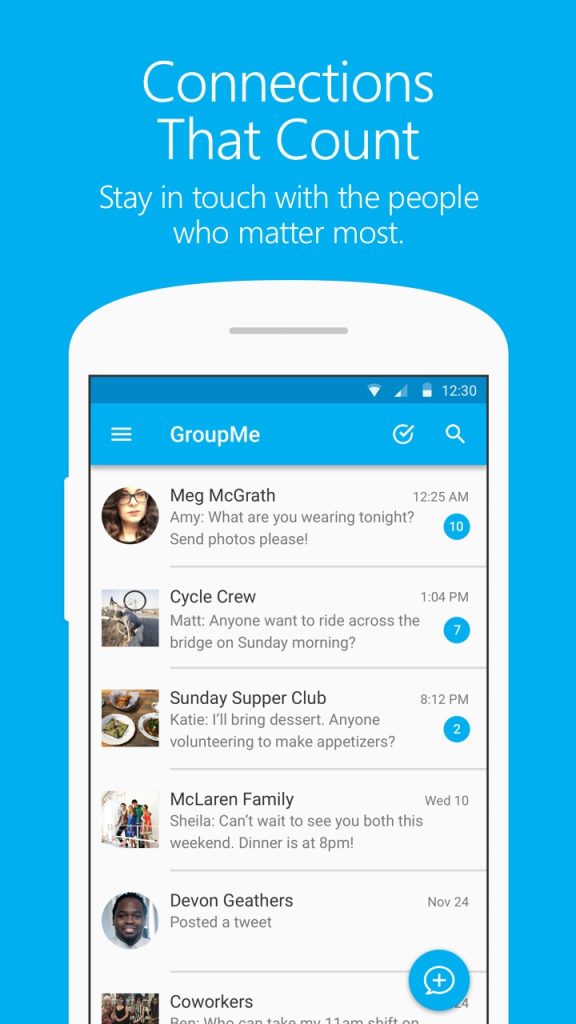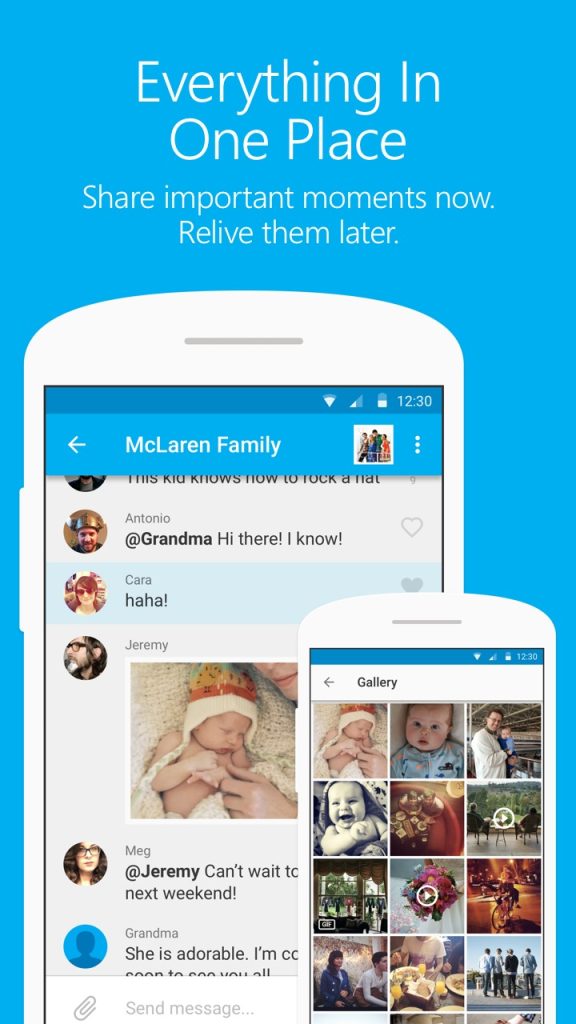 Read GroupMe reviews and leave your feedback on how to improve the app. Recommend the messenger to all your friends.


KalamTime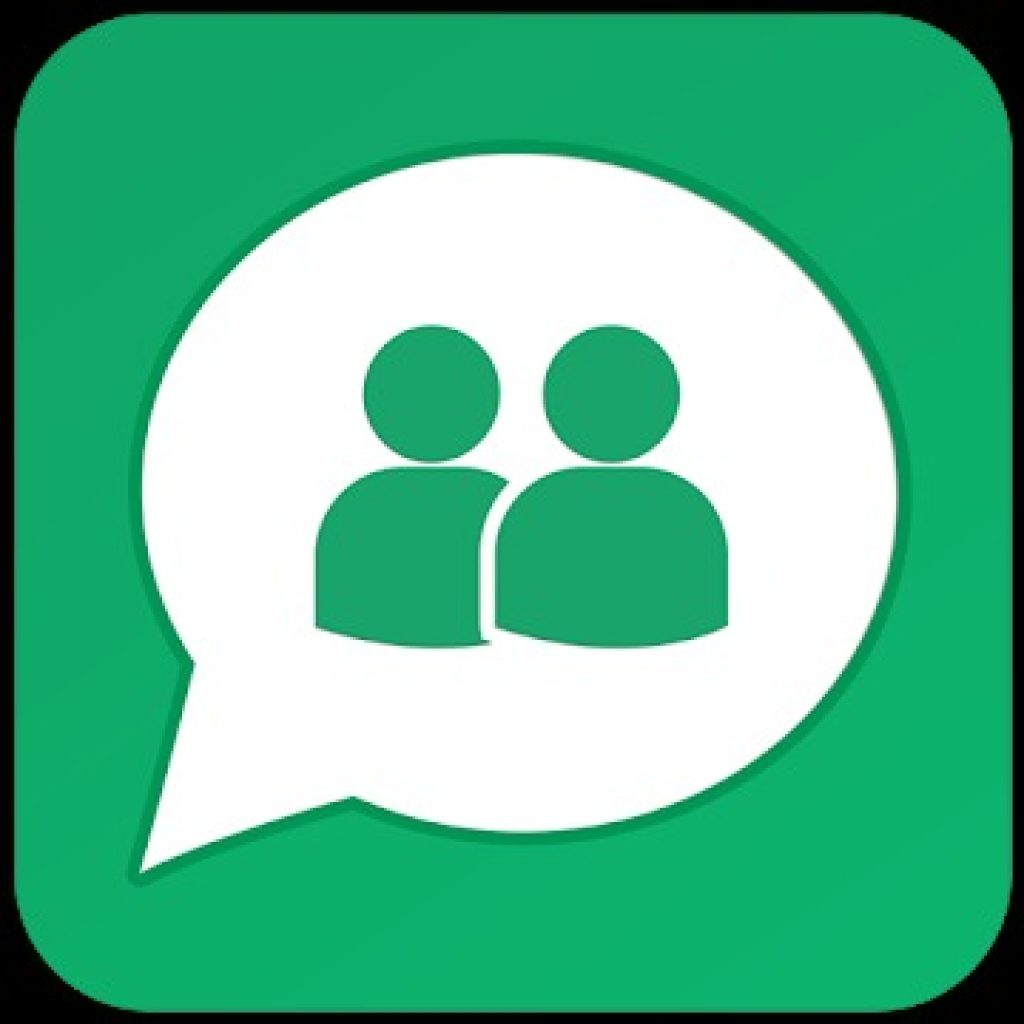 KalamTime is a program in which you can communicate, send voice messages, share photos, and more.
It is a secure app cause it doesn't distribute your conversations. Nobody watches your calls and everything is strictly available only to you.
It is worth noting that KalamTime works in real-time. You'll be able to communicate with people from different countries, choosing the language you need. The special built-in service will translate all your phrases.
You will be able to convert your voice messages into text and send it to the users you are communicating with. Send messages from one person to another so you won't have to type the text yourself but send it already.
Actively keep in touch with friends and family, and find new acquaintances. Moreover, you will be able to join and create your own groups and call people without any problems.
KalamTime completely synchronizes all your conversations. It gives you the possibility to enter the app through other devices and keep your privacy.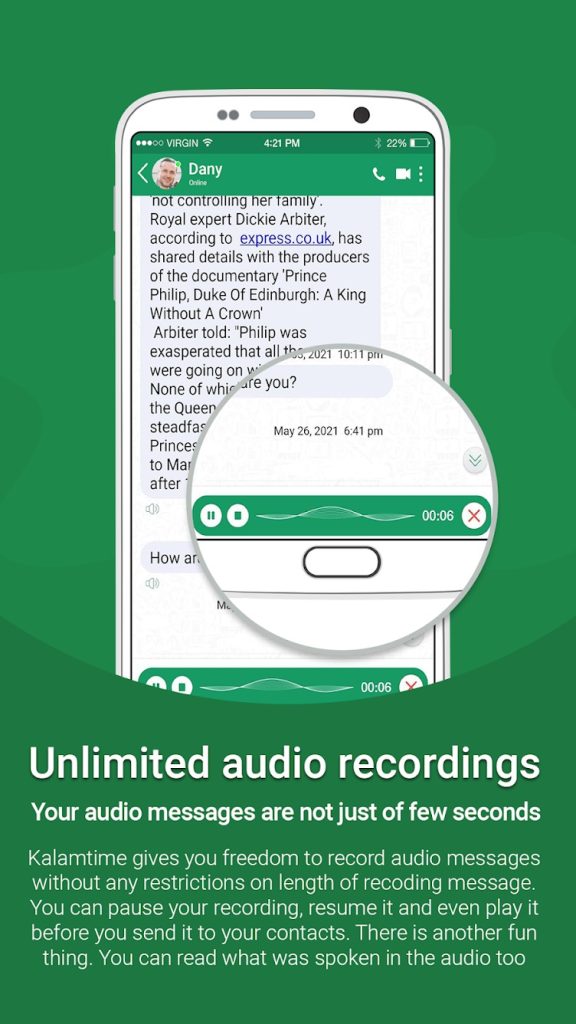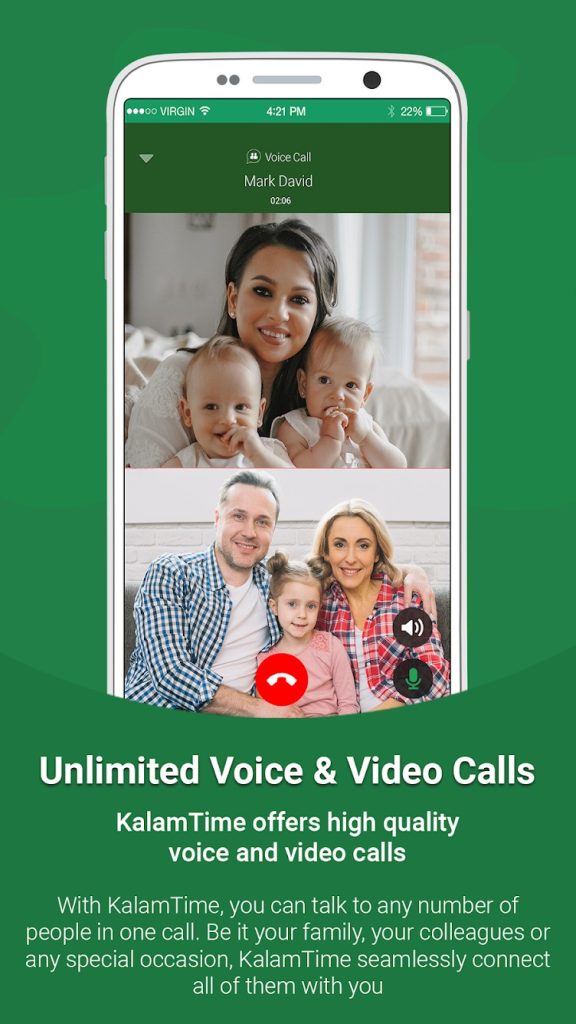 KalamTime is another great app you can download. Communicate and enjoy.


Ayoba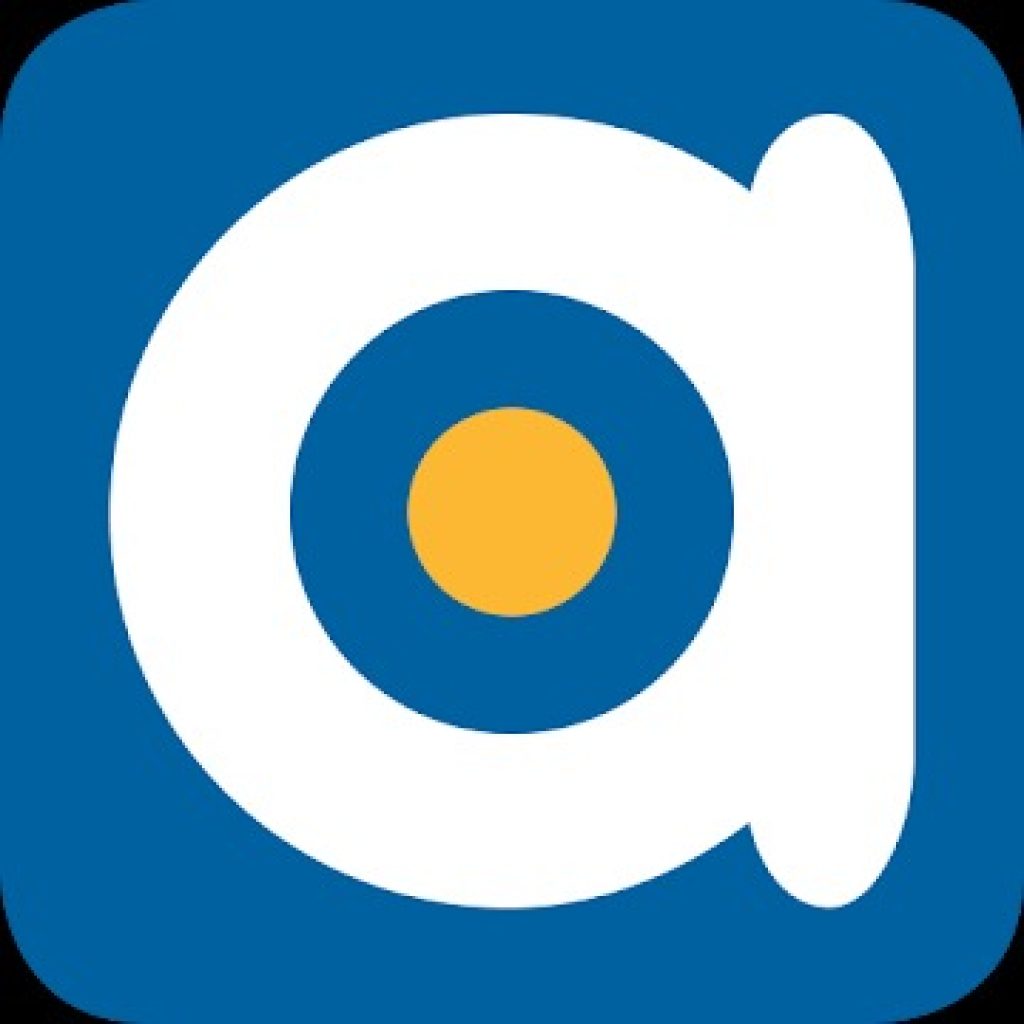 Ayoba is a unique app for texting, playing games, listening to music tracks, watching the news, and much more.
Use the program and make calls even to those who don't have an Ayoba. You must have a good internet connection to use the app. Subscribe to user pages that interest you, follow new trends, and so on.
By the way, in certain areas, you will be able to send money directly without switching to any other sites. The app has proven itself, users actively use all the features, mastering the easy interface.
Moreover, send video messages, and voice recordings to your friends, and relatives. Communicate in world languages, easily translating your messages.
It's worth noting that you can also take part in group chats. Have fun, and share the news. Besides, play educational games, choose the music you like, and listen to it for an unlimited amount of time.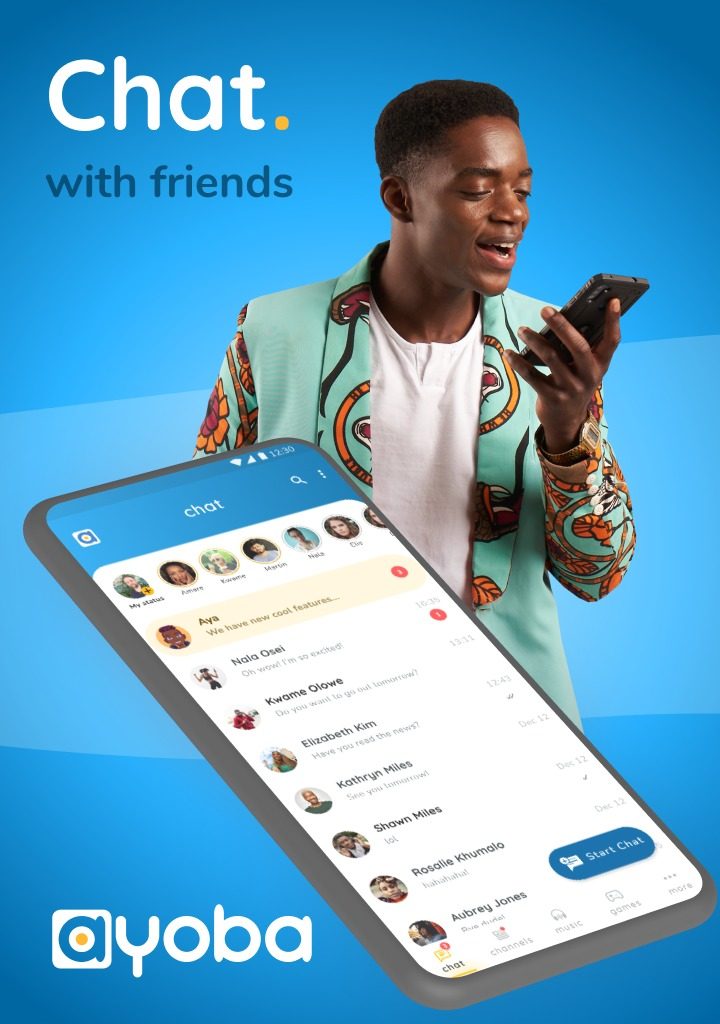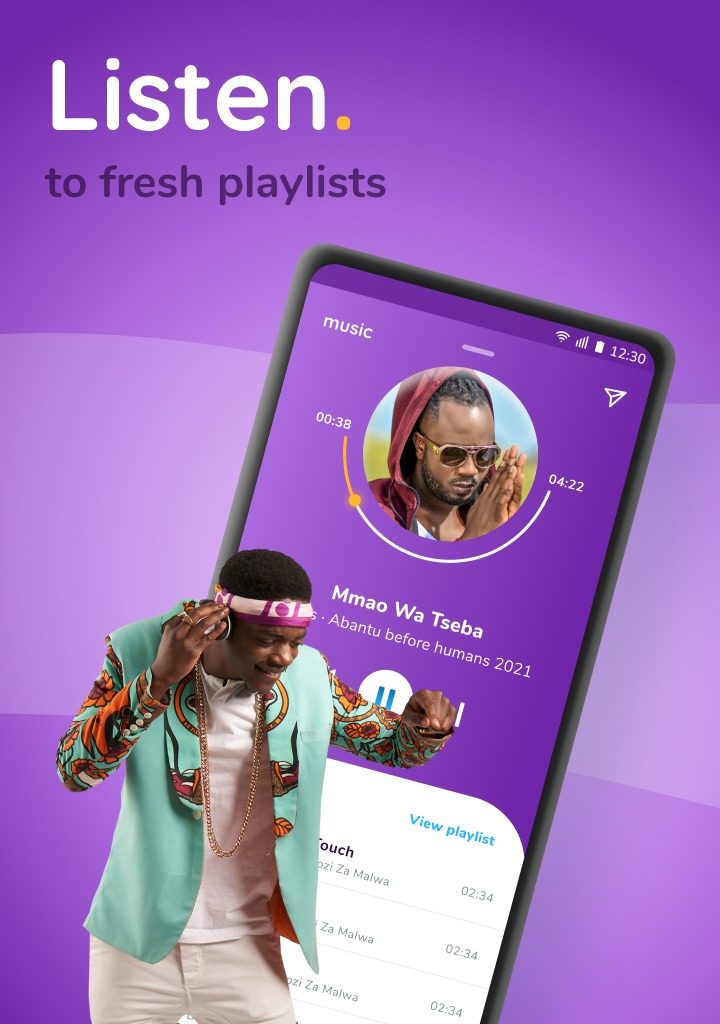 Ayoba has a great colorful design and nice graphics. This is one of the best apps among its few competitors!


Messages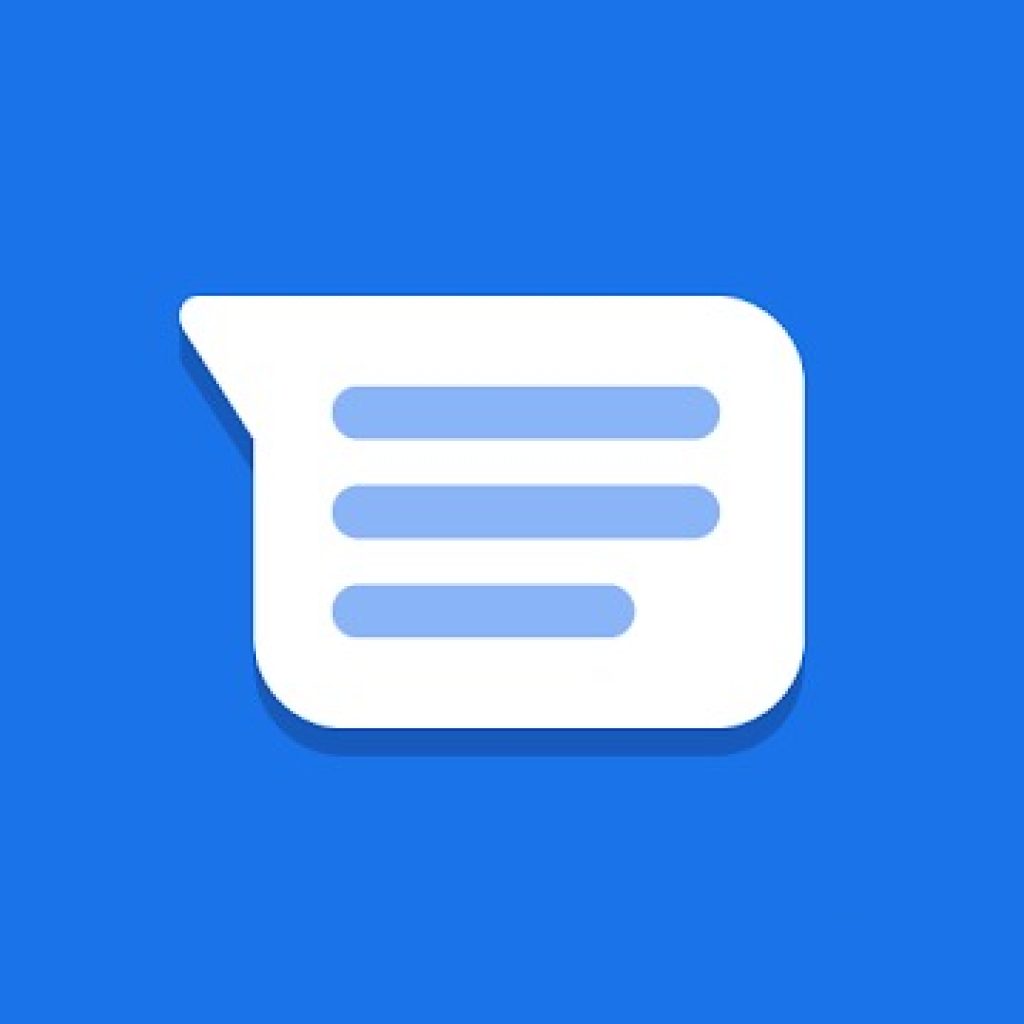 Messages is an app in which people correspond virtually. This messenger allows you to communicate with people from all over the world.
You will also be able to correspond with friends, and colleagues at work. Besides, when you send a message, you will have a lit icon read or not, you can always see the status of the interlocutor's network.
Your communication will be richer thanks to all sorts of emojis, and images, which, if you wish, you can use. The app only works when the Internet is connected.
Besides, Messenges has a good user interface so that new users will understand it. Furthermore, the app will alert you in time with notifications so that you will always be able to see what is important.
You will find here a dark theme, you can easily switch to a light theme, depending on the time of day and the darkness of the room.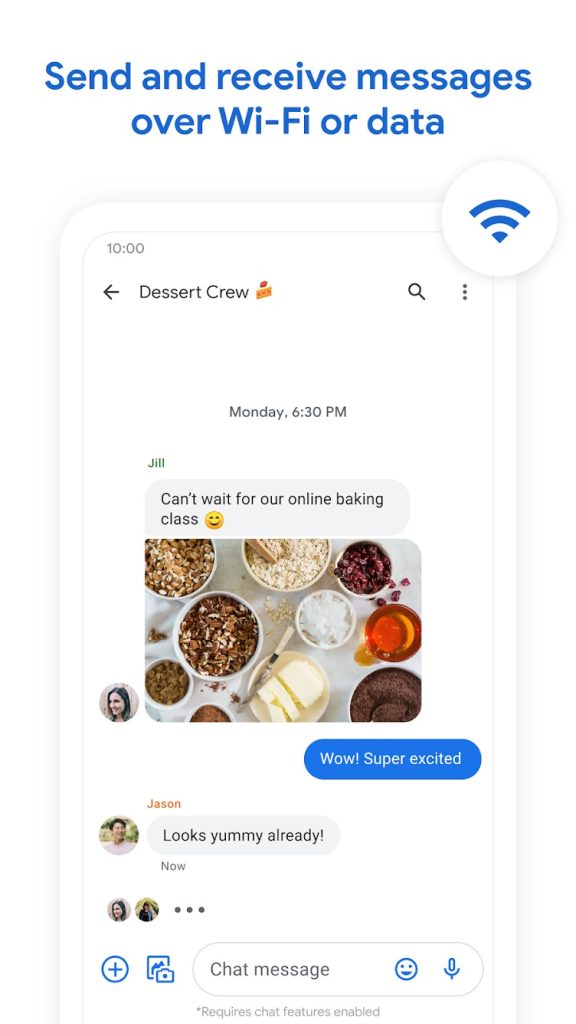 It is worth noting that it is also possible to view the history of correspondence. To do this, you need to click on the search button and find the person with whom you would like to view the communication.

Skred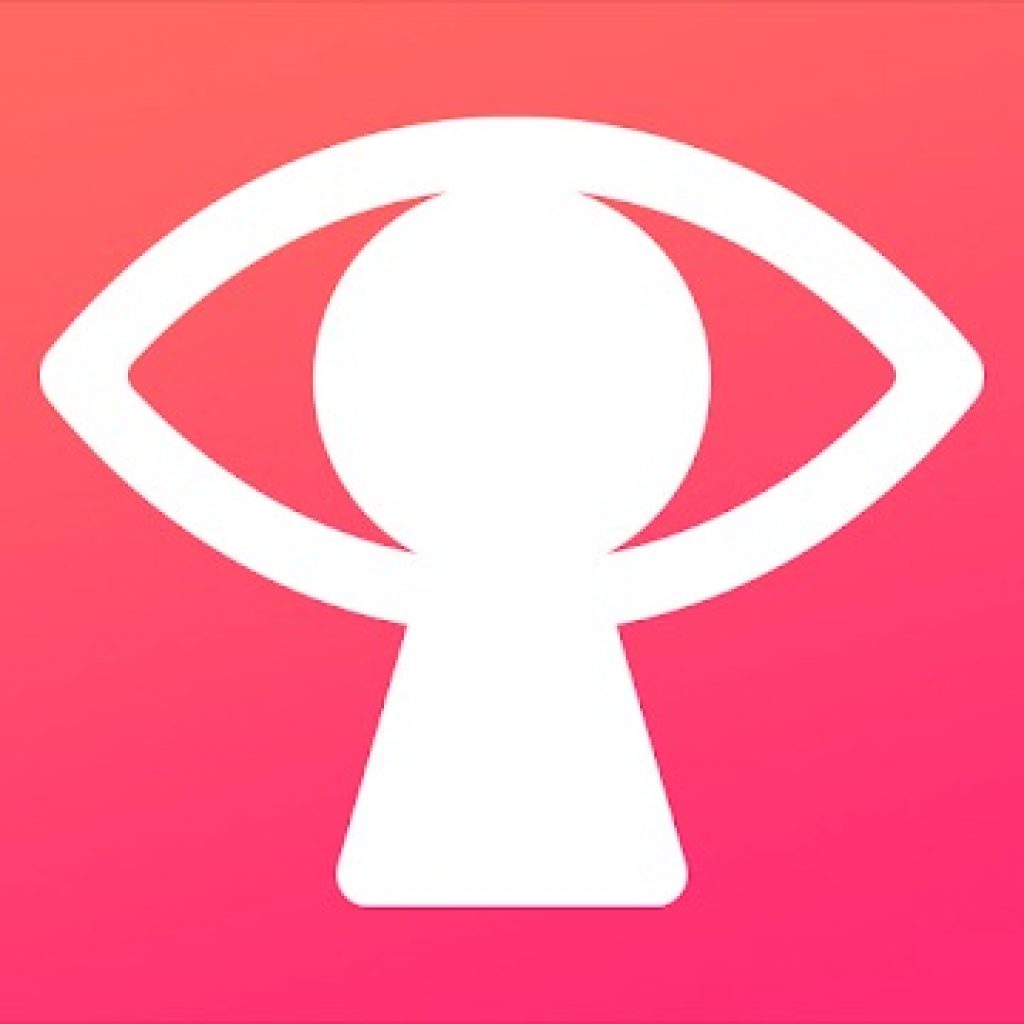 Skred Messenger is a program in which you can exchange texts.
Have you wanted to install a similar app before, but couldn't find the right one? Then Skred Messenger is for you.
You don't need any data to use it. The app is completely confidential and protected from hackers and the spreading of personal data to outside sources.
You'll be able to communicate one-on-one with your conversation partner by encrypting your calls. Make video calls, send pictures, and send voice messages.
What's more, add to chat rooms and correspond with people from the other side of the world and make new acquaintances. Communicate, learn something new for yourself, it's really interesting.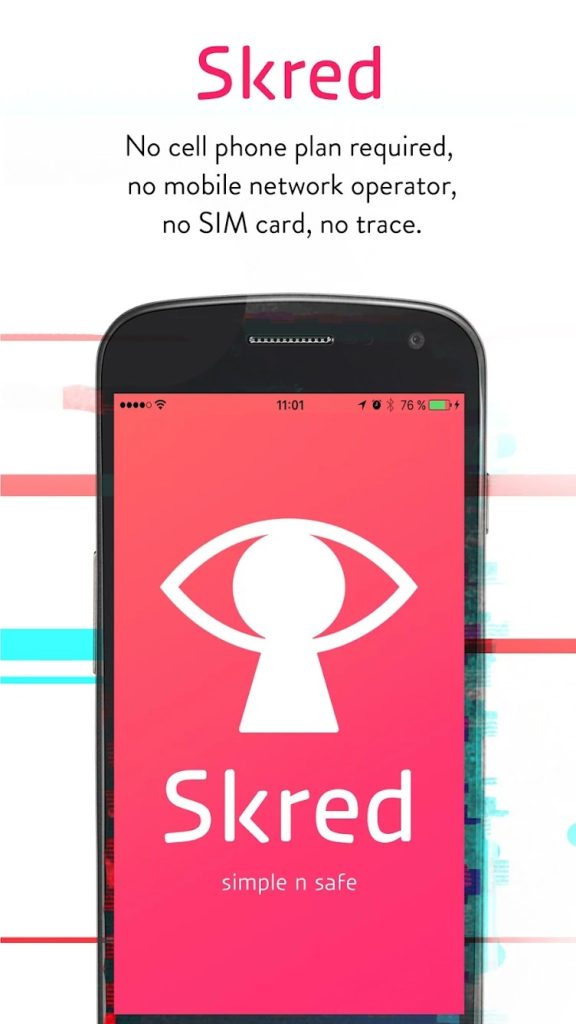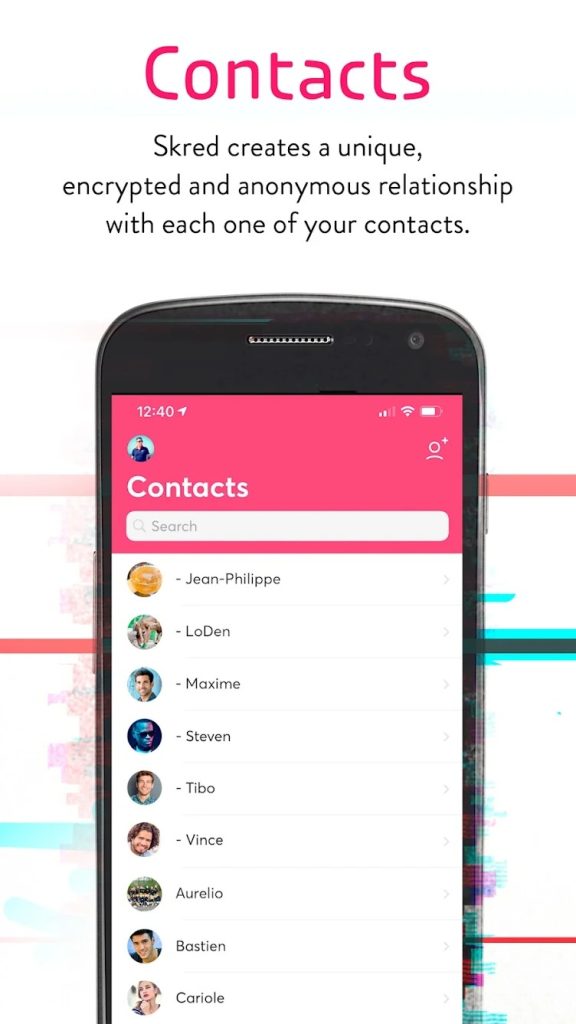 Thus, you will be able to fully immerse yourself in communication without worrying about hacks. Download Skred Messenger and enjoy talking to people.


Verizon Messages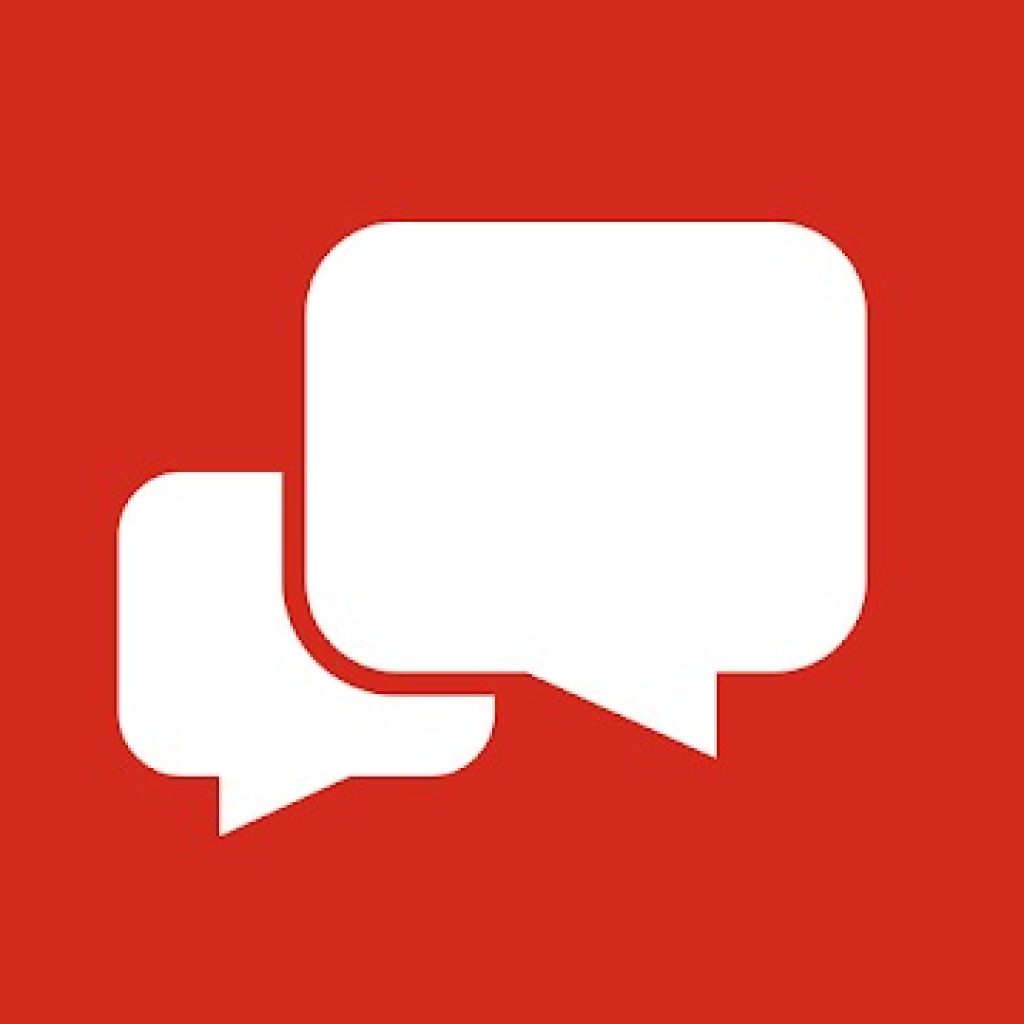 Verizon Messages is a program for communicating online with relatives and friends. You can talk in group chats with people from different parts of the world.
Access the app from many devices at the same time. Here you will be able to send photos and videos, and you can also exchange cards for money.
Create large interest groups and invite people there to communicate. That way you will be the leader of your chat and you will be able to exclude participants or limit their messages for breaking any rules.
Also, here you can use location, so that specific people can see where you are, at any time you can disable this feature.
Moreover, if you are on the road or are busy with an important matter, then put an answering machine in advance. Thus, in the future, you will not be disturbed during a long incoming call. It's advisable to log on to the phone number in the app and link it to other devices, like a laptop or tablet.
Verizon Messages includes so many different features besides the above. Schedule a sent message for the right date, and use stickers in your correspondence for rich communication.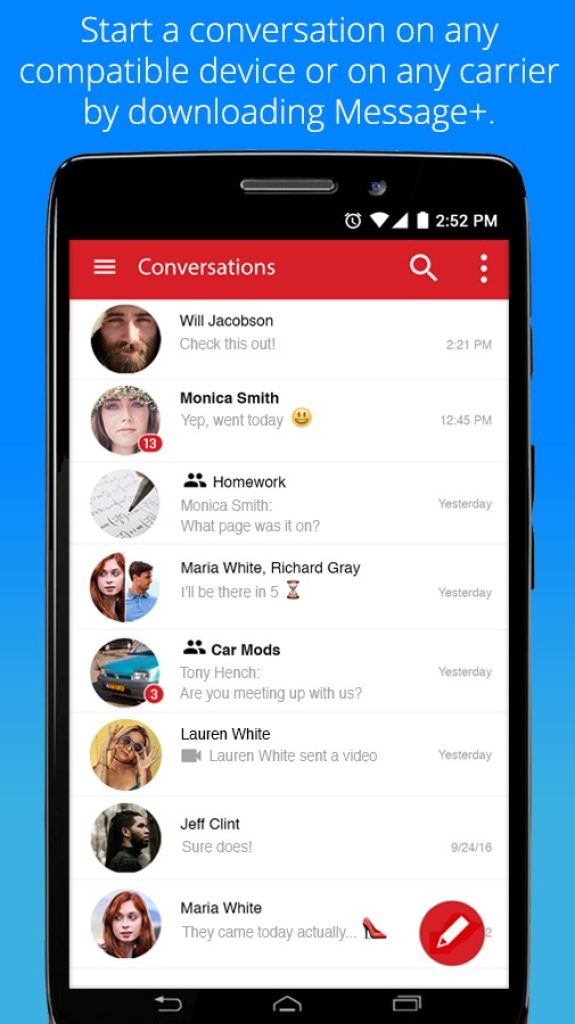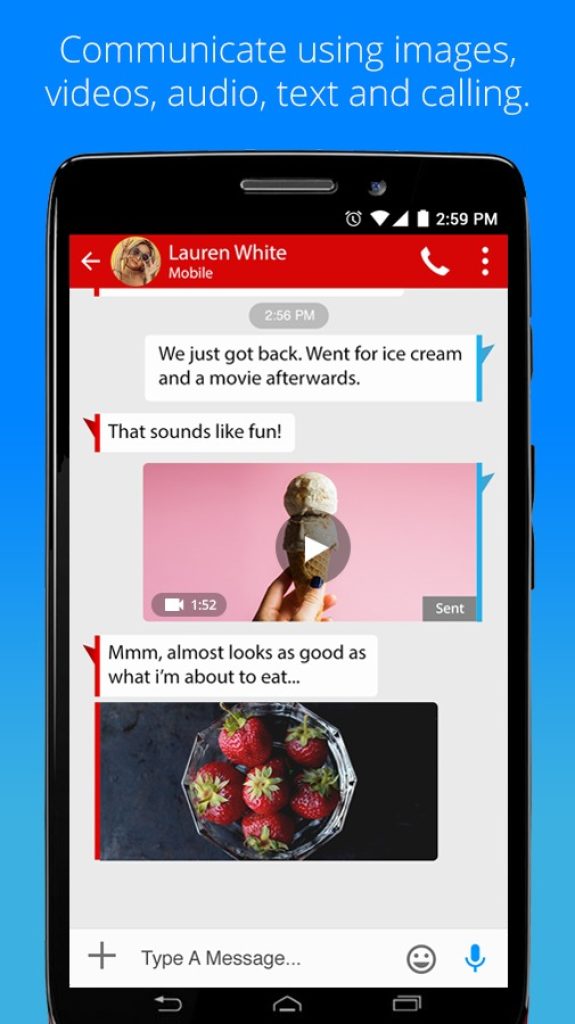 It is worth noting that the app works with an internet connection. The program is tamper-proof.


You may also like: 11 Free apps to track location by phone number
Troop Messenger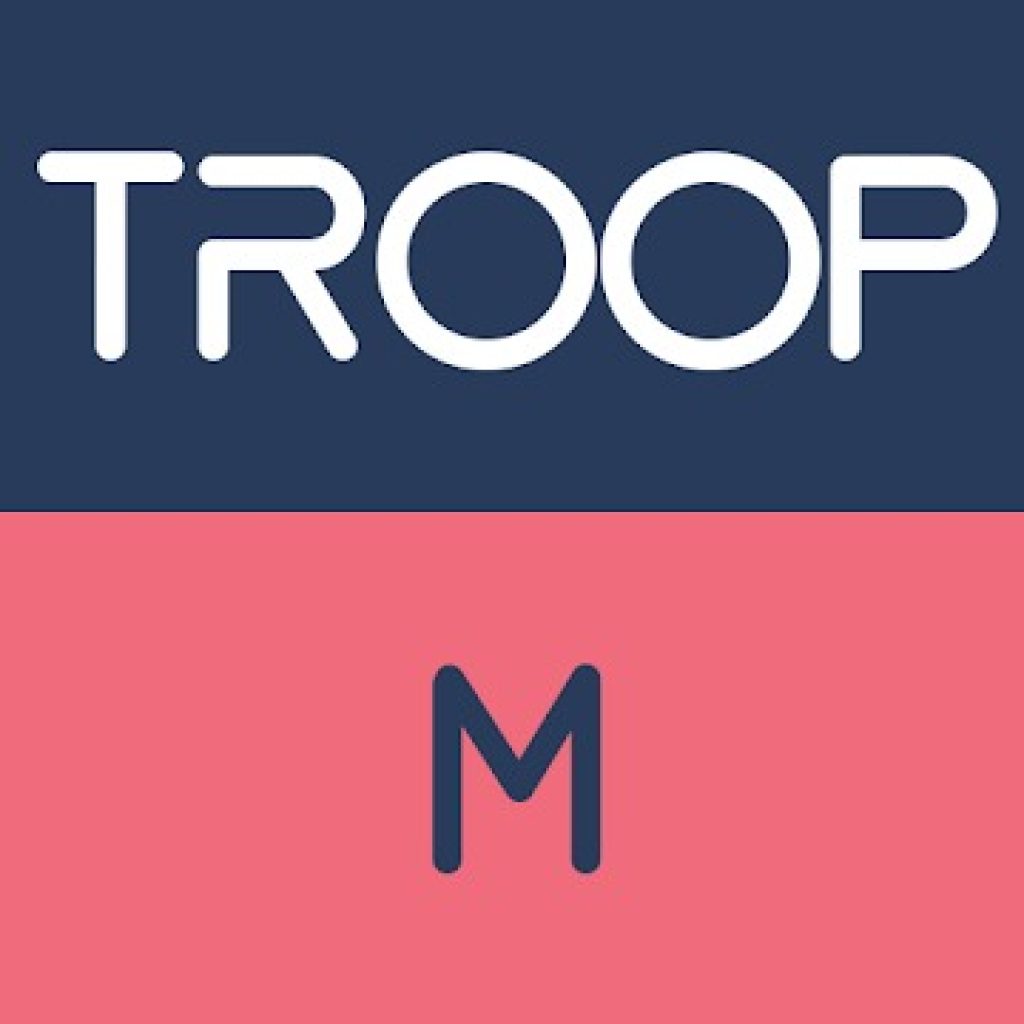 Troop Messenger is a unique program for working in the office. Here you can easily send files on work and discuss business matters.
You will be able to join or create your own groups with employees. It is worth noting that you can add an unlimited number of chats. The app will allow you to send all the information at work moments.
No wonder Troop Messenger is so popular, because the app has a lot of features and a great interface. Also, it is updated often. Chat both in person and in group chats.
Create your own profile to fully use the app and view other people's pages. Moreover, send data from extraneous messengers. Use geolocation as needed, as well as contact synchronization for quick connections.
All notifications of incoming messages will come to you instantly. The program has a handy feature like viewing attachments before sending, which is convenient.
The system is as secure as possible and protected from unwanted people who try to hack correspondence. In order not to lose data, make backups.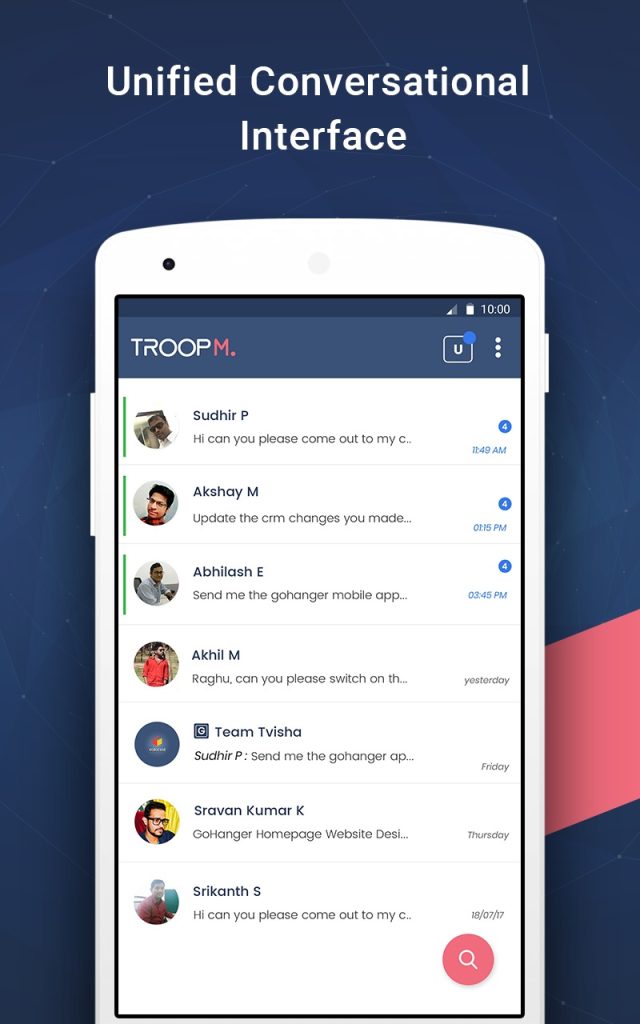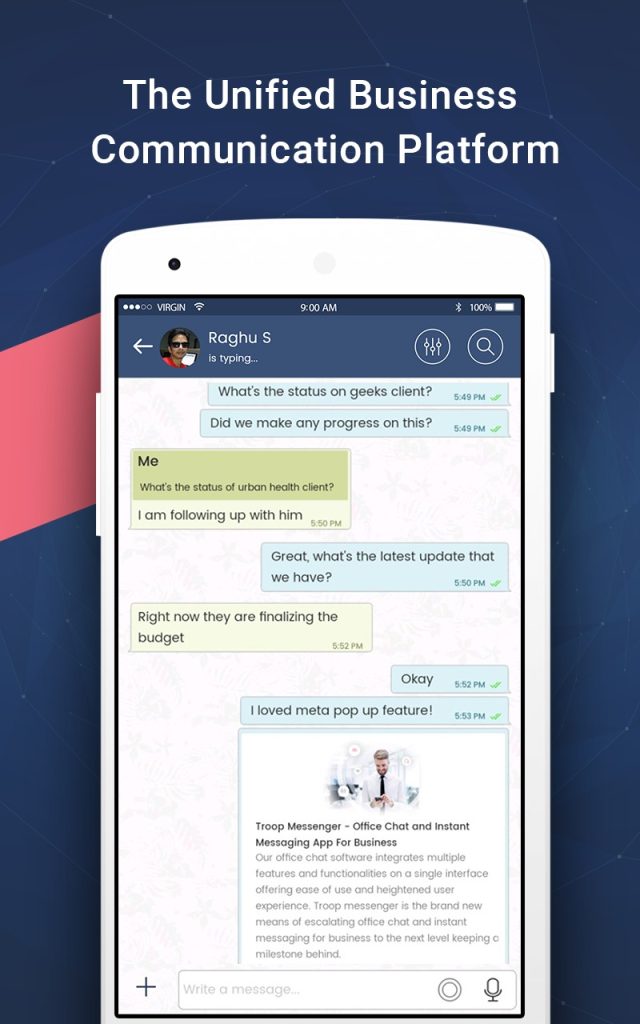 It's never been easier to communicate to create business plans. Resolve everything quickly in the Troop Messenger.


Signal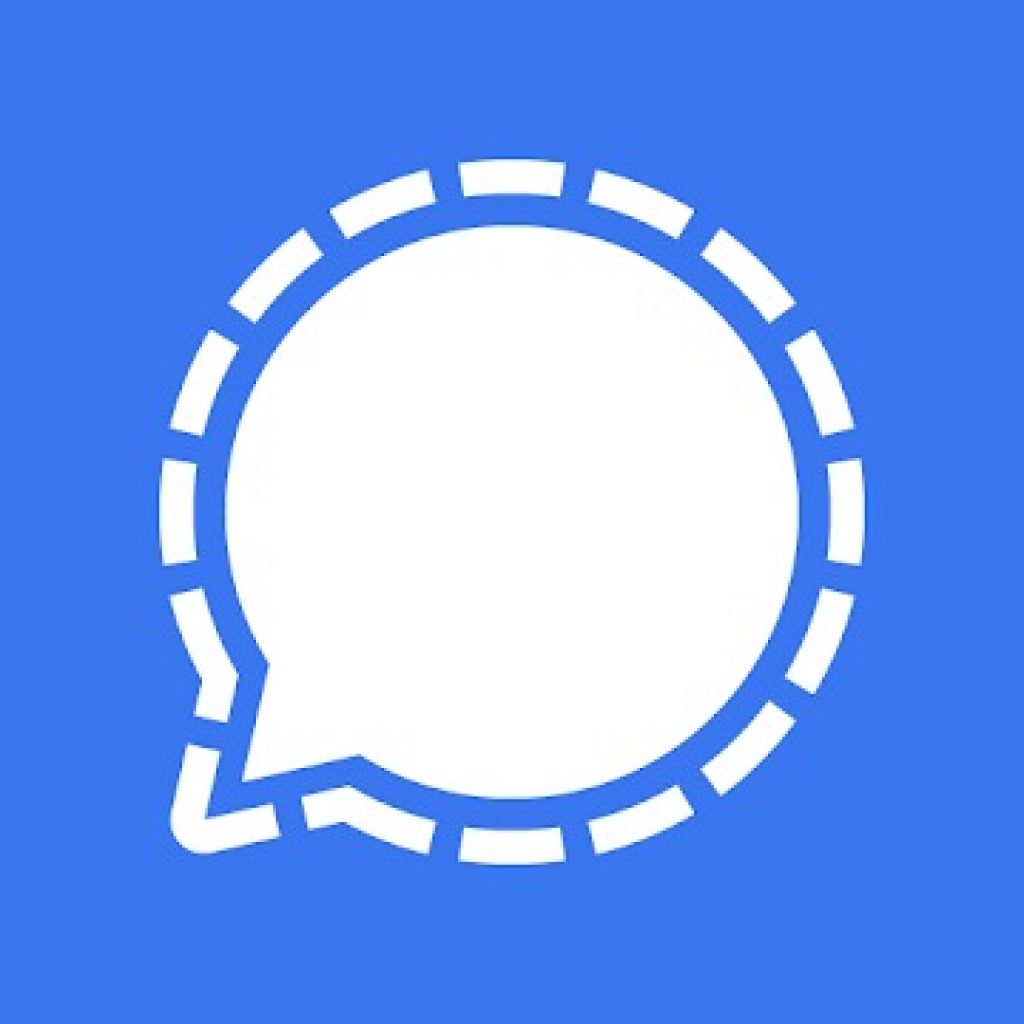 With Signal messenger, users can send text messages, photos, videos, and documents. All information is transmitted in encrypted form. It is possible to create a group chat and make voice and video calls.
To use the messenger, you need to specify and confirm your cell phone number. Then, you should specify your first and last name. After that, you will be able to add users to your contact list or send an invitation.
Besides, this app allows you to exchange text and voice messages. Emoji and stickers are also supported. With the help of the utility, you can create a chat room for group communication.
Furthermore, it is possible to make voice and video calls. To do this, you will need to allow access to the camera and microphone of the mobile device.
One of the features of this messenger is the use of end-to-end encryption protocol to protect your correspondence. This allows for privacy.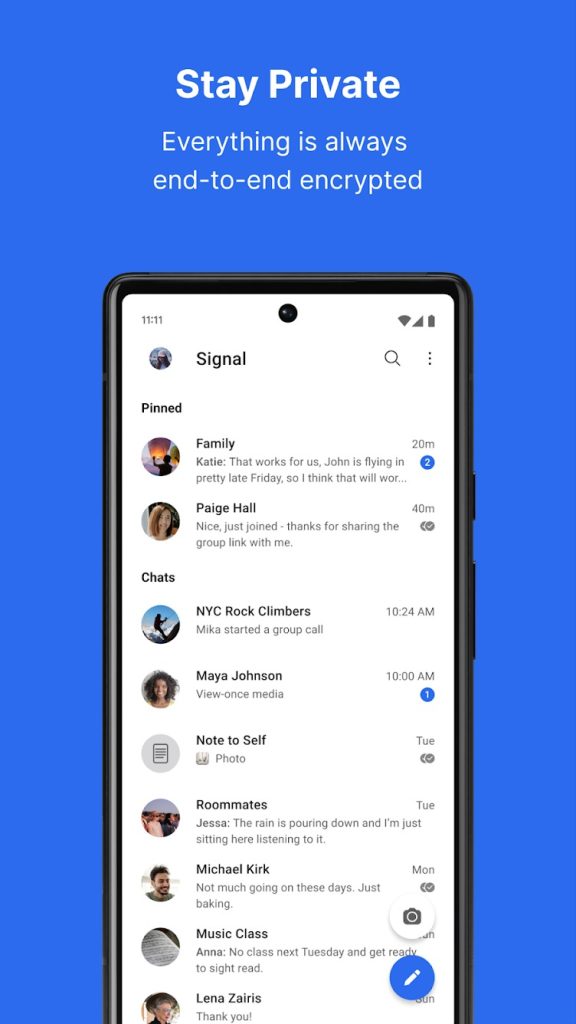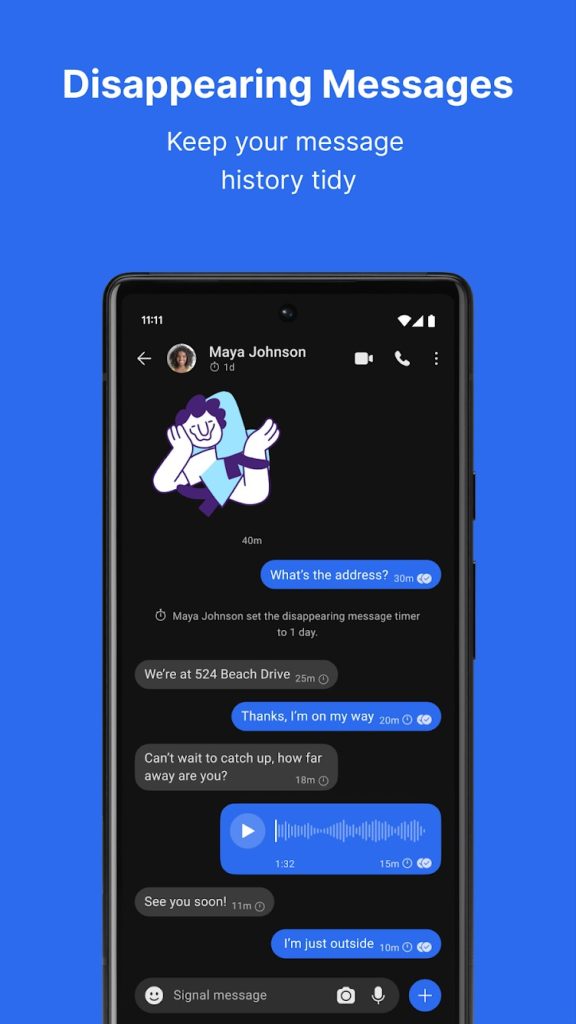 The app allows you to edit photos before sending them by adding captions or cropping the image. You can also choose the sound notifications and the theme of the interface.


Messenger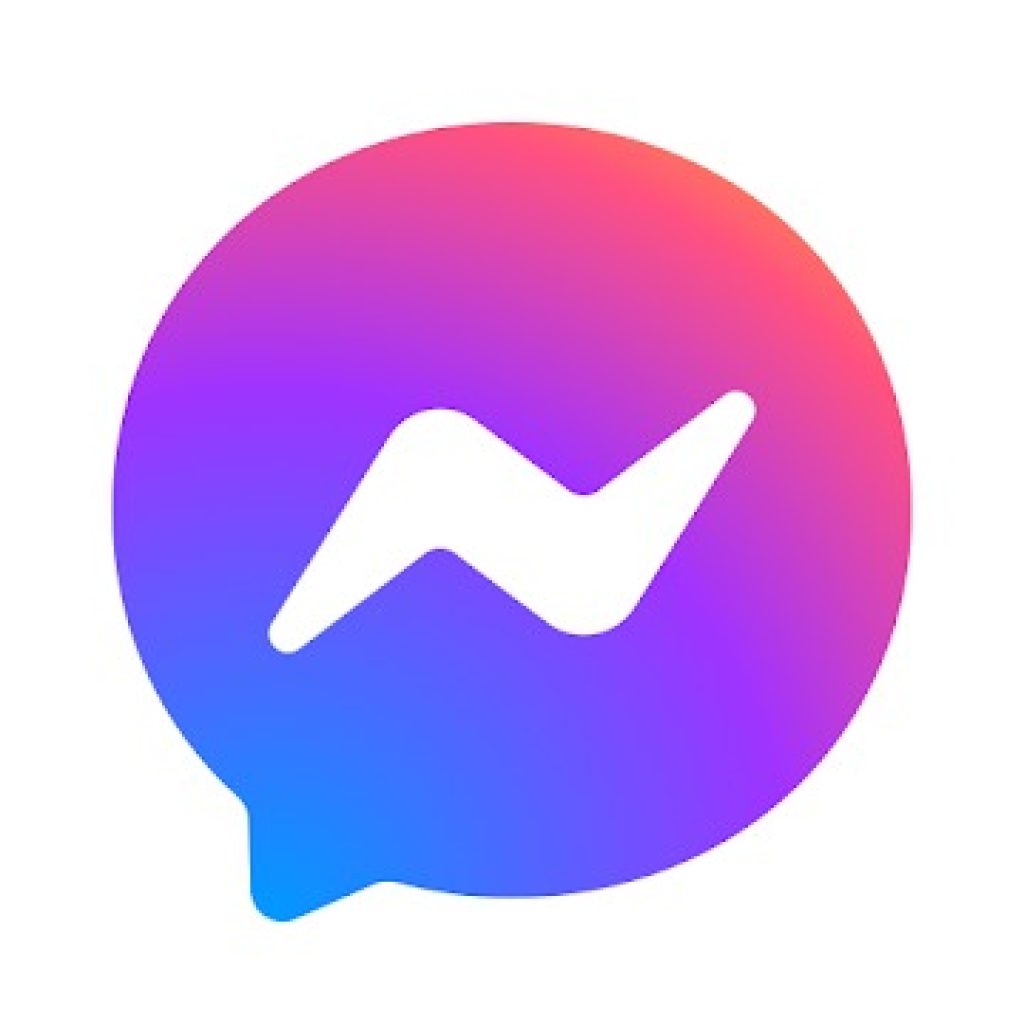 Facebook Messenger is the official app through which users can make standard and video calls and exchange text and voice messages.
First of all, users should go through the procedure of authorization through their Facebook accounts.
If the mobile client of the social network is already installed, the procedure will be carried out automatically. If there is no Facebook account, it must be created, otherwise, you will not be able to use this messenger.
Next, you can find contacts from the mobile device by performing synchronization. In the end, users are offered to send and receive messages using the messenger to keep all correspondence in one place.
Yet, the option can be waived. The option is provided to communicate with all friends from the social network Facebook. In the built-in chats, users can exchange text and voice messages, various emojis, stickers, and GIF animations.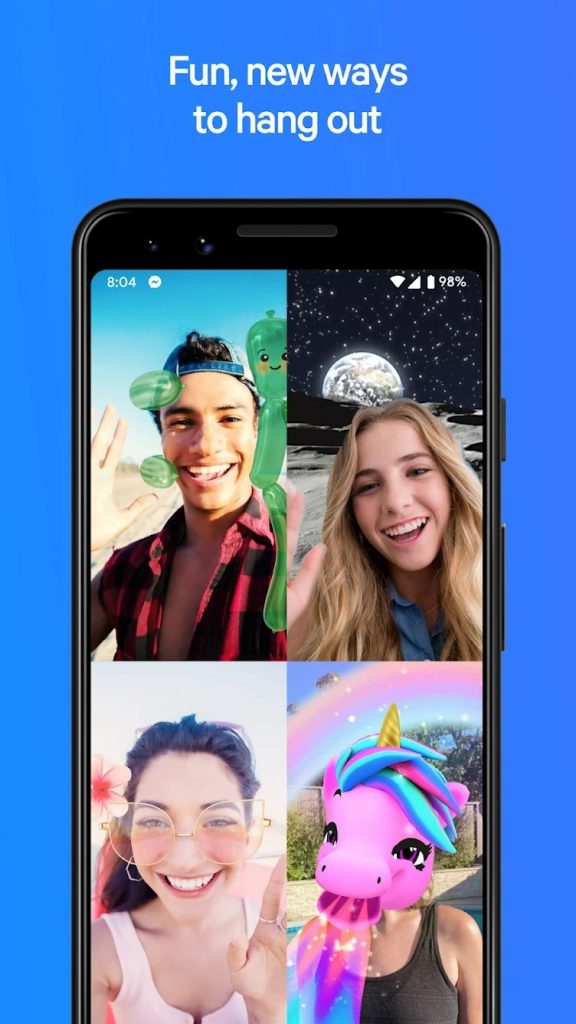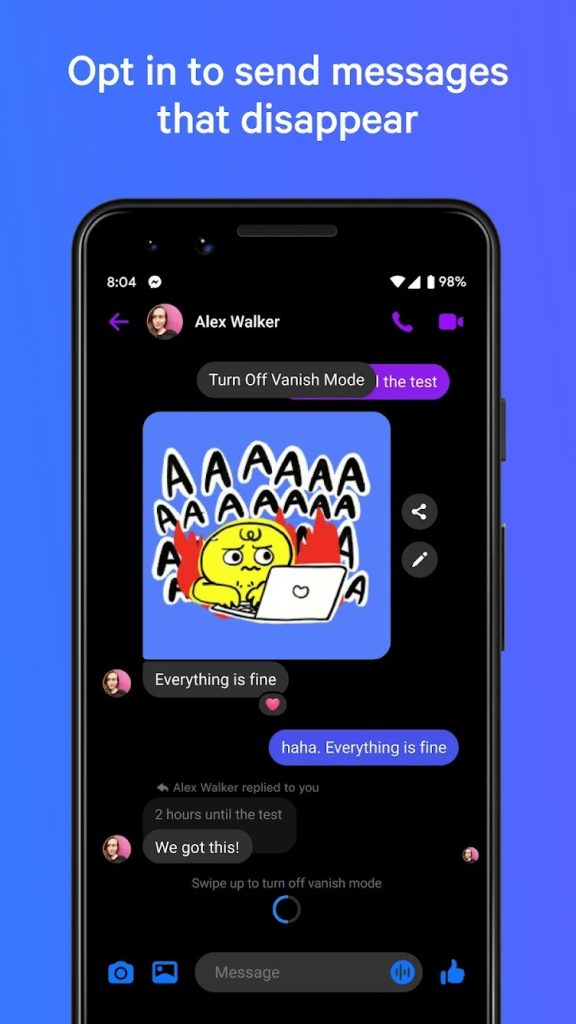 You can share any files, including photos, videos, and music. Additionally, users can send locations on a map and various reminders. It is possible to talk with the voice in real-time – voice and video calls are provided for this purpose.


WhatsApp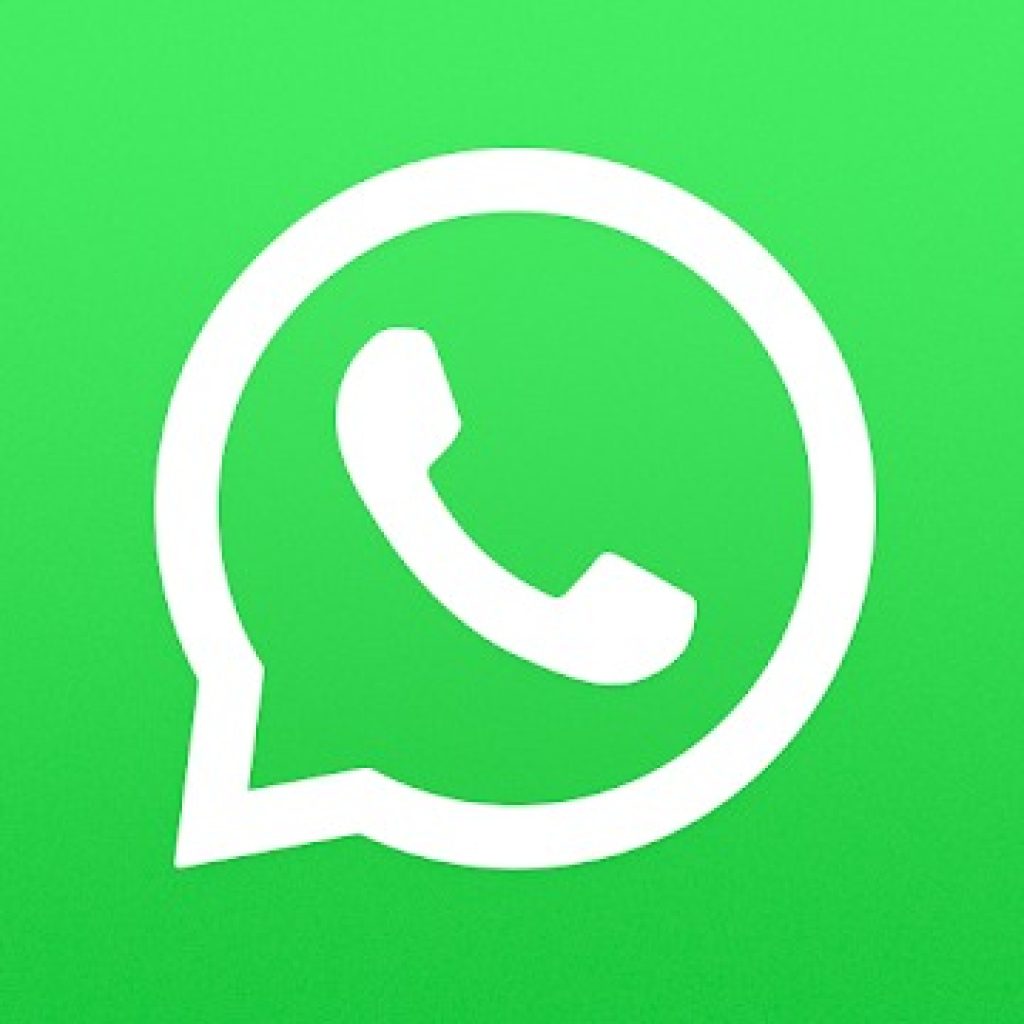 WhatsApp is designed to exchange text and voice messages. Users are given the opportunity to share files and call each other.
Using the presented app, it is possible to communicate with friends, family, and colleagues. It is possible to send text messages in convenient chats that are protected by end-to-end encryption.
Users can share audio messages with unlimited duration, as well as various emojis, stickers, and GIF animations. They help to quickly and conveniently express a certain emotion or state.
Additionally, there are group chats designed for communication between several people at the same time. The creator of the group is able to ban participants, exclude them and give them certain rights.
Besides, it is possible to make calls, using only the network traffic. Note that there are regular and video calls.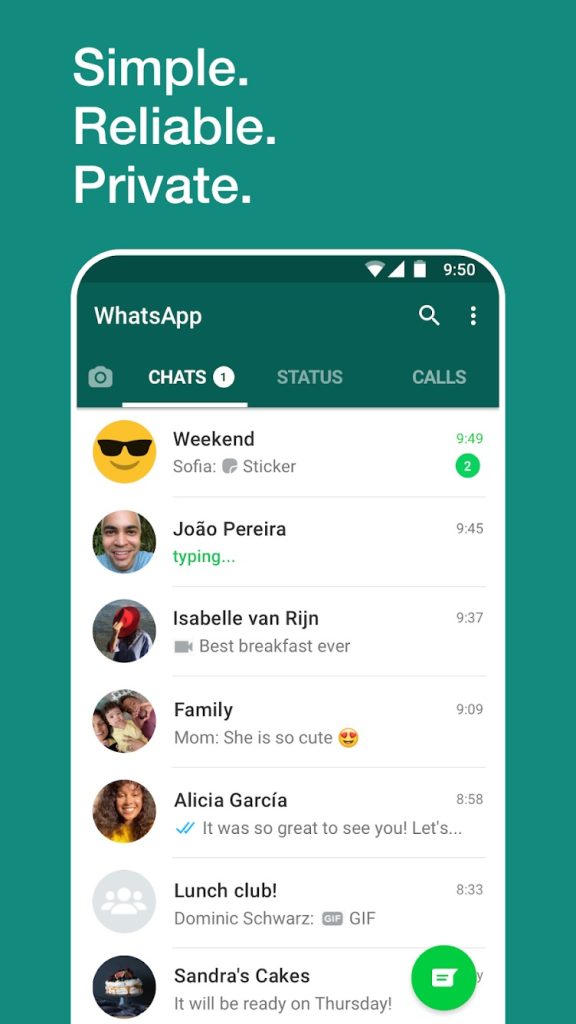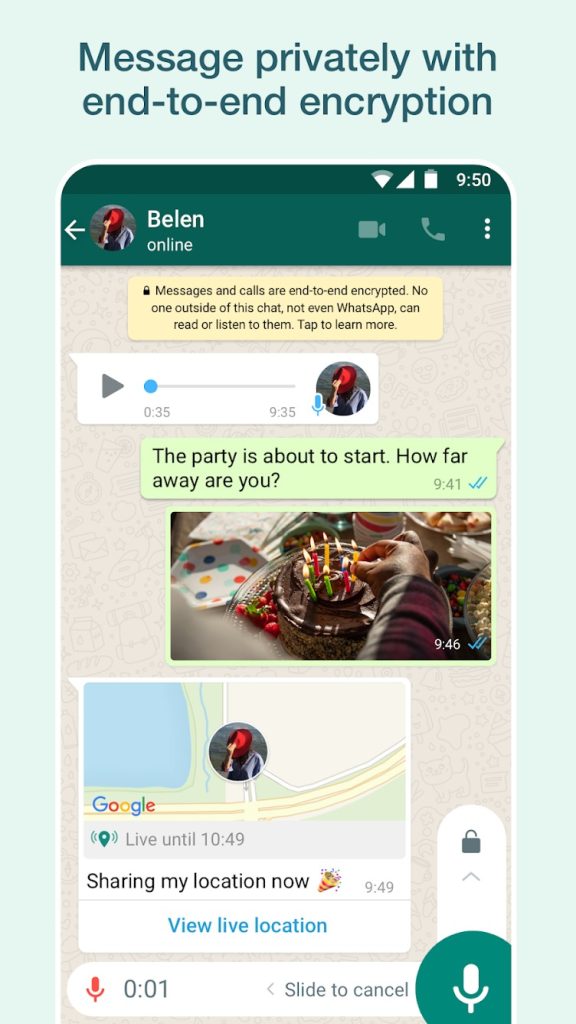 In chats, users can share images, videos, and music with each other. It is possible to send documents, archives, and any other files. You can also send contacts from your smartphone address book and any location on the map.


Wickr Me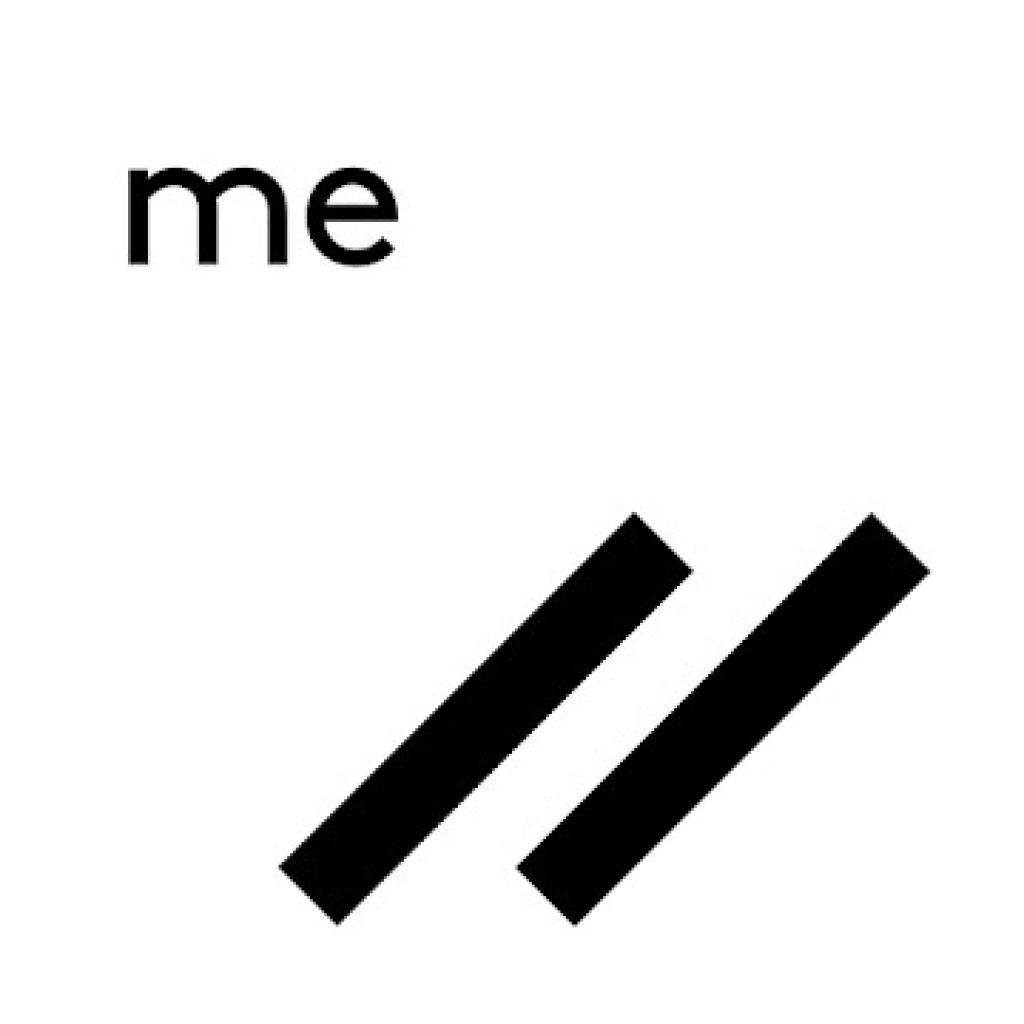 The Wickr Me app is designed to communicate in a secure messenger. You can use the utility for private and group correspondence, securely send files and make video calls.
The app doesn't require you to provide a cell phone number or email address when registering. All you need is a unique username and an eight-digit password.
You can add a photo or avatar picture to your profile. You can choose the activity status of your account. Note that all correspondence is protected by end-to-end encryption.
The utility does not have access to messages or phonebook contacts. But it can be provided for the convenience of using the functionality. The app allows for individual correspondence and file sharing.
You can create "rooms" for group chats. The number of participants should not exceed 10 people. Individual users can be blocked. There is also a search for messages, rooms, or files by keywords.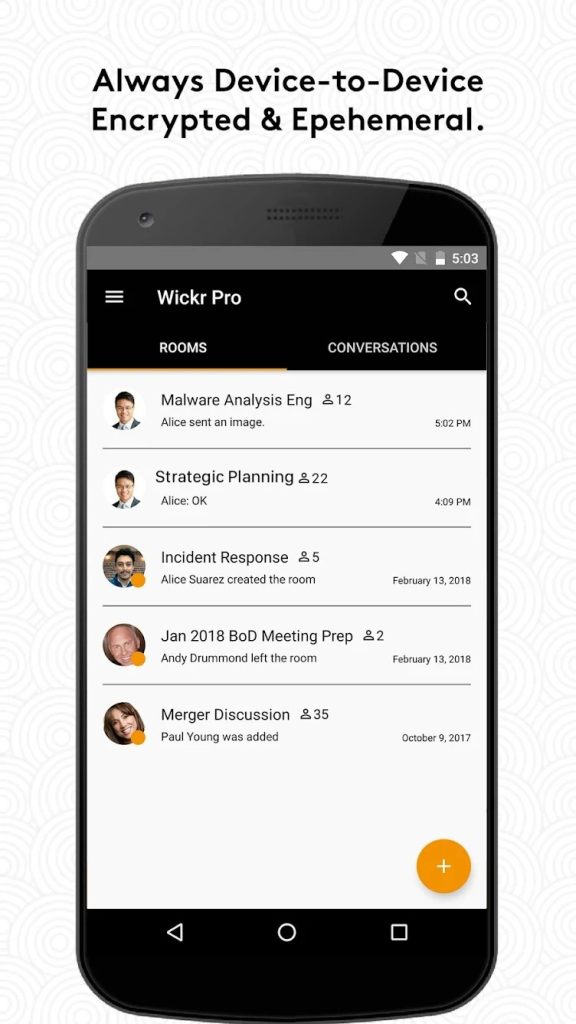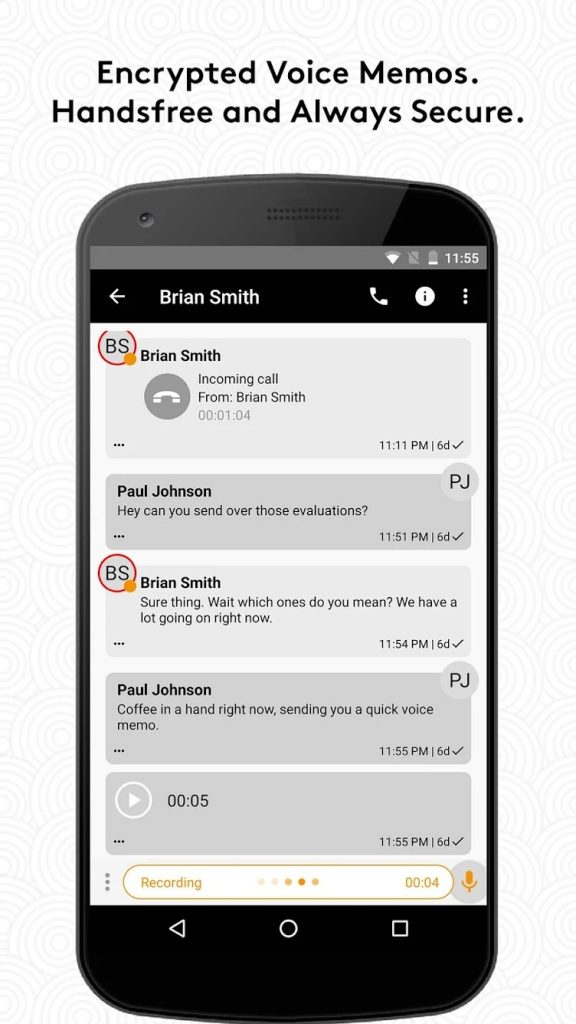 Found objects can be added to Favorites by clicking on the button with an asterisk. Sorting messages by time or name are supported. Unsent texts are saved as templates. The app provides video and audio calls.


Trillian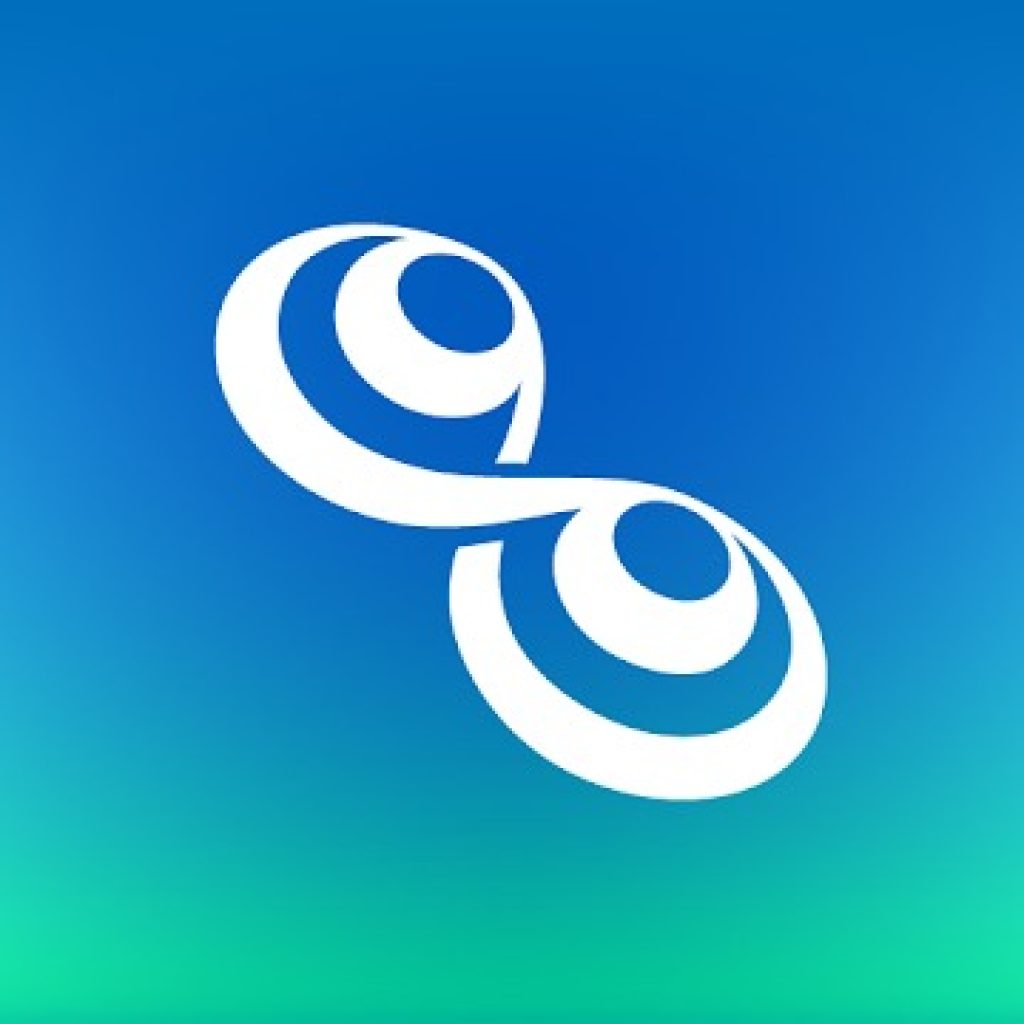 The Trillian app is designed for private correspondence and business communication. It allows you to exchange messages, and send images and videos.
The utility is the official mobile client of the well-known PC service of the same name. This messenger is often used for business correspondence, especially in medical clinics and companies connected with health care.
At the start, the app asks for permission to access the user's contacts. Besides, an account needs to be created. This requires the user to provide a name and email address and select a username and password.
To start chatting, the user needs to add friends or colleagues from the list of contacts. This requires that they also have the Trillian app installed.
You can add accounts from the various messengers mentioned above to the utility. This will allow you to receive messages from them directly in Trillian.
There is an option to use a unique name while communicating. This allows you not to share your phone number with strangers.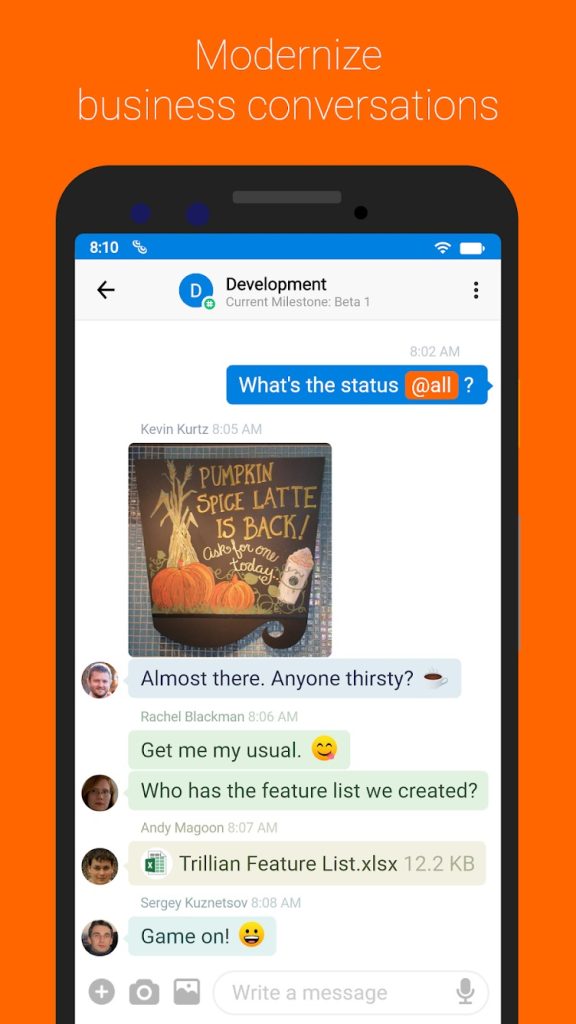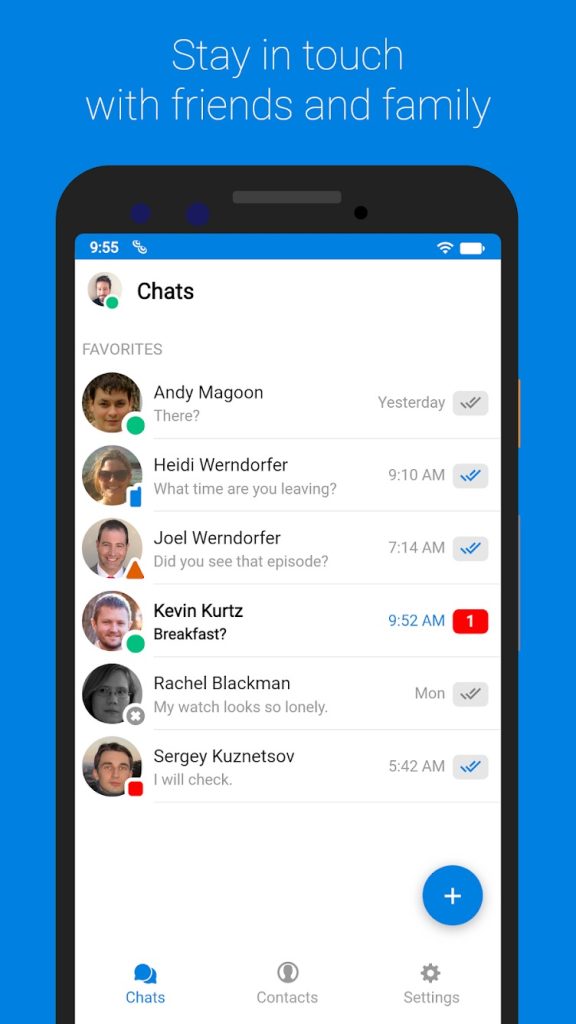 Provision is made for saving chats on servers. This option can be selected in the app settings. Here you can also set the checkboxes to receive notifications, display the status "online", read messages, and so on.


Wire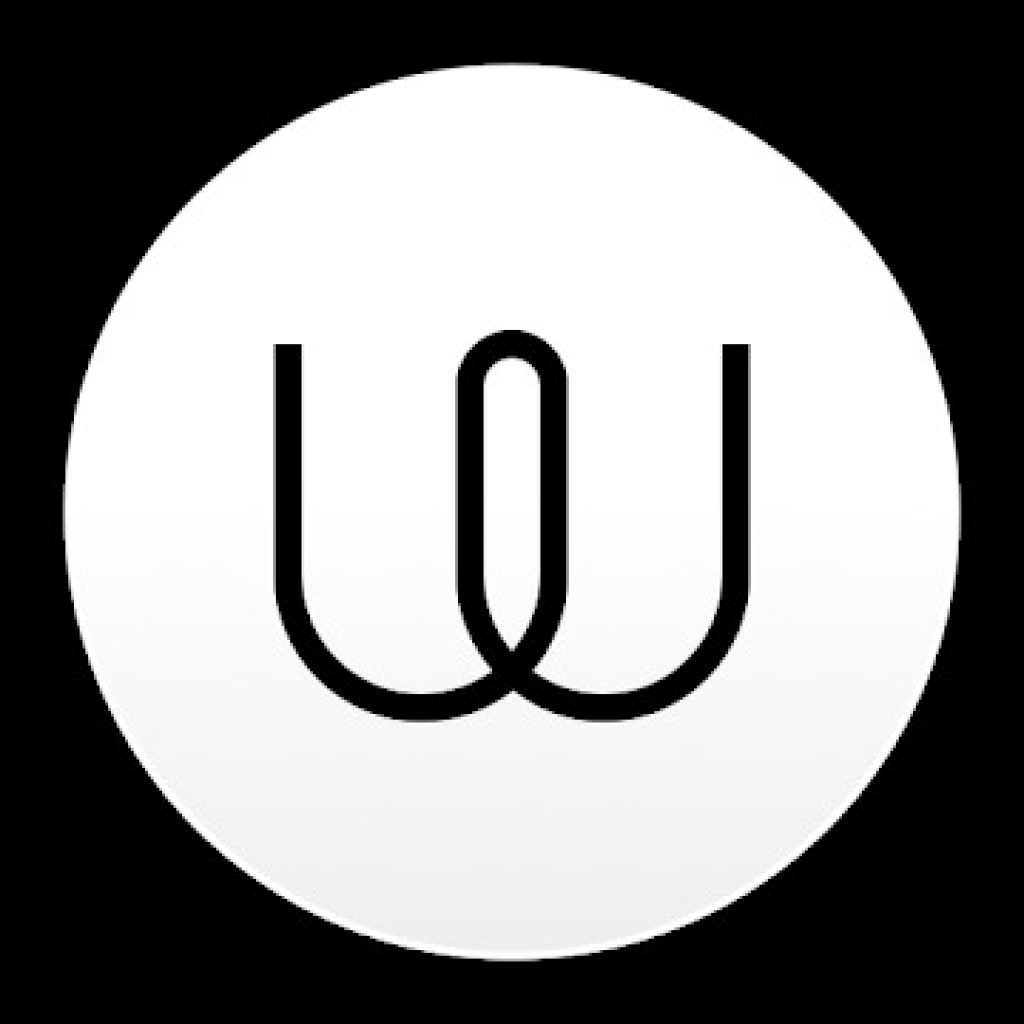 The secure messenger Wire allows you to exchange messages and communicate via voice and video. It is possible to conduct online conferences and create chats.
The main feature of the utility is the end-to-end data encryption function. Information is not stored on servers, which allows for the security and confidentiality of correspondence.
To use the messenger, you need to create an account by entering your cell phone number or email address. Then you should enter a unique user name. After that, it will be possible to add friends to your contact list.
The utility allows you to exchange text messages, and send stickers, emojis, and files. At the same time, there is an opportunity to set the time after which the information will be deleted from the recipient's smartphone.
The function of creating group chats with simultaneous participation of up to 128 people is available. Besides, users can send audio and video messages. In the process of recording, there is an opportunity to use filters to change the voice.
This messenger allows you to transfer files from your mobile device and from cloud storage. For this purpose, integration with Google Drive and Dropbox is implemented.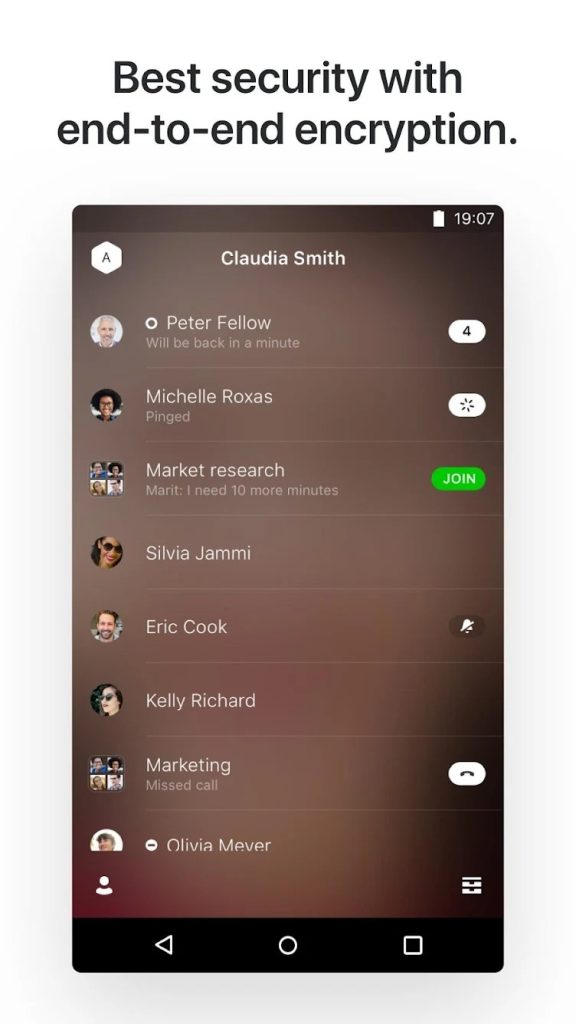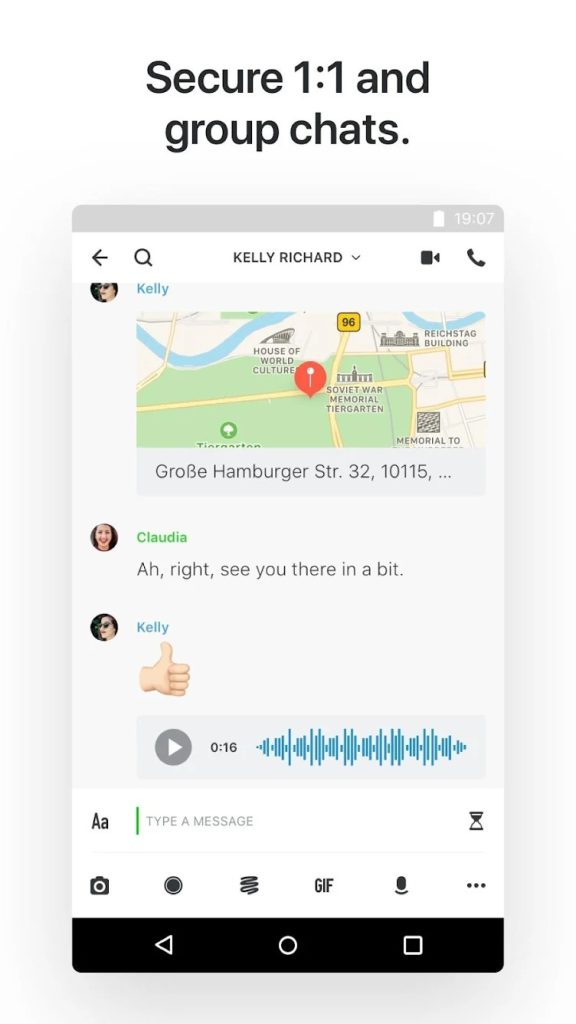 Using the app, you can communicate via voice and video calls, as well as organize online events. Up to 10 users can take part in one conference.


You may also like: 13 Best Animoji Apps for Android & iOS
Microsoft Kaizala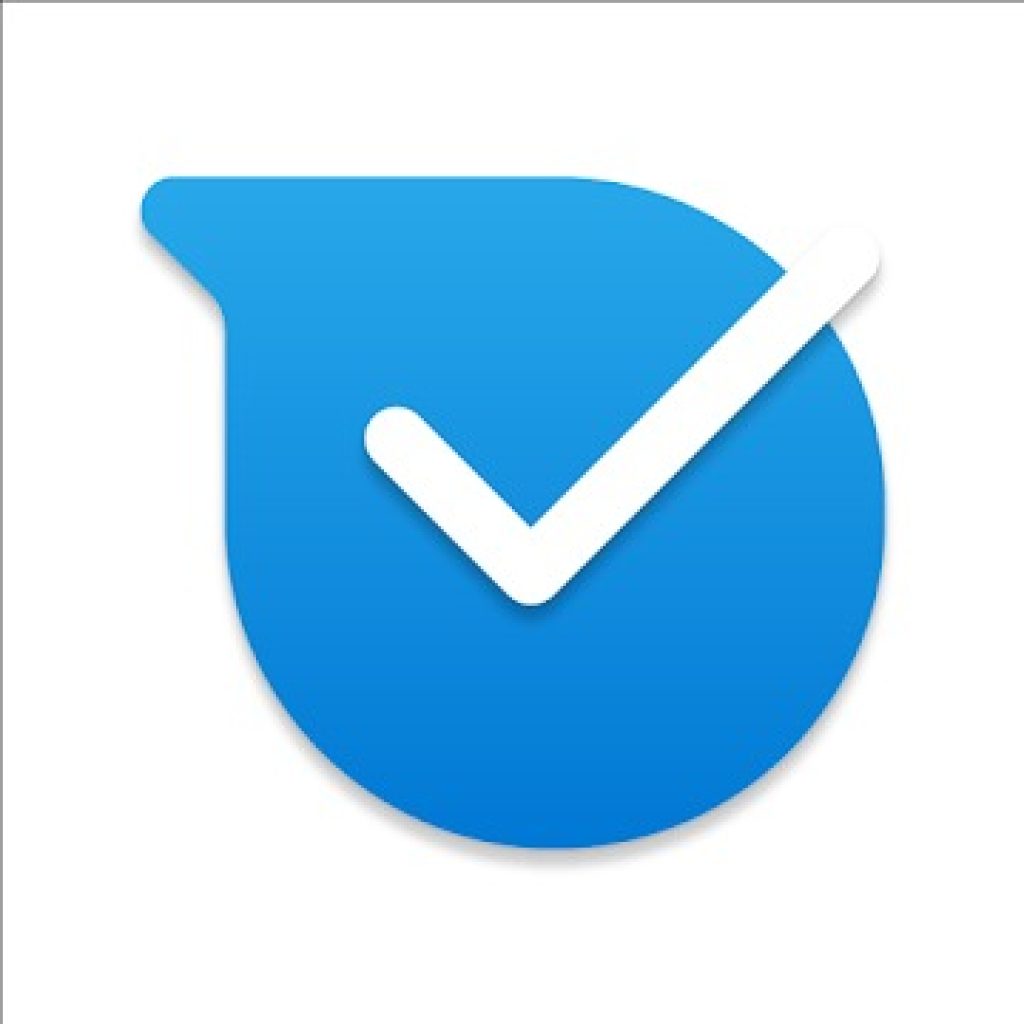 The Microsoft Kaizala app allows you to collaborate on a project, schedule activities, and share ideas with your colleagues.
You can create group chats. Use it to create a workspace to discuss ideas, share files and train new employees.
To use the app, you need to specify and confirm your cell phone number. Then, access to the contact list should be allowed for synchronization.
Users can then create their own groups and join workspaces. To do this, it is necessary to enter the code issued by the administrator. A location-based search function for spaces is also supported. With the help of the app, employees of an organization can send text messages and files to each other.
All information is transmitted via a secure channel. It ensures the security of corporate correspondence. It is possible to create tasks and schedule events. Managers can also send notifications of new tasks to their subordinates.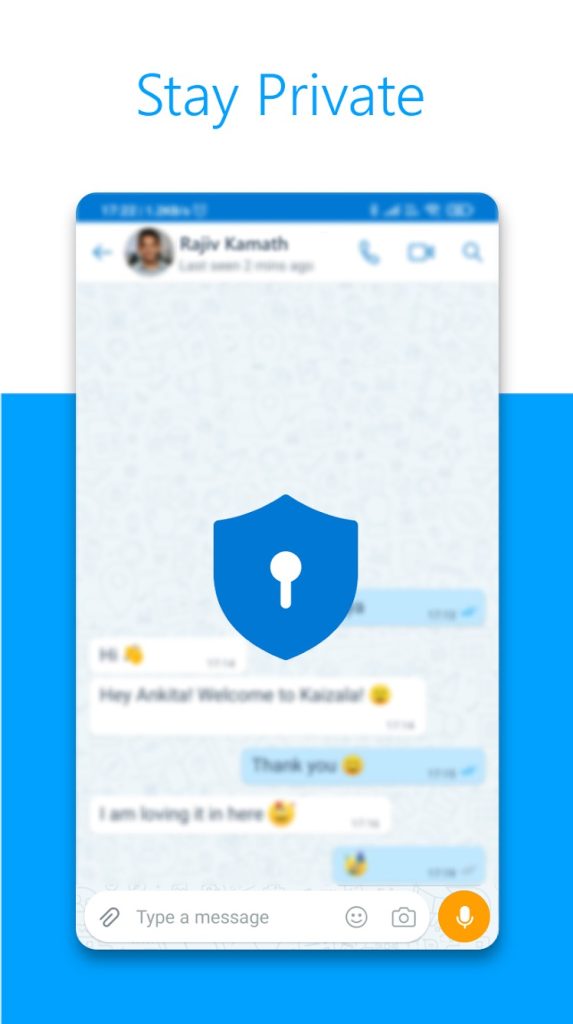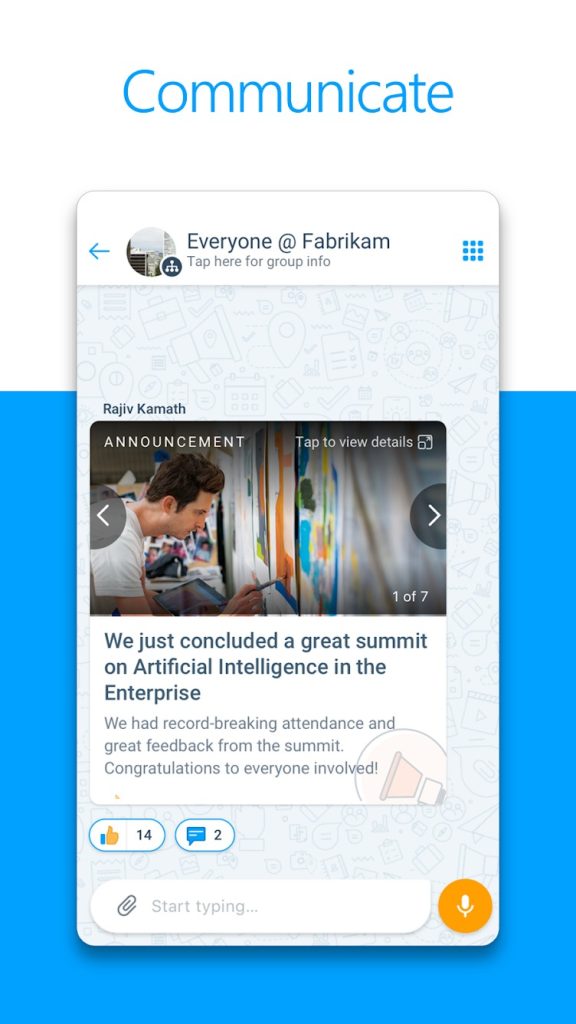 Training and testing of new employees can be organized on the basis of the app. The platform allows uploading text and video tutorials. Besides, it is possible to conduct surveys.