Today I wanted to tell you about the Cats and Kittens pet simulator app, and I'm absolutely delighted with the charming world it offers to cat lovers like myself. This 3D pet simulator allows you to adopt and nurture a group of incredibly adorable kittens, taking on the role of their caregiver as they grow from cute little furballs into mature cats.
The app provides you with a set of rooms where your kittens can freely roam, play, and explore. It's heartwarming to watch them as they frolic around and seek out hidden items within the environment. The attention to detail in creating these virtual feline friends is impressive, making you feel genuinely connected to them.
One of the most enjoyable aspects is the kittens' fascination with little bouncing balls that pop when they touch them with their paws. Tapping on these balls initiates delightful playtime, where your kittens chase after them with endless enthusiasm. Plus, each playful interaction earns you points that you can later spend in the in-game store to pamper your beloved furry companions.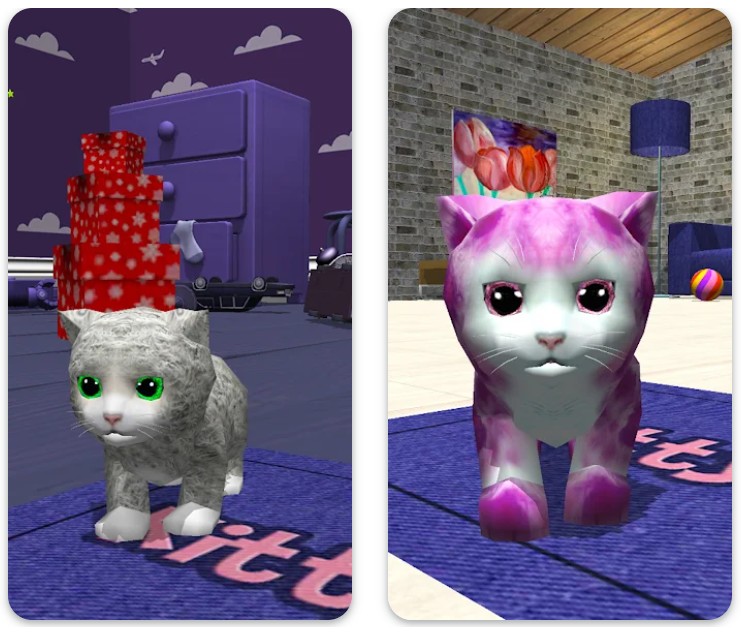 The app offers even more than just adorable kitty playtime. It features a variety of mini-games and score-earning challenges, an aquarium simulator with diverse fish, augmented reality elements, and much more. These additional features provide a rich and engaging experience beyond just taking care of your virtual pets.
Over time, you may find yourself with a growing group of kittens, and watching them interact with one another is incredibly endearing. It feels like having a virtual family of playful and loving feline friends right at your fingertips.
So as I said before, I found this overall app very cute with a cool idea as cats being the main characters. With its cute kittens, interactive play, mini-games, and a variety of activities, it provides endless entertainment and a sense of virtual companionship. Whether you're a cat lover or just looking for a fun and relaxing app, this one is a purr-fect choice!