Evermusic is a multifunctional music player for iPhone and iPad. The app has a clean interface and comes with a set of tools that let you organize all your songs with an experienced playlist manager.
With support for all major audio formats, including MP3, AAC, M4A, WAV, AIFF, and M4R, it ensures you don't have to face incompatibility issues.
Thanks to integration with all popular cloud services such as Google Drive, Dropbox, OneDrive, Box, WebDAV, SMB, MyDrive, pCloud, HiDrive, MEGA, Yandex Disk, WD MyCloud Home, DLNA and MediaFire.
We can also offer the list of the best radio apps – discover new music and enjoy!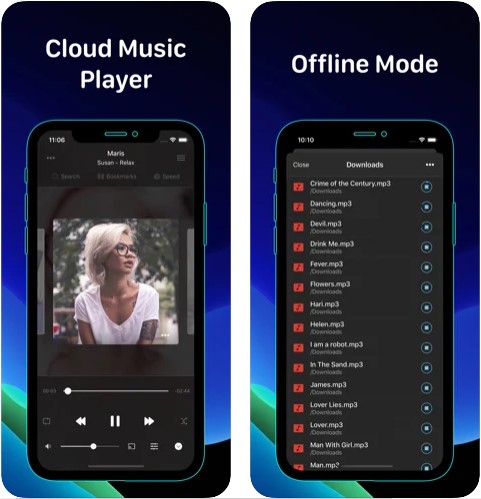 Evermusic lets you move all of your songs to your preferred cloud service and listen to them right from the cloud. What's more, it also equipped the music player with efficient buffering technologies that play a vital role in ensuring smooth playback.
With iTunes File Sharing and Wi-Fi file transfer support, Evermusic makes it easy to import audio files from your computer. Notably, it also works as a handy audiobook player thanks to features such as audio bookmarks, playback speed control, and media position saving.
There is a built-in equalizer with different presets for popular music genres. For a more personalized experience, you can even manually adjust the EQ and preamp gain.
Evermusic has a simple and intuitive interface, supports downloading files and working with playlists (the Lite version limits the number of downloaded tracks to 30), can find independently the covers of popular albums, and is friends with popular cloud services
It is the best solution for accessing your favorite songs and your entire music library, hosted on the cloud or on your home computer.
Adjust the volume of your music quickly with the special volume and booster optimizing apps for Android and iOS.
Connect a cloud service or a home computer and listen to music directly with no problems with synchronization, while the device's memory remains free. You can also download your favorite songs to listen to them offline, listen to music even if you do not have access to the Internet at the moment.