Golf is not a classic hobby at the moment, because most people prefer to spend their free time in front of the television or computer screen. But there are still people who consider various sports to be the best relaxation and also want to improve their skills professionally.
If you've worked in the golf industry, or if you're a golfer yourself, you've certainly come across a situation where you need to evaluate a player's speed. You may also need to calculate handicap and 7 Free Apps to Calculate Golf Handicap can help you.
A lot of people notice that clubhead speed scores can vary from one age group to another. That's why this factor is taken into account in competitions – otherwise, you might just find yourself in an unequal position. Your score depends on how far you can hit the ball.
Distance depends on the speed of your club, which you use to hit the ball – this is called Club Speed. Sportsmen's hitting rates are around 50-60 meters per second, and you can check their rates with the help of special applications. We found for you 7 Best Clubhead Speed Apps for Android & iOS.
Zepp Golf Swing Analyzer
Any sport is not just a measure of strength, but also of intelligence. The best golfers around the world are sure to use calculations and math for their best strokes and wins.
The Zepp Golf Swing Analyzer app helps you find out exactly how you hit the ball, what's stopping you from improving your technique, and how to start playing better. The app has a smart coach and a whole learning system that will take care of improving your skills.
In Zepp Golf Swing Analyzer, you can add your friends who you play and practice with, so they can see your progress in training.
The app has a special sensor that syncs with your smartphone – it measures clubhead speed, stroke rate, swing length, plane, and other indicators. This sensor will allow the Zepp Golf Swing Analyzer to identify where you have weaknesses and find the right learning program for you.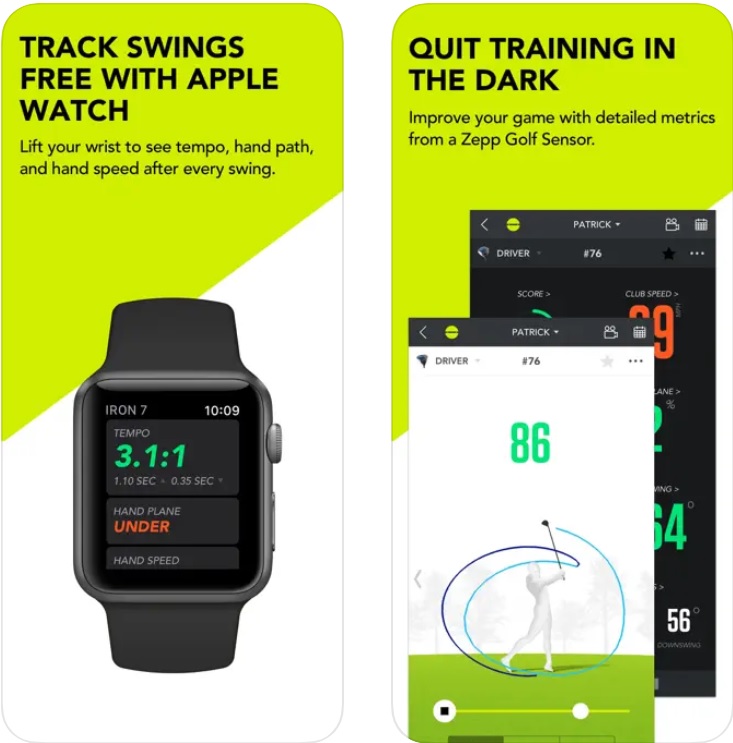 You may also like: 13 Best Golf Game Apps for iPhone & Android
Swingbyte
Club head speed is easy to find out with the Swingbyte app. It uses your smartphone camera to give you a detailed 3D swing after you've finished playing – you get the chance to study your mistakes in detail or understand which swing led you to victory.
The Swingbyte also fully illustrates the path of the clubhead, the top of the club to demonstrate the dynamics of the stroke and the trajectory.
All stroke speed data is instantly transmitted to your smartphone and subsequently forms your personal statistics. This is how professional athletes keep track of the moment when their punching speed starts to drop and their strength in the sport decreases.
Swingbyte will help you practice your punching skills over and over again until you perfect your technique – you can do it with the right effort.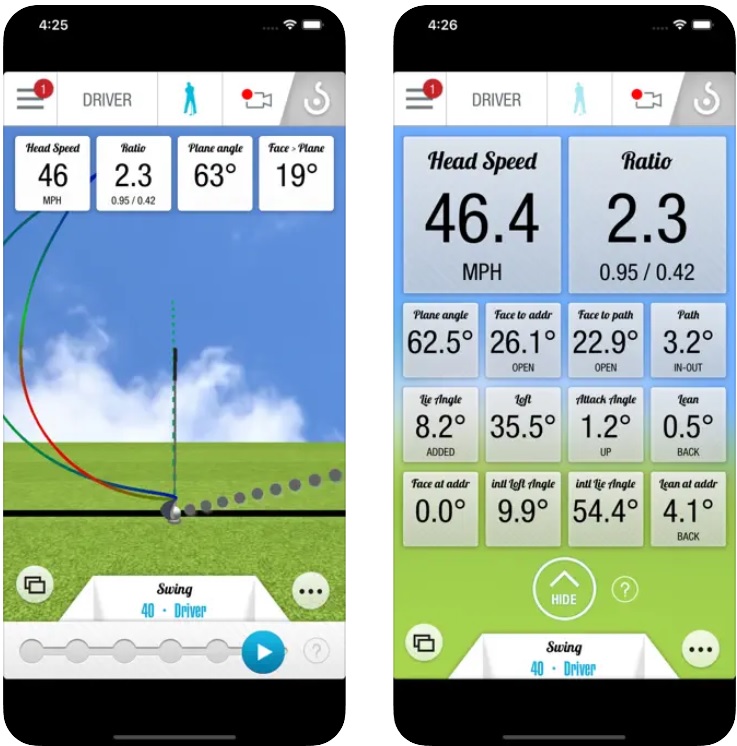 Golf AI
Golf AI is a popular golf simulation game that has a variety of game modes and features that make it an enjoyable experience for players of all skill levels.
One of the key features of Golf AI is its realistic gameplay. The game accurately simulates the physics of golf, so players can experience the thrill of hitting a perfect shot or the frustration of missing the ball entirely.
The game also includes a range of gameplay nuances that add to the experience, such as changing wind conditions and varying terrain.
The graphics in Golf AI are well-done, with detailed courses and realistic player models. While they may not be the most impressive graphics on the App Store, they are certainly good enough to provide an immersive experience.
One flaw in the game is that some of the game modes can feel repetitive after a while. Additionally, the game can sometimes feel a bit slow, which may frustrate some players.
Advantages:
Provides detailed analysis of golf swings using AI technology.
Offers personalized tips and drills for improvement.
Includes video tutorials and visual aids.
Can track progress and store data.
Drawbacks:
Requires a monthly subscription fee for full access to all features.
Limited to an analysis of golf swings and does not offer broader golf course information.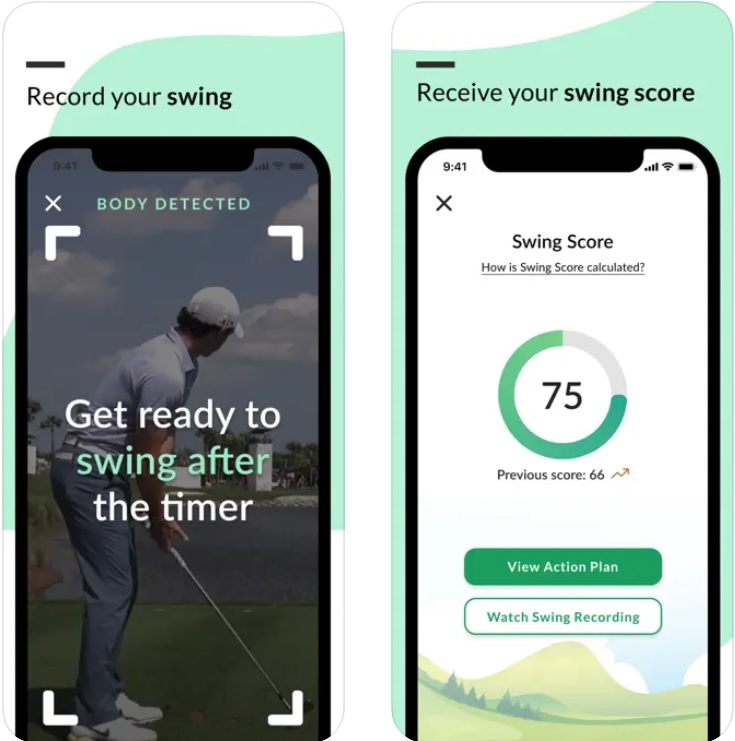 FS Mevo Golf
FS Mevo Golf is a special app that works in conjunction with the FlightScope Mevo Radar. This use of technology will allow you to take your golf game to a whole new level and improve your skills.
The app will capture video of your shots and techniques, transmit them to your smartphone in real-time, and overlay all your speed, performance, and even stroke strength data.
FS Mevo Golf is great not only for professionals but also for amateurs who only play golf on the weekends. The app saves all your video and performance data, which is a feedback loop.
FS Mevo Golf will be your personal trainer who not only tells you where your weaknesses are but also analyzes your performance. Of course, it will require exactly FS Mevo to make the app work.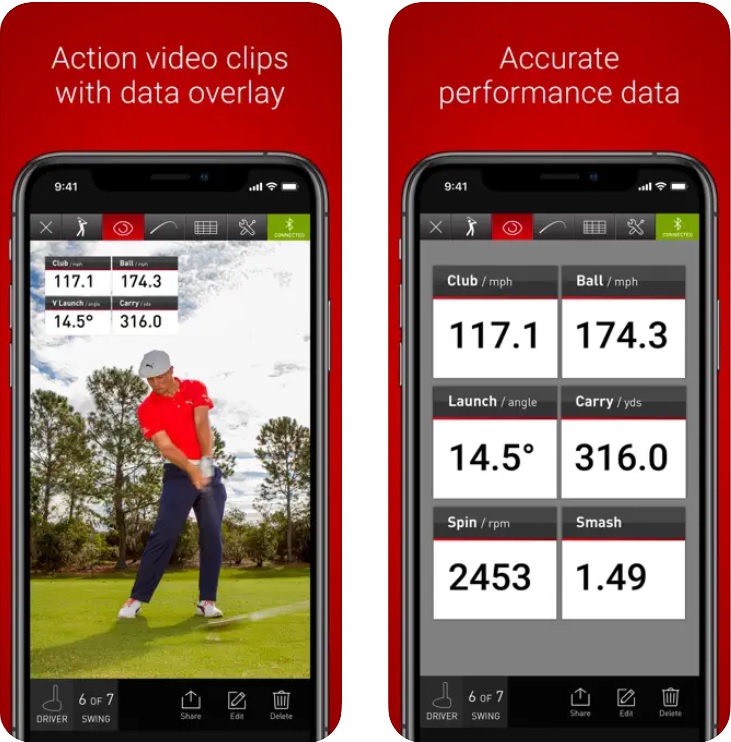 You may also like: 6 Best Wind Speed Measurement Apps for Android & iOS
Golf Swing Speed Analyzer
Love to analyze everything? Troubled by the fact that you can't measure accurate golf scores? Golf Swing Speed Analyzer helps you measure your swing speed and clubhead speed so you have accurate data about your game.
Your smartphone or tablet will turn into a real-time speed sensor so you can analyze your game and become a more professional player.
Golf Swing Speed Analyzer will capture video of your strokes, but for more accurate results you will need a frame rate of 240 frames per second.
The app also gets technical data about the video you're shooting – this is used to correlate your turn rate and your shooting speed. As you understand, Golf Swing Speed Analyzer calculates speed based on the slo-mo video, so you'll also see all your actions in detail.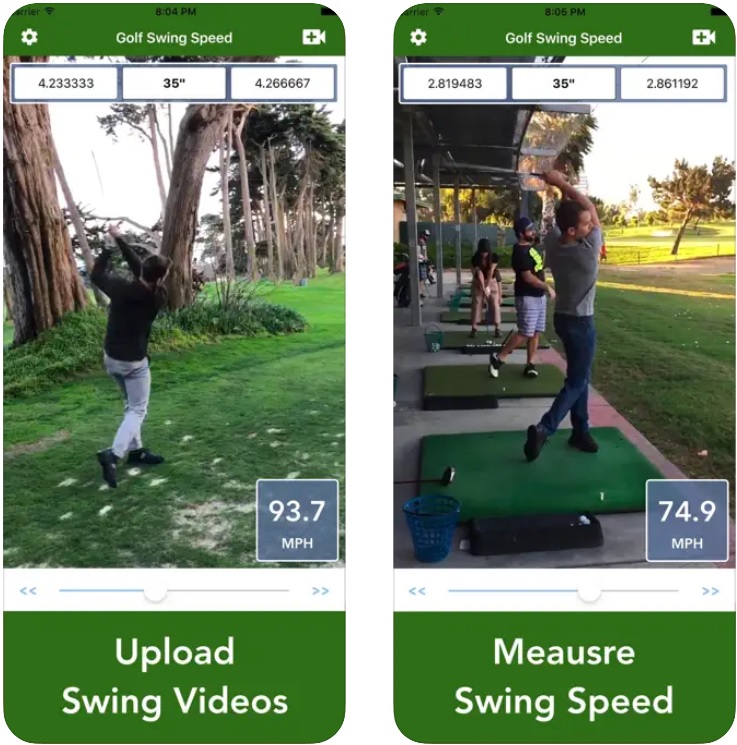 Swing Profile Golf Analyzer
It's easy to see your game from the outside. For example, you can do this with the Swing Profile Golf Analyzer. It automatically captures and plays your shot right on your smartphone screen, and you don't even need a special sensor.
Of course, you won't get perfect data without special diagnostic equipment – but for practice, the Swing Profile Golf Analyzer is perfect.
Your stroke can be played in slow motion as soon as you finish a game. You can also synchronize two different strokes and compare them to each other, so you can see which tactic is better for you.
The Swing Profile Golf Analyzer also has special tools for golf schools that allow you to voice your speed data. Some coaches are already using this app to train and track the results of their charges.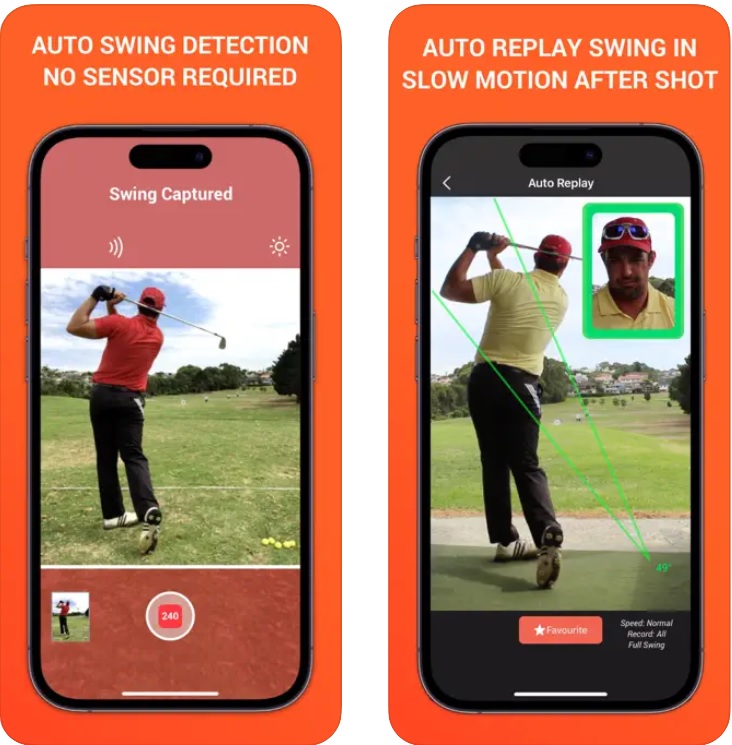 VirtualPro
Improving your skills in sports necessarily requires some kind of evaluation or feedback. VirtualPro allows you to optimize your golf instruction or improve your skills.
It will give you complete feedback on your strokes as well as clubhead speed information. Importantly, VirtualPro is completely free and is great for all players.
The app records your golf swing with the device's camera and each video will automatically pause after you finish the stroke. You can set the time interval after which the recording will stop.
You'll need to play the video frame by frame to see how fast you're hitting, and VirtualPro will help you do that. Draw the trajectory of your strokes in the app directly on video and see how well you match your ideal strokes.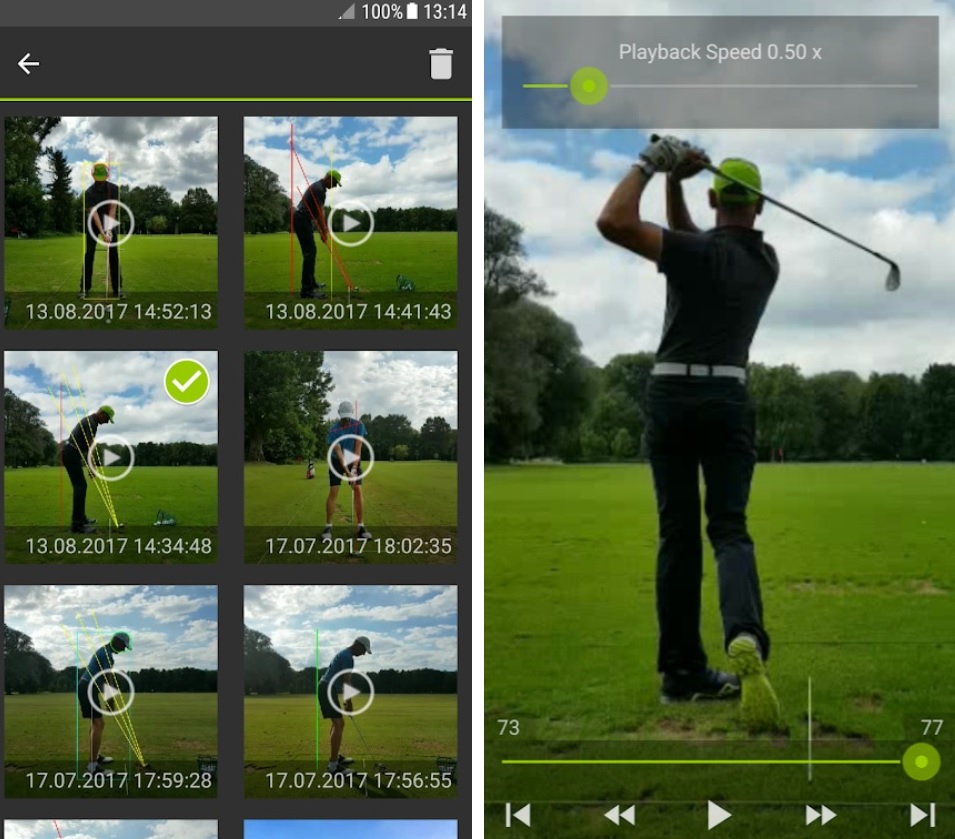 Golf Boost AI: Swing Analyzer
This app is designed to help golfers analyze and improve their swings with the help of advanced AI technology.
One of the main features of this app is its ability to analyze a golfer's swing using advanced AI technology. The app uses sensors to collect data about a golfer's swing and then analyzes that data to provide feedback on how to improve.
This can be very helpful for golfers who are looking to improve their swings and take their game to the next level.
It provides clear instructions on how to use the sensors and how to interpret the data that is collected. The app also provides detailed feedback on each swing, which can be very helpful for identifying areas for improvement.
However, the sensors need to be positioned correctly and the app needs to be calibrated before each use. This can be a bit annoying for some users, but once everything is set up properly, the app works well.
Advantages:
Accurately analyzes golf swing.
Provides personalized tips for improvement.
Offers video recording and playback.
Drawbacks:
Requires additional equipment for full functionality.
Some users report glitches and bugs.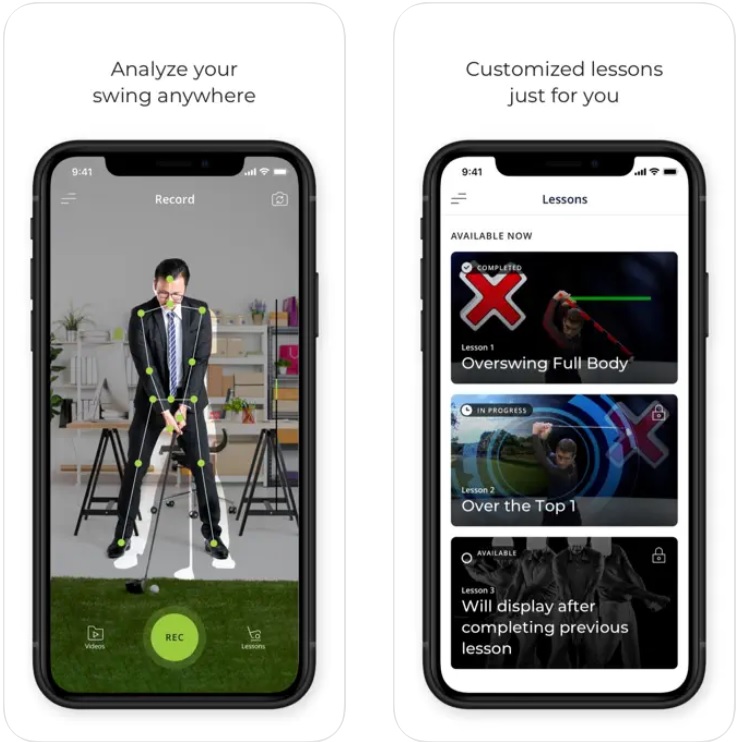 You may also like: 10 Best speedometer apps for Android & iOS
V1 Golf
V1 Golf is worth using if you're serious about improving your golf swing. It can help you to analyze your swing making it a valuable tool for any golfer looking to take their game to the next level.
The app lets you register your golf swing and analyze it in slow motion. You can also compare your swing to a professional's swing, which helps identify areas where you need to improve.
The app also offers swing drills to help you practice your swing and improve your game.
Moreover, this app provides clear and detailed visuals of your swing and the accompanying analysis. However, the graphics are not the app's strong suit. There is room for improvement, as the visuals could be more visually appealing.
Advantages:
Detailed swing analysis.
Professional swing comparison.
Swing drills.
Drawbacks:
Slow upload speed.
Occasional crashes.
Average graphics.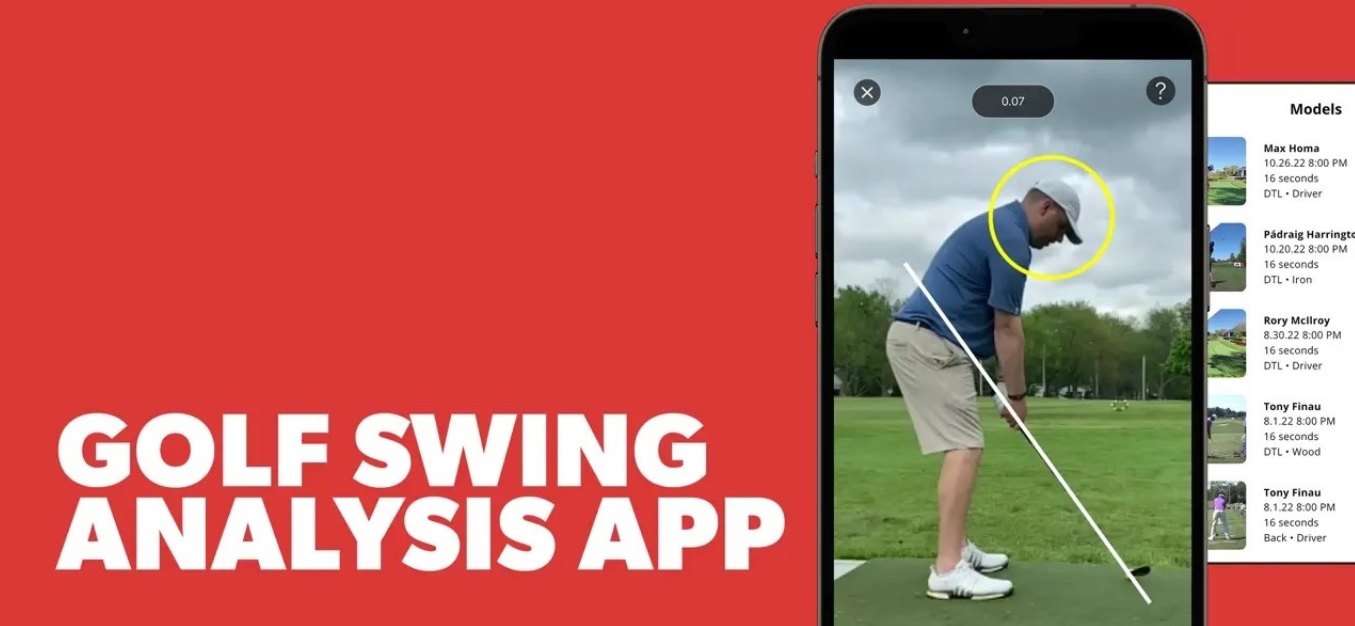 You can't compare the performance of amateur and professional players. The difference between their head speeds can be more than 20 meters per second, and that makes a significant difference in the results of their strokes.
You can swing and hit the ball so many times in the course of a single golf game that your arms get incredibly tired towards the end. This is why clubhead speed is best measured at the beginning of the game when you are already warmed up but not yet tired.
This will be your maximum readings – by the end, most likely, they will begin to decrease. Using this data, you will also be able to mark your progress or regression in the game. We hope that our article has helped both golfers and curious people.