Today you can hardly do anything without a good connection to the Internet. However, sometimes you might face some problems with your Wi-Fi network and struggle to figure out what's going on with it.
By the way, if you would like to search for hotspots around you, make sure you look at 11 Best Hotspot Apps for Android.
These problems can be detected and fixed manually or with the help of a good application. Here you will find the best apps to analyze your Wi-Fi and other networks around you.
There are perfect solutions for Android and iOS users.
Network Analyzer
If you were looking for a good network analyzer, this one is a great solution. In fact, it's just a mobile version of Network Analyzer Pro.
Let's see what you can do with the help of a Network Analyzer. All the range of functions can be roughly divided into 3 parts:
Detect various networks

that are available nearby. Sometimes you need to be connected to the Internet but you have no router. In this case, such a function is a must.

Detect devices

that are responsible for the network. You might need to know the information about these devices to fix problems with your network.

Correct the work of your own Wi-Fi

. If you have a problem with your network, this function might come in quite handy.
Now let's move to the options you will explore in this Network Analyzer:
Get full information

about any network that is accessible. For instance, you will know the default gateway and DNS server details.

Scan your Wi-Fi LAN

. You will easily detect all the networks that are nearby. You will see a list of these networks in a few seconds.

Check IPv6 availability as well!
Another cool thing about this app is that it is lightweight. 10 MB will be enough to install it on your device.
The app is free. Get in on the App Store or Google Play.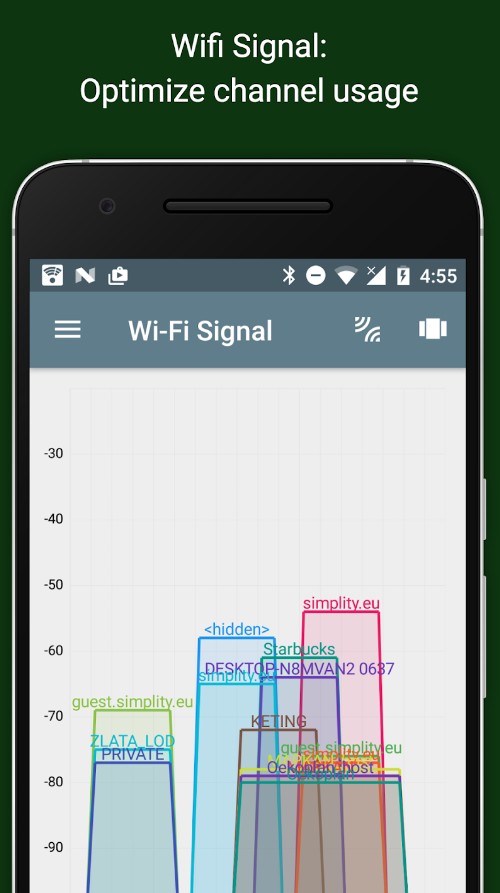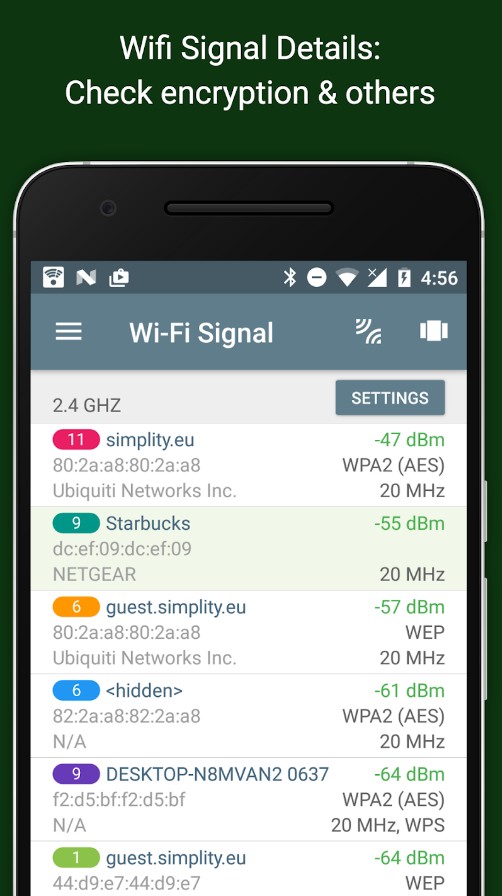 You may also like: 9 Best WiFi Radar Apps (Android & iPhone)
Wi-Fi SweetSpots
This application will be a perfect solution for people who face some problems with their Wi-Fi connection. If you aim at discovering and hacking your neighbor's Wi-Fi, it won't help you with that.
However, if you want to detect problems of your own network, Wi-Fi SweetPots will be a good option.
The app is free and simple to use. Right after the download, you will be able to do the following:
Check how your network is working. One of the key factors is speed. Your Internet has to be fast so that you can enjoy browsing through it, open websites, watch videos on YouTube, or even do streaming. This is why check the speed. To do it, find your network (actually the app will find it itself) and tap on it. There will be a 'start' button. Press it and wait for 15 seconds. After you finish, you'll see the speed. If it's too low, the app will highlight the result.
Save the result. If you tend to face problems with your network, it might be better to make these measurements at least two or three times to make sure the fluctuations weren't accidental. You can download the report on your device or make a screenshot of it to compare later.
Wi-Fi SweetPots collects some data about your location and tracks usage data. However, the info won't be linked to you.
The app is available on the App Store, as well as Google Play for free.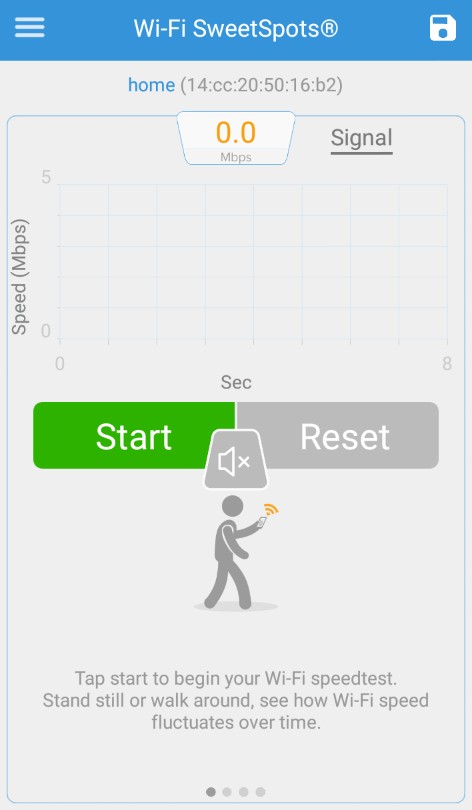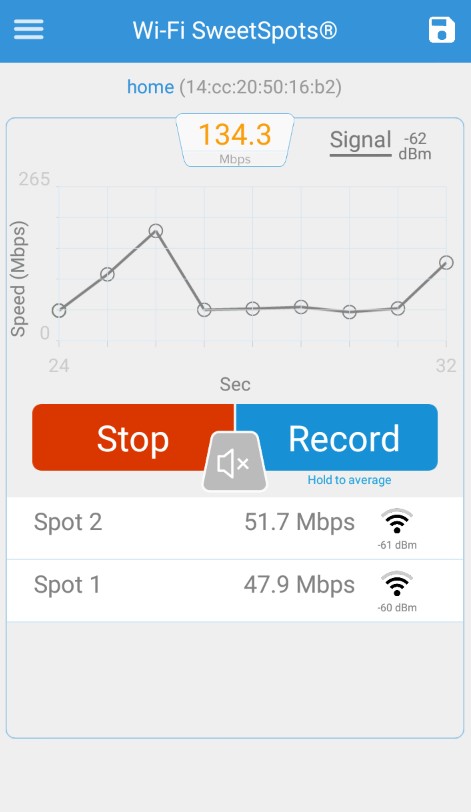 Fing – Network Tools
Have you ever suspected that someone is secretly stealing your Wi-Fi? It's time to check it and know for sure. However, this isn't the only function you'll be able to use. The app is packed with a big number of network tools.
Let's review the most useful of the!
The best feature is a security check. This is vitally important to find out if your network is safe to use. If it's not, then your data can leak to the Internet or be stolen. If you store the data about your credit card on your computer, you are in a big danger. With Fing, you can check the security in a few seconds. If something is wrong, Fing will warn you about it.
Find out who exactly is stealing your Wi-Fi. It can be your neighbors or even strangers passing by. If Fing detects someone using your network without your permission, you will be given info about the device connected to your Wi-Fi.
Check the speed of your network. You pay money for a good speed of the Internet. This is why you have the right to get a fast connection. With Fing, you can measure the speed in a few seconds and find out if you aren't overpaying for your Internet.
Look for hidden cameras that could be placed in your network. It's terrible to realize that someone could be watching you right now. You will receive a notification when Fing detects something dangerous.
Find some new information about the Internet providers in your area. This will be much faster than surfing the Net as all the data is already collected in one place. So you can just study the providers and their prices. All the info is up to date.
Restrict access to the Internet to some people. It can be your crazy neighbor or your kid who doesn't want to study well. You can control the access right from your phone and change the list of people who can't use the Wi-Fi.
Fing is free with most of its functions. However, there are some in-app purchases that can make your experience even better. Let's take a look at them:
Your network will be checked every 5 minutes. You don't have to do anything manually. If something is wrong, you will be notified at once.
You will be able to see all the network timelines. This will enable you to find out when the speed wasn't ok and how it can be connected. In this case, you can analyze the possible reasons.
You need a bit more than 40 MB to install Fing and use it effectively.
However, you can also do pretty well using the basic version of Fing. You can download it on the App Store, as well as Google Play.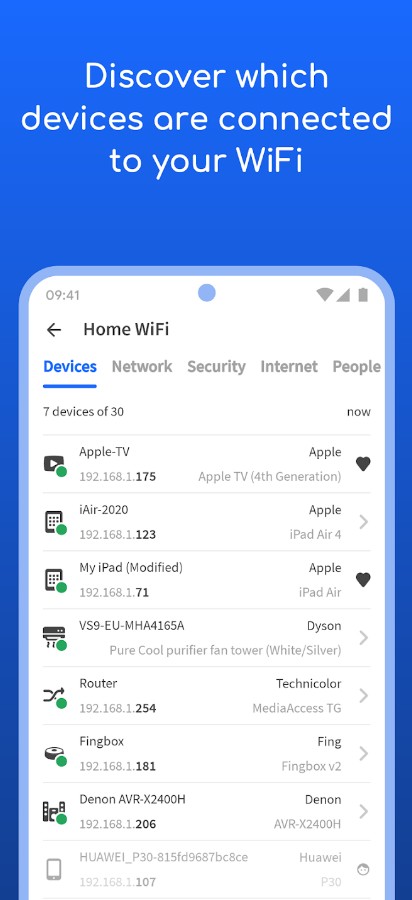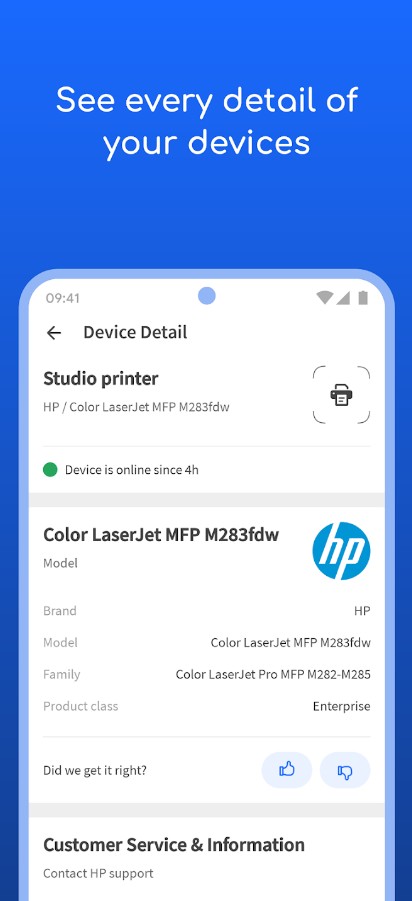 WiFiman
Here is another nice tool to examine the condition of your network. It is easy to start and enjoy all the functions provided by WiFiman.
In general, the app is aimed at helping you observe your network and its health. Let's see what exactly you can do with the help of WiFiman:
Scan the area

around you and detect if there are any free Wi-Fi networks. You can find your own network as well.

Conduct speed tests

. This is vitally important to understand if your Internet is functioning well or not.

Download the results of the tests. To find out if your connection to the Internet is good, you need to conduct a few speed tests and save the results. You can easily compare them and see the dynamics.
Find your access points and change their location. This simple step will ensure your connection will be much better.
Please note the application will track your location but it won't link the data to you.
The app is pretty big, though. You will need more than 200 MB to install the WiFiman on your device.
WiFiman is free with all of its functions. You can get it on the App Store or Google Play.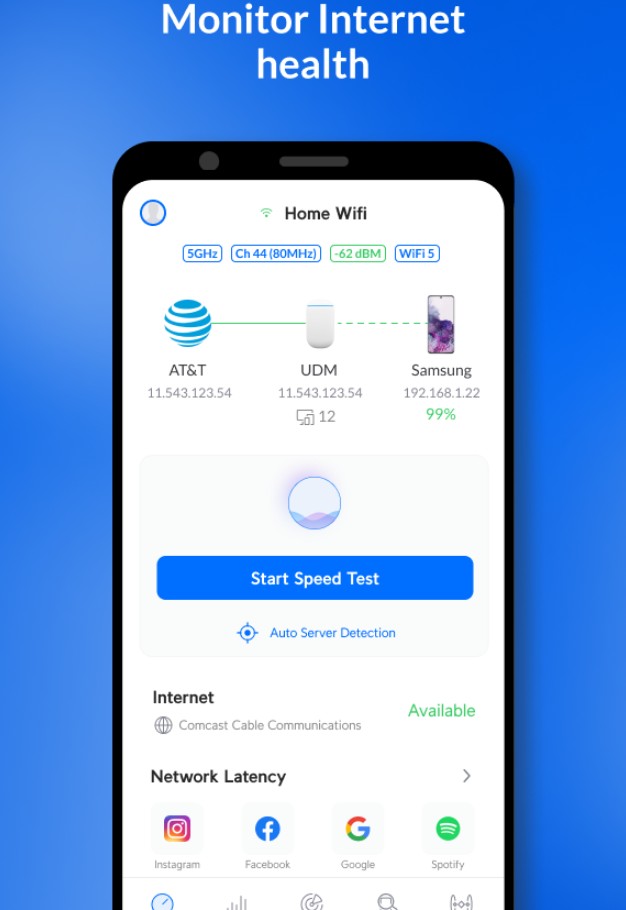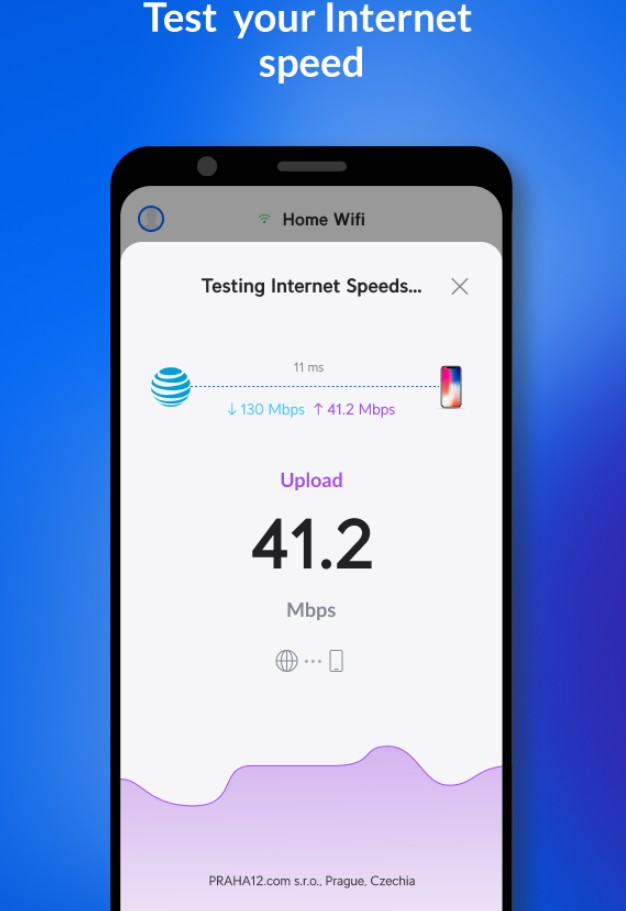 WiFi Monitor
If you have a router and you would like to find out if it functions well, WiFi Monitor is what you need to install. It will allow you to track the speed of your Internet, its frequency, as well as signal strength and security.
What kind of information can you find out with the help of a WiFi Monitor?
First of all, you will

see the SSID

(which is the name) and

the manufacturer

who created the router.

The strength of your signal

will also be displayed on your screen. However, it won't be updated automatically so you need to scan the signal every time you want to get the signal's strength.

See

the list of devices connected to your network

. This will enable you to find out if someone is stealing your Wi-Fi. You will see the name of the device and its manufacturer. What's more, you'll be able to identify the type of the device, if it was a smartphone, tablet, or desktop.

See the MAC and IP of the device connected to your network. This might reveal some info about the person who's using your Wi-Fi. This can also be a good point if you need to prove they are stealing.
What is really cool about the app is that you can convert all the info about your network and then save it to a log file to download on your device or share it with others.
Unfortunately, the app is available for Android users only. WiFi Monitor is free to download and use.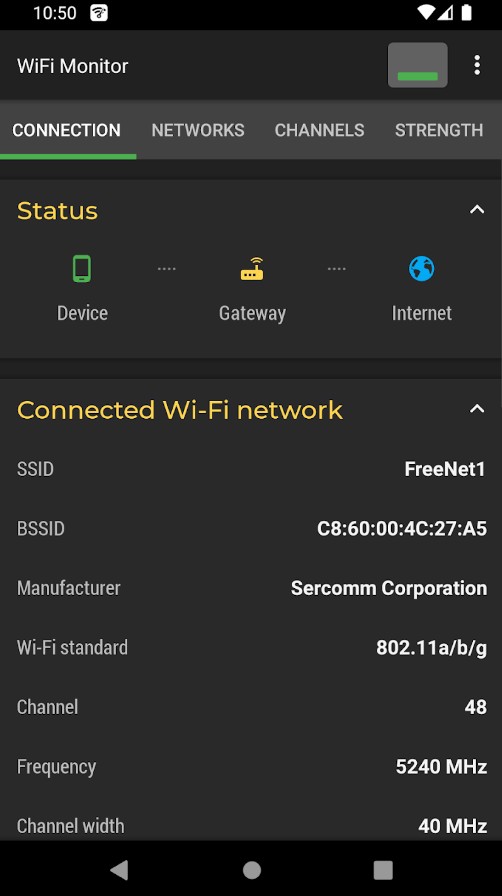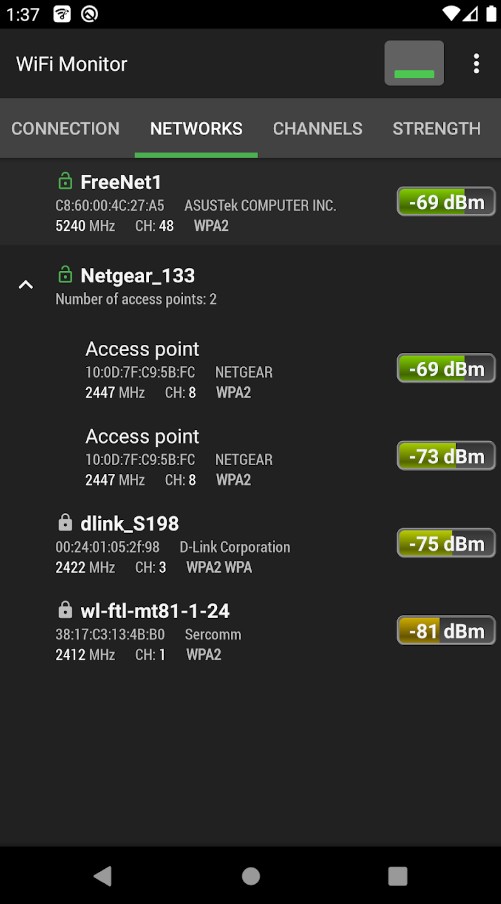 You may also like: 9 Free Internet Lock Apps for Android & iOS
Network Signal Info
The following app can boast of a big number of functions. However, it can help you with your network settings and their speed.
Now let's take a closer look at the functions provided by Network Signal Info:
Get detailed info about your network

. It doesn't matter if you are scanning your router's network or your mobile – the app will work well in both cases.

Locate mobile cell towers

. This option isn't primary but it can be super important at times, especially when you are traveling or you're far from town.

Enjoy precise tests. They will come in quite handy if you would like to measure your network speed.
Most functions are available at no cost. However, the more often you need to scan your network, the better it will be to go pro. If you prefer using the free version, you will have to put up with ads.
Network Signal Info is free of charge on Google Play. Get it and start scanning your networks!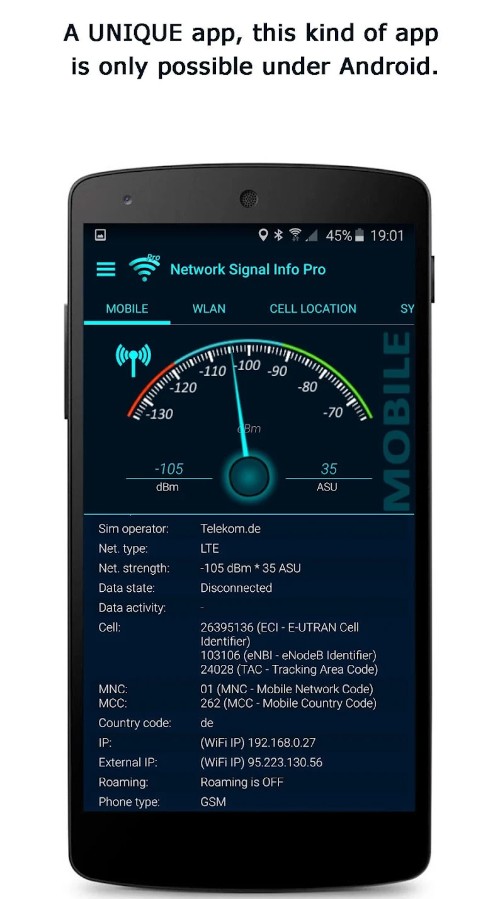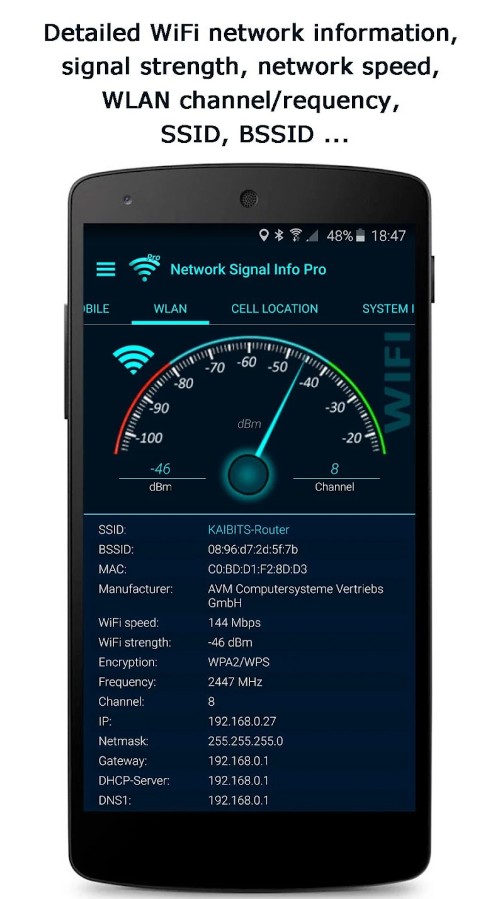 WiFi Analyzer (open-source)
WiFi Analyzer (open-source) is a universal and free app that's exceptionally useful for anyone looking to optimize their Wi-Fi network. Whether you're at home, work, or a public place, this app helps you understand and enhance your Wi-Fi connection.
This app is designed for a broad audience, from tech enthusiasts to everyday users. It's beneficial for home users, IT professionals, and travelers. 
Key Features:
Signal strength analysis
Network information
Channel rating
Ping and traceroute
This app is open-source, meaning it's continually improved by a community of developers, and it's completely free without any hidden paid features.
In conclusion, WiFi Analyzer is a valuable tool for anyone who wants to optimize their Wi-Fi network for better performance.
The app is available for Android users only.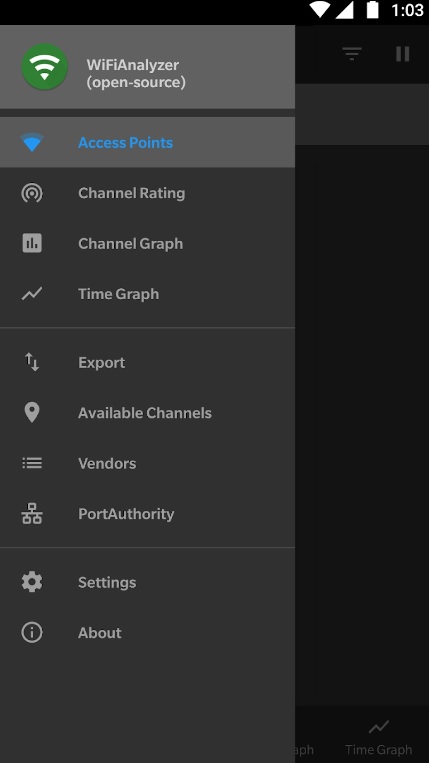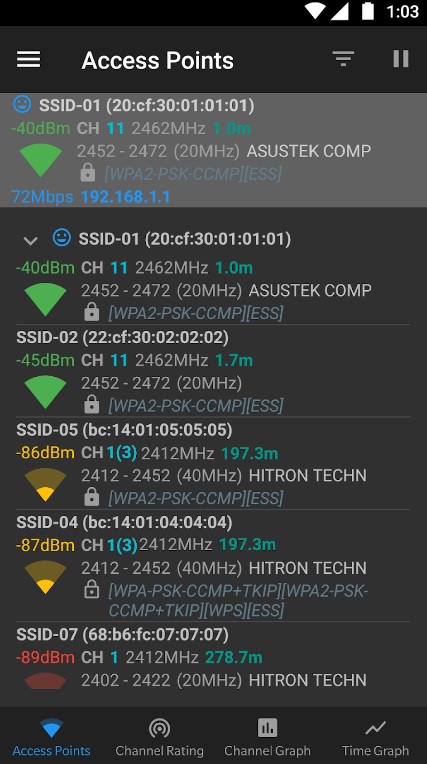 Network Utilities
Here is another great tool to diagnose your network and detect problems. What is especially cool about this application is that almost all the functions are available at no cost.
The range of functions you will see in Network Utilities is truly impressive. Let's concentrate on those you might use quite often.
Check the Internet connection

. This is the easiest way of checking your signal strength. When you are done, you can download the report to prove your signal isn't good enough. This might come in handy if you argue with your Internet provider.

Use

the traffic statistics tool

to obtain detailed info about your network. This will help you to understand and see the main problems you are facing. This full info will help you to fix the issues faster.

See if someone is using your network

. Sometimes it might be your relative or a neighbor. What's more, you may see the device used by this person. You can also download a report that will prove your network is being stolen.
The app is rated 4.7 out of 5 on Google Play. Most of the functions are available at no cost.
Download the app and start inspecting your network easily!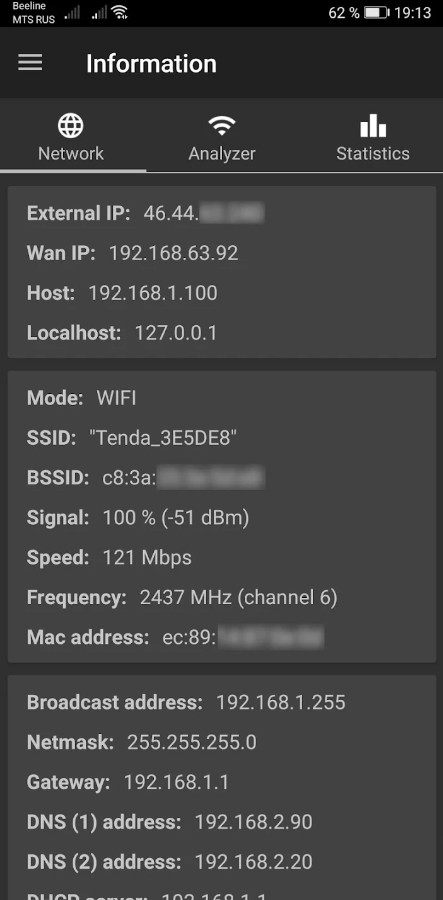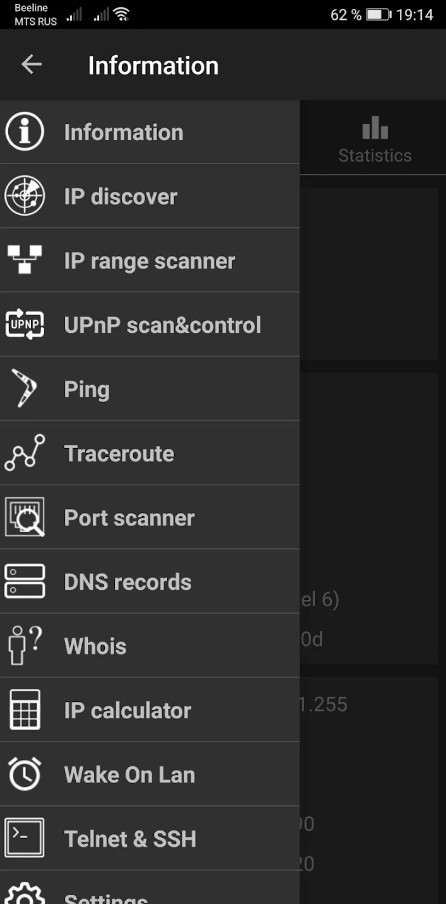 NetX Network Tools
This is a good tool to expect your network quality. What's more it can also help you to find out (and prove it as well) if something is wrong with your network.

The app combines two types of functions – Wi-Fi Scanner and Wi-Fi Analyzer. Let's take a closer look at both of them.
Wi-Fi Scanner

. This option allows you to scan the area around you and find out if there are any free networks you could use. The app will also give you some info about the signal strength.

Wi-Fi Analyzer

. This function will tell you most of the info about your networks, such as their speed, external IP address, gateways, CPU and RAM usage, and many other important details.

Get the reports about your network. The most popular one is related to speed. This can help you ensure that you aren't getting the speed and the strength of signal you are paying for. You can easily download all the reports on your device or send it to the cloud.
NetX also supports various themes that might help you to customize the application.
What is more, NetX is super small – you will need less than 5 MB to install it and start using it.
The app is available on Google Play for free.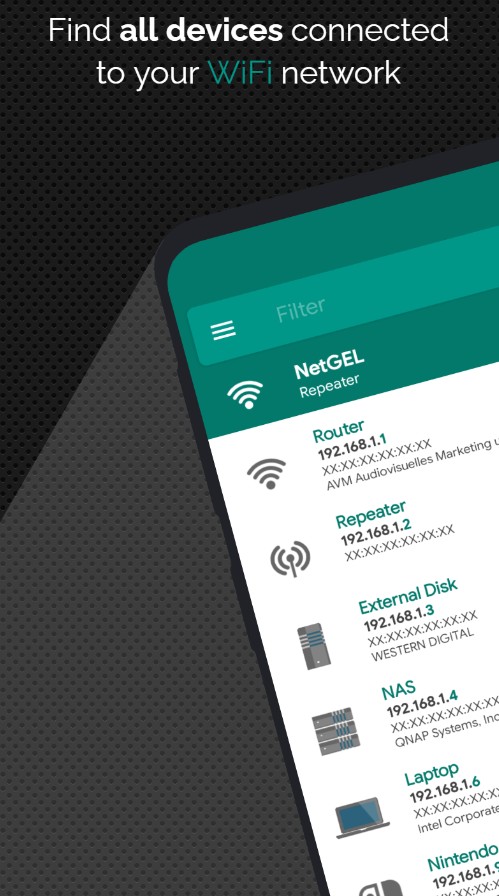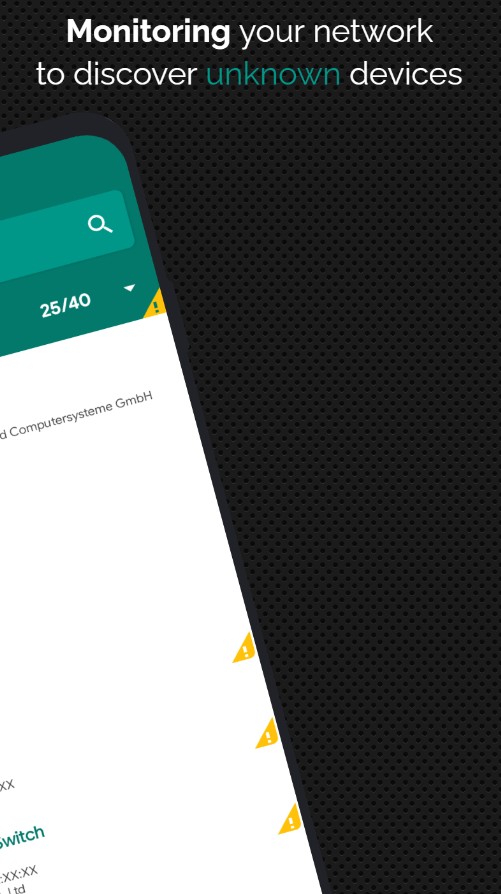 You may also check: 5 Best Wireless Router Apps (Android & iOS)
NetSpot WiFi Heat Map Analyzer
NetSpot WiFi Heat Map Analyzer is an excellent tool for optimizing your Wi-Fi network. It provides a straightforward and visual way to assess and improve your wireless connections, making it suitable for a variety of users, from homeowners to IT professionals.
It works by mapping out your Wi-Fi network's signal strength and coverage. You can create a visual representation of your network by walking around with your device, collecting data about signal strength at different locations.
Key Features:
Visualize your Wi-Fi signal strength with color-coded heat maps. This helps identify weak spots and interference sources in your network
Detect all nearby Wi-Fi networks, including hidden ones, and analyze their signal strength and channels
Conduct site surveys to evaluate and optimize your network's coverage. This feature is especially useful for businesses
Create your own maps by importing an existing floor plan or drawing one from scratch
NetSpot offers a free version with essential features. For more advanced capabilities, there's a paid version available, which includes features like multi-floor scanning and advanced visualizations.
In summary, NetSpot WiFi Heat Map Analyzer is a great tool for anyone looking to enhance their Wi-Fi network.
The app is available for iOS and Android users.