Nowadays, when society is almost fully formed, every person wants to independently establish their own small colony, which will develop according to his rules.
Especially for this purpose, many gaming campaigns have taken up the development of colony-building games. In the article down below you will find the best colony-building games in the current year.
To bring to you more of the medieval spirit and "win and conquer" games we collected the best war defense games in this article.
Going Deeper! : Your Colony
Going Deeper! is a simulator that allows you to find yourself in the world of building your colony and managing it with the help of various tools. This app is made in the style of fantasy and building genre.
In this game the user must equip the colony and help it to develop, increasing in size and improving it. The most important goal is to defend the colony from attacks by enemies who want to steal your resources and take your territory.

You must create all the conditions for your colony to last as long as possible, otherwise, the goblins will quickly destroy it.
The action of the game begins with the fact that you choose unique equipment for going on an expedition. Treat this choice with the utmost care! It depends on how your characters and your colony will develop.
Each character in the game has its own set of skills that are useful only in a certain area. For example, a character with a cooking talent will not be able to chop down trees. And the doctor, in turn, can't hold the sword and defend your colony from dangerous enemies.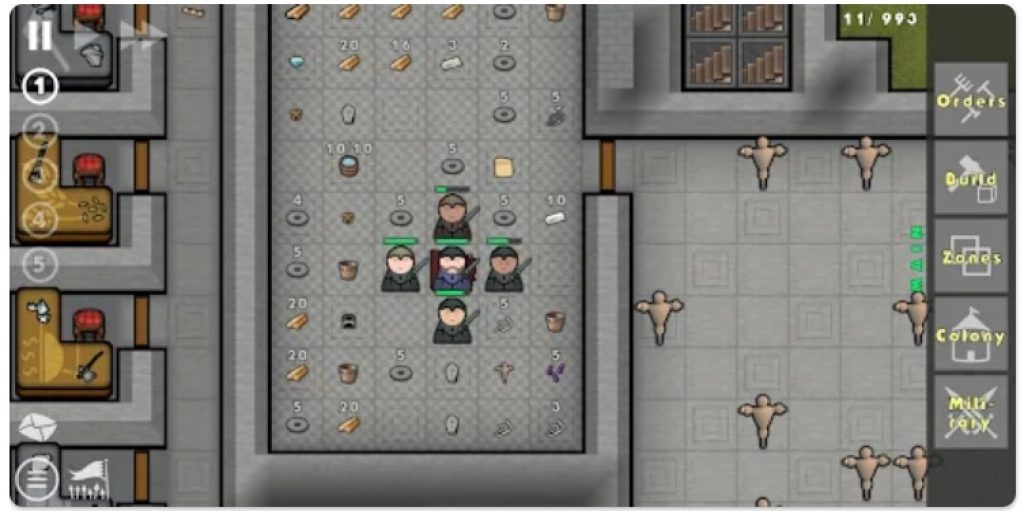 You may also like: 25 Best RTS games for iPhone & iPad
Endless Colonies: Idle Tycoon
The actions of this game take place in 2038. A huge fog hung over the entire planet, which cities and states have lost. The planet has been enveloped in forest fires and droughts, people have suffered from epidemics and incurable diseases. But the main problem is a huge asteroid approaching the earth.
At a time when the entire population of the planet needs protection and help, and a huge asteroid threatens the earth, your task is to find heroes who can save the earth from destruction, or become one of these heroes.
This game works on the principle of a simulator, the development of which is carried out through clicks on the screen of your device.
By clicking you improve your resource extraction stations and increase your income. The more funds you accumulate, the sooner you can explore new planets to transport all people to a safe place and develop on a new planet.
Even though the mechanics of the game is quite banal, it is up to you to choose a strategy on which your further development will depend.

You choose how you will distribute resources for your colony, which factories you will send workers to, how much money you will invest in the development of vehicles or missiles, and much more!
The game has been playing for several years and all the years on the market, users note a pleasant interface in the application and good music that does not get bored after playing this game for several hours.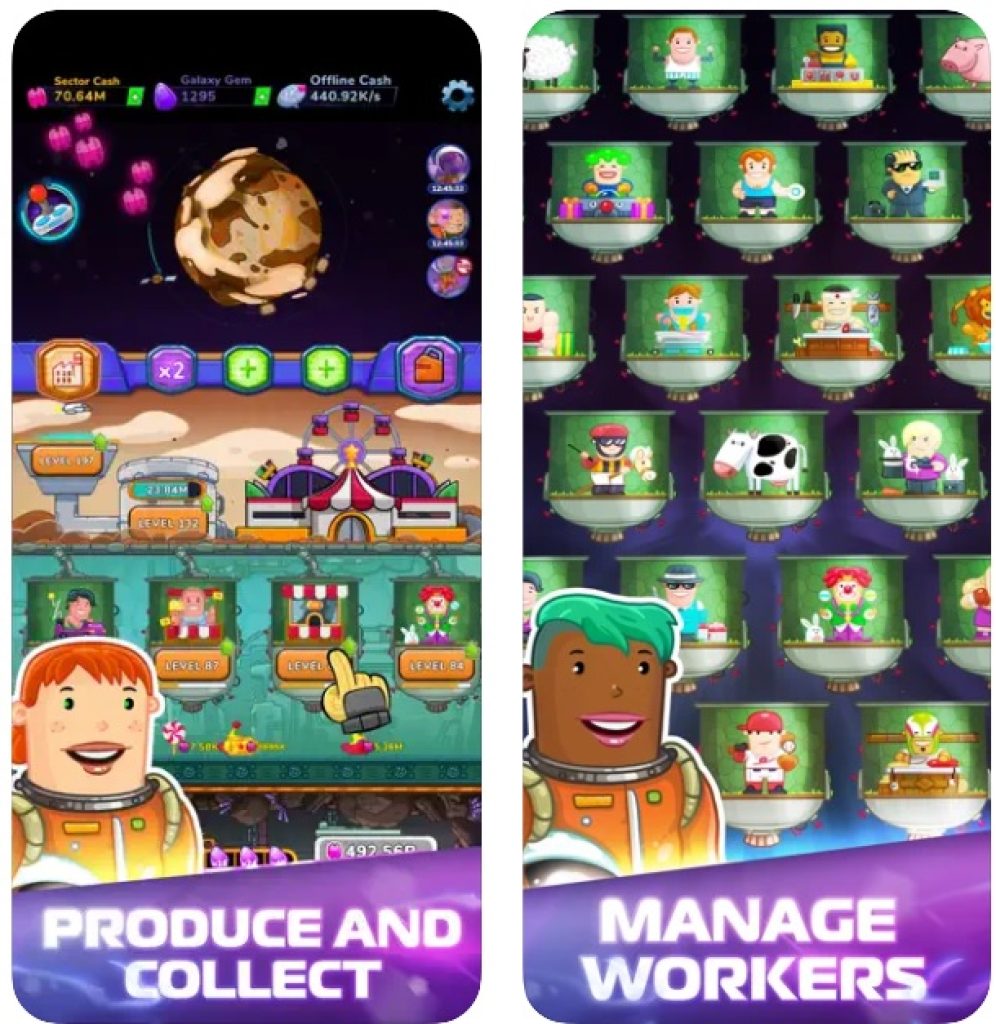 Pocket Ants: Colony Simulator
This game is a little different from the previous ones. Now you must build your colony not from people, but from wild ants. These insects are famous for the fact that they gather in huge colonies to work together, build anthills together and live in them.
You play as a scientist who studies ants. You who help them collect resources and use them correctly in the construction of anthills.

Your insects create nests and improve them, increasing the number of places for new ants and other insects. As you level up, your ants become stronger and faster that gives you new possibilities it developing.
You can direct your colony to fight other insects, forcing them to join your empire and increasing your army size. This game is suitable for both those people who are fond of insects and those who love epic battles.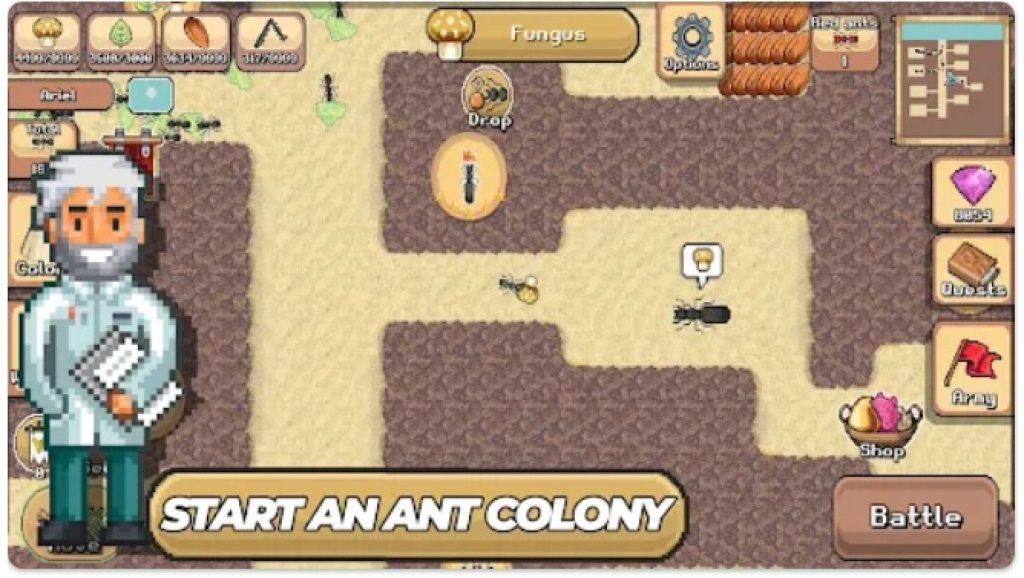 Robot Colony 2
In this app, you will need the skills of a strategist and tactics, because the colony will consist of a large number of robots and machines that behave just like living ones.

They will go for resources, get resources for building shelters and improve on their own. Also, without your help, they will produce the fuel, that they must consume for living.
The advantage of this game is that it is available offline and has low software requirements. In the previous part of this game, users noted the low performance of the game and the annoying interface. In the second part, the developers corrected their mistakes and now it is really pleasant and interesting to play it.
Even though the robots operate quite independently, you can take control of them. The movement of each robot is unique and inimitable, so it will be interesting for you to control each of them and you will not get tired of the monotonous game mechanics.
Your enemies in the game are huge insects that aim to destroy your colony of robots. Only with the right strategy can you effectively defend against your enemies and defeat them time after time.

The map in the game is huge and you can build a base as long as your resources last. But remember, the main thing is not the size of the base, but its strength and defense capability.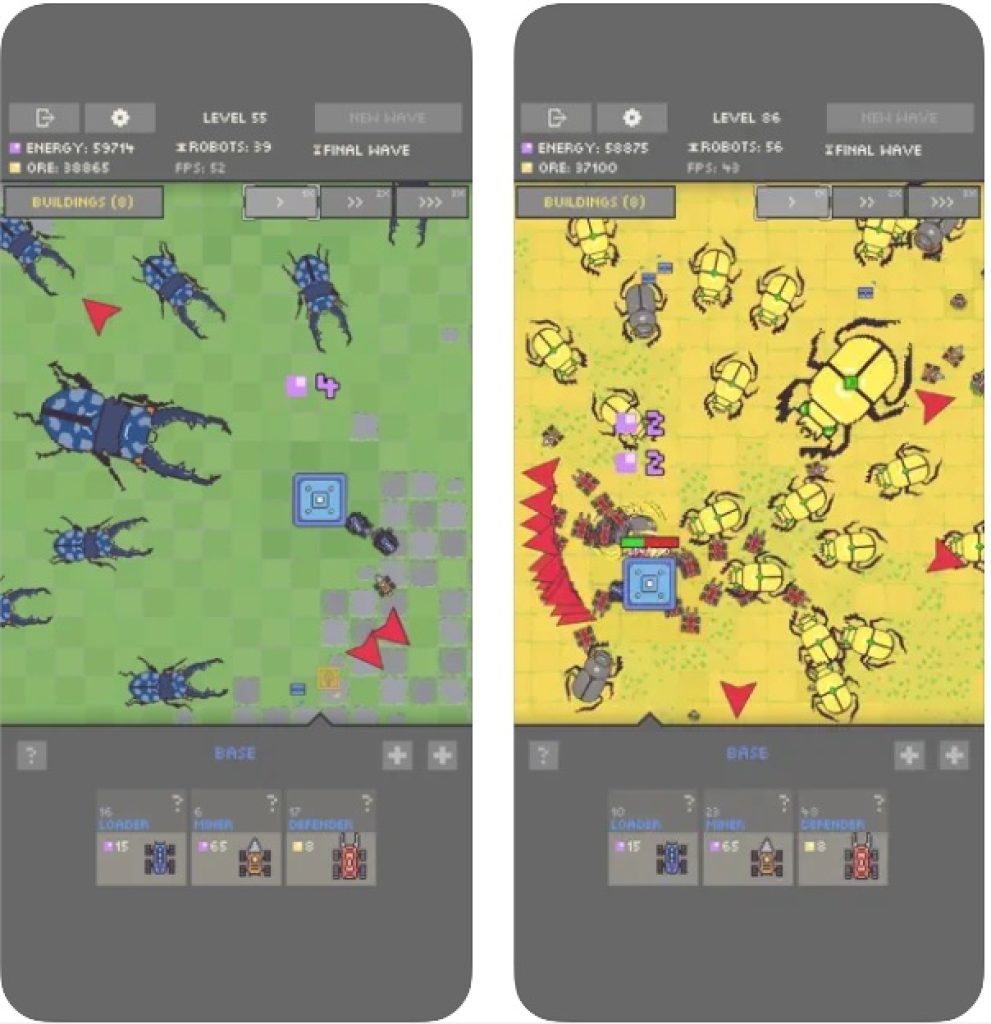 Space Colony: Space Clicker
This app was developed by Veloxia, which always aims to make the graphics in their games as pleasant and beautiful as possible. It can be seen. Compared to previous applications, you can notice a big difference in this aspect.

The graphics here are amazing. The game is made in 3D format, all buildings and structures are voluminous and realistic, and the colors are excellent and look very contrasting.
What is most interesting in the game is that you need to build a colony not on our planet, but in space. You will have to place your base among satellites and meteorites, in open space.
Prepare astronauts, load space equipment onto ships, explore new planets, and improve your colony. By researching new technologies, you constantly increase the level of your base, supplying it with modern technology.
Playing Space Colony is easy enough. You just need to click your fingers on the screen and the more clicks you make, the more resources you will accumulate. If you have quick fingers and a lot of free time, then your colony will be one of the best.

Your progress will never stop. If it becomes boring to play – leave your colony and explore new planets with your unique resources. There are 16 planets here.
Develop your colonies, discover new planets and accumulate huge amounts of money just by clicking on the screen of your phone.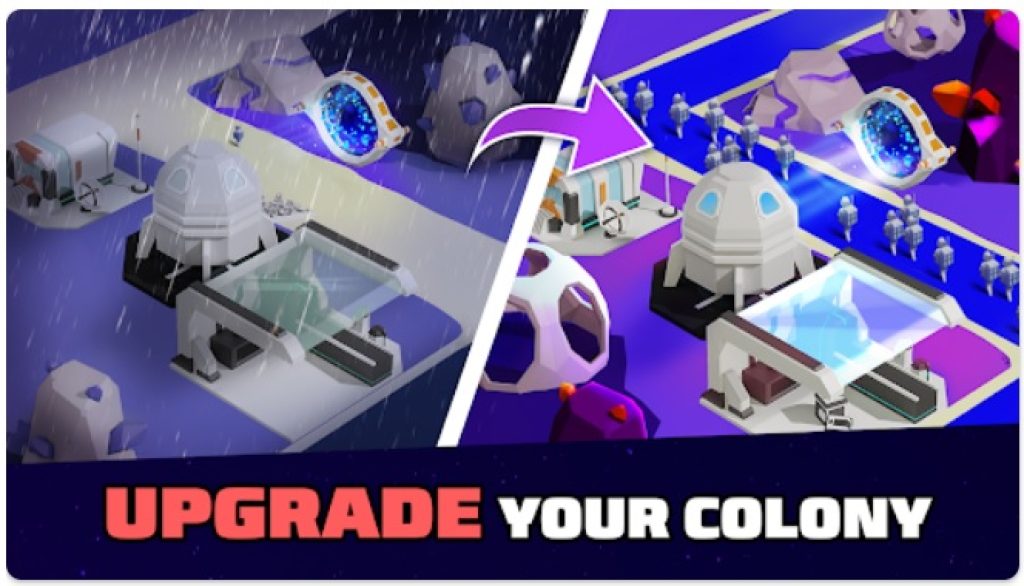 Colony Simulator
Can your colony survive in the desert? This is the question you have to answer in this game. All the actions of the game take place in a hot climate where around you is no longer space with new technologies, but only tons of sand.
Your colony must develop despite the difficulties of the environment around you. The main task is to properly use limited resources because it depends on how effectively you can develop your base.

It is very important to get food so that your population does not suffer from hunger and water so that no one in yours dies of dehydration.
Build shelters from the scorching sun and chop down trees to build shacks. In places where there is fertile soil, you can plant wheat or other seeds to get a constant source of crops.
You can also build a pen for pigs, sheep, and cows, from which you can get resources. From sheep you get wool and from cows you get milk.
If you hire workers, you can develop faster and build new infrastructure. Gradually, your colony will develop and grow in size, so you will need professionals in all areas.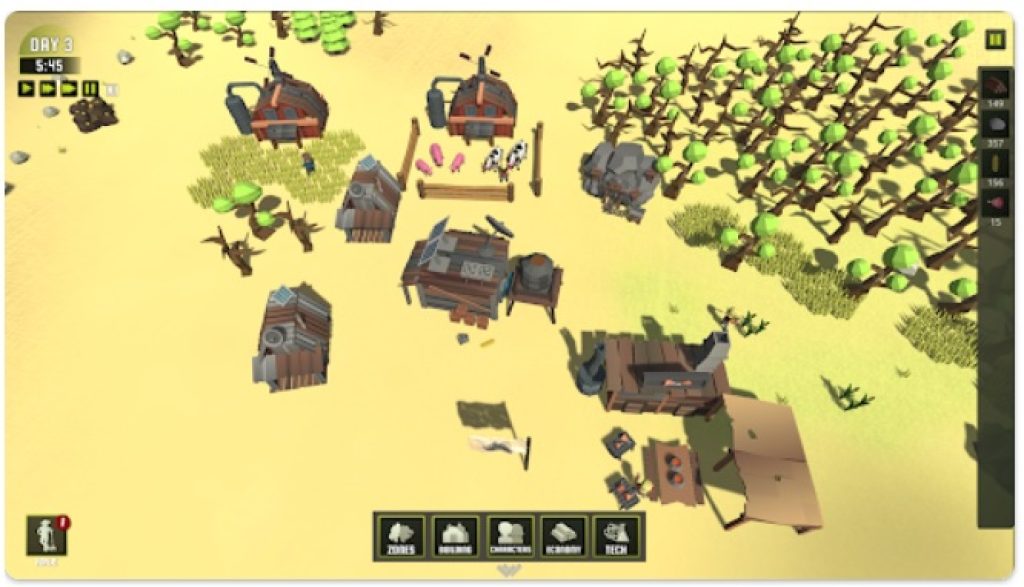 You may also like: 17 Free City Building Games for Android & iOS
Last Colony
In this game, you have to manage your colony after the apocalypse and the collapse of society into communes. Your task is to pick up the remains of the developing world and build it anew.
By hiring colonists, you control the process of rebuilding your society after the world's collapse. Now people need a new ruler who will take control of a chaotic society into his own hands.
Craft weapons and supplies, build armored factories, and recruit people into the army to defend your colony from others. In a society where only embittered people remain, you need to fight for all the resources, and the army will help you with this.
As you level up, you unlock new abilities and crafting options. Your progress will immediately be displayed on your colony, so it will become more powerful and smarter.
The game itself is made in the hardcore genre with elements of a shooter since the main action here is precisely the battles with other colonies. She has a nice cartoonish interface with unusual graphics, and all actions take place from a third person.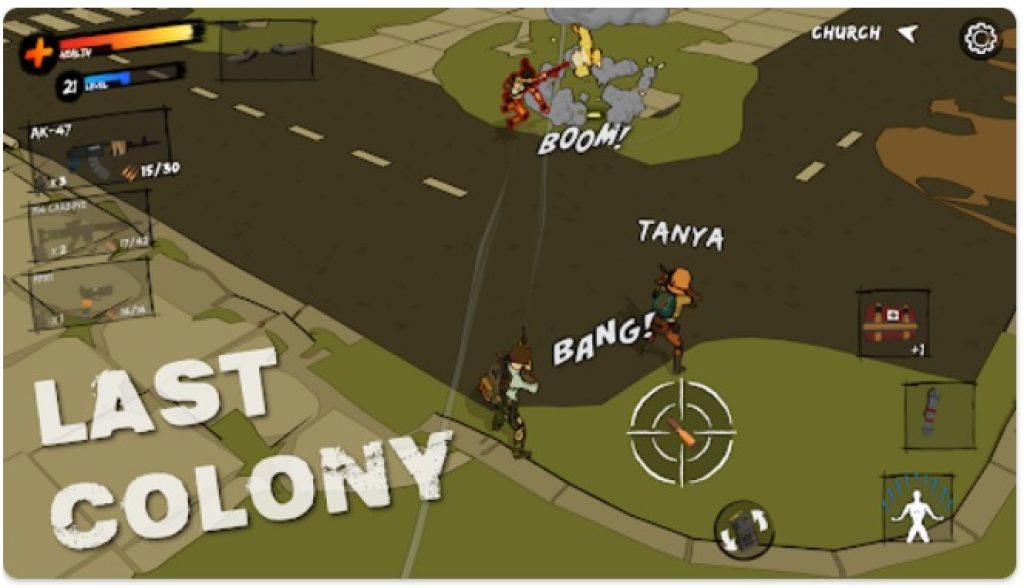 Idle Mars Colony: farm tycoon
Are you ready to go on an interplanetary journey to earn money? And do you know that for this you need to build a space colony there? If this option suits you, then this game is definitely for you.
You have to get comfortable on a huge red planet, a real Mars, with huge craters and an unusual landscape. Your most important task is to provide your colony with the resources to live on this station for as long as possible.
As soon as you adjust to life in space, you start earning passive income. You can use all the money you receive to improve the colony to increase production in the future.
Farms are the main source of food. The more farms you build, the more harvest you get. Thanks to the fact that the game runs in the background, you do not have to monitor the harvest yourself. Just sow the seeds and collect your fruits as soon as you enter the game.
The game is very futuristic, all the production is done by robots. They are your assistants. In addition to robots from the future, you will also encounter resource-producing machines.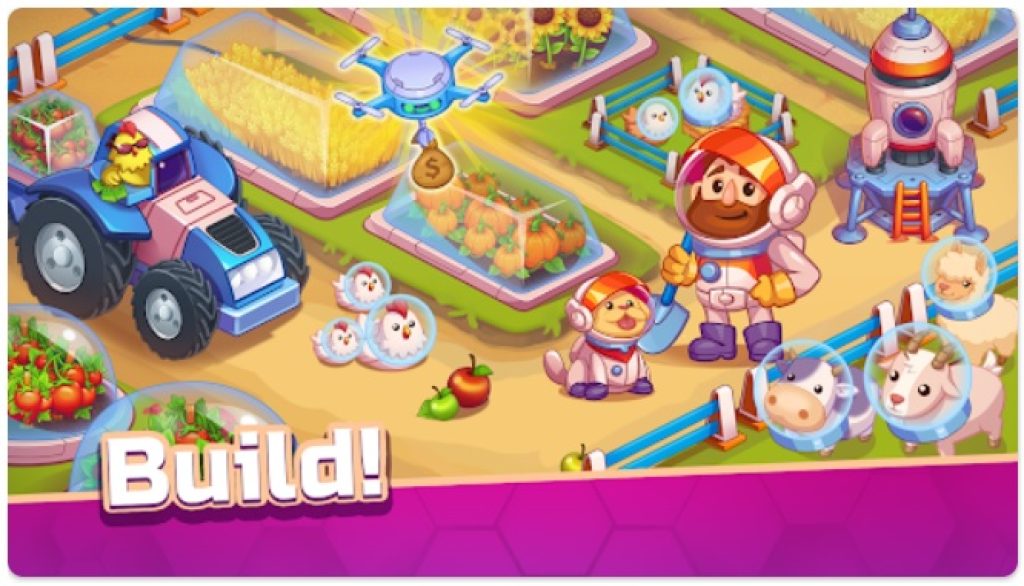 Colonize: Transport Tycoon
Colonize – an economic strategy with elements of a transport simulator in outer space. Here you have to build and develop your colony and its transport network on a distant previously unexplored planet, where there was absolutely nothing before you.
In this game, you can feel like a real space colonizer exploring the spirit of interplanetary industrialization. Become the manager of your space colony and lay out huge transport routes to lay routes across the planet.
This game is perfect for you if you are tired of banal railway or ship pilot simulators. Everything is much more interesting here. In addition to the usual construction of transport routes, you have to create new cars, accumulate resources, improve transport and explore new lands.
And after you complete the construction of transport routes on your planet, you can move! Find yourself a new empty planet and start building.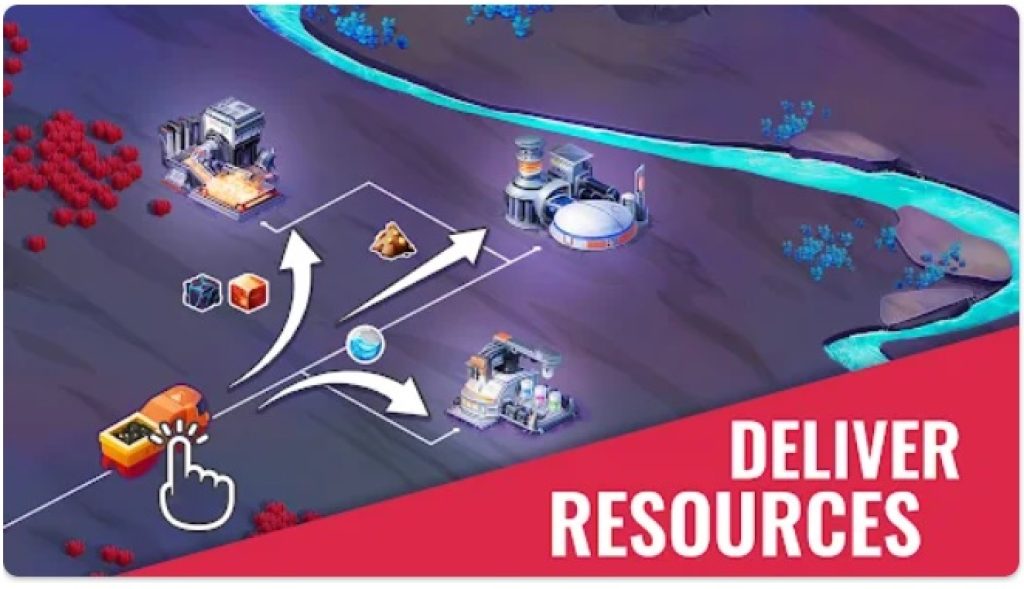 Rise of Kingdoms
In this app, you have a unique opportunity to choose one of 12 realistic civilizations from which you will start building your colonies.

In the future, you can turn these colonies into full-fledged empires with your state apparatus, huge army, and economy. Each civilization has its architecture, unique warriors, and special advantages.
Colonies created by you can fight with the colonies of other players for loot and a place in the world ranking. The results of the battles are not calculated automatically – the battles here take place in real-time and you can watch them directly from your device.
Any player, at will, can either enter his troops into battle or withdraw them and defend his state, which makes this application truly realistic. Because this application can unite clans and communities – you can help your friends fight by supplying them with warriors and weapons.
As mentioned earlier, this game is quite realistic and has a lot of historical figures that can become the leaders of your colony, depending on which one you choose.

In England, Richard Ist can become your faithful ruler, and in the countries of northern Scandinavia, Ragnar Lodbrok. By raising the level of your troops and your leaders, you improve the defenses of the empire and protect it from other users.
All actions of the players are carried out on one world map, which conveys the realistic location of states and colonies. Your characters are assigned to a specific state, have their language and culture, and worship their gods. Everything is as realistic as possible.
This application implements the principle of infinite zoom – you can move on the map both from a general plan to a private one and vice versa.
The developers of the game paid special attention to nature in the app, since in primitive times people were surrounded not by huge skyscrapers and business centers, but by trees and mountains, with deep seas and oceans.

Depending on the time of year and geographic location, your colony will either have a bright sun, heavy rain, or thick fog.
Also, attention was paid to the cultural monuments of various peoples. In this app, you will find many temples and sacred places.
Only here you can get acquainted with the most interesting aspects of warfare, such as:
espionage
intelligence service
the capture of prisoners
and much more
Many users note a pleasant interface and music in the app, which perfectly helps to tune in to building a colony. A language convenient for you, a scale, and detailed instructions – everything is done to make it as comfortable as possible for you to use the app.
However, there are also downsides. For example, a huge amount of advertising can distract you at the most important moment of the fight. Also, due to a large number of users of the app, it sometimes freezes and takes a long time to load.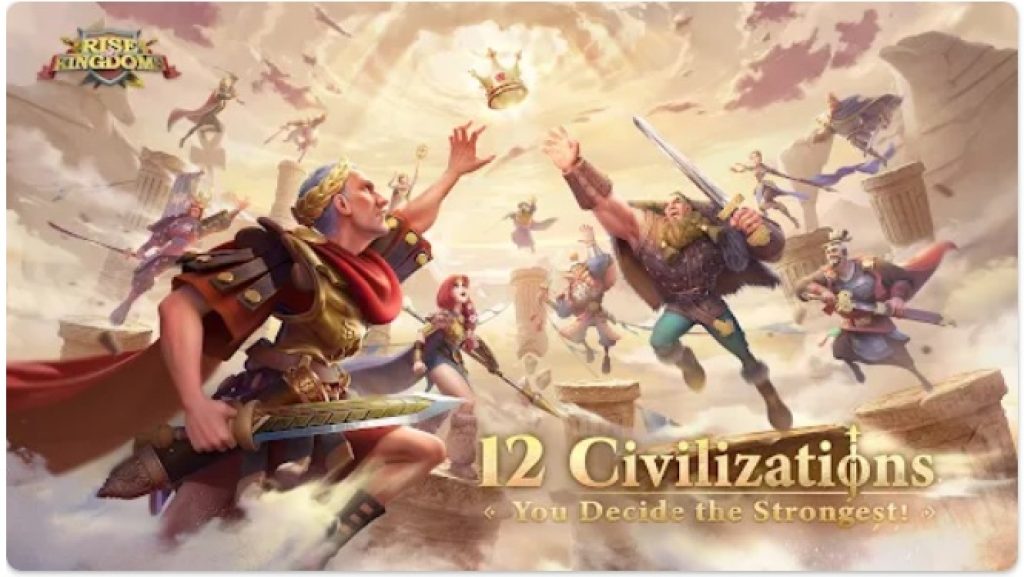 You may also like: 17 Best building games
Athena Colony: Multiplayer RTS
In this game, the action, oddly enough, begins with the fact that you need to build your base from the proposed 13 options. Each of them is unique in its way and differs in the resources that you can mine.
You can use your colony's forces to increase your crops, build new facilities, or strengthen your army with which you can attack your enemies and conquer new territories.
Your army develops according to your strategy. You can create up to 18 unique units and determine the tactics of their development. You also choose how to lead your army during battles. The entire army is divided into divisions. Among them:
tanks
helicopters
snipers
doctors
advanced technology
and much more that you can use during the wars
All units have their unique combat style and armor type. The weapons of each unit are also different. Each unit performs a specific function during the battle, so your task is to distribute them correctly so that victory remains yours.
All the accumulated results from the victory you use to develop your army. This game also supports multiplayer mode. You can fight other players in real-time, team up or fight on your own.