There are many situations we may need to match colors or create a color pallet. Renovating the house and choosing a color for the room walls can be a very challenging task. It is quite hard to imagine how the particular color paint will look like.
Some of this app can help you to find, match, and apply color on your room`s photo, so you can see how it will look like in reality.
Designers and programmers very often need to match a lot of colors at the same time to find a perfect color pallet for their project. It can be an internet blog, website or interior design. A few apps on our list can help with it as well.
For example, one picture of nature containing some specific colors can become an inspiration for further pallet. With this in mind, we collected the best 9 color matching apps for Android and iOS.
You may also like: 9 Best Color Mixing Apps for Android & iOS
Color Gear Lite
Color Gear Lite is an app that allows you to create color combinations for your designs. With a simple and intuitive interface, the app provides users with a wide range of color options, including gradients and textures.
The principle of the application is simple: you select a color and then adjust its hue, saturation, and brightness to create the desired color scheme. You can also use the app's pre-made templates to quickly create color combinations.
One of the downsides of the app is that it only offers limited features in the free version. Users need to upgrade to the Pro version to access more advanced features such as color palettes, custom gradients, and export options.
Some users have also reported dissatisfaction with the app's limited color options and its inability to copy and paste colors. However, many users appreciate the simplicity and ease of use of the application.
App features:
Convenient and easy to use
Allows you to create your own color schemes.
Ability to choose colors from the library or create your own selection.
Limited features in the free version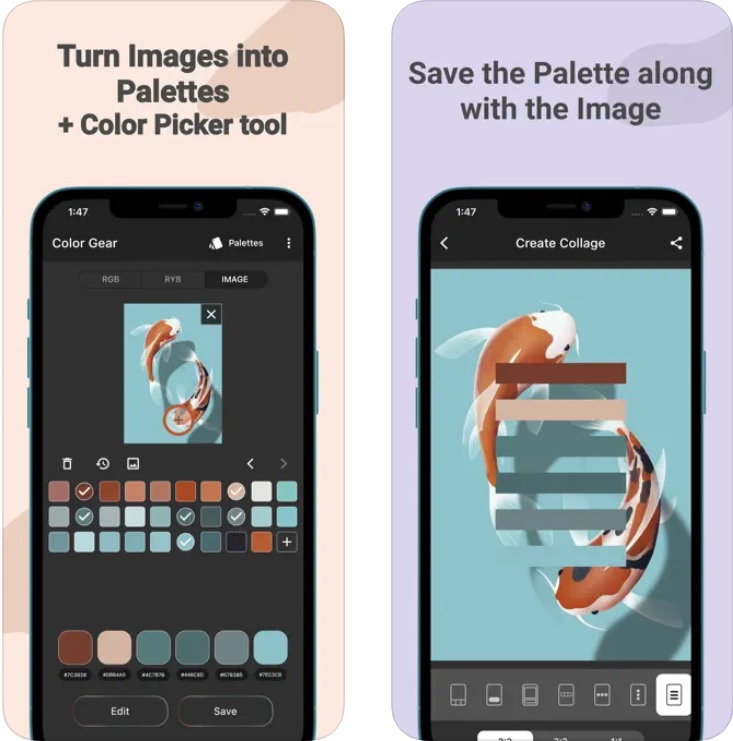 You may also like: 11 Best Home Renovation Apps (Android & iOS)
Color Harmony
Color Harmony is a fantastic color matching and palette creating app. It has a high rating and lots of positive and admiring reviews from users.
It offers:
A full variety of color modes (RGB, HCV) with the ability to transfer colors to Photoshop.
Pallete creating with 5 matching colors.
Add pallets to favorites to save it for any case and get back to it at any time.
4 mode pallet creating with 5 algorithms: automatic, tetradic, analogous, etc.
Camera mode: use your camera to pick up the color you may like to use at your work.
The app supports around 5 languages including Turkish, Italian, Spanish. Available only for Android.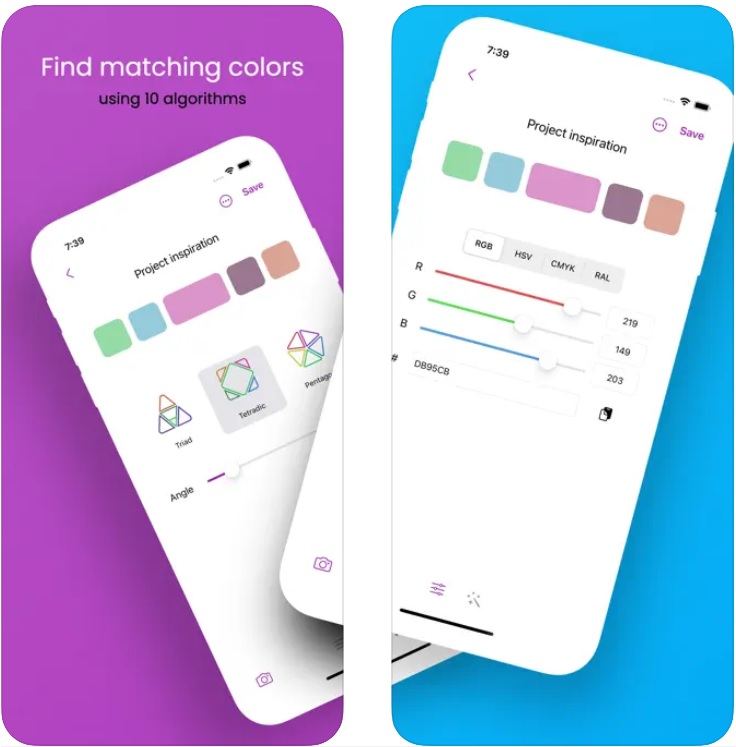 Paint Tester
Paint Tester is an unbelievably easy way to find the most matching color for your room interior. If you are in two minds, thinking about what color to choose for your room, kitchen or bathroom, the app will help you show a real example. No need to imagine and imply different color painting or wallpaper color anymore.
Firstly, pick the photo of the room from your gallery or take a photo right at this moment. Then pick the color of a wide variety. With the help of this app, you may not be afraid of ruining the whole repainting process by applying the wrong color.
Perhaps you were unlikely taking risk thinking to paint a room in extraordinary color like red, blue or purple choosing some pastel shades. However, it`s time to give it a try right in the app instead of your wall-saving time and money.
And who knows what a great result you can have. Then the last step is to rush to the home improvement store to choose the paint you need.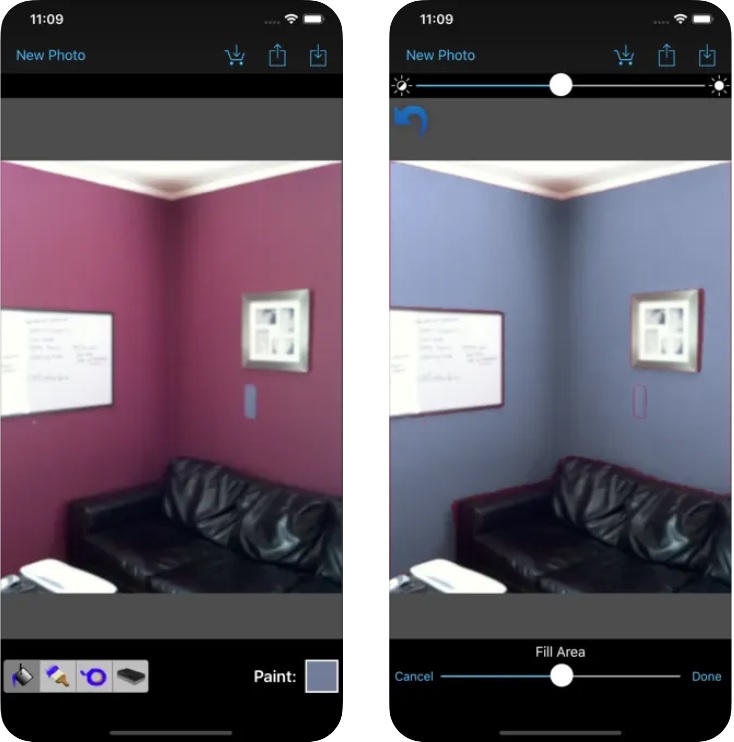 Pocket Palette
Pocket Palette is a perfect app to play with colors and vary pallets adding new colors or deleting some. Along with most of the similar apps, Pocket Pallet allows a user to grab colors from photographies. The app simply will present you with a pallet containing predominant colors from the picture taken by you.
After all, you can save your palettes in the app to have easier access when it's necessary. The app supports RGB and HSB format. It allows you to take a screenshot and share it with friends, colleagues, or family members.
The app has a rather simple design and user-friendly interface. It won't take much time to get familiar with its functionality. Fortunately for all interested in pallet creating, the app is completely free, though it's available only on the iOS platform.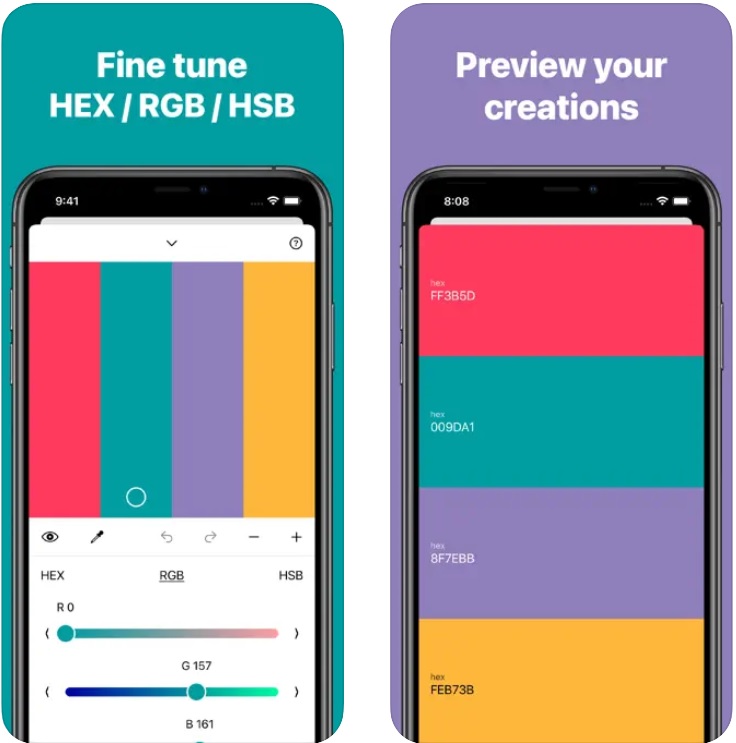 Color Grab
Color Grab is a highly advance color tool that is irreplaceable for designers, artists, programmers. Picking up a particular color is essential for those professions as they very often need to match the colors of objects. For example, an interior designer must match the color of the furniture to the walls and other decors in the house.
This app will be an aid. Taking a photo of the object, furniture in our case, and grabbing its color, measuring it, can help to find a matching color for future wall paint.
After all, colors can be transferred to Photoshop, Illustrator, Corel Draw, and many other programs.
Besides this, there are a lot of additional handy features like color blending tools, calibration mode, customing white balance, and highlighting in low lightening conditions. And all this is for free for lucky Android devices holders.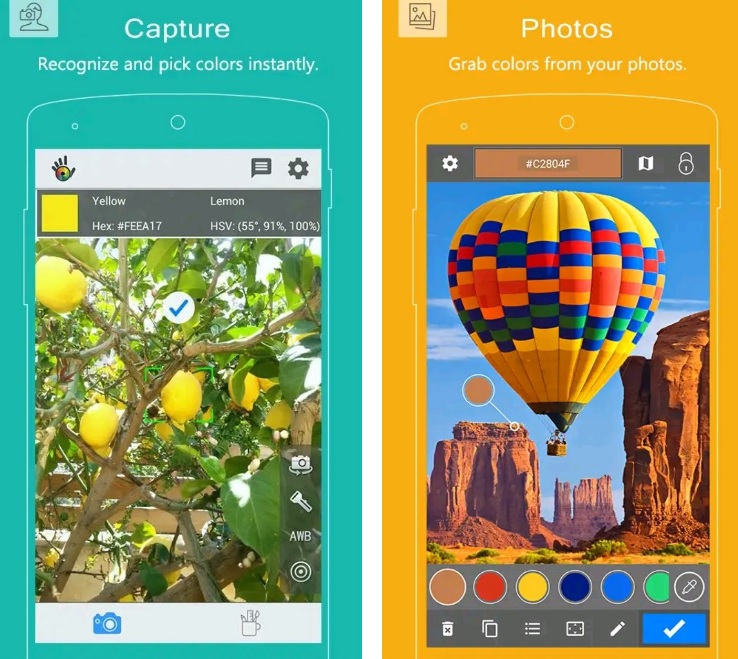 You may also like: 5 Best Sorting Color Apps for Kids (Android & iOS)
Color Snap
Color Snap is the app created by Sherwin-Williams American company that specialized in general building material and has a specific paint colors store with its online website. This app is made for those who are going to buy color from the store but don't know what color or pallet to choose.
In this app, you will find a huge collection of colors with its name on the Digital Color Wall. Take its name and get straight to the shop to get it without wasting a lot of time.
If you saw a nice color somewhere in your environment, you may take a photo of the object, and the program will create a palette of 7 colors from the pic. Just tap on a certain color and the app will give you its name and some similar colors.
You can easily share the picked color and pallet with your family if you are choosing to paint color together. And don't forget to save the chosen pallet. Available for Android and iOS devices.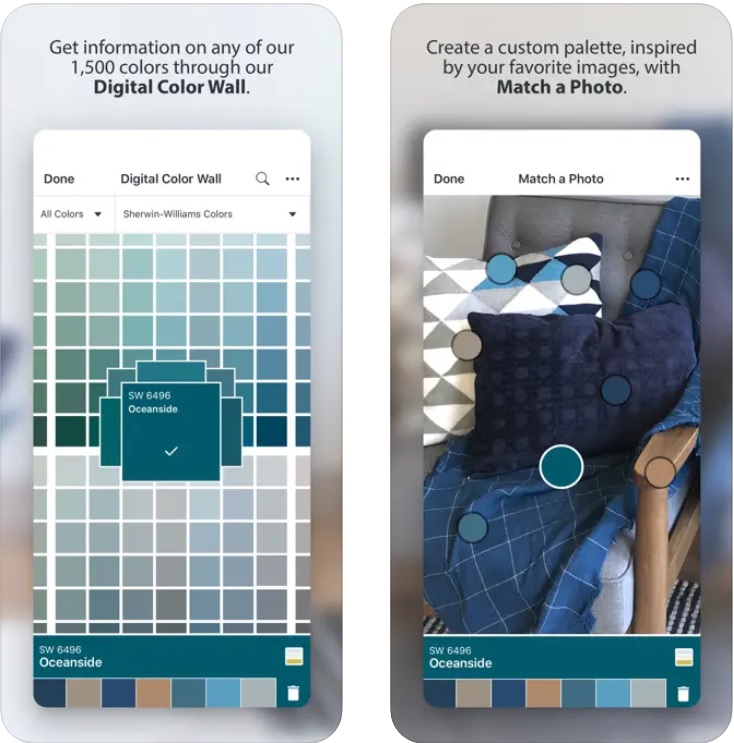 Real Colors
The Real Colors app helps you find colors and imagine how they would look in a room on the walls and furniture. It's easy to use.
You need to download a picture from the Internet or take a photo on your phone. Then pour the files into the program, which will identify the 5 dominant shades.
The software offers you 10 options for harmony, including complementary, triad, random, monochrome. The program contains hundreds of ready-made color combinations. The resulting picture can be saved in your personal library.
The app is available for Android for free.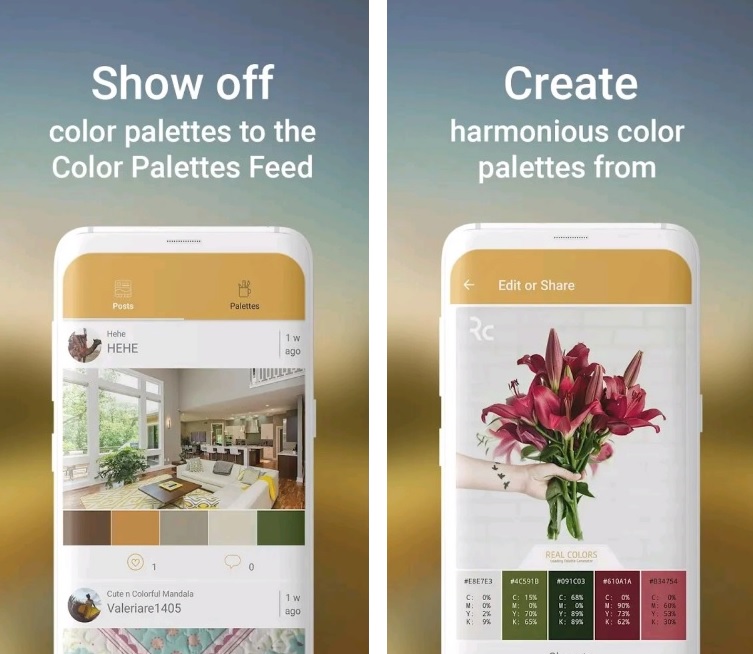 You may also like: 11 Best Color Identification Apps for Android & iOS
Pixolor
Pixolor is a free app for color identification and pallet making. It has a user-friendly interface and advanced features for those who need such a tool for their professional use.
Many designers found it very helpful as it gives details about each color. Especially it's important for those who work in Photoshop or Coral Draw. Each color has its number that can be used in different programs. Thus, this app simplifies the working process.
Main features:
Easy to know the color code(RGB);
Pixel arrangement;
Easy way to share pictures or send to another app;
Easy to generate pallet using a screenshot or circular zoomed sections;
Can be useful for color blind people or poor eyesight people -simply enlarge a text;
The app is free with advertisements that can be easily removed with a premium subscription for a few dollars. Not available for iOS devices.