We all love reading storybooks with beautiful images, and comics alike. But that is not all. Many a time, we wonder if we could actually write up a storybook on our own.
While that can be pretty hectic if you pen down the whole story and then consequently draw the characters, there's a second and a lot easier method to do the same. Simply use your smartphone.
There are innumerable apps present both in the Play Store and App Store to frame beautiful stories with magnificent graphics and picturesque backgrounds. Some of them even allow for the animation feature.
Here is the list of the best comic maker apps for you. They are all absolutely free and equally enjoyable too.
And before you start, you can also check the article about the batch photo editor apps.
Comic Page Creator
This is one of the best comic maker apps for single page creators rather than creating a complete comic story.
It can be used by those people who only want to share a single page of creativity with humor or a message for the audience.
After opening the app, you will get a single screen with multiple options. It can be confusing though as no instructions or labels are present to guide newbies.
Users can select if they want to keep a single frame or add another frame for their purpose. Keep in mind, only two frames are available here.
Coming to the part of the adding character, you can add comic characters by just swiping the slider. And they change every time with the slider. This is the best comic maker app for changing the movement of the characters.
You will have the freedom to change the face angle, hand gestures, feet movement, and the direction of the character. There is also an option available to add props to the character like a spoon, ice cream, and many more.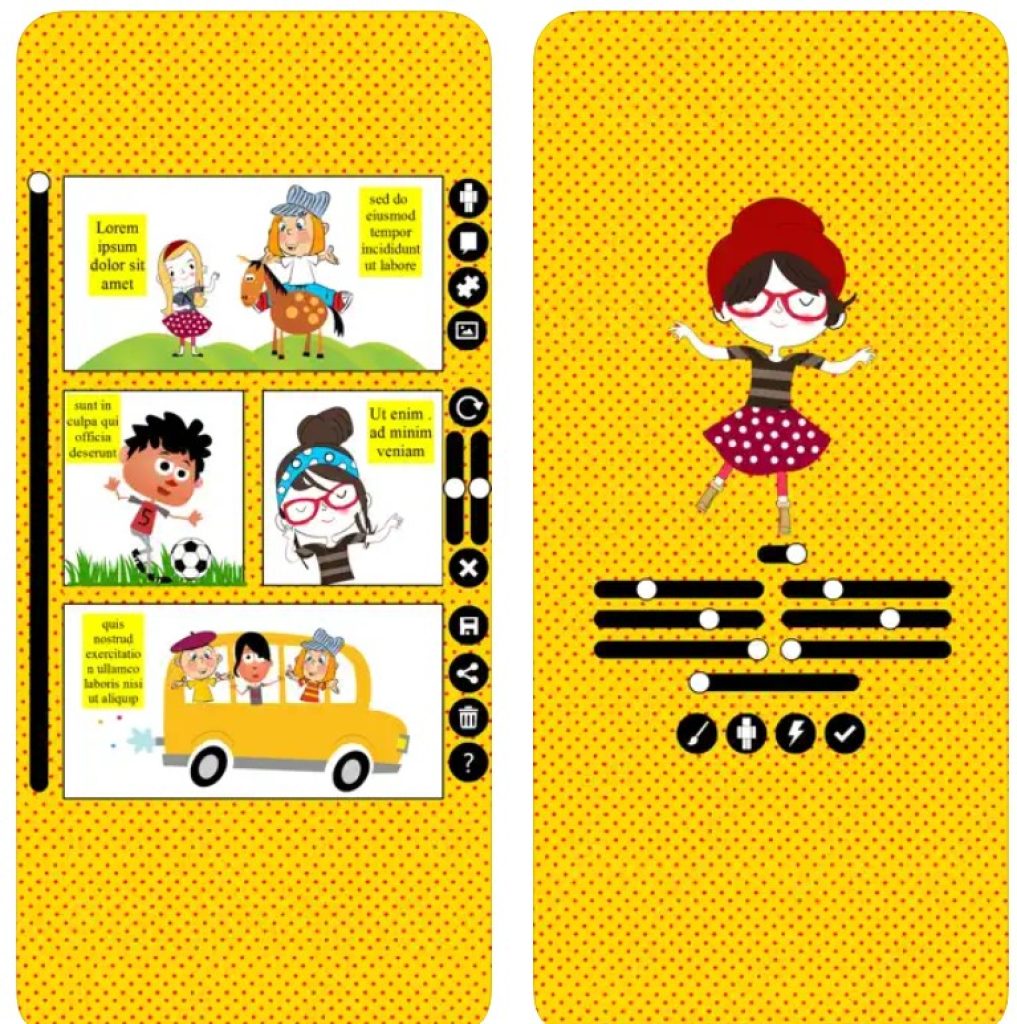 You can also check: 11 Free Apps to Turn Photos Into Sketches (Android & iOS)
Comic Cartoon Story Maker
You can create your funny comic using this application and also you can share your comics with your friends. Using this app you can create your comic book, cartoons, and meme also.
It is a simple app and does what the name says. There are a drag and drop system available all you have to do just select your wanted cartoon characters with amazing backgrounds.
There are some built-in templates also available for comic strips.
Many bunches of human characters ranging from children to teenagers, superheroes, full-grown men, and even animated characters.
This app contains special features to create your comic in a funny way. You can share your funny comic on social media to make a laugh with your friends.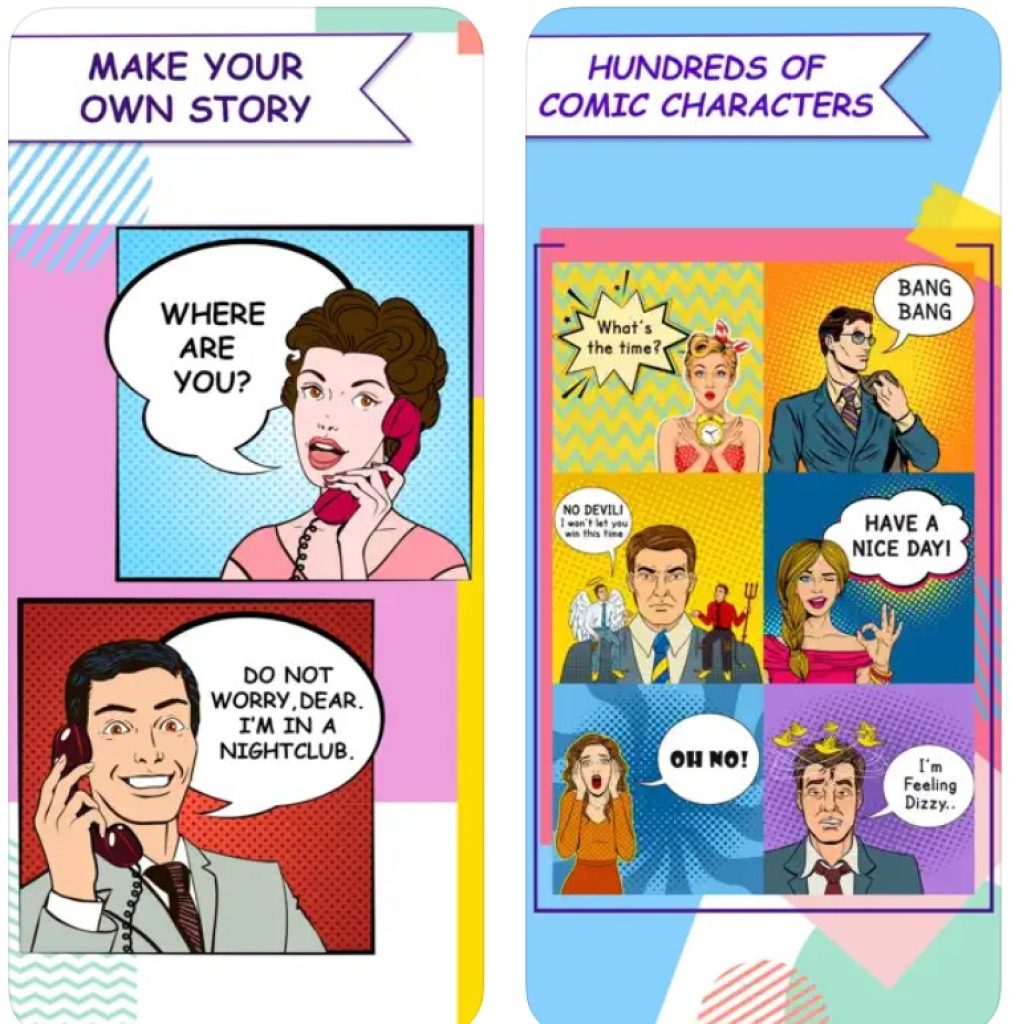 Comic & Meme Creator
Before starting your project in this app, first, you will need to log in with either your email id or Facebook id.
After that, you can begin your work. Working is based on frames. You can create a sequence of frames to make a meaningful story for the comic.
After selecting a frame, you can add people, objects, extra, background, and moving background to it.
Apart from these, you can also add memes, effects, faces, photos from the gallery, and pictures from the camera to the frame.
Let's say, you want to add a text area for making character lines then you have 8 different kinds of text areas for that specific purpose.
After adding enough characters, memes, and speeches, you can tap on the preview to check the comic's story in a slideshow mode.
Once done, the comic will be saved in the comic strip format or animated GIF which depends on your choice, and save it on your phone.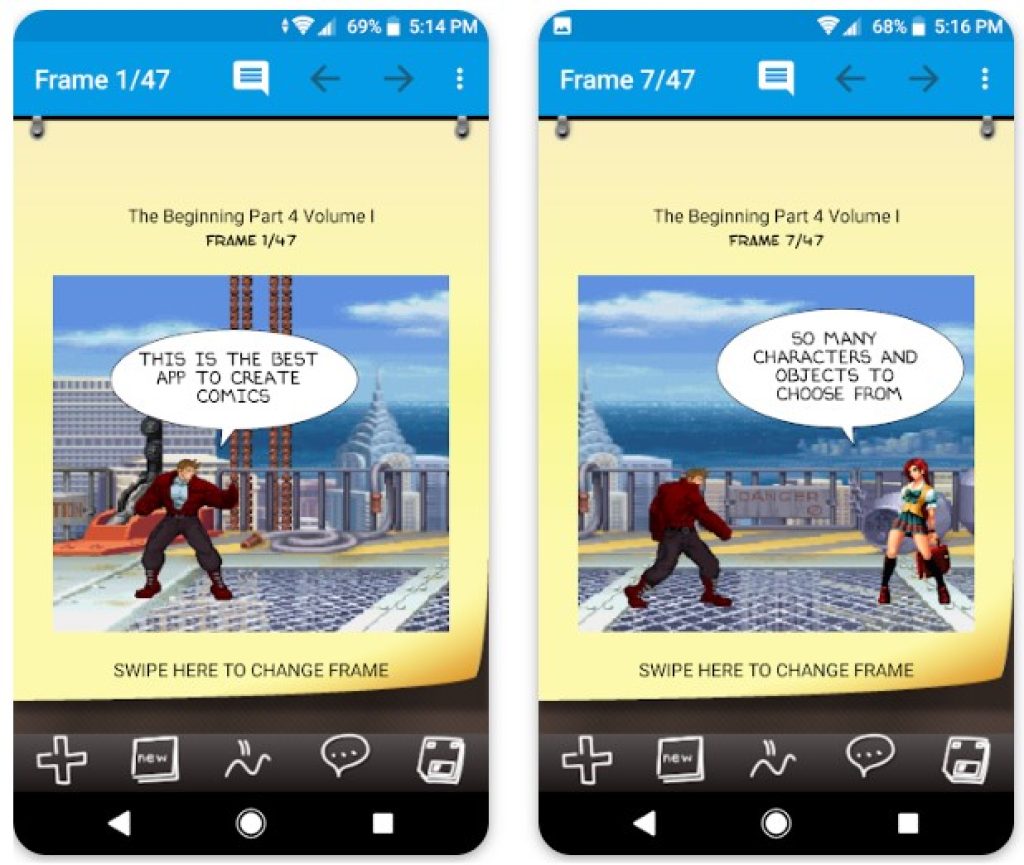 My Story Book Maker
Since we have already covered a similar app for Android users, this one is for iOS users. You will just love it for the ease-of-use and multiple features that it offers.
You can invent simple, interesting, and very creative stories with this app.
What's more, even your children can handily use this app to create their own tales. It is because the interface is very easy to use and informative.
Your little munchkins will surely find this very engrossing and entertaining too! What else can be a better idea than this app to involve your young ones in something really productive and creative?
With this app, you can easily create tales and stories in either an e-book or a video format. You can even record your own voices to each page of your storybook. Moreover, you can share the stories on various sites like Facebook, Twitter, and many more.
You can even export your story straight away into the iBooks. Isn't this app just amazing! Just go for it and you are gonna love it along with your lovely children.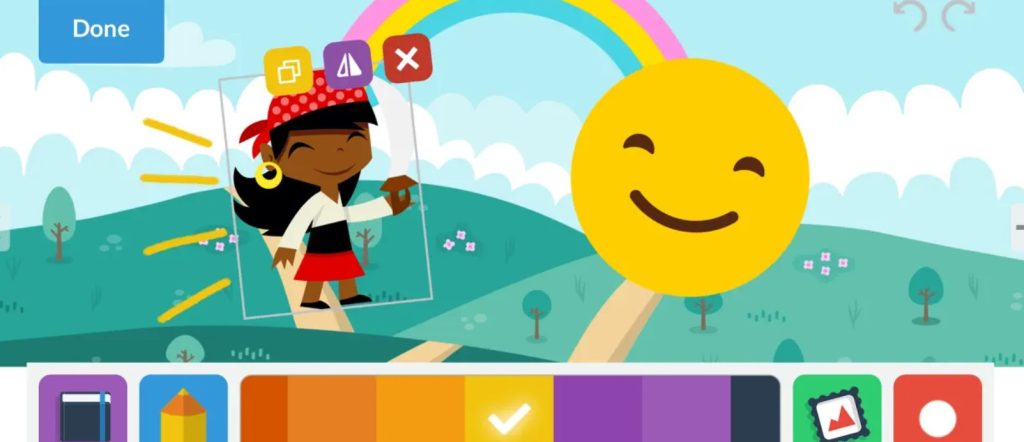 Comica
Comica is completely free to use and it has a really simple UX(User Experience). You can give a real-life touch to your comic strips.
Comica allows you to import photos from the gallery or click a picture to make your comic.
Also, you can take a new photo through this application. There are some filters available to use, after choosing any filter you can add some text balloon to create a "comic effect".
Comica provides you contrast, Brightness, saturation, and detail slider to adjust the filter and to get a perfect edit.
There are 8 text bubbles available to create your dialogues and write your stories for the whole scene. Once the comic is completed then you can export it on JPEG or PDF file format.
So if you want to make comics with a real-life touch on Android phones then this is the Best Comic Maker App For Android.

Comic Puppets Lite
Comic Puppets Lite is one of the best free comic creator apps for android and IOS. It can be the best choice to express your creativity. It is available for iPad, iPhone, and Android.
Comic Puppets Lite has its own community called "comicpuppeteers". You can join this community and get the benefit of a huge gallery of characters and backgrounds.
Moreover, you can customize your own photo to create comics.
You can put characters in any position you want. It provides many objects like hats, wings, expressions, etc.
The interface of Comic puppets lite is very User-Friendly. You can also make strips to wish someone's birthday, festivals, make some funny memes and share it with your friends to make them Lough.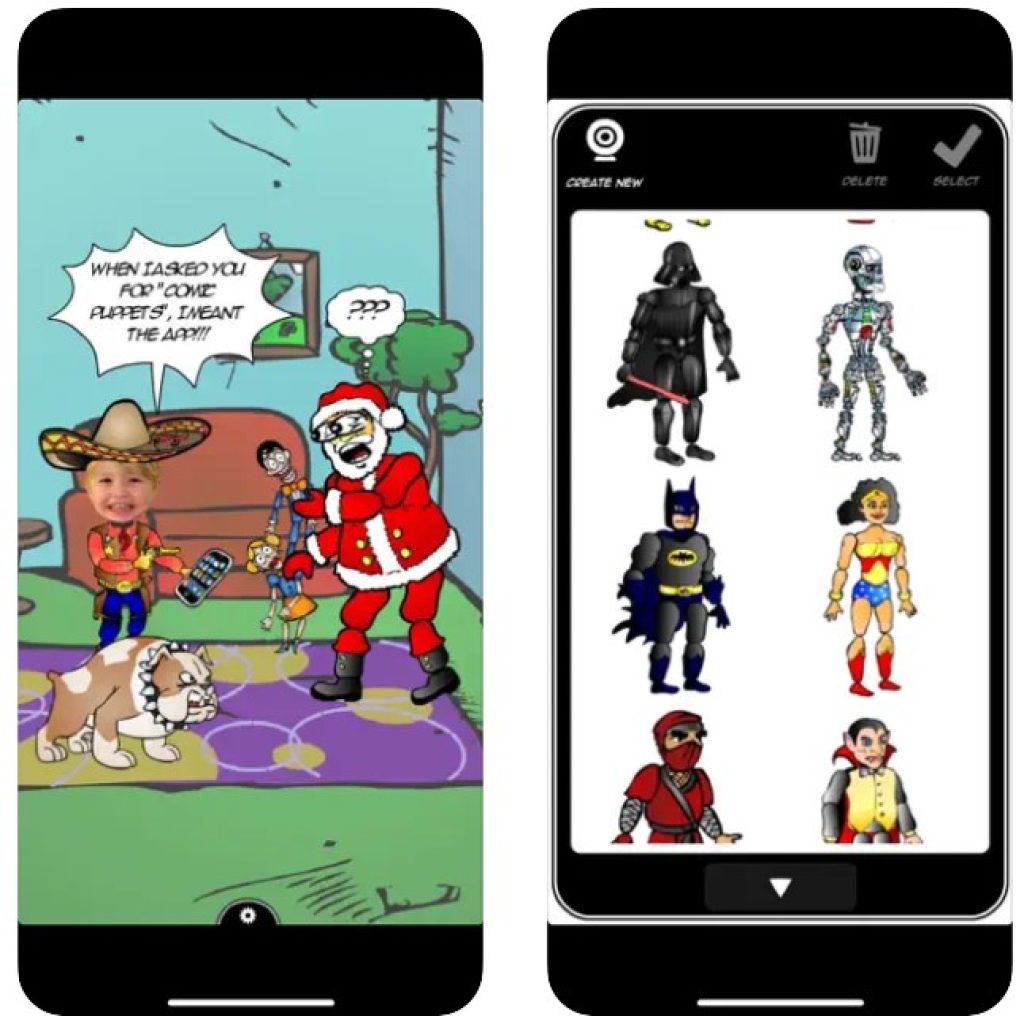 Rage Comic Creator
Rage Comic Creator is one of the best free comic creator apps for android and ios If you have any funny ideas to create comics or memes.
You can also create funny comics, rage comics, funny memes, funny jokes, stories, presentations, and more by using this app.
You can also add text, characters, and choose any funny faces or troll faces whatever you like.
After creating your work, you can simply share these works with your friends via Twitter, Email, and Facebook in different file formats like JPEG, GIF, etc.
One good feature of Rage comic creator is that you can also fix your time between two slides. Moreover, Docomix is so entertaining app. And that's why this is one of the best comic creator apps for android.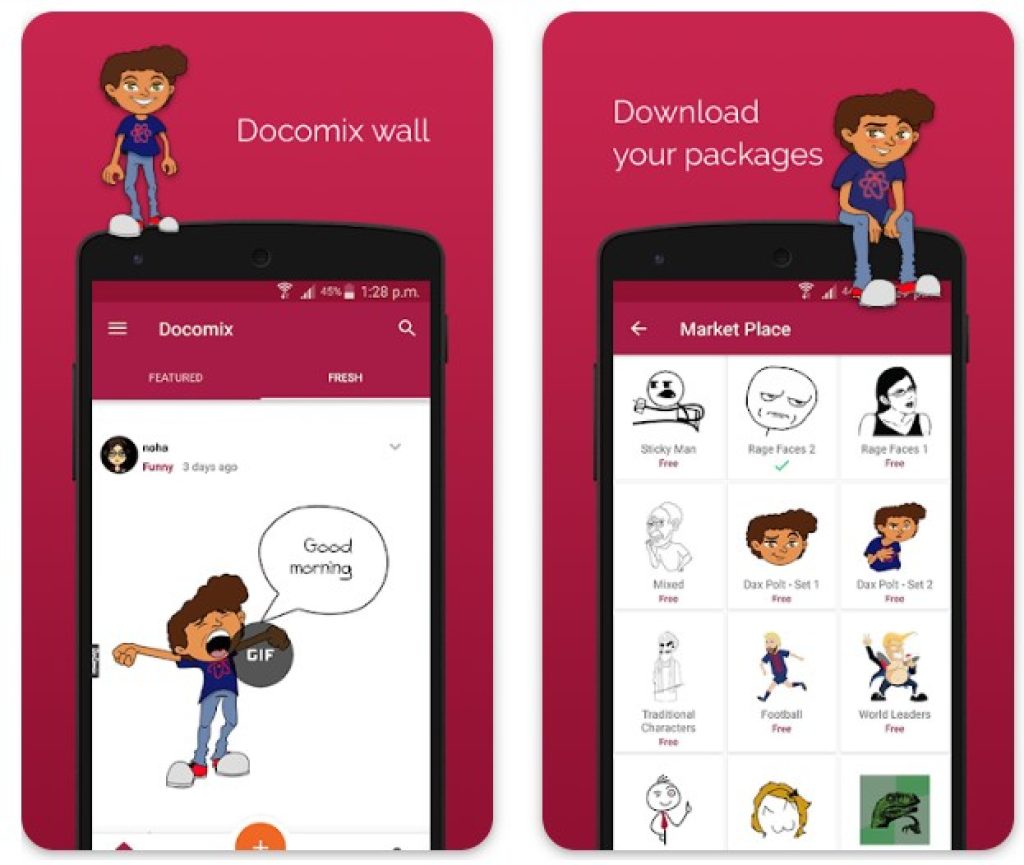 MediBang Paint
All the apps above mentioned are having an automatic comic creation process for you. They don't really produce out the artistic skill in you.
MediBang allows you to create a comic from a sketch. However, MediBang is more of a painting app where you can design your characters and then export them to create a comic strip.
There is no inbuilt chat bubbles or comic strips that you can import and drop into your comic. It has brushes and pencil tools and the iPad or tablet is the best option to use MediBang Paint.
MediBang Paint also has so many fonts, pre-made backgrounds, and other resources. It is easy to use once you understand how it works.
This app is available for all devices like Windows, macOS, IOS, and Android. The layout of MediBang is similar to Photoshop where all the tools are on the left, the canvas on the center, and the layers laid out are on the right.
MediBang Paint also gives access to use their cloud storage once you register with them. So you can easily backup, manage, and share your works.
Overall, this is an excellent app to make your own comic strips. This app helps to bring out the artist's skill inside you. In our opinion, this is the best comic maker app for android and IOS.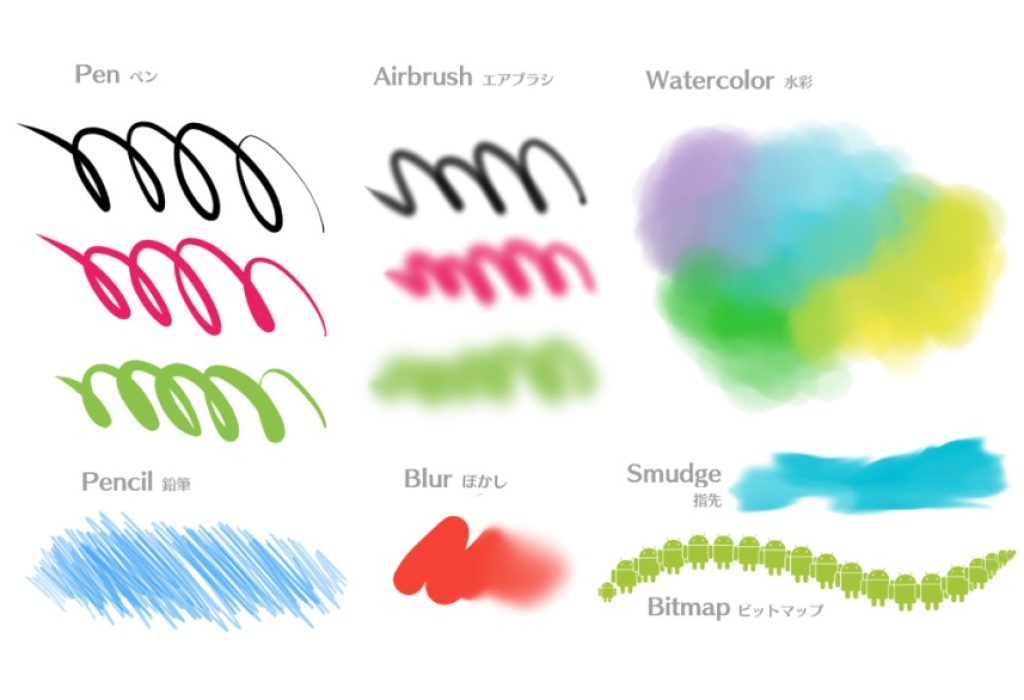 ArtFlow
The ArtFlow app lets you use your mobile device like a tablet to draw comics. The utility contains more than 80 kinds of brushes with customizable parameters.
Users have access to a large number of tools for drawing and working with layers. It allows you to turn the screen of your smartphone or tablet into a digital canvas.
It is possible to create drawings with your finger or stylus. By adjusting the pressure force, you can change the thickness of the line.
To improve the performance of the utility, there is support for hardware acceleration on some models of processors. You can import your finished artwork in PSD, PNG, or JPG format.
Before you start creating a drawing, you can choose the size of the canvas. There is a toolbar at the top of the screen. The utility contains a large number of brushes and markers with customizable parameters. It is possible to choose the thickness and color of the pen.
The app allows you to work with multiple layers. There are also tools for selection and filling. You can add not only lines but also geometric shapes. Brightness, transparency, and color saturation can be adjusted.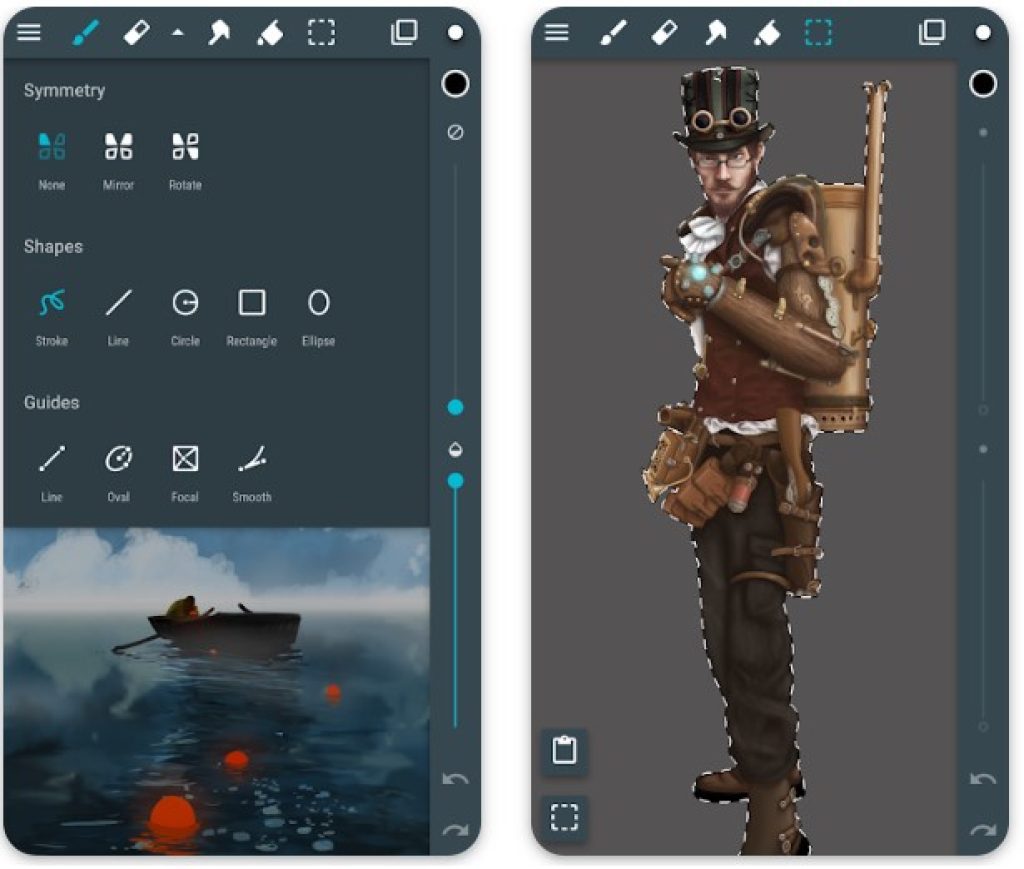 Comic Book Maker – Cartoon Pro
I'm not going to lie if I say that Cartoon Pro is not the most sophisticated app in this category, but it's still worth the attention of users.
The app works by providing a variety of tools and resources that users can use to create their comics. This includes pre-made characters, backgrounds, and dialogue bubbles, as well as the ability to import custom images and add text to create unique stories.
Cartoon Pro provides some customization options in terms of interface design and creative tools.
The app itself is quite easy in usage but mainly because of the lean interface design and the lack of details. It will be an optimal option for the people with weaker hardware devices.
The main features of the app include the ability to create comics using pre-made resources or custom images, the option to customize the layout and color scheme of comics, and the ability to share completed comics on social media or other platforms.
There is also a gallery where users can publish their work so the community can see them.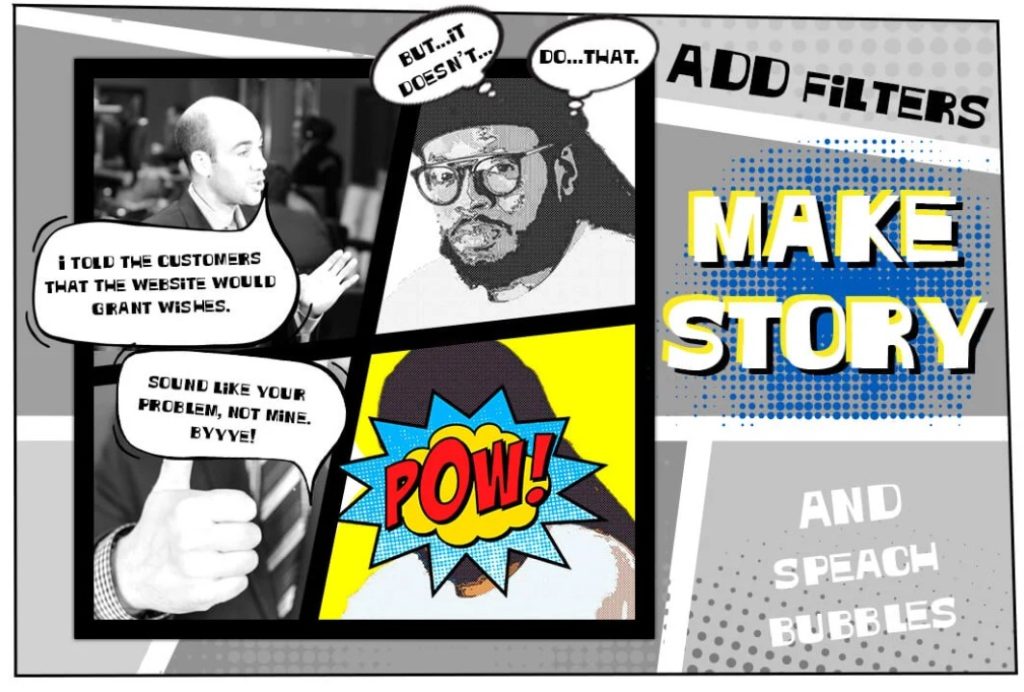 You can also check: 11 Best Character Creator Apps for Android & iOS
Comic Memes & Cartoon Maker
This is a decent comic maker though it's more of a photo editor with the features to add the comics effect to pictures. The app features quite a standard set of the photo editor features with typical Android apps design.
To create a comic strip here, users can choose a layout from the app's templates, add their own photos or images, and then add text and other elements.
Overall, the app is effective and does what it says. It is a great tool for anyone who wants to create funny and entertaining comics and memes. It is also easy to use, so even those with little to no experience with comic strip creation can use it.
The main features of the app include the ability to add multiple frames to a single comic strip, the ability to customize text, and the ability to add stickers and other elements to comics.
In summary, this app is quite a new product on the market so there are some occasional bugs and error happen which aren't critical though.