It often happens that we have apps on our phones that we do not use all the time, but they consume a lot of Internet traffic. And so that you do not spend extra money, we present you with a selection of the best roaming control apps.
For the better optimization of your smartphone, we also recommend checking the article about the free internet lock apps.
Traffic Monitor
Traffic Monitor is a great app that will allow you to control your traffic and rationally distribute it between the work of other programs on your phone.
For example, you can set specific data consumption limits for each app or set daily usage limits.
For a more accurate understanding, all digital values of traffic usage are displayed in special tables and charts, which makes it more understandable for users.
The downside of the app is that you can see a large number of ads, which can only be removed when you connect a paid subscription.
And if you subscribe to a paid subscription, you will have access to a place in the status bar and a widget that displays all the traffic usage statistics. The app does not have a bright design, but you can choose a dark or light mode.


You may also like: 13 Free Wi-Fi Analyzer Apps for Android
My Data Manager
My Data Manager is a feature versatility traffic tracking app that helps you manage your data plan efficiently.
This app has a very large interface and many different useful features in addition to simply tracking the Internet traffic used.
In the My Data Manager app, you can access a log that shows the amount of traffic used each day. In the app, you can see the amount of internet that a certain app has spent on your phone.
You can set specific data usage limits specifically for each app. The app will send you a notification when the limit is reached.
The app also provides you with a map where you can keep track of how much internet you have used in any location.
You can create a special widget that will be displayed on the desktop and show the amount of the traffic you have spent.
Users of the My Data Manager app can also choose from two app themes.
The main advantage of the My Data Manager app is its versatility, and you can use all the functions absolutely free.
Users note that the app does not have a large number of intrusive ads.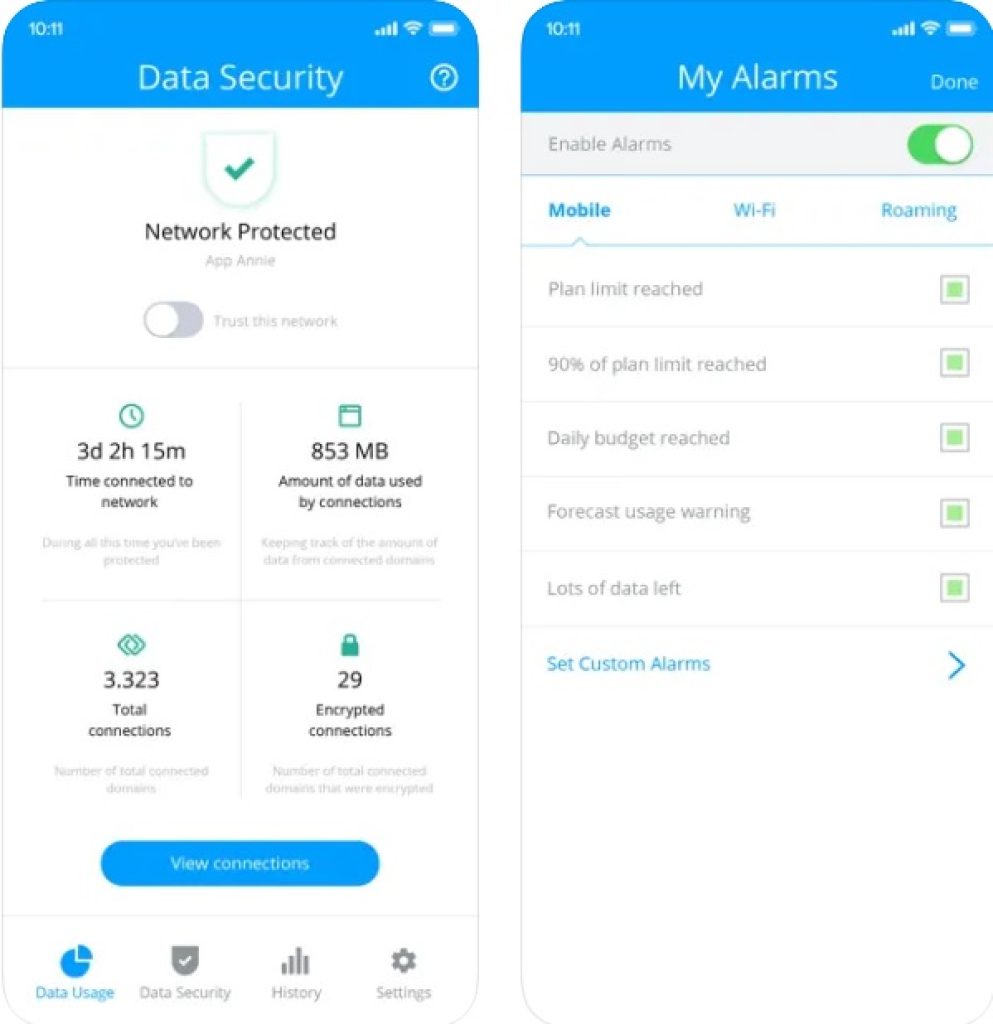 You may also like: 11 Best Wifi Signal Strength Apps for Android & iOS
GlassWire
If you want to know what your internet traffic is being used for and control your internet roaming, then the GlassWire app is exactly what you need.
In the GlassWire app, users can find out information about the amount of data received and transmitted currently or in past days.
If your plan has a fixed amount of free data, you can set up the GlassWire app specifically for this. It will track consumption and report when you exceed the limit set by your tariff plan.
All information in the GlassWire app is presented in the form of graphs and charts, making it easy to visually understand traffic usage information.
In addition to the wide interface and many features, the developers also paid great attention to the design of the GlassWire app. Users are given the opportunity to choose one of seven app themes.
The GlassWire app is completely free and contains no ads.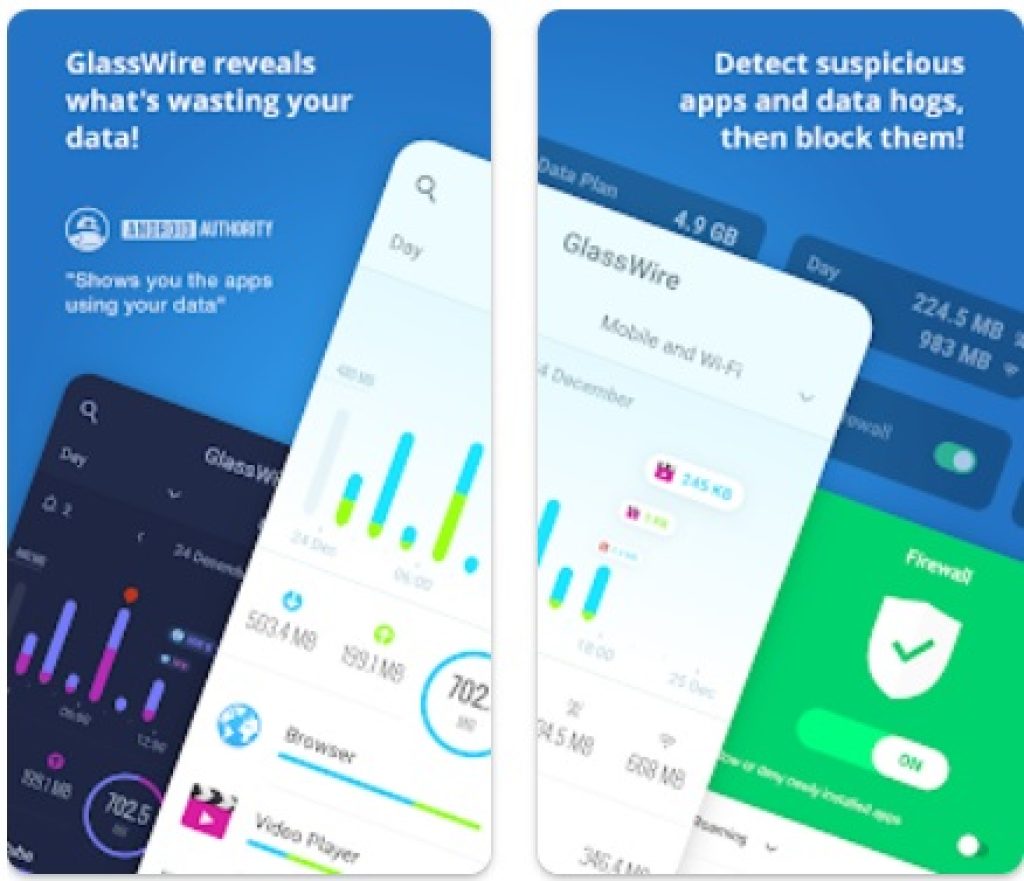 Data Monitor: Simple Net-Meter
Data Monitor: Simple Net-Meter is an app that will allow you to monitor and limit your traffic.
In the app, you can access the roaming usage log for the past days, as well as the amount of the tariff that specific apps have spent on your device.
For a paid subscription to the app, you can disable ads, as well as use special widgets.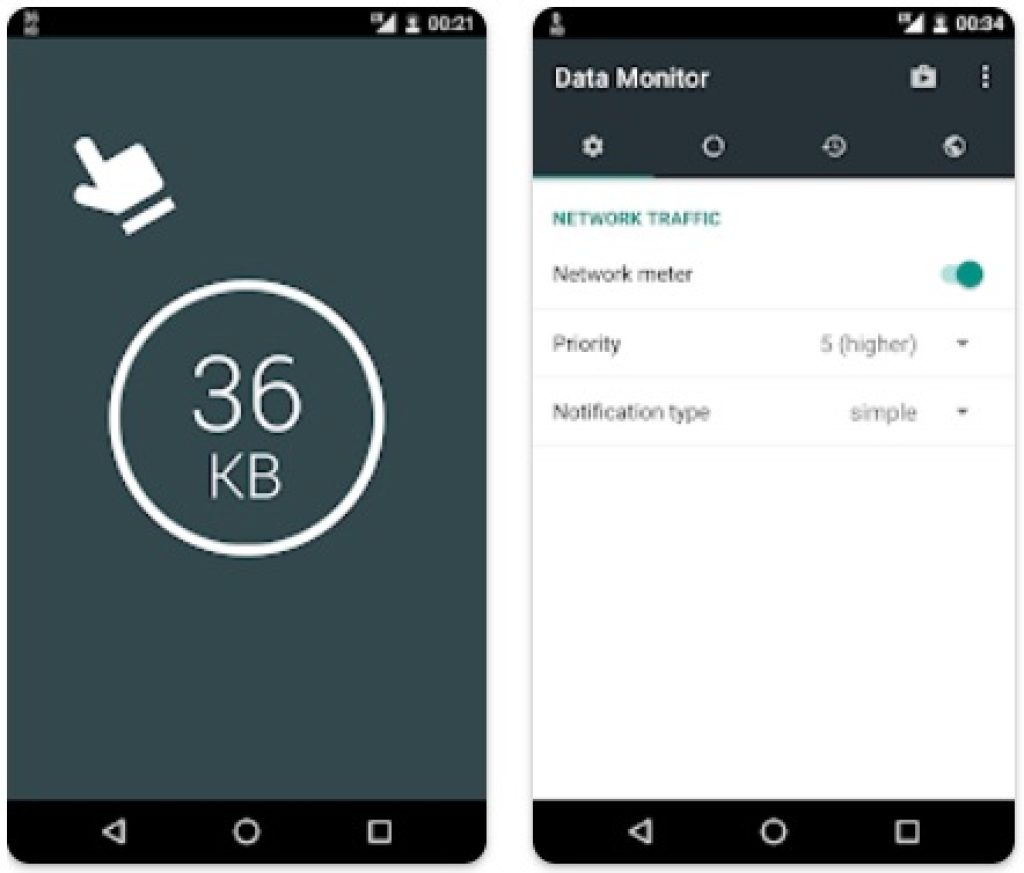 You may also like: 5 Best Battery Analyzer Apps for Android & iOS
DataEye
DataEye is a simple app with which you can monitor the data consumption of absolutely every app.
All consumption data is presented in graphs and tables. This appearance is very simple and clear for perception.
This app can not only monitor and control roaming traffic but also detect apps that drain your device's battery quickly.
With this app, you don't have to worry about extra spending, as well as about your data and the charge of your device.