Sometimes it is necessary to find an angle. It doesn't matter if you are trying to solve a problem at school or to build a house, to draw a picture or to make a detailed plan of what you want to build.
Measuring angles can't be avoided if you want to do all the mentioned tasks properly. But how to do it, using only smartphone? This seems to be a serious challenge.
In this list, you can see the best angle finder apps, which are available for Android and iOS. Feel free to download and try them!
You may also like: 11 Best Inclinometer Apps for Android & iOS
Smart Protractor
This is a mobile app designed to assist both professionals and hobbyists in measuring angles with ease.
By placing the device on the surface requiring measurement, the app calculates the angles automatically. Additionally, users can customize the app to their preference by calibrating and changing the unit of measurements.
The app features a clean and minimalistic interface with large, legible numbers for effortless reading of angle dimensions. Although the app's graphics may not be flashy, they get the job done efficiently.
However, measuring angles on curved or uneven surfaces may pose some difficulty, and some users have reported occasional app crashes or freezing, causing frustration when time is of the essence.
Advantages:
Accurate.
Easy to use.
Free to download.
Drawbacks:
Requires a flat surface.
Occasional crashes.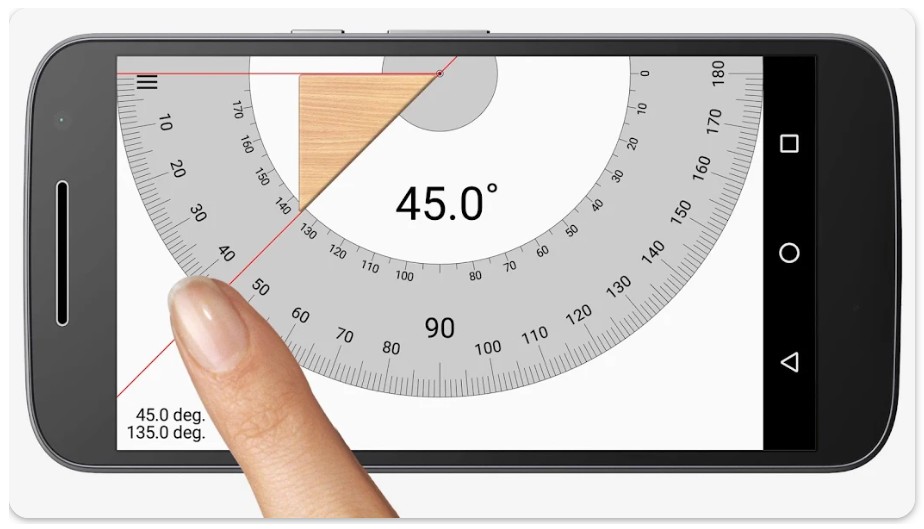 You may also like: 9 Best Height Meter Apps for Android & iOS
Inclinometer Bubble Level
Inclinometer Bubble Level is a popular angle finder app, that has become a go-to tool for many users who need to measure the angle of different surfaces.
It is easy to use for both professionals and amateurs. The user interface is user-friendly and intuitive, allowing you to measure angles with just a few taps. You can switch between bubble level and clinometer mode depending on your needs.
The level is easy to read, making it simple to determine the angle of the surface you are measuring.
One of the disappointing things is the number of ads that pop up while using it. Sometimes the ads can be intrusive, blocking important features of the app.
Moreover, some users have reported calibration issues with the app, making it difficult to get accurate readings.
It can be used for everything from woodworking to construction projects, and it is small enough to carry with you wherever you go.
Advantages:
Easy to use interface.
Accurate measurements.
Versatile for different uses.
Simple and elegant design.
Drawbacks:
Intrusive ads.
Calibration issues.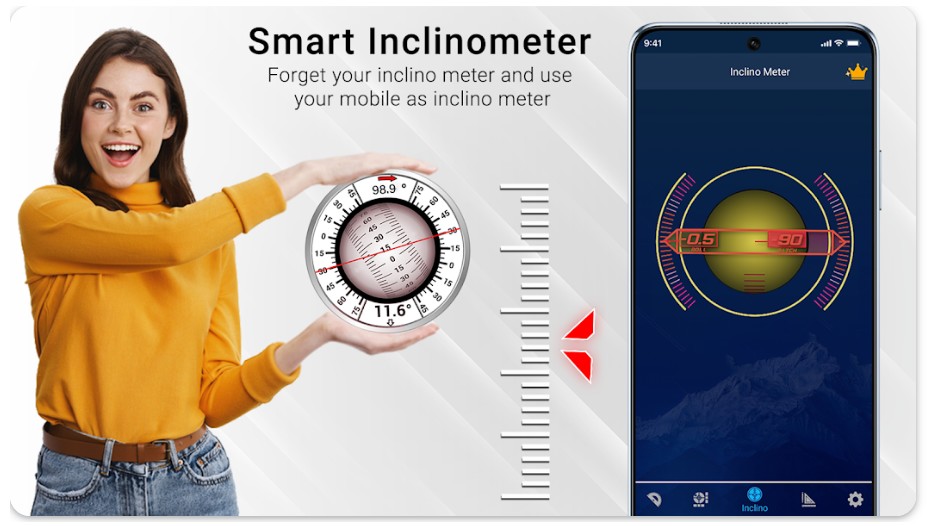 Angle Meter
Angle Meter perfectly replaces an actual angle meter tool. This app is superior to other apps because its interface is straightforward to use.
After a quick installation, you will get to the main menu. If you swipe right, you will see multiple functions of the app.
First of all, various tools of measurement are suggested.
If you push the Ruler Button, you will be able to measure the distance in centimeters.
Moreover, you can use a protractor to build and measure angles. Furthermore, there is an important tool as Compass.
However, all the tools have measurement errors. Some of the dimensions are not accurate. That's why it's complicated to rely on the app.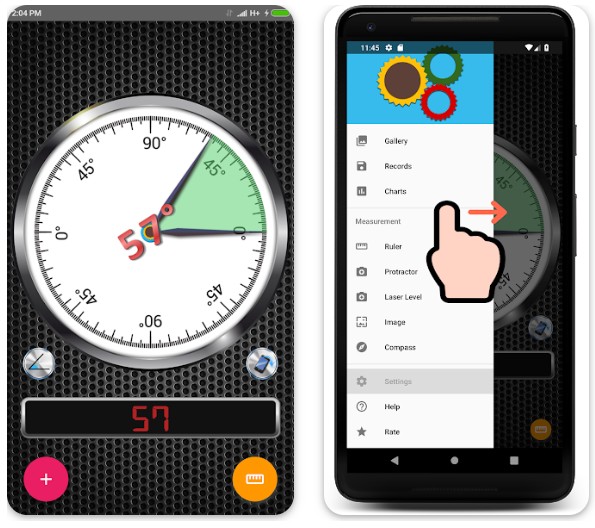 Protractor
This app will be perfect for those who is learning geometry and trying to solve problems. For instance, if you have a triangle and struggle to find its angles, Protractor will do it in a second.
How does it work? The app needs to have markers. when you give it this information, it can measure an angle between them.
Protractor has a detailed guide, which will help to make maximum use of the app's functions. Another nice feature is its intuitive design, which is very realistic.
Protractor is available in Google Play.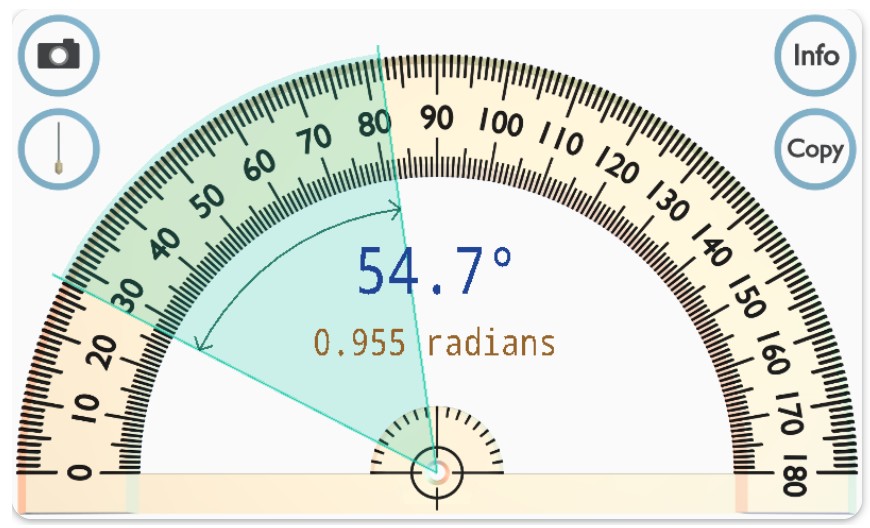 Bubble level for iPhone
Another good and accurate app for finding angles. It can boast off the creative and bright design.
Accuracy is on top-level as well. But the app is famous for other functions, such as metal detection (yes, you can know for sure if there is a wire or something made of metal inside your walls), inclinometer (especially useful for cars and bicycles) and angle calculation.
Bubble Level, which remains major function of the app, looks real and easy-to-use. Get Bubble level in App Store for free.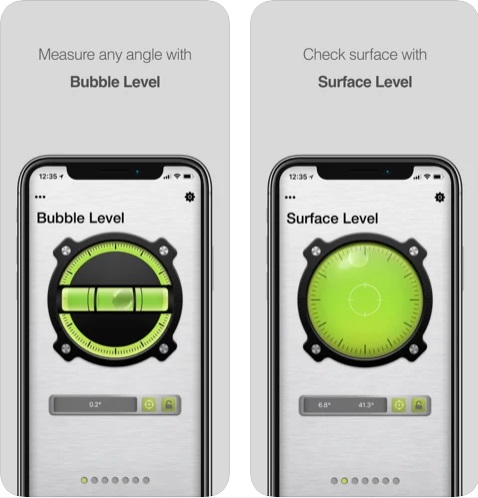 You may also like: 11 Best Square Footage Apps for Android & iOS
Angle Meter
This app can measure any slope form or angle. According to various ratings and comments, Angle Meter seems to be the most reliable app. It has no bugs and can work offline.
It is ranked 5.0 in App Store, which is the highest result in the list of the apps mentioned here. It can measure angles from Camera, as well as from images.
It has the option of calibration and recalibration, which is aimed at providing maximum accuracy.
Its graphics is also on a good level, which makes the app even more appealing and therefore high-ranked. Angle Meter is available for iPhone users only. Feel free to download it right now.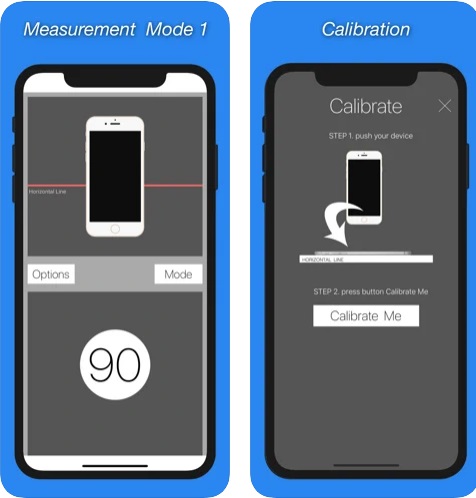 Triangle Calculator
If you don't need to measure angles in real life (while building a house or fixing a bike), but you have to solve geometric problems, this app is a must.
It works with triangles. The principle of its work is easy: you give the app all the data about a triangle and it calculates any of its angles.
You can get it in radians, degrees or grads. The app is smart, and if a problem has more than one solution, it will give you all of them.
Triangle Calculator is absolutely free. You can download it from Google Play.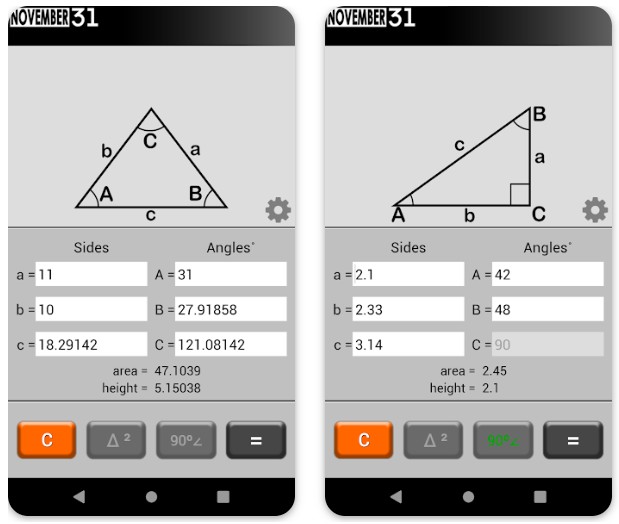 Angle Meter 360
This app has the same functions as all the listed apps. The only thing that makes it so different is its interface. It is the most easy-to-use one.
This is why we would advise Angle Meter 360 for unskilled technology users. The app is packed with hints, instructions and other forms of help.
Angle Meter 360 will be a perfect app for those who like simple and accurate measurements via using basing angle finding tools. The size of the app is small – only 26 MB!
Feel free to get it in App Store.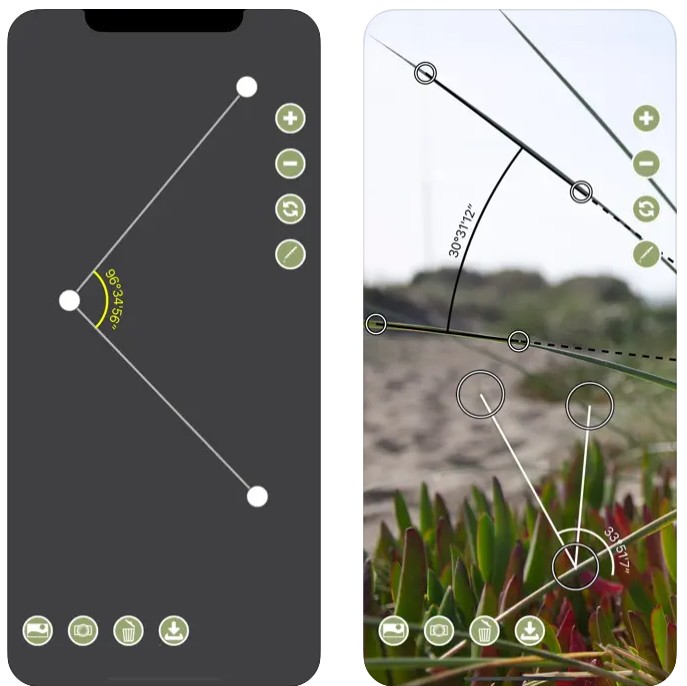 Angulus: Measure angles on images/videos
Angulus: Measure angles on images/videos is a convenient app for measuring things on images and videos.
To begin with, after a quick installation, you will see the main menu of the app.
There are four options suggested.
The first one is to Take a Video. This is a new and handy way to take measurements.
The second one is to Take a Picture. You can measure an item in real-time, but the quality of the photo leaves much to be desired.
The third button is to Pick from Video Library. And the last button is to Pick from Photo Library. Don't forget to allow access to the gallery of your electronic device.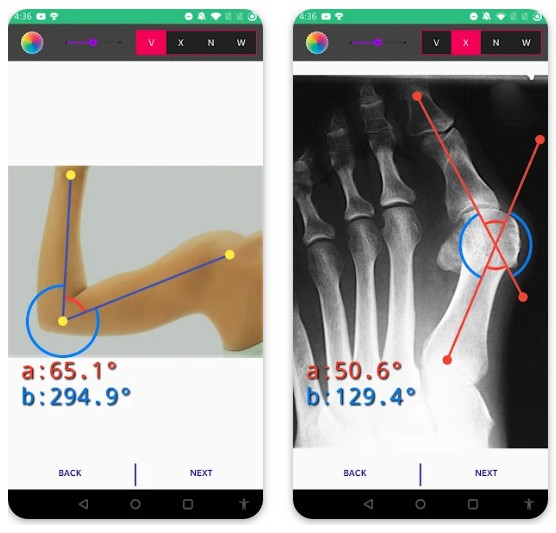 Basic Angle Finder
This app has been designed to measure angles with the help of the device's built-in sensors.
The app has a simple interface, and users can quickly measure angles by placing their phone on a surface. It provides real-time feedback, so users can adjust the angle until they get the desired reading.
This Angle Finder has a calibration feature that ensures accurate readings, and users can switch between degrees and radians depending on their preference.
One disadvantage of Basic Angle Finder is that it requires users to have a device with a built-in gyroscope. This means that older devices may not be able to use the app.
Also, users appreciate the app's simplicity and accuracy, and many have found it to be a valuable tool for various applications. However, there are a few negative comments from users who have experienced crashes or compatibility issues.
Basic Angle Finder is a useful tool for anyone who needs to measure angles accurately. The app is easy to use, and its simple design ensures that it is accessible to a wide range of users.
Advantages:
Accurate measurements.
Real-time feedback.
Drawbacks:
Requires a device with a built-in gyroscope.
Occasional crashes were reported.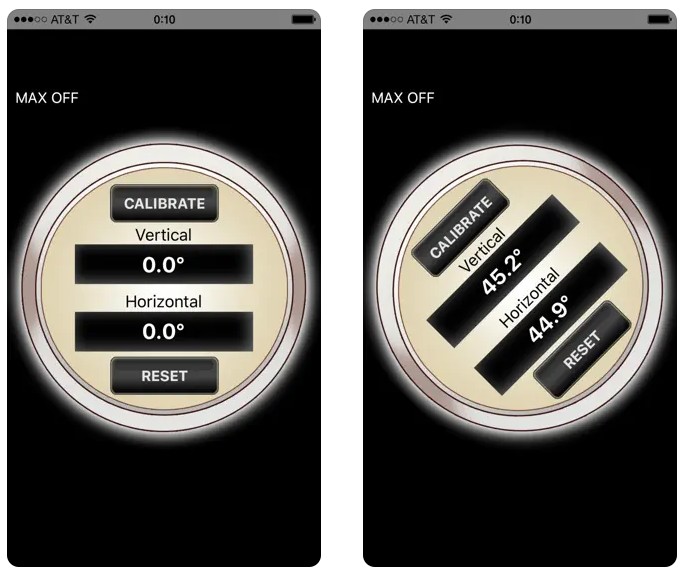 You may also like: 7 Best Goniometer Apps for Android & iOS
Bevel Protractor
This is an app designed for measuring angles on your mobile device.
You need to calibrate the app to ensure accurate readings. After calibration, you can start measuring angles by simply placing the base of the protractor on the angle's vertex and aligning the protractor arms with the angle's rays.
The app displays the measured angle in degrees, radians, and gradients, making it a versatile tool.
The protractor itself is well-designed, and the arms move smoothly, making it easy to align with the angle's rays. However, the graphics could be improved with more realistic and modern designs.
However, the ads appear after every few measurements, and some users have reported that they interfere with the accuracy of the measurements.
In addition, the app cannot save or share measurements, which can be inconvenient for users who need to keep track of their work.
Advantages:
Accurate measurements.
Displays angle in degrees, radians, and gradients.
Drawbacks:
Supported by ads.
No, save or share feature.
Some users report freezes.