There is no secret lots of people have problems with algebra. Equations, fractions, and integrals – it is too complicated to manage for a person who does not understand math. Maybe if the math would be a game app, it would be easier? You can find the math game apps here.

Another thing is that re-writing all the math tasks to your phone or PC is so boring and longing. Luckily, there are free camera math apps for Android and iPhone which can detect math tasks automatically from the paper.
Photomath
All people who have ever dealt with math nowadays are probably familiar with this app. The name speaks for itself – PHOTOmath. If you write "the best algebra helper" in Google or Safari, Photomath would be at the top of the Internet search.

Best features of this app:
simple and convenient interface
error-free execution of the computational problem with a detailed explanation of it
This app supports a camera, what is mean that you haven't to rewrite your algebraic expression, you just take a photo of it and that's all – a ready-made step-by-step solution in your pocket, or rather before your eyes on the screen of your smartphone or laptop.

What is more, developers added a new function. Now users can download photos of math equations from a gallery and the problem with calculating would be effectively dealt with by a soft math engine.
Let's get a little bit more information about the set of functions. There are mathematical analysis, addition and subtraction, fractions, trigonometry, different functions, limits and integrals, and more. It can solve problems of any difficulty level.
Another cool feature of Photomath is that it partially works offline as well.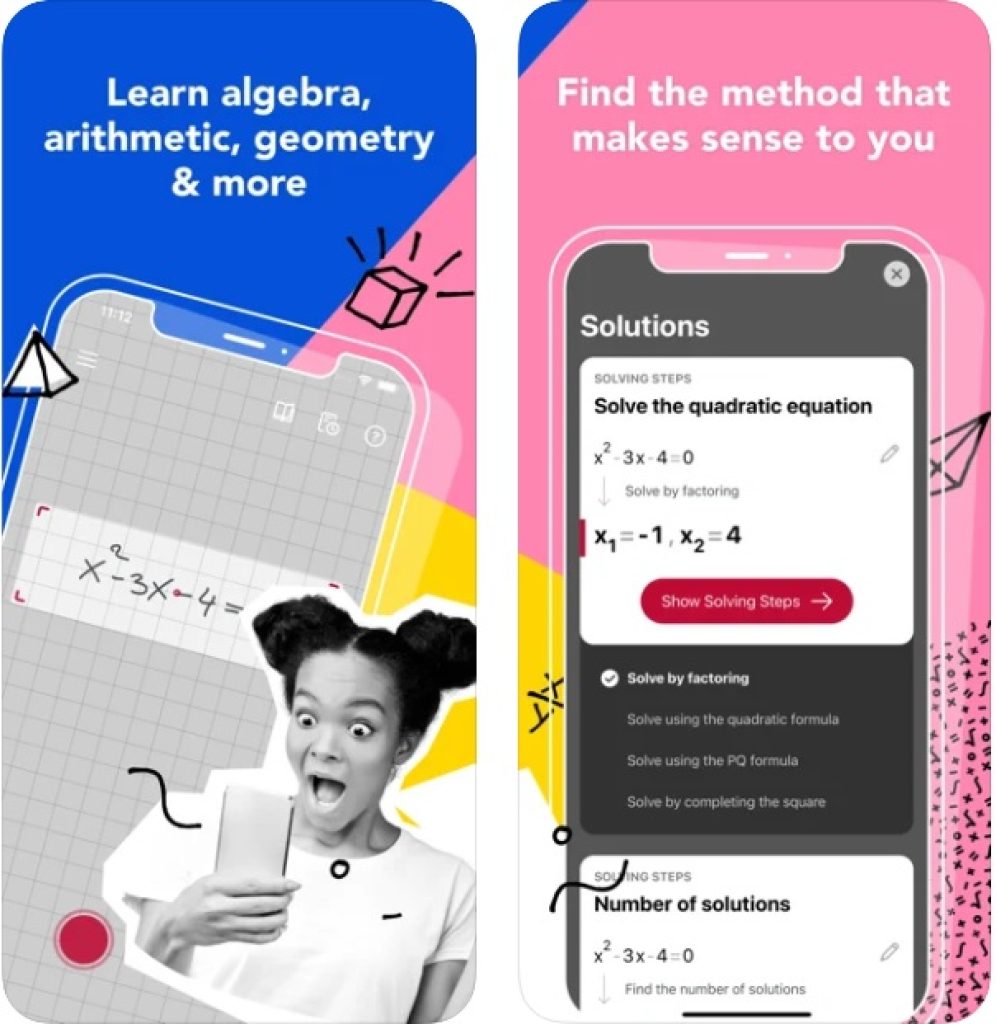 You may also like: 11 Best Homework Planner Apps for Android & iOS
NureMath – Camera Math Solver
The app is a wonderful choice for people who study at universities, colleges, and high schools. In many aspects, NureMath has similarities with the previous Photomath and it means that here you can take pics of your math exercises and solutions as well.
The app is able to work without an internet signal. Users mention that they choose NureMath because it does not contain intrusive, disturbing, and annoying advertisements.

Most of all you may be interested in the "task generator". It is a function that creates random mathematic problems with multiply difficulty categories and levels.

But NureMath is limited only to tasks with medium-complexity problems with fewer solutions than other apps. And it's available for Android only.

For example, a lack of this function is so uncomfortable for students when they want to cheat on a teacher, successfully write a test and get an excellent mark.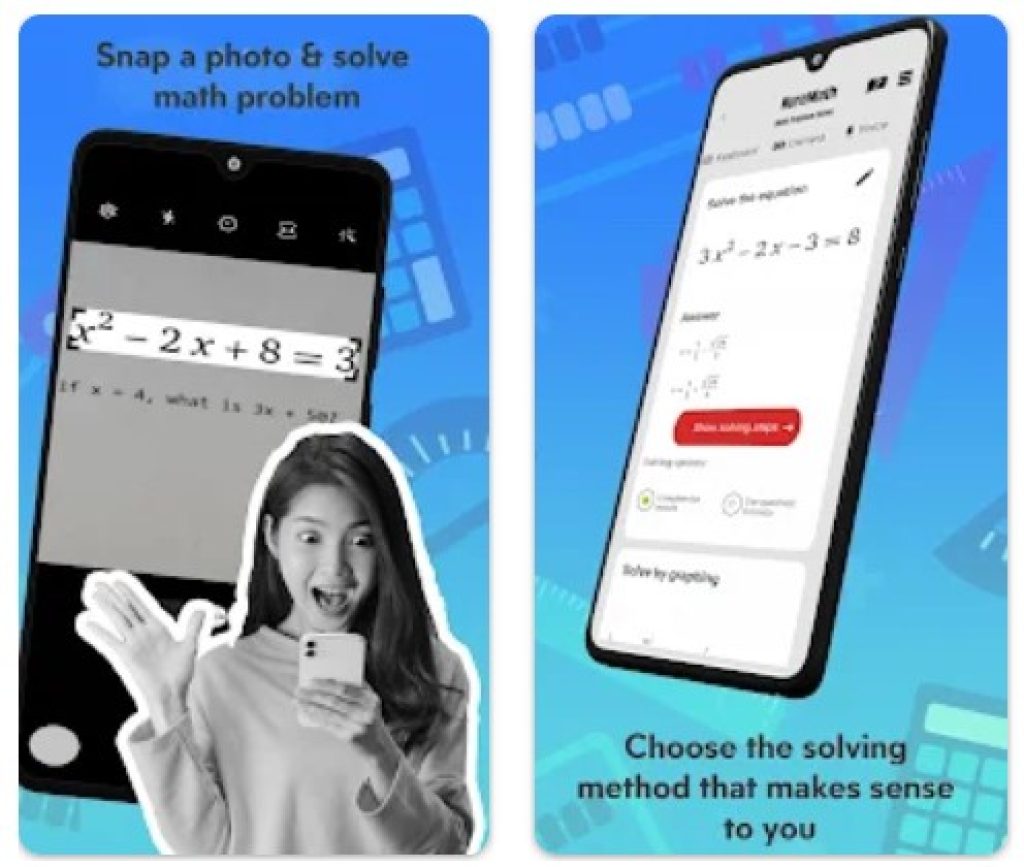 Mathway
Another great choice for people who need any help with math. This app is useful not only for children who attend high school because in addition to the school math program Mathway solves statistics, linear algebra, and even chemistry.
The app looks like a messenger, in which all the actions occur as if in the dialog with the virtual assistant, that is why it is easy to use it.
Lots of customers mention Mathway as the app with the best explanations of asked tasks. What is more, a user can choose the way of solving their math problems. If you do not like the solution just tap on your screen and the program will suggest you another one.
Apparently, the camera feature is here as well. The app supports this function but, unfortunately, it does not work well, it will take lots of time for a user to find an approach to this function to make it work not sloppy.

That is why if you want to get a quick answer to your issue this app is not for you, but if you want to get as detailed as a possible solution to your task Mathway is the best choice for you.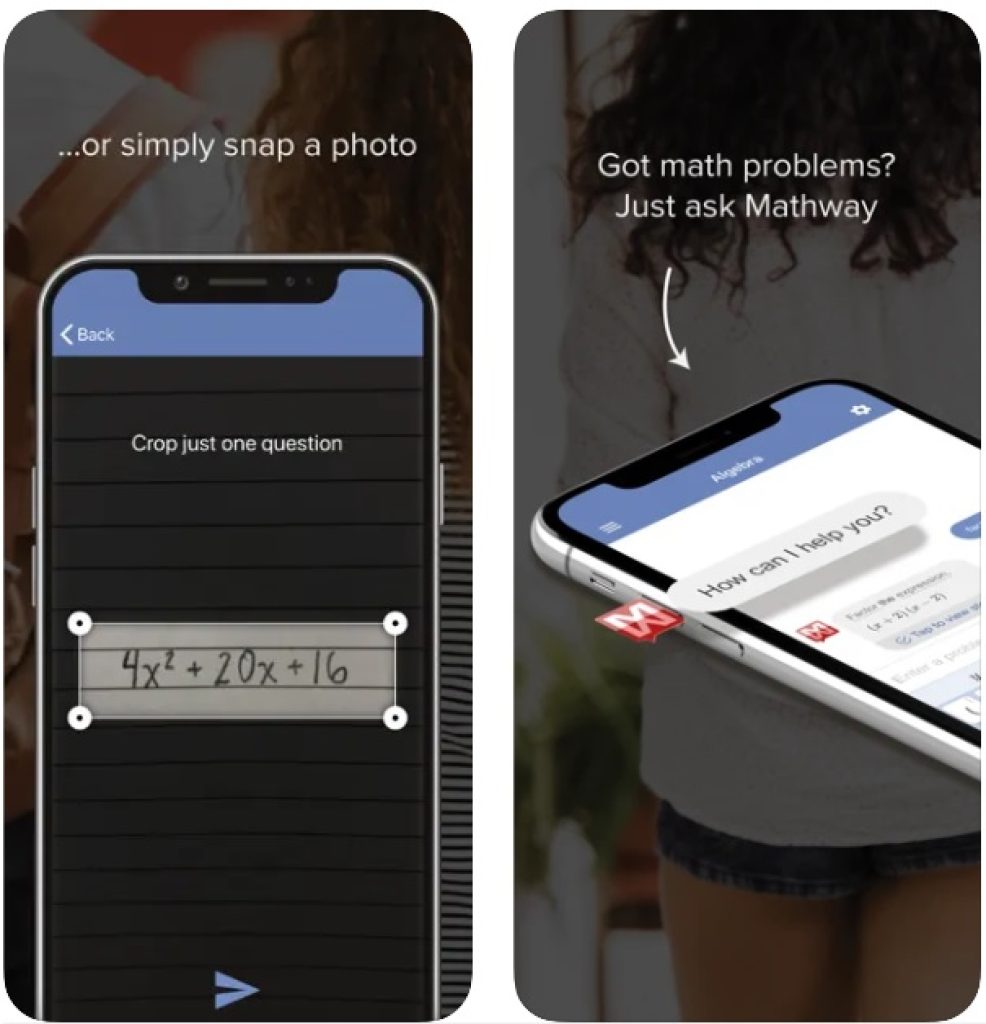 Mathpix Snip
It is the first app that started recognizing handwriting as easy as complicated tasks with the help of a camera.
Mathpix Snip tries to make a full base of solved math problems for students in the whole world. This app is the same as Photomath because of the principle and essence of operation of both programs, but the Mathpix Snip service is for an older audience.
Its users are not adolescent people, this app is popular with people aged from twenty-five.
Thanks to the integration with the advanced graphical calculator Desmos, the app builds parametric plots that no other service can, and that is its biggest advantage.
To be honest, not everyone would like this app because the controls are uncomfortable, the interface is strange and the app does not give a full solution to inquiries.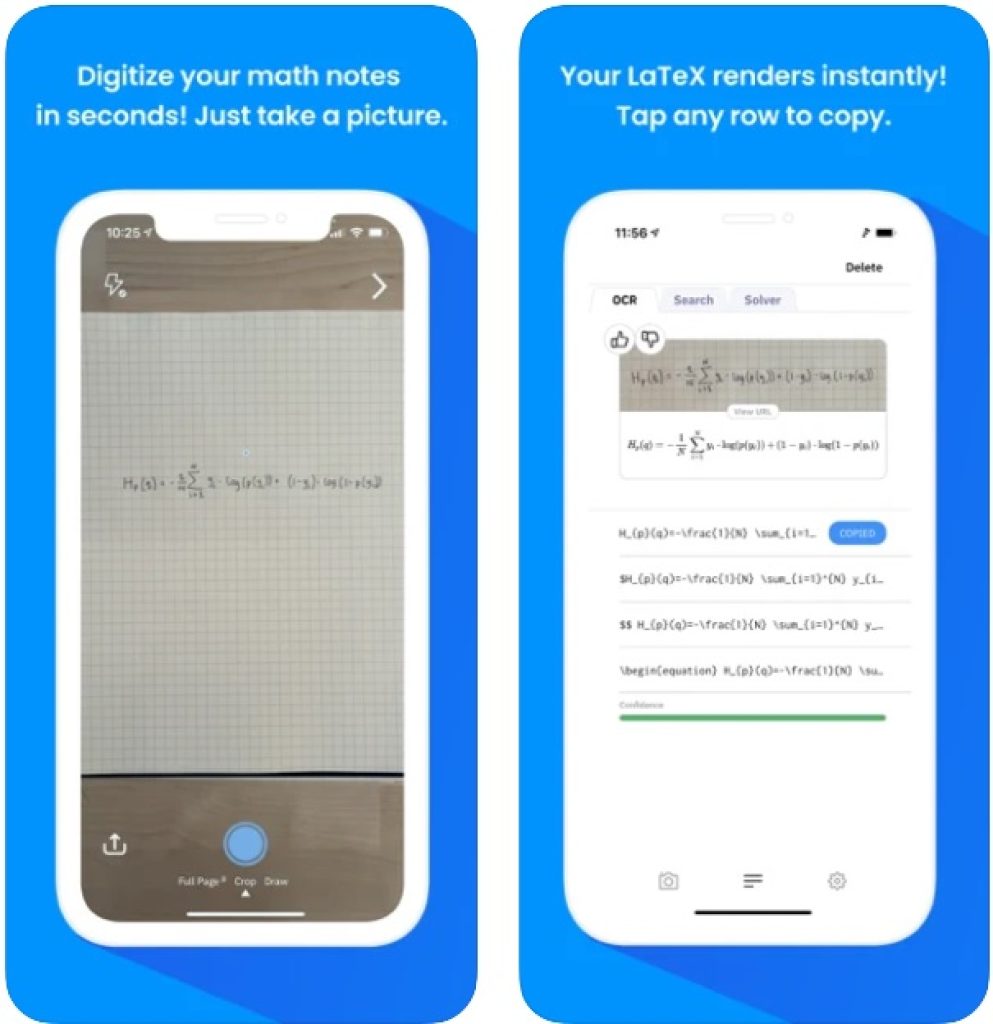 You may also like: 9 Best alarm clock apps with math challenges
Microsoft Math Solver
Looks like a good old Microsoft has developed another decent app.

This app helps people to understand the material with the help of various alike tasks from the internet and video lectures. This service can explain the decision step by step and help to find and understand the associated assumptions.
The main benefits are: it is free, the app supports a camera that recognizes handwritten text and imports photos with math problems from users' phone gallery, digested material verification, and solving a problem with a detailed description.
Set of functions:
basic calculations such as adding, subtraction, and multiplication;
pre-algebra radicals, matrices;
algebra quadratic equations, equation systems;
statistics and theory.
All in all, if you want to learn something new about math or begin understanding this difficult and tricky, sometimes scary, discipline this app is definitely will help you to manage your aims.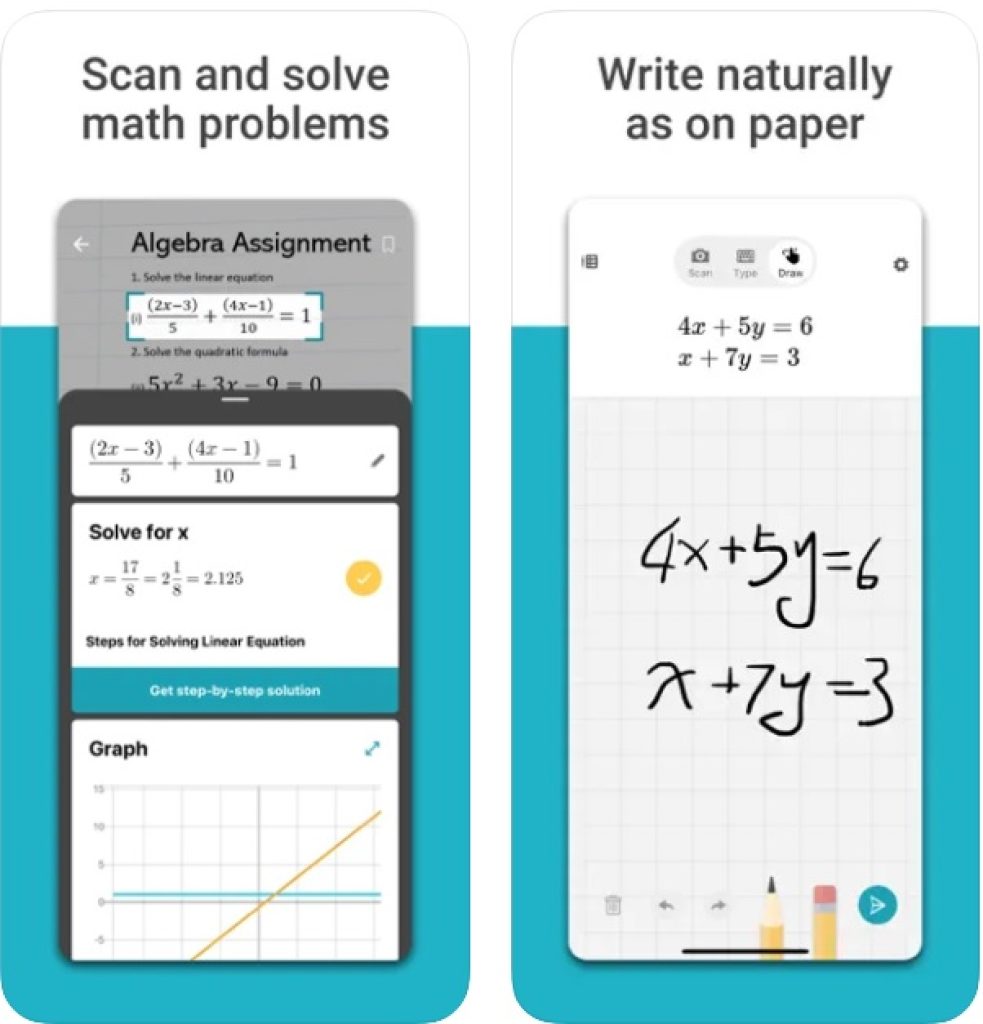 iMathematics
Also, a useful algebra app is iMathematics. It is your tutor in the Math world.
What functions does this app include?

There are basic and complicated calculations, lots of lectures that help people to learn quickly about seventy math topics, thanks to clear and detailed explanations; advanced search algorithm that finds topics that maters for children from high schools, students from colleges and universities.
The main advantage of this app is that different theorems and formulas are always at your fingertips because you don't need an Internet connection to use the iMathematics.
Moreover, Mathematics can recognize your math tasks from paper, however to a very limited level. If it's not something complex and well-written, you can try the camera feature here.
Well, if you want just to solve your algebra equations or basic mathematic calculating and see step-by-step solutions, this app is definitely a great choice for you.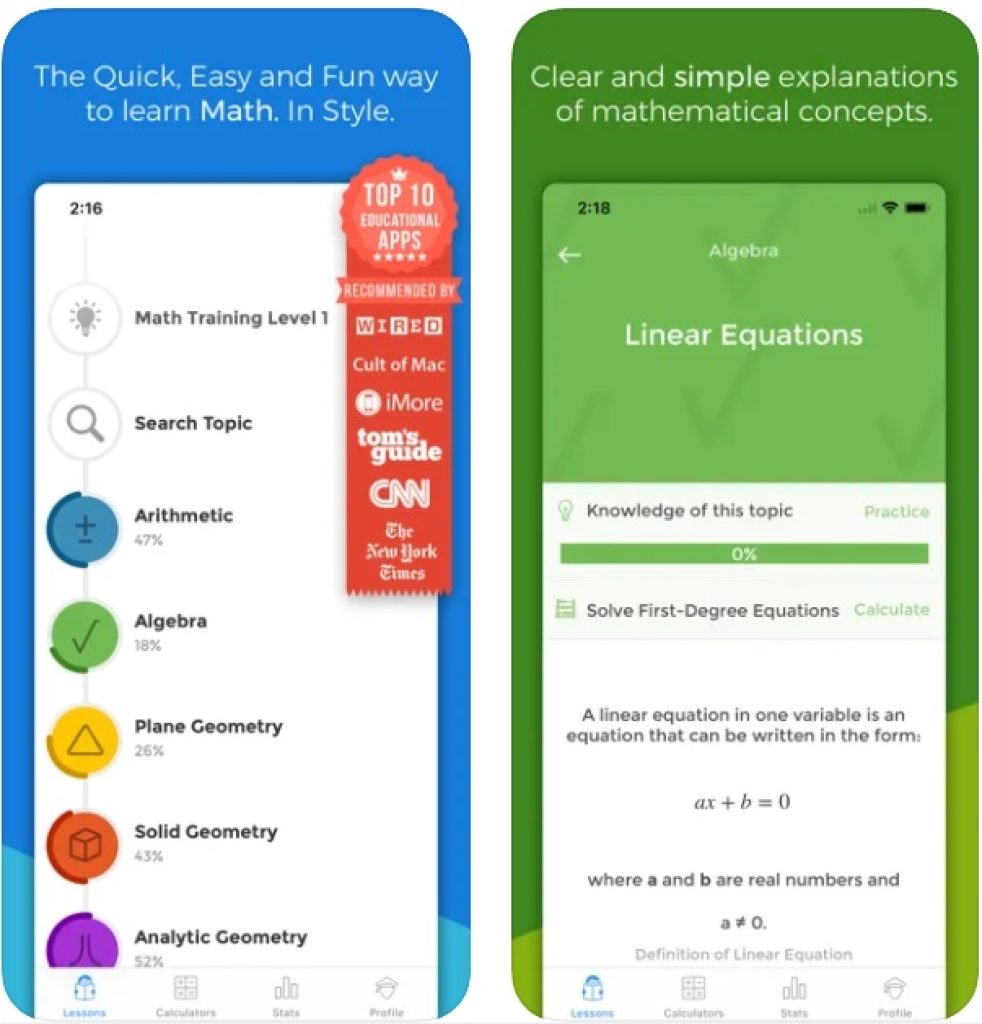 Math Scanner By Photo – Solve My Math Problem
Another math camera app for Android devices that can work with a wide range of math problems.
Also, the developers mentioned that they frequently release different updates to improve the calculator with the help of adding new features and enchanting the interface to create a more powerful calculator that people have never seen before.
By the way, the interface of the app is so strange for modern phone users. It looks old-fashioned, like a simple calculator when nowadays people prefer minimalistic designs, that do not annoy with visual noise, and that have only useful and easy controls.
But even despite the obsolete interface, the app works quite decently, and moreover, it's meant for a more grown audience who doesn't need bright pictures to maintain their attention.

Camera math – homework help
The app is a simple and effective instructional program for solving different math problems.

Moreover, Camera Math has a wider set of features and possibilities, which will be suitable both for students, and schoolers.
If you don't know the answers to tricky math tasks, Camera Math – homework home will help you to solve the problem.
A camera is provided in this app. When you find a task that you can't calculate on your own, just take a photo of it and upload the picture to the app.
And even though the app promises the solution in seconds – everything eventually depends on the complexity of a task and its popularity. It can even happen that Camera Math won't be able to solve the task at all.
But if the app does provide the solution, it will contain a step-by-step explanation.
The program is free and has a community of people in the networks where men and women can ask questions to other community members and answer each other if they do not understand something.
The interface of the Camera math – homework helper is simple. Everyone would understand the controls and it is a great advantage. And just like some other apps on this list, it partially works offline.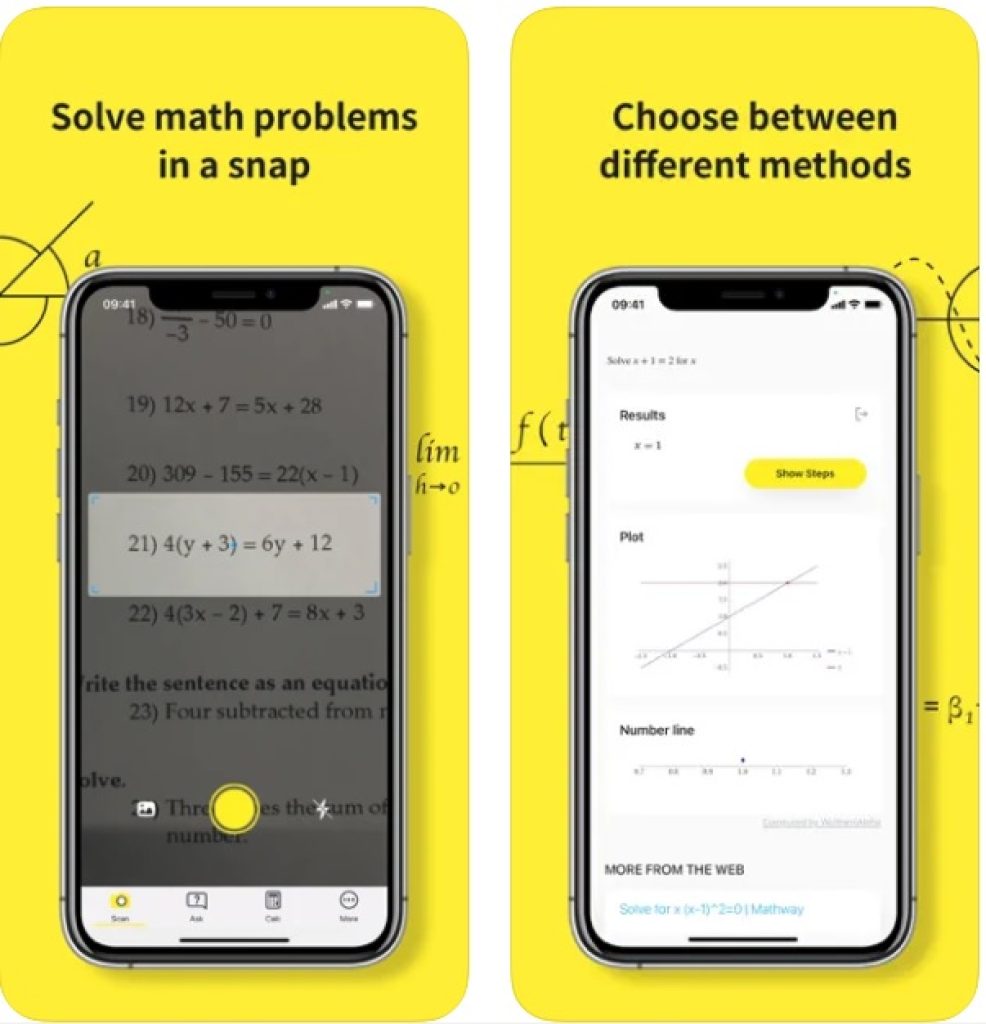 You may also like: 9 Best Apps to Help You with Homework (Android & iOS)
Cymath
Cymath might be not the most popular app for solving math tasks on the market, but at least it has the camera feature that definitely works.
What you need to do is to put in your math problem to the app – manually or by a photo – and Cymath will try to provide you with the step-by-step solution. Of course, it won't have solutions to everything and it will give errors from time to time, but it still works.
Though, we would recommend having a spare math solver app in addition to this one.
Cymath solver has a simple and minimalistic interface, which saves your Internet data. Moreover, Cymath can function in offline mode.
However, Cymath doesn't interpret word math problems, so keep that in mind before using the app.