Are you fond of tennis? Or, maybe do you like playing ping pong? In both cases, you should definitely pay attention to the excellent game- Counter Pong. Now we are going to find out why this game is so special!
Discover more jumping ball game apps by clicking here.
When you first open this game, you will find three playing modes:
 Counter Pong mode
 Pong VS AI
 Battle mode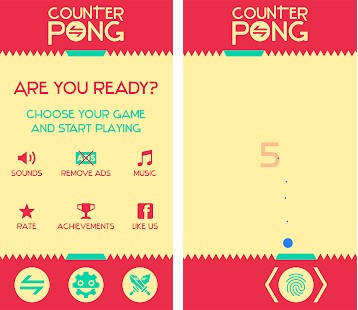 In the first mode, you can adjust the bottom pad by pressing and moving a handlebar. As you play, the top pad always moves in the opposite direction.
Your task is to prevent the ball from falling on the spikes as long as possible. You will get one point each time you return the ball. But keep in mind that the first 30 times when the ball hits the pad it becomes faster.
The second mode allows you to play against an AI player. The opponent is very strong, but there is nothing impossible. So, let's take the challenge to beat him!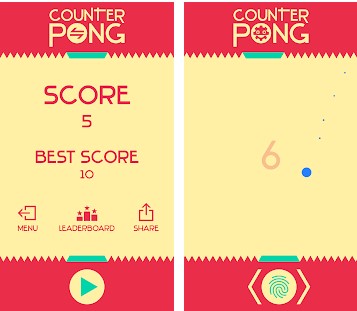 And in the Battle mode, you can easily play with your friends and relatives. Every player will have to control his own pad. If you receive more than 50 points, you will be assigned Dream Team achievement! When the game is over, you will see your score. Additionally, there is a built-in leaderboard that allows you to monitor other players' performance.
The game is developed in a pleasant style that will immerse you in the amazing playing world. The interface is very clear, so you will quickly understand how to use this tool. If you want, you can always disable the sound and background music.
We also recommend checking the best tennis games if you like the ping pong games theme.
All in all, Counter Pong is a very entertaining game. No doubt, you should play it with your friends. But be careful – it is very addictive!