All smartphone users have a note app installed on their phones. But sometimes it might just not be enough. You may need more features from your note app and that's what this article is here for.
There are lots of cross-platform note-taking apps that will make your note dreams come true. Why choosing a cross-platform option? It's best if you want to have access to your notes app whenever and wherever it needed. All those apps are still different and offer unique capabilities and instruments. At this point, your choice fully depends on your demands.
Here's the list of 9 best apps that category that totally worth trying. Have a look!
You may also like: 11 Best Apps for Sticky Notes for Android & iOS
Evernote
Let's start with an app called Evernote. And you probably have heard about this app if you've ever searched for the note-taking app. The reasons for it – it has millions of users and thousands of reviews. All in all, this a cross-platform note app that includes lots of tools.
The main reason for the Evernote's popularity is the fact that it offers you everything in one place so you don't need to use any extra services.
To be more accurate, this app supports text, audio, and even video files. Besides, being a cross-platform service works on all the well-known systems so you can be sure you can use it with any device you have.
Along with that, this app has a web-clipper feature that enables you to screen and save the entire web page and it will appear on your note in seconds.
The only disadvantage you can see in this app is if it will feel a bit overwhelming and have too many instruments for your taste. Furthermore, the app works with subscription packs so it's not free to use.
To sum it up, if you need an all-inclusive app for your records, make sure to try the Evernote app. It won't disappoint you!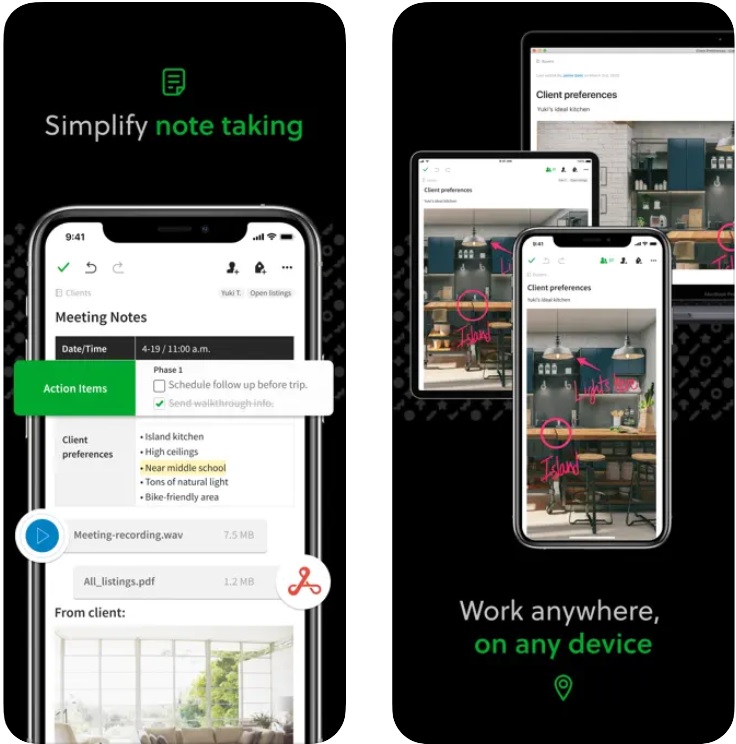 You may also like: 11 Best day planner apps for Android & iOS
Microsoft OneNote
The second app on our list is the Microsoft OneNote. This is another cross-platform app that empowers you to take records wherever you go. Besides, this one is apparently the biggest competitor of the previous app.
First of all, the amount of tools you can get from the Microsoft OneNote is impressive. There are lots of options for text-formatting and even drawing. Besides, the drawing instrument here is quite powerful which makes this app an accurate choice for students and people who prefer to visualize their thoughts.
The app also permits you to select the background of each note individually and it has a nice collection of pics for that. Speaking of the compatibility of this app it can work on all the well-known systems so there are no troubles here. What is more, apart from most of its sister apps, the OneNote is absolutely free.
This app also gives you absolute freedom when it comes to texting so there are no borders on your screen and you can write and draw wherever you need. As for safety, you can fully rely on this app because it is as secure as any other product from Microsoft.
To crown it all, if you're looking for a free note app with great functionality, pay attention to the Microsoft OneNote.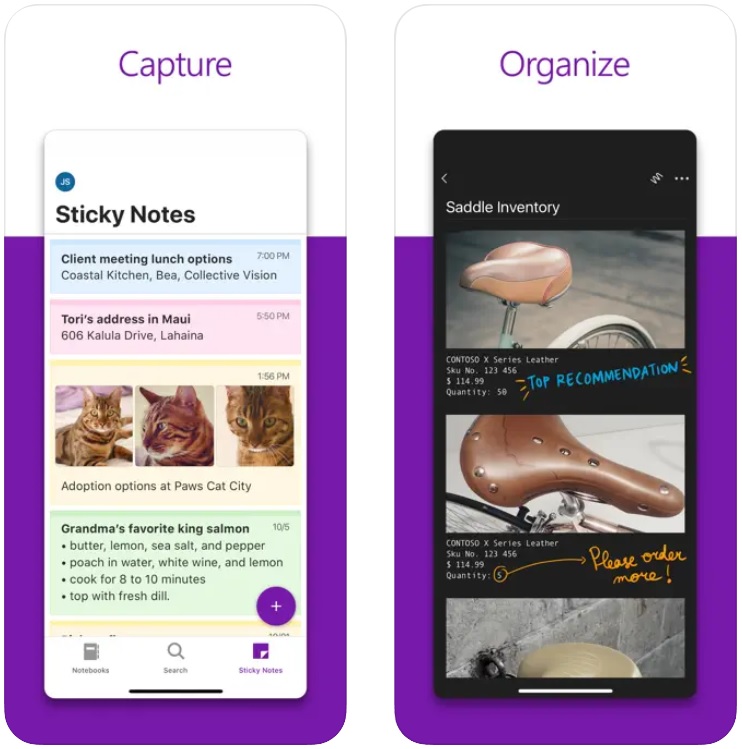 Simplenote
Simplenote is another app that will bring your note-taking experience to the whole new level. For those of you who don't need dozens of buttons and features this app is the best choice.
According to its name, this app has a basic and minimal interface that is not overloaded with instruments.
However, it doesn't meat the app has a small number of tools to offer it's just concentrated on the basic ones. To be more precise, the app includes a web-clipper instrument, has a nice tag, and search engines and also offers you the various option for text formating.
Besides, you can choose the type you want to have your records in. You can also attach pics to your records and share them in a few taps.
Speaking of the cross-platform side of this app is works with all the popular systems and even Linux which is rare for this type of apps. Furthermore, this feature is free but overall works with subscription packs.
In the long run, if you need a powerful note-taking app with a simple design, you need to try the Simplenote app. You won't be disappointed!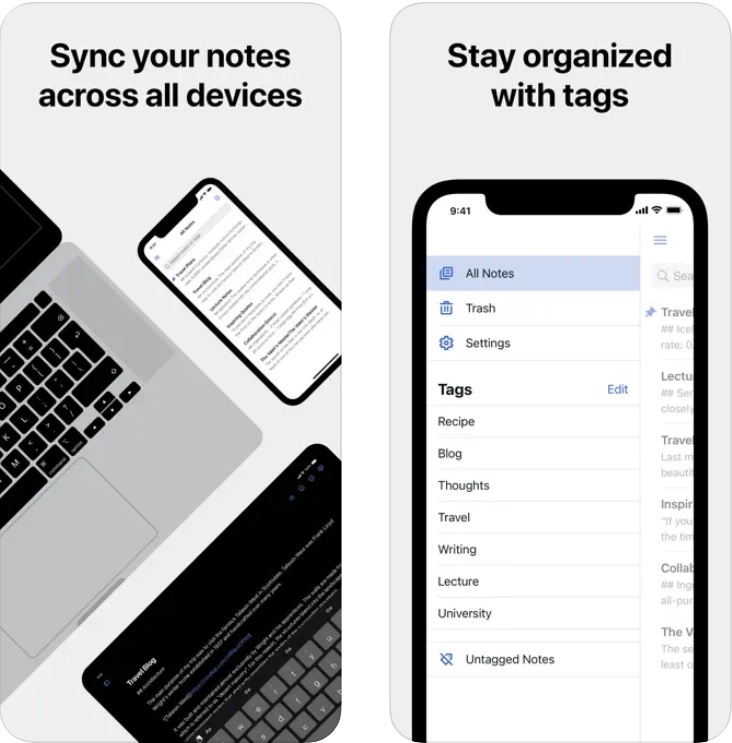 Notion
The Notion is a note-taking app that offers you everything you may want for this type of app in one place. Along with the Evernote app, this one is also an all-inclusive service that is also great for taking records.
If you use Notion you can add more than thirty various types of files to your project including audio and video files.
Besides, this app is nice for making a checklist as it has several layouts for that. But those features a still kinda basic and regular. What is unique about this app is it includes a Kanban board that you can use for collaboration work, like a calendar or even a database.
At that, with a long list of features, this app has it still remains a minimalist interface that is not overloaded with icons and buttons.
The app also empowers you to automatically screenshot web pages and add them to your project. There are also lots of options for text formatting and rearranging stuff. The app works on Mac, Windows, Android, iOS, and also has a web version.
To crown it all, if you need an all-in-one app for your notes, be sure to give the Notion app a try.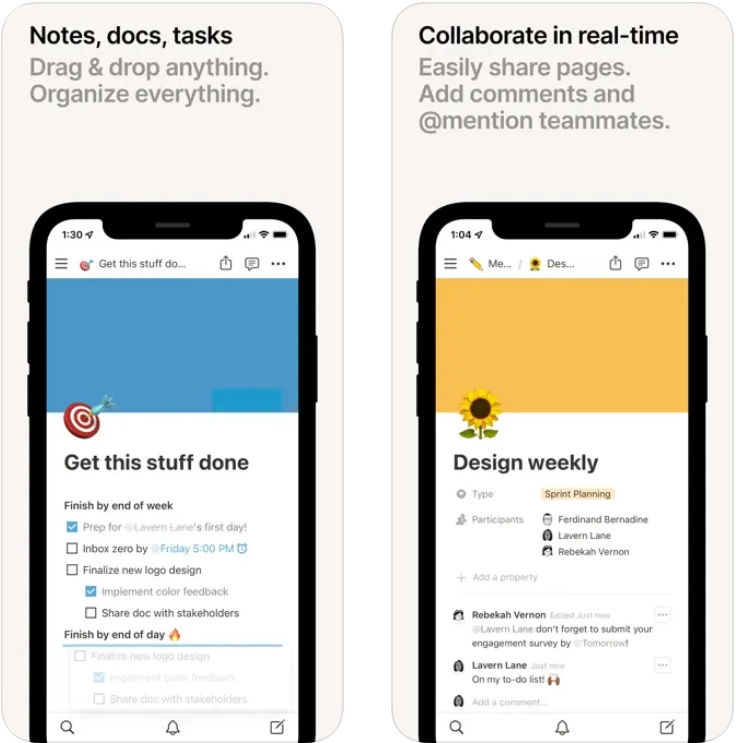 Ulysses
Ulysses is a great note-taking app that gives you absolute freedom when it comes to text formating. Let's consider the pros and cons of this service. In the main place, this app has a powerful multi-level organization system that you can get a lot from.
The app can also sort all your records by the date it was created and the date it was modified.
You can asl mark the most important projects and it will always appear on top of the entire note list. The app also sorts the records that were sent to you into the Inbox or the Unsorted section.
Besides you can add your own sorting sections if you want. Along with that, this app doesn't put you limits with the number of words and symbols you can write so it is also great for long-going writing projects like an essay.
What is more, you can easily attach pics to your project and modify it as you want. The app even supports a full-screen mode for those of you who need a bit more focus while writing.
Ulysses also includes various design themes including the dark mode so you can customize it according to your taste. However, this service is more on a pricey side and it is only working on Mac and iOS. You can still edit your Ulysses files on Windows if you'll save it on your cloud drive.
In the long run, if you need a fully-featured app for all kinds of writing, give the Ulysses app a try.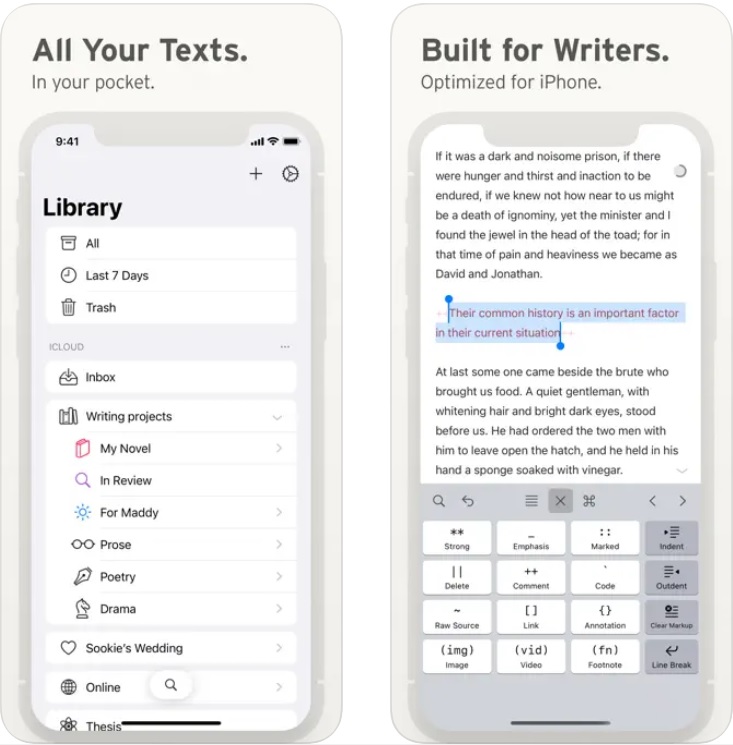 Bear
Bear is another app for notes that only works with Apple supported systems. All in all, the lack of Windows system support is probably the only downside of this app.
Bear has a powerful text formating and marking instruments and also empowers you to add various types of files to your projects.
At that, you can not only add images but also experiment with the audio and video files. What is more, the app has an ultra-helpful feature of formating the text while you're writing.
It might not sound as impressive but you'll see the difference without this tool. Imagine not having to deal with all the small typos anymore. Sounds amazing, right? Along with that, the app permits you to mark your notes using tags for easy searching.
Furthermore, this service includes the archive feature that hides the note from the list and the search engine without deleting it. At this point, you can make it visible at any time. You also have plenty of options for customization but you will need to buy a subscription for that.
To crown it all, if you need a powerful note app for your Apple device, be sure to try the Bear app.

You may also like: 11 Best event planner apps for Android & iOS
Standard Notes
As its name supposes, Standard Notes is a nice app for notes that will be perfect for people who care about privacy.
First of all, the app uses end-to-end encryption to keep all your data safe and sound so you can have no worries. What is more, the app has a simple minimalist interface while having lots of tools you can work with. This service is also very lightweight which is always great.
This service is well-known for its search engine so you can always find the right note in seconds. At that, you can use various tags to give a theme to your note and have quick access to it. Along with that, the app works with the Markdown editor that you can get after paying for the subscription.
It gives you access to detailed text formating and even a code editor. As for the cross-platform side of this service, it supports all the devices including Linux which is rare. However, the app offers you limited options when it comes to images. At this point, you can't get your screenshots to automatically appear in the app.
In the long run, Standard Notes is a decent note service that worth trying.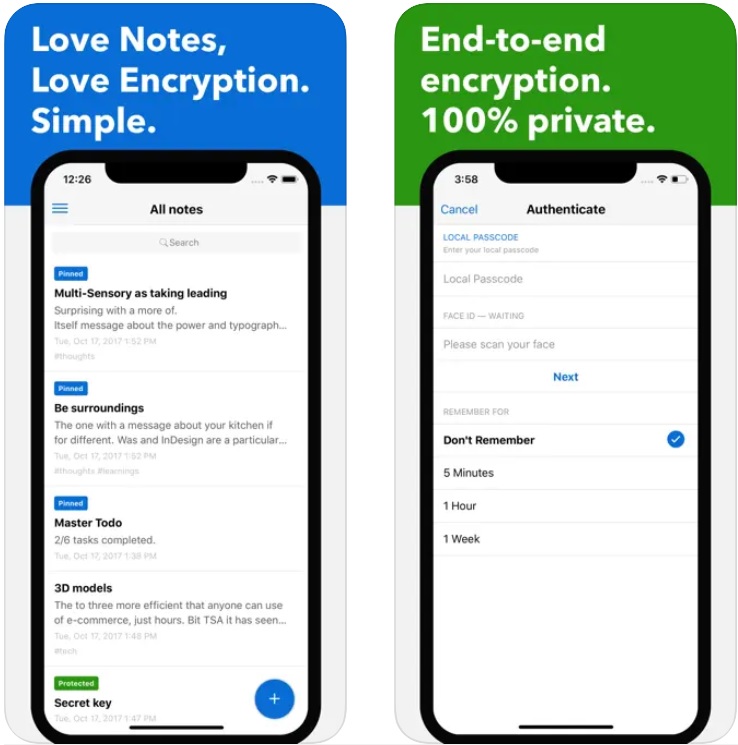 Slite
Slite is a note app that gives you lots of options when it comes to text editing. First of all, this app gives you absolute freedom with the amount of text you can write.
At that, you can easily write a long essay without any trouble because of the amount of text formatting instruments is large. Besides, this service is free for students all you need is to scan your student id. If you do so, you will have the limit of fifty notes per month which is quite impressive.
Along with that, the app eases your writing experience by editing the text while you're writing it. You can also add any type of image, video, and a tablet to your project. Moreover, the app has a layout of headings you can use and you can customize the size of it.
The app also works to support all the popular devices so you won't have trouble with that. However, there are few dismisses that may screw up your experience with this app. At that point, the interface is not that nice and this app works slower than its sister apps.
To crown it all, if you want an app with unlimited text formating tools, you should give a try to the Slite app.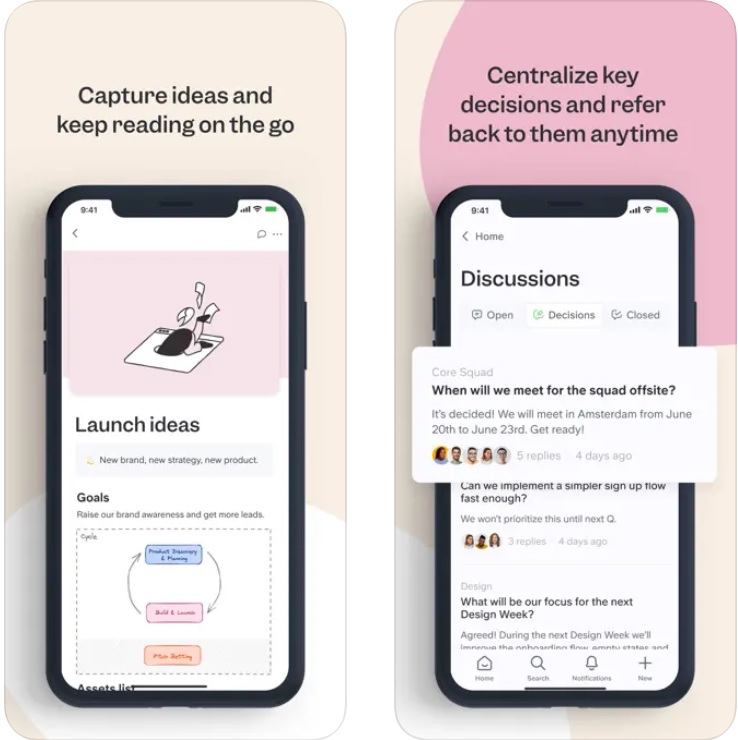 Google Keep
And the last but not the least, Google Keep is a cross-platform app for notes that works with other services form Google.
The main advantage of this service is it is totally free for all the users. It works on basic Android and iOS systems and also has a web version but you'll need a Gmail account for that.
Besides, the interface of this app is simple and minimalistic and it's not overloaded with instruments and buttons. You can also play with themes of your notes and even make the pain screen look like a wall with stickers.
The app also supports the web clip feature that grants you to screen and save the entire web page. Once you do that it will automatically appear on your note.
The app also includes various text editing tools so you can make checklists add experiments with headliners. The only dismiss of this app is the lack of organization system as it is only one level of tags.
In the long run, if you need a simple app to take notes, give the Google Keep app a try.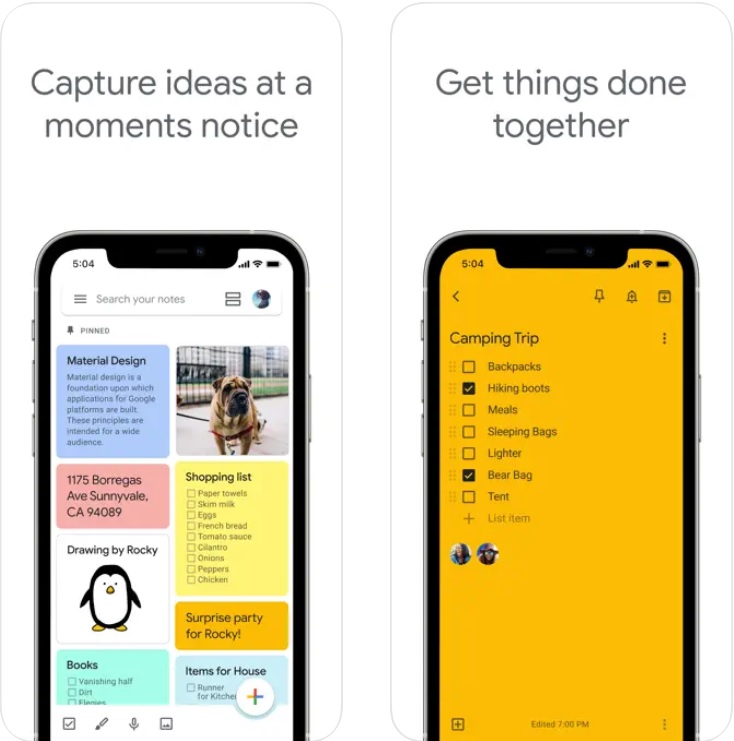 Todoist: Productivity App
Todoist is a popular cross-platform note-taking app that has gained a massive following among productivity enthusiasts
The app is incredibly convinient, even for those who are new to productivity apps. Its clean and minimalist desigh lets you easy navigate, and its features are created to help you stay organized and on top of their tasks.
One of the most notable features of Todoist is its ability to sync across multiple devices.
Additionally, there are also special push notifications whic can be useful and remund users when they should start to do their tasks.
Users can create tasks, assign due dates, set reminders, and organize their tasks into projects. The app also allows users to cooperate with others on assignments, making it an excellent tool for team projects and group work.
As far as graphics go, Todoist is not a particularly flashy app. Its design is simple and functional, and while it may not win any design awards, it gets the job done.
However, there are some negative comments from users who feel that the premium version is too expensive or who have experienced bugs or glitches while using the app.
Advantages:
User-friendly interface.
Cross-platform compatibility.
Syncs across multiple devices.
Allows setting reminders and due dates.
Organizes tasks into projects.
Drawbacks:
Some advanced features are only available to premium users.
The graphics are simple and not very visually appealing.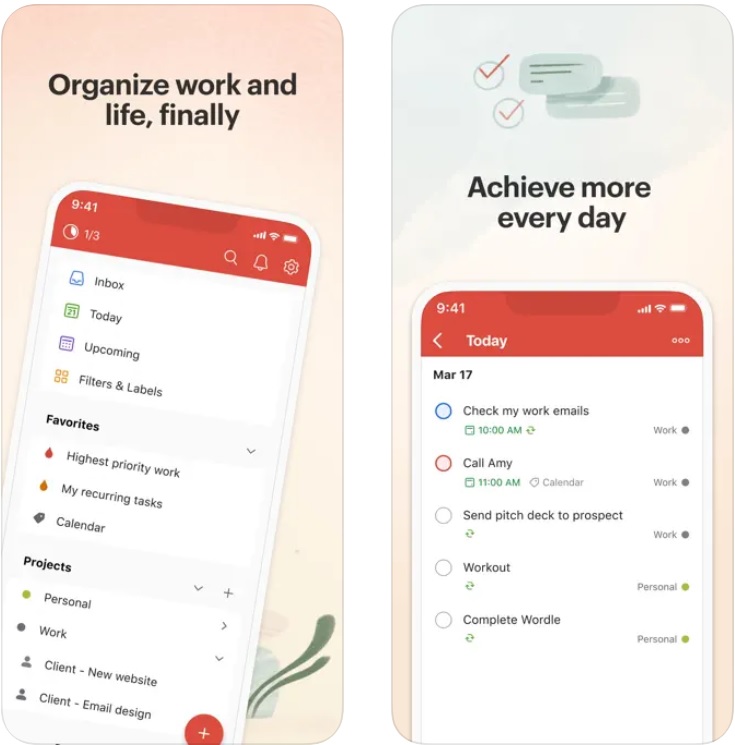 You may also like: 15 Best free wishlist apps for Android and iOS
MarginNote
MarginNote is a powerful and versatile tool that can help you organize your thoughts and ideas. An app is a cross-platform tool that can be used on multiple devices including your iPhone, iPad, and Mac.
One of the unique gameplay nuances of MarginNote is its ability to create mind maps and create connections between ideas.
It offers multiple ways to take notes, including handwriting, typing, and audio recording, which makes it a versatile tool for students, professionals, and anyone who wants to take notes more interactively and creatively.
The user interface is intuitive, and you can easily customize the color and font of your notes to suit your preferences.
One of the drawbacks of MarginNote is that it can be a bit overwhelming for first-time users. The app has many features, and it can take some time to learn how to use them all effectively.
Additionally, the app is not as user-friendly as some of the other note-taking apps on the market, which may frustrate some users.
Many users praise the app for its ability to help them organize their thoughts and ideas, and they appreciate the ability to create connections between different concepts.
Advantages:
Versatile note-taking options.
Interactive mind mapping.
Clean graphics.
Drawbacks:
Can be overwhelming for first-time users.