It is human nature to share thoughts and memories. Many people write them down in a personal diary – but this is inconvenient and makes them carry the diary all the time. Don't worry, the Daily Journal will take full responsibility. It is a handy diary app that lets you store your memories. You can protect your account with a password, preventing others from accessing your personal data.
The app has all the features of a text editor and more. The top menu bar includes functions such as "Account", "Backup", "Customize", "Help". Below the top menu, there is a line and buttons "Search" and "Print".Then comes the calendar and basic text design tools. The main part is occupied by a place for entering text.
We also recommend checking the best bullet journal apps for your smartphone.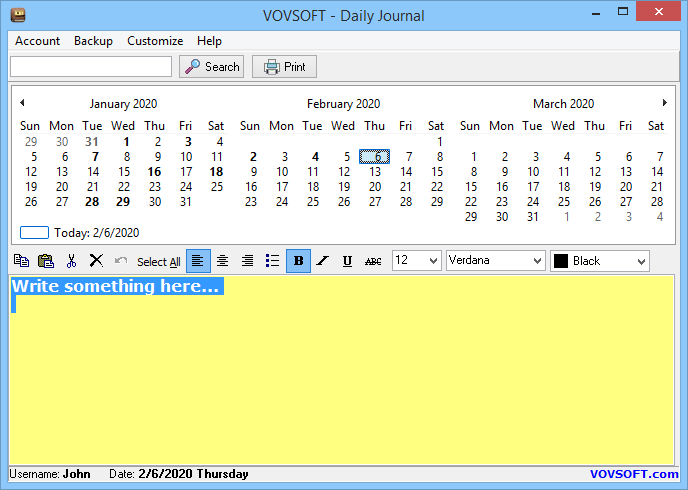 Daily Journal has a support system. Many users may have questions or problems. Compose your question and send it to the support specialists and they will definitely answer you. The developer's website will allow users to get acquainted with more detailed information and principles of work.
Simple classic design, intuitive interface, and easy operation will allow users to immerse themselves in the work environment and discover important moments. Moreover, you can change the background of your diary. The software provides users with the ability to create multiple user accounts. In addition, the app allows you to create encrypted backups, so you can always restore your data.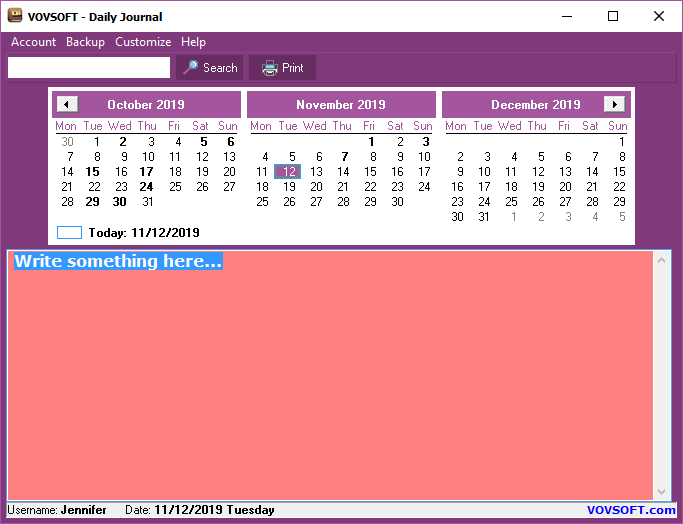 The Daily Journal is user-friendly and pleasant software with maximum security and writing capabilities. The program has a wide range of themes and allows you to choose between any fonts installed on your system, as well as change the size and style of the text. Customize it to your liking and start recording different lyrics into it
Each part of your daily routine is important. And in case you want also take care of your daily skincare routine as you do with your journaling, we recommend checking these apps. 
Written by Daria 07.07.21