Do you want easily turn your Android smartphone into a DVR? You can make it at quite a high level with the DailyRoads Voyager app.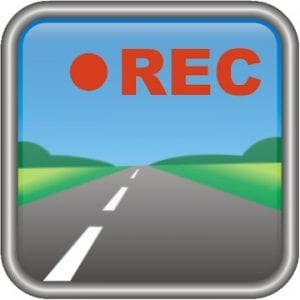 DailyRoads Voyager is first of all interesting because it is absolutely free app. Developers have even abandoned the common approach when only the paid version turns off advertising. Moreover, voluntary donations are not imposed.
The development does not prevent talking while driving and perform other tasks. The application is able to work in the background, displaying a mini-menu from a pair of buttons over any program.
At the first start of the user is warned about possible problems with recording. And just in case they give a link to the original service, where you can select the manufacturer and model of the device to see the best settings.
Interface
The main application window turned out to be simple. On the top left, you'll see your driving speed when GPS is on. On the right are the buttons to start recording, get a photo, shoot manager, and quickly change the shooting mode. The last item contains different settings depending on "external" conditions. For example, sunny, cloudy, night, etc.
Curiously, right on the video button, there is a "pushbutton" to quickly turn on/off recording audio.
Settings
The main settings window contains 10 items, each of which is signed according to the content. In total, at least fifty options are implemented, covering all aspects of the recorder's operation. Thus, for the video, you can set the resolution, bitrate, frame rate, file format, focus mode, length of one file, and much more.
It is clear that if in a regular recorder the whole memory card is used for video purchases, then a smartphone contains a lot of other content. Thus, it is useful that DailyRoads Voyager allows you to set a limit on the size of the storage folder. Cycle shooting helps not to be afraid to shoot more when the allocated space is running out.
Other important settings are Overlay GPS coordinates on the video, auto-start shooting when the power is connected, and set the accelerometer sensitivity. Thus, if your phone's optics allow, this app is more than capable of turning your smartphone into a complete recorder replacement.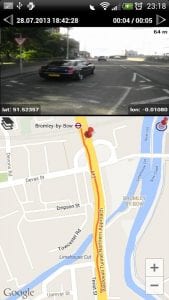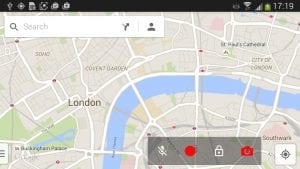 Conflict occurs only if you are using a smartphone navigator at the same time. Here we face the classic problem of navigators combined with a recorder. After all, on the one hand, you want to turn the screen to yourself, and on the other – the device must look directly at the road. Otherwise, no difficulties should arise.
To sum up, we can say that the application DailyRoads Voyager – a great replacement for the standard video recorder for your car. With it, you can save a significant amount of money on the buy of this device and always have your travel record with you.
You may also like: 11 Best car locator apps for Android & iOS