Savings Catcher App for Walmart (Download & Review)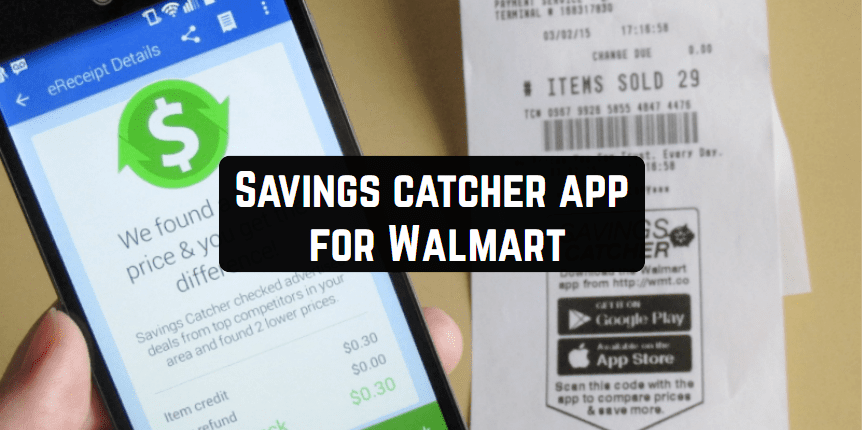 It's all about Walmart
It is not an overstatement to use words "the greatest" in describing this company. In fact, Walmart has become an American leading corporation with plenty of hypermarkets, discount department stores, and grocery stores – total more than 11 thousand stores in 27 countries all over the world.
By the way, Walmart's Chairman reports an increase in revenue every year: in 2017 revenue figures were 485.9 billion, in 2018 they were equal to $500.3 billion, so Walmart has become the world's biggest company by revenue.
We guess you've got a question here: "Why does Walmart develop by leaps and bounds?". Well, there are many reasons, but one of them is connected with the theme of this post.

Every buyer of Walmart can download an app for Android or iOS and get a benefit from shopping. That sounds incredible, but that's the way it is. It's not ordinary discounts, it's something much more unique – here you have an opportunity to return the difference if you pay more for a certain item at Walmart that's available for a lower price elsewhere in the same area.
Finally, we would like to present to you this very function which is used by millions of people.
What should you do in order to get some money back
Login to your account or sign up if you don't have it.
Buy goods in Walmart, then scan your store receipt and open the app: click the "Shop" tab and select the "Savings Catcher" option. Then, tap on the "Add a Walmart Receipt" option.
Choose the receipt you want, and locate the QR code – this is what you're going to scan. If the receipt doesn't have a QR code, then scan the barcode instead.
If you have some problems with entering a barcode, tap on the "Type Receipt Info" option and enter the barcode manually.
Wait a bit while Walmart compares the prices to the advertised prices at all top local competitors.
See the result: if the app finds that another local store has a lower advertised price, it will deliver the difference back to you in the form of the eGift Card.
Nota Bene
Here's the list of what Savings Catcher does compare:
Groceries (cereals, breakfast foods, soups, sauces, canned goods, frozen foods, dairy, cheese, eggs, etc.)
Health and beauty items (all kinds of cosmetics)
Consumable goods (all household products)
Here's the list of what Savings Catcher does NOT compare:
Farm products
Bakery items
Meat
Deli items
Seafood
Non-branded goods
General merchandise items (office supplies, DVD, electronics, toys, small appliances, home decor items, magazines, books, furniture, and jewelry)
Tobacco, alcohol, gasoline, tires, prescription drugs, optical and photo products, and any items that require a service agreement.
One more thing you should pay special attention at is that Savings Catcher is only available to Walmart Pay users, so you have to use this very company's mobile wallet service.
Other functions of Walmart app
Shop Online. Pick up your order at any Walmart store or get free shipping within two business days
Control best sales and deals
Check what items are available at the store
Order, transfer, and track prescriptions and refills with Walmart Pharmacy
Order wall art, blankets, posters, and cards with Walmart Photo Print
Pay in the store quickly and safely with Walmart Pay
The advertising slogan of the company says: "Get the most out of your shopping". So use this app and get an opportunity to kill two birds with one stone: buy all the necessary goods and return some money as well.
Check also: 12 Best Grocery List App for Android