Everybody likes dinosaurs. All of us have probably come through the dino-loving era at some point, and the popularity of these mighty creatures keeps growing.
That's why we've made the list of the 7 best dinosaur VR games for Android & iOS you could try. These games use VR technology to provide you with an immersive dinosaur observing experience. You'll get to explore multiple locations populated with dinosaurs and even hunt some of them. Take a look!
VR Jurassic Dino Park Coaster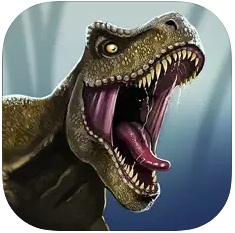 Let's start with a VR game settled in a Jurassic Park world.
This game lets you dive right into a Jurassic Dino park and start your own adventure. It comes with an in-depth Jurassic era recreation, so if you've ever wanted to look at real dinosaurs, this get lets you get pretty close to them. You'll get to explore a full-on island populated with all kinds of dinosaurs ever.
The entire in-game world is in virtual reality, so you get the best possible experience. Herewith, there are several modes you could try. First, there's a park mode that lets you explore the dinosaur zoo with pretty much no limits at all. You can just walk around looking at dinosaurs and interacting with them.
Next, there's a movie mode where you'll need to solve the mystery of the island. You'll get immersed in a dinosaur-related story, similar to the one you've watched on a big screen. Plus, the game covers numerous kinds of teller coasters that make island exploration much more fun. The roller coaster mode also lets you interact with dinosaurs, so make sure you won't get close to carnivores.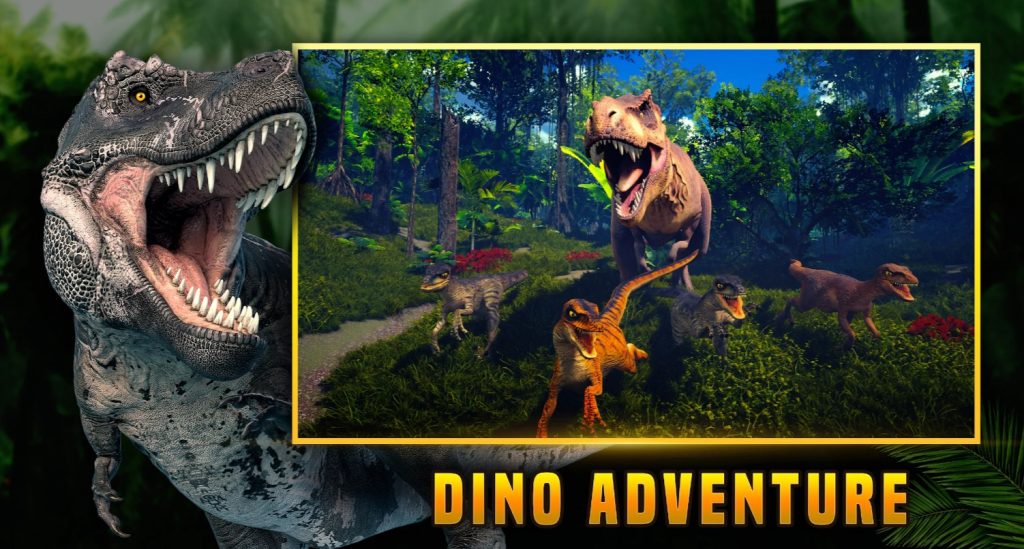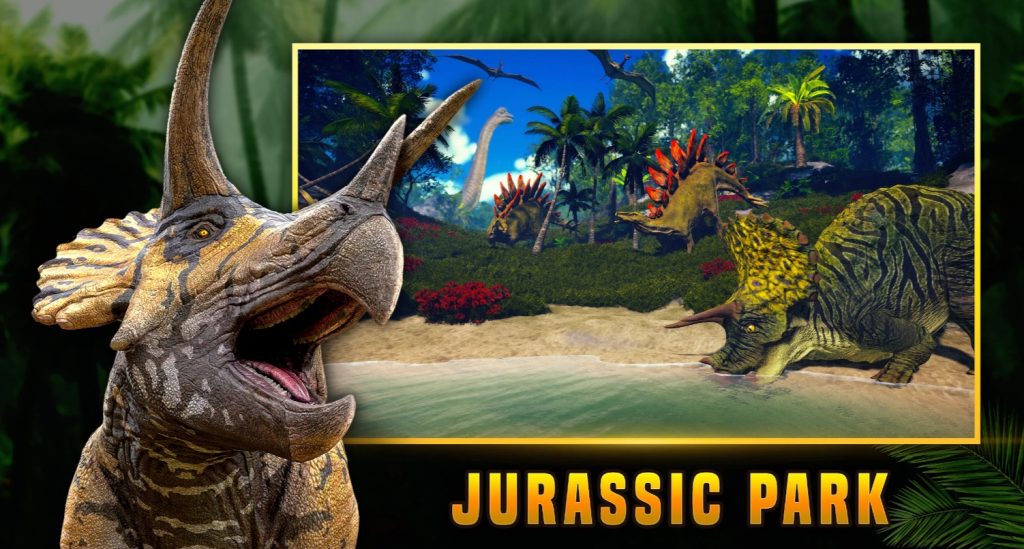 You may also like: 21 Best Augmented Reality Games 
Jurassic VR Dinos on Cardboard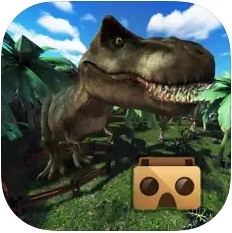 That's a 3D VR game that lets you experience what it could've been like to meet dinos in real life.
Just like the previous one, this game simulates the breath-catching world of the Jurassic era. You'll get into the beautiful island filled with all kinds of dinosaurs. There are both predators and herbivore species, and such dinosaurs as T-Rex, Raptor, Stegosaurus, and much more. The graphics look cool, and the dino design is quite realistic.
The game comes with two modes. The sim one lets you walk around the jungle and look at the dinosaurs up close. You'll also get to explore the beach and look at the species that live under the water. In fact, you can even hunt the dinosaurs with various types of armor if needed.
And if that's not fun enough, there's a roller coaster mode that lets you ride around the island on multiple coasters. This mode gives you a quick introduction to the island and shows the locations where certain dinosaur species live. You get complete 360 degrees of vision, and simple controls as well.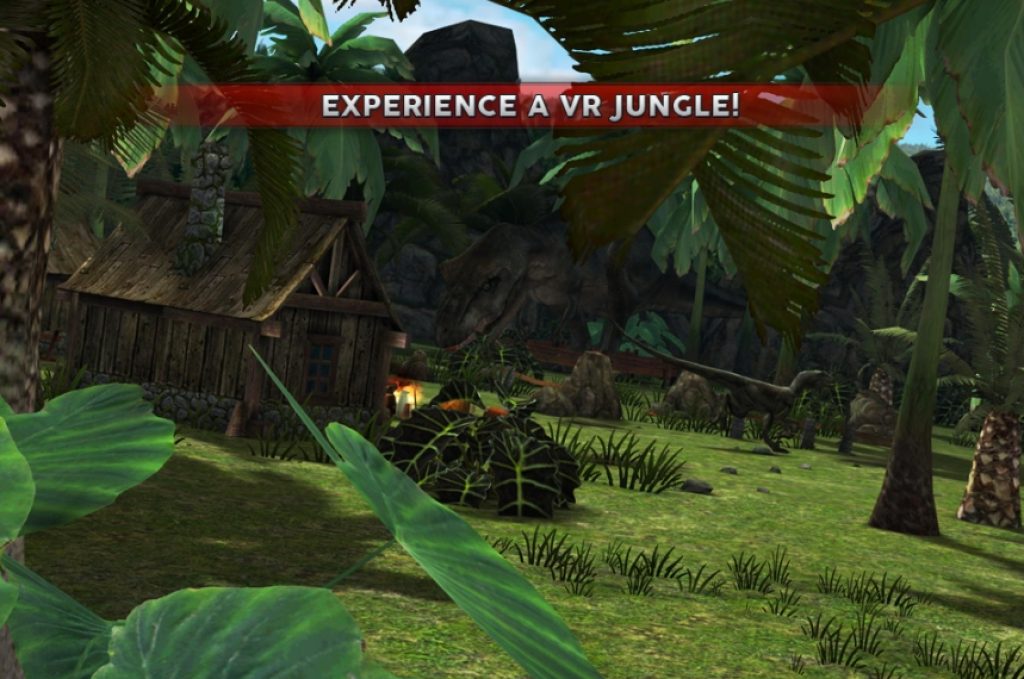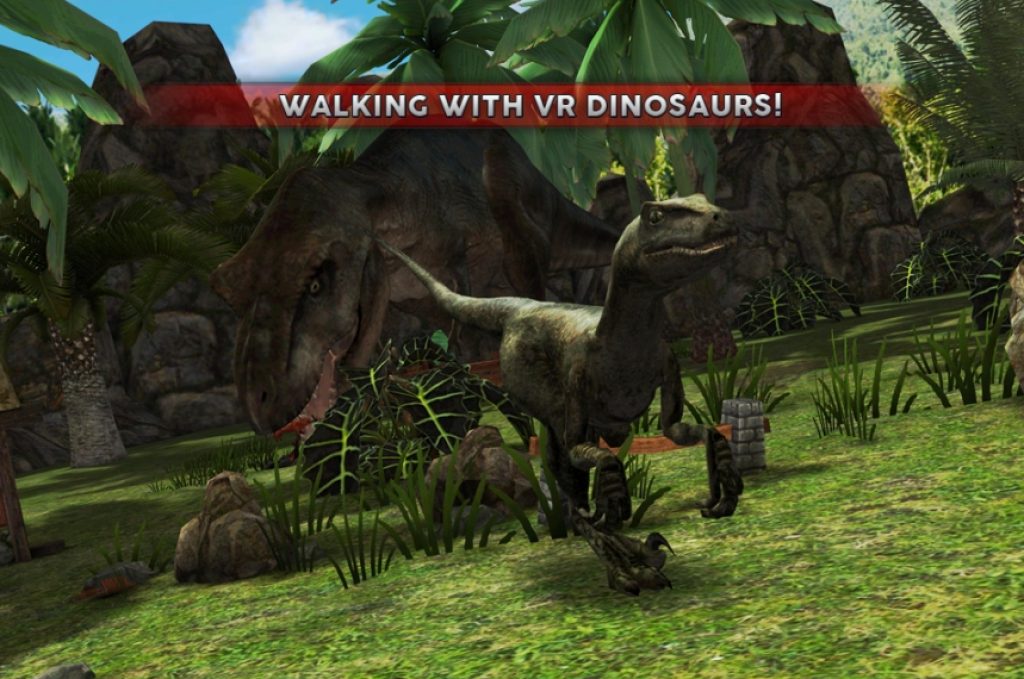 Dino VR Shooter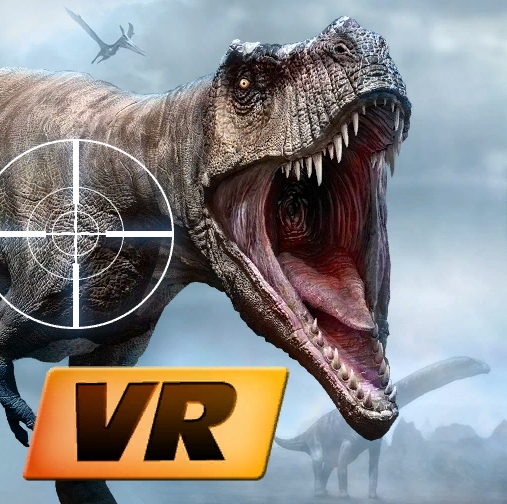 Next, there's a VR game that lets you explore the mysterious land of the dinosaur era.
The concept of this one is quite standard for the genre. You'll get to walk around the island looking for dinosaurs (and shooting them). Overall, there are 6 areas for you to explore: each one comes with a unique landscape, certain species of dinosaurs, and all that. Of course, there are both predator and herbivore species, so choose your targets wisely.
The game covers 5 types of guns to help you survive and hunt down dinosaurs, and other prehistoric creatures. Plus, there are some other locations like the ship and a helicopter that can get attacked by the dinosaurs, so you need to be ready to shoot at any moment. You'll get to view special cards for each species to find out their strong spots and weaknesses.
Beyond that, the game comes with a full-on immersive performance with 60 fps, so no worries here. It's compatible with all VR headsets with built-in controls. You can also sync your Bluetooth keypads or remotes if needed.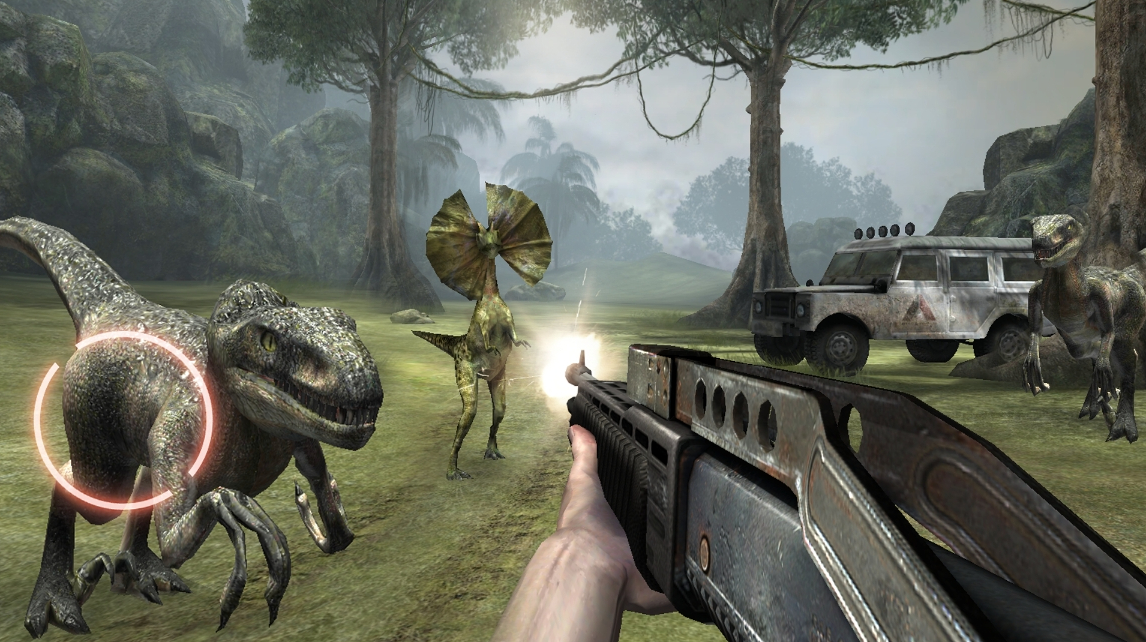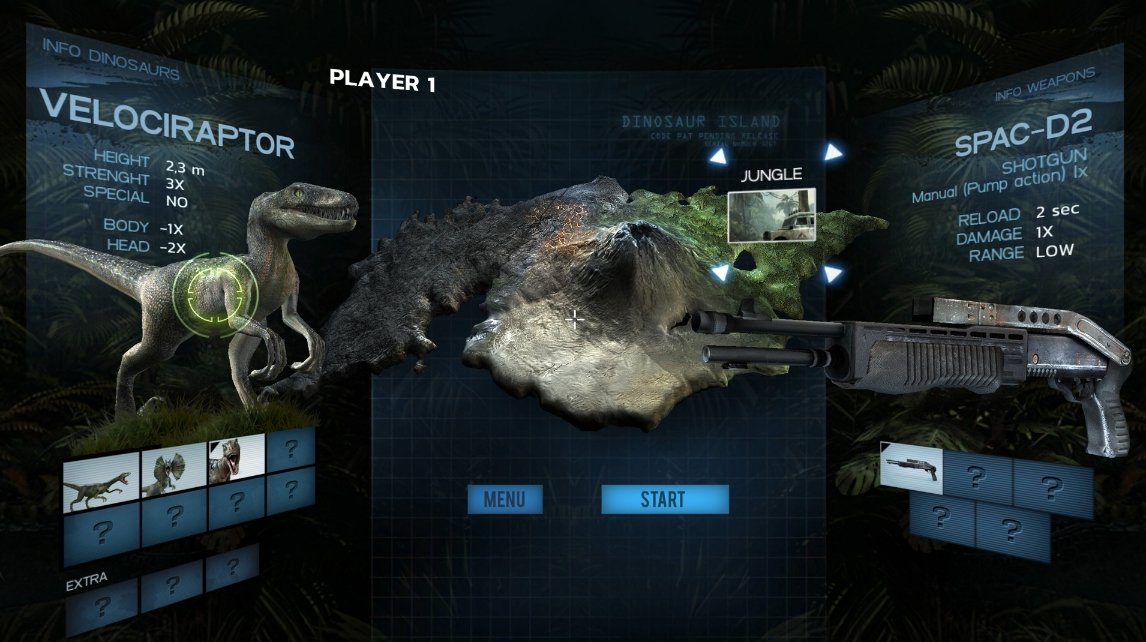 VRSE Jurassic World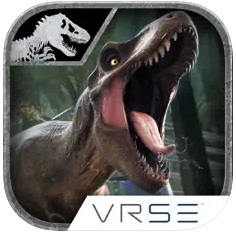 That's another Jurassic World game that lets you get your own VR adventure.
In this game, you'll get to visit the famous Isla Nublar island populated with multiple kinds of dinosaurs. Your goal here is to get to the Visitor's Center, which is, of course, located in the very heart of the island. Needless to say, it won't be easy for you: there are a bunch of creatures that will definitely try to eat you alive.
The game covers all your fave dinosaurs, including T-Rex and Raptors, and you'll meet them all on your way to the Center. In order to survive, you'll get a couple of weapons, including the stun gun that was used in the movie. Plus, there will become other obstacles like impassable landscapes and more.
The game comes with lots of chapters, so you can spend a couple of hours passing the missions and trying to get to your main goal. The game is compatible with several VR systems, so make sure to check the full list before downloading it. It also syncs to various Bluetooth keypads, so you're all the way covered.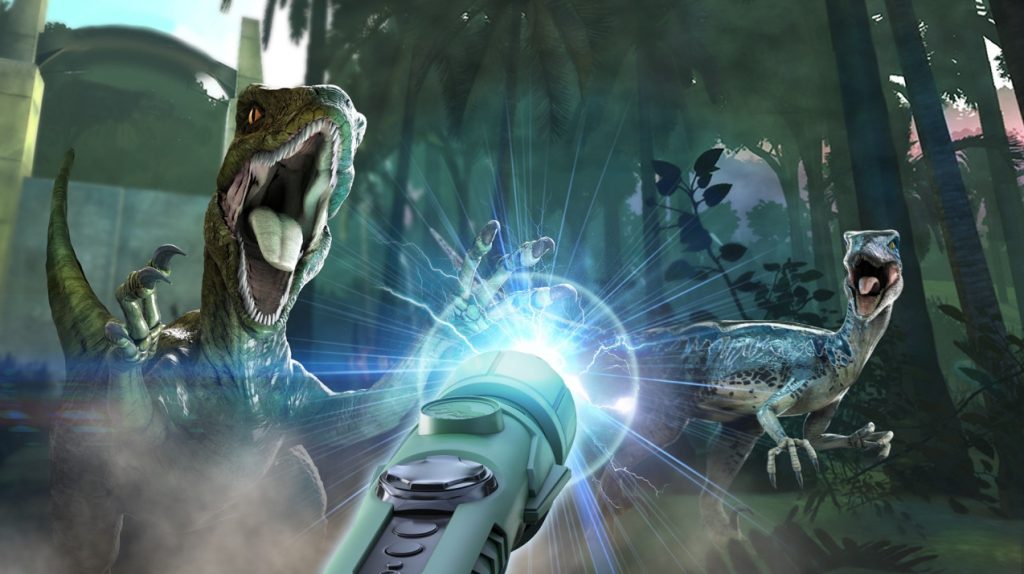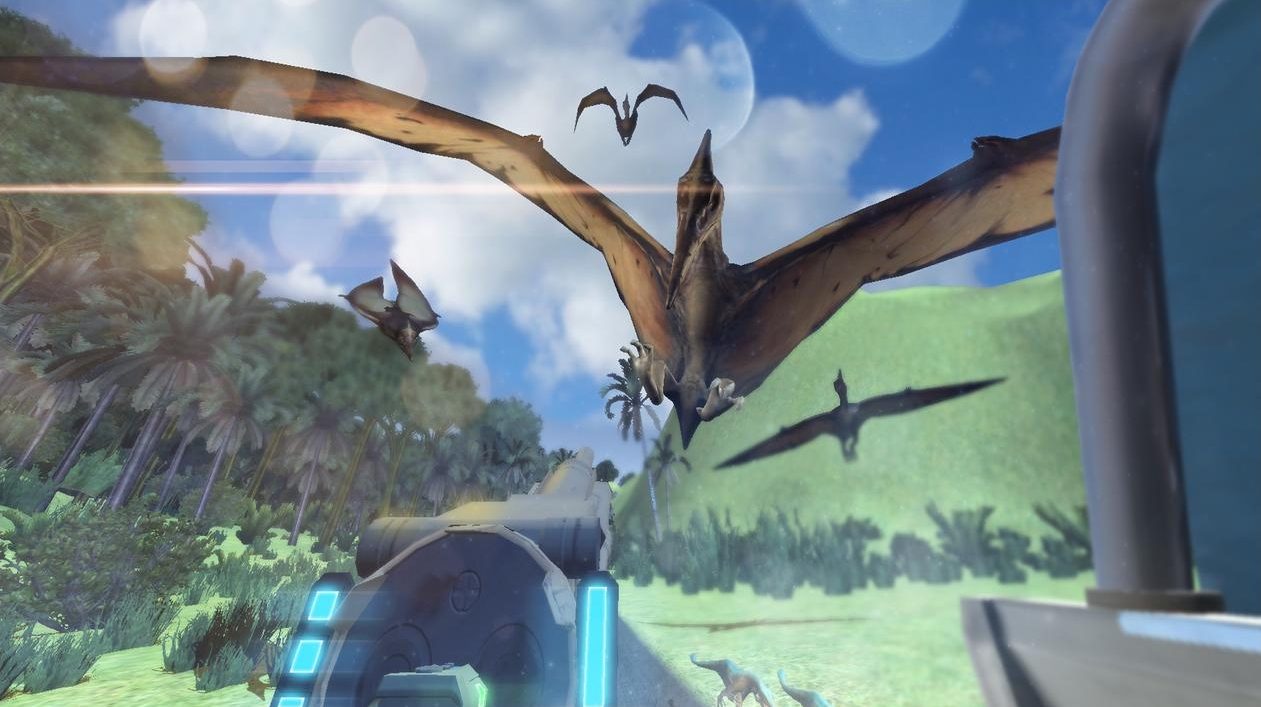 Check also: 5 Best Movie Game Apps
Real Dinosaur RollerCoaster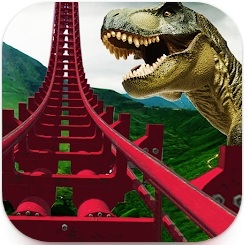 Here's a game that lets you ride a roller coaster across the Jurassic era park.
This game is not about shooting or hunting dinosaurs, it will take your breath away in another way. It combines a thrilling roller coaster with the sights of real dinosaurs. You'll get to ride through and explore multiple locations bundled with dinosaurs. There are such locations as tropical forests, mountains, hills, and more.
The new roller coaster carts get added regularly, so your VR experience will be different and thrilling each time. You'll get to pick a cart and customize multiple things to get the best exp possible. The tracks in the game are filled with extreme sections, and sometimes you'll get dangerously close to carnivores.
The cool thing is, the dinosaurs won't just walk around minding their business. They will actually react to your presence, and the cart may accidentally get stuck right when a bunch of Raptors running to eat you. The graphic is pretty realistic and so is the physics, which makes the game even more fun.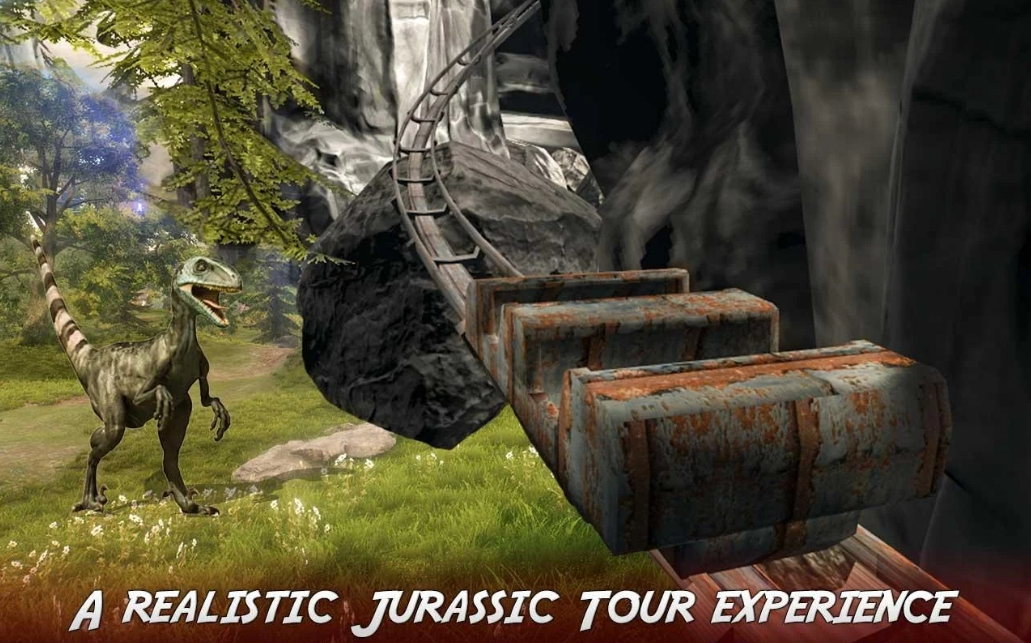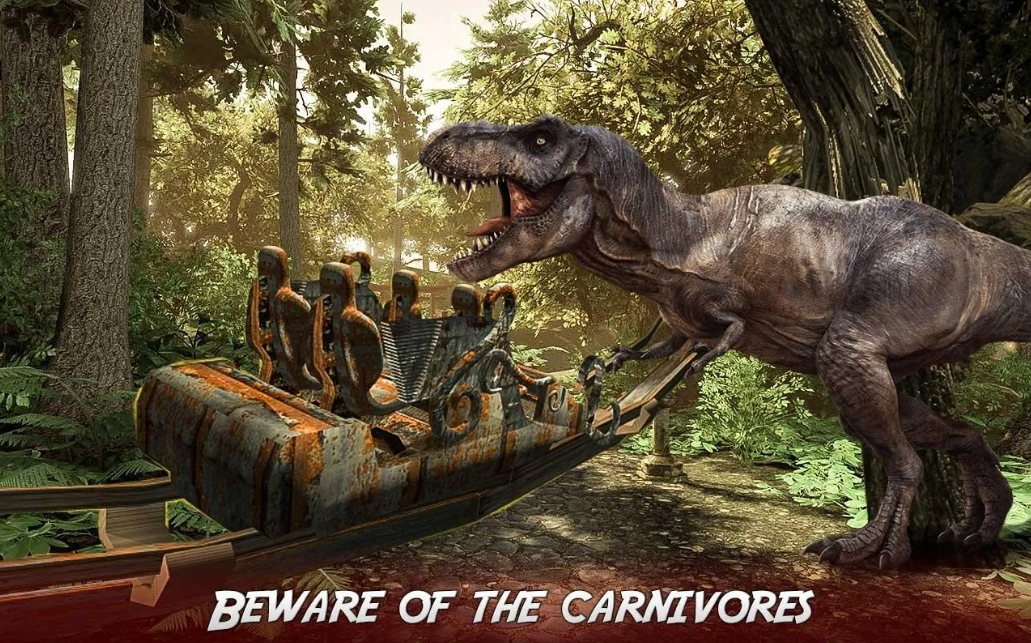 Survival Dino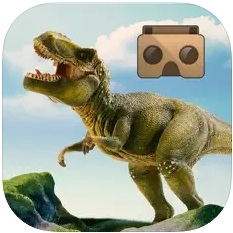 This game lets you observe realistic dinosaurs in VR.
This game is a perfect choice for dinosaur fans, and it is fully kid-friendly. There's no shooting or hunting these magnificent ancient creatures: you just explore the land and admire the beauty of the Jurassic-era inhabitants. As for the variety, the game covers over 10 types of dinos such as T-Rex, Spinosaurus, Pterodactyl, Raptor, and more.
You'll get to explore a massive 3D map with stunning locations of forests, beaches, hills, and all that. Herewith, the dinosaurs will actually react to your presence, so you might need to run away from T-Rex or get chased by Raptors a couple of times.
Just make sure to keep your distance from carnivores to have some time to escape if they'll decide that want you for lunch. Besides, the game comes with a realistic time cycle, so you'll get to explore the jungle in twilight and at night.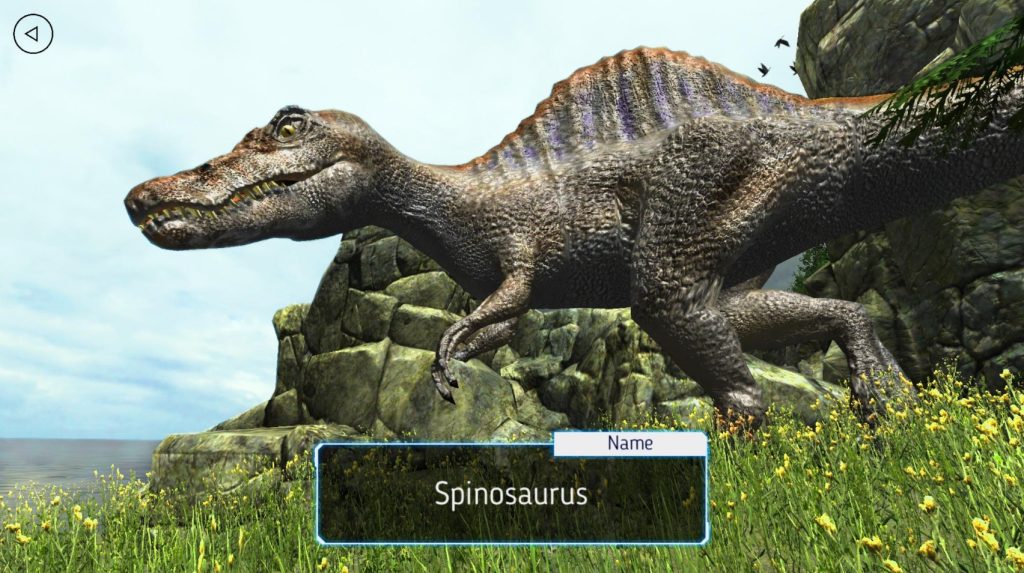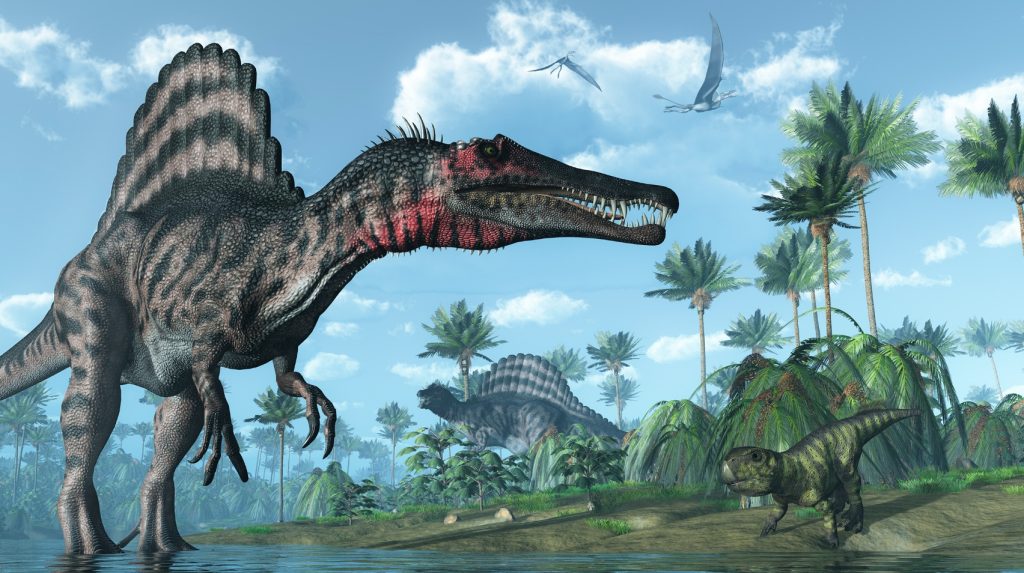 You may also like: 11 Free Animal Simulator Games
VR Jurassic Dino Park World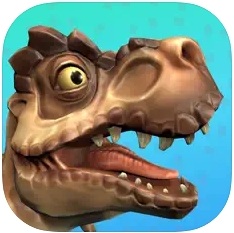 And lastly, there's a VR Jurassic Park game that lets you walk around looking at dinosaurs.
Apart from all the previous games, the graphics in this one is slightly more cartoonish. The dinos look less threatening and way cuter, which makes this game perfect for kids. Herewith, the actual design of the dinos meets all the historical references, so you still get a semi-realistic experience.
The game features a full-on thematic park with plenty of fun locations to explore. It covers a wide range of dinosaurs for you to observe and interact with. Some of the dinos are actually pretty tame and don't mind being petted. You can also learn a lot about the dinosaurs and their history.
More to that, the game covers a bunch of roller coasters you can ride to explore the island faster. There are plenty of carts for you to customize, and the trails go up and down to take your breath away. For now, there are over 18 types of coasters, and more get added quite frequently.