A lot of people nowadays consider 3D visualization to be a very profitable activity that develops a person from different angles. However, this industry is not as simple as it might seem at first glance. This article will feature the best 3D animation apps.
And more animation apps for iPad that include all types of animation you may find here.
3D modeling Design digital art
This app rightfully occupies the first line in the top, because it includes literally everything you need to ensure that your 3D animation is at the highest level. Thanks to the well-developed design and decent implementation of all functions, you can be sure that you have not lost with the choice of this utility.

The most attention is paid to the following options of this utility:
a quick sequence of actions in the work of the program, which consists in moving, rotating, and scaling objects using gestures with fingers, as well as an easy selection of the necessary angles, faces, and other objects with a slight touch of the screen
unique tools for combining objects and faces, varying them from different viewing angles; in addition, there is the ability to create faces using "vertices"
drawing corners using a short swipe or step by step, a very useful option of cutting-loop and selecting a loop, as well as equally important functions of extruding, removing, or selecting a ring and creating a face using the border edge
a universal set of options for all objects: combining, cloning, mirroring, splitting, smoothing, and dividing with filters installed
creative tools such as moving and checking followed by smoothing or adding stiffness and size to an object as desired by the user
wide color functionality, which consists in painting all textures and objects, as well as adding any new colors through a special editor; it is possible to mix different shades and get a truly interesting color scheme
digital devices for working with a display: division into cells to obtain the required size and binding to a certain point; counter of angles and distance between them their length; the ability to add wireframe with or without shadows, and the option to include an axis
applying more than a dozen different materials to your object, as well as the possibility of supplementing them with your own
a number of additional tools, such as an orthographic camera designed to create different projections (especially parallel), a converted and growing choice, grid binding, followed by various actions on objects and auto-saving
the ability to save ready-made work for your device in .obj format
text and video guide for each of the options to facilitate user experience
Thus, you can make sure that this app will be ideal for almost every person who wanted to try themselves in 3D – rendering, and animation. Download this utility and give yourself the opportunity to create 3D visualization at a completely new level.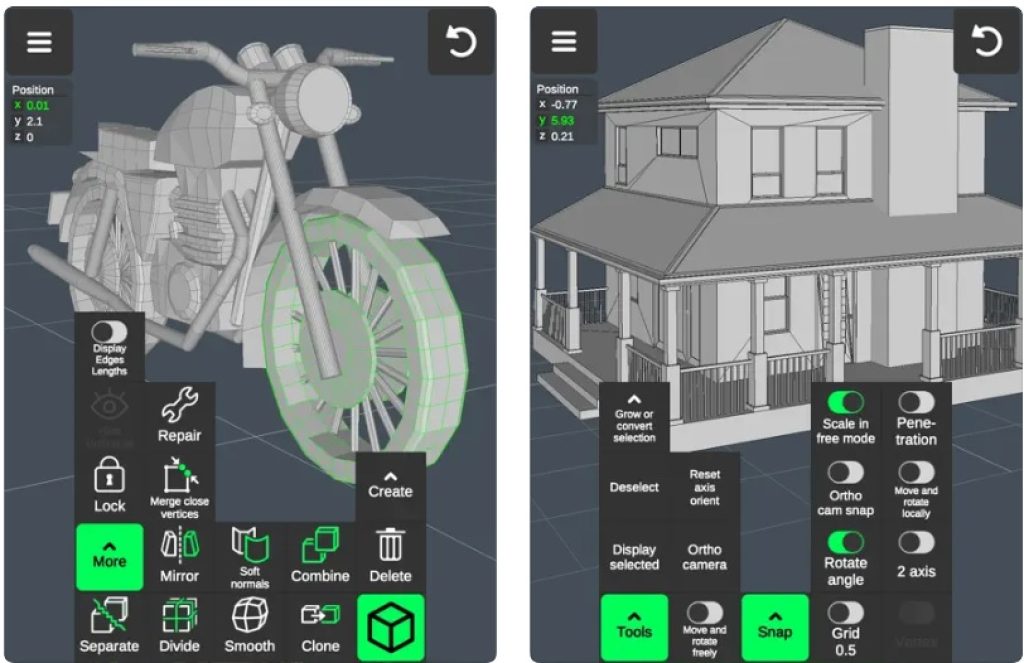 You may also like: 12 Best animation apps for Android & iOS
Anima Toon
Anima Toon is a 3D model editor that can help professional visualizers create decent animation quickly and efficiently. Thanks to the functionality based on animation by key images, you can work on several projects at the same time.

The most important and noteworthy features are:
built-in voxel editor that allows you to develop various models and edit the design of your own created character, and then insert it into the indicated animated scene
visualization tools that give the user the opportunity to look around the finished character from various angles show the animations created for him with his direct participation, as well as use shadows edited for him and an extended light range
the huge variability in creating characters based on preset patterns or patterns with access to a library of various animations, including walking, jumping, running, inactivity, hand movements, and a variety of others; in addition, the program has access to several species of animals
simplified navigation of frames, allowing you to quickly change those that are knocked out of the overall picture, as well as high-class zooming into a single pixel
tuned controller with Euler turns, as well as a smart assistant that allows you to rotate and put characters in the right position so that the animation looks catchy and attracts the attention of even the most critical viewer
the opportunity to share ready-made animations in .GLTF format on platforms such as Unity and 3dsMax in order to promote and promote their design qualities, and, possibly, gain future work in a well-known company
step-by-step instructions for each tool in case of difficulty in understanding its work
the ability to use the app together with the use of a special pencil, which allows you to visualize in more detail and clarity, as well as highlight those details that are most emphasized
Specific mode "Ambient Occlusion," which allows rendering in real time
To sum up all the above, you can make sure that this utility is ideal for creating mainly animated animations, although its application to films also takes place. Try this app – and you can fully experience the world of 3D visualization.


Poseit
You will need this program at one of the most important stages in development, namely, animation and detail of character pose on a certain frame. Thanks to Poseit, this stage will be as facilitated as possible, because the topic of the program is built on this, and the technical functionality is very high.

Here are some Poseit options that will help you easily animate the necessary objects:
a well-developed utility interface that will allow you to easily navigate the wide functionality of the app, as well as allow you complete freedom of action in choosing a pose for a character and linking him to a certain area
a one-of-a-kind rendering of the character's entire body down to the muscles, veins and arteries, which allows the most high-quality and detailed work on the complete formatting of the pose of the object, followed by castling of certain parts of the body
a method of spatial shielding, which makes the 3D animation process clearer and more interesting, because it allows you to change several poses at once, as well as reflect all the necessary areas
a wide selection of different items and customized faces that you can add to your character; in addition, when creating your face and adding it to the program, you receive a kind of gift from the author of the app
lightweight work with the utility using short keystrokes or swipes of characters left-right with smooth finger movements
the opportunity to share your creations on social networks such as Facebook or Twitter, as well as progress, receiving positive or negative feedback about your work done
So, by downloading Poseit, the user gets two things at once, namely, a smart graphic 3D visualizer that makes it much easier to work on any project and an excellent pose modulator with which you will forget about strange or "broken" movements.


AnimeCharPoses
AnimeCharPoses is the best option for a user who is just starting out as a 3D visualizer because it contains everything you need for the basics. It is this utility that makes it possible to correct all its shortcomings in one fell swoop, being an unenlightened user.

The developer of the Akihisa Sakai program focuses on the following characteristics of the program:
a rich color palette which is characterized by an abundance of bright colors and shades, as well as allowing you to convey the character and some of the character's emotions by saturating him with interesting combinations of colors
the ability to change the location of absolutely all objects in the frame, namely: the background, body parts of the character, some of the objects, and even individual parts of the color window
saving all the scenes that the user liked so that you can flaunt your creation at any time or find inspiration at the moment of his complete absence
an abundance of characters worked out at a graphically worthy level, as well as the opportunity to create your unique hero using an already taken sample or completely from scratch
the opportunity to gain fame, and with it further promotion in this area, because the developer of this app regularly reviews the most successful creations, and sends the best of them for evaluation to companies
ease of use and a banal interface that will be understandable even to the most inexperienced client, as well as the unique ability to adjust the interface to suit the wishes of all users
If you draw an intermediate result, you can see that this utility will have to come in handy so that ambitious beginners and those with 3D visualization are the main hobbies, try themselves in the new field with maximum productivity and creativity.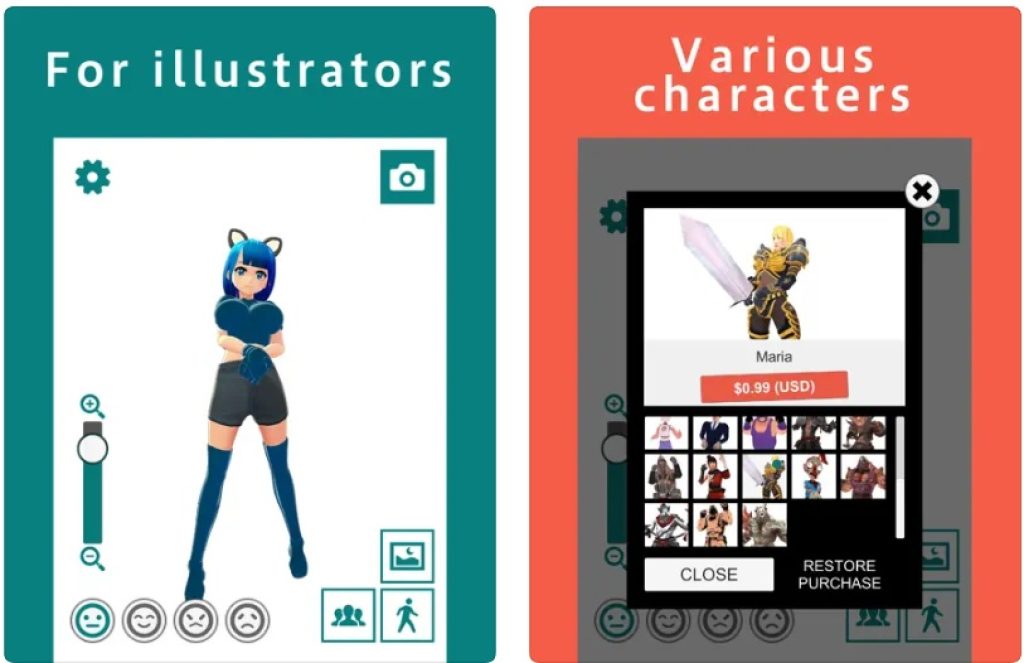 Sketch 3D
If you are a 3D visualizer, animator, or ordinary person whose hobby is working with animation, then you should pay attention to this app. The wide functionality of the program, coupled with a well-developed interface, makes it really necessary.

It is worth paying attention to such functions as:
support for a large number of formats, such as OBJ, 3DS, and STL, as well as the ability to work directly with a 3D printer to make the created project realistic
rational movement of the figure and the ability to view it from different angles of view for a more detailed and clear revision, as well as built-in prompts for scaling a particular object
the presence of absolutely all tools for performing actions with angles: mowing, extrusion, turns in various directions, smoothing, accent, and many others
meshing each object to improve its position, point edit, or overlay another object for more detailed improvement
a unique color palette for saturating animation with bright colors and focusing on a particular animation; in addition, the list of colors is constantly updated
the ability to edit a texture map using certain coordinates; not all apps of this kind can boast of this option, which is an additional trump card for Sketch 3D
detailed and clear work with faces, namely: stitching certain features, drawing emotions with the possible removal of unnecessary muscles or veins for more beautiful animation
the possibility of applying a stitch with certain coordinates to a face, corner, or edge in order to form a face of any size or shape it
Ultimately, we have a really worthy utility that can become your assistant in 3D animation and modeling, as well as contribute to the further development of the user in the field of graphic editing.


You may also like: 10 Free anime drawing apps for Android & iOS
Magic Poser Tool – Art Pose Tool
If you ever needed an app in order to animate some interesting pose or visualize some action so that it looks emotional and catchy, then Magic Poser – Art Pose Tool will be an excellent solution in this matter.
This utility is one of the best programs for creating beautiful scenes in 3D, as well as decorating them with various visuals and special effects. The program contains three types of light (directional, point, and searchlight), and it is also possible to direct more than five rays of light to one area at a time.
Absolutely all models in this app were created by professionals, which greatly simplifies the work. In addition, thanks to the painstaking work of sculptors, you can easily change the positions of various muscles and veins.

The most important option of this app is the presence of a smart physics engine that allows you to control the created model as close to reality as possible, as well as quickly change poses.


d3D Sculptor
d3D Sculptor can be called the most simplified utility for 3D animation, because its functionality, although much wide, is quite simple. The program allows you to perform the entire standard set of actions with animations – extrusion, movement, rotation, or detail.
A function such as the presence of UV transformations is also worth attention to, which allows you to get more elaborate animation in terms of detail and focus on a certain segment of animation.
In addition, the program supports OBJ and STL formats, and also allows you to work with faces, corners, and edges.
A nice bonus of this utility is that it supports some of the Boolean operations, namely combining, centering and subtracting. It is also important to note the fact that the app has the option of thinning the model in order to reduce the number of peculiar "polygons."


TENADA: 3D Text Maker
This app is most necessary in order to give 3D animation to the text that you have put into your scene, which means that it will be difficult for you to do without it. This utility allows you to perform text renderings better than others because there are very few programs working with this aspect.
If you have TENADA, you can work not only with text but also with photos and videos. There are a huge number of different editing tools in this program with a step-by-step tutorial on using each of them, say, to shadow text to make it more realistic.
A nice bonus is a fact that the utility contains visual effects such as adding streams of or shadow, a multi-shaped color palette, and special weather-related effects such as snow, fire, or rain. In addition, the developers have added a number of different stickers so that you can decorate your creation.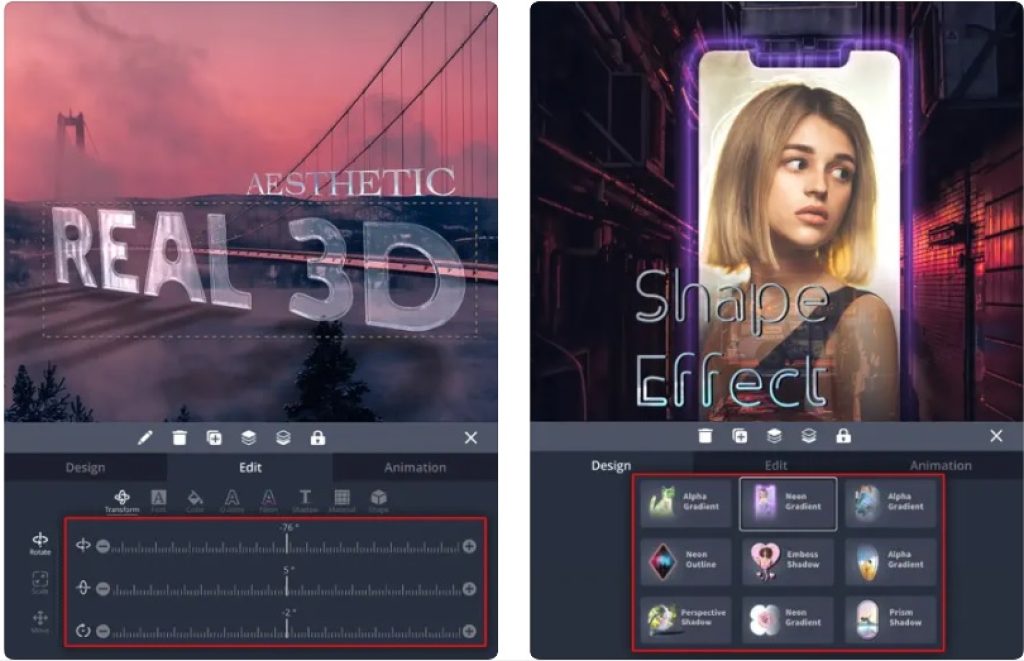 Bot3D Editor – 3D Anime Editor
Can't create 3D animation at a decent level? Never mind! Thanks to this app, you can both significantly improve your skills in this area, create a unique 3D animation, and then promote it on popular social services such as Facebook.
The key tools of this program can be called the free creation of poses and their subsequent animation using a smart editor, the creation of a hero, and his individual design, including a hairstyle, voice, and even living emotions.
A unique option of this app is a special "Hand Editor," which allows you to work out the movements of the fingers, muscles, and even nails of the hand in as much detail as possible.
There are a huge number of emotions in the utility, ranging from expressing complete indifference to an aggressive look. An additional tool is the animation of two actions at the same time (for example, dance and conversation).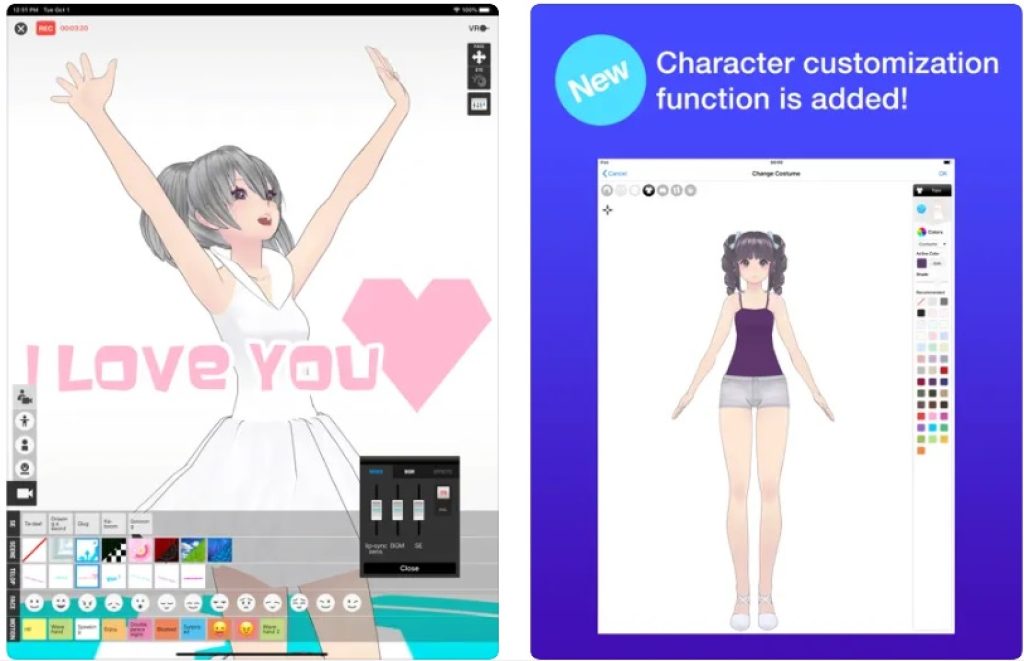 Motion Ninja Video Editor
Motion Ninja is the app that will be needed to create advanced 3D effects, anti-aliasing and speed reduction mode, and short animated clippings. It supports the revision of animation in frames and has great variability in the choice of various tools and stickers.
The most important function of this program is undoubtedly time-lapse animation because it is thanks to it that you can apply various masks, texts, emojis, stickers, and much more. The slow mode also deserves mention, because auxiliary tools such as optical flow allow you to diversify animation.
In addition, the utility contains such popular effects as rotation and smoothing, tearing, and blurring of the image of a moving object. With built-in samples, you can create your own unique character based on existing ones, as well as diversify 3D rendering content.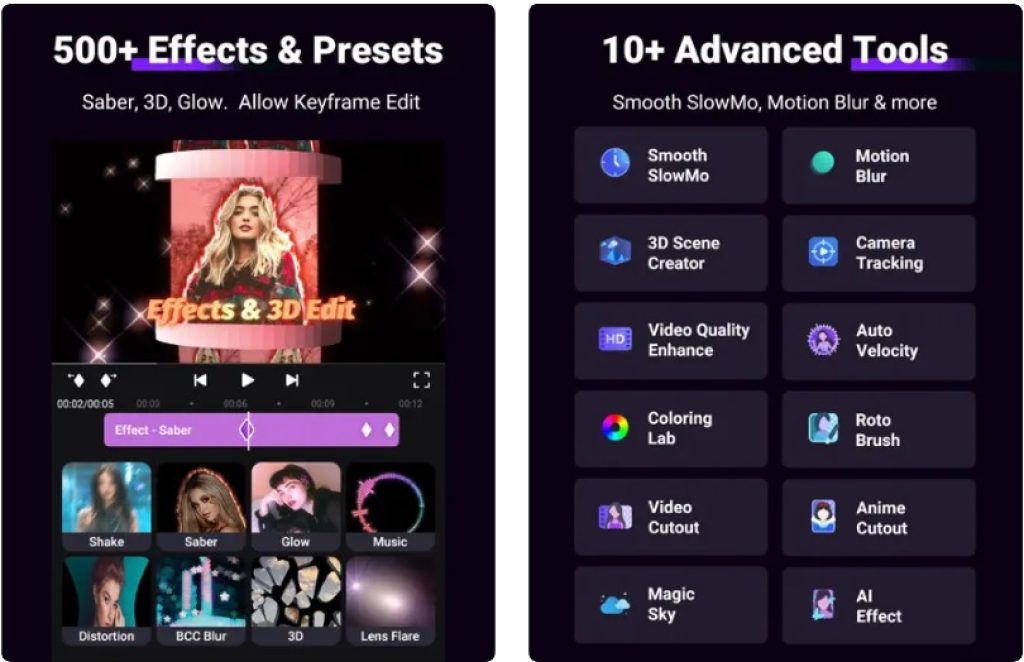 You may also like: Free 15 drawing apps for Android
Shapeyard: 3D Modeling
Try to enjoy 3D modeling with more than eight hundred built-in models! Shapeyard will allow you to take a fresh look at visualization because this program gives the user the opportunity to work with both natural and unrealistic objects and images.
Thanks to the use of developed tools and step-by-step instructions for each of them, 3D modeling will be available to both professional and inexperienced users.
In addition, if you have ready-made work, you can print it on a 3D printer in order to show it to a wide range of people. It is worth noting that the program escalates standard paints and materials without using pixels, which gives animation more realism and attention.
In addition, all models keep revision history, including textures, which allows you to conclude that making changes to one part does not affect others.