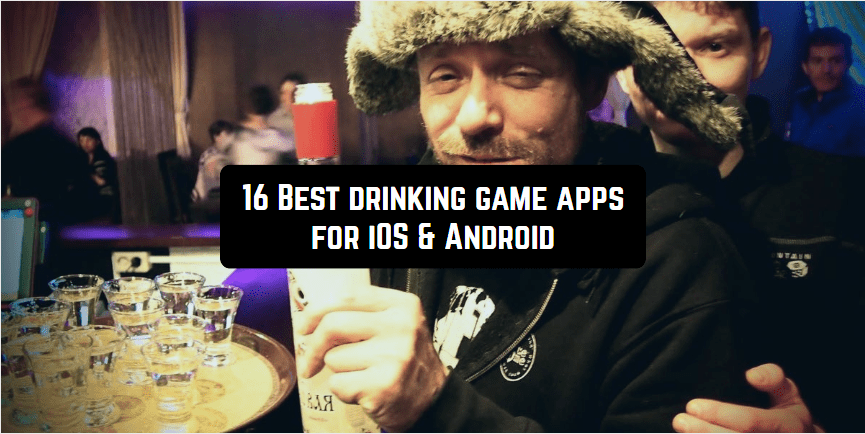 This article is not recommended for people under 21 years old*
Drinking games have existed forever. It is not something invented in the modern times to have more fun while hanging out with friends – there is the whole tradition of such games that goes back to the times of ancient Greece and China, those times when people just started drinking alcohol.
Nowadays there is a big variety of drinking games – starting with the ones that include answering intriguing questions and ending with the ones that make participants do something brave and outrageous. One of the greatest things is that these games can be easily found in app stores, so you don't need to search for something worthwhile online anymore.
No more dull details for us! Let's just jump right into the topic and explore the best drinking game apps that would make every party more spicy and fun!
iPuke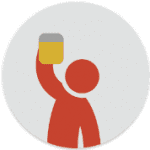 iPuke is one of the coolest drinking game apps ever! In essence, this is just a simple game app with cards, which tell players what to do. However, the craziest and most bizarre requests of this app will certainly break the ice even in the hearts of the shyest ones, of all those introverts amongst you. I know there are such people amongst you! There are always people who resist forgetting themselves once in a while. This app (not only drinking) helps them relax as well!
How does it work? You open the app and see a bunch of decks of cards to choose from. All of them except one are not free, so you need to choose the one which is free (in case you can afford to spend some money and are really interested in it, you can add extra decks). Then you choose a number of players; as far as we got it, this number is not limited, so you can play with more than a hundred people at once! After that, the game starts and each player is offered two options – to drink a certain amount of alcohol or to do something crazy.
Whoever gains the highest score wins! The rules are the same for everyone and need to be respected (only in this case the game gets really hot!) We totally recommend you this app. It is dope. Get it now and enjoy!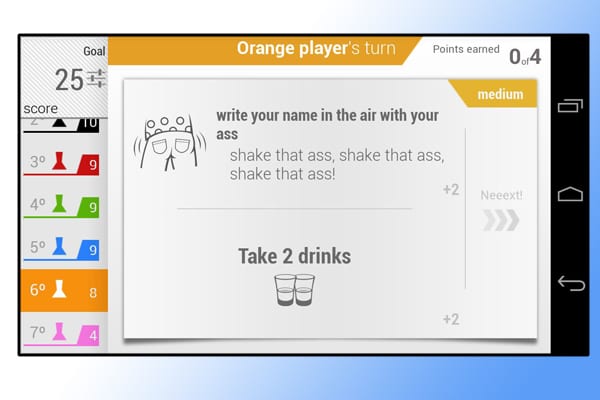 back to menu ↑
Heads Up!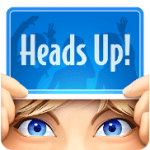 Heads Up! is not actually a drinking game, but it can be, in certain circumstances. One way or another, this is an awesome game to play with friends, which will make every party more interesting and amusing.
The rules are simple: there are several decks of cards with words written on them. A person launches one of the decks and puts a phone on his/her forehead. The other person (or other people) needs to explain the written words. If a word is understood, a phone should be turned over in order to see the next one. This explanation is probably too vague, so it is better to download the app and let Ellen (Yes, the one from TheEllenShow!) explain the concept.
You can make your own rules and have a person who is not so good at guessing drink a shot or two. Or, maybe, you think that the drinking person should be the one who sucks at explaining? Either way, the app is there for you, waiting to be downloaded!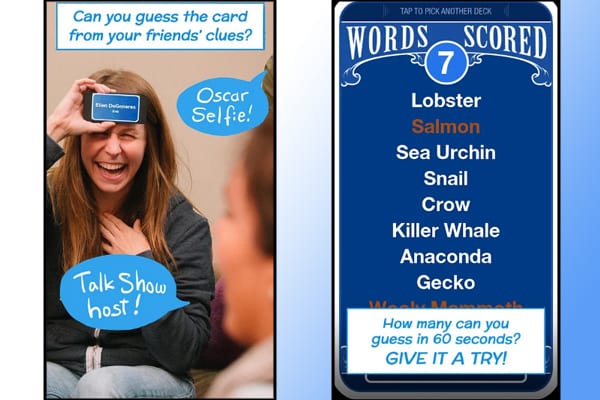 back to menu ↑
Drink and Tell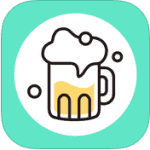 Drink and Tell is a relatively new drinking game app, but it has already gained lots of fans! The rules are simple. There are several categories of questions – 6 of them are free (love, sex, life & death, personality, ethics, user-generated) and 7 of them come as in-app purchases. From our point of you, those 6 categories are absolutely able to make your party spicy & fun, but if you're gonna have more than one or two parties with your friends or some random same people, then you might wanna need fresh questions, which, luckily, this app has a lot of!
After choosing a category, you or some other player got to read a question and its answer options out loud, choose one of the answer options secretly and listen to other people's guesses about this choice. Having heard everyone out, a player taps the screen to reveal the answer and everybody who guessed wrong… yeah, right! – everybody who guessed wrong has got to drink!
By the way, in case you don't get our description, there is an awesome official trailer of the app – just click on drinkandtellapp.com to watch it.
The app is absolutely adorable! It definitely beats all the other apps when it comes to the content of questions. Here they are both straightforward and in-depth. One more advantage is quite obvious – the app is nice to look at and easy to use. Taking everything into account, this one is 100% worth your attention!
back to menu ↑
Seven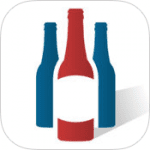 Seven is one more game with cards and crazy dares. There are 3 levels of complexity (only 1 is available free of charge) and lots of cool cards with mad requests. Unlike the first app, this one does not require scores for every player – it is just a bunch of cards connected either with drinking or with doing crazy stuff. There are two additional decks to buy, but even the standard one will be enough to have fun.
What we liked about this app is that there is an opportunity to change languages – there are at least 3 options to choose from, including Russian and Czech. Some cards have pretty simple requests on them, others really challenge a player. This one is definitely not for kids! (If any of these apps can actually be for kids!) So, get Seven now and try it!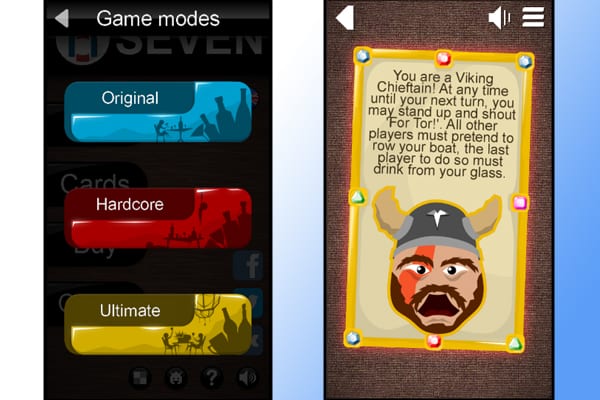 back to menu ↑
Game of Shots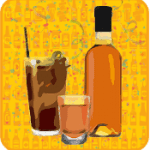 Game of shots is an app for Android, which consists of seventeen cool drinking games, including Truth or Dare, I've Never, The Bottle, Guess or Drink and so on. Each of these games is pretty simple, but they can get real spicy if used appropriately.
The app comes in two languages – English and Spanish. The sounds and the interface design are far from being extraordinary, but everything is clear and understandable (what more can a one need, after all?). So, if you want to have all the possible drinking games in one app on your phone, go for this one! The advantage is evidently that you can try them all and choose what is the best for you.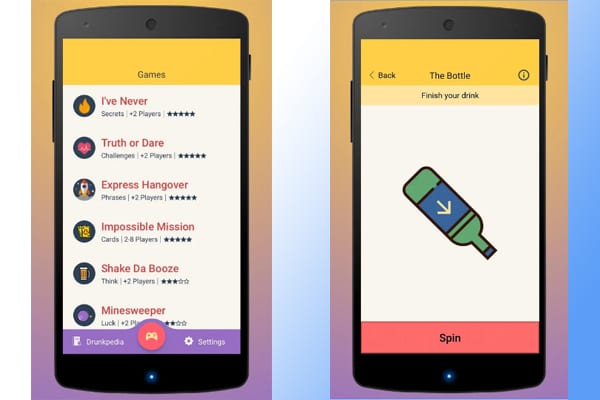 back to menu ↑
Drinking Game by EvilBit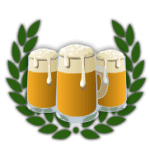 Drinking Game by EvilBit for Android is a little bit more complicated than the ones above. In fact, the game itself is quite easy, but there are so many twists and unusual challenges that we strongly recommend you to play it in the beginning of the party.
When you open the app and start a new game, you should add a number of players and choose their looks. Everyone can do it for themselves, which can be quite funny because you never know what picture is going to show up next. After that, the game starts, you see a deck of cards and each player should guess what card is going to be next – the one that is higher than the given one, the one that is lower or the one that is the same. Depending on whether the guess is true or false, the app gives a challenge for a player or for everyone.
These challenges, as we have mentioned earlier, can be quite tricky. For example, one of them is some kind of a debate between two players – the winner is the one who is the first to tap the screen. Almost each challenge is about taking a number of sips (usually two or three).
The app has all those modern looks, which makes it even more appealing. The idea itself is unique and interesting. We are sure, this one can bring you lots of positive emotions and experiences!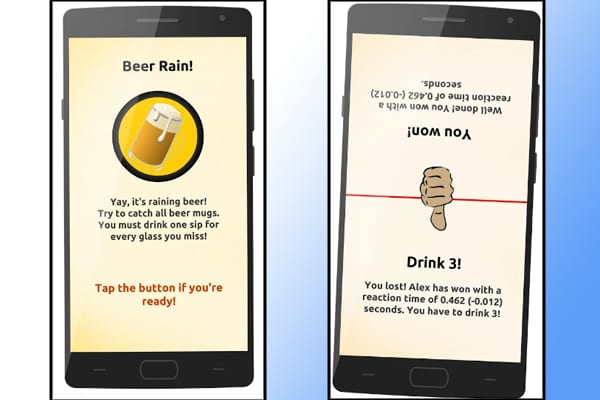 back to menu ↑
Picolo drinking game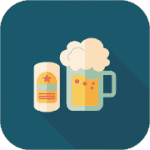 Picolo is a nice little drinking game app for both Android and iOS. The coolest thing about this one is its simplicity. When the game starts you need to enter the names of players (3 or more) and then just read what is written on the blue screen. Believe us, there are lots of hilarious challenges that you will definitely like. If you don't though or just want to make the game more thrilling, you can add your own challenges.
Picolo is an excellent choice for minimalists – no complicated details, no sounds, just the challenges. The only mode that is available for everyone is called 'Getting Started'. The other four modes like 'Getting Crazy' or 'Caliente' need to be paid for. All in all, the game is super dope. Get it now, try it and have a good time with it!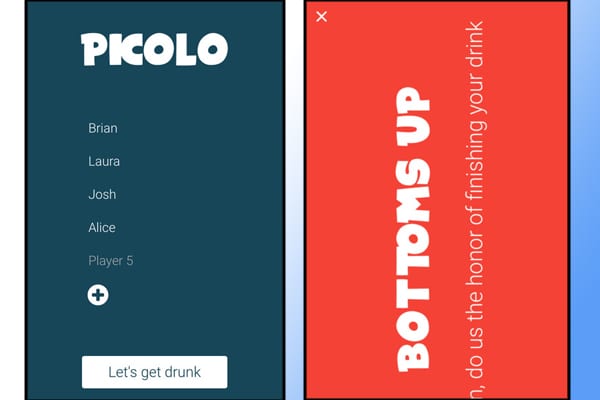 back to menu ↑
Never Have I Ever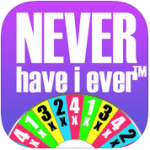 We thought it would be fair to find the app like Drinking Game by EvilBit for the iOS devices. Never Have I Ever is one of such apps. There are 5 different games to choose from, so you can decide which one suits your taste best. Of course, five is not seventeen, but, to be honest, we think that seventeen is a little bit too much.
The design of this app, as you can see, is quite festive and bright, which will certainly affect everyone's mood in the right way! So, if you happen to own an Apple's product, check out this drinking games app. We hope, it will able to make you happy!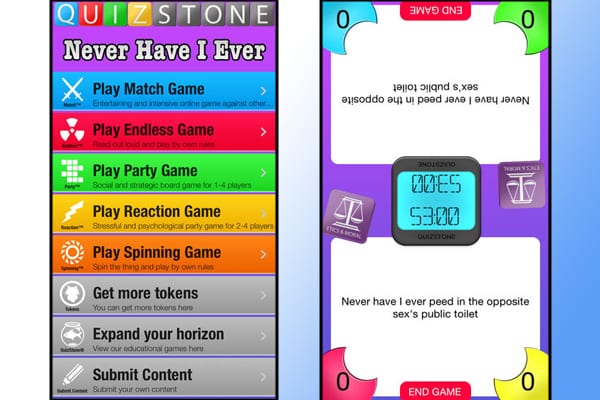 back to menu ↑
Kings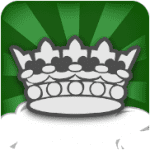 Kings is one more drinking game app for Android with a deck of cards. Every card is assigned to a small game or a challenge. One of the players should tap a deck and do whatever is written in the instructions. As the time passes, everyone starts to remember the meanings of cards, so the game becomes more energetic and fun.
Actually, we think that a deck of cards is not so essential in this type of games, because, well, we use our phones and can do quite alright without additional signs. What I mean is that it would be more rational to write challenges right on the screen without making them associated with cards. On the other hand, there is something old-fashioned and great about it and, who know, maybe it is more convenient for some people.
Anyways, the game is full of interesting requests. If you want to add your own ones, you can simply do it by changing the meanings of some cards. So one more game with changeable rules! Download it now and enjoy!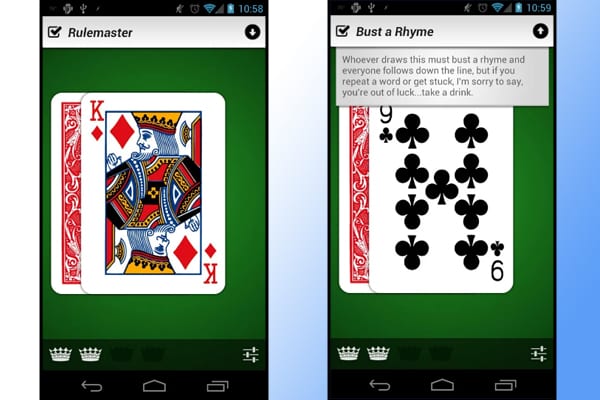 back to menu ↑
Drink-O-Tron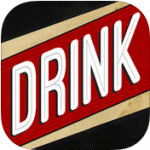 Drink-O-Tron is one more drinking game with cards. This one, unlike the previous one, shows challenges or meanings of cards right away, which we find more convenient. Moreover, the cards are stylish and beautiful, which adds up to the overall pleasure of the playing experience.
There are several decks of cards to choose from, but only two of them are available free of charge (at least on Android). The content of the available decks is far from complex, which is probably the drawback of this app. There are of course a couple of small games written on the cards, but mostly the cards just tell you to drink a certain amount of alcohol. For example, one says 'the girls drink', the other 'the boys drink' and so on. Sometimes people are looking for something this simple, so who knows… But if you are not one of such people, you may consider buying additional decks or downloading another drinking game app.
To sum up, the advantages of Drink-O-Tron are stylish cards (they are like little pieces of art) and clear challenges that are written right on them. The disadvantage is that the challenges are not as exciting as they could be. But this is a matter of taste, so try this one as well and have fun while using it!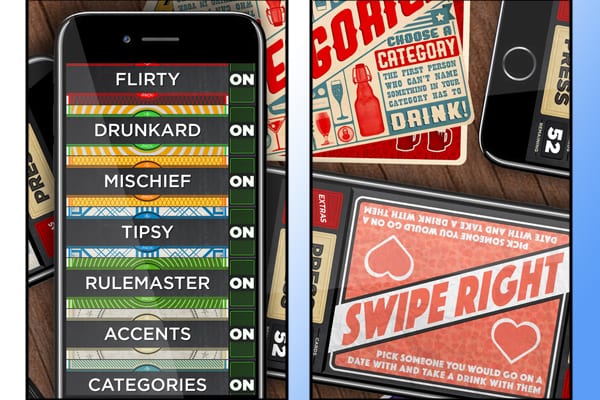 back to menu ↑
Drink or Doom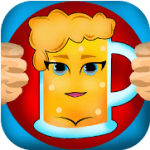 Drink or Doom is a hilarious drinking game app. In this one you don't have to deal with cards – the app offers you an alternative gameplay, in which players roll the dice and move their characters to the next challenge. The challenges are from the category 'drink or dare', for example, 'let a player number 1 change your social network's status / drink 2' or 'let a player number 2 send a couple of messages using your phone / drink 3'.
The game is accompanied by jolly music and sounds, the graphics are high-quality and, what is more, there is a big variety of funny characters, so everyone can choose a unique one. One more cool feature of this app is that it counts how many shots have been taken by each player. Drink or Doom is definitely worth a try, so go ahead – download it now and get wasted!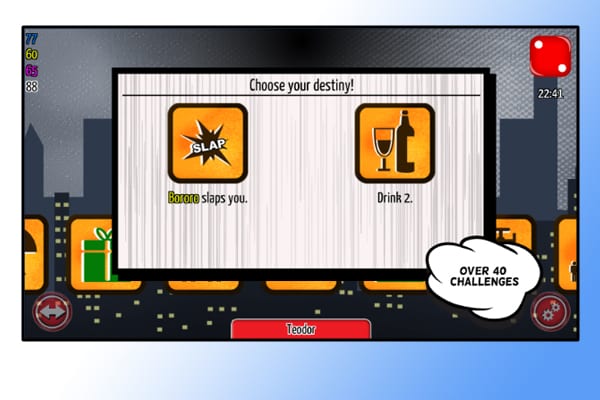 GET IT ON APP STORE (requires charge) 
back to menu ↑
Circle of Death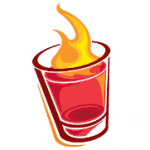 Circle of Death is one more drinking game app with cards. This one is pretty simple – you just tap on the deck and the app shows you what to do. The requests are the standard ones – some of them are simple like 'the girls drink', others are in the form of games: 'rhymes', 'questions', and so on – all the usual stuff.
The advantage of this one is simplicity. There are two languages to choose from – English and Spanish. By the way, if you don't speak Spanish and really want to, visit our article about the best apps to learn Spanish. Yes, this is an advertisement and a drinking game is not the best excuse to start learning languages (but who knows?!).
The rules can be changed, but there are not a lot of them, which is probably the advantage since it can be quite boring to learn the rules of new games all the time. The only drawback of Circle of Death is the constant ads on the bottom of the screen – we have found them quite irritating. Apart from that, the game is dope. If you are looking for something clear and simple, this is one of the best choices!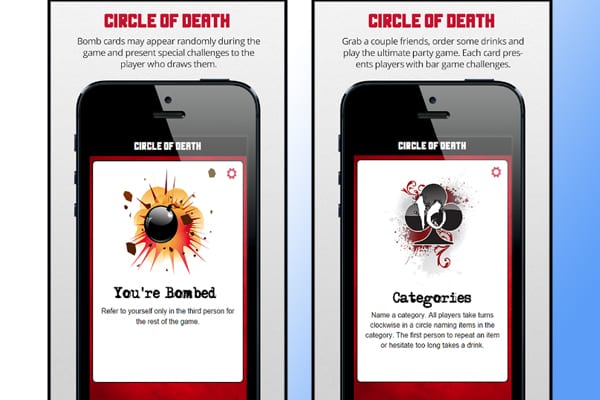 back to menu ↑
King of Booze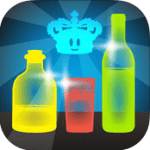 King of Booze is a board drinking game, just like Drink or Doom. You make your move and then choose either a challenge or drinking. This one is only for Apple's devices. One more limitation is that it is not free. However, let's check out the advantages of King of Booze which may make you spend a couple of dollars.
The first advantage is quite obvious – a riveting gameplay. Playing this game is so exciting because it offers you over 120 different challenges, so no repetition, only unique and unforgettable experience. If 120 challenges are not enough for you, you can add your own ones. The app can be used simultaneously by up to 14 players. Every player should choose an avatar. The number of avatars is 28, so there is one for everyone. Get King of Booze now & be groovy!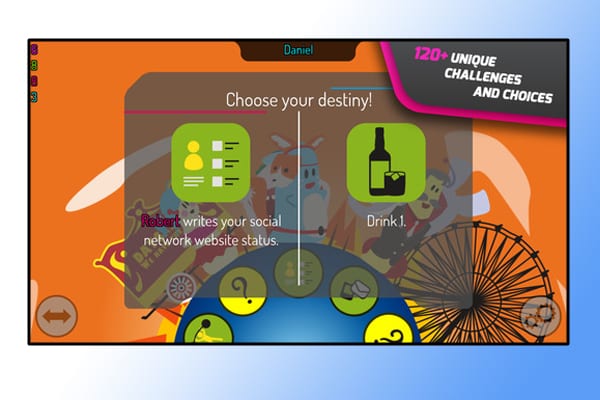 GET IT ON APP STORE  (requires charge) 
back to menu ↑
The King's Cup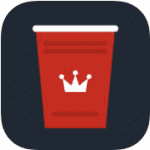 The King's Cup is one more app with cards and challenges. The rules are the usual: players, one after another, choose a card and do whatever is written on it. The challenges are not very specific. The only peculiarity of this app is that a player chooses a card from a circle of cards, which creates a nice impression.
Once again we deal with the app that has customizable rules, so if you don't like any default rules, you can change them by entering your own ones (every card is assigned to a certain rule or challenge). There are two other customizable features and they are a card color and a card selection (tap or drag). So, as we can see, this app has got the full package of what is needed in such basic drinking game apps. The only disadvantage is the ads that take the bottom of the screen. So, one more great option!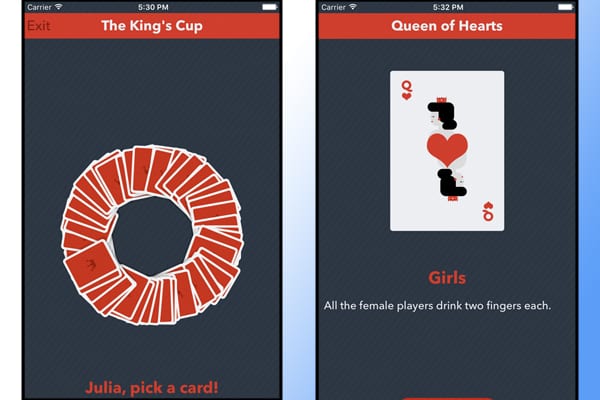 back to menu ↑
Bomba Drink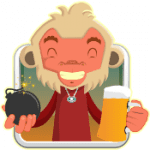 Bomba Drink is a completely new concept for drinking games. The idea is that your phone turns into a bomb which is going to explode if someone fails to answer a question. The questions are quite tricky and if a person doesn't know the answer or takes too much time to think it through, he or she should drink.
The amount of alcohol is defined by a mini game, like 'choose the right card among three faced up ones'. It might sound too difficult, but in reality, the app is fun and enjoyable. There are lots of different in-app purchases, but a one can easily do without them. So we put a big thumbs up to this app for the fresh and original concept. Download Bomba Drink now and check out who of your friends is able to think on two feet even when the mind is a little bit vague!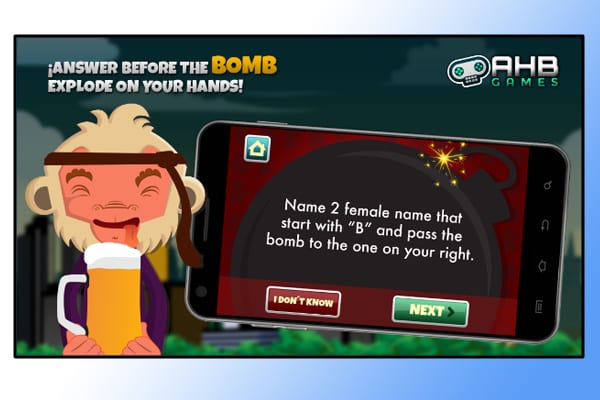 back to menu ↑
Drinking Wheel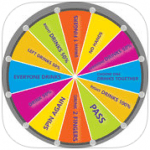 Drinking Wheel is one more app with an unusual concept. This particular app can be found only on Apple's app store, but, of course, there are lots of similar ones on Google Play. The concept is not so new really, everyone has probably heard of the old good bottle game. Well, it is just like that only better – there are more options and spicy challenges.
All the players are gathering into a circle and spin the wheel. Some challenges are about drinking, others are about doing crazy things. This app comes in colors, by which we mean it has customizable themes. All in all, if you are not into drinking game apps with cards, you can try this one!
That is it for the best drinking games. We hope you have enjoyed the article. If you have, you may think of checking out the other articles on our site. Stay groovy and be smart in choosing apps!