Applications presented in virtual stores offer great opportunities for all areas of activity. This also applies to create unique and colorful posters. There is a huge collection of diverse applications for this.
This list contains the best applications for creating posters. With their help, you can easily make a unique and eye-catching image. These apps are suitable for creating posters, booklets, large photographs, and advertising banners.
Use these poster apps to create your own unique masterpiece.
You may also like: 7 Free Apps To Add A Name On A Cake (Android & iOS)
Flyers, Poster Maker, Graphic Design, Banner Maker
The Flyers, Poster Maker, Graphic Design, Banner Maker app will give you a unique opportunity to create your own poster.
Use ready-made templates or create your own layout. A variety of types of tools are available for you for this process. They will make your work easier and more interesting.
To start using this application you need to log in to it. To do this, you can use the email address or account on any social network. In the second case, you can easily share your results with friends.
The process of creating posters in this application is very simple and convenient. To practice, you can use one of many ready-made templates. This library contains the most popular layouts created by developers and other users.
These templates are divided into categories and various topics. This will ease the search for the desired template, as well as tell you where to start.
If you want to find a layout of a certain subject, then you can use a special search. To do this, enter a keyword and select the template you like to create a poster.
Add text and various stickers to your posters. Text design options can be changed. For example, color, size or font. Stickers can also be selected from various categories.
Editing mode is also available here. The application Flyers, Poster Maker, Graphic Design, Banner Maker can do this automatically. You can also configure all the parameters manually.
Feel like a specialist in creating posters. For this, you do not need special professional skills. It is enough to understand the intuitive functionality and interface of the application Flyers, Poster Maker, Graphic Design, Banner Maker.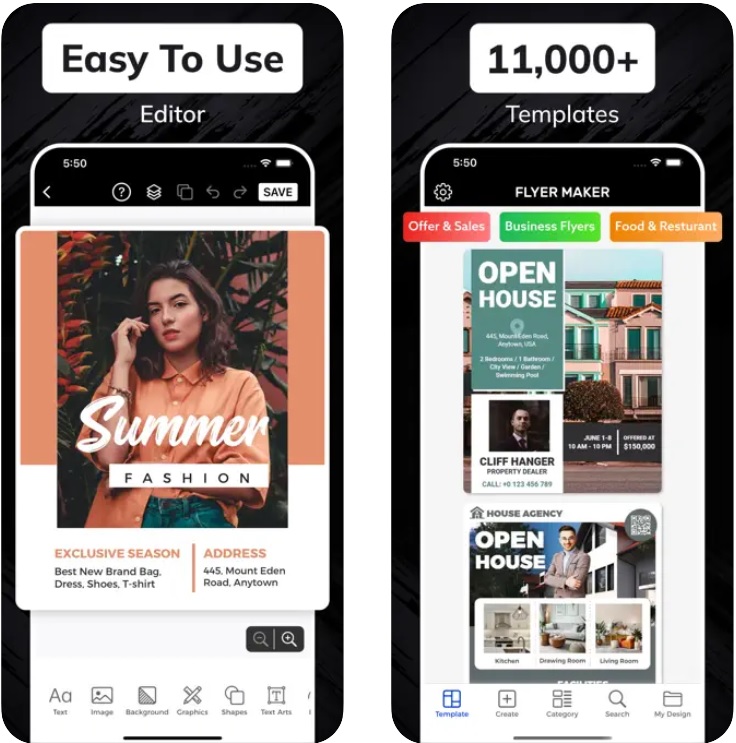 You may also like: 7 Best apps to create brochures on Android & iOS
Desygner
Creating a poster is a rather complicated and time-consuming process. But with the Desygner application, this problem is solved in just a few minutes. With a certain skill, you can create your own masterpieces here.
This application meets you with only two items on the main menu. In addition to creating a new poster, you can also view a gallery of existing ones.
But while it's empty, feel free to choose the option of creating a new poster. The first step in creating your personal masterpiece is choosing a template.
The application Desygner offers several dozen of the most diverse templates. You can add your favorites to your favorites. If the templates seem small, then you can download extra sets of templates.
Having decided on the template, you find yourself in the editor itself. It has many diverse functions. First of all, you can choose your own background for the template from the device gallery.
It can be both a photograph and an image. Within your project, it can be scaled or moved. You can also select a background color if you do not need an image. Change the coloring of individual elements of the future poster.
You can also add text to the poster. Some templates already contain blanks with certain fonts, their style, and color. But all this is subject to change.
You can even add new text fields. For the text itself, you can choose the font and color, as well as change the size. The text blocks themselves also move perfectly within the poster.
Having finished creating the poster, you can apply one of the available filters to it. This will give the final result even more personality.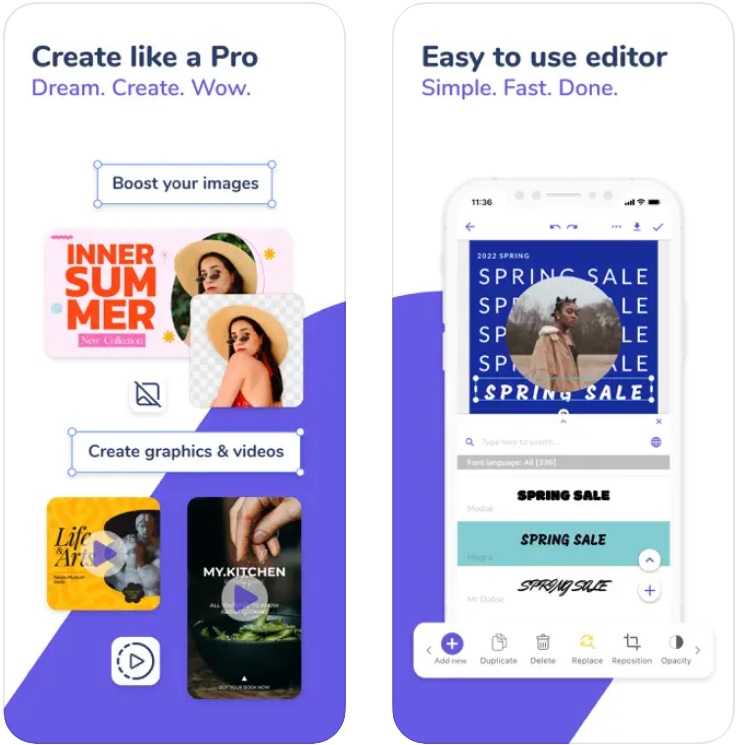 Fab Poster Maker Flyer Designs
Want to create a unique poster? Then you will like the Fab Poster Maker Flyer Designs graphic design app. With it, everyone can make a beautiful picture for printing on flyers, covers, and posters.
There are 34 styles available in the application. Each is adapted for different types of posters. Here you will find universal templates for announcements, bookmarks and much more.
One of the coolest features is the ability to resize the created layout. The image will remain the same, and its format adapts to the desired template. So you can quickly make several posters in the same style.
In the application Fab Poster Maker Flyer Designs, you can use both your photos and pictures from a huge library. Getting started with the application will help instructions on creating posts.
It's very easy to understand. You select the desired image style or template. Download the picture from the smartphone to it and complement it with the scenery. For example, stickers, text, illustrations, frames.
The application has a large set of filters, as well as transparency settings for each element. Arrange the details to your taste. Crop pictures in the right places and you're done. Now you can download the result to your phone.
The application Fab Poster Maker Flyer Designs has a huge number of advantages. Simple controls, a large selection of photos and ready-made templates.
Extensive customization options make the application a universal tool for creating posters. A couple of clicks – and from a regular picture you get a cool layout for any purpose.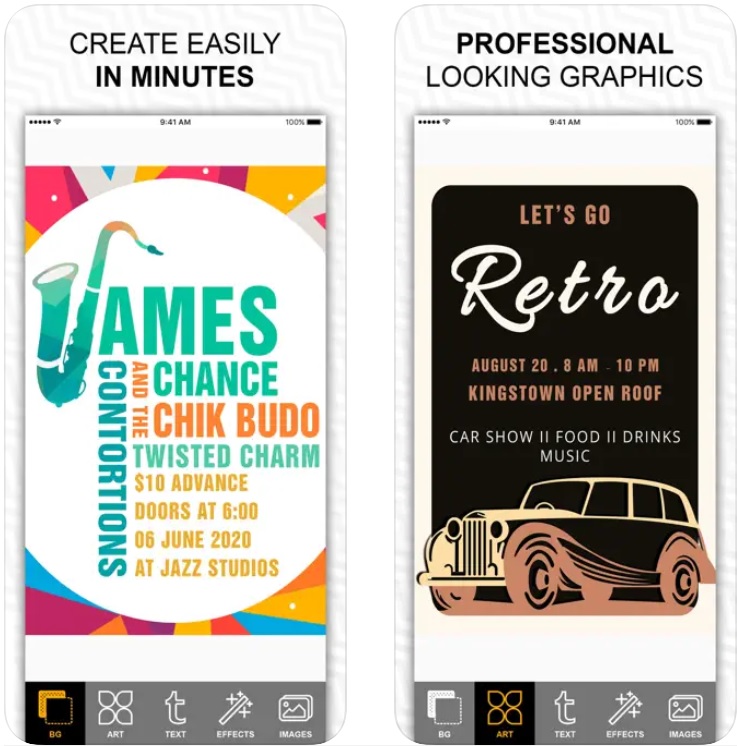 Poster Maker, Flyer Designer, Ads Page Designer
Creating beautiful and unique posters takes a little time and effort if you use the Poster Maker, Flyer Designer, Ads Page Designer app. This program was created for those who want to emphasize their individuality.
The application Poster Maker, Flyer Designer, Ads Page Designer works as a constructor. New pictures can be created by collecting them from ready-made elements. Among them you will find:
geometric figures
lines
photo frames
"three-dimensional" and contour drawings
icons of various styles and themes
interactive graphs and charts that can be built on input data
basic catalog of photography
The collection of objects and photographs includes several million elements. All they are free.
In addition to graphic effects, you can add text to pictures. Over 100 stylish fonts are available here.
When you add designs to your photos, you can also edit photos. Among the available functions are standard parameters for brightness, transparency, and contrast.
You will also get the opportunity to make the photo translucent. Apply a photo effect or make the photo blurry. Besides, the service has a separate photo editor, available without registration.
Another feature is the thousands of graphic templates, divided into various formats. They can be taken as a basis so as not to create images from scratch.
What images can be created here? Firstly, these are simple one-page formats. E-cards on any topic, event invitations, collages, posters, and flyers. Secondly – multi-page layouts. Presentations with various types of slides, booklets, magazine covers, and magazine pages.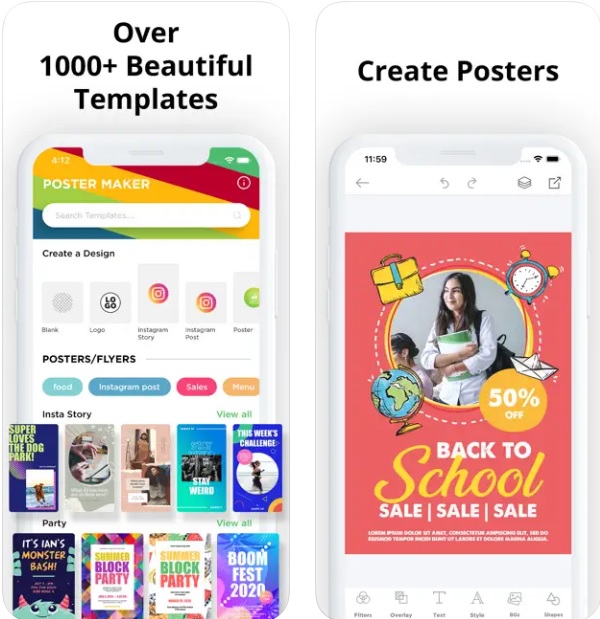 VanillaPen – Poster maker
VanillaPen – Poster maker is a popular designer for graphic design. Its functionality allows you to create banners, business cards, and other visual content. Use ready-made templates.
To work in this application registration is required. You can do this using email or accounts on any social network.
When you first start the application, you will see a concise and intuitive interface. There are no extra drop-down menus, annoying inscriptions, and other visual garbage.
There are only three sections. "Create a design", "Your designs" and the search system.
All templates are divided into 18 different categories. For example, a photo collage, a poster, a postcard, and many others. Sources in categories are united by a single size.
There is also the ability to search for patterns. The search engine located at the top of the main screen uses keywords to find layouts.
How to use the application VanillaPen – Poster maker? To get started, select the source you like and by clicking on it, go to the editing section. To activate the editing panel, tap the screen anywhere in the image.
Replace the existing text with the one you need. When working with inscriptions, you can change the color, size, spacing, and height of the line. Some fonts allow you to add the effect of italics and bold. There are a lot of interesting and stylish fonts.
The application VanillaPen – Poster maker gives you complete freedom of action. Each individual fragment of the layout can be moved, resized and rotated.
In any template, you can use your own background. To add it, click on the plus sign. A small menu opens where you can choose to add an image.
To create an individual design, you can add extra elements. For example, text and drawings.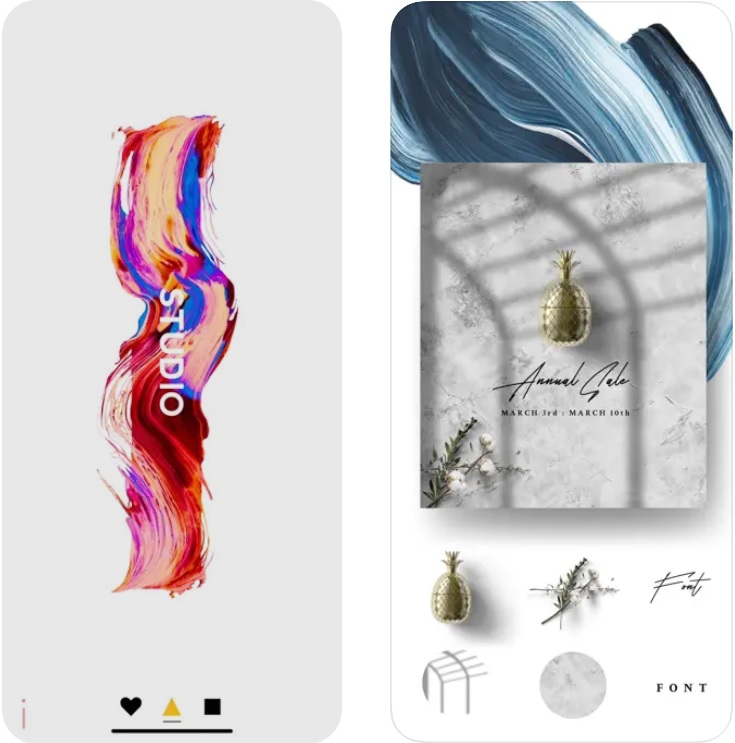 You may also like: 7 Free Apps to Add a Name on a Cake (Android & iOS)
Poster Maker With Name and Image
Poster maker is a good-quality designing app. It doesn't require its users to possess any designing skills and the steps are rather intuitive.
The first step is to choose a background by clicking "Background" on the bottom right corner. If you wish to upload your photo instead of picking one from the given ones, press the "Photo" button. Then, you will see all the editing options on the bottom of the screen.
Press "Add Text" and you will be able to pick the font, size, and color of your text; you can place the text wherever you want and rotate it as well.
If you push the "Sticker" button various stickers will pop up to put on your poster. What's more, you can edit those stickers and put any text you want on them as well. "Effect" lets you adjust the brightness of your poster.
The interface is appealing and real simple.
The app is updated often enough so all the bugs are fixed and users' suggestions are taken into consideration.
This is a great app if you want to make a good poster for your family and friends but if you need something more professional then this might not be the best option. It is also free for everyone to use!

Poster Collage Maker with Photo
Poster Collage Maker with Photo is a free app designed to create banners, posters, and other thematic graphics.
With the help of this project, you can easily create:
cover for e-book
flyer
banner ad
poster / poster design
postcard
business card
presentation
resume and many other things
The built-in library has a large set of editable blanks. Besides, you can create graphic design, determining the size and choosing the background. The application Poster Collage Maker with Photo is convenient and easy to learn.
The main functions of the built-in editor allow you to:
add text, logos, backgrounds, bulleted lists to blanks
use such image processing tools as text alignment, the size, and position of elements
apply transparency and artistic effects
upload images from the gallery of your mobile device
cancel the performed actions, if necessary, using the history of operations
Thanks to this application you can express your uniqueness. Create an original poster that no one can repeat.
The application Poster Collage Maker with Photo has the basic functions of a graphics editor. All projects are automatically saved in the library of your phone.
The finished picture can be saved, printed or shared through social networks. To do this, you need to log in to the application using your account information on any social network.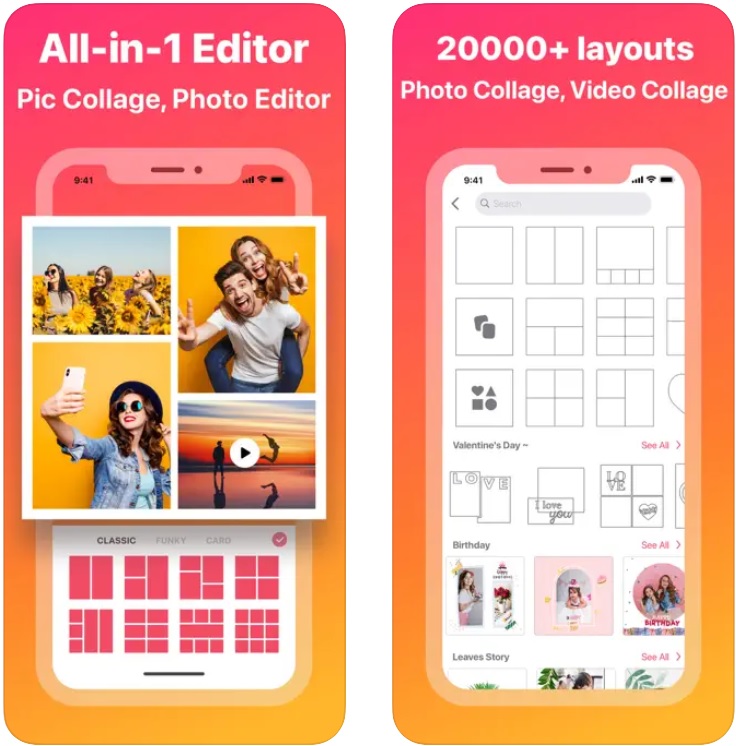 Poster Maker, Flyer, Banner Maker, Graphic Design
This app is an editing app of good value.
The first step is to select a template. There are over 50,000 of them so you will be able to find the one you need. They are also distributed by themes, which will make your search easier.
There is a little searching engine in the app as well. Type in the theme you need and get appropriate posters in a few seconds. The templates are of different sizes and you can choose a flyer, poster, card, or banner.
To edit your text press the "Text" button on the bottom left corner, and a new window will pop up. It has the option to change the font, color, and size of the text.
What's unique is that you can also adjust the opacity of your text or put a little shadow on it. When you press "Sticker" numerous stickers, like "sale", "best price", "special offer" will appear.
When you are done you can choose whether to save your poster on your phone, SD card, or share it on social media.
Even though the developers say that the app is completely free in the description, it turns out that there are in-app purchases.
If you don't have any skills in graphic design this app will suit you well because of all the templates provided and the easy interface. It is regularly updated; new features are added and bugs are fixed.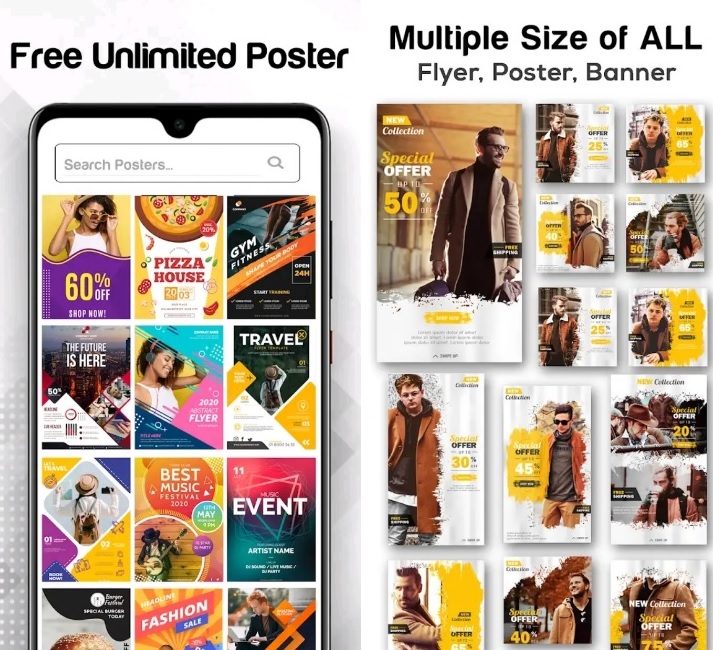 Poster Maker & Poster Designer 2
Creating a poster will seem like a very easy process thanks to the Poster Maker & Poster Designer 2 app. Here you will find a huge number of useful features.
Create posters from ready-made templates. You can also use all the functions to create your own poster. All parameters can be adjusted so that your image becomes absolutely unique.
You can edit the background of the poster as you want. Change its color, transparency, or delete it completely. As a background, you can also upload your image or choose from a library available in the application.
Add text. You can change the font, color, size, location, adjust the distance between the letters. The application Poster Maker & Poster Designer 2 contains about 500 different fonts.
Also in the application, you can add animated objects. This is a pretty interesting format to liven up and draw attention to posts. In the "Create Design" section, select the appropriate template.
The editor opens again and the selection of designs on the left. Click on your favorite design to apply it to the canvas.
In the finished design, the animated picture itself is not edited. But, you can change the text and its location. Add extra objects – shapes, frames, lines and much more.
You can see the picture in motion by clicking the "Enable" button under it. To return to editing again, click this button again.
You can also create your own picture with an animated background. To do this, clear the canvas by selecting and deleting objects from it.
Choose your favorite animated background in the "Animation" section. Then you can impose objects on it, for example, a figure, and in its text.
Use the free Poster Maker & Poster Designer 2 app and discover even more useful features.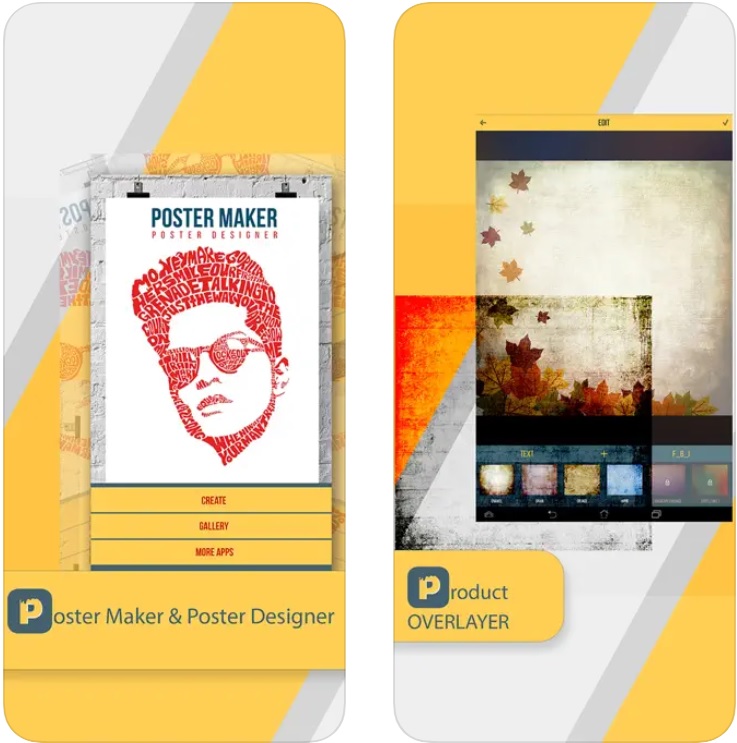 Canva: Graphic Design, Video, Collage & Logo Maker
Using the Canva: Graphic Design, Video, Collage & Logo Maker app, you can create eye-catching posters. Express your personality by creating a unique image.
You can create posters to fit your size. On the design creation page, enter the width and height of your image in pixels and click the "Forward" button.
Then the editor will open in front of you and in the center of the canvas is your size. You can fill the banner with color by going to the "Backgrounds" – "Colors" section.
Or you can add a picture as a background – from the photo library, or upload your picture.
To add text to the banner, use the "Texts" section. Here you can apply ready-made text designs, or simply add your own text.
Also in the application is available the function "photo-text." This is a text that is filled with a photograph. Click on the button "Add photo text", it will appear on the canvas. Then you can adjust its size, change position, apply effects and other settings.
To enter your text, click "Change Text" at the top. Now you need to drag the photo onto this text to apply it as a fill. Photos can be dragged by selecting the appropriate one or upload your own.
You can also add various objects from the section of the same name to your design. For example, frames, shapes, lines, icons, masks. Masks are containers for your photos.
That is, you select the mask you like and drag the photo into it. As a result, this mask is filled with a photograph.
The application Canva: Graphic Design, Video, Collage & Logo Maker has many other useful features. Try it yourself!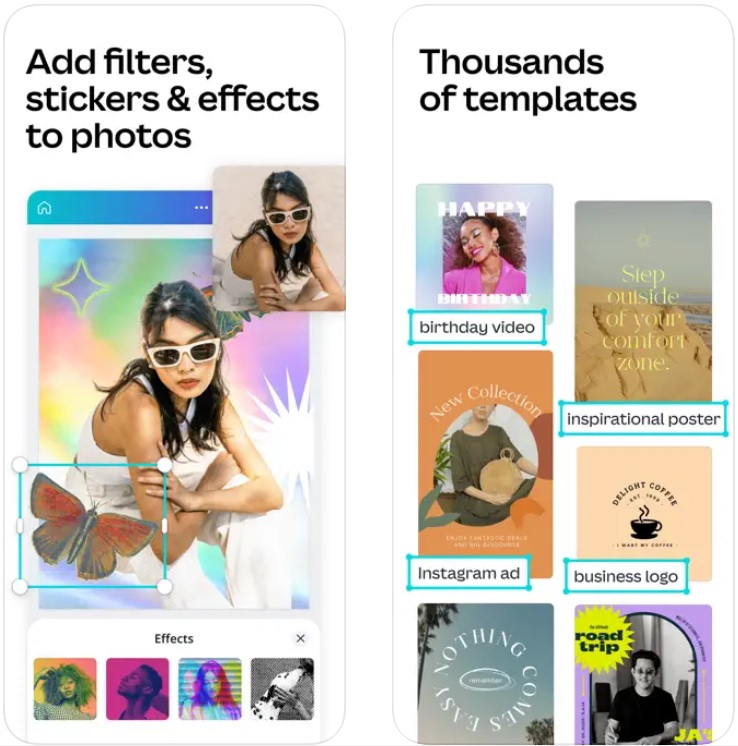 You may also like: 15 Best Font Style Apps for Android & iOS
Poster Maker, Flyer Maker
Poster Maker is a good-quality app that doesn't require users to be tech-savvy to create appealing flyers.
When you first open the app it will ask for permission to use your photo gallery and storage, which you will have to give if you want to use the app.
Firstly, choose the template you wish to work with or upload a picture of your own from the gallery. Then you can customize your template by changing colors, adding pictures, texts of different fonts and sizes, and editing your logo. Add shapes and stickers to enhance your flyer.
You can also see exemplary posters and get some inspiration from those.
After you are done you have the option to either export your poster to PDF or share it on social media.
For so many features this app is rather lightweight, weighing only 10Ms.
The app is often updated, so there are no bugs at all. It is easy to reach the developers with any concerns, just email to developers and you will get a reply within a couple of days.
Overall it's a great app to use that doesn't require you to have any special skills to create posters and it's also free which is always a plus.