We bet you have worried about your kids' or family members' location at least once. Our family safety is our general concern! This is why D'scover app was created. It helps people stay connected and informed about each other location, stay calm, and help your relatives or friends in emergencies.
And if you want to find not only the locations of the people but also their social media you should check out this article.
When you first open D'scover, you can see a standard user authorization screen. Users without an account are encouraged to register using Facebook, Google+, or manually fill out the registration form. You can verify your account via email. You cannot use D'scover without an account.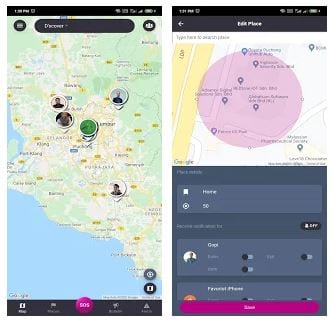 After registration, D'scover suggests you create a new group or join an already existing group of people. You have to be a group member so that using the app makes sense. After that, you will see an application's home screen, which is a map with all your group members' locations marked. Do not worry: all geolocation and participation in groups are carried out with the group member's permission.
The main D'scover control panel you can see at the bottom of the screen. A big pink D button in its center calls the SOS button (to request group members' help in case of emergency) and Chat with the group button.
There are also four icons on the bottom: Locate (your main screen), Places, Happenings, and Alerts. Places icon is very interesting: you will receive notifications when your group members visit sites from this list.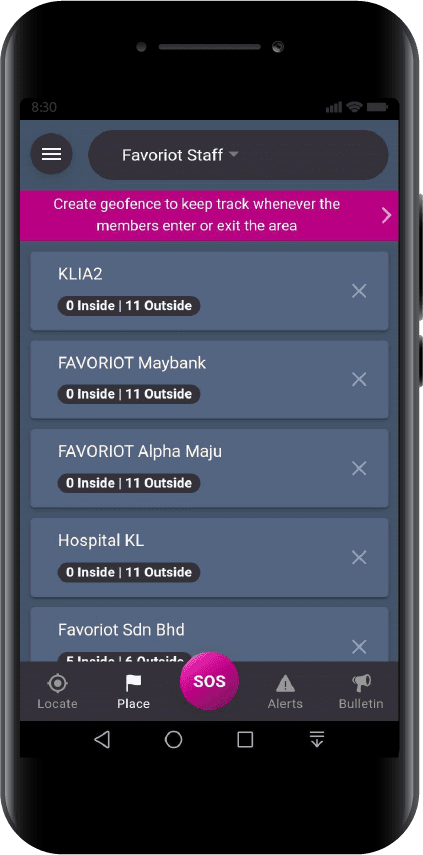 Using the Happenings icon, you can share your plans with your group members and create an Announcement for them, for example, an invite to an event. You can also share your plans with members of your group.
Tapping Alerts tab, you can see a list of all SOS requests from group members or check if anyone has visited the Places you created.
Locate icon lets you track the location in real-time and the movements of a person throughout the day. In Locate, you can switch between the types of the map: Satellite, Hybrid, Street, or Terrain. Just tap the small map icon in the lower-right corner.
Or maybe you feel like somebody is being too overprotective and crossing your personal borders? Guard yourself using the fake conversation apps to give them a false pace.
At the top of the screen, you can see your group's name, a button for viewing group members (top right), and a button for the main menu (top left). Using bright pink buttons in the main menu, you can create a group, join a group or invite a new member. You can also find tutorials and FAQ there, edit your account data, enable or disable your geolocation transmission to group members.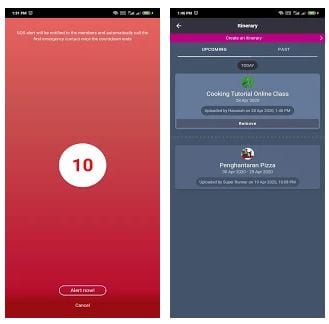 D'scover has one more great function: if you add emergency contacts in the main menu, if you press the SOS button, the app will call them automatically. Do not forget to tell your kids about this! The design of the application is minimalistic and intuitive. The application is easy and convenient to use.
You can also use this app to gather all your friends together in your house for the party. By the way, you should check out naked scanner apps that will make any party hilarious!
To sum up, D'scover impresses with its simplicity and a large number of convenient functions. We recommend D'scover to anyone who has loved ones. D'scover is ideal for a sense of contact and safety, and it helps in a real emergency.