If you are a true connoisseur of good music sound and quality beat, this application is CREATED SPECIALLY FOR YOU.
Bass Booster Pro is an app that will allow you to adjust the equalizer so that your favorite music sounds the way you want it. Bass Booster Pro has many presets with the ability to adjust them, a 6-band equalizer (in some devices, a 5-band), and much more.
You may also like: 15 Free Music Streaming Apps for Android & iOS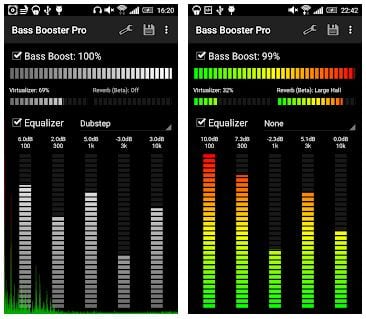 The application is paid, but there are NO ADS. App's main function (bass boost) is located at the top of the screen and has a separate slider above which we see the percentage of gain. Below there is the equalizer, which has 21 prepared profiles, literally for every occasion.
The settings will automatically change if genres are attached to the compositions. You will not have to pull your smartphone out of the pocket to change "rock" to "classic" for the next song.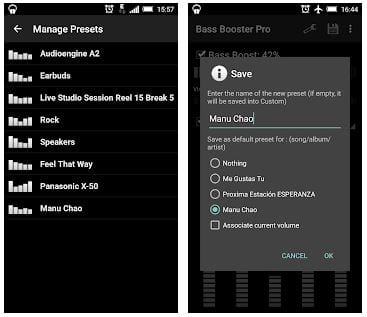 Besides, you have the opportunity to create and save your own preset if the existing ones do not satisfy you. Just change the frequency values and tap the icon top right. Then select Save Preset. Here you can also link it to a specific song, artist, or album for automatic tuning.
You can also activate the automatic powering of the app when you turn on the smartphone. For this, tap the wrench icon and get to additional settings. This function gives Bass Booster Pro the ability to work in the background (the app has its own widget).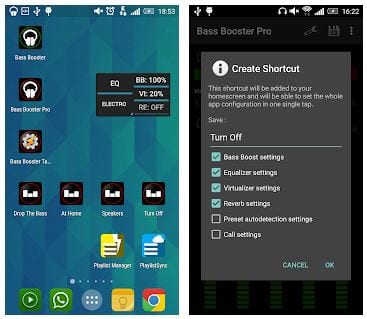 Besides, you can change the appearance of the application using one of 6 themes. Bass Booster Pro's interface is simple enough and no-frills. In short, its design is a black background, a couple of sliders, and a simple font.
You may also like: 15 Best Movie Maker Apps for Android & iOS
All in all, with Bass Booster Pro, you can not only boost the bass, but you can also quickly improve the sound quality using a convenient equalizer, even with the ability to change the profile based on the genre or artist automatically. This application we can definitely recommend to all lovers of high-quality sound!