I recently downloaded the EasyNSimpleClock app for my Mac, and it's one of those tools that makes life a bit easier and more convenient. If you're someone like me who values simplicity and ease of use, this app is a great find.
You may also like: 10 Best Atomic Clock Apps for Android
EasyNSimpleClock is, as the name suggests, a straightforward clock application designed with a clear and minimalistic interface. It doesn't overwhelm you with features or clutter your screen with unnecessary information. Instead, it focuses on one primary purpose – displaying the current time and date in a large, crisp, easily readable format.
The most noticeable feature is the app's clock display. The numbers are substantial, making it incredibly easy to read the time from a distance. This is particularly handy when you're working or studying on your Mac and want to quickly glance at the time.
The app also offers a useful feature – the ability to define colours for both Light and Dark modes. This might seem like a small detail, but it adds a personalized touch to your Mac's display.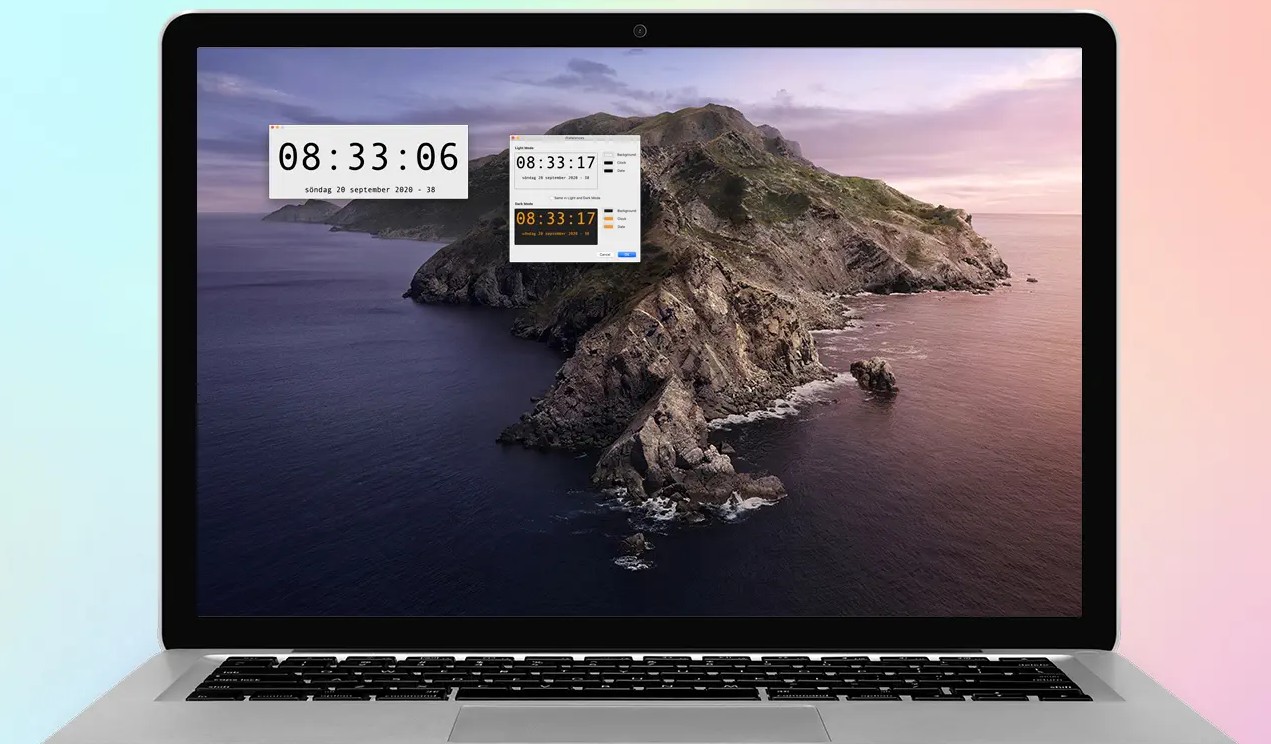 EasyNSimpleClock's compatibility with macOS 10.15 and later ensures that it's accessible to a wide range of Mac users. The app's small size of just over 400 KB means it won't take up much space on your system, and it won't slow down your computer. Plus, it's free.
EasyNSimpleClock is a straightforward and user-friendly clock app designed for the Mac operating system. This application offers a simple yet effective solution for users seeking a reliable and easily accessible clock on their desktop.
You may also like: 11 Best Adult Party Card Games for Android & iOS
The app's primary focus is on providing a clean and minimalistic digital clock display. It offers the time in a large, easily readable format, making it perfect for users who want to keep track of time with just a glance. This can be particularly useful for those who work on their Mac computers and need a clear time reference throughout the day.
One of the standout features of EasyNSimpleClock is its customization options. Users can select from different clock formats, including 12-hour and 24-hour formats, and choose between light and dark themes to match their desktop preferences. The app's settings are user-friendly and intuitive, allowing users to configure their ideal clock display quickly.
The simplicity and ease of use make EasyNSimpleClock a valuable addition to your Mac's desktop, ensuring that you always have a reliable and customizable clock available without any unnecessary frills or distractions. Whether you need to keep track of time for work or personal tasks, this app offers a convenient and minimalist solution.
You may also like: 15 Free Physics Based Games for Android & iOS
In conclusion, EasyNSimpleClock is a great addition to any Mac user's toolset. It's a small but highly useful application that adds a touch of simplicity and elegance to your desktop. Whether you need to keep track of time during your work or just want an unobtrusive way to display the time and date on your Mac, this app delivers in an uncomplicated and elegant manner. It's a perfect tool for those who value simplicity and efficiency in their daily work or study routines.