Today there is a great number of puzzle games, but sometimes it can be so difficult to find the most entertaining one. But we have done this work, that is why we would like to bring your attention to Cube Card game. This is an involving strategic game that will not leave you indifferent. So, let's check it out.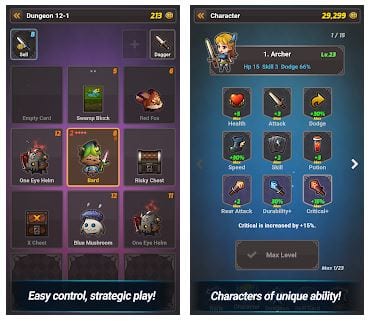 Cube Card app is a simple puzzle game where you have to move your character to the most appropriate location at the card field. While playing, you will have to defeat dangerous creations, collect coins, and receive various types of equipment. Moreover, when you fight with these monsters, you will lose lives, but you can enhance a character's health with a help of potions.
Moving on, the game is full of various amazing options. In the beginning, it shows you 15 characters to choose from. Each of them has unique abilities. What is more, as you play, you can unlock character's abilities, new dungeons, or other skills cards.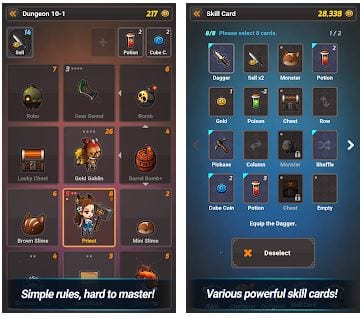 In addition to it, Cube Card app does not freeze and it works quite well. We did not face any lags while using the app. Besides, the game boasts an easy operating system – it offers one-handed control. The manufacturer regularly updates the app version to satisfy users' needs and wishes.
The game supports English, Korean, and Japanese. It comes with a paid version, but the price is not expensive. Plus, it does not demand a constant Internet connection, so you can play it anytime and anywhere you want.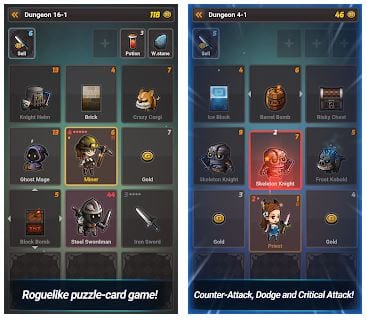 We have to admit that we were impressed by its 2D cartoon graphics with splendid animations. The app also has a user-friendly interface, so you will quickly find out how everything works there.
Summarizing all the points mentioned above, Cube Card app is truly worth downloading. The game is highly addictive -we have played it for days and still can not stop. So, hurry up to try this variant – attractive characters, deep dungeons, and powerful weapons await you!