We're so used to gadgets that we don't part with them at work or at home anymore. Now it's no surprise to anyone that you wear glasses or contact lenses.
But apart from the traditional ways of vision correction, there are various apps to help you take control of your "unlimited" digital life and make time for your eyes.
There are so many such apps now, so we have observed the best eye exercise apps for you.
Keep your eyes' health under control with these free eye test apps.
Eyes recovery workout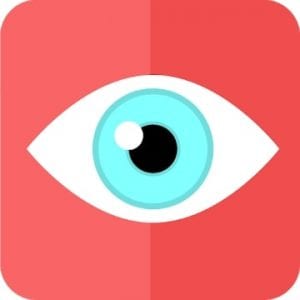 This application is really capable of improving the quality of your vision. This is showed by more than 20 thousand responses from satisfied users.
The reason for the popularity of this application are:
Ease of use. You just need to repeat 6 basic exercises once or several times a day.
All the exercises are extremely easy to learn, you will not need any extra equipment. Beeps will help you understand when you need to move to the next movement with your eyes.
It's time. More often than not, people do not have enough time to visit a specialist and start treating their eyes. You will not need much free time to use this program.
All the exercises will take you about 5 minutes. You can do them on the way home or on your lunch break at work.
The program is installed on your smartphone. So you will be able to do exercises for your eyes from anywhere. It is very convenient.
Users tell this application, many have noticed serious changes for the better. For some people, this simple app has become very important and helped to cope with the problem, forget about glasses forever.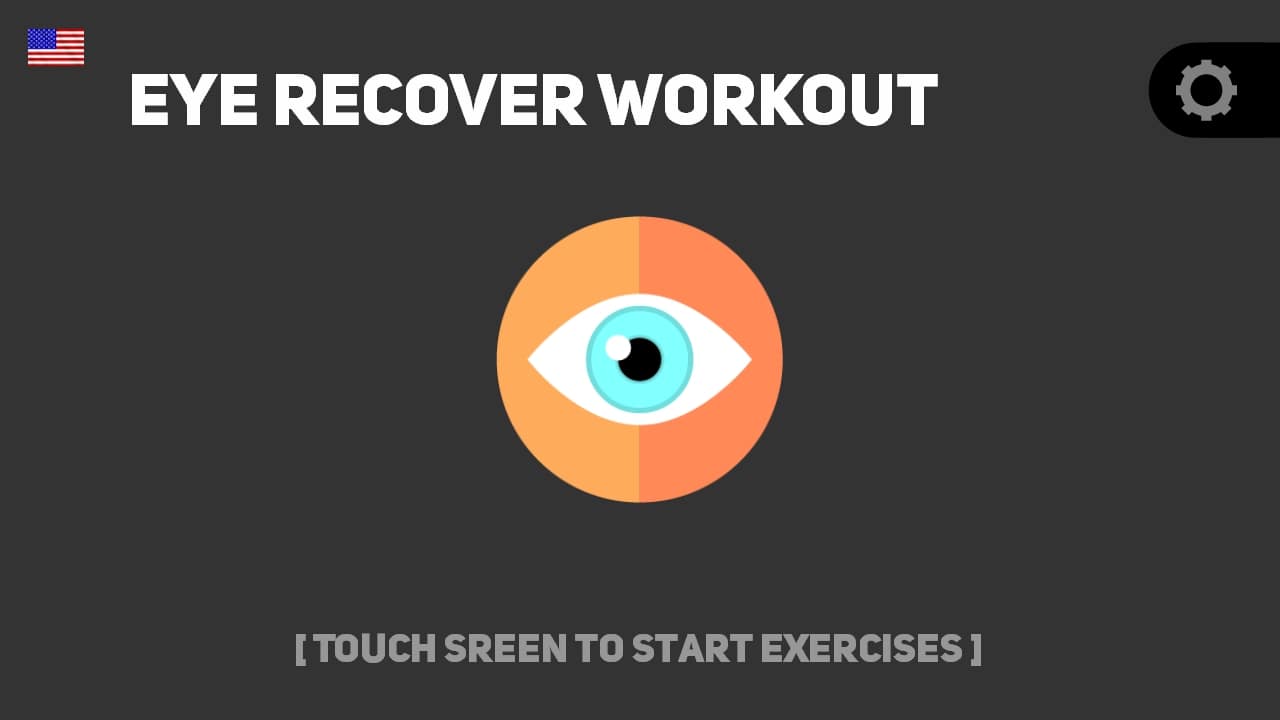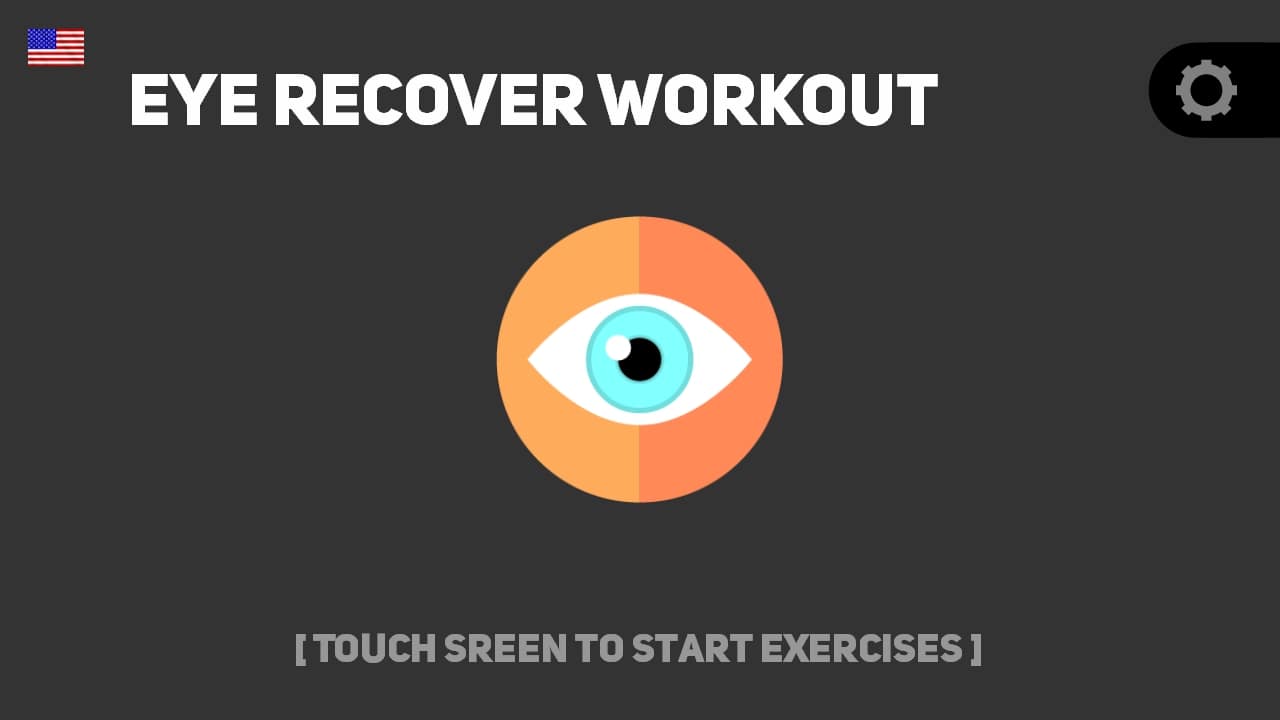 The user is greeted with a simple and user-friendly interface, it is easy and pleasant to use this application. If your eye muscles regularly get heavy loads, you should definitely start using the app to improve your eyesight.

You may also like: 7 Best Face Yoga Exercises Apps For Android & iOS
Eye Workout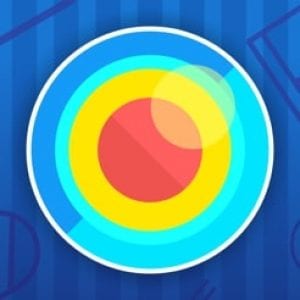 This app encourages everyone to give their eyes 5 minutes a day and see much better. Our eye muscles work hard every day and get very tired.
To train all the other muscles we go to the gym, and to train the eye muscles do not even need to get up from the sofa.
The application has received many interesting features:
One of the biggest exercise bases. There are more than 50 of them in the program, each of them is effective and helps to improve vision.
The exercises are divided into 10 categories. For example, for normal eye relaxation, to get rid of the feeling of dryness and others. Splitting into categories allows you to individually select the right exercise for each and more effectively do the exercises.
To personalize your workout, the developers have also added the option of choosing from 7 different training plans.
Tests to track progress. It's important to notice progress. It won't stop you from working out, but you'll see all the progress you've made. When you see the progress, you will be motivated to continue training, and maybe you will do it more often.
A training calendar is also built into the app to keep you motivated.
Questions to test your knowledge about common eye diseases. Surveys will help you learn about the symptoms of diseases as well as first aid for the eyes in case of illness or injury.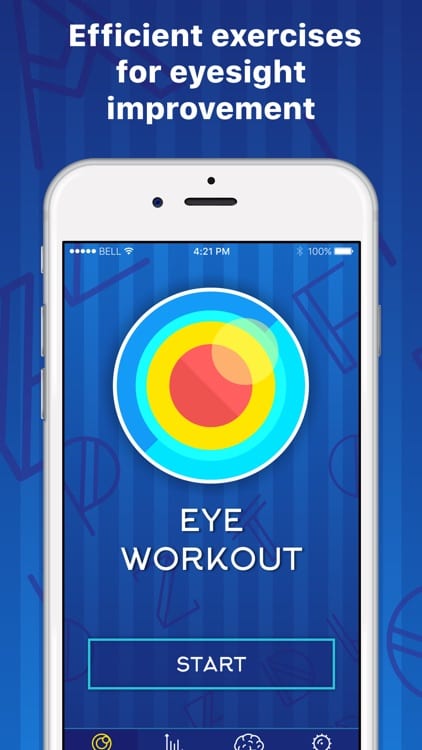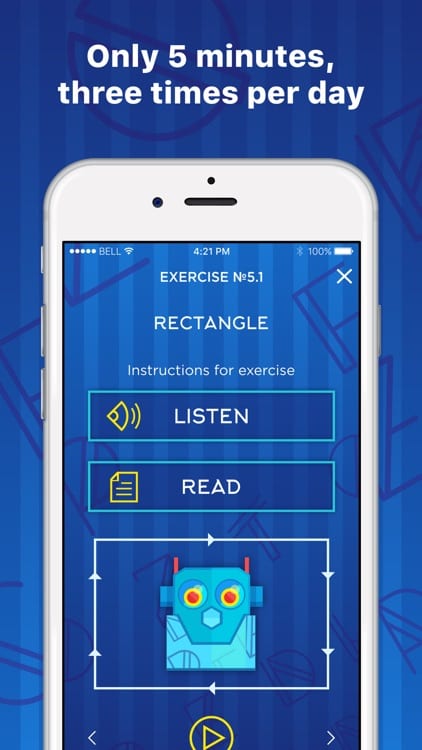 Users are advised to download the application and start taking care of their eyes. After all, besides the obvious functions includes a section on healthy eating, ophthalmologist questions, useful facts, and recommendations.

Eye exercises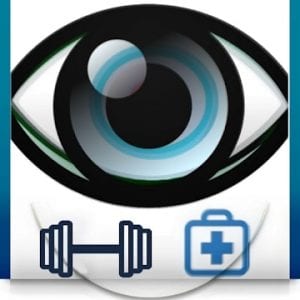 This is a very interesting application for those who do not want to put up with glasses.
The developers of the application promise that you will be able to fully restore the vision lost from your computer or phone.
Today it is very hard to resist the temptation to flip through a social network feed or watch an interesting movie.
It is a pity that the eye muscles suffer from this pleasure. This application will definitely help you restore lost visual acuity.
The target audience of this program are people whose vision suffers from stress.
The causes of the load can be:
Work-related to a long time on the computer.
Long reading books in the dark.
Using a smartphone for a long time.
Stress on the eye muscles can cause serious vision problems. Eye charging is ideal to correct this situation.
Typically, people forget about it and continue to spend hours on the phone or computer, thereby damaging their vision.
It is for such people that this application was created. Not only does it have a set of exercises for the eye muscles, but it will also remind you when to do the charging. After all, it is very important to give your eyes to rest regularly.
Besides, this volition has several other interesting features:
You can choose the duration of your class. It can be a short training of the eye muscles before work or study – only 5 minutes. Or a long session in the evening or in your spare time – up to 20 minutes.
Built-in statistics. It will help to track the duration and regularity of your sessions. Use this function to clearly see all the progress you have made during your lessons.
Prevention of both short- and farsightedness. The application has an impressive list of exercises, so it will select individual and convenient for your exercises.
Hundreds of thousands of downloads and thousands of positive reviews show the usefulness of the app. Users really like the ability to customize the exercises to suit their needs.
This feature distinguishes the program from its competitors. A nice, relaxing interface that is nice to see after a long and busy day.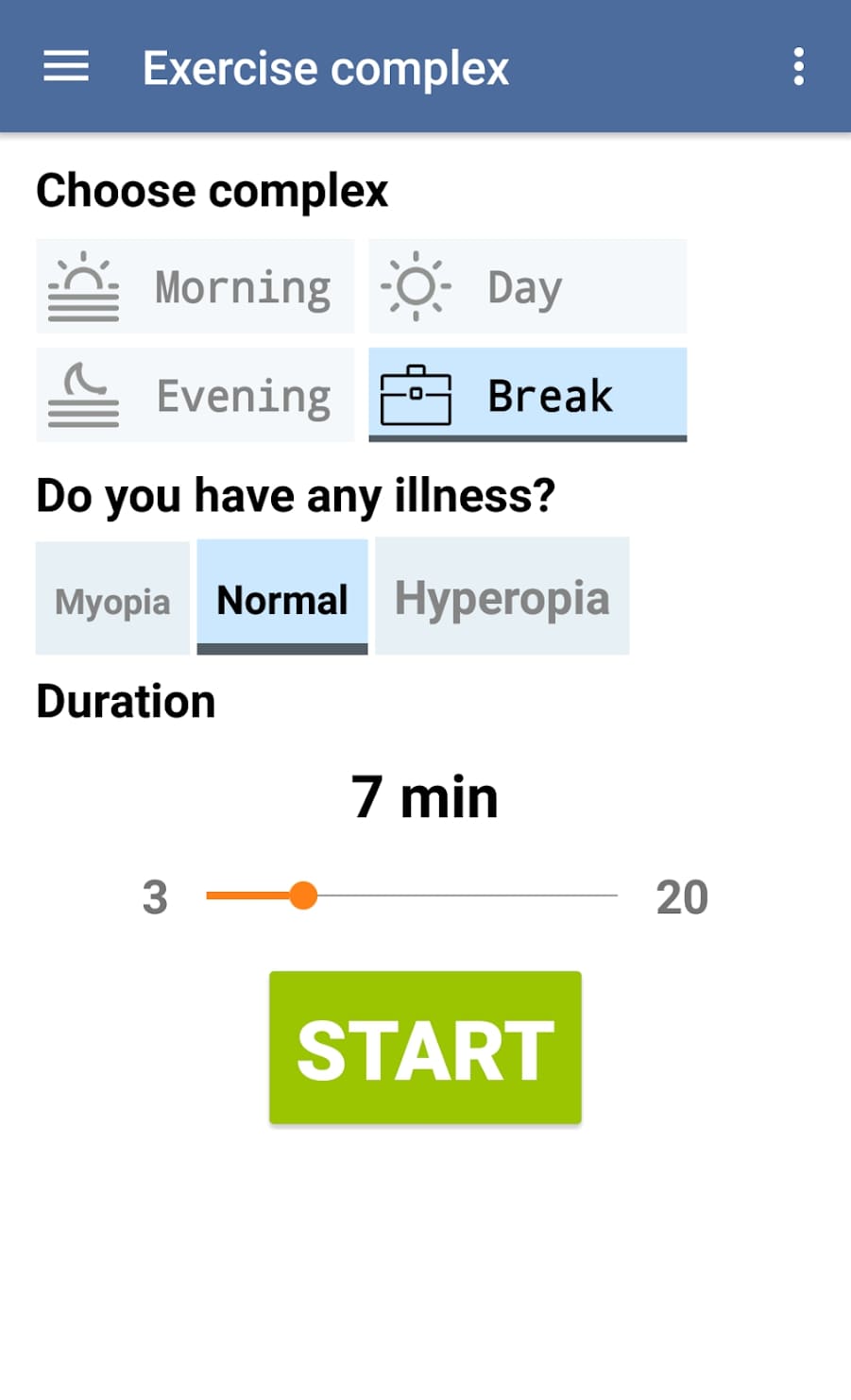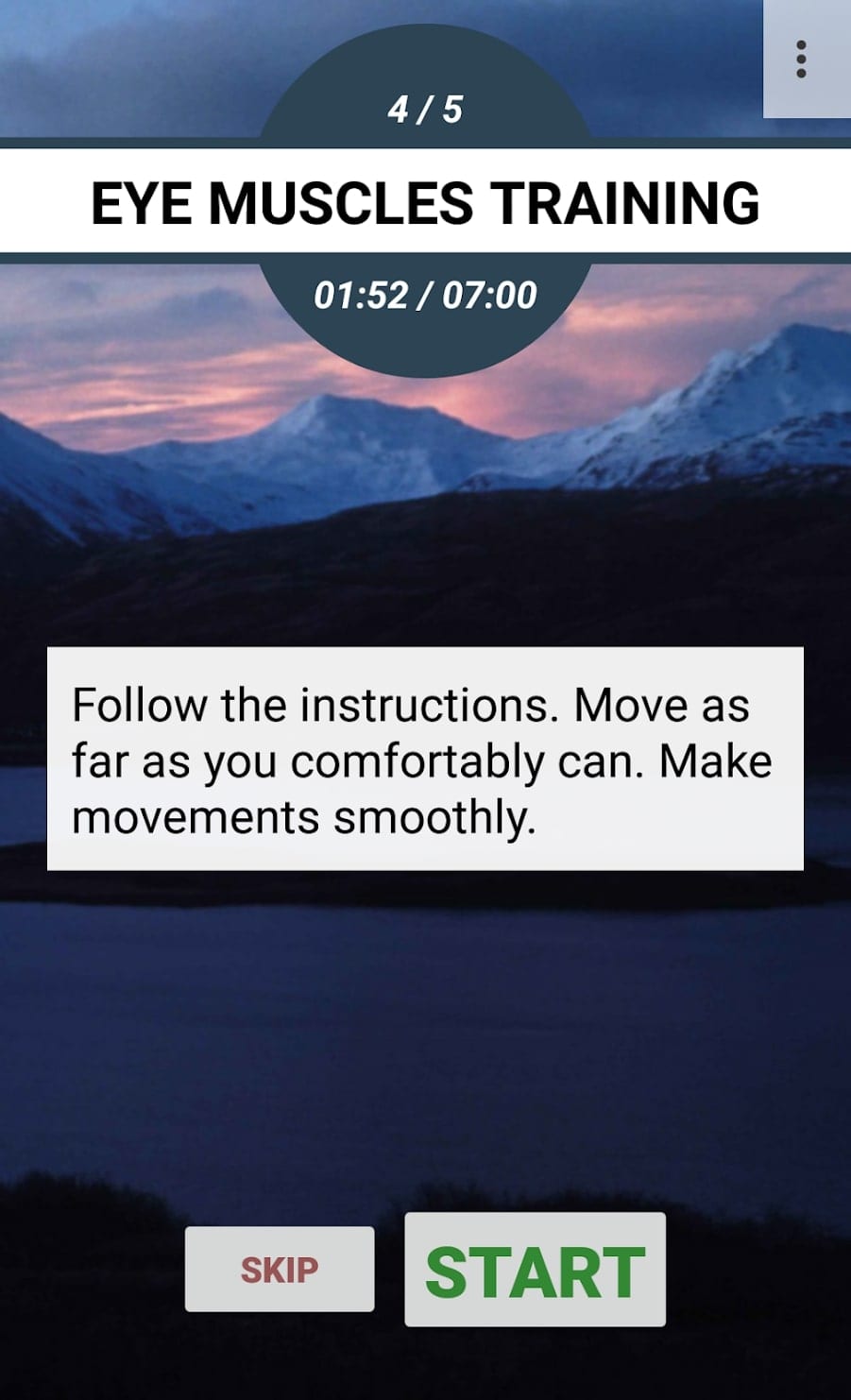 The application can also be used without access to the Internet. This makes this application even more attractive and convenient.

Eye Workout: Vision Training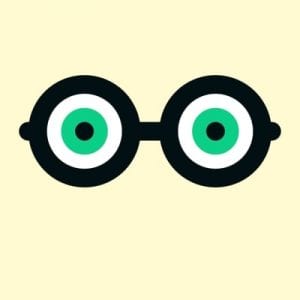 This application has several features that make it convenient and productive to use.
If you spend a lot of time on your computer or phone, this application is designed for you. Do not let your eyes lose good vision.
To do this, you just need to periodically perform exercises for the eye muscles.
There are many good exercises in this app. Many of the users have already noticed a positive trend in improving their vision.
It has been proven that exercises for the eye muscles can not only relax the eyes and prevent vision deterioration. But also noticeably restore the lost visual acuity.
Using this application you will be much more comfortable doing exercises. You no longer need to search for them one by one on the Internet and constantly be distracted by a stopwatch or timer.
All you have to do is repeat your movements on the screen and be guided by the beeps. By spending only 5 minutes of your time, you can noticeably improve your vision.
Also, the program will be useful if you postpone visiting the ophthalmologist all the time. Start doing exercises and make sure you see a doctor later.
Users also talk about the benefits of the application. It has a lot of positive reviews. Based on them, it becomes clear that the application is very convenient.
Users note that they began to see more clearly after the first training. Also, many people like 3D images on which to see the image.
A huge plus of this application – the presence of reminders. They will not let you miss your workout. After all, only through constant work can really improve your vision.
You will be able to choose a convenient time for your workout in advance and set a reminder.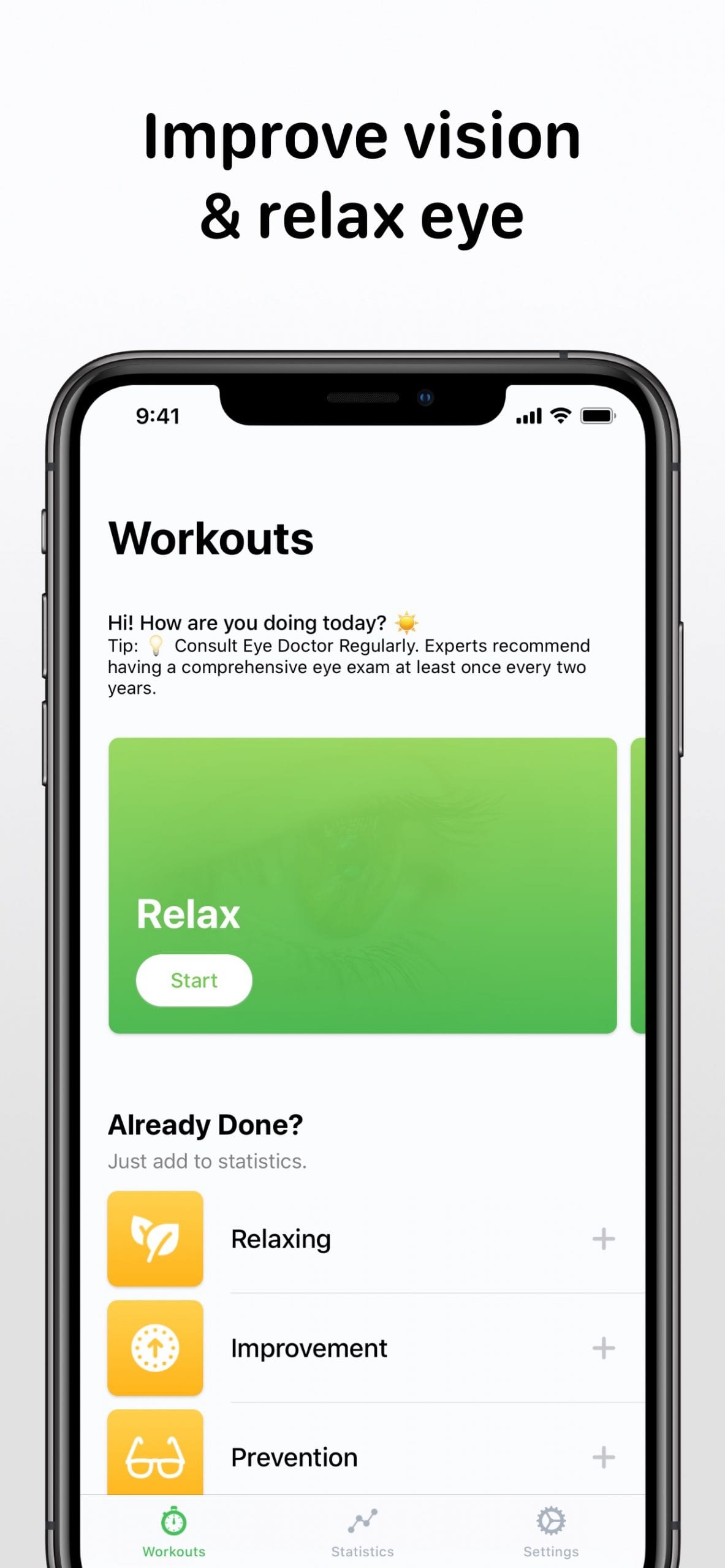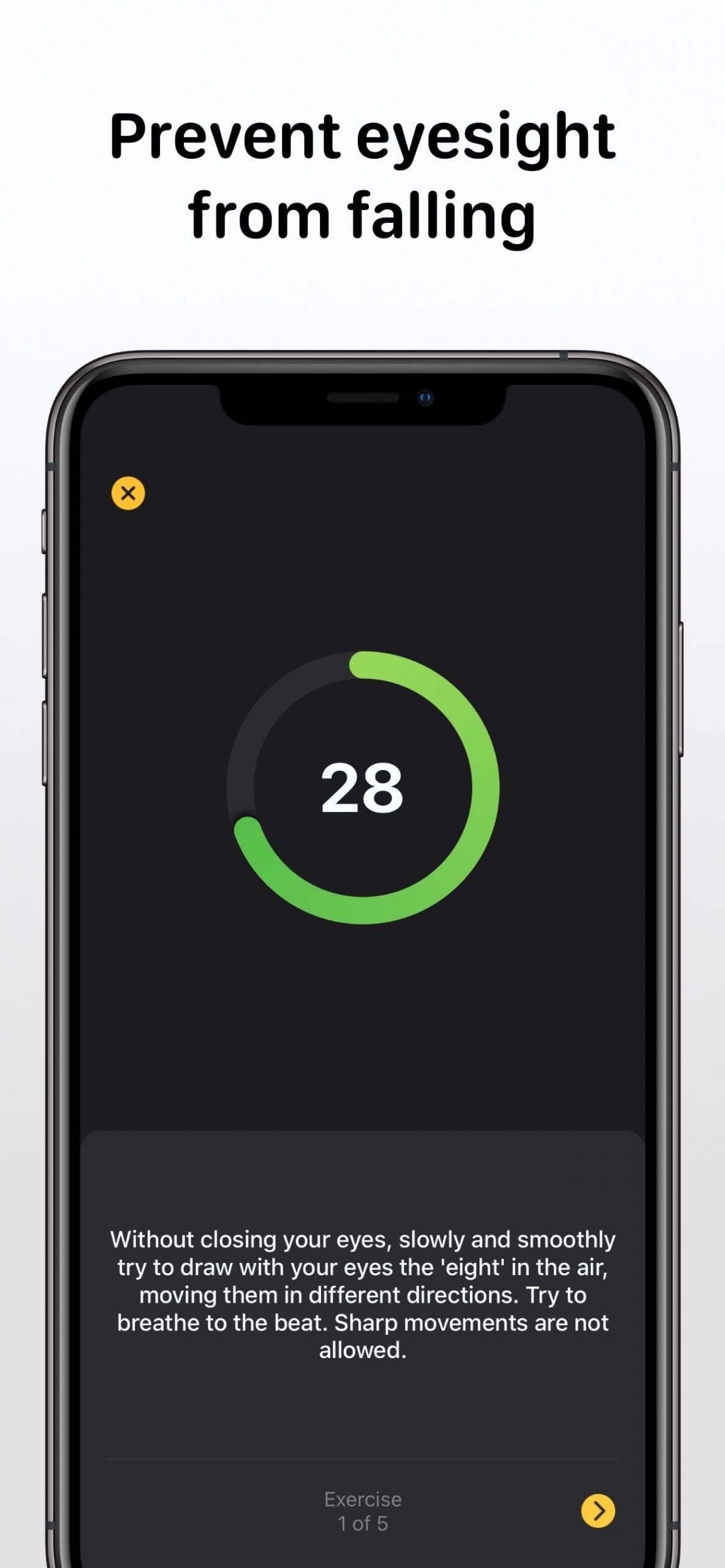 The interface of the app is very nice to the eye. Colors do not burden your eyes. The interface has a few small elements, which is also very convenient.

100% vision Bates method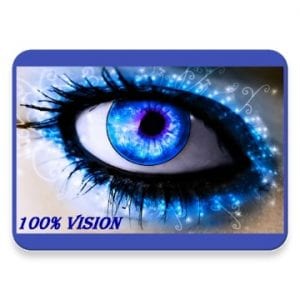 To relax your eyes after a busy day or to improve your eyesight, this app will do.
It suggests checking your eyesight, doing various exercises, and learning facts about the health of your eyes.
To start working with the app, you will need to enter data about the field, age, race, and visual problems.
Based on these parameters, the application will offer a basic wellness program called basic training. It is available right away. Extra training sessions will only open for experience points.
To get them, you must complete tasks on time and set higher goals. In short, you should spend more than three minutes a day of training.
Extra bonuses are awarded for unscheduled activities and games that help stimulate vision and brain stimulation. There are more than 50 exercises available in the app to save and restore vision.
There is also a training section in the app. Here you can read various tips and facts about the eyes, useful recipes, and doctor's advice on the most common causes.
Using the application, you can:
Choosing the font size is a very useful feature, as the application can be used by people with very poor eyesight.
Change the background of the application.
Familiarize yourself with the recovery method, read tips, and tricks.
Familiarize yourself with contraindications.
With this method, you don't risk anything. If you understand that your eyes are under heavy strain and regularly get tired, make sure you start doing exercises for your eyes.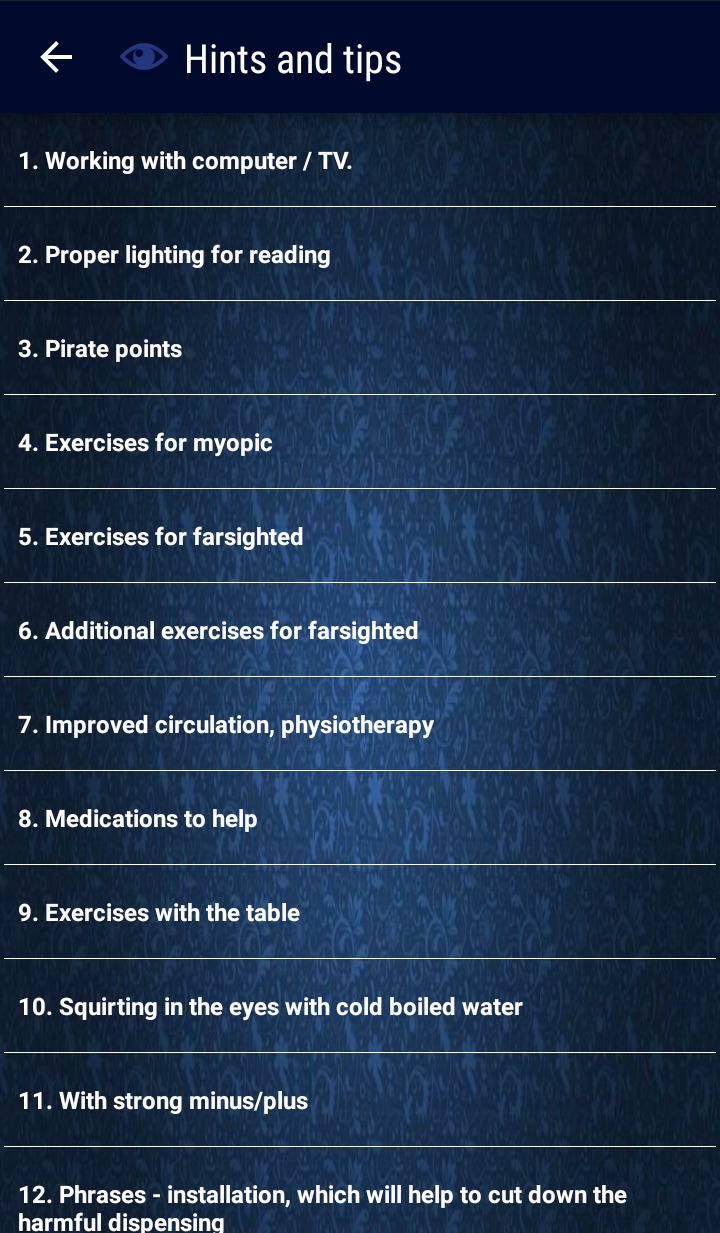 This application will be your assistant in achieving a good vision. But, this technique can not replace a full walk to the ophthalmologist and his consultation. It is necessary in case you sharply begin to lose visual acuity or see very badly.

Eye Exerciser Free – Eye Training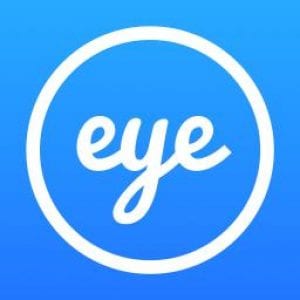 It would seem that smartphones so do a lot of damage to our eyesight. But, there is an application that helps our eyes stay in tone.
This app was developed by ophthalmologists and takes into account the state of vision, age, gender, and the presence of diseases in the user.
The list of exercises is quite diverse, and you can do them as soon as you have a free minute.
Regular "exercises" train eye muscles, deprive them of the effect of dryness, accommodation spasm, lazy eye syndrome, and can even improve your vision.
The app informs you about the progress of your training and reminds you when to train. The program presents a special large set of exercises, tips, and recommendations.
The methods that this app contains are based on the William Bates method. This American scientist had a theory that vision problems are caused by tension from the desire to see something.
In his opinion, if a healthy eye cannot see a point, it simply switches to another object. Based on his theory, he has created many exercises and tips to help restore visual acuity.
Everything you need to do the exercises, according to this theory, you can find in this application. Many people have already managed to check the effectiveness of this method, as showed by the positive feedback.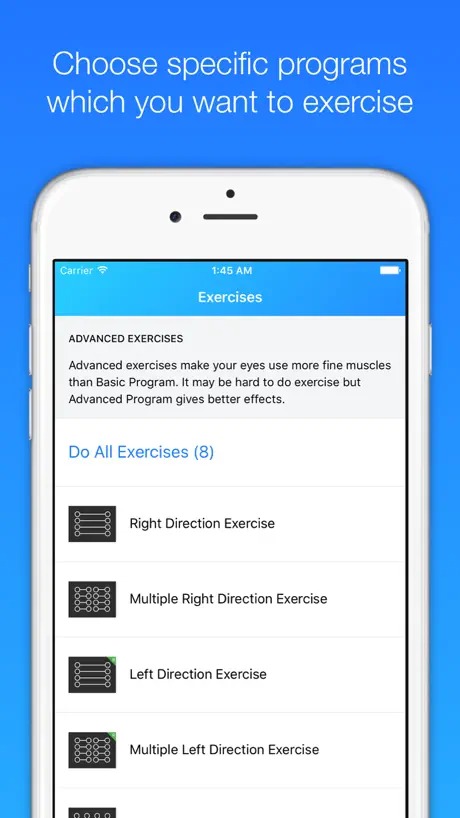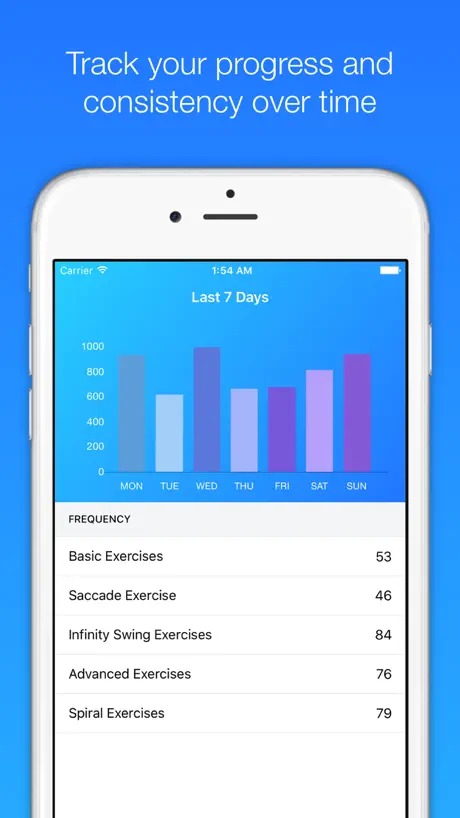 Do not forget that if you have serious problems with vision, very bad see, then do not rely only on the program for your smartphone. In this case, you should definitely consult a specialist.

You may also like: 7 Best Dental Hygiene Apps for Android & iOS
Eye Exercise To Improve Eyesight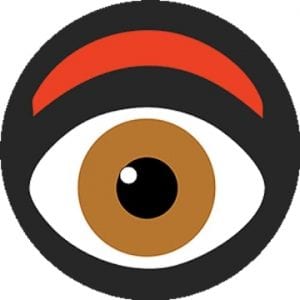 This is an eye simulator application designed to protect and develop the vision of computer users.
It is designed for those computer users who spend more than two hours near their computer.
When we work at the computer with different programs, games, design, or programming, we often lose a sense of time.
Especially if the process is fascinating and time-consuming. It is advisable to take a break after a long period of work to give your eyes a rest.
The application will show special images during the break. It's a kind of vision training, images will appear directly on the screen, you can follow them just by looking at the computer screen.
You do not have to watch the images on the screen, you can step aside and look out the window, have coffee, or just close your eyes. This break will have a positive effect on your vision.
The application has a wide range of settings, with which you can set the duration of the exercises and the time they will appear. Include extra notices when you need to take a break and much more.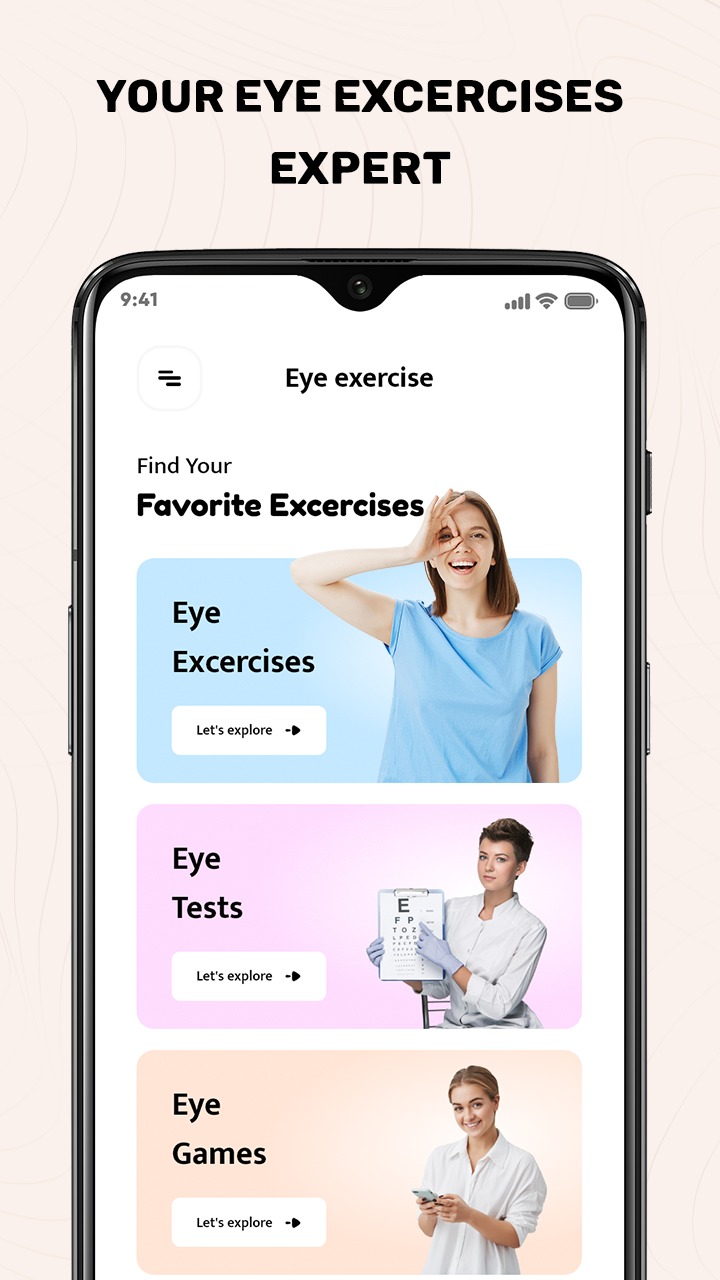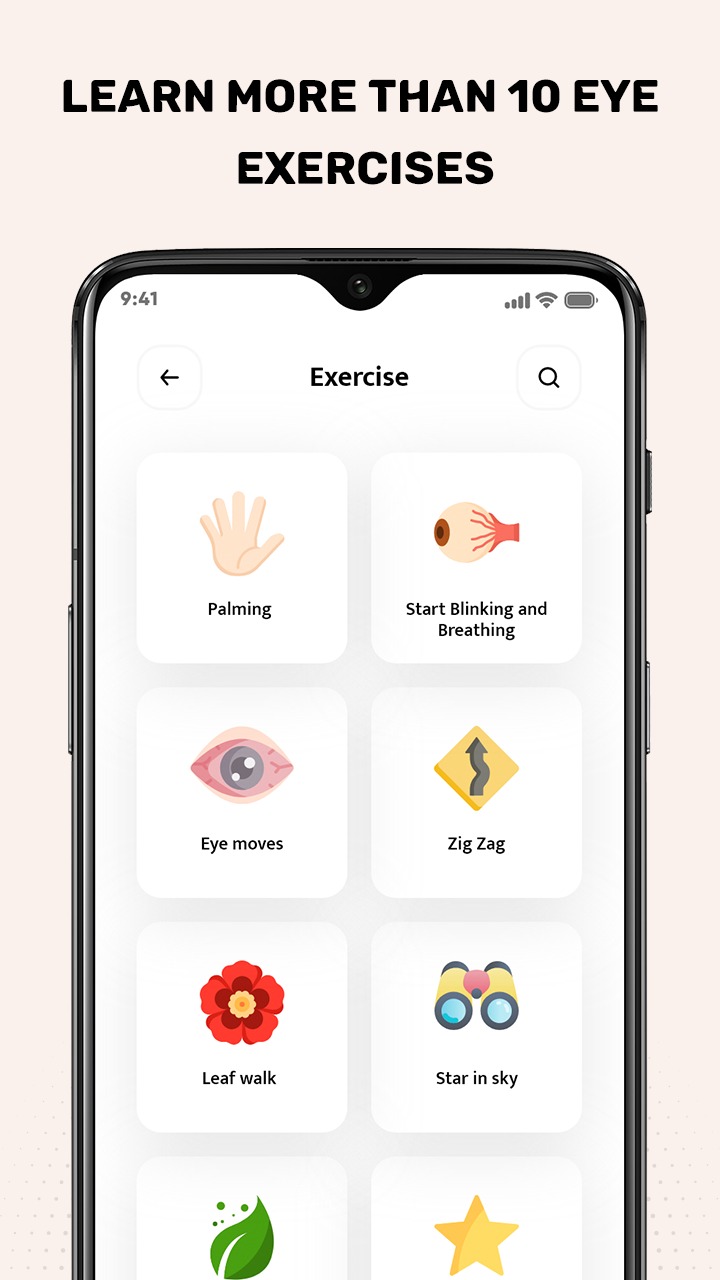 This app also includes a "script maker" module that allows you to create your own exercises for your eyes. The application is completely free.

Eye Exercises & Eye Training Plans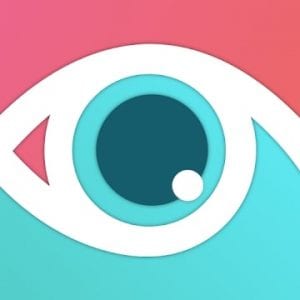 At the first launch, the app will ask you to fill out a form. Age, gender, race, vision problems. Based on this data, an individual training program is prepared.
These exercises, as reported in the app, can help get rid of dry eyes, relieve fatigue, reduce redness. As well as reduce the effect of diseases such as "lazy eye".
The first course of training can last from one to three months, depending on the user's desire.
You will also need to choose the length of daily training – from 3 to 33 minutes per day. All this has a direct impact on the efficiency of the exercises.
The app contains about three dozen different exercises. Some help reduce fatigue and repair damaged eye cells, others help relieve redness and dryness, and so on. In almost all the exercises you need to look at the display.
For example, focus on the center or watch the moving object. But there are also tasks where you need to blink at certain intervals or close your eyes with your palms.
For each exercise, you get a certain number of points. It's kind of like a built-in currency. For this, you can buy new training plans, which are designed to more accurately solve specific problems.
As for the application itself, everything is fine. It is very comfortable and beautiful. And, perhaps, the most important thing is that this application can be downloaded for free.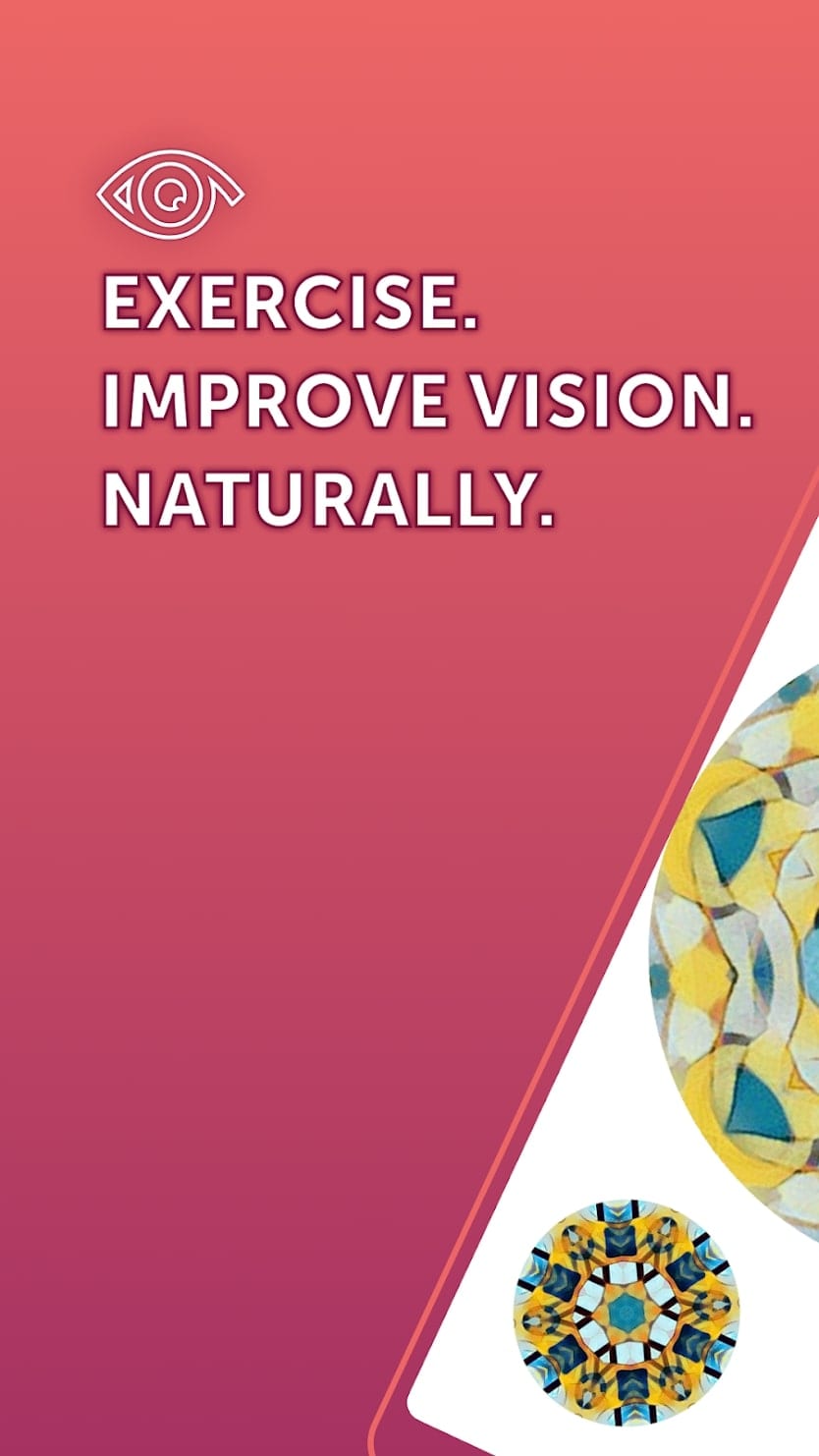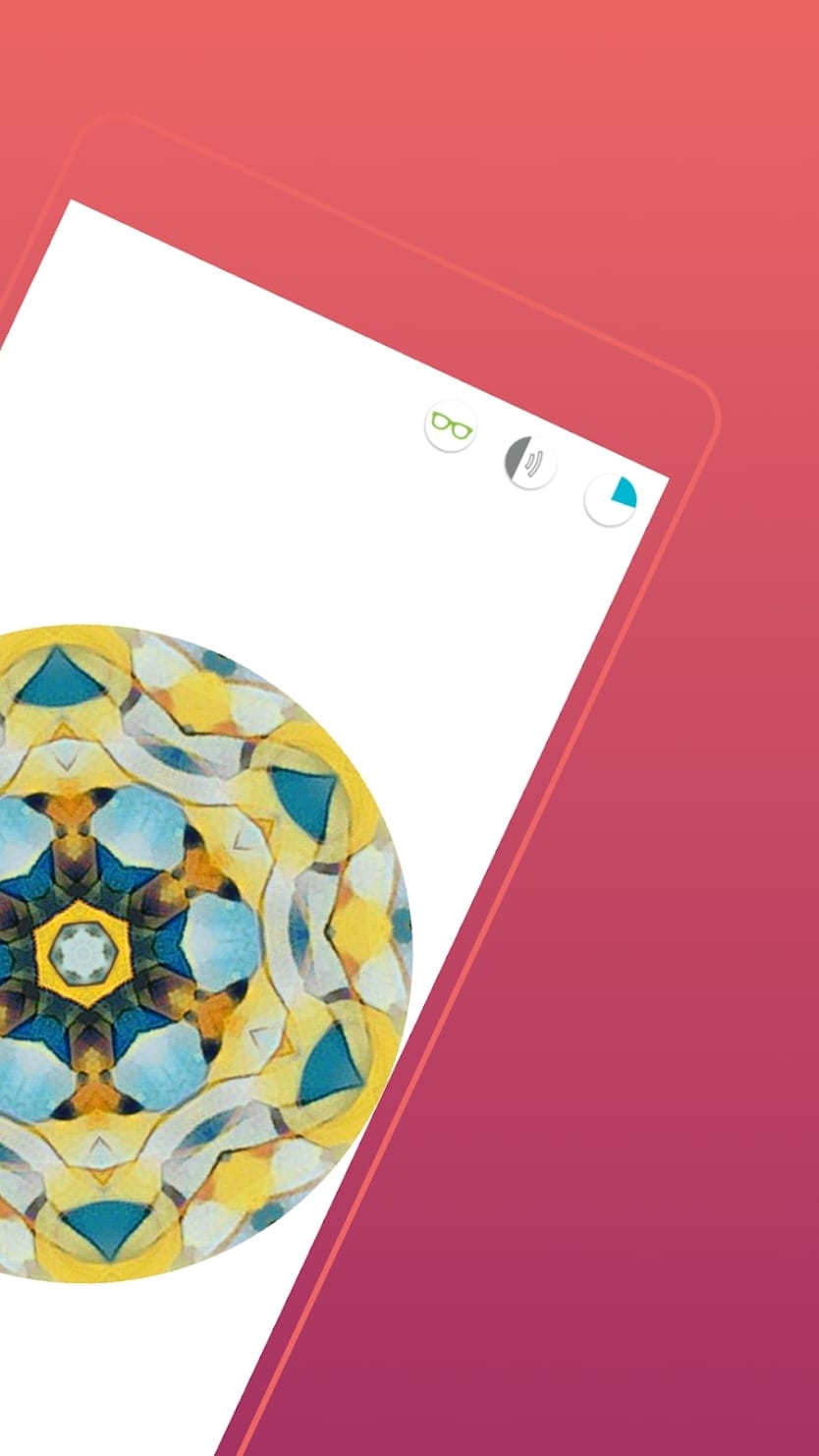 Also, the application has a large number of tips on eye care, tests, games, and even full recipes for dishes with lots of visually useful substances.

Eye Reminder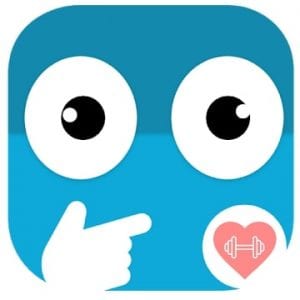 It is a mobile app that includes a set of exercises for eye gymnastics.
This app will help you improve your eyesight and relieve tension and eye fatigue by performing simple and effective exercises.
As the authors themselves assure, one of the goals was to create the easiest and most functional app for the user at the same time.
It has a very pleasant design with beautiful visualization. It should also be noted that the app has a system of user notifications, which reminds you to perform the desired exercise at a certain time.
This allows you not to worry about the time of your eye gymnastics. In future versions of the app, the team plans to launch a system of rewards for the performed exercises. As well as translate the app into other languages.
The creators promise that users will get all the information they need to restore vision or train muscles in one convenient app.
By installing it on your smartphone, you will have access to a huge database of exercises and recommendations.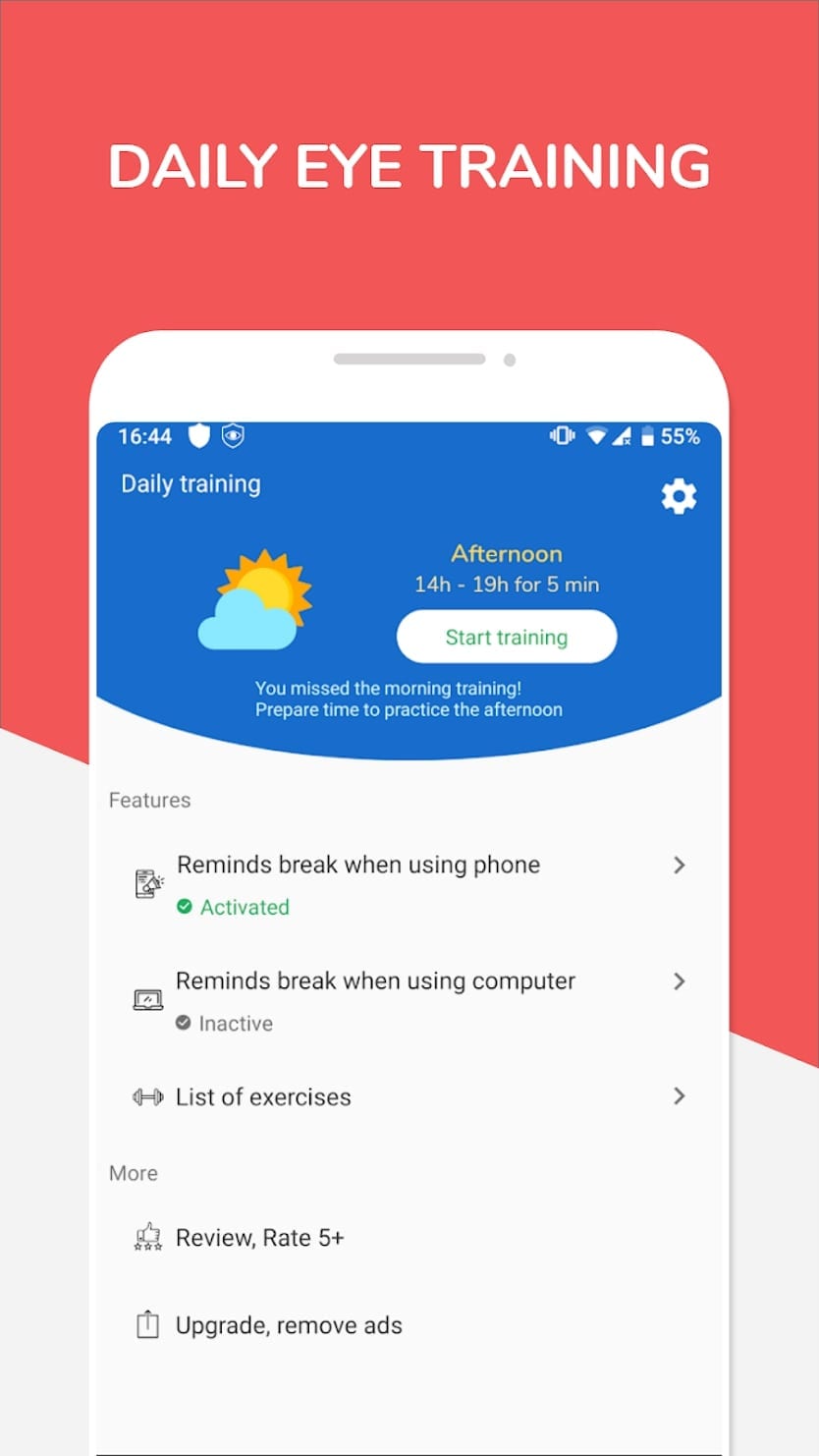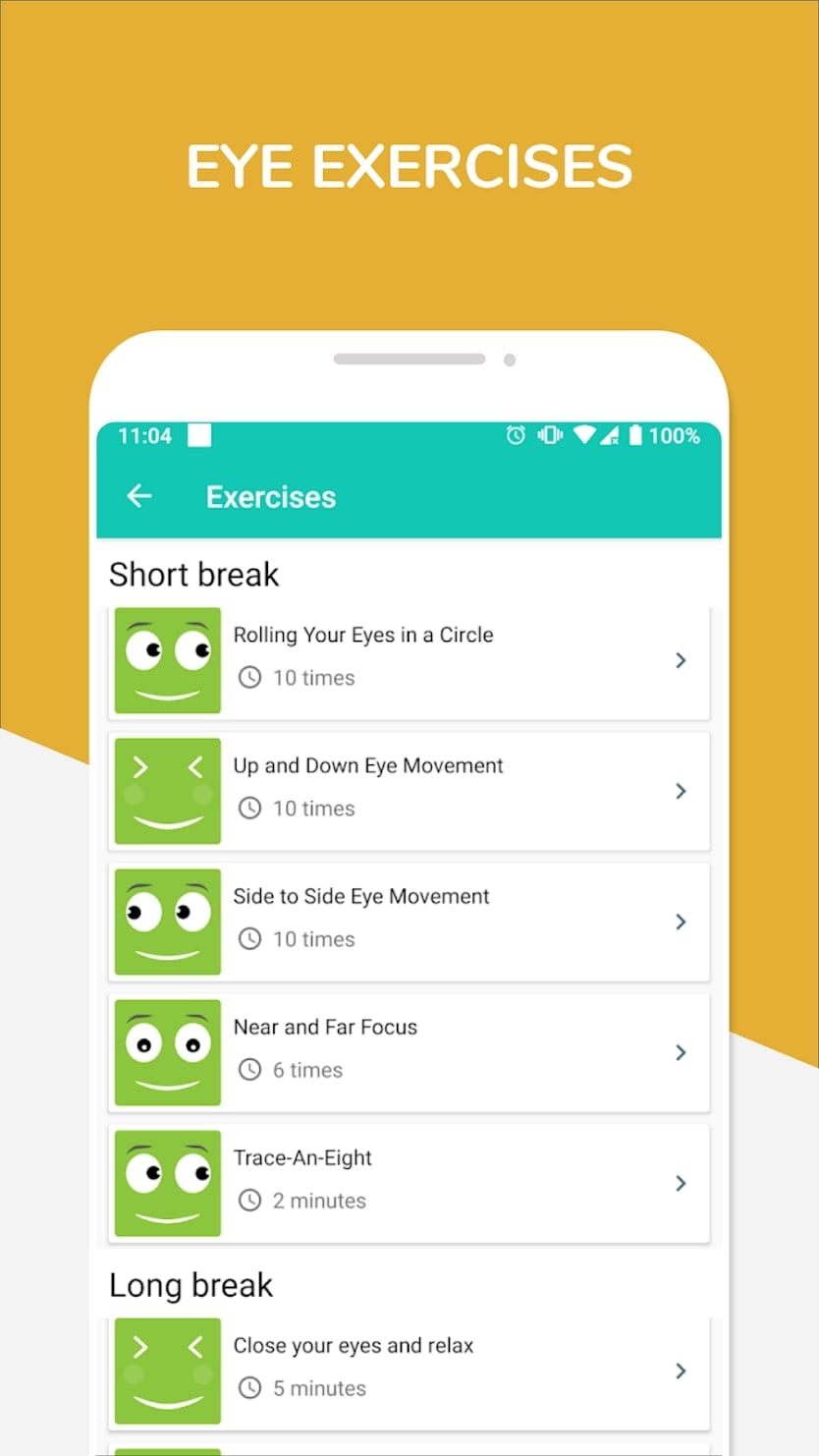 The app was created together with real doctors, based on popular and effective ophthalmology techniques. They are used by doctors around the world to restore their patients' vision.

EyeBuddy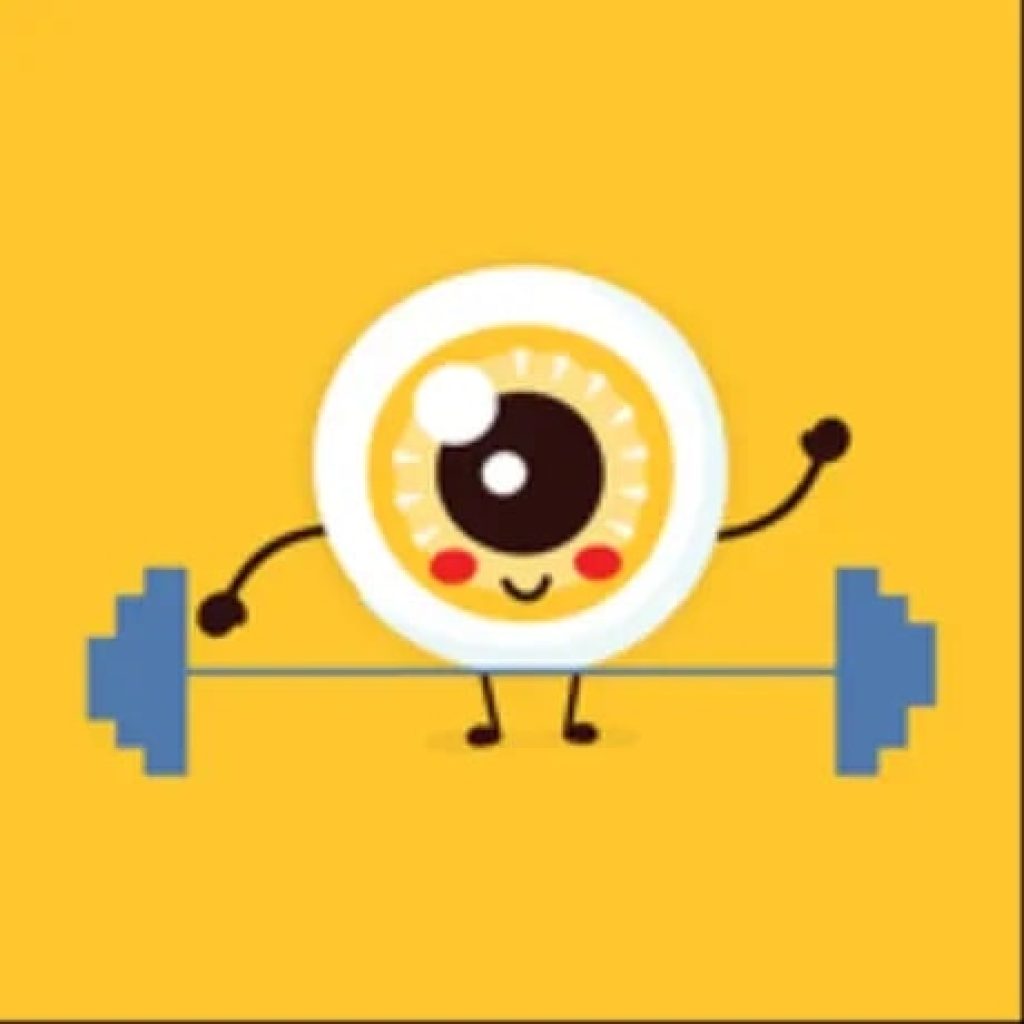 This app will give you the opportunity to train your eyeballs without letting your smartphone out of your hands. It contains several effective exercises to relieve stress, fatigue, and tension.
Also, with the help of exercises in this app, you will be able to know your vision and the ability of your eyes. In addition to useful workouts, the app offers a lot of information on how to deal with eye problems, excessive fatigue, and dry mucous membranes.
The program also offers users the best regimen to keep their eyes and muscles healthy. The exercises in the app are broken down into several categories, allowing them to be used for different purposes. For example, you could do calming yoga, specific workouts to relieve stress, and so on.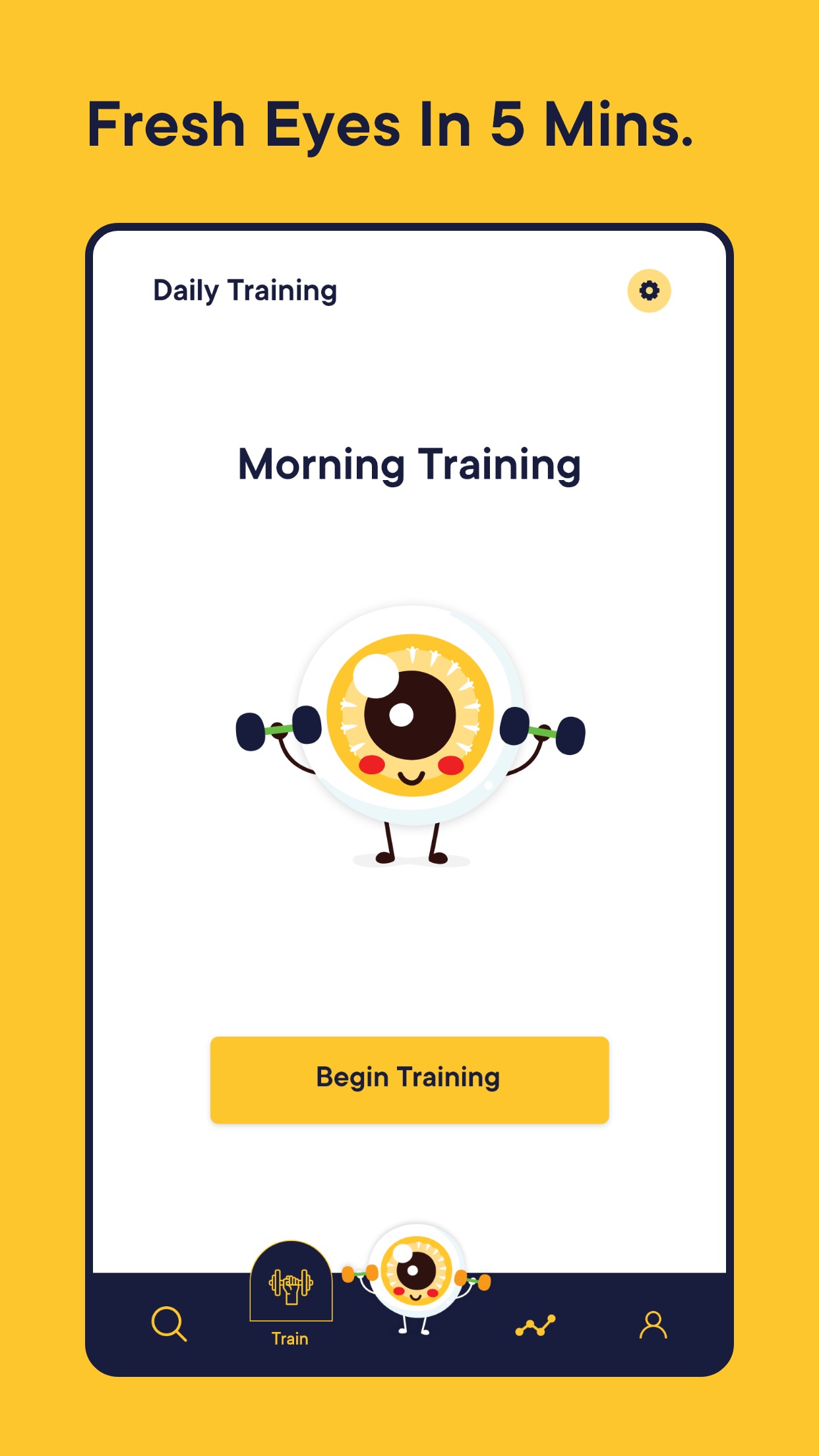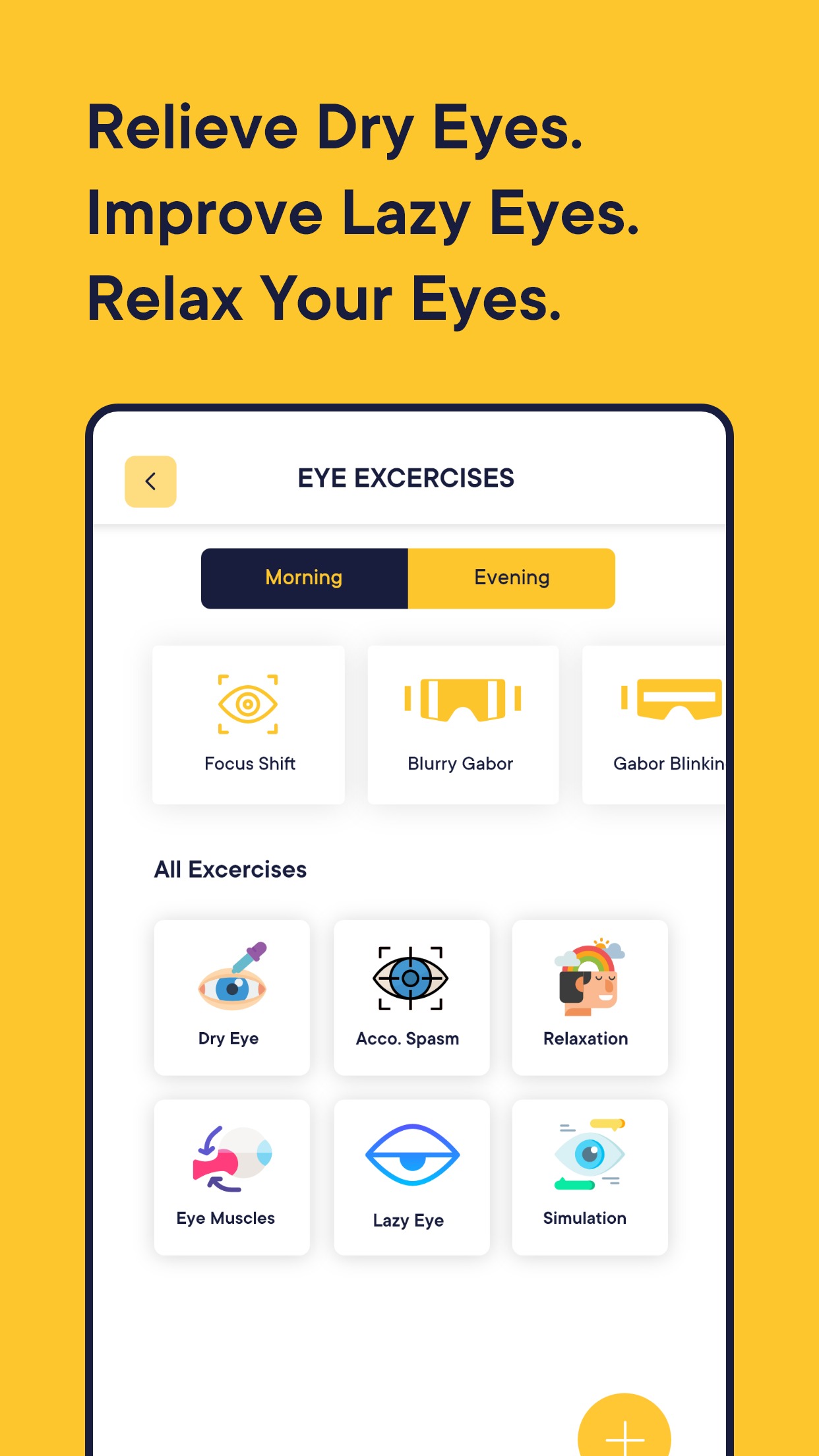 There are even small classes for relieving headaches and eye muscle spasms. Each exercise plan is designed for a small amount of time so that all users can devote up to 10 minutes a day to the health of their eyes.


You may also like: 9 Best Skin Care Apps with Daily Advices (Android & iOS)
EyeX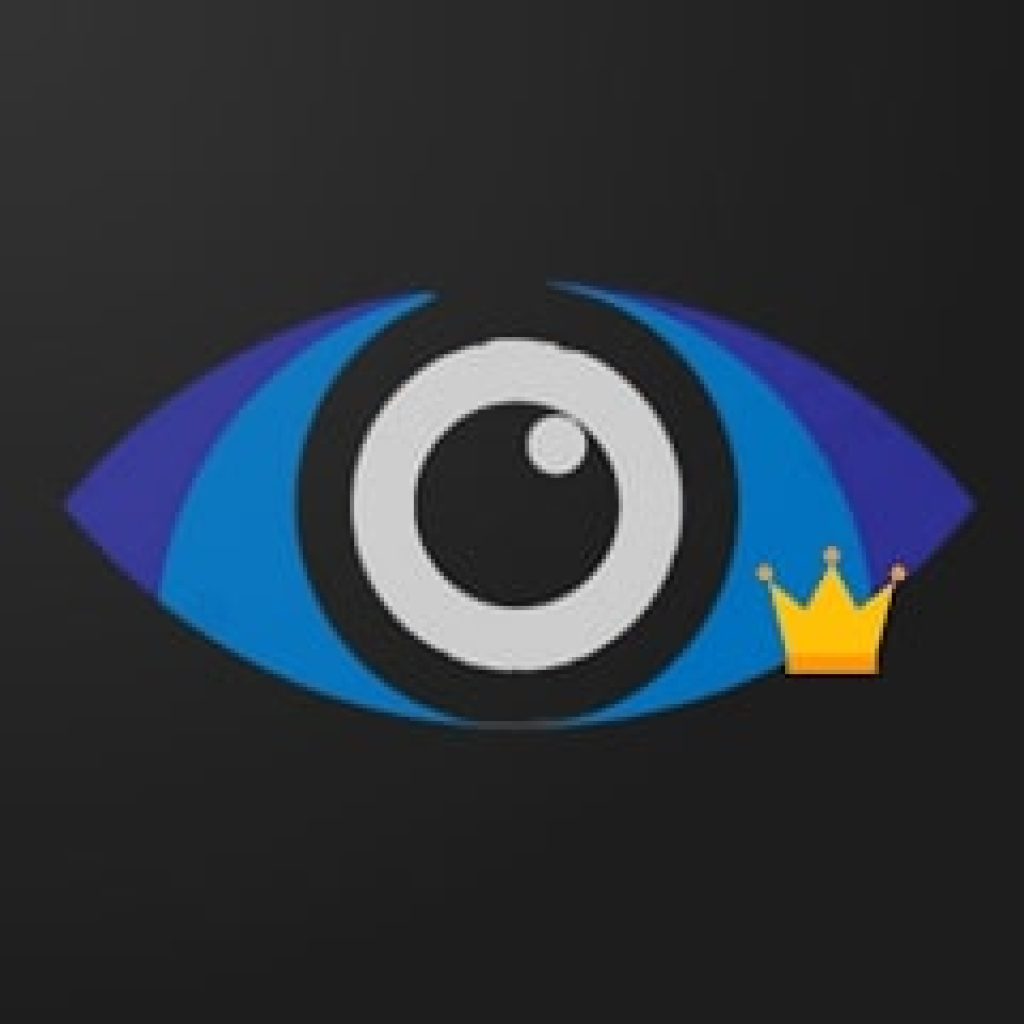 This app will help improve your eyesight and keep your eyes healthy even without visiting a specialist. It collects many different exercises to help fight muscle spasms, headaches, stress, and even post-trauma syndrome.
Users can get each exercise pack for themselves absolutely free. You can also follow them regularly to track your progress in treating and preventing eye disease.
Vision and eye care tips have also been added to the app and are available absolutely free.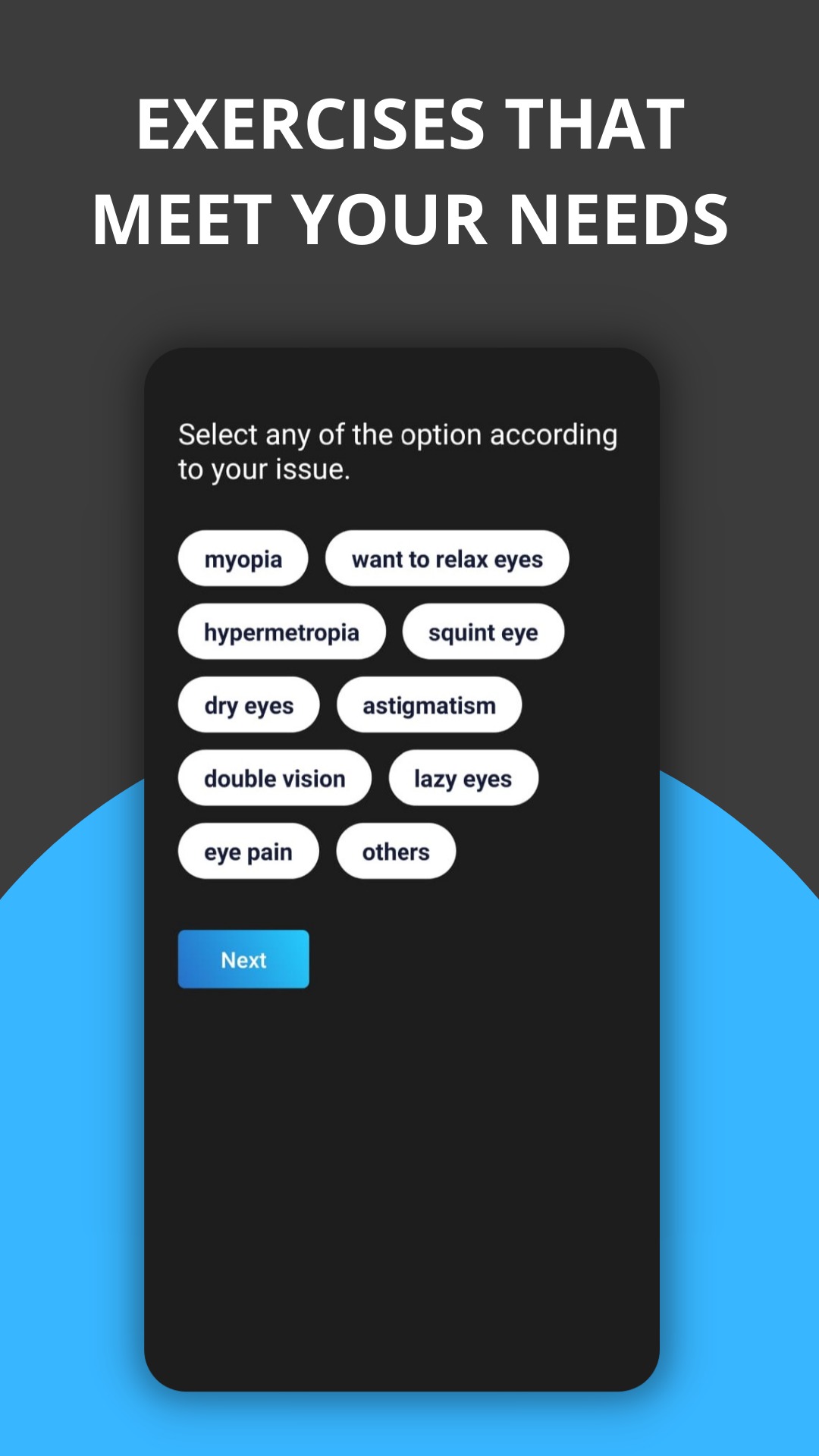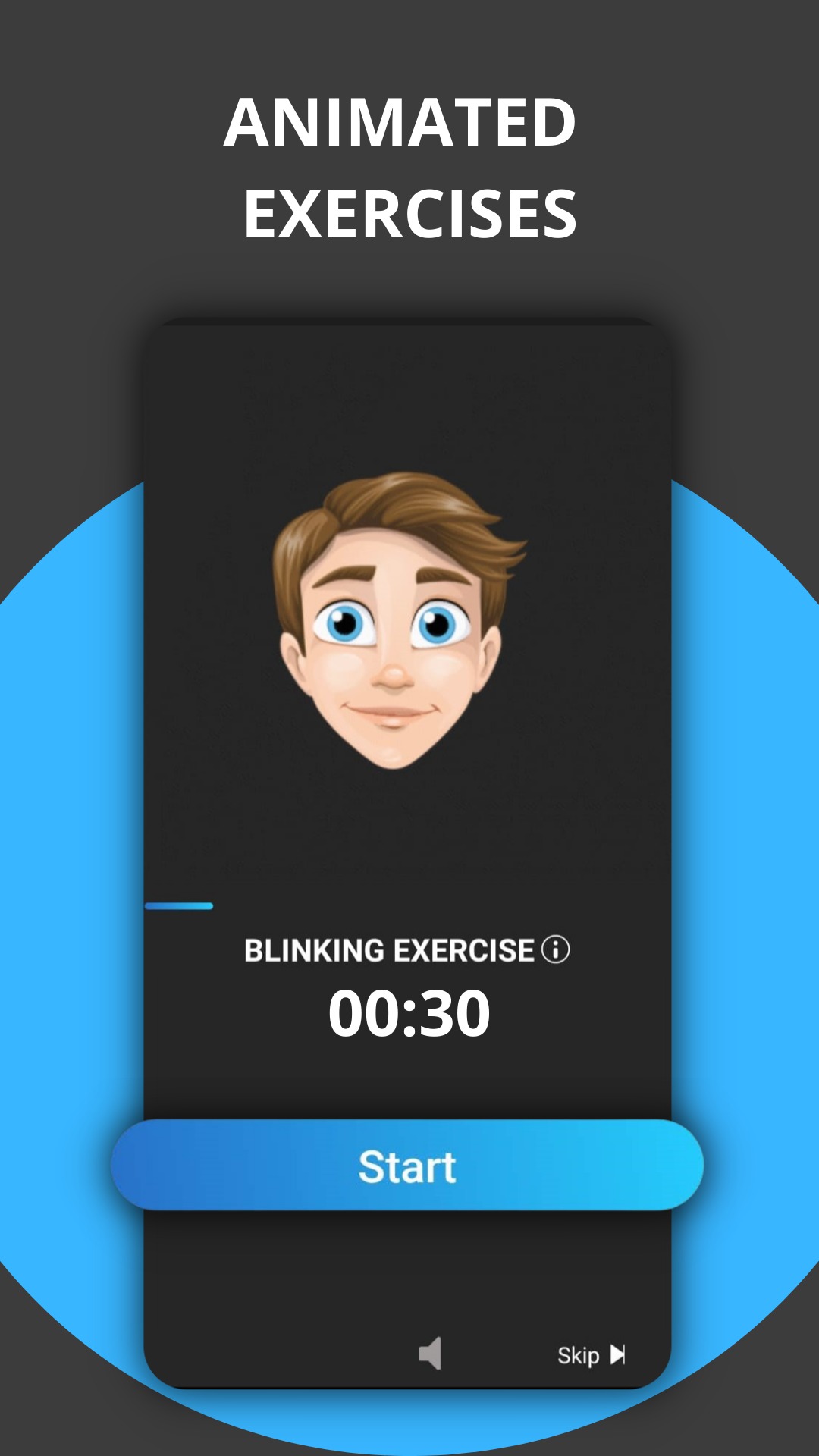 Each activity is designed to take a couple of minutes. So absolutely anyone who wants to take care of their eye health can devote as little as 10 minutes a day.