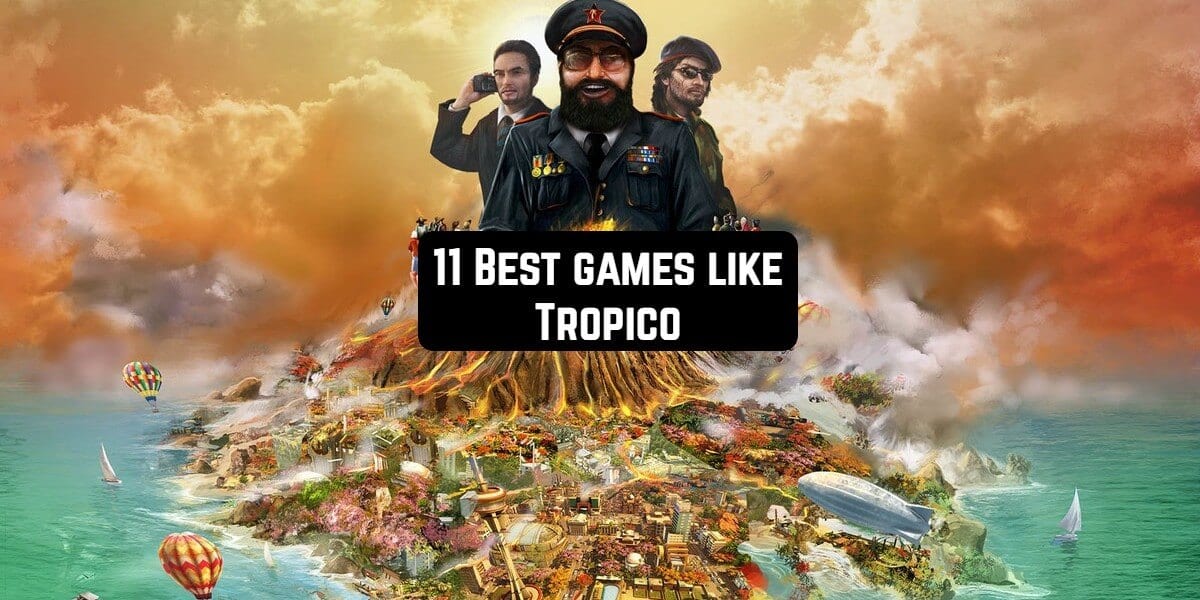 If you have ever heard or even played Tropico on your pc or mobile phone you know how captivating this game is. You also must know that there are a huge variety of similar city-building and city management games like Tropico.
In such games you will build and develop a city step by step from the small town to a huge metropolis, considering economic, political and social aspects of city development. For your attention, there is a list of 11 best games like Tropico for Android and iOS.
SimCity BuildIt
SimCity BuildIt is one of the best construction and management simulations games developed by EA games studio for all kind of electronic devices including our smartphones.
The game presents a composition of elaborate city-building tasks and a chance to grow good strategic skills playing the role of a city Mayor. With its captivating graphic design, the game will take all your attention and turn you into a real gamer.
The game has a City Advisor that will guide you through the game process giving you comprehensive task descriptions and tips. It means that you will never suffer from being stuck. The game will provide you with step-by-step instructions.
Features of the game:
Design a city of your dream:  build enormous skyscrapers, small townhouses, parks, and other landmarks.

Provide a decent infrastructure: build remarkable and efficient roads and traffic system.

Beautify your city with famous landmarks such as Eiffel Tower and a Statue Liberty. Don't forget about the recreation system: build museums, beaches, parks.

PvP buttles option will give you a chance to compete with other city`s mayors and participate in a war. In the war, you can send a monster to destroy your opponent's city.

Earn Simcash by completing weekly challenging to upgrade your city.

You can zoom in and rotate the city for better observation.
This amazing game is free to play with additional in-app purchases in case if you really want to raise your city to the unreachable level of development. It's available to download on Android and iOS devices.
back to menu ↑
City Island 4- Simulation Town
Build a prosperous city with lots of amenities in City Island 4. In this game, you will start to build a city from scratch on the island. You will have a little cash for first buildings and infrastructure objects an then you have to grow the city of a dream attracting citizens by its comfort of living. The game appeals with its stunning design and detailed realistic graphics.
Game`s features:
Build a city on islands expanding the territory of your future metropolis.

The game starts with a tutorial and some tips to show you the best way how to play.

There are plenty of different types of building: a cinema, cafe, and restaurants, steakhouses and hotels.

You will earn gold and money that will help you to develop your city building new districts or upgrade available buildings in order to get more benefits from them.

All kind of weather presented in the game: snow, rain, etc.
Complete tasks building and city objects and collects rewards to get on upper levels. The game doesn't require an internet connection so you can enjoy playing in any place and in different circumstances.
You can play the City Island game on your smartphone or a tablet. It supported by both platforms Android and iOS.
You can also check: Best base building games for Android & iOS
back to menu ↑
Megapolis
Megapolis: city-building simulator is a classic city building and management simulation game in which you will play a role of the city`s mayor. Develop your city by building more house, educational building, entertaining facilities, etc. Long lasting game with hundreds of items to be unlocked while you are upgrading your level.
You are able to provide your city with world famous constructions and monuments like Eiffel Tower or Stonehenge that will look like their real copies.

Manage the city carefully considering the economic principles, collect taxes and grow the prosperity of the city attracting more people to dwell in it.

Build and efficient traffic infrastructure with a lot of transport solutions.

Compete online with other mayors, rich higher ranks to get rewards.

All transportation facilities are available including marine transport, an airport, and a railway.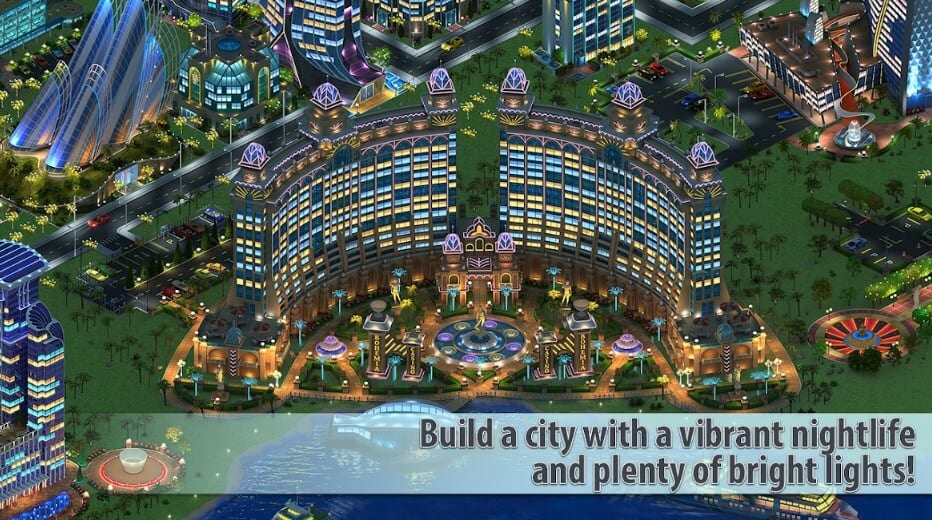 Besides standard city building, you are able to develop science sector, industrial complex, a military base. Take care of the wealth and prosperity of your city building more factories. Enjoy playing this free game on your iOS or Android device.
back to menu ↑
Virtual City Playground: Building Tycoon
Great detailed design, intuitive interface and endless tasks to complete make this game one of the best in its genre.
The game is free to play from any device based on Android and iOS. You will be offered in-app purchases in case if you want to accelerate the game process and faster upgrade your level to open new buildings or any other items.  Give your city a name and start building from the small town to a great megapolis.
Main features of the game:
There are over 200 different items for the city growing including all types of buildings and constructions: skyscrapers, airports, restaurants, hotels, etc.

While you completing quests the city will be developing.

More than 500 quests to complete to grow your city.
The game can be a very good way to relax after a long working day or hard study at college.
Quiet background music in the game can help to achieve a tranquil mood.
back to menu ↑
Designer City: building game
Play the role of the city mayor thinking about its prosperity and development in a Designer city building game.  The game is free for iOS and Android devices.
Building a city can be much harder objective that you could think. You have to control different aspects of city management. Building appropriate living houses and facilities, road system and transportation such as airport buildings or seaports to increase such sectors as traveling and cargo.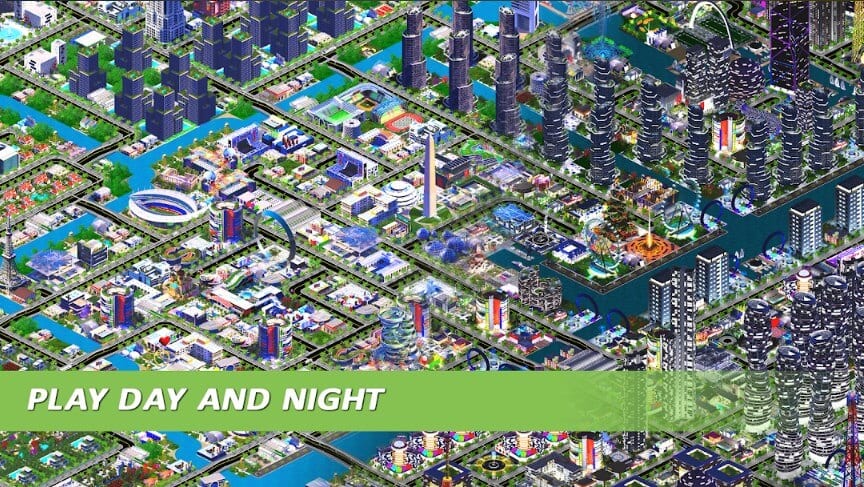 Features of the game:
Stunning design and detailed graphic make the game enjoyable and challenging to play.

Use your imagination and some tips in the game to build a city of your dream. Place objects and building in any place you want creating a nice cityscape.

Have a chance to compete with other players from different countries, get a reward and take places in the rank.

Cash and gold are given as a reward for completing tasks and maintaining a city life. Using it you can develop the city constructing new kind of buildings or city amenities.

You can play the role of a normal mayor or become tycoon to create a high-level industrial metropolis. The developers constantly upgrade the game adding new buildings and fixing some bugs.
back to menu ↑
Paradise Island 2: Hotel Game
Paradise Island 2: Hotel Game is present construction and management game where you will build a paradise resort somewhere on a tropic island. It's kind of a business project which you will start from empty land. You have to think about potential tourists and what they like.  
Significant features of the game:
An advisor will give commands throughout the game so you won't be stuck in the process.

Great detailed bright graphics and light background music.

Zoom in to observe buildings or people in details.

A lot of missions to work on and free space to expand your resort constructing new buildings.

You can join a union and collaborate with other players helping each other.
The game is free with advertisements and additional in-app purchases.
back to menu ↑
Townsmen
Get back to Medieval time and build your kingdom with Townsmen mobile game. The game is free for Android and iOS device with in-app purchases that can be very helpful if you are stuck in one level. Become a great city constructor and manager growing your tiny village into a great empire.
Game features:
Very nice realistic design that reflects medieval ages with inhabitants and their daily routine peculiar to that time.
City building includes a big variety of different function buildings.
Military development: grow an army, build barracks and train troops.
A lot of tasks and quests with different scenarios.
Natural disaster modes: drought, typhoon, etc.
If you a history lover and fond of Middle Ages, you would find this game interesting and addictive.
back to menu ↑
Elvenar
Elvenar is an extraordinary game in a series of city-building and management games. You will build not a typical urban cityscape but a magical realm. Become a great leader and politician in the world of magic creations.  
In the game, you have to choose either to play for humans or for wonderful mystical elves. Elvenar is a mobile version of the famous pc game created for Android and iOS devices.

Main features of the game:
Your main task in the game is to build a kingdom step by step.

All buildings and other objects are not ordinary megapolis constructions. All of them are unusually beautiful, unique, with a sophisticated design that suits a world of magic and fantasy.

Follow the step by step tutorial to help you build a city from scratch. Then complete tasks to earn gold and gems and to upgrade your level.
Elvenar isn't a simple city building game. It has more of kingdom management and you play the role of the king. Besides building a city and developing the economy of the city you have to recruit an army and fight against invaders, protecting your city dwellers. The game is free to download on iOS and Android devices.
back to menu ↑
DomiNations
DomiNations is city building and strategy game for Android and iOS mobile devices. In this game, you have to build an empire with an equipped army.
From time to time your enemies will come to attack you and conquer your territory. For this, you will recruit an army, construct barracks for them and different building that will produce weapons, other war mechanisms, and vehicles.
Mean features and key tasks of the game:
Grow your empire from a small town to great metropolis.

You can choose a nation to play for: Chinese, British, Greeks, etc. There are 8 games in total. Each nation has its perks and distinguished by traditional cityscape view.

They're all kind of weapons and war vehicles: tanks, planes, helicopters,

Collect rewards to upgrade your empire.

Play with other players in PvP combat or create an alliance.
Protect your building from a devastating invasion and build a great empire with unique buildings at the same time.
You can also check: Best games like Civilization V for Android & iOS
back to menu ↑
Skytopia
Skytopia – City Tycoon is an unusual city building and strategy game where you will build a floating in the sky city. You have to learn how to be a great economist and manufacturer at the same time a good politician to manage a city. Complete quests and tasks expanding a city and get rewards. Producing more stuff you will sell it for money and gold.
There are a lot of citizens in the city and your aim is to keep them happy, making the city more wealthy and prosper. Besides all this industrial development you have to organize great celebrations to entertain your dwellers. Parades, events, shows will make your city a place that brings happiness for people.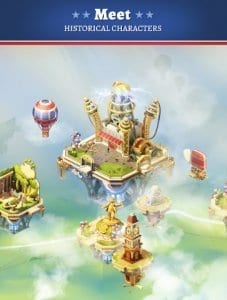 One of the main tasks in the game is to develop science and industry. For this, you will be able to invite historically famous persons like Nikola Tesla.
The game is free with app-purchases for Android and iOS devices.
back to menu ↑
Forge of Empires
The game had been released first on pc, then a mobile version appeared for devices based on Android and iOS. The uniqueness of this game is that you can observe the evolution of your city growth conducting it from Stone age till the Industrial evolution.
Features of the game:
Build an empire and evolve it to modern time. Start from a small village on a small piece of land and expand its size conquering new territory in order to reach the level of the kingdom.

You have to discover new goods, produce them and trade them. Also, you can exchange some goods with your neighbors. So overall you have to be a good tycoon and merchant.

The game is addictive with an interesting story, perfect graphics, and fine music.
The developers claim this app is totally free but it has been suggested that some features or items can be purchased for real money.