We use thermometers very often in our life. There are different types of thermometers: air thermometers, water thermometers, cooking thermometers, and of course body thermometers. They are also divided into mercury-based thermometers, electronic or infrared.
On the subject of body thermometers, contactless ones are becoming more popular recently however they are more expensive. Body thermometers help to measure fever in case if a person got ill. It's of high importance as constant monitoring let check the progress of the sickness.
It is very surprising that there are a lot of mobile applications that are able to measure temperatures and play the role of either body thermometer, air or water thermometers.
As our smartphones are becoming more advanced, they are also becoming more capable to do unusual for them stuff. We have decided to make a research and collected the best thermometers apps for Android and iOS.
Maintain a pleasant atmophere for your health with the help of these best apps to check room temperature.
iThermonitor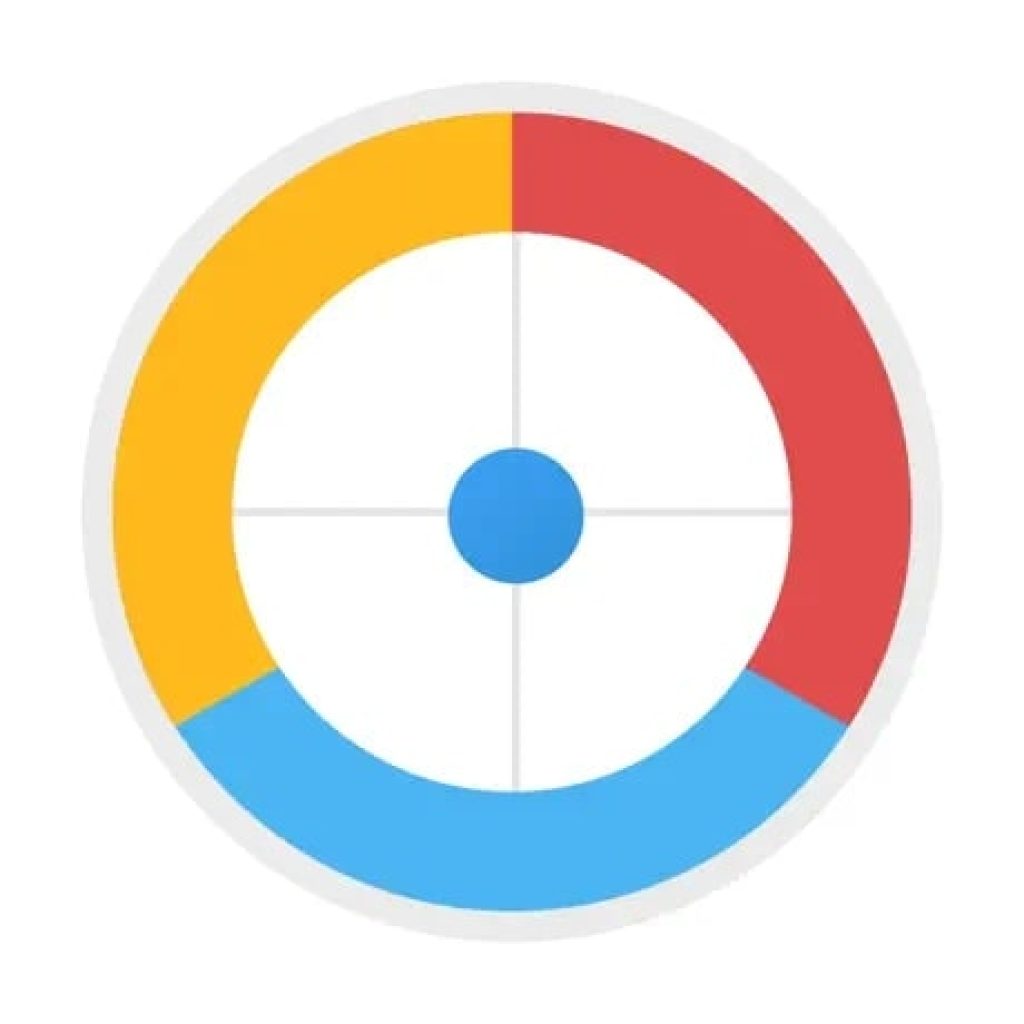 The app that senses your body temperature using a camera is called a thermometer. It displays the body temperature in Fahrenheit and it alert in case of fever. The app allowsmeasuring the temperature of many people and keeps records for each of them.
Moreover, the app collects data, saves it in one place in order to form charts. Those charts will show body temperature trends.
The app can measure temperature automatically every 10 seconds or any other duration of time. The app has some medical data and can advise taking particular medicine in case of high fever. Parents in their turn can follow up their kid's body temperature through the app.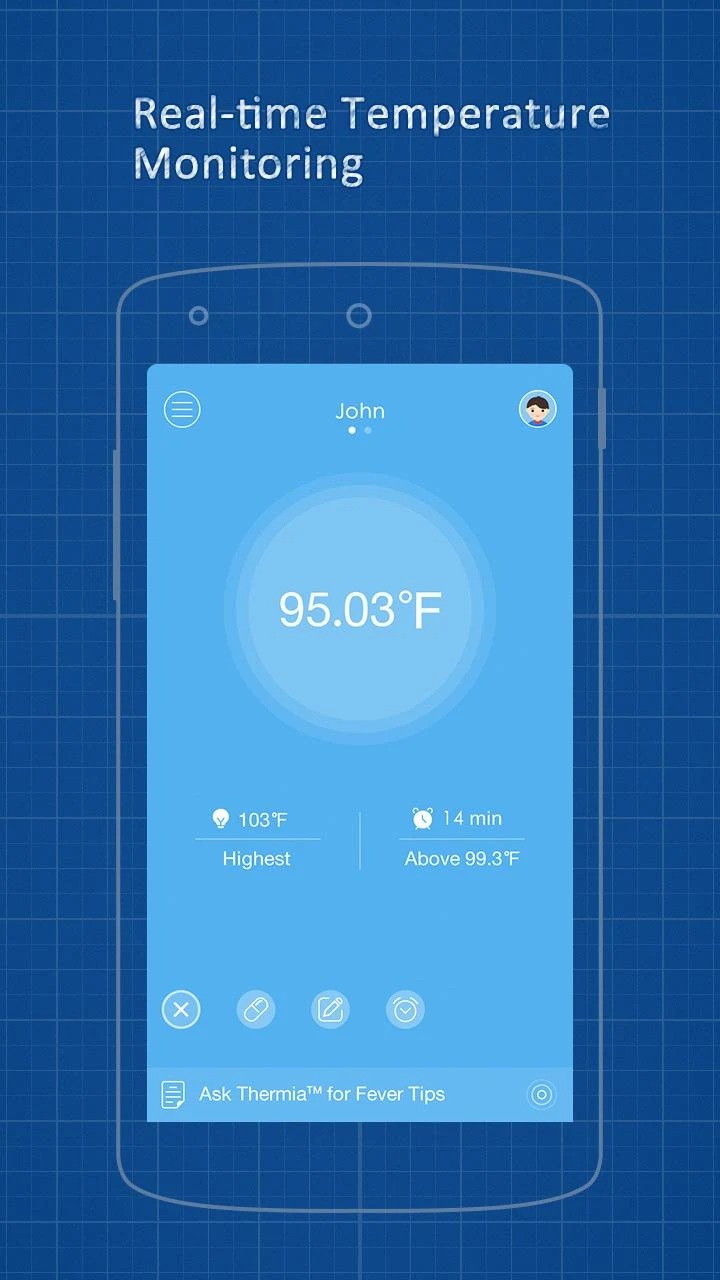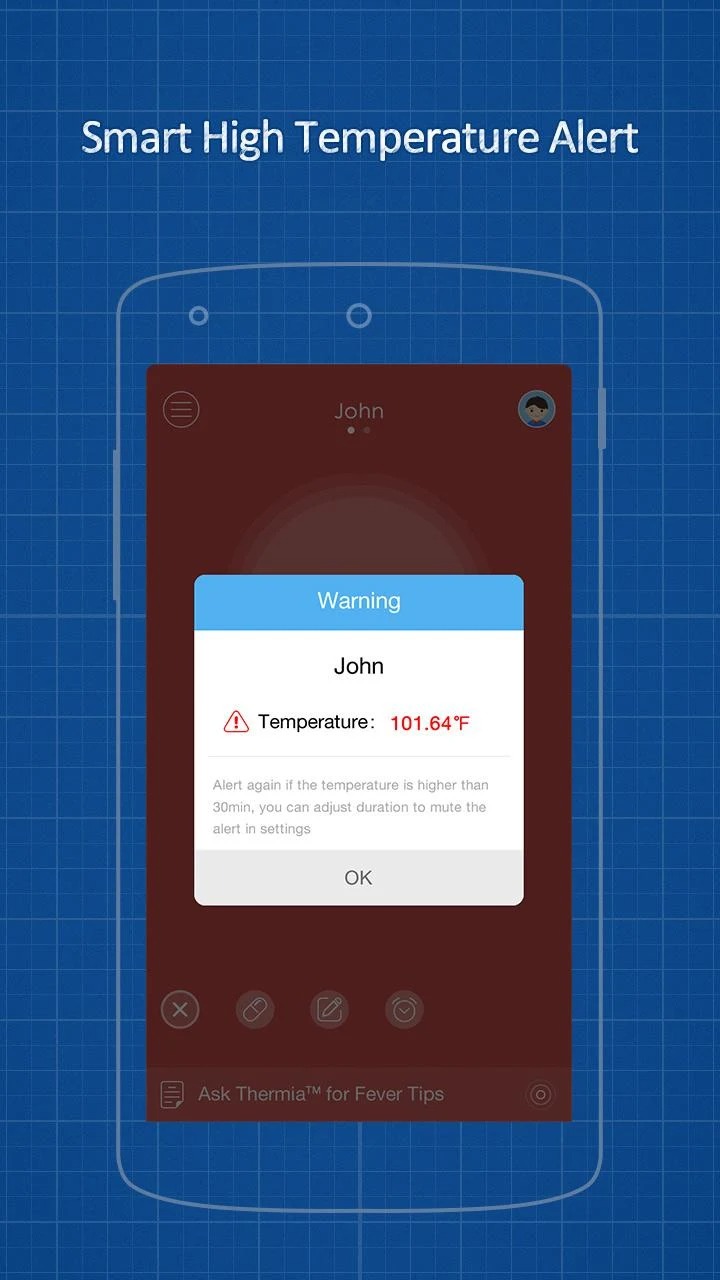 The developers inform that the app can`t be fully reliable and it`s better to refer to classic ways of measuring body temperature in suspected fever. The app is available for Android and iOS for free.


You may also like: 11 Free Apps to Measure Body Temperature (Android & iOS)
Room Temperature Thermometer by Morsol Technology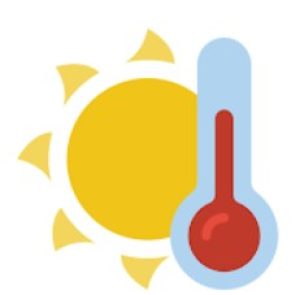 Room Temperature Thermometer enables users to quickly estimate the room or environment temperature in real-time.
Once you have launched the app, you should enable a few permissions and make sure that you have a stable Internet connection. Otherwise, the app will not work.
In the next step, you should select a necessary option – Celsius, Fahrenheit, or Kelvin.
The application uses your device's temperature sensors. Leave your device for a few seconds and wait until it automatically evaluates the temperature indoor and outdoor. Take away all too cold or too hot objects from the device to receive better results.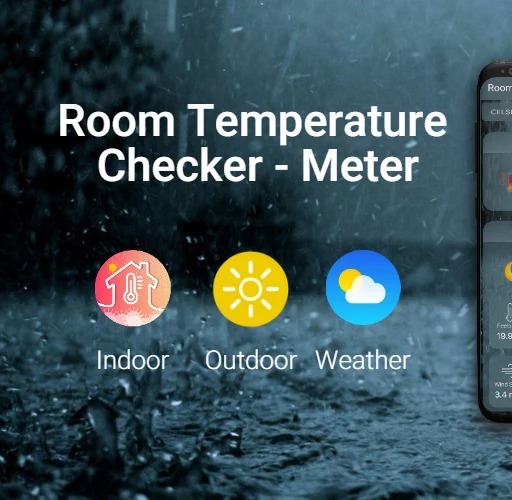 Apart from the temperature, users can also estimate such data as humidity level, wind speed, air pressure, sunrise, and sunset. Plus, the app displays the weather conditions as icons.

Thermometer For Fever Diary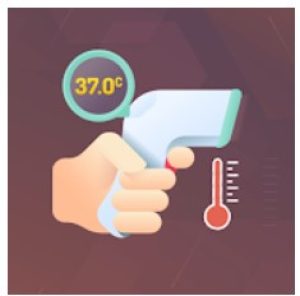 Thermometer For Fever Diary is a top-grade application that allows users to keep all the data about their body temperature.
As soon as you pass a quick installation, you will get to the homepage containing the following two options:
Add a Body Temperature and keep a record
Keep Blood Pressure Record
Before you select the first one, make sure that the required permissions are enabled. Thereafter, you can add your body temperature, check diary records, or analyze the saved data.
In the second option, you can record such data as Blood Pressure, Weight, Blood Sugar, Medication, etc.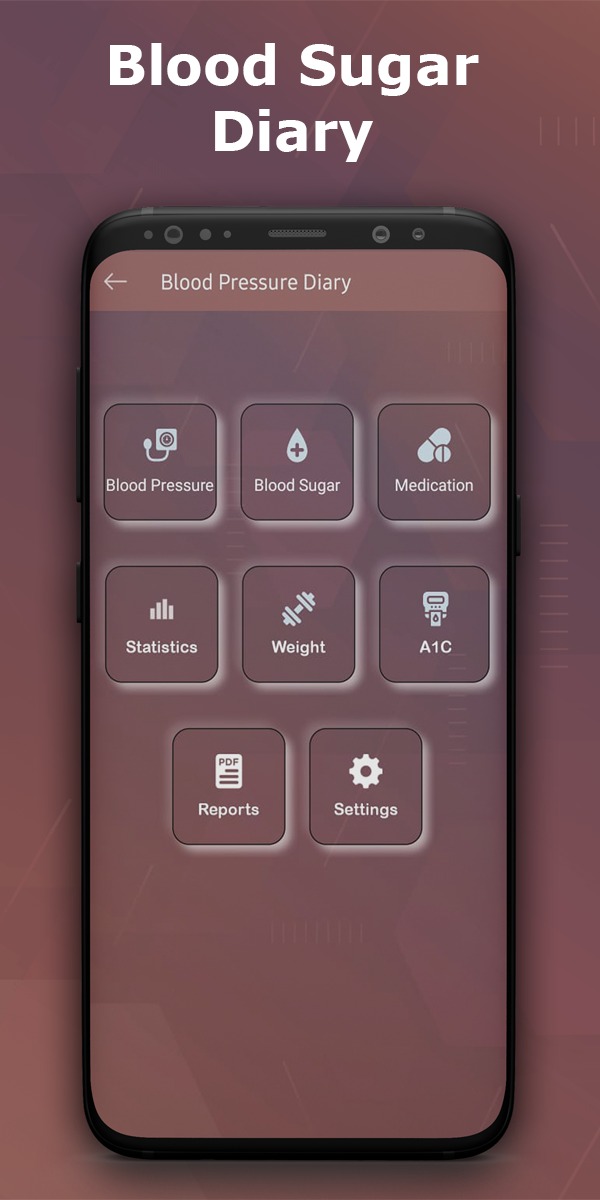 The app also provides you with the Statistics section where you can monitor all the inserted data on the graphs.

Thermo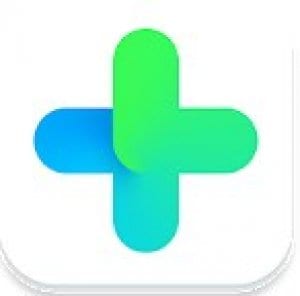 Thermo app does require additional equipment, namely Nokia temporal thermometer. The app is created to automatically sync a monitor temperature even on a distance using Wifi or Bluetooth signals. The app also saves all measurements and is forming history.
Through the app, users can add additional information related to symptoms of sickness and save it for further analysis or doctor`s reports.
There is an option to add medicine you took or take constantly. This feature can be very useful when you need to follow up on your symptoms according to the medications you are taking.
Also, the app can be tuned to send reminders at a particular time or day. In case you do not have a Tempo device you can use the rest of the app`s feature to monitor temperature and follow up medical treatment.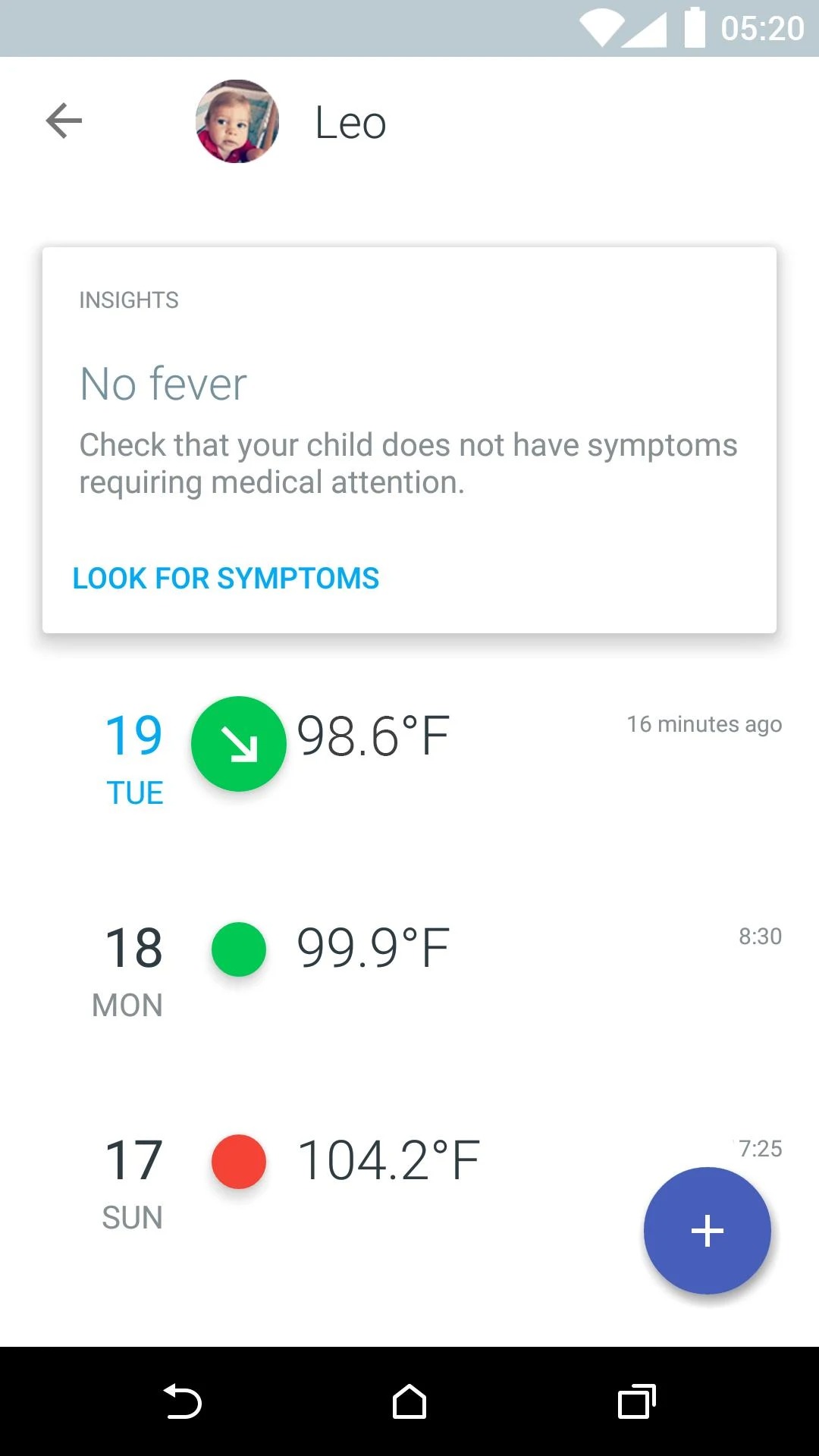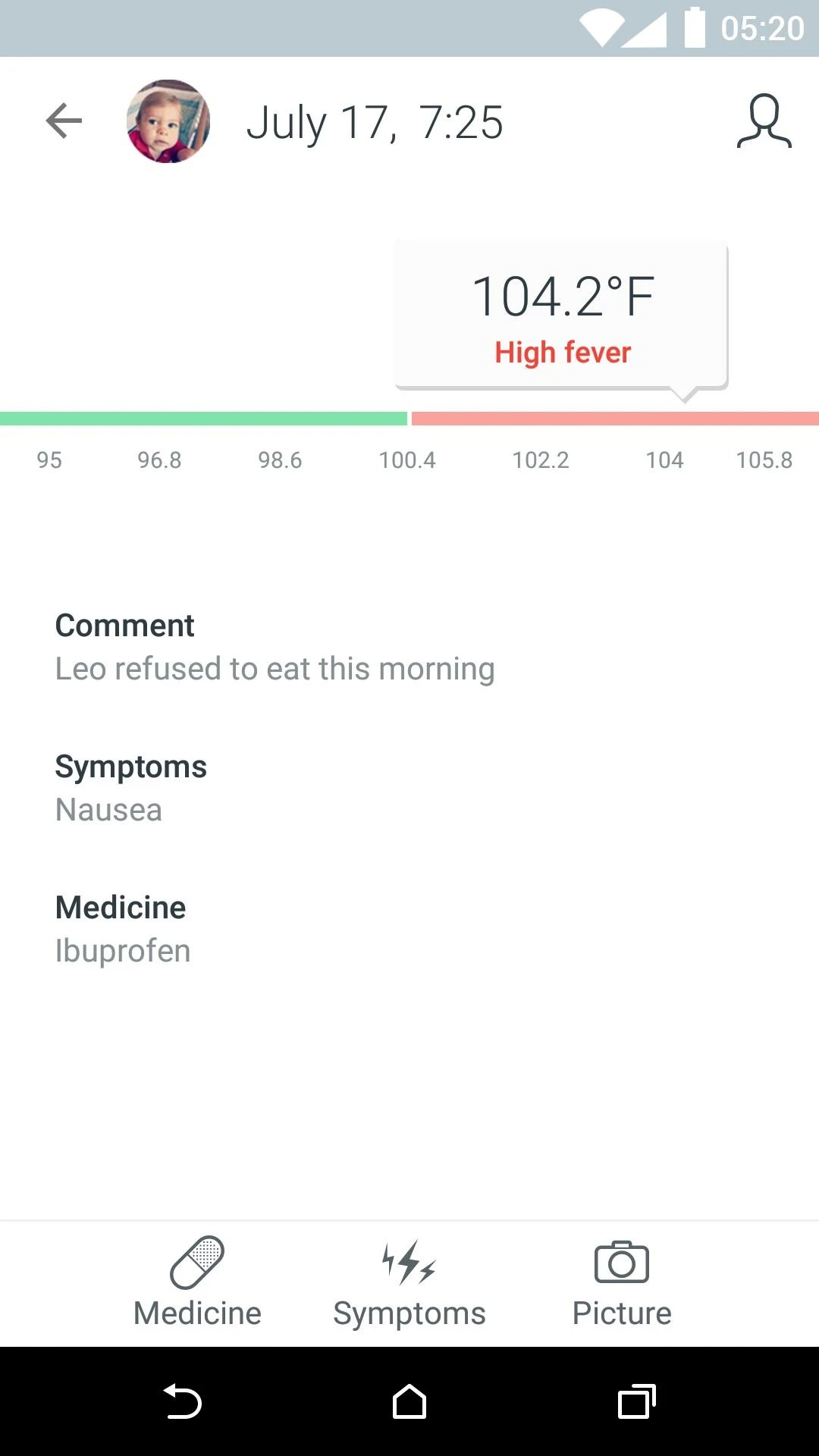 The app is available for iOS and Android.


Kinsa Smart Thermometer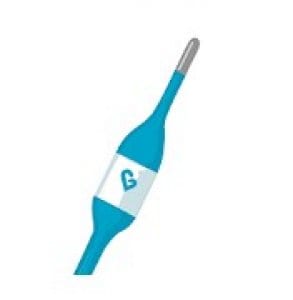 Kinsa is yet another smart device for measuring temperature purposes. It plugs into the phone and works together with the so-called application.
The app itself lets users create multiple accounts for body control of all family members including kids. Using the app you can easily discover first signs of sickness that will be reflected in a high fever.
The app is free to download for both platforms Android and iOS and it has an extra feature to set a reminder to take medications at a certain time of the day.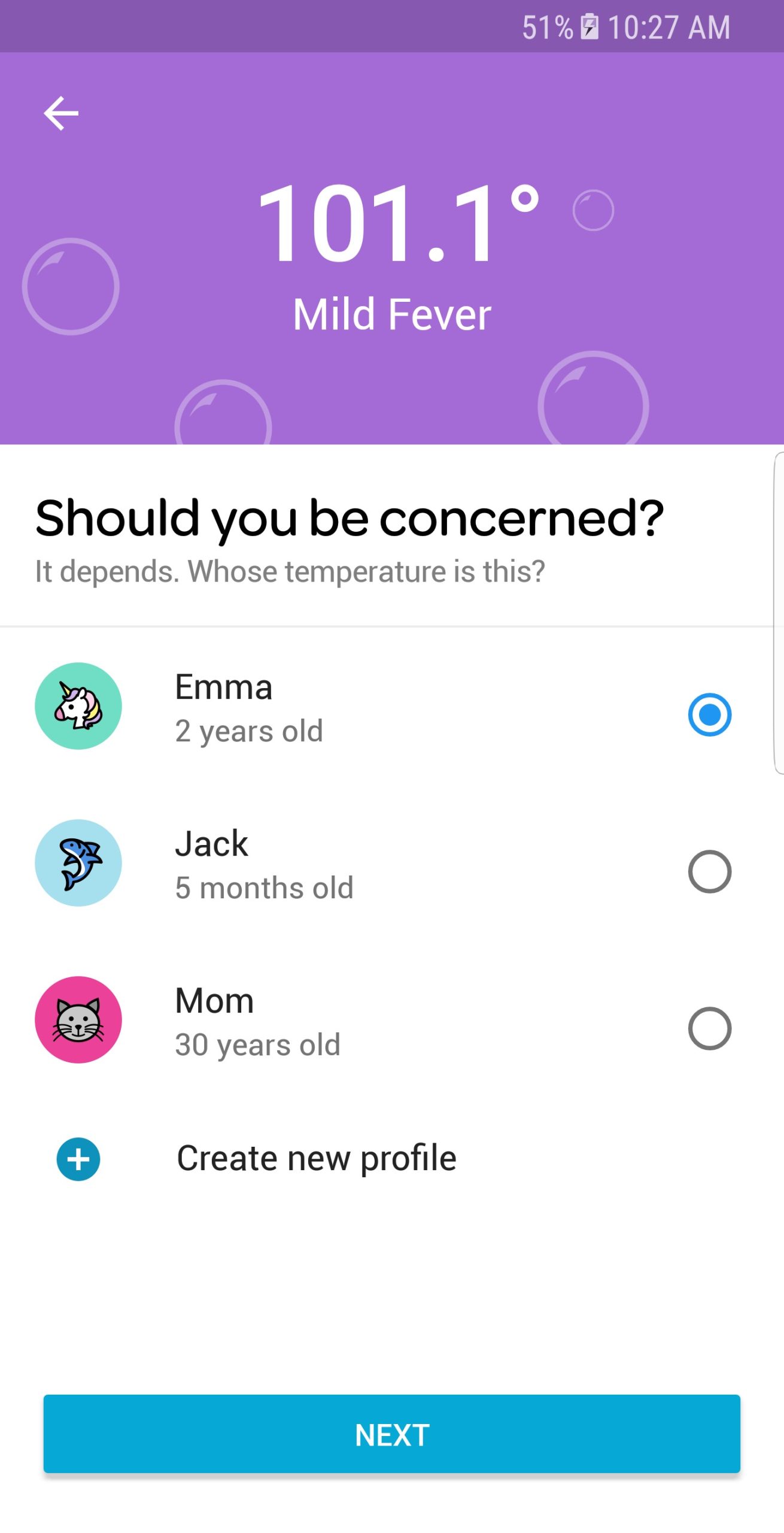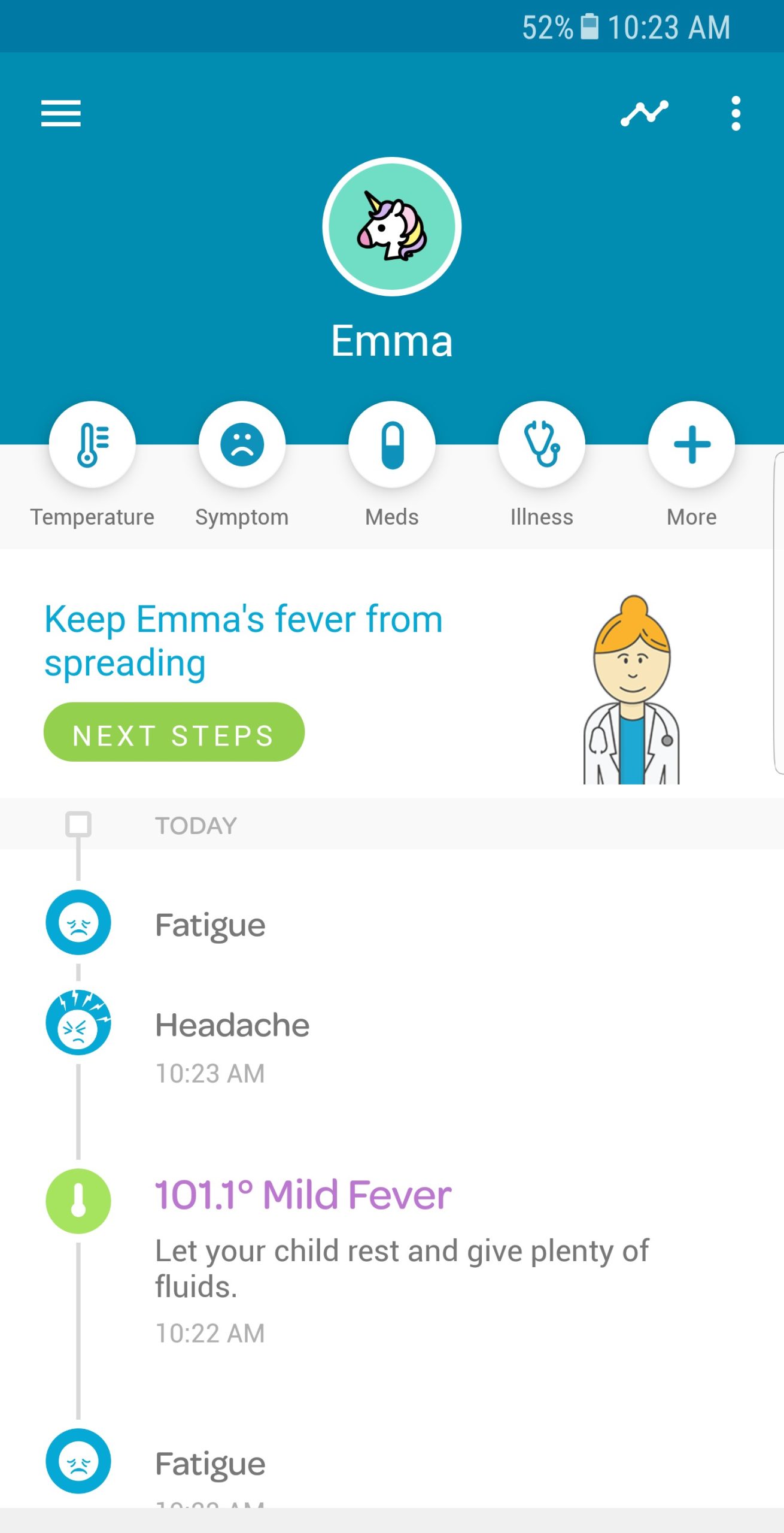 The app also allows record symptoms without even typing. It will be suggested to you what to choose: fatigue, headache, stuffy nose, body aches.

Real Thermometer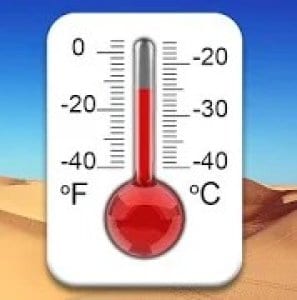 The Real Thermometer app is to measure air temperature either indoors or outdoors. It supposes to help you in identifying weather conditions and air quality at your home. It uses sensors of the phone to recognize temperature.
The app will display the temperature in Celsius and Fahrenheit. It has a stunning interface with well drown pictures. Easy to navigate and understand the app.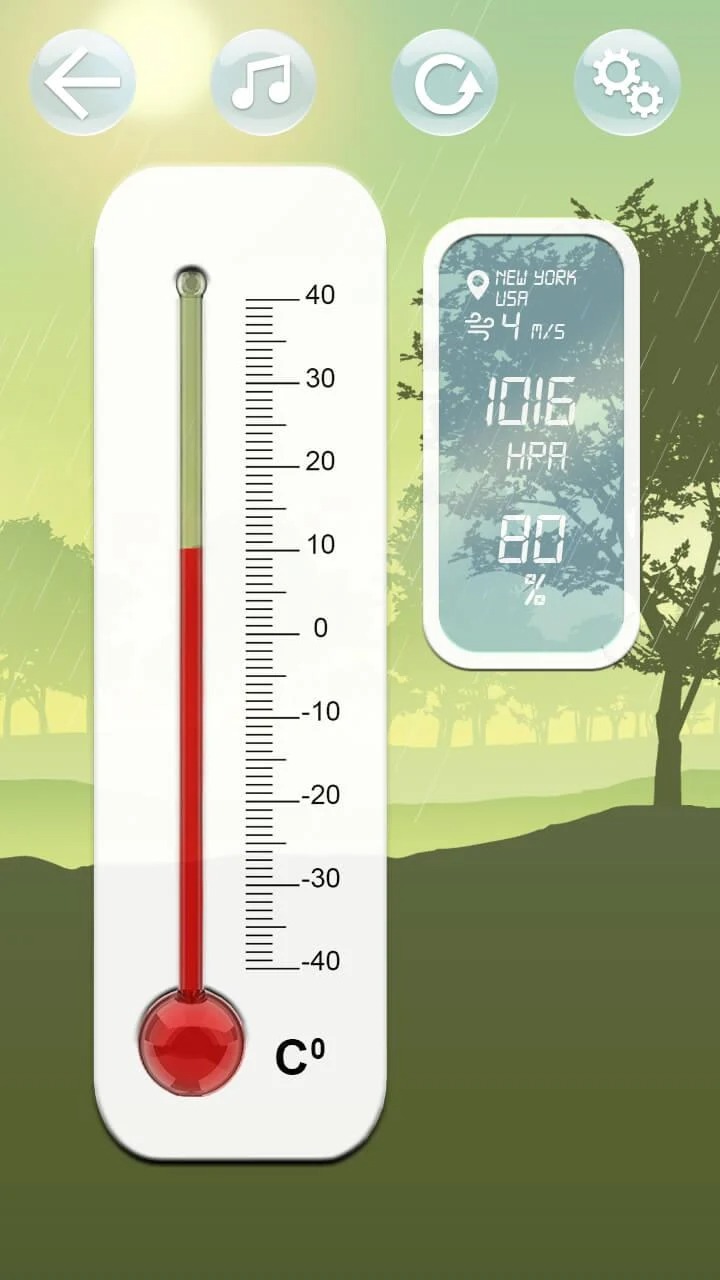 The design of the app is to look like a real thermometer with mercury inside. Besides, the app must show atmospheric pressure and humidity. It weighs almost nothing and will not occupy any space in your memory. It's free for Android and iOS devices.


You may also like: 7 Best Apps to Measure Humidity in House (Android & iOS)
Vicks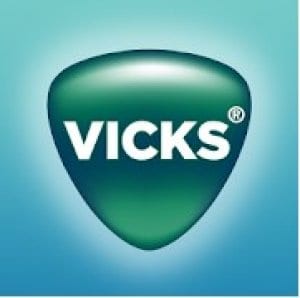 Smart thermometer Vicks goes together with the app for Android and iOS. It's an additional application for the ultimate use of the device.
The app like many others is created to measure and track temperature. Vicks lets the user track not only his body temperature but all his family can be included in one app and measured with one device.
Each family member can be added to the app and his temperature will be tracked. In the end, you will find trends of temperature. It can be a useful feature in case of any seasonal cold and flu.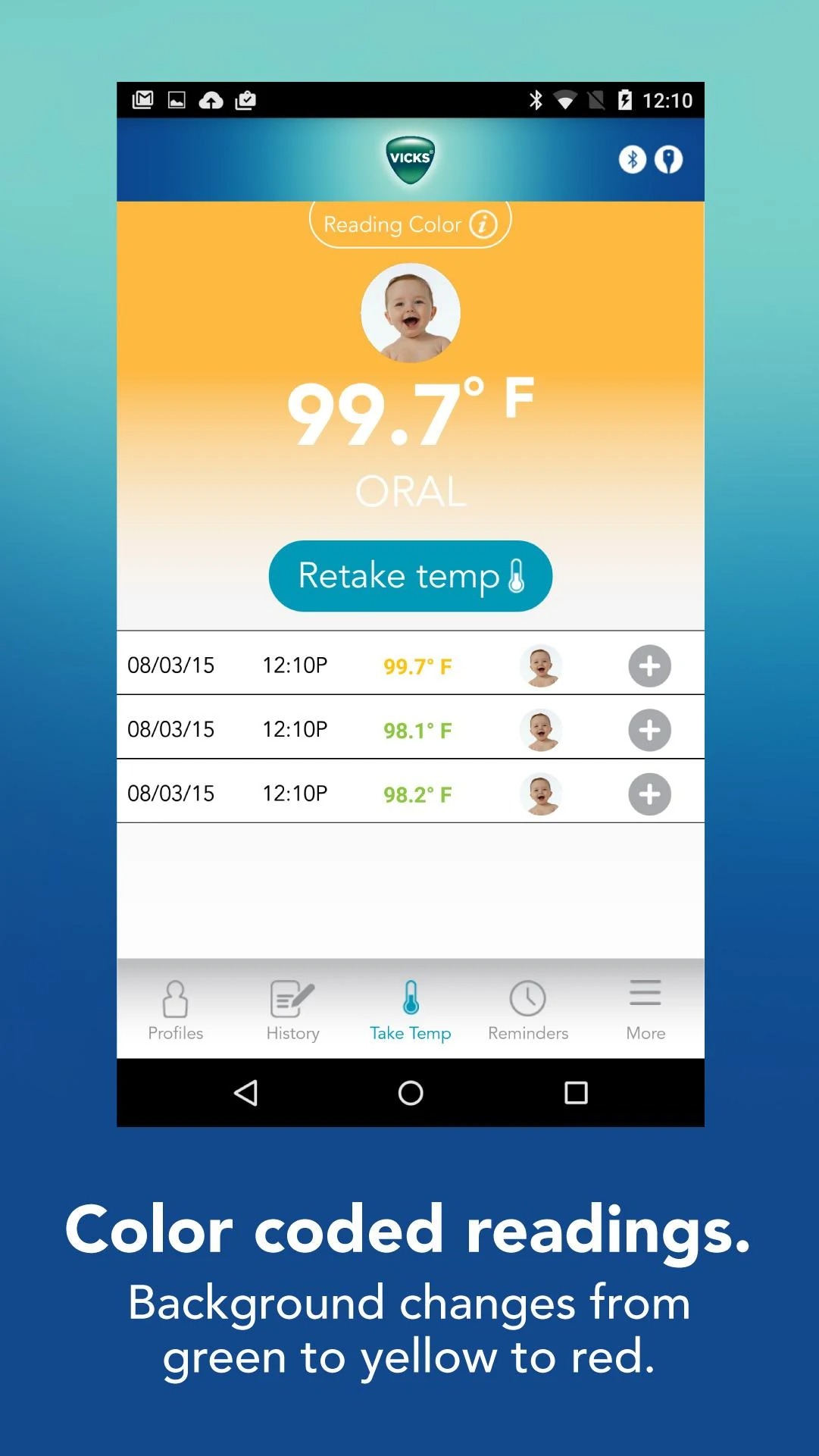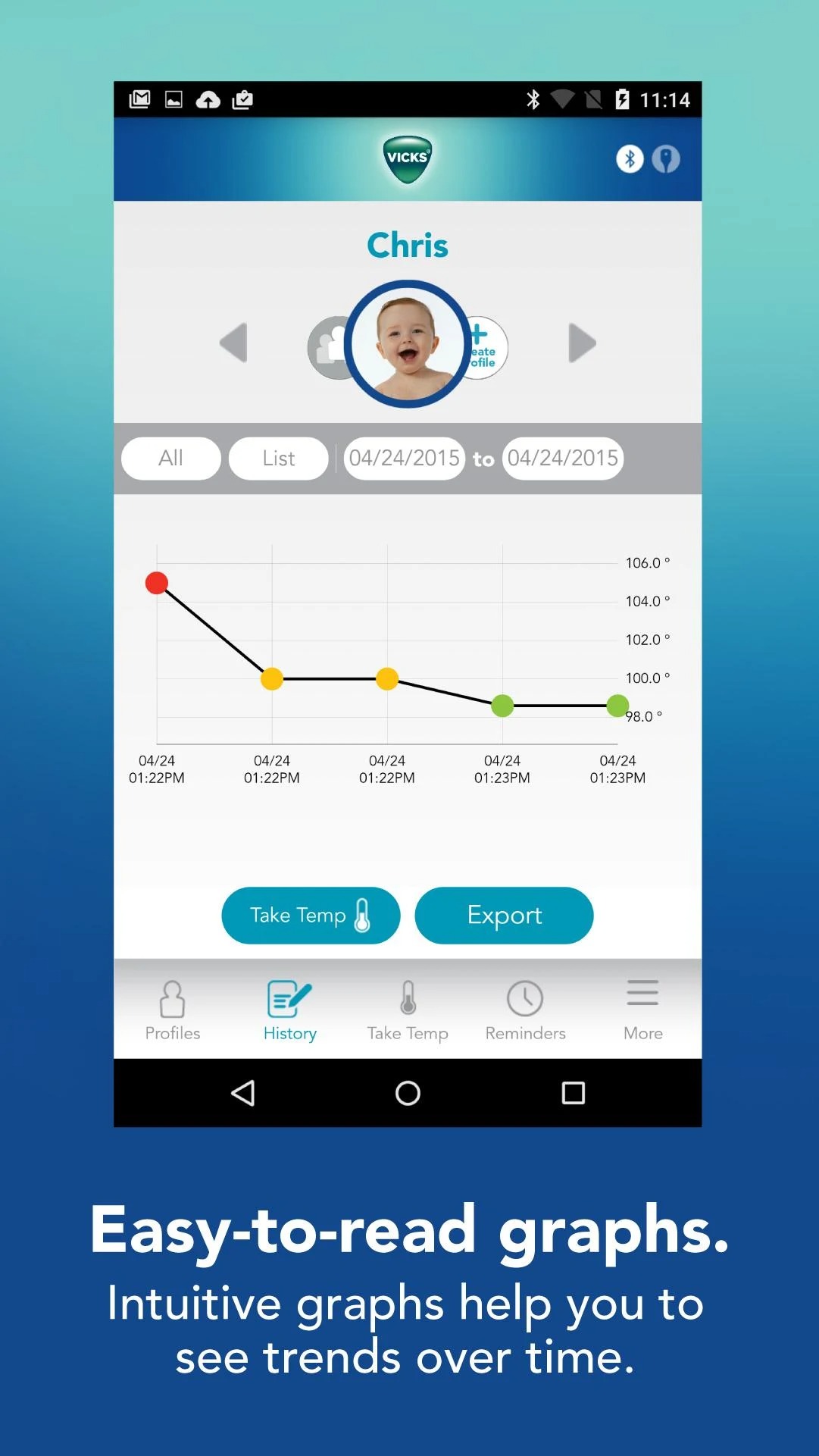 Of course, as in many advanced apps, users can add medicine and symptoms and even send reports and graphs to their physicians.


Digital Thermometer app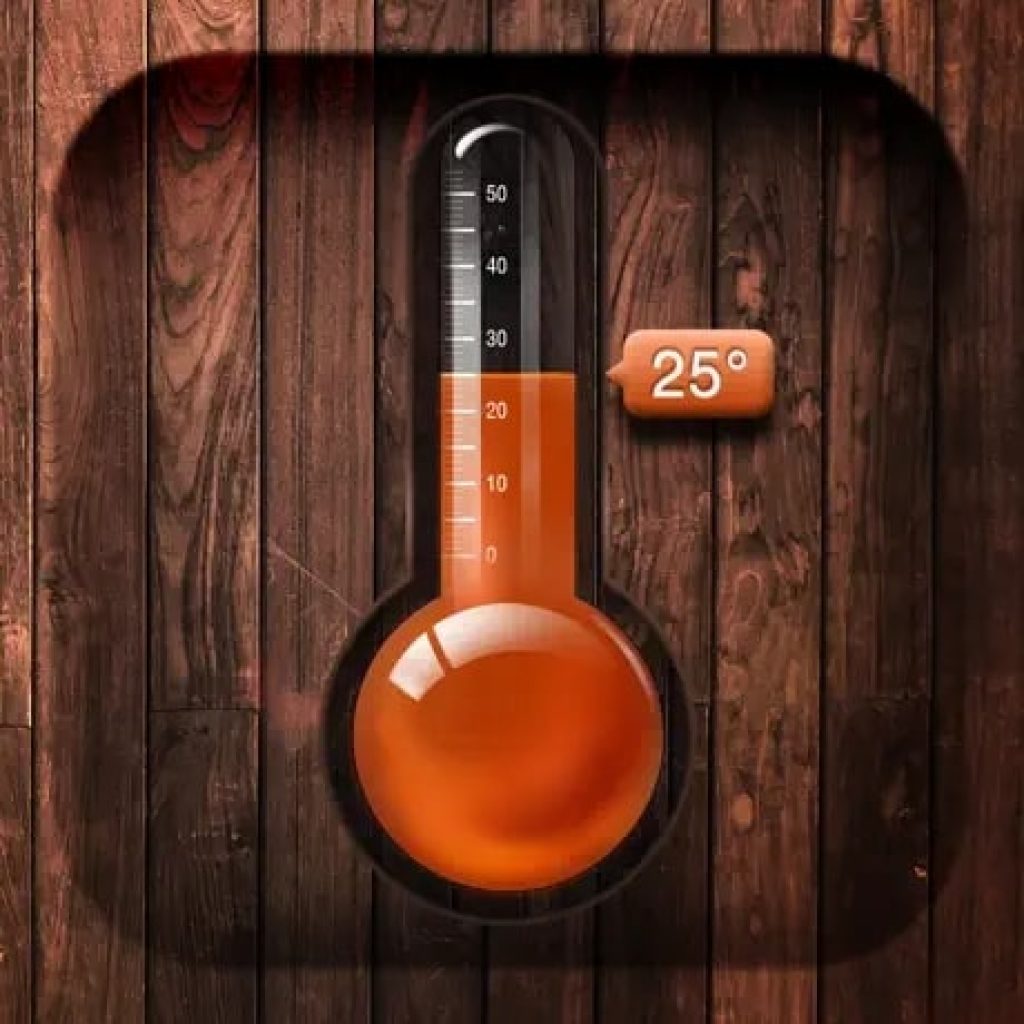 With this app, you will no longer need the weather forecast, as you will be able to get all the necessary weather indicators yourself. You will be provided with a digital thermometer whose data will change according to your environment.
The air temperature information will be as accurate as possible when your geolocation is connected.
You will even be able to choose what format and style of weather data will be shown to you. For example, you will be able to view degrees in any format you like.
This app is suitable for measuring temperatures in any country around the world. The data will automatically display according to changes in weather conditions and temperature patterns at your location.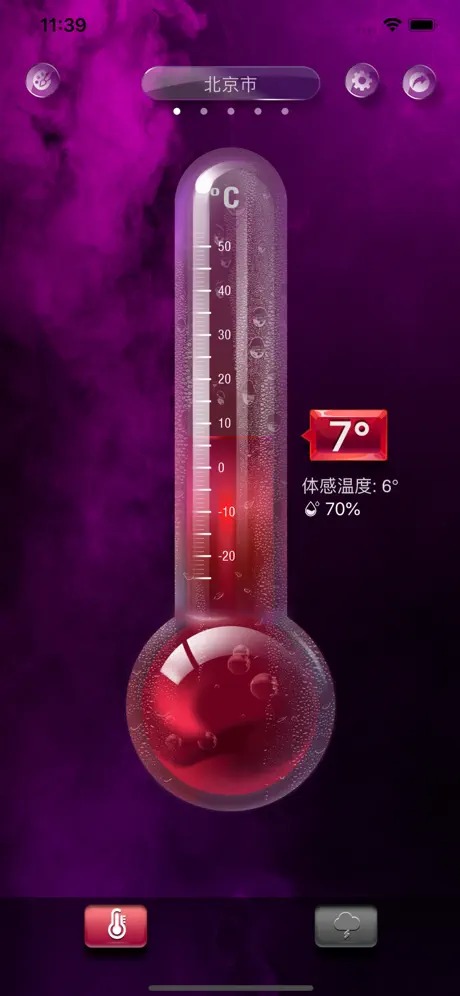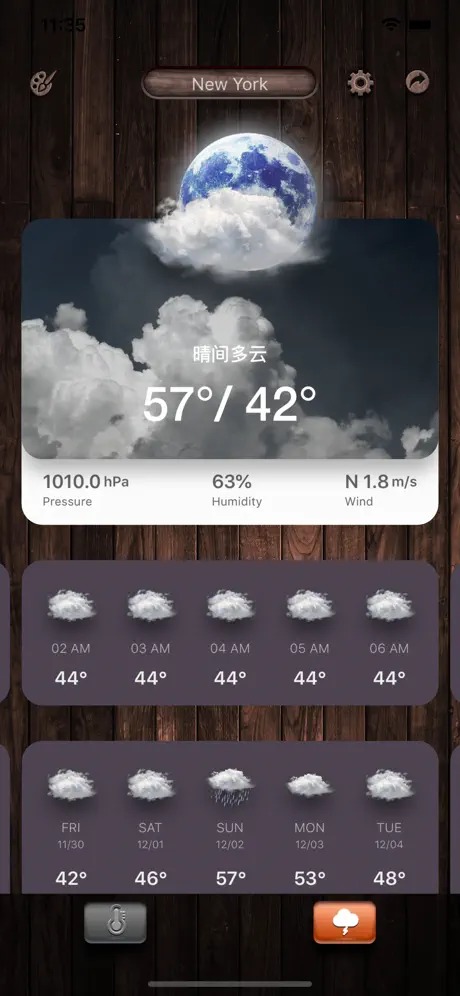 You will also be able to look at the dynamics of the weather for the previous day and today. Or search for information about weather conditions in other cities and countries to plan your travels.

Room Temperature Thermometer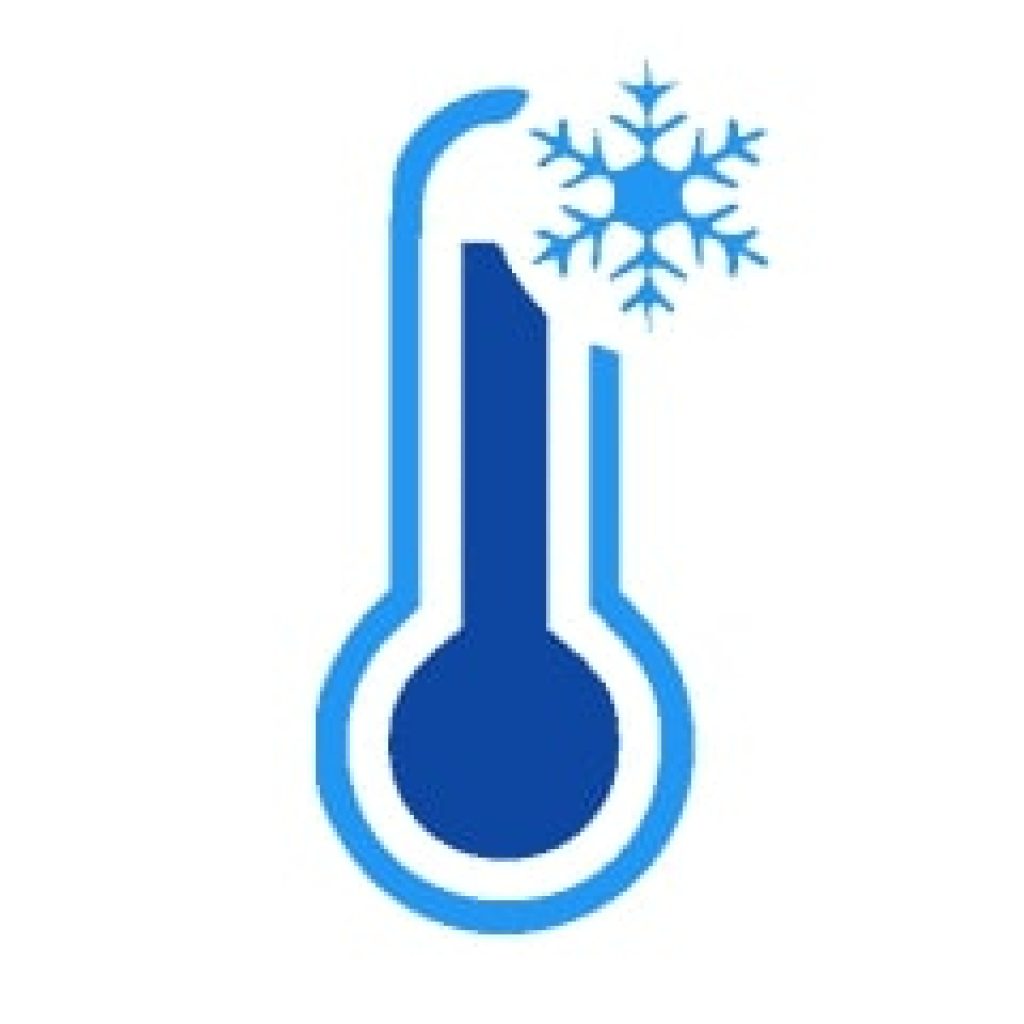 This app will be a great virtual alternative to a real room thermometer. It will allow you to get information about the temperature conditions of your room.
To get the most accurate data, the service requests access to your geolocation. This will allow you to see what the temperature in your room is at the current moment in time.
The app does not require an internet or network connection, so you can use it anywhere. In order for the service to be used by citizens of different countries, it has a choice of degree measurements: Celsius or Fahrenheit.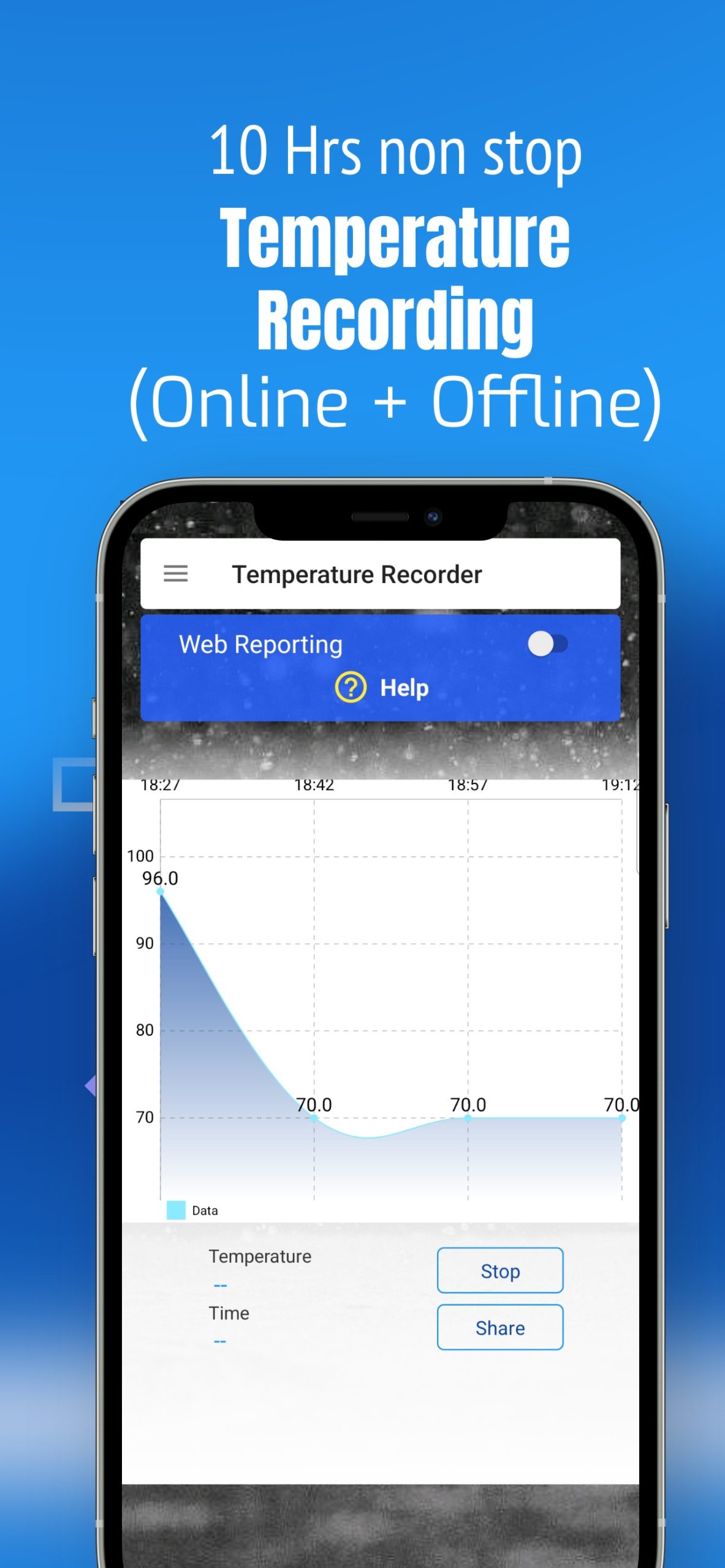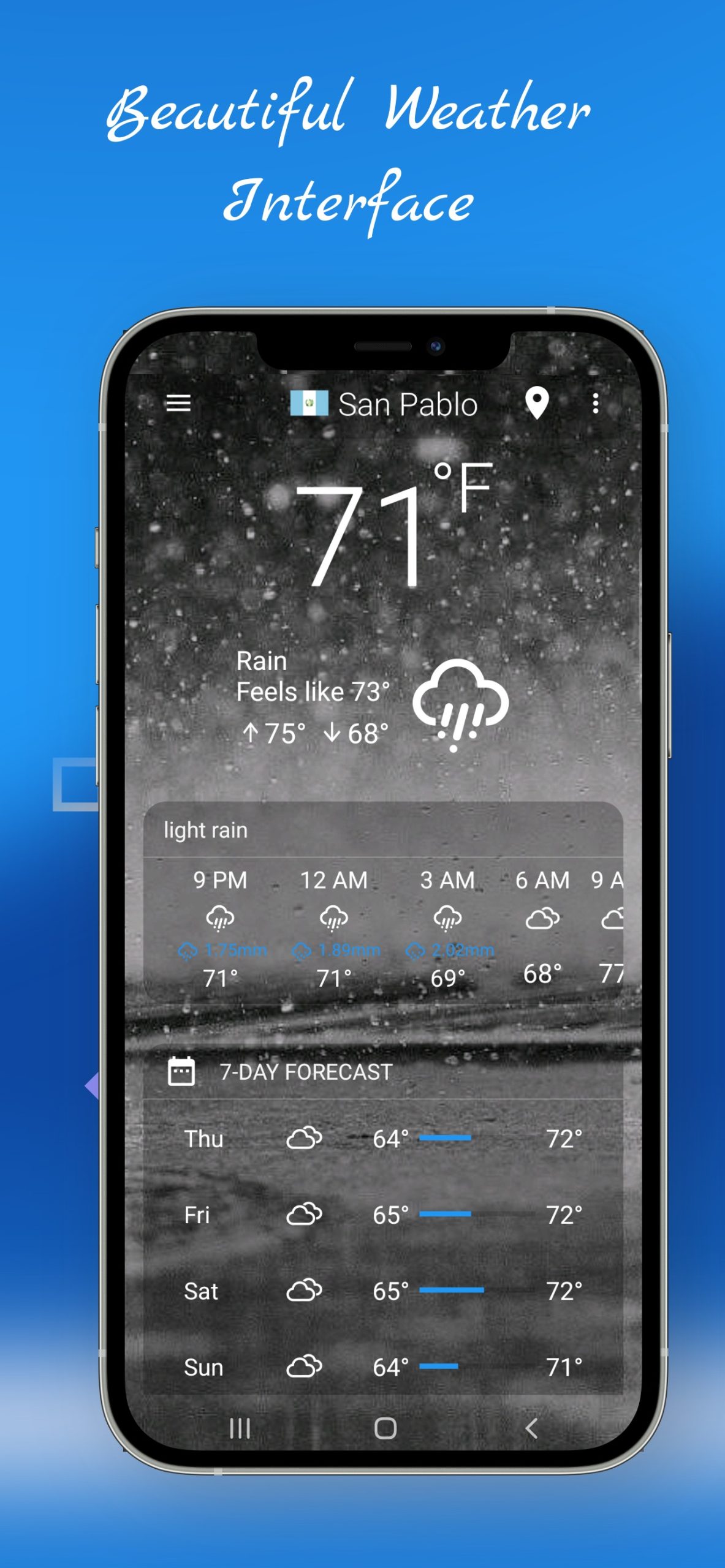 For your room temperature information to be 100% accurate, you need to open the app and leave your smartphone in the room for a few minutes. You will even be able to watch the scale rise or fall on the virtual thermometer.

Body Temperature Thermometer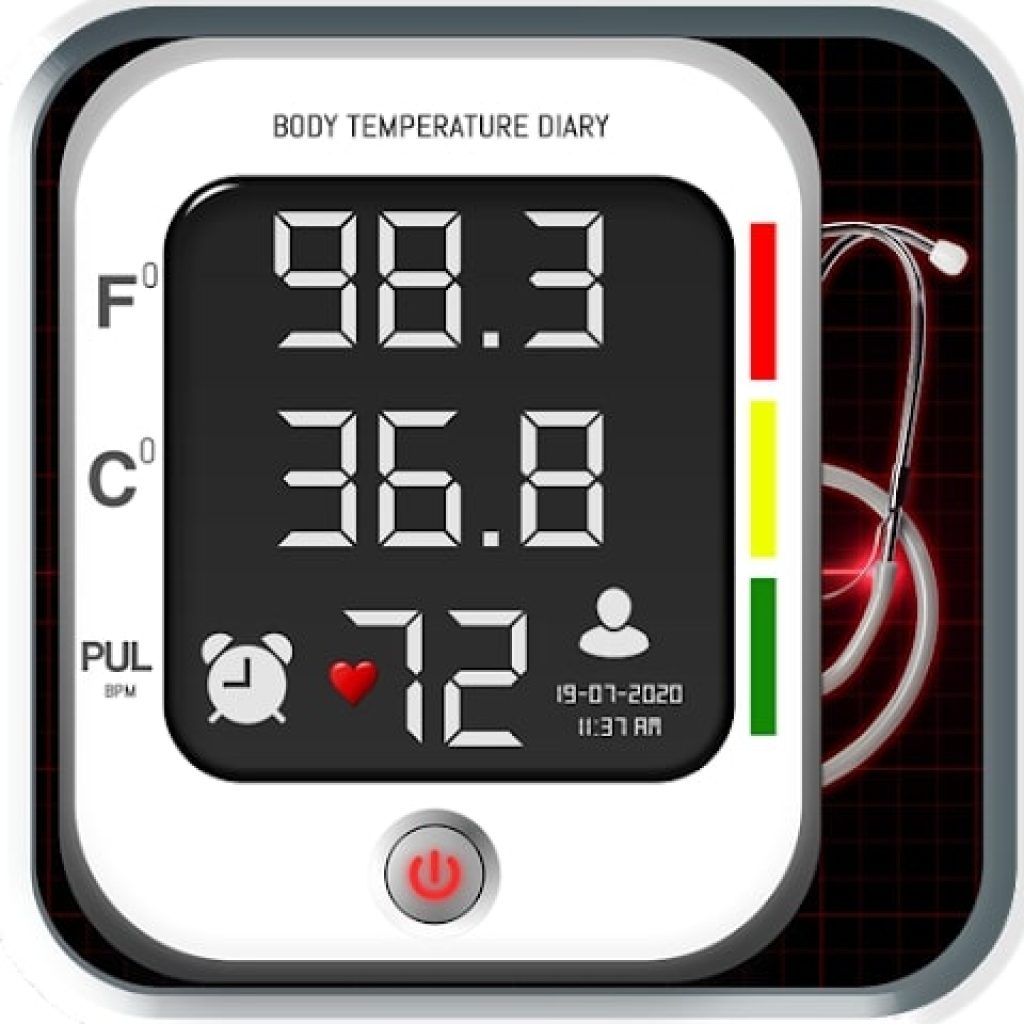 With this app, you will always be able to monitor your health in real-time. Track your heartbeat, blood pressure, and even temperature changes in your body.
For details, you will be provided with a chart and graphs that will allow you to see the changes over the period of time you choose.
On a daily basis, you will be able to create new records by keeping your own medical records. But data from previous days and periods will automatically appear in the archives.
So you will not lose them and will be able to review them at any moment for a detailed analysis of your condition in dynamics.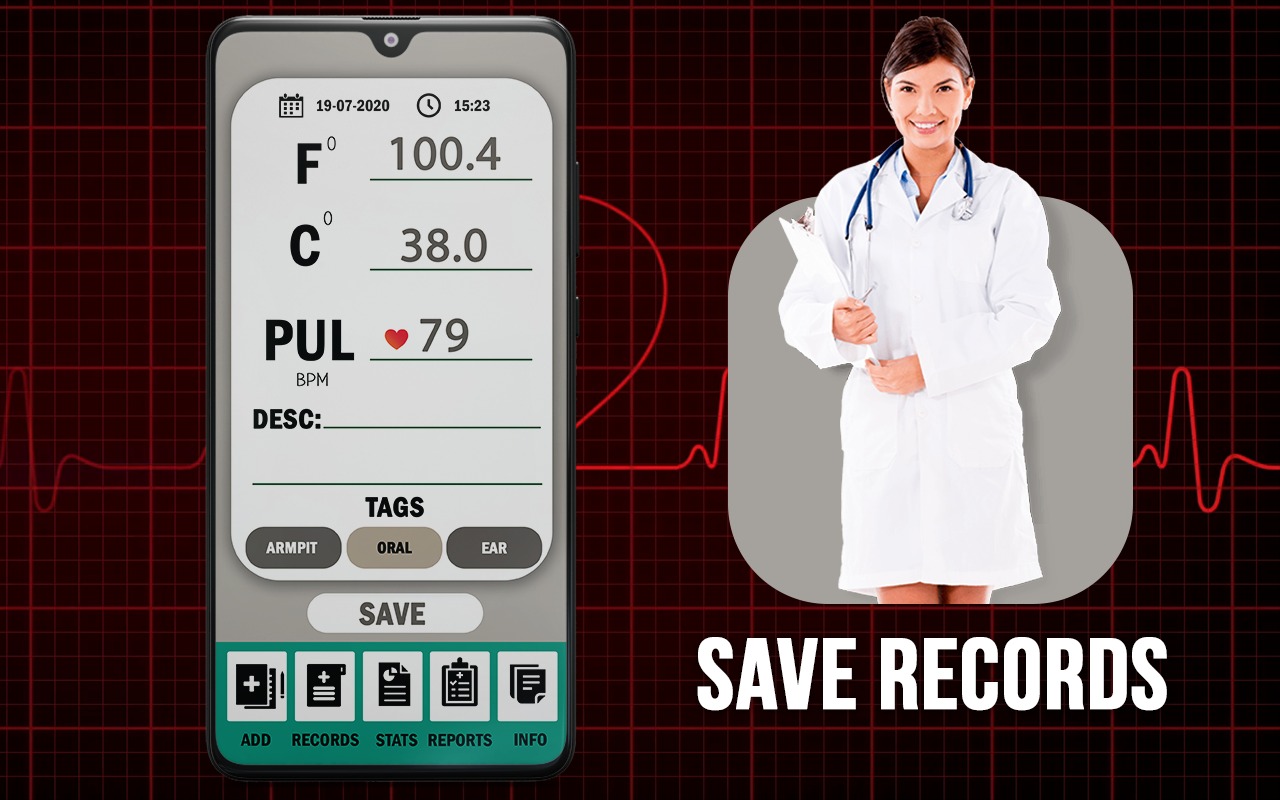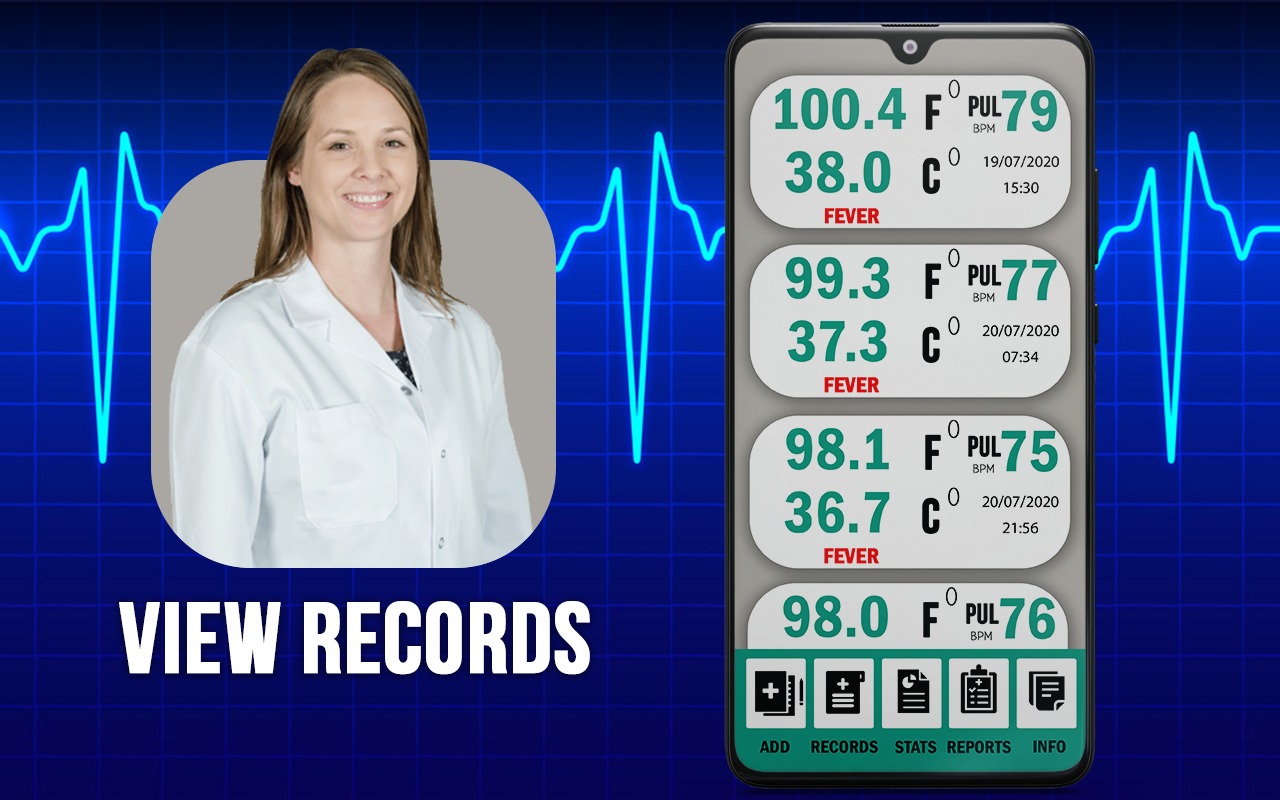 You will receive the information in any data format: Celsius or Fahrenheit. You can choose them yourself in the program settings.

You may also like: 15 Best Barometric Pressure Forecast Apps for Android & iOS
@Thermometer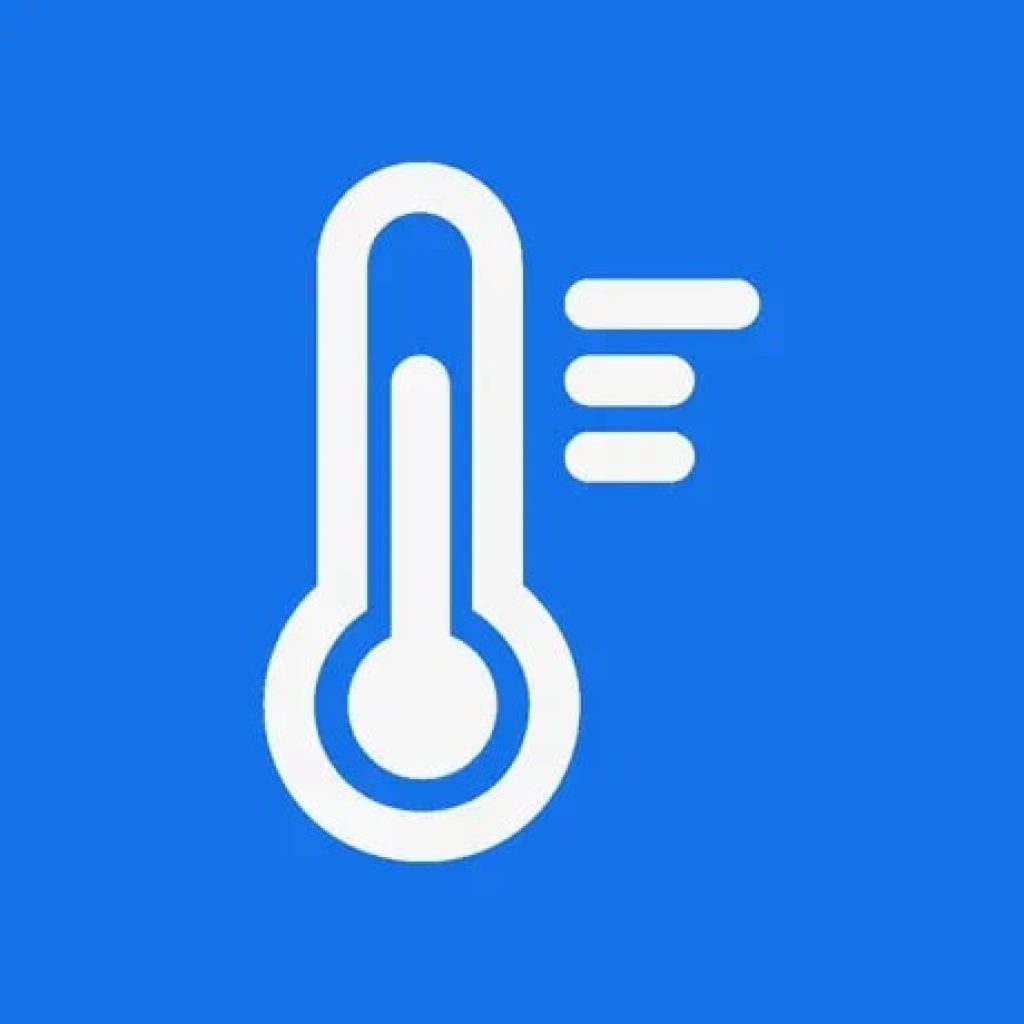 An accurate and up-to-date thermometer is right on your phone. This app is perfect for those who want to stay informed about what's going on outside their window.
Get instant information about the temperature outside with high accuracy. You don't need to carry around bulky gear or sit in front of the TV and wait for the weather forecast.
Set up this program, access your location, and get highly accurate readings down to 1/10th of a degree. There are 2 scales for your convenience: Celsius and Fahrenheit. Artificial intelligence allows you to quickly analyze data from various sources.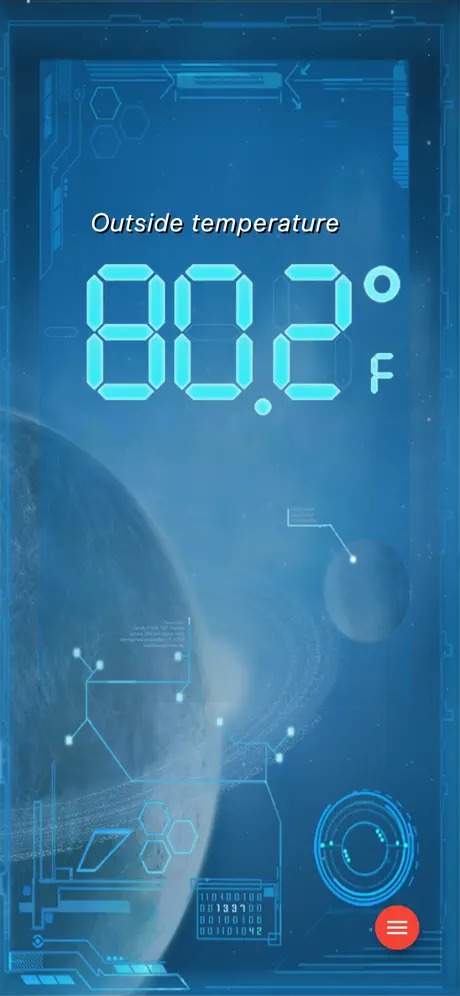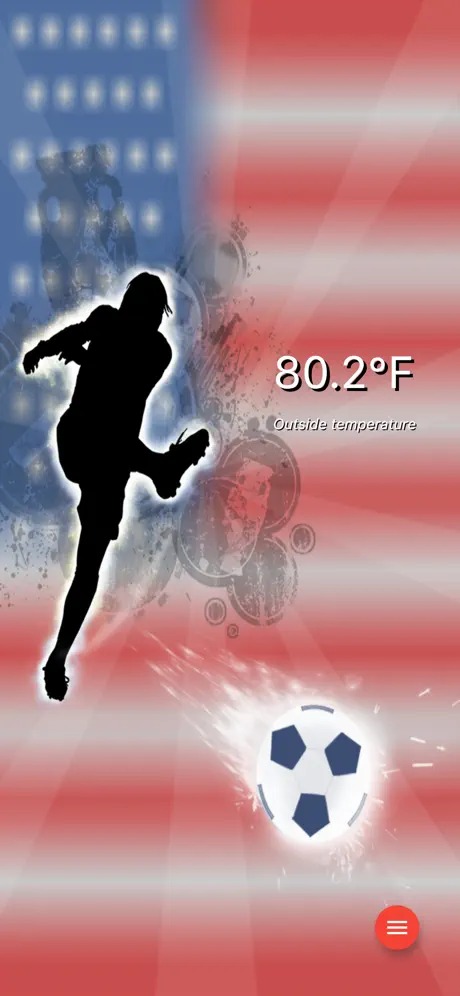 The app can be used almost anywhere in the world. Customize your language, scale, and run the app. It requires a stable Internet connection.