Animal life simulator is an interesting way to learn all the details of their lives. It's especially interesting to look at wildlife because we can't do it live.
For this purpose, there are animal simulator games. This list includes the best and most interesting of them.
You may also like: 11 Best Theme Park Building Games for Android & iOS
WildCraft
In the exciting game of WildCraft, players can build a zoo of their dreams.
To do this, a very wide range of tools and features are provided. You can build mountains, dig tunnels and caves. Set up lakes to bring your pets closer to the real-life wildlife environment.
The zoo simulator focuses on realism. It includes real-life animals. All of them are endowed with personality, characters, and feelings with emotions.
The living world reacts to every decision made. In campaign mode, you will have to travel the world. In the endless sandbox, you can choose the preferred area.
Here you also have to explore nature as a wild animal. You can play as a fox, lynx, wolf and many other wild animals.
You can play this game with your friends. To do this, log in through any social network or use your email address. Then invite your friends and start exploring this interesting world together.
Each animal can be changed according to your wishes. Options such as name, voice, gender, hair color, eyes and more are available. You can also raise your own cubs in each family.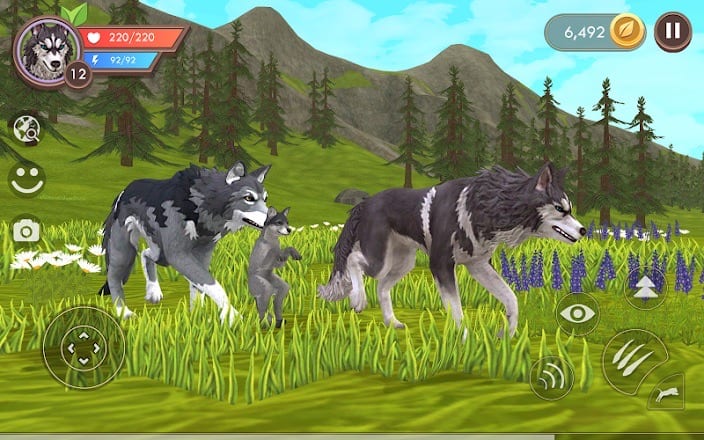 You may also like: 8 Best aquarium apps for Android & iOS
Cat Simulator – Animal Life
The game was created for those people who really want to get a kitten, but so far have no idea what they will have to face.
The beginning of the game is the creation of a dream kitten. You can choose gender, color and name. The cat can be controlled with a joystick and buttons. One button means jump, the second – attack. A small map in the upper right corner of the screen will help you navigate the area.
The map will tell you where the tasks are located on the map. For example, the first task in the game is to defeat an opponent. After any opponent is defeated, the kitten gains experience that will allow it to grow and become an adult cat.
Places where you need to arrive are highlighted in green on the map. During the game, you can meet your soul mate and start a family, have children, change the appearance of the cat, buy clothes for him.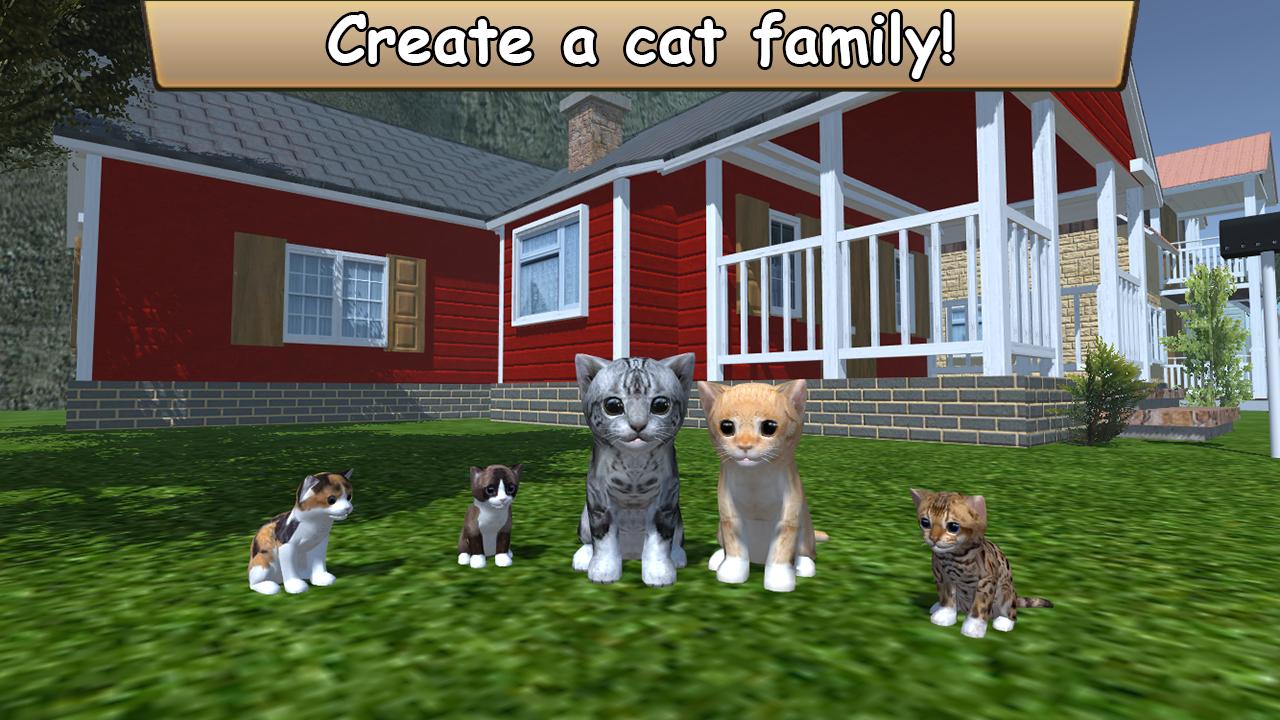 Wasp Nest Simulator – Insect and 3d animal game
Wasp Nest Simulator – Insect and 3d animal game is a bee simulator with interesting gameplay.
Your bee lives in a huge hive hidden in the greenery of Central Park. Every day she flies away to collect pollen and brings it home in the evening.
The "right" flowers are marked with a yellow marker. The most appetizing of them can be illuminated with "bee vision".
You need to fill a bag full of sweet trophies to fill the whole honeycomb. By the way, it is much harder to return to the beehive with a load. Maneuverability deteriorates and the speed drops drastically.
And this is only a small part of daily duties. One of the most dangerous is a duel with an angry wasp.
To strike a blow, you need to stop the slider, which runs on a three-color scale. You can repay the attack in time by putting a block in place. The one who has more lives to live wins.
Also in the app Wasp Nest Simulator – Insect and 3d animal game, there is an interesting mini-game – bee dance. To perform it, you need to use the arrows to repeat the movement of another bee. This strange ritual is necessary to pass information to each other.
And here is what is the priority for the hive, decides the beekeeper. The queen of bees occupies an honorable place in the throne room, on her sides are the royal guards.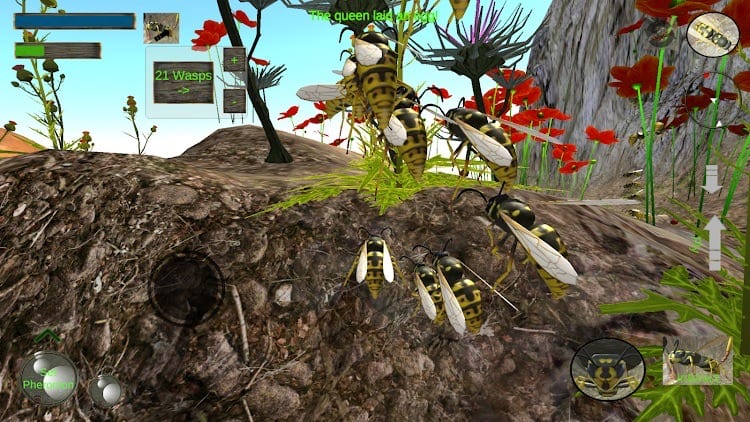 Ant Simulation 3D – Insect Survival Game
Ant Simulation 3D – Insect Survival Game is a game, a kind of game-design experiment.
It allows players to feel the inexpressible sensation of life in the form of a tiny ant in the giant world. Look at the world in a new way!
In the game, you will have to walk in the thickets of herbs and plants. Explore the soil, mushrooms, and discoveries.
You will also need to rebuild your anthill and help to survive your colony. You will become its leader. Start small and grow a giant ant empire!
At the first launch, you will need to create your own ants. There are many different parameters available, including appearance and skills. You will also have to contact other ants. Fight for territory and resources and show who is in charge.
Features of the game Ant Simulation 3D – Insect Survival Game:
A highly detailed and realistic environment
Choosing the specialties of your ant character
Colony Management System
Attacks and protection against other inhabitants of the insects and alien ants
Digging and building
Capture and collection of resources
Procedurally generated levels
Single-player game with storytelling
This is a free application, with the help of which you can see the real-life of ants.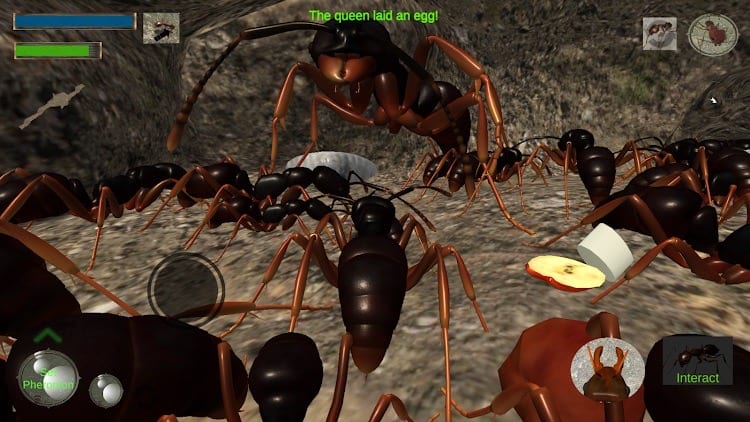 Cheetah Family Sim – Animal Simulator
Cheetah Family Simulator is an extraordinary application in which you can start a family of cheetahs.
After a quick installation of the application, launch the application and go to the main menu section.
On the left side of the screen, you will see information about the latest updates and other developer games. There is the Play button on the right of the screen.
You will be provided with brief information about the rules of the game while the simulator is loading.
You play as a cheetah, which is located in the middle of the screen. To regulate the movement, you need to press the button in the left corner.
Also, a map of your location relative to the house is provided on the screen. In the upper left corner, you can see how much energy and strength you have.
If you meet a victim, click on the buttons in the lower right corner of the screen. You can scratch, bite and attack the victim. The victim's health index is shown at the top of the screen.
In the Character, stats enter the name of a cheetah, increase the level and check the available points.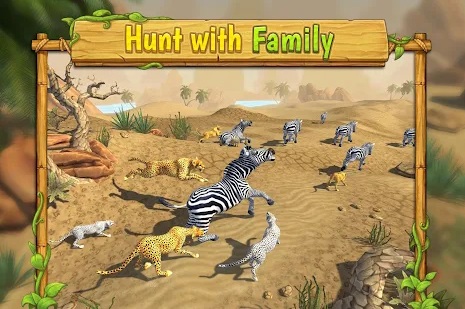 You may also like: 11 Best Games Like Terraria for Android & iOS
My Wild Pet: Online Animal Sim
My Wild Pet: Online Animal Sim is a wildlife simulator.
The game begins with the fact that someone kidnapped a child of one of the inhabitants of the animal world. You have to go on a trip with other animals to find the kidnapped child.
This is a multiplayer game. This means that you can play with your friends. To do this, log in with your social networking account. Then invite your friends and go on an interesting journey together.
At the beginning of the game, you can choose any animal you want to play for. You can also adjust some of its settings. For example, the name, color of its individual parts, size and more.
Explore the virtual world of the game. Enjoy great graphics and realistic sound. During this adventure, you will discover new locations and meet other players. This simulator is sure to please both children and adults.
This is a completely free game that works without any restrictions. Besides, there is no built-in advertising and you do not need to make built-in purchases.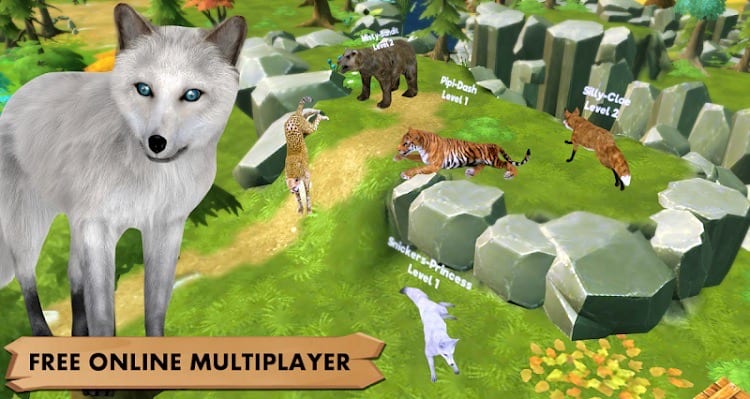 Panda Family Simulator
Panda Family Simulator is the virtual life of the prettiest animals on the planet.
Here you will see and study the wildlife of nature in China. In your hands will be the life of little pandas, which you have to go through. Join this fascinating world to enjoy a pleasant pastime.
First, you'll need to create a panda to live through. Here you will be able to adjust all the parameters according to your wishes.
Next, you will have to create a family and start a small panda. In the course of the game, you may encounter hostile animals.
They will try to destroy the stable life of your pandas. But, you have everything at your disposal to overcome these difficulties.
Strong pandas must surround themselves with strong animals. Protecting your family will help you to have strong connections with other inhabitants. It will also help you to better explore the wild places in China and get more valuable experience.
To provide a life for your family, you will also have to look for food. The friendly animals you will meet on your journey will help you do this.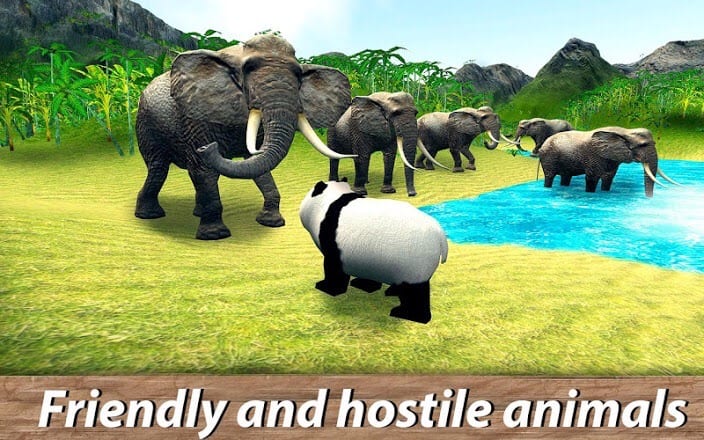 Savanna Race
Savanna Race is one of the best animal simulators in Savanna.
Here you will have to go through a fascinating race. You can play for different animals that live in the area. For example, zebra, lion, antelope, giraffe, elephant and much more.
On your way, you need to overcome many obstacles. Travel through this unusual and beautiful world. To get an advantage over your opponents, you need to raise your level. The more races you win, the higher your level.
This is a multiplayer game. To compete with players from all over the world, you need to have an Internet connection.
So you can get into the world ranking of players. Show your best result and become one of the first in this exciting animal race.
You will also be able to see in what conditions live the inhabitants of Savannah. Look at lions and rhinos in their natural habitat.
This thrilling simulator will amaze you with great graphics and animation. The game Savanna Race works without restrictions and does not need built-in shopping.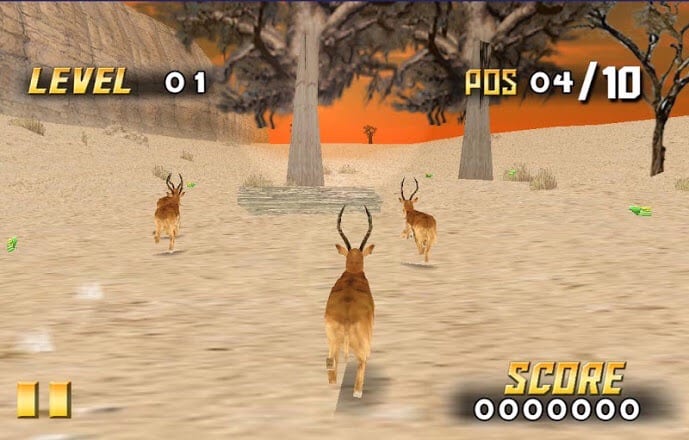 Wild African Horse
Wild African Horse is an application where you can look at the natural habitat of horses.
You will become a real horse in the virtual world. At the very beginning of the game, you will be able to create your own horse and set up all the parameters as you wish.
Next, you need to perform various interesting tasks to develop your animal. Learn new survival skills in this wilderness.
Also, these tasks will help you to train your horse and increase their endurance. This will help you on your long journeys.
Your horse lives in Africa. Here you need to try very hard to overcome the hostile animals. In the process of survival, you will also be helped by your friends, who will come to the aid at any moment.
You also need to feed your pet. It is recommended that you play Wild African Horse at least once a day. Also, for regular use of the app, you will receive extra points and valuable experience. These glasses can be used to buy extra skills or food for your horse.
But, all the main time in the game you have to get food yourself. This is where you will meet the dangerous wildlife of Africa. You need to overcome them and get what you need.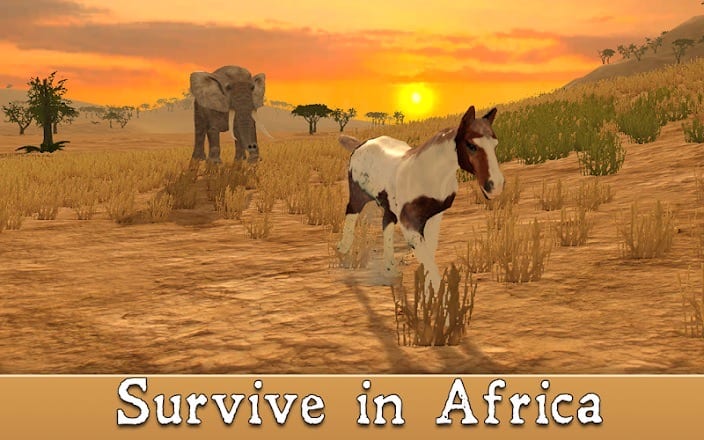 Zoo – Happy Animals
The game allows you to play the role of a zoo worker. One level – one task for the animal. For example, feed an animal, wash an elephant, or help animals get into their cages.
A large number of puzzles will allow you to understand whether a job in a zoo is right for you.
In fact, the tasks contain a catch. Animals may want to bite you. The elephant tries to run away from you while you wash it. At the end of the tasks, the animals will thank the players with dances or funny sounds.
The graphics in the game are simple and cute. Some tasks are accompanied by vibration. The game is mostly designed for relaxation. The gameplay is intuitive.
The game is free, but before moving on to the next level, you will have to watch ads. You can also skip a level by watching ads. In the settings, you can turn off vibration, sounds and music.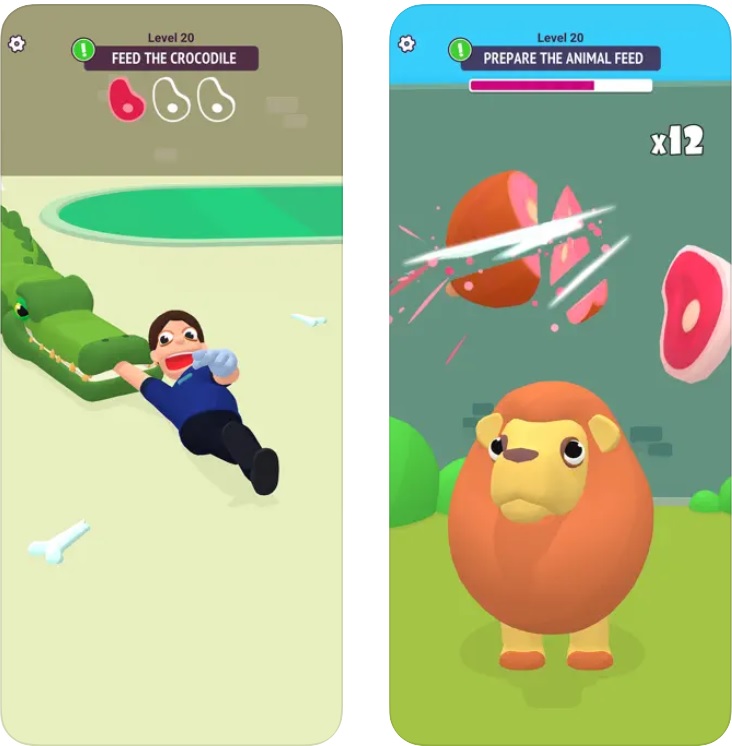 You may also like: 7 Best pet camera apps for Android & iOS
Wild Fox Sim 3D
Wild Fox Sim 3D is a wild fox life simulator in harsh winter conditions. Become the most powerful animal in this wilderness.
You should always try to survive among other dangerous animals. You can create your own family of foxes, which will help you in this difficult business.
During your travels for food or a place for a new life, you will meet dangerous enemies. Namely, other animals. For example, moose, wild boars, and many others.
To make it easier for you to overcome them, you need to develop different skills. You can do this in special quests, which are located in the appropriate section of the menu.
Besides, every day you will receive new offers from the game Wild Fox Sim 3D. Here you can get even more rewards for passing these quests and even for launching the game.
In this app, you will see realistic graphics and harsh living conditions of wildlife. You will become the best among other representatives of the fauna.
The game Wild Fox Sim 3D is absolutely free and does not contain annoying advertising.