On modern smartphones, you can install thousands of different applications. Some are designed to create notes, others — to edit photos, and there are applications that will appeal to pet lovers. It is about the third category of utilities that will be discussed in this article.
[wpsm_divider top="20px" bottom="20px" style="solid"]
Check also [wpsm_highlight color="blue"]10 Exciting Video Games for Cats on iPad[/wpsm_highlight]
11pets: Pet Care
One of the most useful apps for all pet owners. The program is designed to simplify the care of animals. Here you can set reminders for a variety of actions that need to be performed from time to time.
For example, the application will remind you of bathing, taking one or another medicine, as well as vaccination. Mentioning all the events are contained in the "Schedule" section, so the news of vaccination does not fall like snow on your head.
The most important skill of the program is the preservation of the history of the disease. 11Pets will even allow X-rays to be included in the appropriate section if one was made after a paw fracture or some other misfortune. Also, the user can register the usual vital signs – the weight and temperature of the animal.
The application is designed for entering information on several animals at once. Parrots, dogs, cats – even if you have a whole zoo at home, nothing will prevent supplying each animal with its own photo album and history of diseases. The fact that the data can be synchronized with the "cloud" is also important – information about pets will not be lost even if you buy a new smartphone.
11Pets is distributed completely free of charge, while the developers did not introduce advertising. The application will be very useful when you need to tell the vet about the history of the disease. And it also allows you to understand how high the cost of maintaining a pet.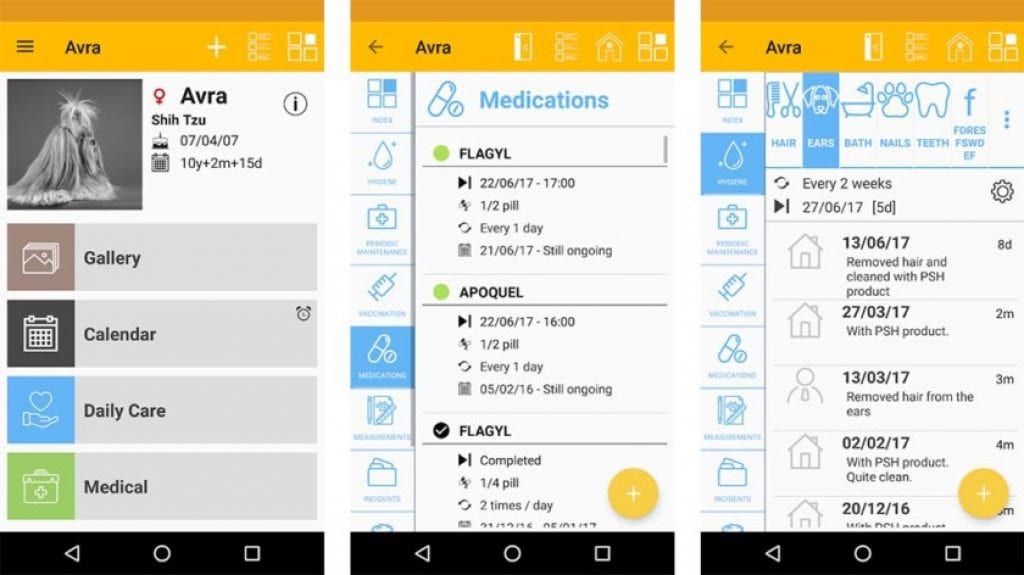 You may also like: 7 Best pet camera apps for Android & iOS
Teacher for parrot
Everybody knows that parrots have this marvelous skill to imitate human speech. If you got one at home, it happened to you at least once that your friends would come to visit you, then they saw your parrot asking you if it is capable to speak. Unfortunately, in most cases, parrot owners were unable to teach their birds to do that.
And finally, there is an app that is the full guide on how to teach your parrot to talk. And even if you don't have enough time to spend with your bird, you can still leave your phone with the app launched nearby a parrot and it will be teaching it to talk without your participation.
For the teaching, you can record your own voice or choose one of the pre-records that you can find in the app. The program of teaching itself is customizable so you can set the launch days, hours, minutes, a number of repetitions, and the interval between repetitions of phrases.
The app itself is lightweight and simple so if you have any gadgets at home that you don't use anymore you can use it for this app. Just set the schedule and it will be teaching your parrot while you are away.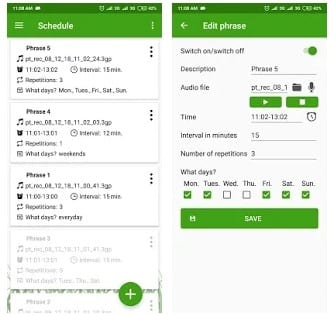 Pet First Aid
Pet First Aid app allows you to learn how to provide pet first aid. As is the case with people, anyone can do it: even a person who does not have a specialized education. At Pet First Aid, you can find step-by-step instructions in case the pet gets hurt, recovers, burns, freezes, stays underwater for too long, etc. All of them are in English.
The application will help if you need to make the animal artificial respiration and take other resuscitation actions, fix the sprains and fractures while waiting for help, correctly put on a muzzle, or tie a pet. All articles and instructions are available offline and wirelessly.
Pet First Aid also allows you to schedule vaccination and short medical records of animals. This may include a list of vaccinations, diseases, drugs, substances for which the pet may have allergies, animal identification data, address, and phone number of the veterinarian.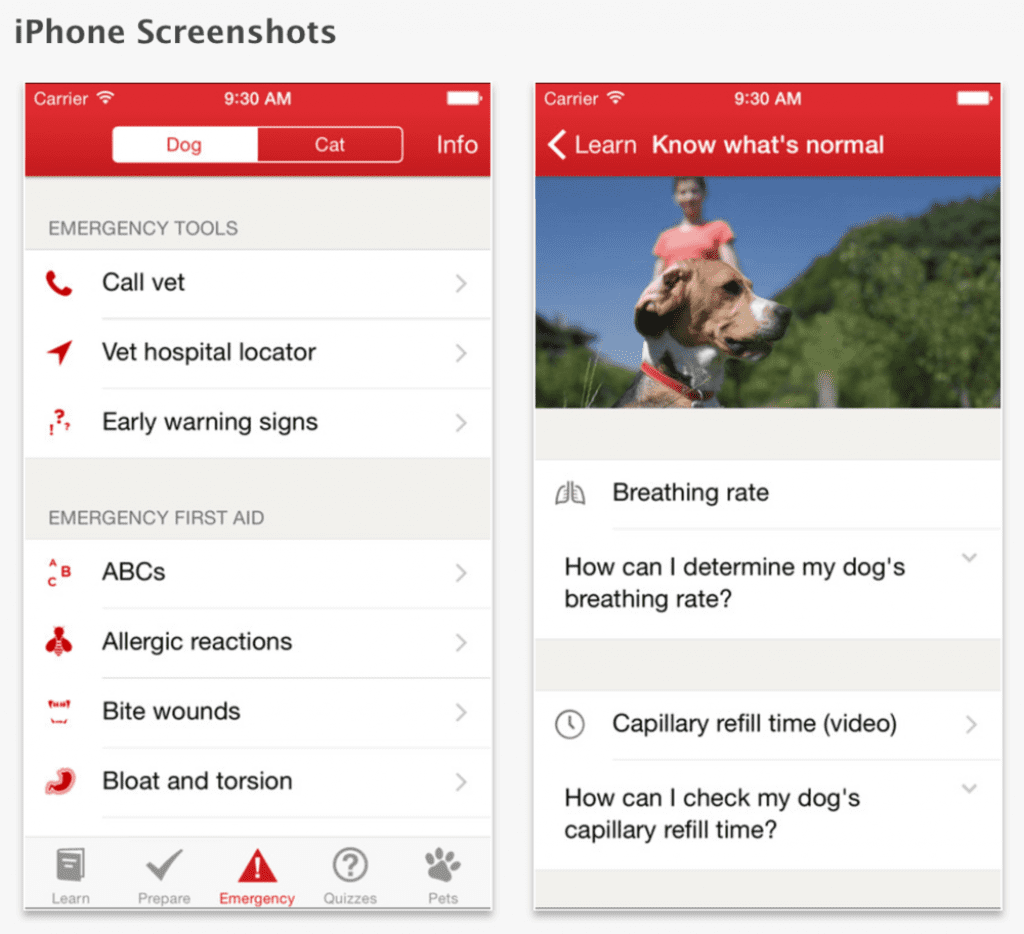 Pet Names
Are you planning to get a pet? Have you already decided who you want to name it? If not, this app will help you to get an idea. Naming a pet can actually be tricky because something you simply got no idea which name to choose. In Pet
Names, you are able to browse through various names, discover new names that you have never heard before, and maybe this way come up with the right choice. In general, simple, but a useful app. All the names are sorted by the first letter.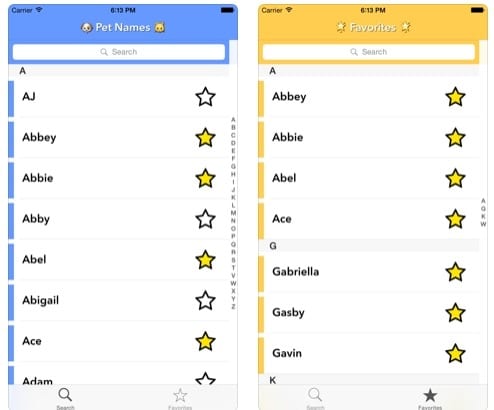 Cat Fishing 2
In addition to applications for owners, the AppStore and GooglePlay feature many mobile games for the pets themselves – mainly for cats. The cutest of them are from cat food manufacturers Friskies.
Not only you like to play games on your smartphone or tablet. Cats love to idly spend time, so be sure to download such an exciting game as Cat Fishing! This is the most thoughtful, simple, and beautiful application from a variety of those that exist today.
The Cat Fishing game is a small fish floating around the screen that is trying to sneak away from your pet's mighty paws and claws. It is cool that the creators of the application very successfully played on the natural essence of cats – it is no secret that they are all predators and simply adore fish. However, it will be interesting for you to play this game. The application is free.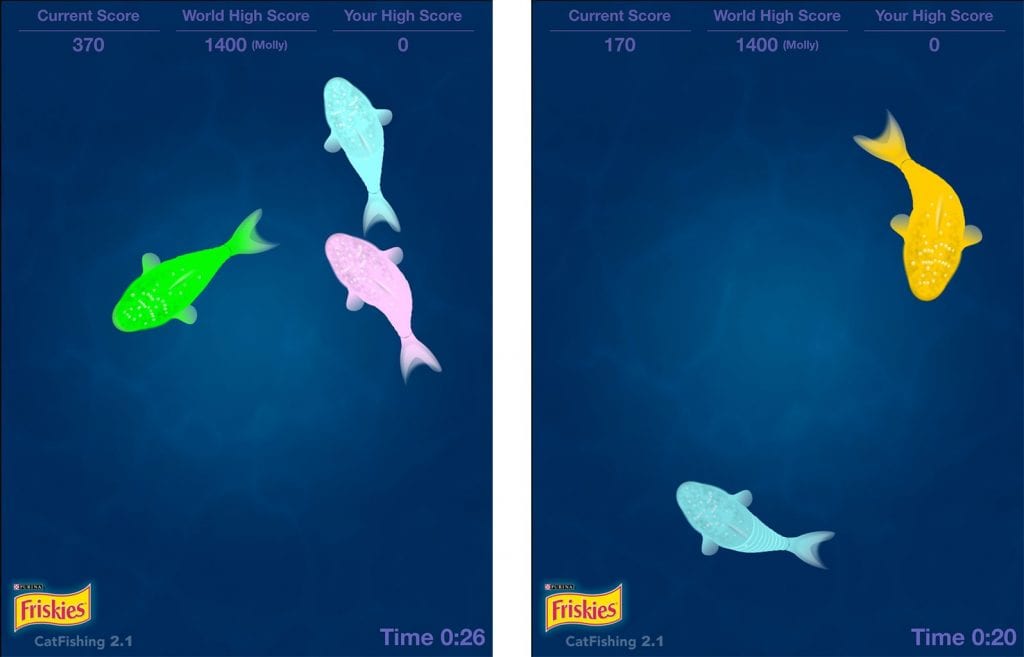 Human-to-Cat Translator
The Human — to Cat Translator program allows the user to forget about the voice barrier between him and his furry pet. This non-standard application is based on the principle of all translators: the user dictates a question to a smartphone that he wants to address his pet (for example, "Are you hungry?"), and the gadget translates this question into a cat's speech. The program works in the reverse order – it is able to recognize the basic commands in the cat language.
TheHuman-to-Catt Translator user has:
Samples of 25 feline voices.
More than 170 different samples that can attract the attention of a furry friend (for example, birds singing, a squeak made by mice, purring).
16 standard commands in high quality.
An application that initially seems rather absurd (albeit funny) actually helps to establish a dialogue between the pet and its owner. Lite-version of the program with reduced functionality is installed free of charge, although the Deluxe version is inexpensive – about 1 dollar.
Please note: the cat may react to sounds aggressively or restlessly – in this case, it is better to refuse further use of the application!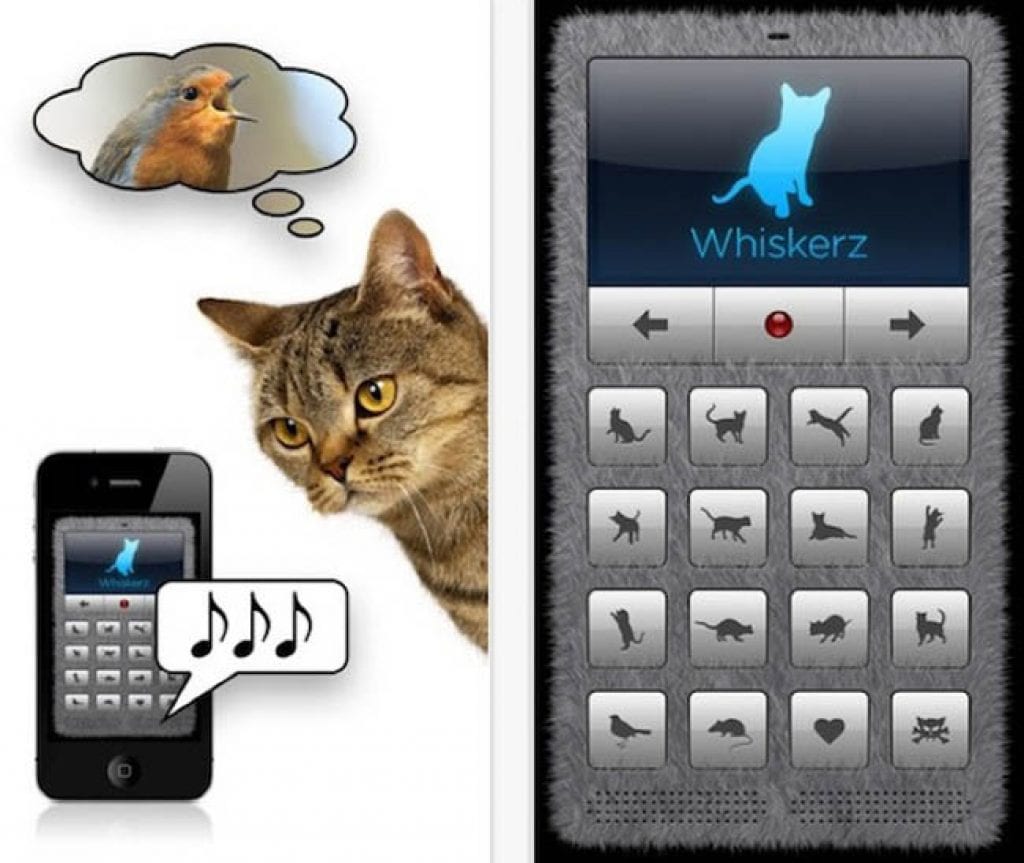 BarkHappy
Another application that pet owners will definitely like. With it, you can find all public places (restaurants, hotels, pubs, parks, etc.) that are not averse for you to visit this place with your beloved pet. You will be able to find out details about staying in these places with an animal – for example, if they have a bowl for a dog or any treats.
For your pet, you can create your own personal account where you can chat with other dog owners, invite each other to meetings. If your dog is lost, you will be able to notify everyone who is in this area, perhaps someone saw your missing dog.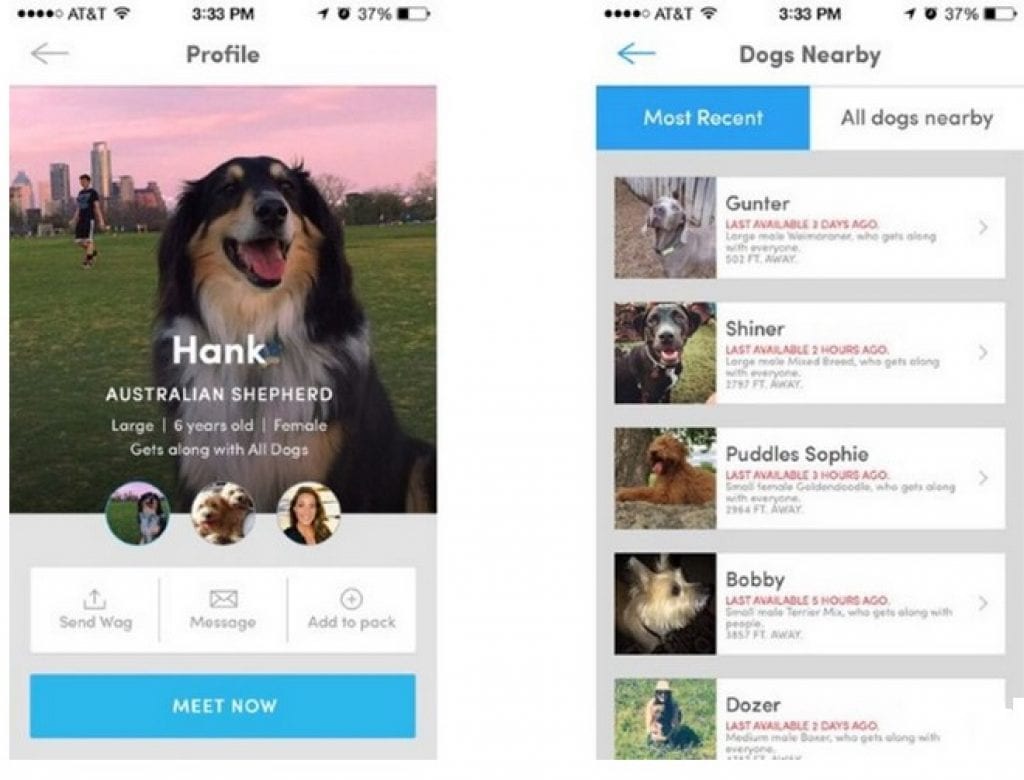 You may also like: 11 Best pet adoption apps in USA for Android & iOS
Rover
With this application, you can easily find a person who will walk your pet or take care of him, if you have an urgent business and need to leave.
The program allows you to quickly exchange messages with sitters and dog walkers, make secure payments, as well as track your pet's walks. Or you can get a personalized note from your sitter or dog walker.
You are also able to send photos, videos, set notifications for certain events. The application offers only proven services, so you can not worry about your dog!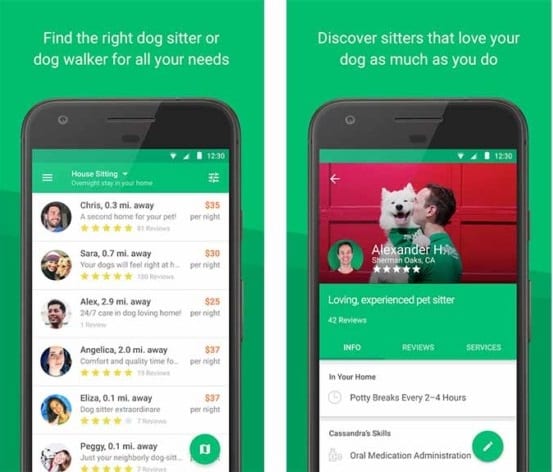 Dog Whistler
This free application makes the process of training easier and more enjoyable. You get a whistle built into the phone with additional features: for example, you can change the frequency and volume of the sound.
Ultrasonic whistle for dogs, allowing silent (for the human ear) to give commands. The application emits signals that only the dog hears, allows you to select any frequency from 80 Hz to 20,000 Hz (that is, from an audible sound to the lower limit of ultrasound), if necessary, turns on the alarm mode.
The best function of the ability to set the mode when the whistle is activated during a certain movement. This way, when you understand which signal frequency is optimal for your dog, you can turn on this option, and the whistle will be triggered whenever the dog jumps on the sofa, for example.
The developer added new features that allow you to organize fast and convenient data exchange by uploading a profile of one of the proposed social networks. It also provides the ability to create your own ringtone yourself at selected and acceptable frequencies.
For the organization of more convenient training of the animal, there are many functions that allow you to specify not only the desired frequency but also the time intervals through which the alarm will be issued. Automatic training and control of dog behavior – what could be better?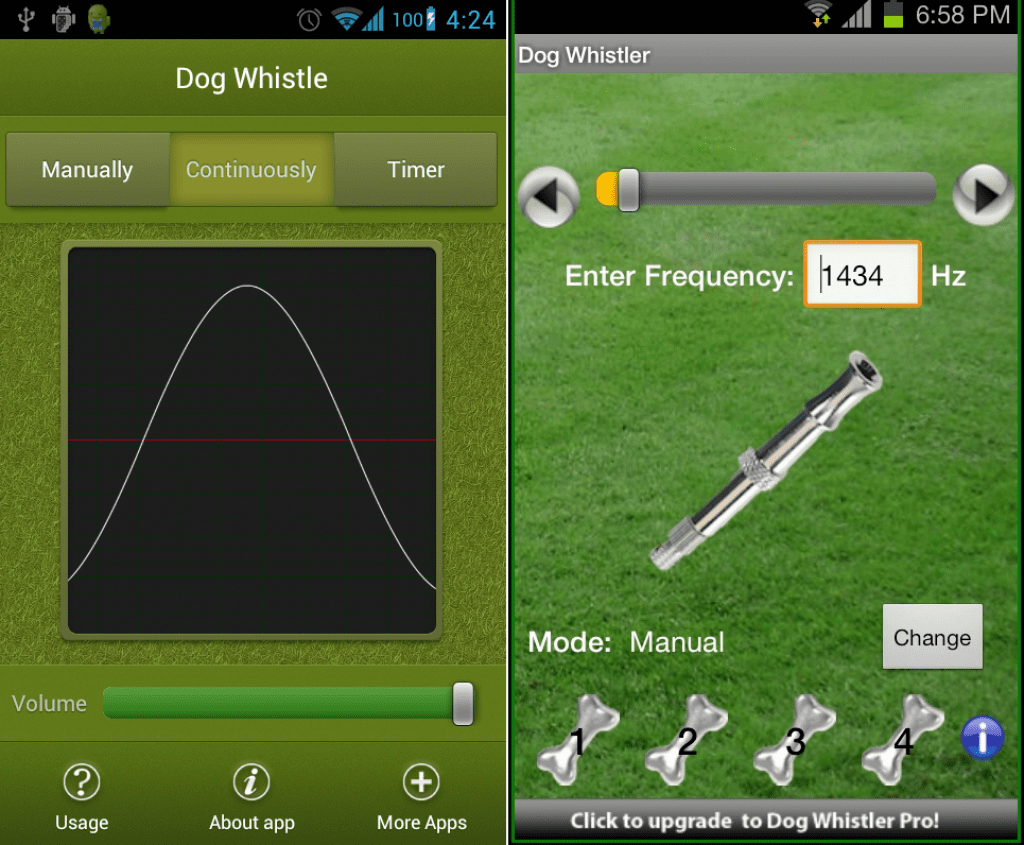 iKibble
It is worth resorting to the help of this application only if your dog is sitting on the same diet as you. The fact is that pork ribs in chili sauce, which you can easily swallow at dinner, can cause serious discomfort to the stomach of an unprepared dog.
For such cases, here is a detailed description of products of human cuisine with a rating of acceptability for dogs. After reviewing this list, you may come to the idea that sitting with beer and croutons — not the best way to spend time for your four-legged friend.
Perhaps it's time to go to the nearest veterinary clinic? iKibble contains a large list of products and recommendations regarding how dangerous this or that food is to the health of your pet.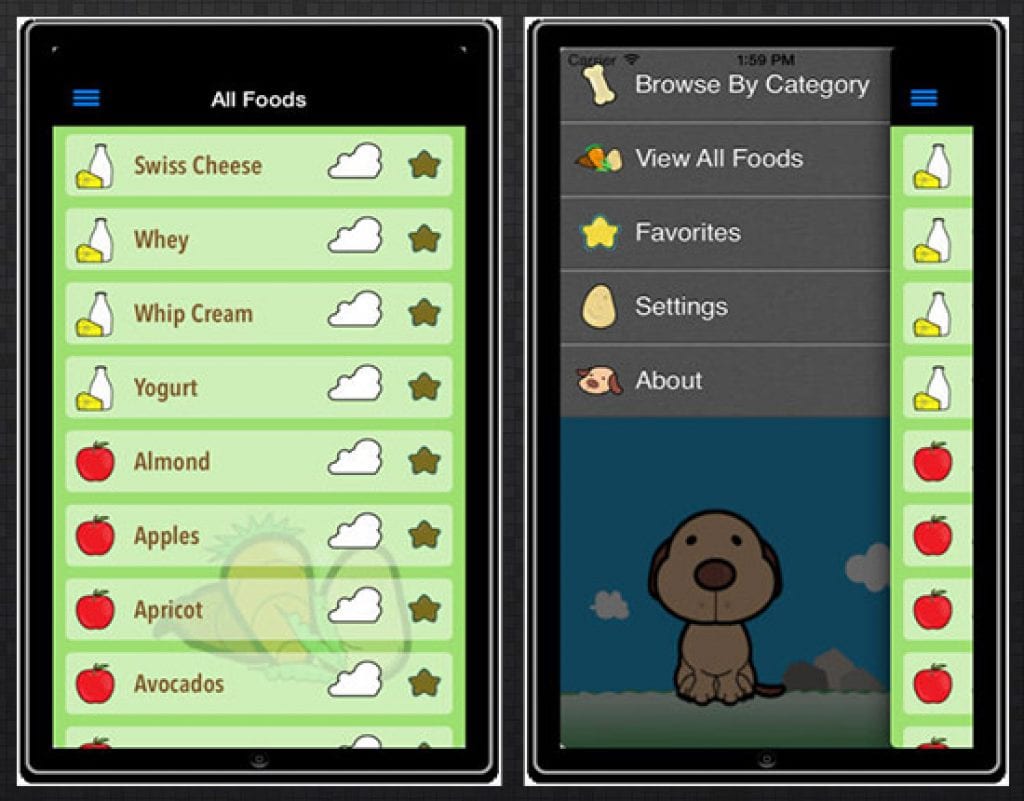 How To Take Care Of A Hamster
Not so many people decide to get a hamster, but if you want to get one (or already got) then you need to pay special attention to the care after this pet. The problem is many hamster owners think that they only need to feed their pets and clean the box, however, the hamster is quite a specific pet that requires specific care.
This app is a full guide on how to take a proper care after hamsters, which risks are out there for these pets, how to feed them and which are the most common hamster diseases. It also contains lots of useful information about hamsters' behaviors. All the information is organized into sections which makes this app convenient in usage.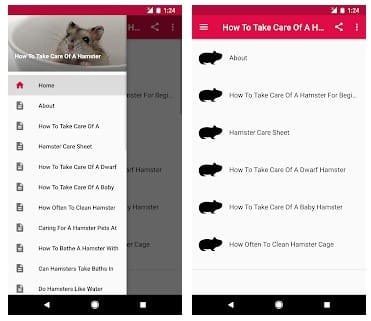 Twindog
Twindog is a funny analog of the popular dating application Tinder, created especially for dogs and their owners. The design and interface are similar: you see profiles and photos of all users in the vicinity (although in the case of Twindog these are exactly the photos of pets), but likes to those who liked, enter into correspondence with those with whom there was mutual sympathy, get to know, agree on joint walks.
The app is free and available in the AppStore and GooglePlay. By the number of users, of course, is far from Tinder; but it is quite possible to find friends by interest and companions for walks with his help.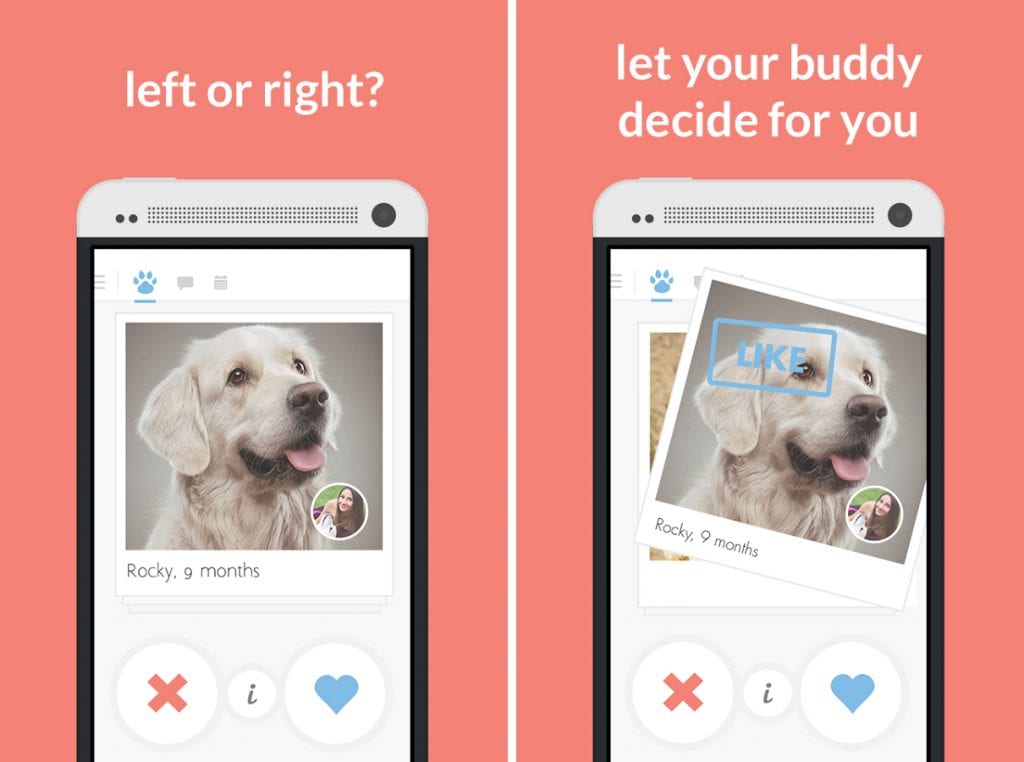 PetCoach by Petco
Stay connected to the veterinarians 24/7 when you need useful advice and a tip about your pet. It is no secret that having a pet undermines lots of issues that you might have no clue about. What is more important, if you see some deviant features in your pet's health, behaviors, appetite, and so on, a consultation with a veterinarian is a must.
In PetCoach you will find all the information – starting with the cats' tummy diseases ending with the training the german Shepards. What is more, the direct consultation with the pet doctor is much better than google symptoms on the internet and stay guessing.
And, of course, here you will discover the valuable tips of how to better train your pet, how to teach them doing something, how to raise them, feed them and so on. Overall, it is possible to say that this app is a must to have for any pet lover.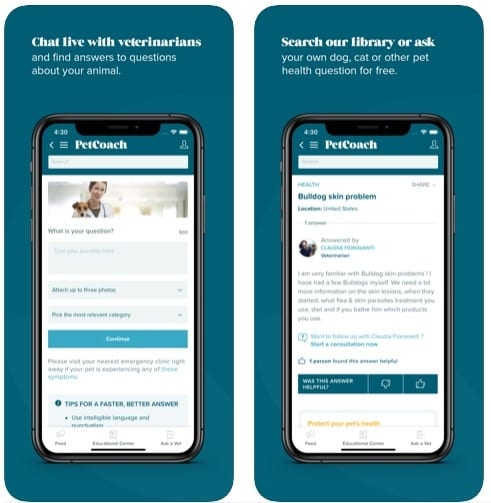 Tractive Dog Walk
This is the app for tracking how much your dog is walking every day. Don't forget to launch Tractive Dog Walk before you go to the walk with your pet next time to check if your pet gets enough exercise. It records all the walking using the GPS data. One funny feature of this app is here you can even record where your puppy made a poo.
Generally speaking, this app is like a tracker of your dog's life, since here you can also take pics of your beloved pet and share them via the app with all the friends. Walk your dog and create memories at the same time! What is more, the app lets you know if your walks are getting longer and stronger thus, it helps you to stay in shape as well.
After a while, you can review all the routes that your dog was walking on. It is a curious option by the way.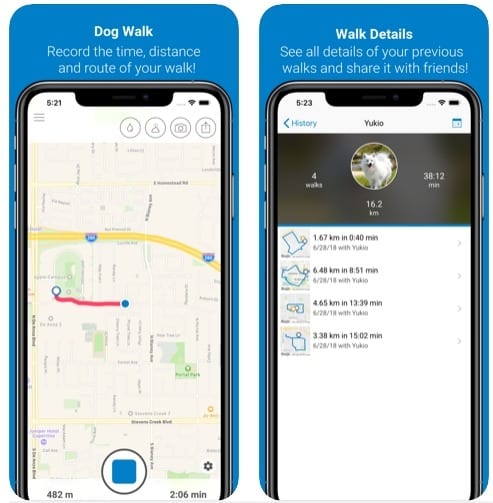 You may also like: Pets Adoption: Adopt Dog, Cat or Post for Adoption app review
Animal Poison by ASPCA
Don't forget that having a pet at your house is, first of all, a huge responsibility. Pets are like little kids – it is even scientifically proven that the level of development of the grown cat equals a 3-year-old child and an adult dog is a 5-year-old child. Thus, they have a tendency to eat something that can be harmful to them.
This app contains a list of objects in your house that can be harmful or toxic for your pet. There are common household items, drugs, hazards, and plants that can be toxic or dangerous for dogs, cats, birds, or horses.
Moreover, each hazardous object is marked with a certain color depending on the degree of risk and there are also instructions on how to give your pet the first medical help if it seated something poisonous.