Bookmakers go hand in hand with technological progress, constantly improving their services. Previously, there were only betting, then points of admission rates began to appear. After, bookmakers started to take bets on the phone.
With the advent of the World Wide Web, bookmakers have migrated to the Internet, which made it possible to bet with the help of computers and laptops, and now there is the opportunity to bet on sporting events, using mobile phones, tablets, or smartphones.
Today, all reputable online bookmakers have a mobile app. We introduce 15 best sports betting apps for android & ios.
22Bet
Almost all the sport betting apps which are trending right now, this is probably the most popular one at the moment. 22Bet was created and developed by the people who truly love sports. Here more than 1000 various games take place every day so you have a wide choice to play and win.
All the most popular events are highlighted on the main page as well, as the results, so you could make an analysis and know better on which team you want to bet next time. Moreover, using this app you can get generous bonuses when you invest more than $100.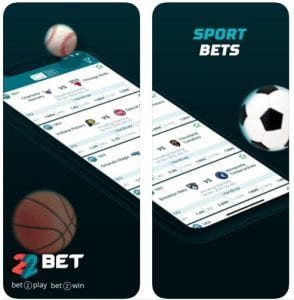 You may also like: 9 Best Apps to Watch Sports Highlights (Android & iOS)
William Hill
It is a bookmaker, where you can do a variety of rates. Bids can be made on sports such as football, basketball, tennis, hockey, rugby, boxing, and much more.
This application is no different from other standard programs. So you can bet on a specific result (the total score of the match) or to any particular environments (for example, whether the player will be able to get the ball in the allotted time). The latter type of bet naturally implies a much higher profit.
William Hill is a good opportunity to make money on the sport!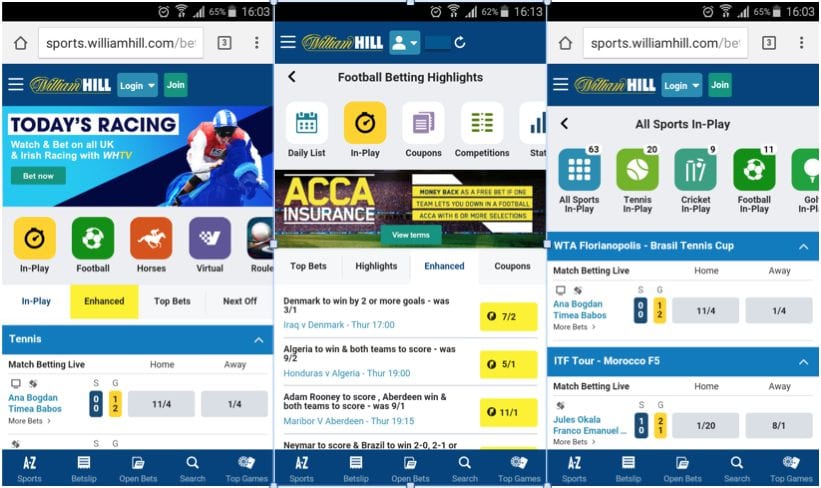 BetBull: Sport | Tips | Casino
The most prominent feature of this app is its nicely designed user interface and cool characters giving you useful tips on how to do bets. In addition to that, here you can even bet for free and win up to $100 – this is the biggest amount of money that you can win in the free bets in the apps like this.
Betbull is quite popular among all of those who like to bet on sports so you can trust it. The app has a certain system that helps you to make better betting and avoid the risk of losing your money: you can see the best players in the table and listen to the tips that they give.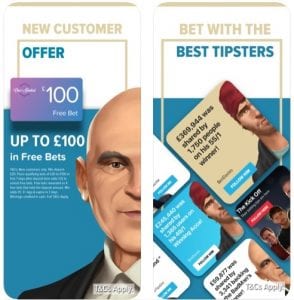 Onside Sports
Open the betting world with this application. This is the only app that will give you access to rates in many sports. Sporting results are updated every second by leading American sports leagues.
Features:
the results of all the matches in real-time;
all bets come directly from Las-Vegas;
the fastest notification of changes in the bill, lines games, or injury;
track game online;
statistics for each game;
view the most successful players on the rates;
leave your opinion in the chat.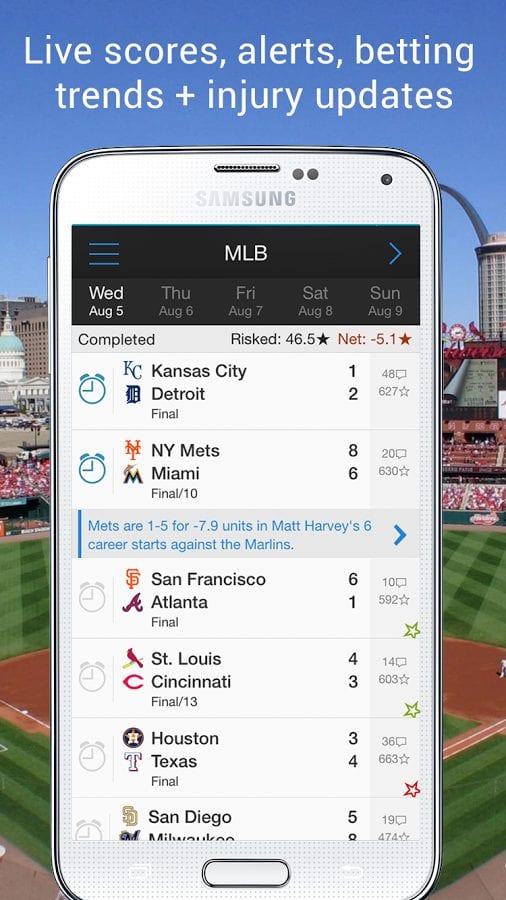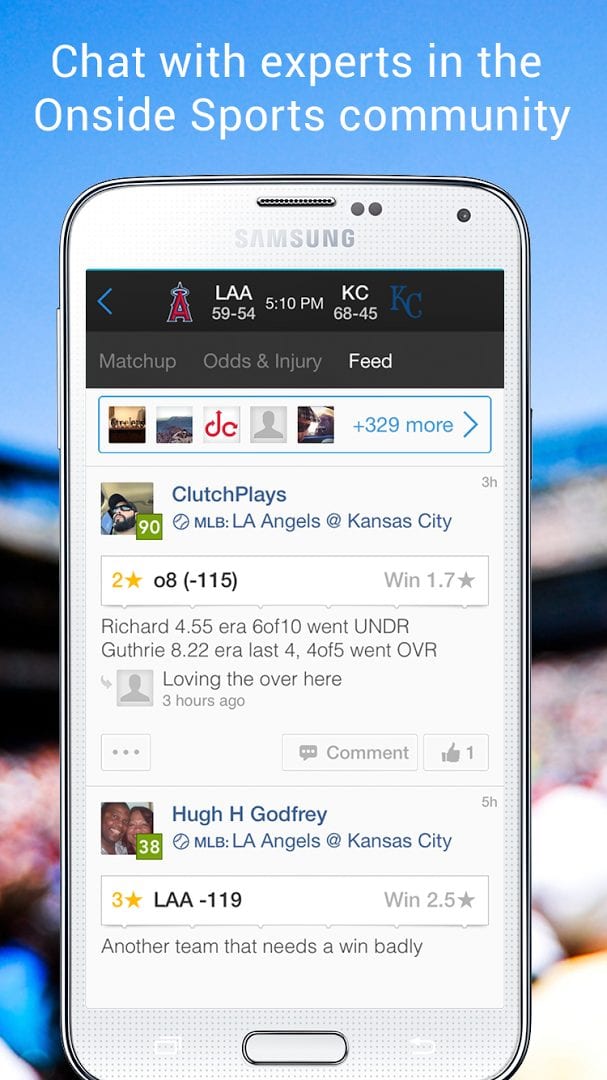 Colossus Bets
Colossus Bets is a little bit different betting app in the sense that it offers a different kind of betting. Here, you can bet on your own and play alone as in classic betting, but you can also join syndicates which are collective betting or found your own syndicate and be its captain.
This is, basically, the main fun element of this app. Overall, Colossus Bets presents almost all kinds of sports, and dozens of games take place every day. However, even when on the one hand collective betting might seem like a fun choice, on the other hand, it is a much greater risk – especially if you're a leader.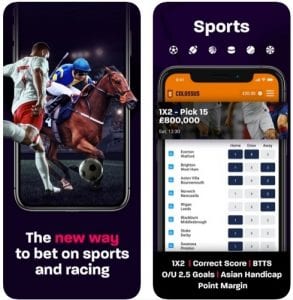 Betfred Sports Betting
Immerse yourself in the world of sports betting with Betfred Sports Betting. Place your bets on all major sporting events. This application has exclusive features and a great interface. Earn money on the most popular sports, including cricket, tennis, football, golf, basketball, etc.
Here you will find a huge number of shares. Keep track of your bets, along with the in-game visualization. We will provide you the best statistics and performance graphs. Earn your million together with the application Betfred Sports Betting!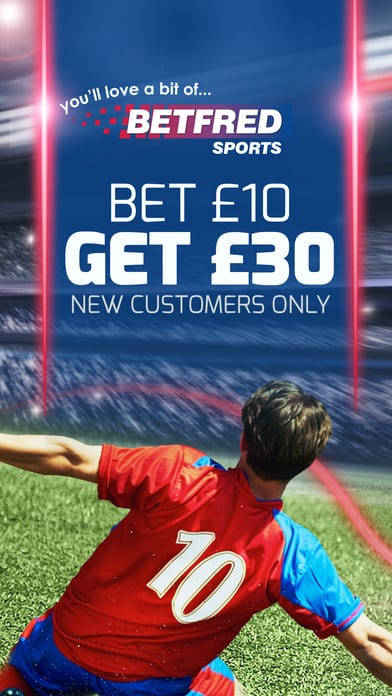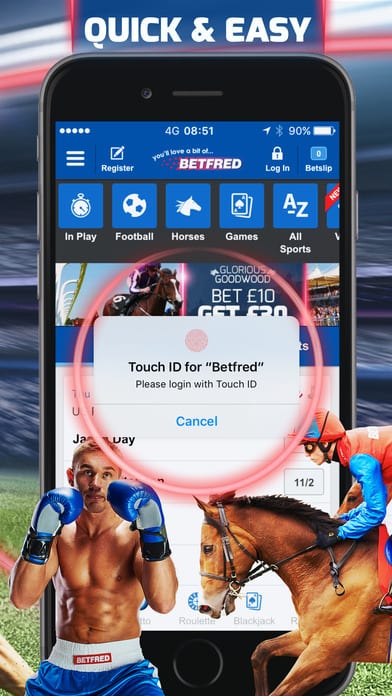 BoyleSports Sports Betting
This app is also the kind where you can make collective betting. Even though it is not such a bit thing here as it is in Colossus. Moreover, when you are making a bet, you can choose up to 3 different sports direction and bet with the same sum of money on all of them – thus you are increasing your chances to get lucky.
The most popular kind of sport here is, as always, horse racing. And this is actually the section where you can either make a double bet or get your money back (not the whole sum of course) if the horse that you were counting at, fails.
The results will be shown as soon as the race ends and the whole cash out procedure is easier than in other sports betting apps. It is available daily in thousands of markets.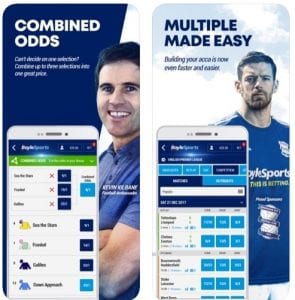 BetVictor: Sports Betting App
One of the most popular and prestigious sports betting apps. When you just get registered BetVictor gives you the first $10 for your 7-day trial. Moreover, you will get up to $60 in the casino. Moreover, here you can open several accounts at a time, thus your initial sum may double or even triple.
The interface of the app is a little bit complicated for the newbies, but those users who already had experience with sports betting will probably understand how it works quickly since it is structured much better and more professionally in terms of sports sections. Overall, it is a good app, just a little complicated.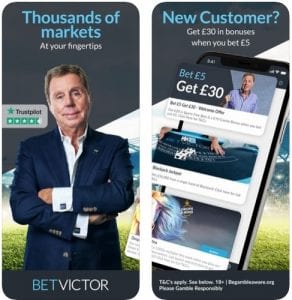 Virgin Bet
Bet you know Virgin Airlines but you had no idea that this company has a sports betting app too! And, to be honest, this is a pretty good one. You will be getting great offers every day since Virgin Bet covers almost all of the sports events which are happening in the world.
Whether it's the next hotly anticipated horse race, the latest Premier League or Champions League clash, with a special Virgin Bet price boost you won't want to miss. From football to horse racing, to tennis, all major events will have a tasty offer for you to check out.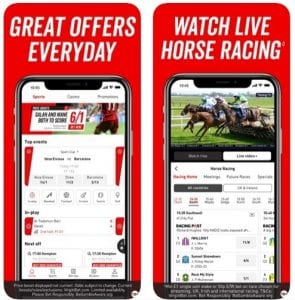 BettingPros: Sports Betting
If you noticed, there are many more sports betting apps for iOS than for Android. No idea what it has to deal with, but here we finally have an app that allows doing sports betting for Android users too. Well, it is more an informative app, and the possibilities of making real bets here are really limited but it is still something.
At least you will be receiving tips from the top experts of the industry and follow the statistics of each game. This app is convenient to have as an instructional one on your phone while transferring money via something else. Almost all the sports game and races and presented here. For example, you can follow your favorite NFL league.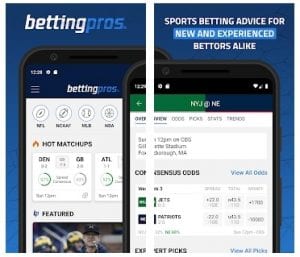 Coral Sports Betting & Casino
For those who like to keep their stakes high, there is an app that unites sports betting and casino. One of the features that distinguish this app from the other ones is that each week you can bet for one game for free and win up to $50. In addition, there is a "safety pillow" for betting on horse racing.
If the horse that you were betting at doesn't win a race you can get a refund up to $10. Well, it's not that much (depending on how much you invested) but it is still some money while other apps give you nothing in such cases.
There are more than 240 exciting events happening every month. You are allowed to download this app only if you are above 18.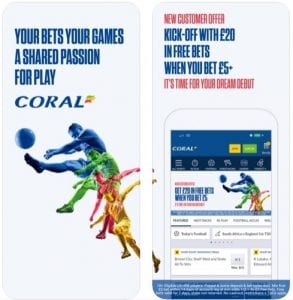 Betsafe
This is one of the most trusted bookmakers. By registering on the site, you will be able to bet in seconds. There is good bonus program.
The app offers great odds on sporting events, as well as the best team of professionals, who will prepare the statistics for you. They are willing to communicate with you 24 hours a day.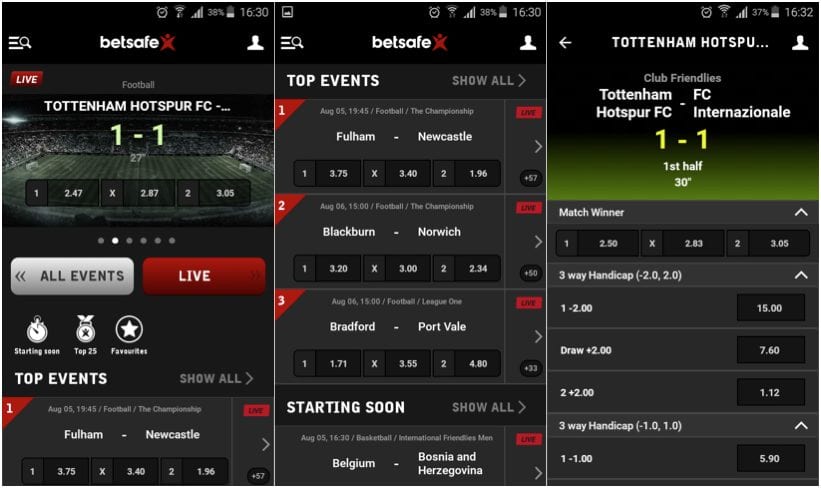 Unibet
Here you will find the most popular sports – from football to horse racing. Do not pass bet and enjoy the game in real-time. Bet on the best sporting events of the year with the best odds!
The app covers the brightest events in the life of the sport – the Champions League, FA Cup, Grand Slam Tennis, etc. Feel the excitement with this mobile app!
Features:
bid before the game or during the competition;
the office is open for bids 24 hours a day, 7 days a week;
it covers more than 30,000 sporting events annually;
single and combined rates;
safety at the opening of deposits and withdrawal of money;
manage your account;
easy navigation.
Download the app and start earning money right now!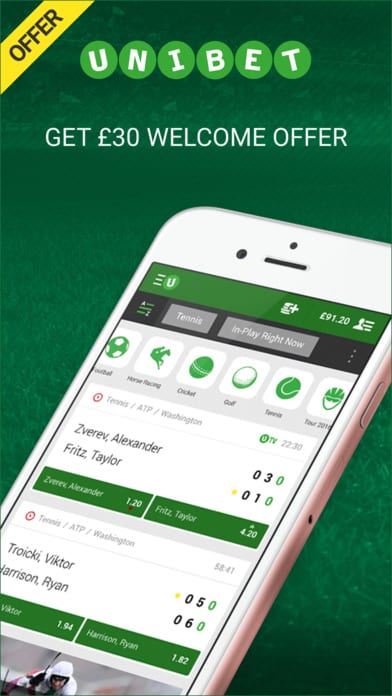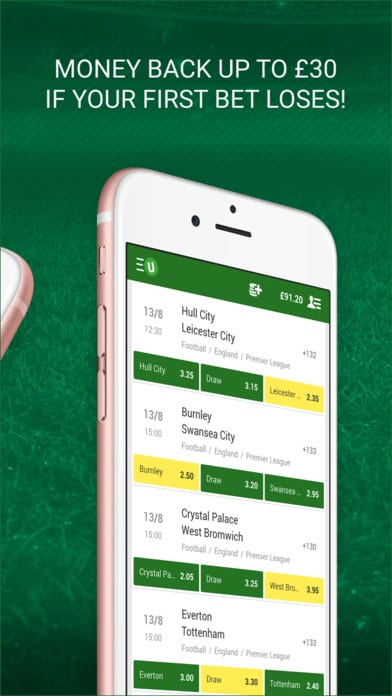 Paddy Power Sports Betting
If you're looking for an app that won't just provide you a wide range of sports games, but also will be made with a good user interface and clear many then Paddy Power is a great choice. There are no complicated schedules, unclear instructions, and intricate schemes.
Even a person who decided to make a sports bet first time in their lives will understand immediately how everything works here. Moreover, the developers improved the speed of the app so now you don't have to wait until your data will load for minutes – everything happens in seconds which is extremely important in sports.
There are more than 100000 sports events each year the Paddy Power covers. In order to study the results of the previous games of a player/team, you can go to the history section and see the detailed analysis of their past games. Another convenient feature of Paddy Power is that it allows you to log in with the Face ID function or fingerprint.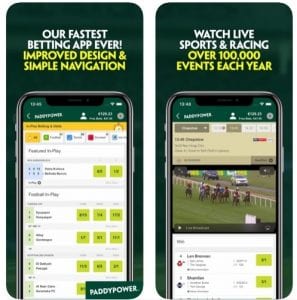 Betway
Betway is not an app with a huge base of competitions as some apps on this list, but it is definitely a good one in terms of specification and bonus programs. Here you can bet on such kinds of sports like horse racing (very traditional), football, rugby, tennis, and golf.
In horse racing, everything is pretty clear. You just look at which race will happen next, make research on the strongest participants, maybe rely on your gut feeling, and bet that sum of money which is acceptable for you. In football you can choose the team that you think will win the next competition.
However, football is a little bit more complicated for betting than horse racing. Here you should pay closer attention to the statistics, the team's coach, list of players, and so on. It will probably make no sense to bet on the no-name team if they're playing together with Manchester United.
Another really popular kind of sport for betting is boxing – this is where the real game begins. The bigger the fight, the higher the stakes and adrenaline. And here everything depends more on luck then on rational thinking – however, the latter is never extra.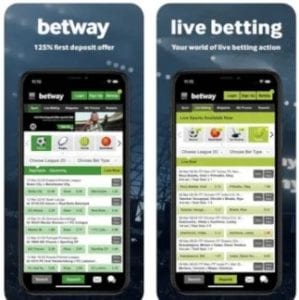 You may also like: 11 Best football prediction apps for betting (Android & iOS)
So you've read our list of bookmakers for sports betting. Do not procrastinate! Download the app and register today to make your first capital!