The clothing industry occupies almost the central point in a person's self-expression. After all, everyone wants to look smart, right? However, large people may have problems in this: plus-size clothing isn't provided everywhere.
We present you the rating of best Plus-Size Clothing apps. By the way, if you also want to buy shoes for your new outfit, then you can check out the best apps for that.
ASOS
Everyone knows this brand nowadays and it's actually one of the most popular apps for people to find the plus-size clothes. Moreover, ASOS has one of the most convenient algorithms of placing and receiving the order worldwide, not just in the United States.
What's interesting about the app and the brand in general is that the assortiment is updated on the daily basis, and you can always find items of a plus size of brands, that you won't find in your regular store. For example, the assortment of Nike clothes in the app is much wider than anywhere else.
Speaking of plus size clothing, there is a whole line of casual clothing, evening dresses, tracksuits for stout people in the app. The store also boasts stylish accessories and even cosmetics.
Another advantage of the app is that it also has a simple and convenient navigation – which is not so frequent for your regular clothes apps. When you just open the ASOS app, you can see several categories of garments in front of you. You first choose the category that you want to explore and then the sub-categories.
There is also an alternative way to find a certain piece of a plus size – you can type it into the search bar. For example, you want to find an Adidas shorts of plus-size – just type it in! All the garments of this type are marked with special sign.
Moreover, the marketing of all the things of the plus-size will make you feel even more confident.
There are various coupons and promo codes that you can use in ASOS.
It is noteworthy that the clothes here are not only for women, but also for men. ASOS has its own marketplace where people share their wardrobe items and sell them, also offering outfits for any size.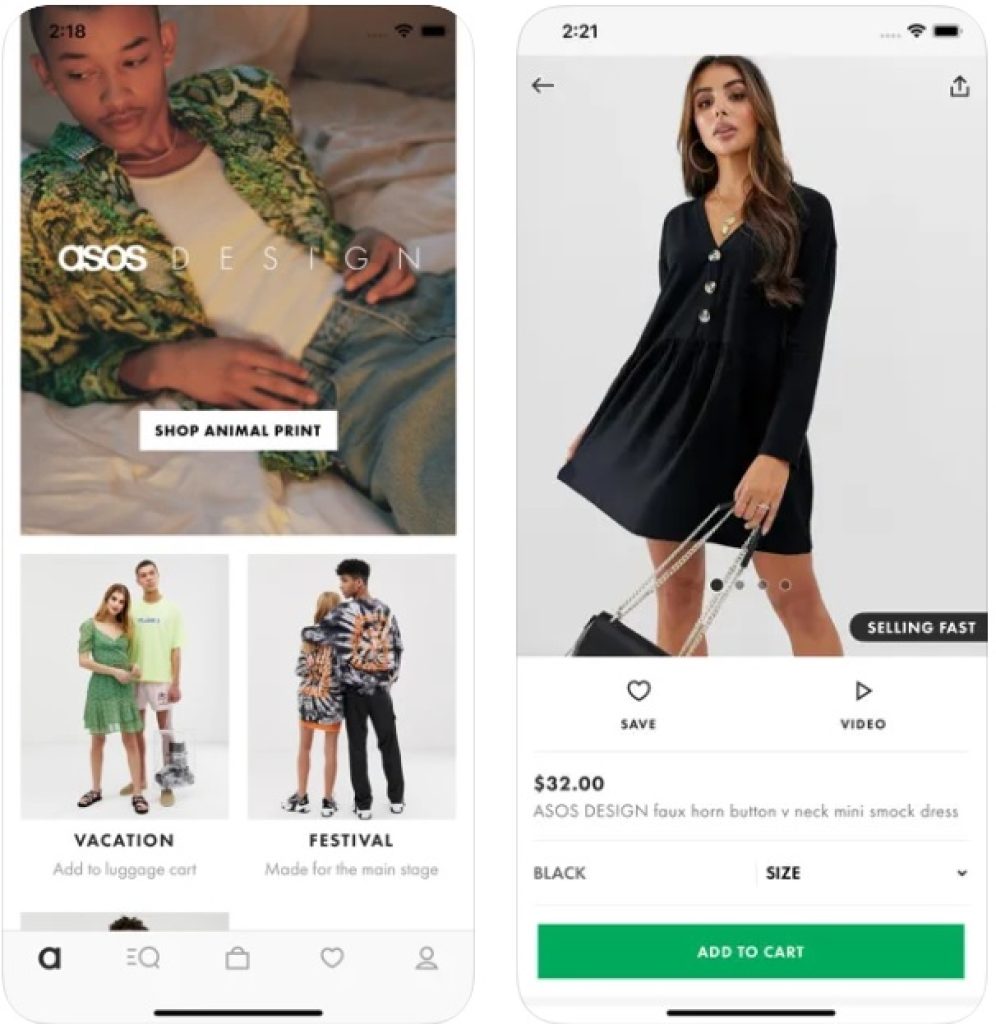 You may also like: 15 best apps to buy clothes on iOS & Android
Shein
Shein store and app is famous for its affordable and diverse clothes. All of its product are made in China and delivered extremely fast from there, unlike in case with other stores.
It's popular mostly among adolescents and young adults.
Speaking of sizes, Shein has a category called "FIT+", where you can find fashionable clothing for plump people. The product range amazes and delights us and customers of this shop.
Everything is presented here – from chic evening dresses to pajamas and swimsuits. Also, the application pleases us not only with clothes, but also with fashionable belts, ties and even jewelry: there are earrings, chains, and even bracelets on your feet in order to emphasize the uniqueness of your outfit.
The cost of shipping varies from country to country (if you spend more than a certain fixed sum, you don't have to pay the shipping).
However, one of the disadvantages of the app is that it has too many features, too many categories and everything, that it might be overwhelming for people who are new to this type of apps Moreover, the popping coupons might be annoying since in most time they are useless.
What is more, the app occupies quite a lot space in your phone's memory.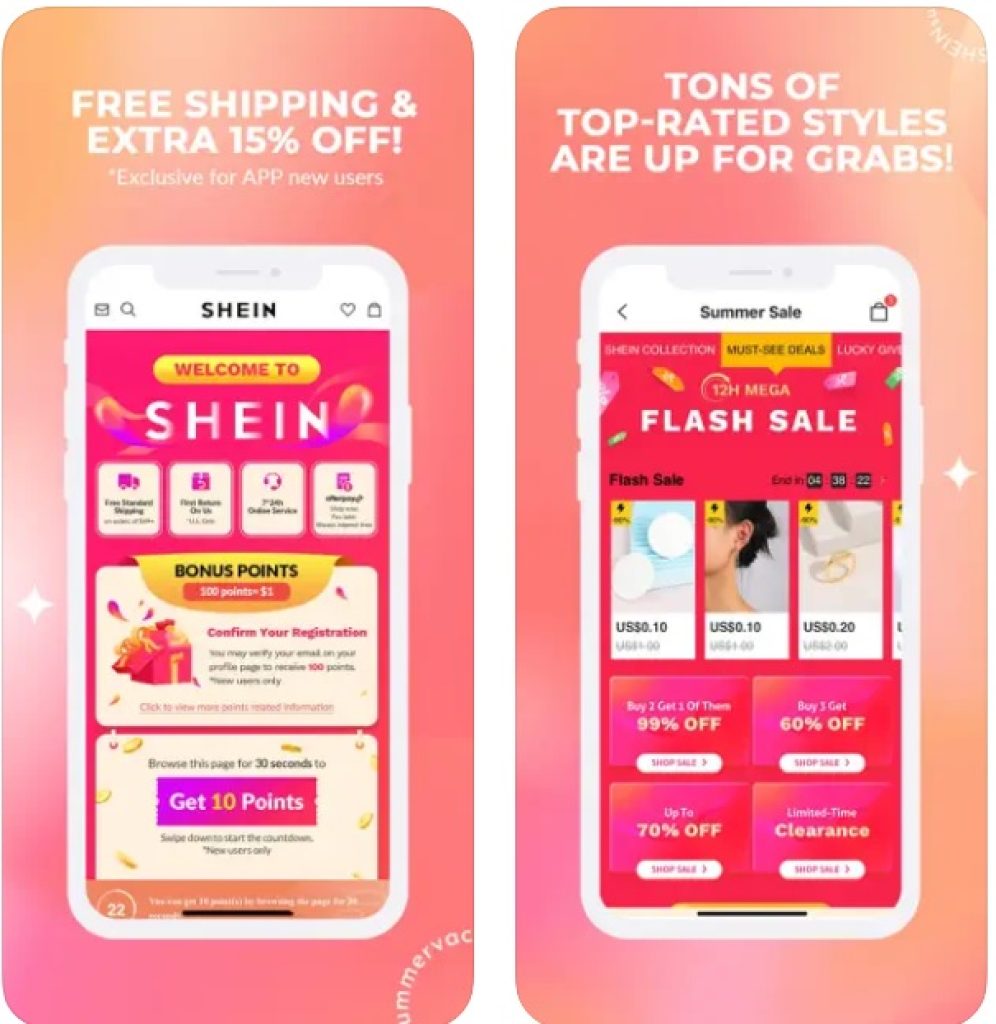 Torrid
Torrid is an American store that has been in existence for more than 15 years and openly boasts of its slogan "clothes for beauty and, more importantly, for the body". This slogan is truly relevant in our time, isn't it?
This site is really worth the attention of customers, as it can offer bright, original clothes for women of any shape.
In order to use the app you need to first create your account. This is not extremely convenient if you are just here to check it out.
In other aspects, Torrid has quite a standard interface design, typical for any clothes shopping app. On the left, you can click on the button of the main menu and choose the categories there.
There are no separate section for plus size, but all the sizes are marked under each item. Or, you can type in the item you are looking for in the search bar.
According to customer reviews, clothing from the Torrid fits perfectly on any body, and no other fabricator has such a variety anymore, since no one except Torrid can create such a perfectly fitting top and bottom.
The variety here is really huge. You can find everything from denim suits to underwear, which this site is so notable for.
However, many users note that the Torrid website is much more reliable in usage than their app – it has a nubeg of size and history search bugs, which makes the overall process problematic.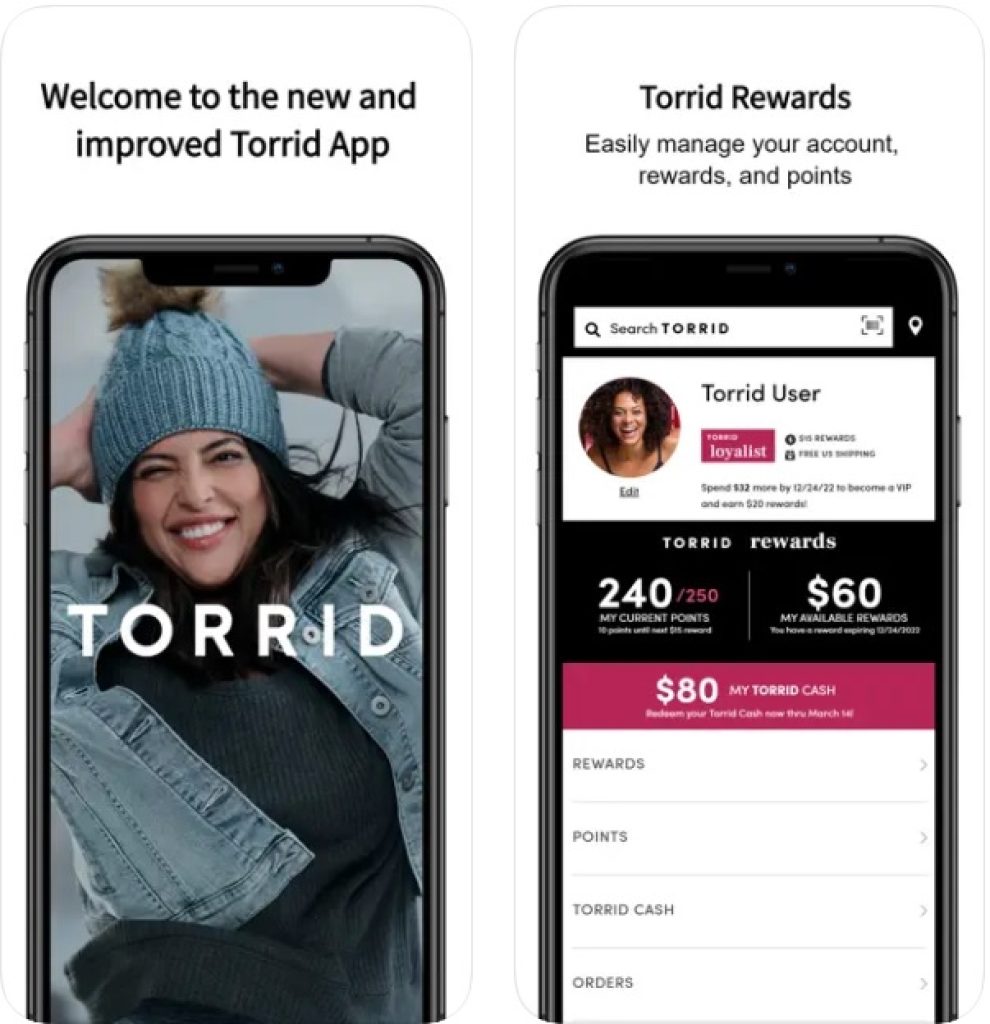 Mango
Another popular brand for clothes. It privdes a number of decent plus-size models, but, in comparison to the previous ones, in quite a limited assortment.
Mango app will be appreciated mostly by the businessmen and women 25+ and its pieces are quite classy.
An interesting fact about this app and about the brand in general is that the men's line is developed better than women's
Following the trends of modern clothing, mango is no exception and creates its own line of plus size clothing, which is called "Violeta".
One of the cool features of the app is that if the desirable item is not in stock yet, you can add it to your wishlist and get notified when it's back.
And i comparison to the previous apps, the design of Mango might seem a little bit empty and raw. Here, just like in most apps, you can explore the categories and so on, but the icons and lines look like you want to add something to them.
All the sizes are marked below the items. Keep in mind that not all the items here have a size larger than L.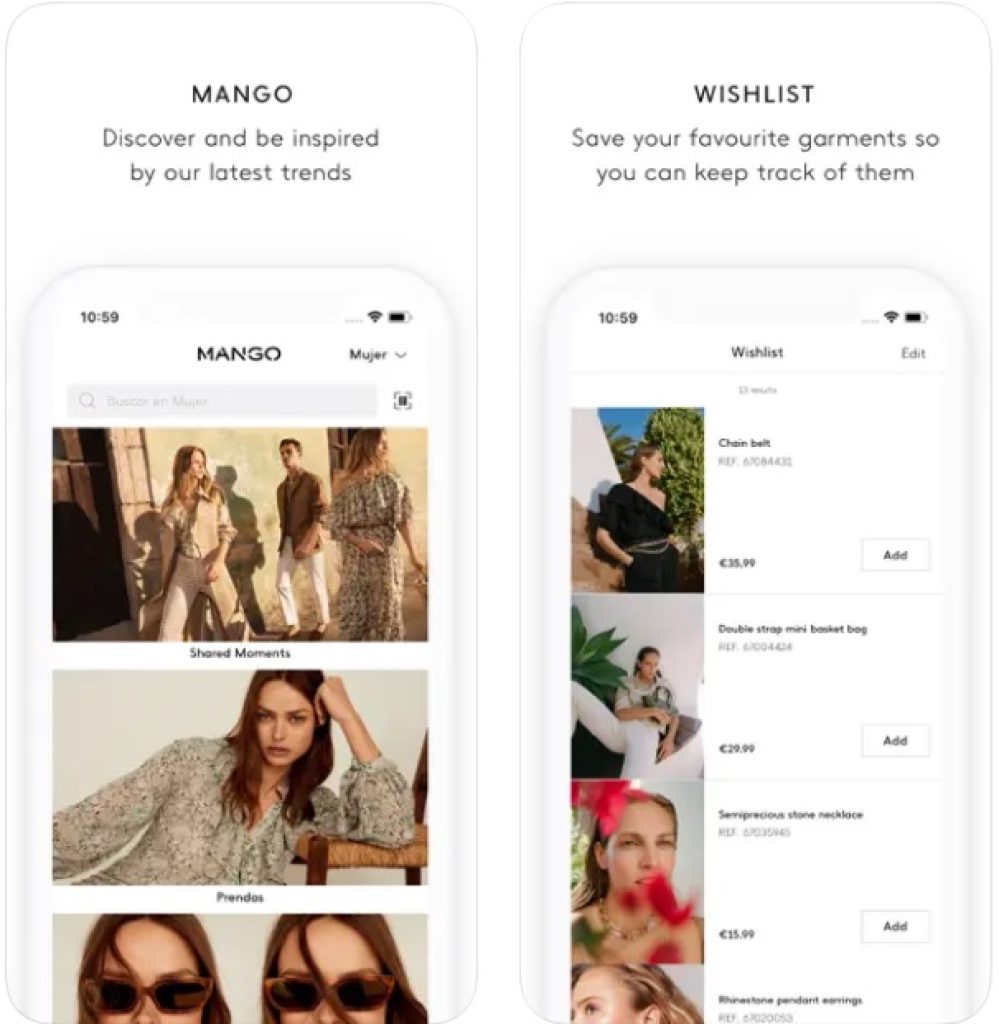 Yoins
If you're familiar with this brand, you know that it's mean mostly for young people and it fully supports the plus-sizes and clother for curvy women.
Moreover, unlike many apps on this list, this one has a special section "plus size" and it's extremely convenient. Yoins is designed in a way that it is easy for everyone to use this app.
The app has a category of plus size clothing, which also does not upset customers and pleases them with its diversity, and what most importantly, the uniqueness of things, because not every clothing store can offer such a big assortment of youth dresses and sundresses.
And if you place your first order with Yoins apps, you get a 15% discount. There are also flash deals, that can basically provide to you free items.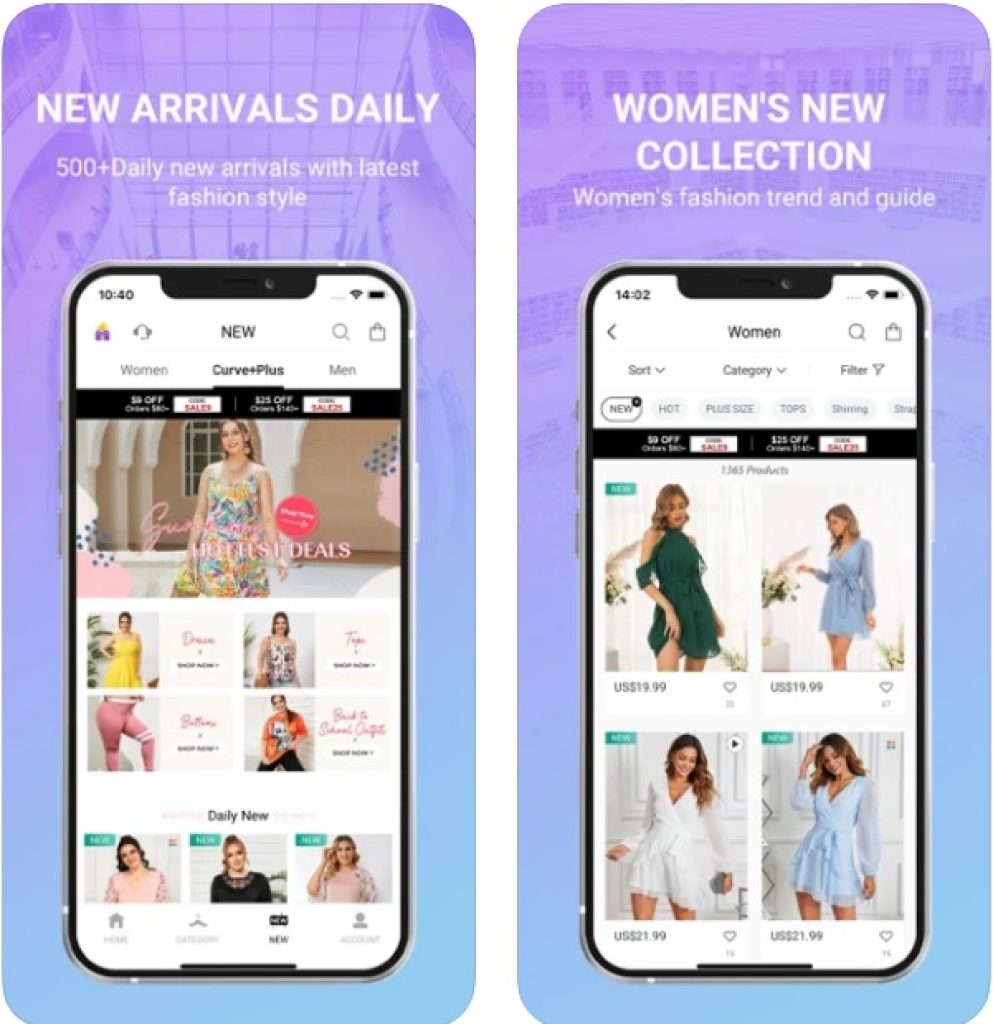 Stradivarius
Stradivarius is a famous brand – today it exists in 62 countries and delivers its own high-quality and beautiful clothes suitable for women of all ages and shape.
It is important to note that, although there is no separate category of clothing for overweight people in the app, customers can find it using a special filter in the search, which will allow them to choose excellent clothes as quickly as possible.
The Stradivarius app is particularly notable for its ease of searching for clothes thanks to a variety of categories and convenient filters. Here you can find both clothes for every day, and strict clothes for going to school or to the office, while looking elegant in both cases.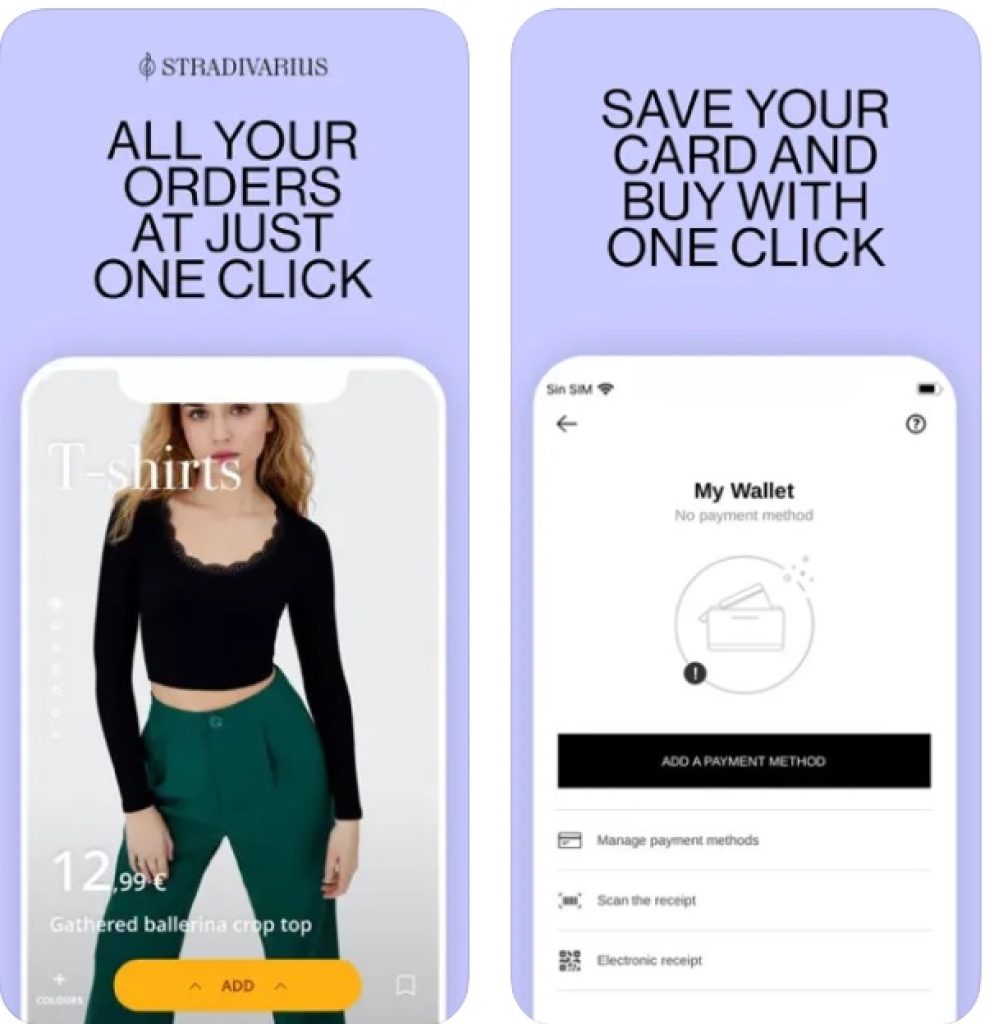 You may also like: 20 Best Black Friday Shopping Apps for iPhone and Android
New Balance
By bringing this store to our list, we want you to pay your attention not only to clothes, but also to shoes that are specially made for a wide foot, allowing people with problematic large feet to overcome difficulties with the painful search for suitable shoes.
For the most part, New Balance specializes in casual sneakers that provide their owner with maximum comfort in any season and in any weather conditions, which makes this brand unique.
Plus size clothes are also there, especially sportswear for curvy girls, along with stylish accessories.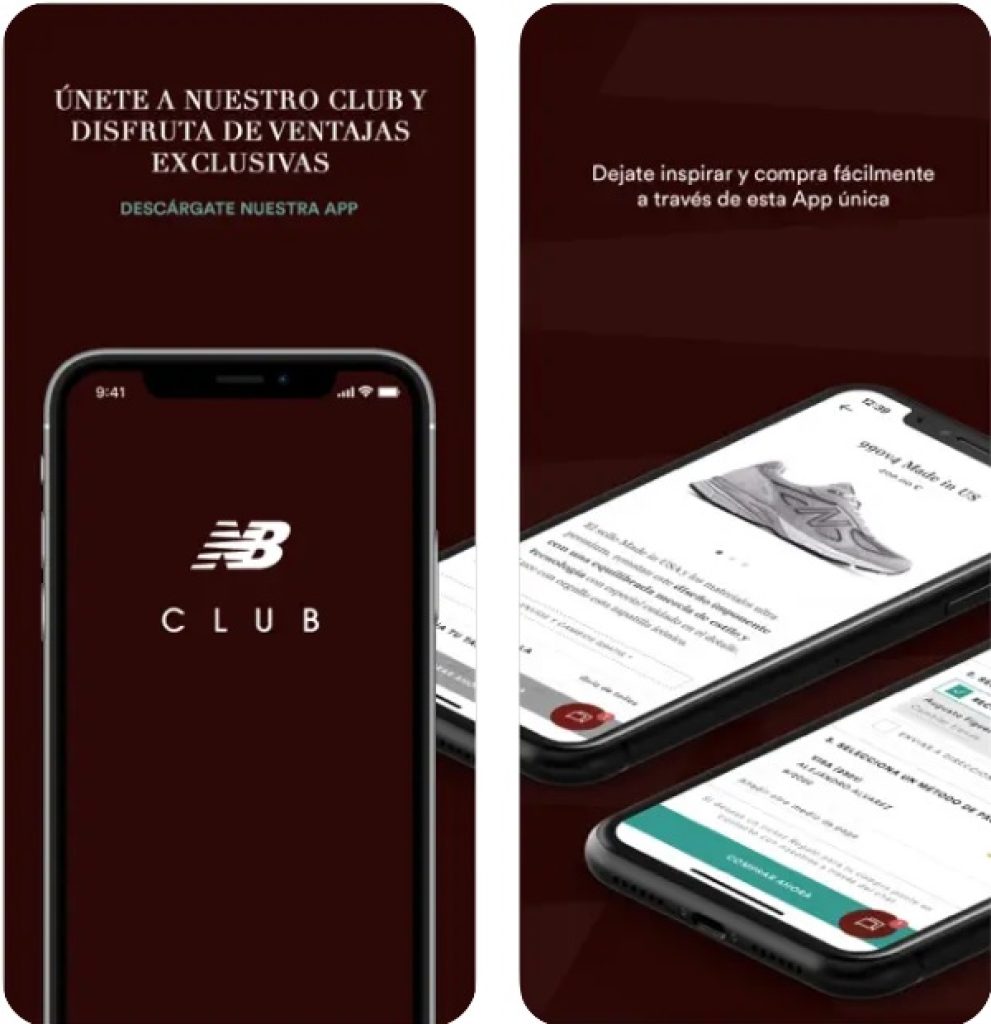 Fashion Nova
This brand is located in Los Angeles and is famous for low, affordable prices for its products. The company gained its popularity after it began to sew comfortable clothes for girls with the Coca-Cola logo, which was very much to the taste of young ladies.
The success of the brand can also be justified by collaborations with famous personalities – Kylie Jenner and Gigi Walks, whose figure is non-standard. According to the girls, it is very problematic to find clothes for such a physique in modern times.
The creator of the brand at the launch of his project was well aware that if you give such girls the opportunity to wear tight and inexpensive clothes, then the demand for it will literally fly up.
Brand items are not too expensive: dresses and jeans can be bought for up to fifty dollars, T- shirts – for five dollars and the price of shoes starts from thirty dollars. The company delivers all purchases within the USA in two days.
Considering the marketing and pictures of clothes – the brand does a good job here. However, the overall interface design is a little bit plain and raw. Moreover, the app has some serious issues, such as crushes and bugs.
The brand's clothing is also famous for its very funny names of outfits, for example "Netflix and Chill Set".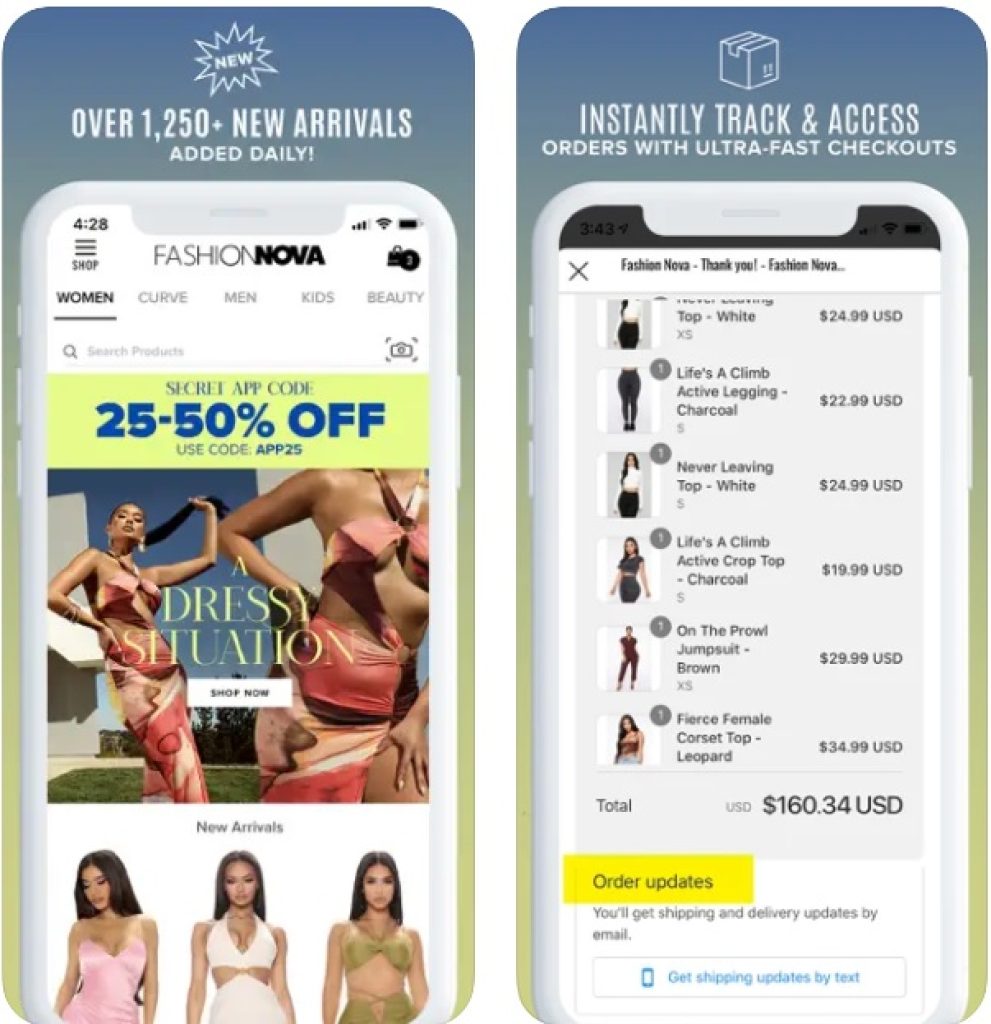 Nike
In March 2017, Nike launched the first plus size women's clothing collection in its history. The new line included mostly sportswear, but casual clothing was also present there, including tops, trousers, underwear, jackets and much more.
And if you haven't installed the Nike's app yet, we highly recommend you to do that since it contains straight shipping from Nike's stores and special offers and prices which aren't available anywhere else.
The creators of the brand themselves claim that they measure all the clothes on athletes, since professionals always have different muscle mass. They also follow the path of the art and science of design to design clothes for women of different shapes.
On the other hand, of course the design of the app is nothing superior, and moreover, it is quite plain. But it's easy to navigate in it, though we noticed some lags from time to time.
In the app you can find the right clothes for you (from XL to 3XL size), using friendly filters to search for items and admiring the nice-looking plus size models.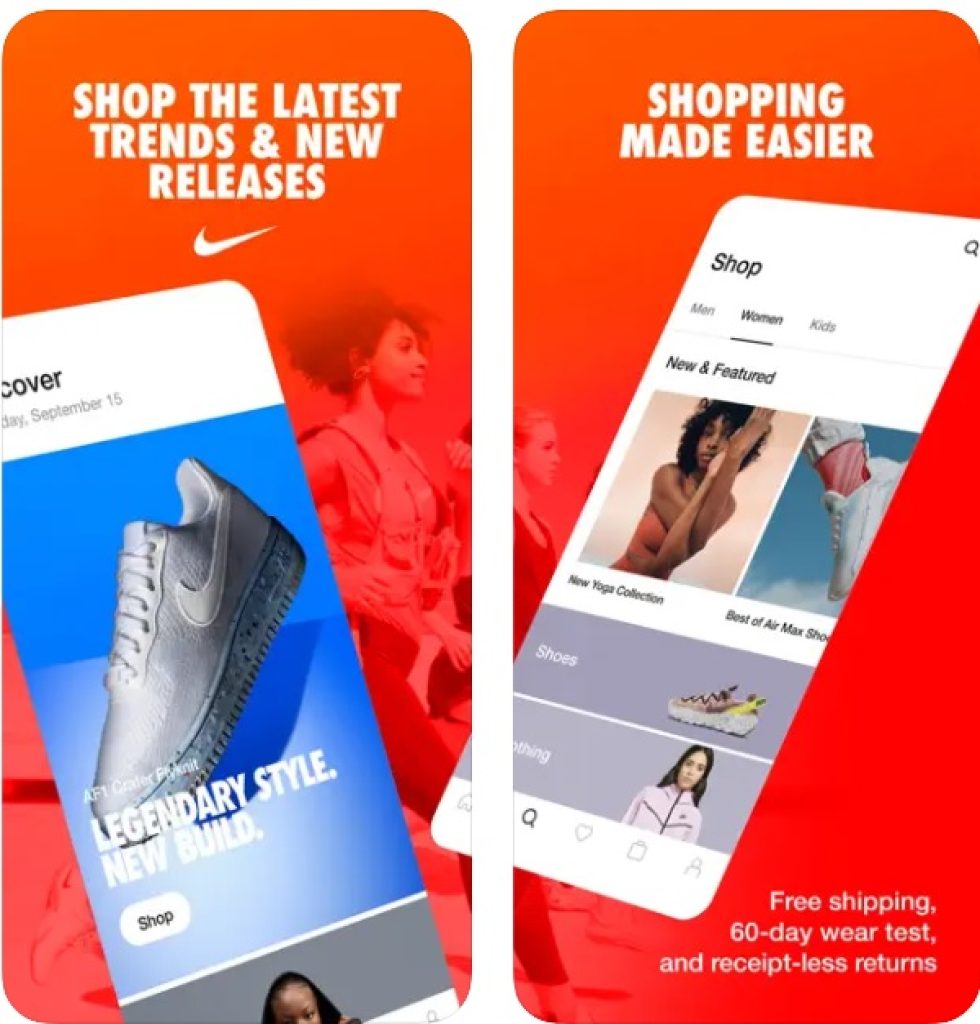 H&M
This brand couldn't be more pop and you are probably already know that it has a collection of the plus-soze clothes.
This store has many segments for every taste. Toddlers, infants, adolescents, young adults, adults, elderly people and even pregnant women are able to find something that they like and suits them.
The app faced significant improvements during the Covi era, so now it's become much more convenient and faster than it was before. The interface was also significantly improved since then.
The shipping is fast, thanks to the number of H&M stores all around the globe.
Considering the plus-size wear – others is a special section for plus-size in the app, and you can go straight to it from the main menu. We detected no lags during the usage.
There is also a huge amount of other exciting and various collaborative collections. Thanks to these collaborations, the brand has gained its popularity among different age groups.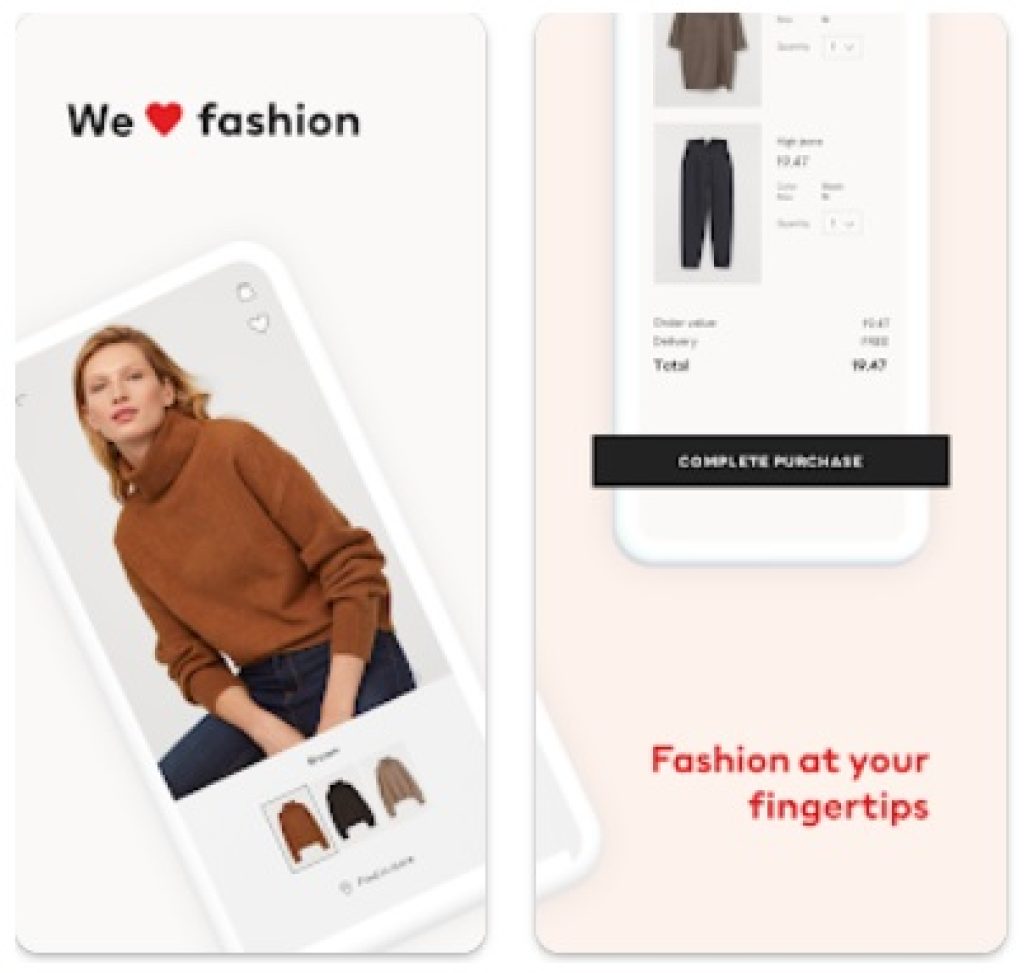 You may also like: 11 Best expense tracker apps for Android & iOS
PrettyLittleThing (PLT)
PLT promotes the movement towards body positivity, equality and a comprehensive sense of self, regardless of body type, race or gender.
This brand has several separate categories: jump and play, plus, shape, co-orders, festival shop and others. They have skills that we find worthy and commendable.
The "figure" category is intended for women with pronounced shapes, hips and breasts. "Plus" is designed for overweight girls and women.
We think it's great that PrettyLittleThing has a "#EveryBODYinPLT" community. By doing this, they inspire modern girls and women of any complexion to search for their own beautiful styles.
However, among all the other apps, this one probably has the most usual and trivial interface design. Moreover, it's noticeable that the developers didn't pay that much effort into the detailed development and various lags occur while you're picking up the clothes.
For example, the app can show the wrong currencies or not to save your wishlists.