Text recognition from images has recently appeared on iOS. You can do this in the gallery of your phone or in the browser. To do this, you need to click on the area with the text and hold it. Yet, this feature is not available on all iOS versions and is not available for Android users without the help of third-party services.
Thus, we decided to review for you these free apps that read texts from pictures for Android & iOS. They will help you to easily deal with this task at any time.
Some images contain texts in a foreign language thus you may try these best apps that translate pictures.
Speechify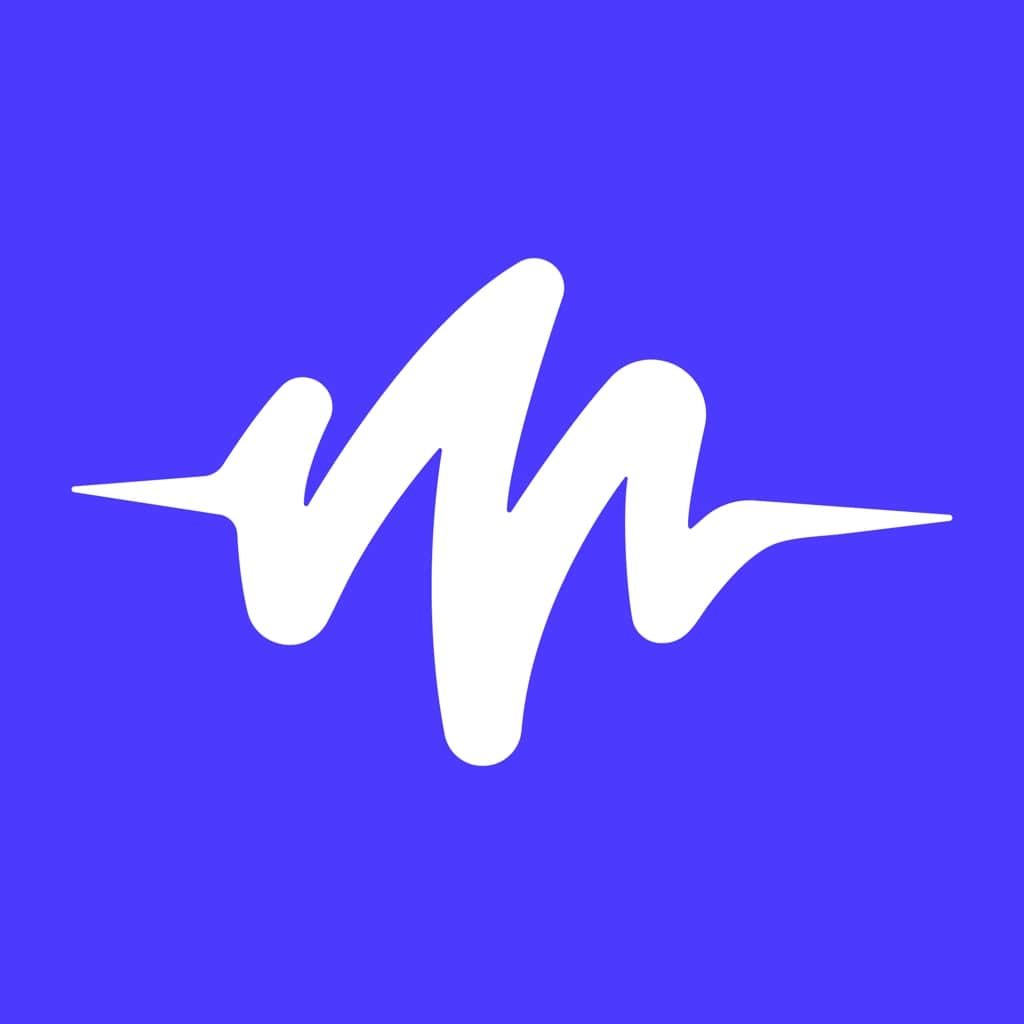 Speechify is an app for listening to text from various sources, including pictures. You can forget about paper books, newspapers, everything will be in one program.
The app works in many languages of the world. Speechify does the job qualitatively. It reads the written text in electronic format from your mobile device and reads the written text out loud.
Use the app to study if you don't have time to sit and read. In general, all those who want to save time install such a wonderful program. You'll be able to cook food in the kitchen and listen to podcasts, stories, and news.
You will always be able to turn on your voice friend and listen to the information you need. Are you tired of driving in transport and ruining your eyesight, reading small letters? You need Speechify for that.
Moreover, no matter what site you are open to reading, the program works with everything. The text must be legible. Save precious time by taking words by ear. Mark something important in your notebook when the text is automatically read.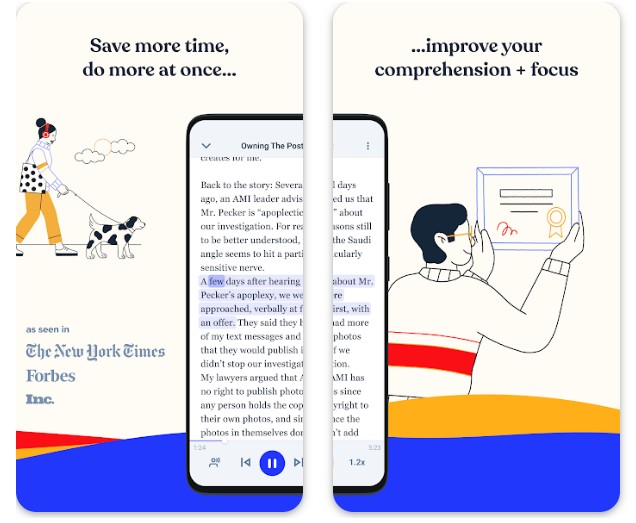 The app has useful features. You'll be able to save the text as needed and listen to it play later. You will listen to a realistic robot voice, which will be similar to a human one. It will not cause irritation. You can change the speed of the reading.


You may also like: 11 Best Text to Speech Apps for Android & iOS
NaturalReader – Text to Speech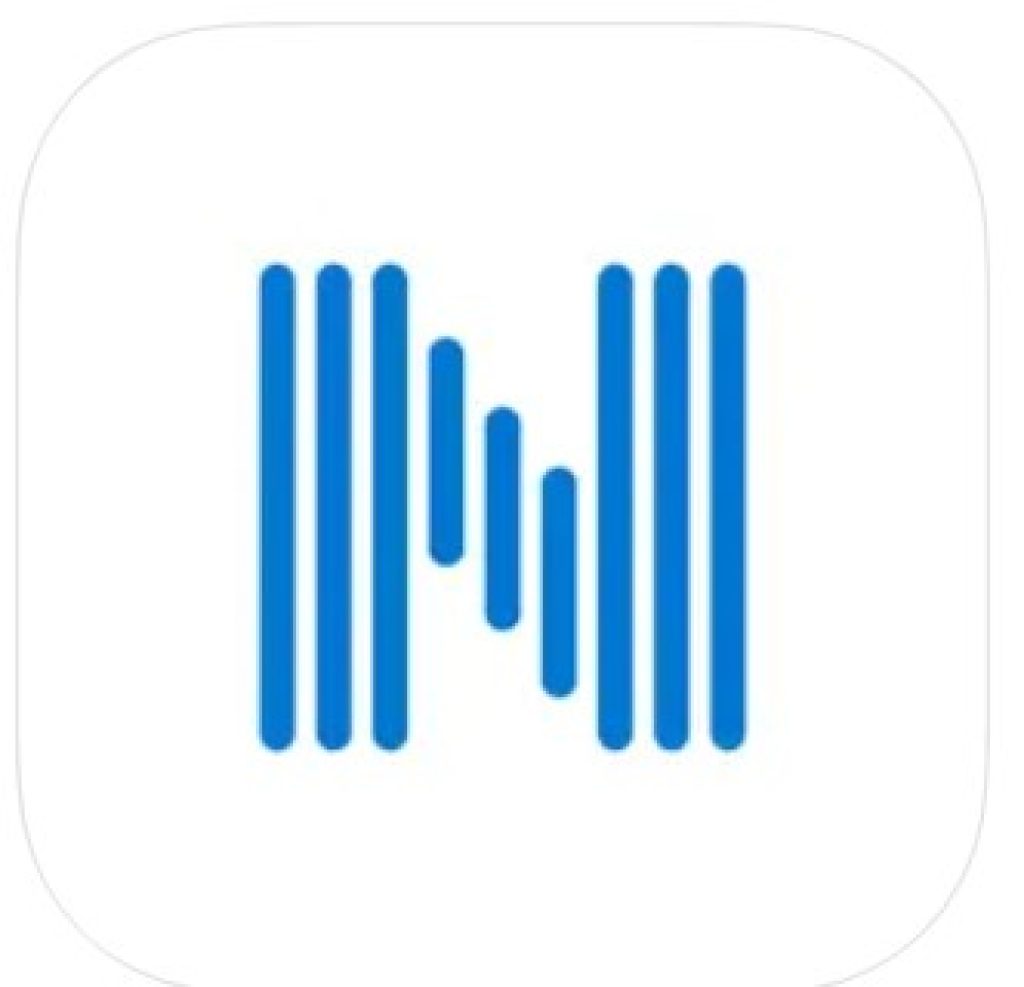 If the first feature that you are looking for in the text scanning and reading apps is reading specifically, then this is your choice. NaturalReader is an app that can convert text into speech, it can read PDF files, web pages, and digital books using the pre-recorded voices in it.
What is more, this app can become a great tool for people with dyslexia and other reading difficulties. You will open a whole new experience for you with more than 50 voices in more than 20 languages.
Just sit and relax and listen to the app. In case you are a student, you can use the NaturalReader for uploading your digital books there, in order to give your eyes a rest when you want to take a break from tons of materials that you need to read.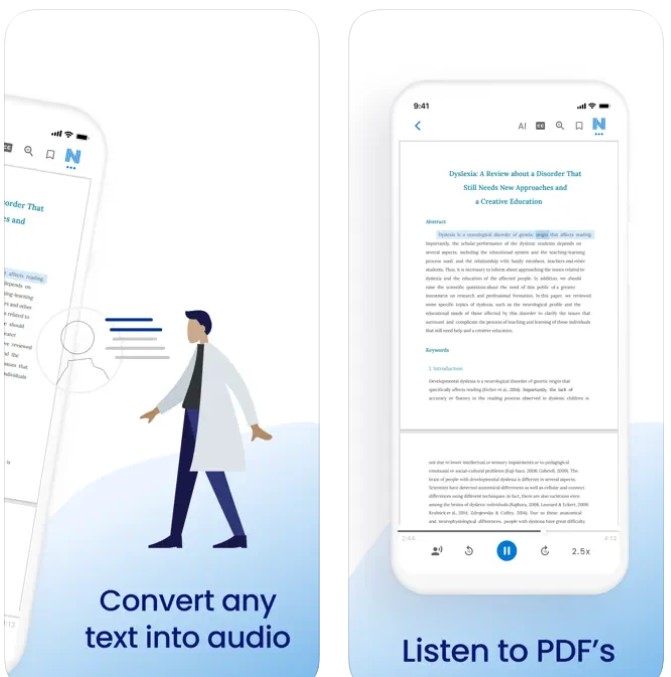 You can just listen to the audiobooks while you are on your way to the university or you just multitask at home. All in all, NaturalReader is a useful app for all types of people and it also synchronizes with the cloud services so you can upload your book from there.
Moreover, you can read your important documents with no effort. However, be aware that the app has some inbuilt purchases. In case you want to get access to its full capabilities then you will have to go for the paid subscription.


Snap Reader
This is the less popular but interesting app that can also read the text aloud from the images. It can read the text from the image immediately – you just have to point the camera to the text and just choose the extract.
Even though the user interface is extremely simple and, to be honest, looks boring, it seems like Snap Reader truly works.
Snap Reader can work as your OCR app, which means it can just convert the image into text, OCR, and the text reader app.
Another interesting point is that the app has the phone settings and it has quite a wide selection of fonts.
In addition, when you read the text, you can click on any certain word and find it in a dictionary, learn how to pronounce it, learn its meaning, etc. However, once again, we would recommend this app only to those who have older devices.


Voice: OCR Document Reader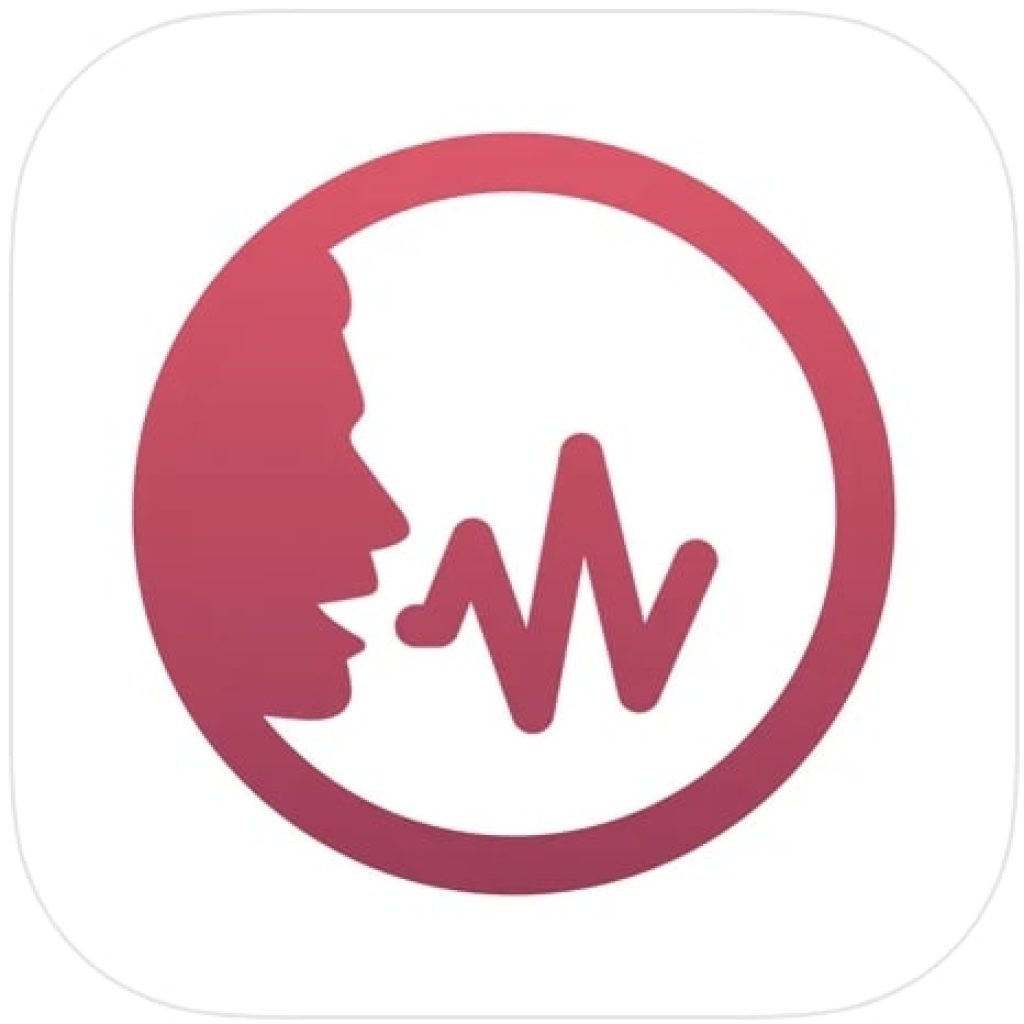 This app is a new invention with the reproduction of written text in audio. The scanner reads typed text instantly and converts it to voice.
You will be able to insert pictures into the program and it will read the text from them. By the way, it is worth noting that you will be able to share what you have listened to with your friends.
Do you need information from a certain document or message, but you do not understand what is written? No problem, everything can be solved with the help of this service. Insert all the pictures, and articles and the program will easily reproduce everything.
Listen to information when you go to school when you clean the house and during other daily activities. You don't have to find time to sit down and read, just press a couple of buttons.
Playback text can be posted on social networks, you can send it to a friend. Take a picture of what you need and get the text in audio format. You will be able to adjust the speed of reading, depending on the perception of the text.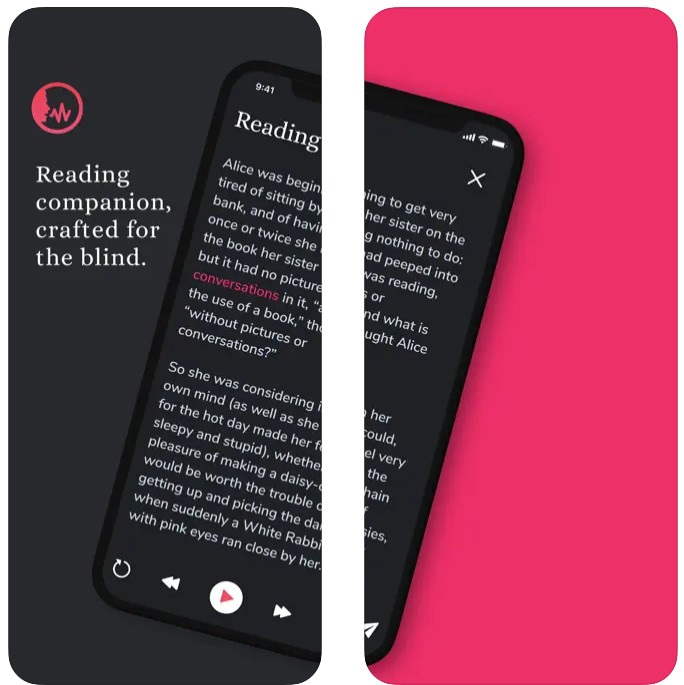 The program is endowed with a large part of features. There are many scanners, each for different text formats. It will be possible to see the information from leaflets and cards. You will be able to crop, move the picture or the text itself so that the recognition is clear and the text is not distorted.

Text to Speech – Read Aloud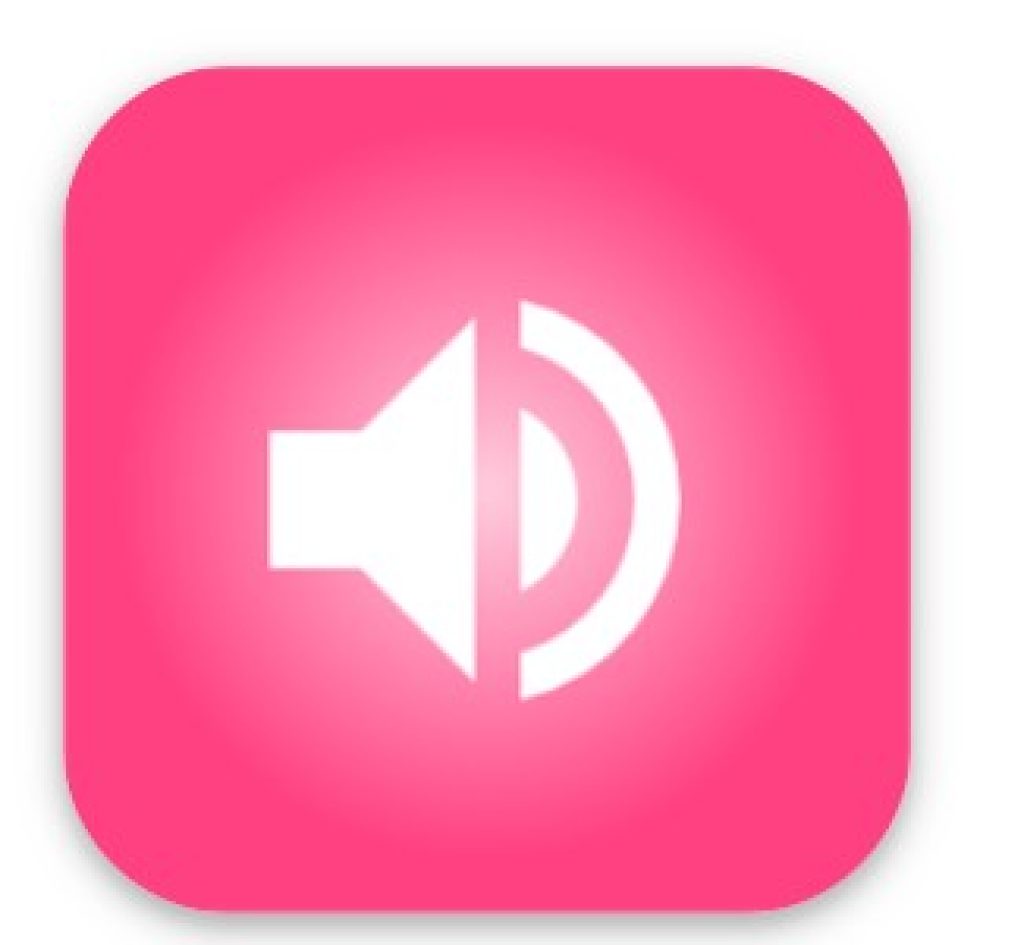 It seems like it's one of the best apps in this category. With the Text to Speech – Read Aloud app you will be able to convert images into the text from PDF and TXT files, digital books, documents, digital media, and even emails.
Furthermore, you will be able to text or print the text using the Google speech recognition feature. The app allows you to scan the text from the book or real papers using its OCR scanner and tools for text reading which are built-in into the camera feature.
However, keep in mind that only Latin symbols are supported. You'll be able to upload the texts from your favorite web pages. And of course, there is a feature for converting the text into speech.
You can play, pause, and rewind the text. What is more, you can easily change the language, the speed, and the tone of the voice.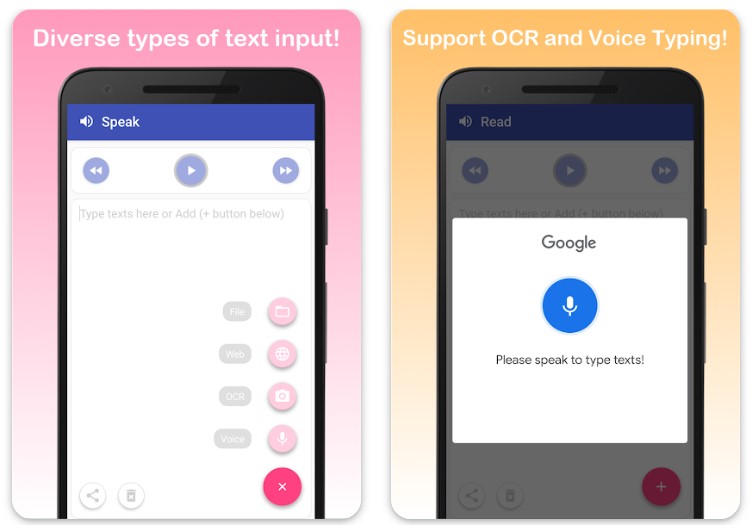 However, keep in mind that the settings are manual. If you choose the read-aloud function the text will scroll automatically.
And what is even better, the app is completely free there are no inbuilt paid features or anything like that. The scanning of the text is also not limited. The interface design is quite typical for an Android app but that's rather an advantage because it looks stylish and modern and pleasant to use.

Image to Text & Translator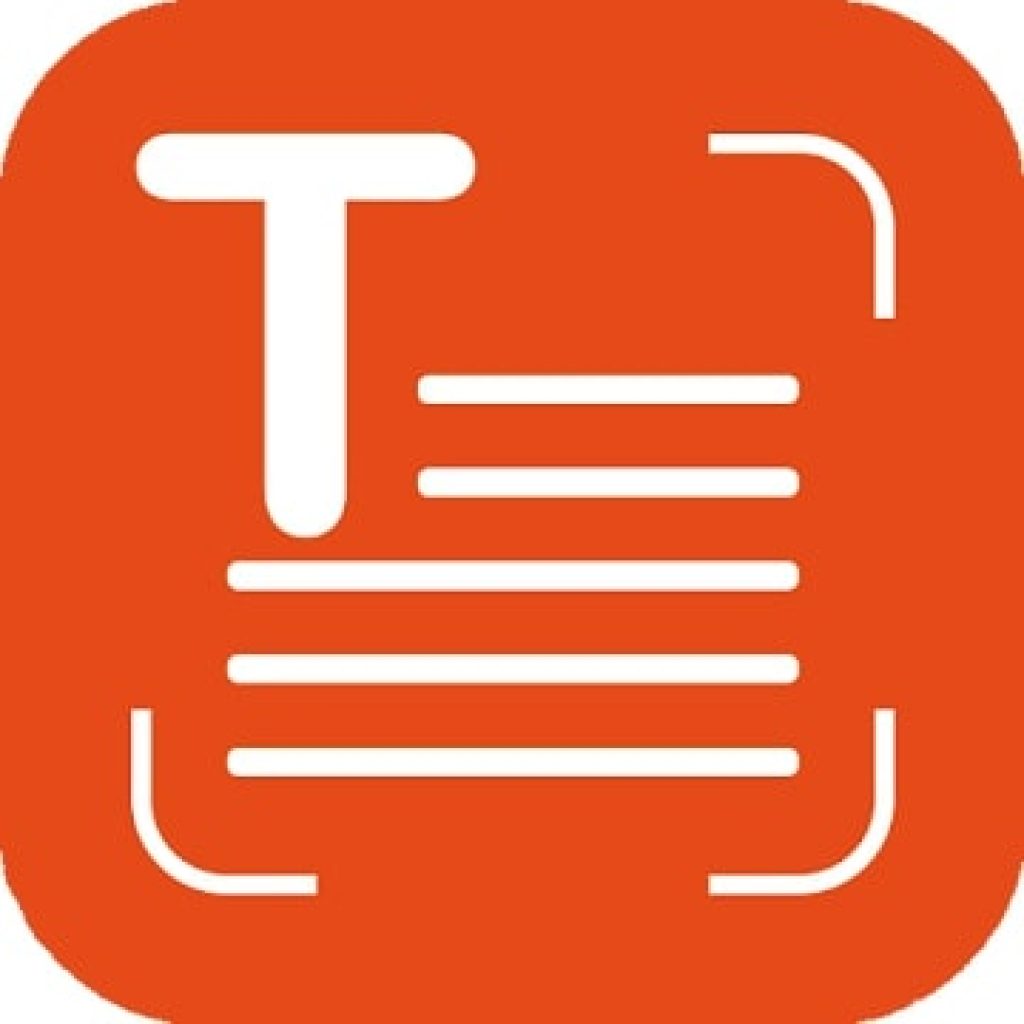 This is a program with which you can play texts in different versions. You can also translate texts here and listen to them in different languages.
Read all the important information about texts and how to properly download data from files and documents. You can always save the information and open it at the right time.
You can send the data from the app by mail and via Instagram, Facebook, and other convenient ways.
This program is on the top today. Our lives are boiling and there is not always time to sit down and read something without being distracted by anything. This way, you can do several things at once and perfectly learn new information.
The app is suitable for different professions where you need to type. Moreover, it is used by journalists.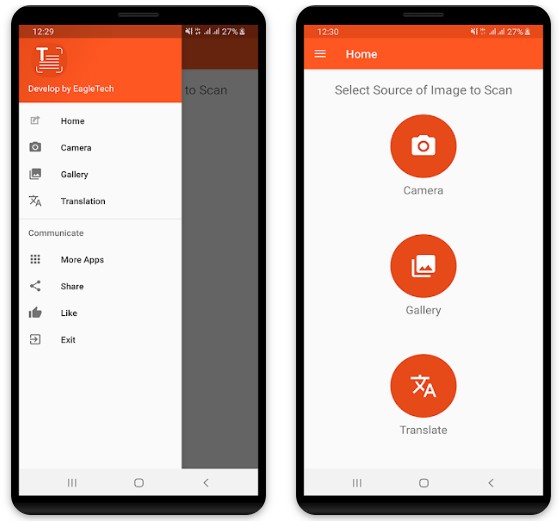 You can play it and listen to it while you're lying down or cutting vegetables in the kitchen. Furthermore, make the text more interesting and edit it here. The program has a built-in mind, and it will prompt you for any mistakes and correct them. Take different-sized articles and let the app scan them.

Text Reader by Perfect Tools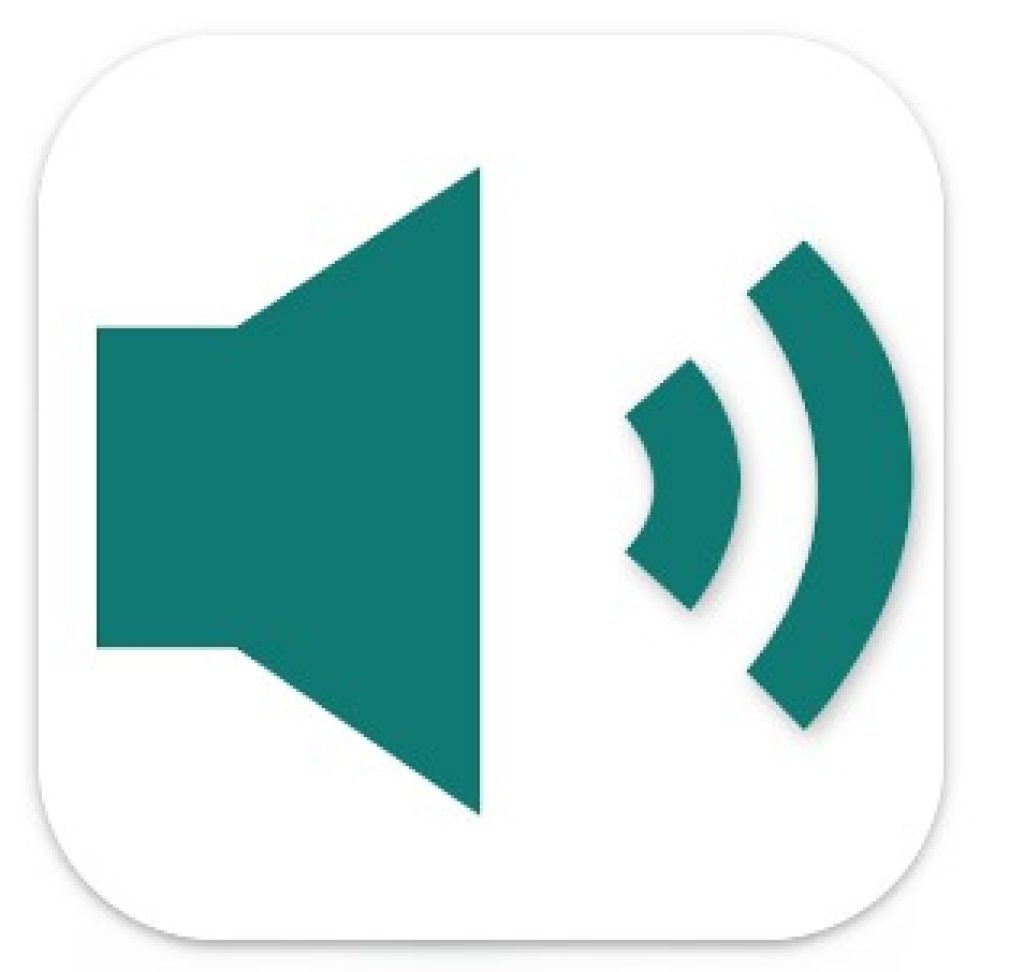 Probably, the reason why so many users like this app and why it's so popular, is because it doesn't promise you to be any kind of superior thing. It just says simply and straightforwardly that this is a simple text-reading app and it does its work.
What is more, this Text Reader allows you to save your phone's better charge. And, what is even better, it can run in the background.
All you have to do is to scan the image, then the app will convert it into digital text, and right on the same page, you will see the listen button that you can click on, and therefore start listening to it.
The reading voice settings are customizable. You can control the speed and the tonality of the reading voice. And you can stop playing at any time.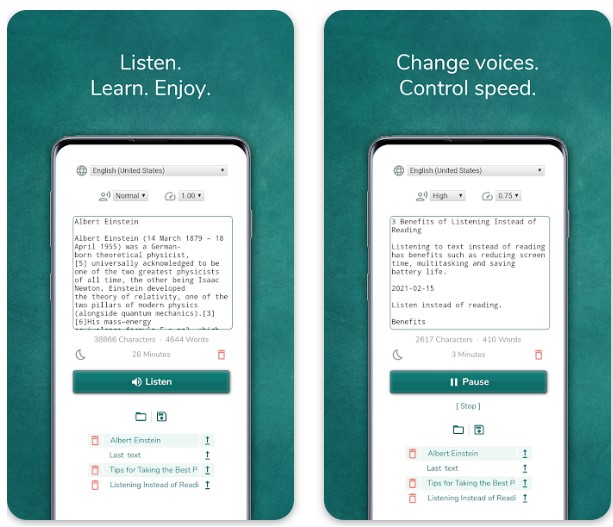 Moreover, Text Reader supports more than 40 languages, so you can scan any type of text and translate any type of text here including reading it aloud.
The font type is also customizable and you can later save the text in any type of font. The interface design is simple but stylish, and it doesn't look obsolete at all. All in all the app looks cool.

You may also like: 13 Best Document Editing Apps for Android & iOS
Image Text Reader-Text Speaker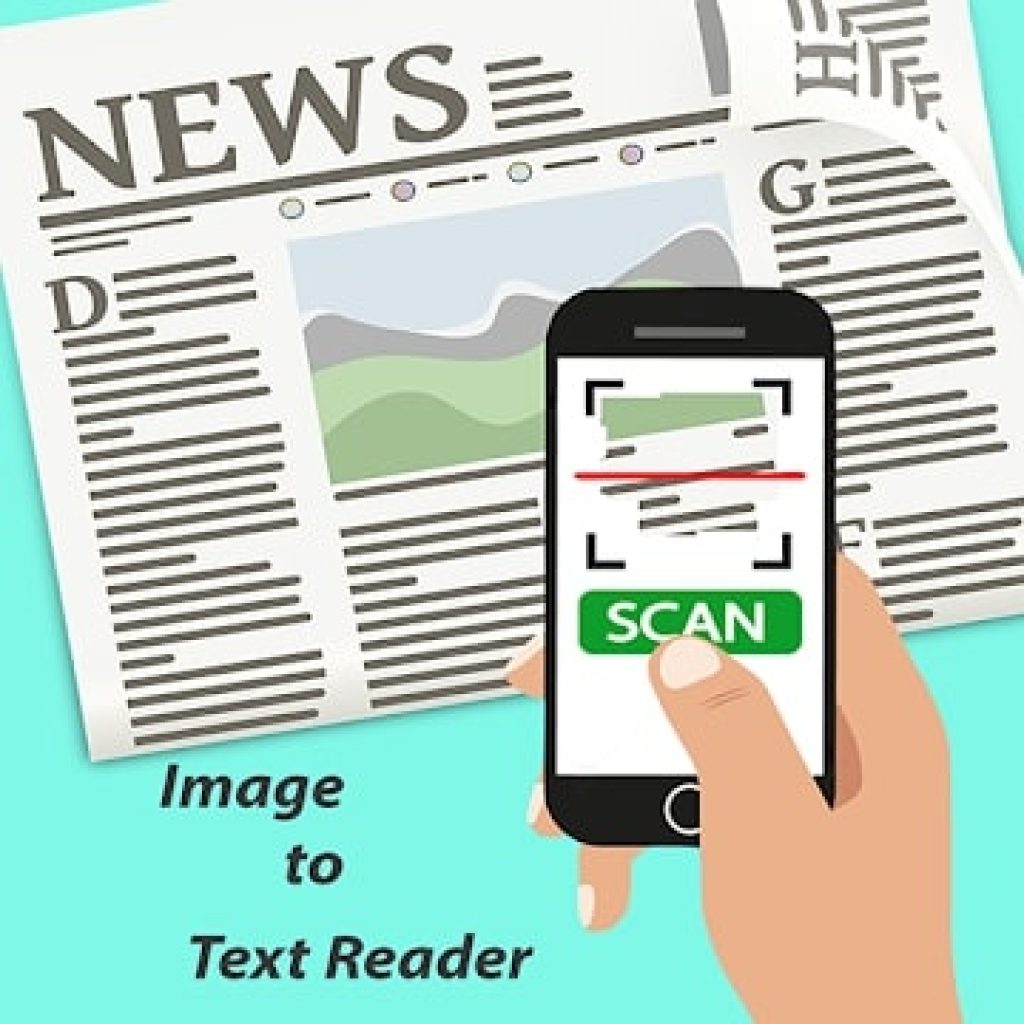 This app is designed for simple typing. If you have not been able to write down information on your phone, or if your notes began to quickly disappear from your device, then this program is for you.
Here you will be able to proofread articles and supplement them with something special. What's more, you can easily enter text into the system and it will read the captions with a voice.
You'll be able to change the languages to Spanish, French and many others. You can also change the voice assistant without any problems. Choose a pleasant voice and listen exactly to its pronunciation.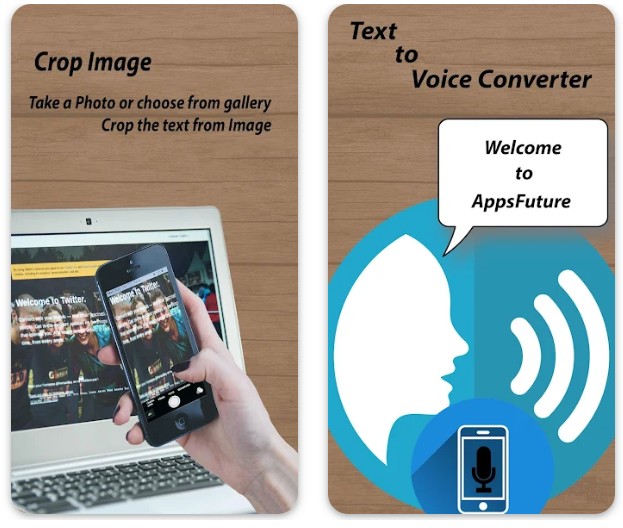 All the texts that you have come in handy or will be needed in the future, you can save them to the clipboard and use them when necessary. Share the text with other people in different programs. The app is really very useful. Learn more information and spend your time wisely!

Text Fairy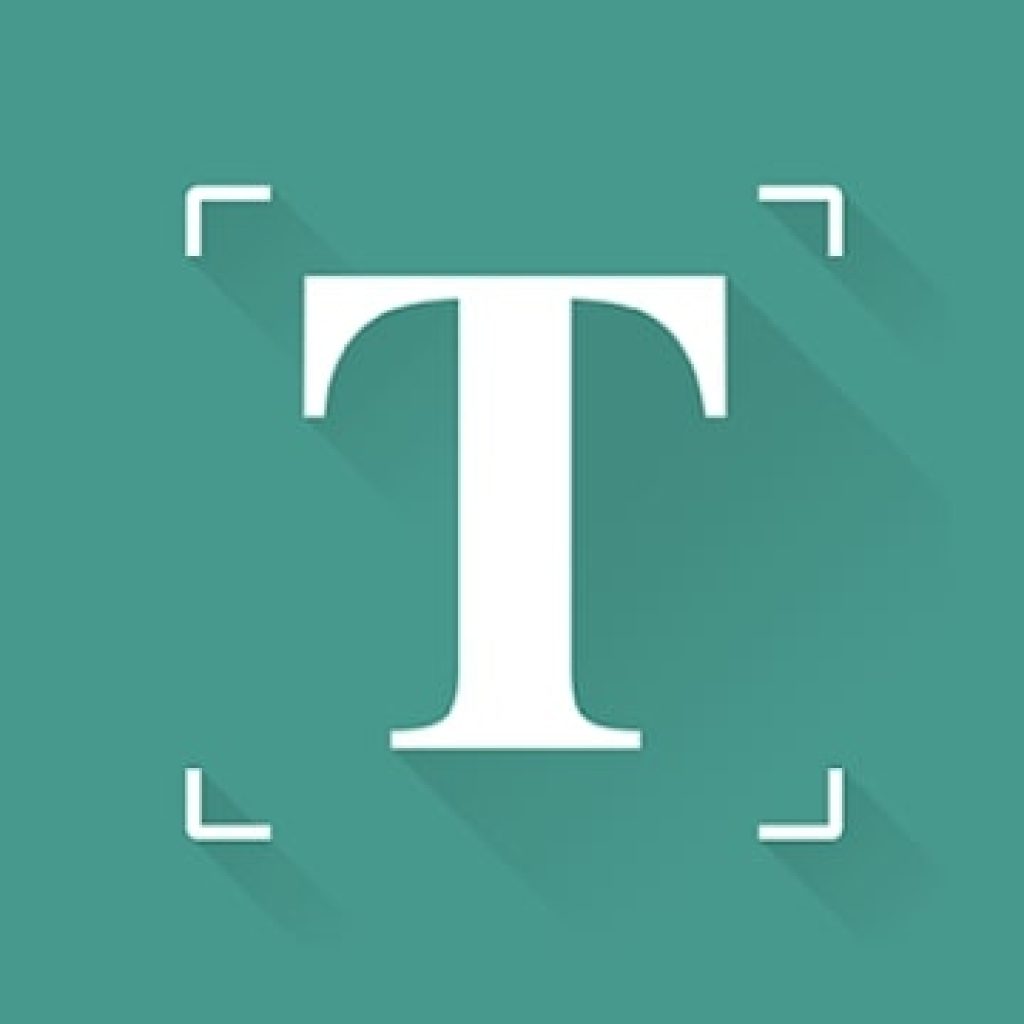 Text Fairy is a platform for reproducing information in audio. Do you need to quickly analyze text and extract the most important things from a large article? Definitely, you need to download Text Fairy.
Here you can do various actions with the printed text. You'll be able to complete the information you need and make excellent proofreading.
There is such a chip as the pronunciation of words by voice. This is convenient when there is no time to read new information.
A huge number of people from around the world use the program. You can always work with the information here and translate it into any language. Besides, if you need to edit a document, the program can not only correct something but also do work on the quality of paragraphs.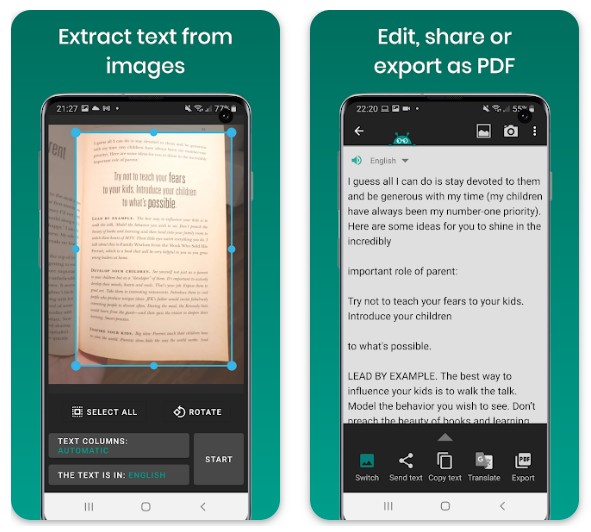 Write everything by micro topics and the system will filter all the text for you. Text Fairy has an accessible interface and quality graphics. Developing your skills in writing some work here is definitely possible. Install the app and recommend it to your colleagues and friends.

Voice Aloud Reader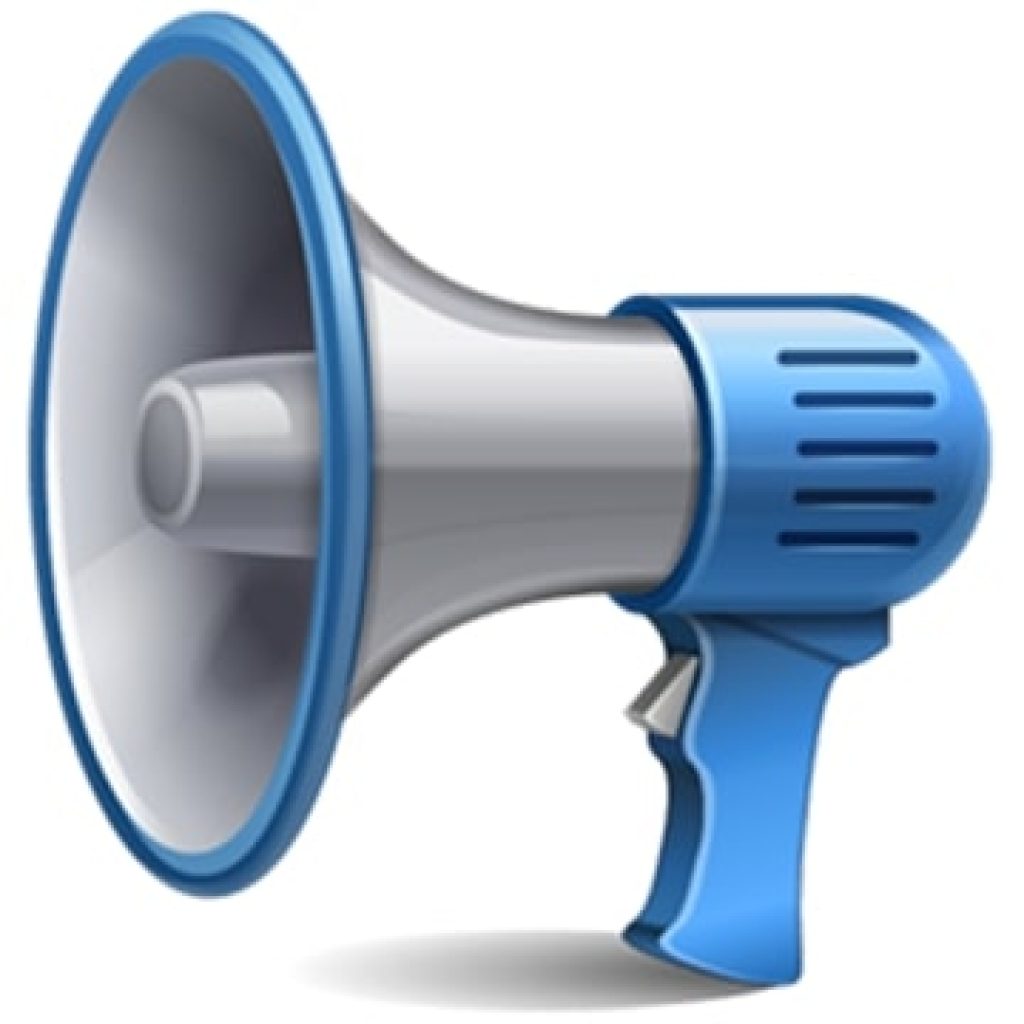 The Voice Aloud Reader app is designed to read text aloud. It can read out loud the contents of pictures, articles, news, and emails.
To use the Voice Aloud Reader, you need to add any text to it. You can do this by copying and pasting, by pressing the Plus or Share button. Voice Aloud Reader also supports FB2, MOBI, EPUB, and other formats.
The app includes text recognition. This option allows working with PDF files. Documents opened in the app can be saved in the memory of your smartphone to listen to later.
It is possible to create lists of articles and sort files into folders. The built-in reader provides not only the choice of voice, but also the setting of the volume, reading speed, and timbre.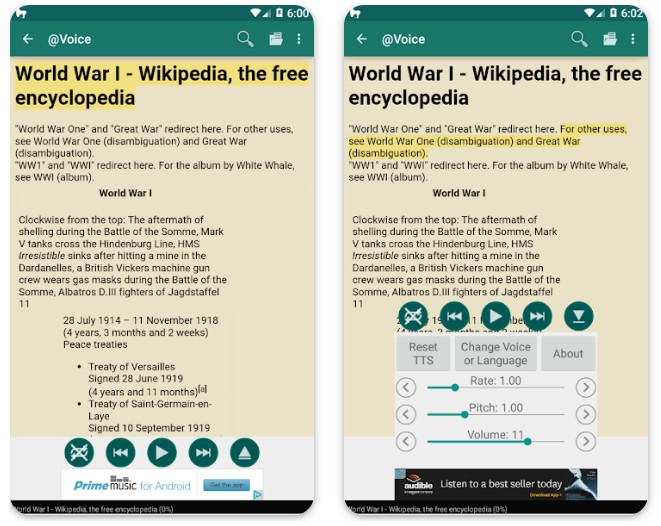 There is an opportunity to pause the voiceover. You can also set extra pauses. Voice Aloud Reader automatically recognizes languages and supports Bluetooth headsets. Pressing the buttons on them allows you to control the dubbing process. The sleep timer is provided for reading before you go to sleep.

Text Scanner [OCR]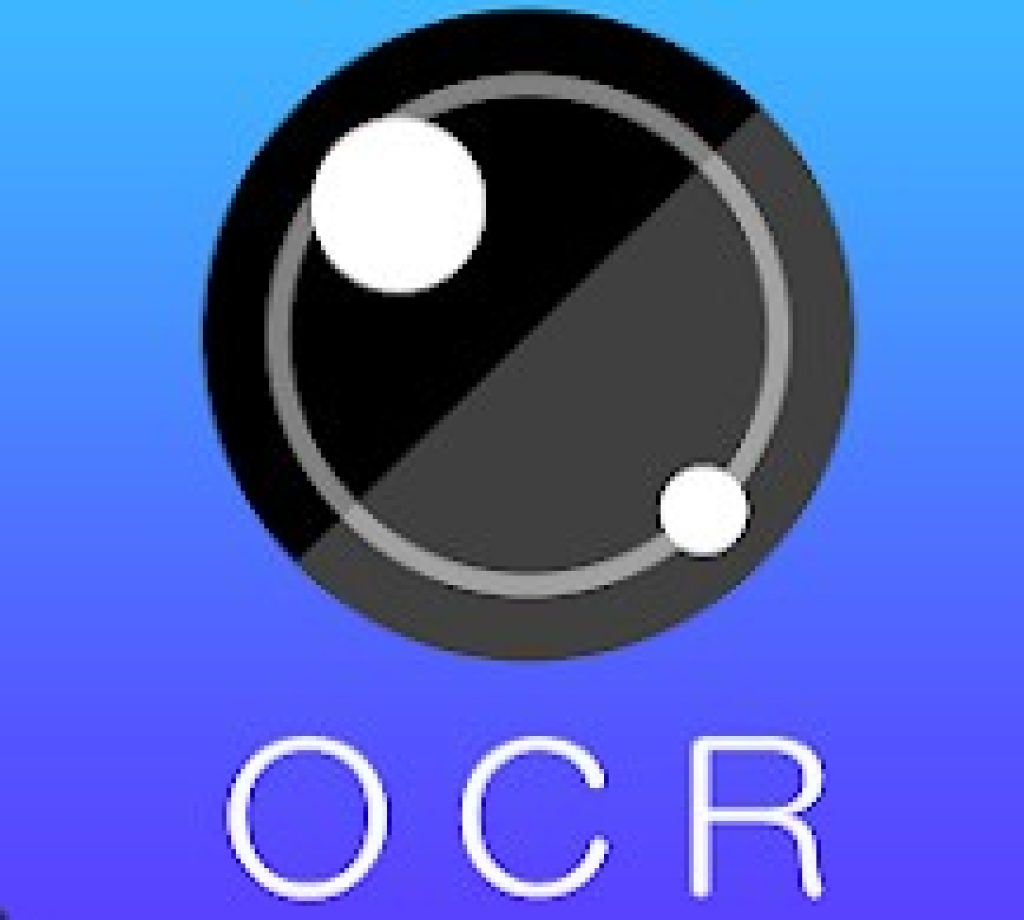 Currently, this is one of the most popular OCR apps on the market. Its main advantage is that it supports more than 50 languages.
What is more, it has one of the highest accuracies of OCR among the apps in this segment. You can scan anything you want, documents, books, newspapers, and so on.
With this text scanner app, you will easily scan any text on the surfaces, and we'll be able to read it. Or, the app can read it for you. In fact, it has one of the highest reading speeds.
The Precision is also decent. You can open the app, take a picture of a document or a book ride in the app, or, upload an image from your phone's gallery.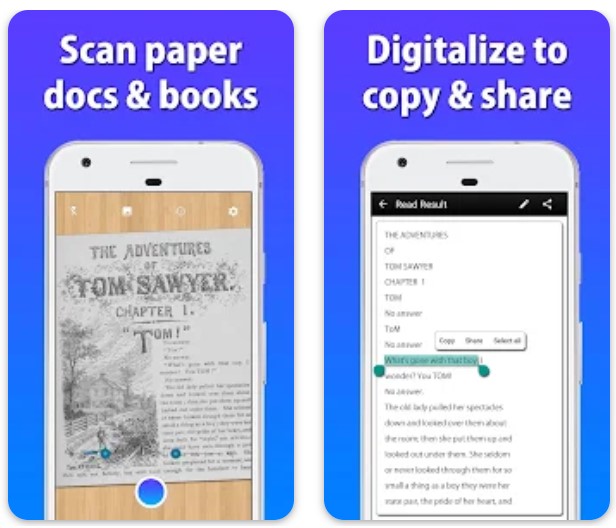 And, the app also supports manual typing. Text scanner works with cloud services as well. In general, this is a great app that can help you to read almost any text from various surfaces, it has a decent user interface that is easy to use and it has great reviews from users as well.

Smart Lens – Text Scanner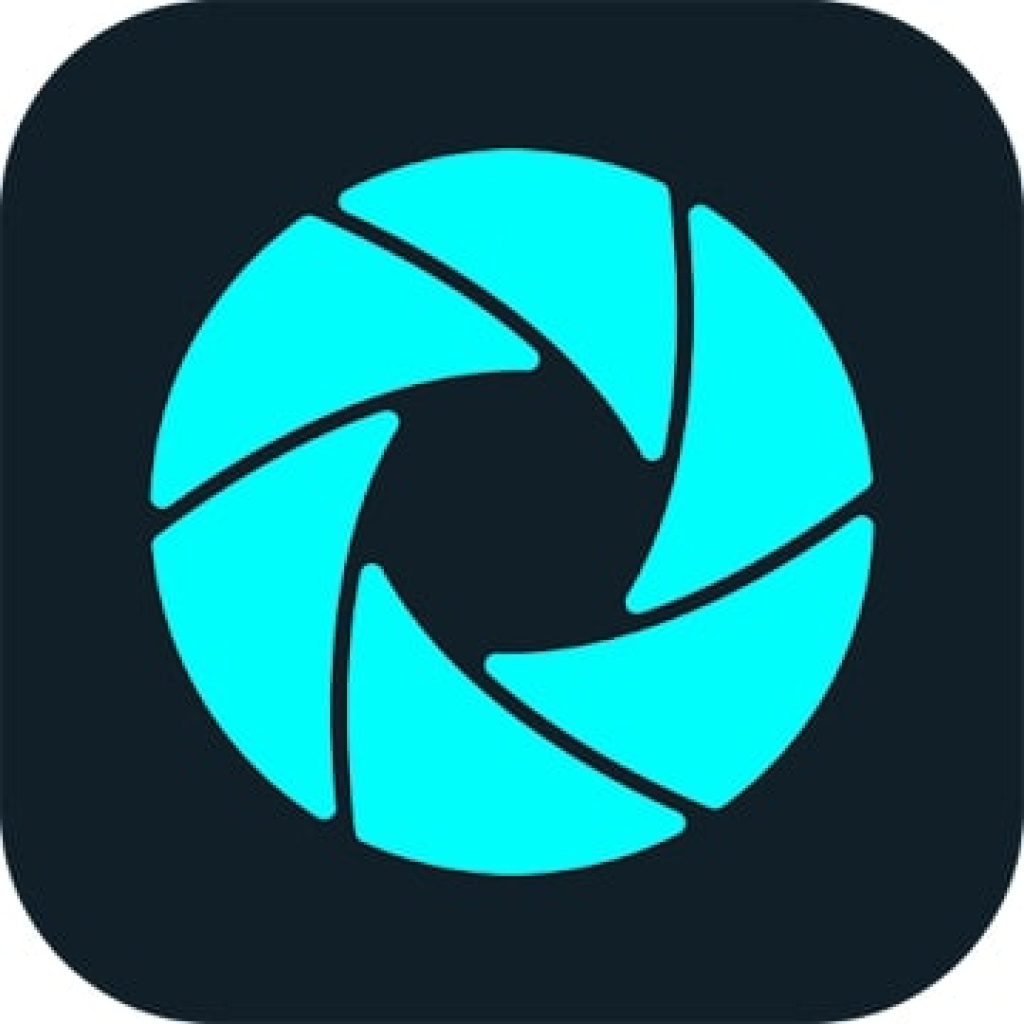 Smart Lens is an app for writing texts, checking them, and listening to recordings. You will be able to quickly find the main thing in a large text, to highlight something for yourself.
You will read information from cards, covers, and other written sources. The program has a special mind, using it to scan a given topic is instantaneous and the result will definitely not disappoint you.
Try the photo function. No longer do you have to retype the text and then further devise workarounds. Just point your camera at the information and the scan will do its job.
What's more, the innovations never cease to amaze! So here, too, you can give a command to the program and it will make a call, write a message, notify you.
Do not remember the information and do not keep in mind where and what is stored, all will be collected in one program. This is really cool! Based on the fact that the program can do many things, it does not fail with the information, does not distort it, in the words does not make mistakes.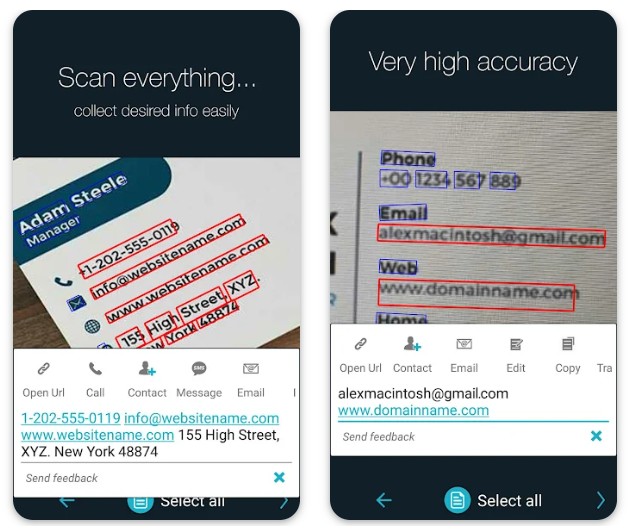 The analysis of a given topic is quite fast and without lags. You can fully rely on the quality result. Smart Lens is a diverse platform for people of all ages. Here everyone will find something interesting and be able to learn how to process information.

Scan Text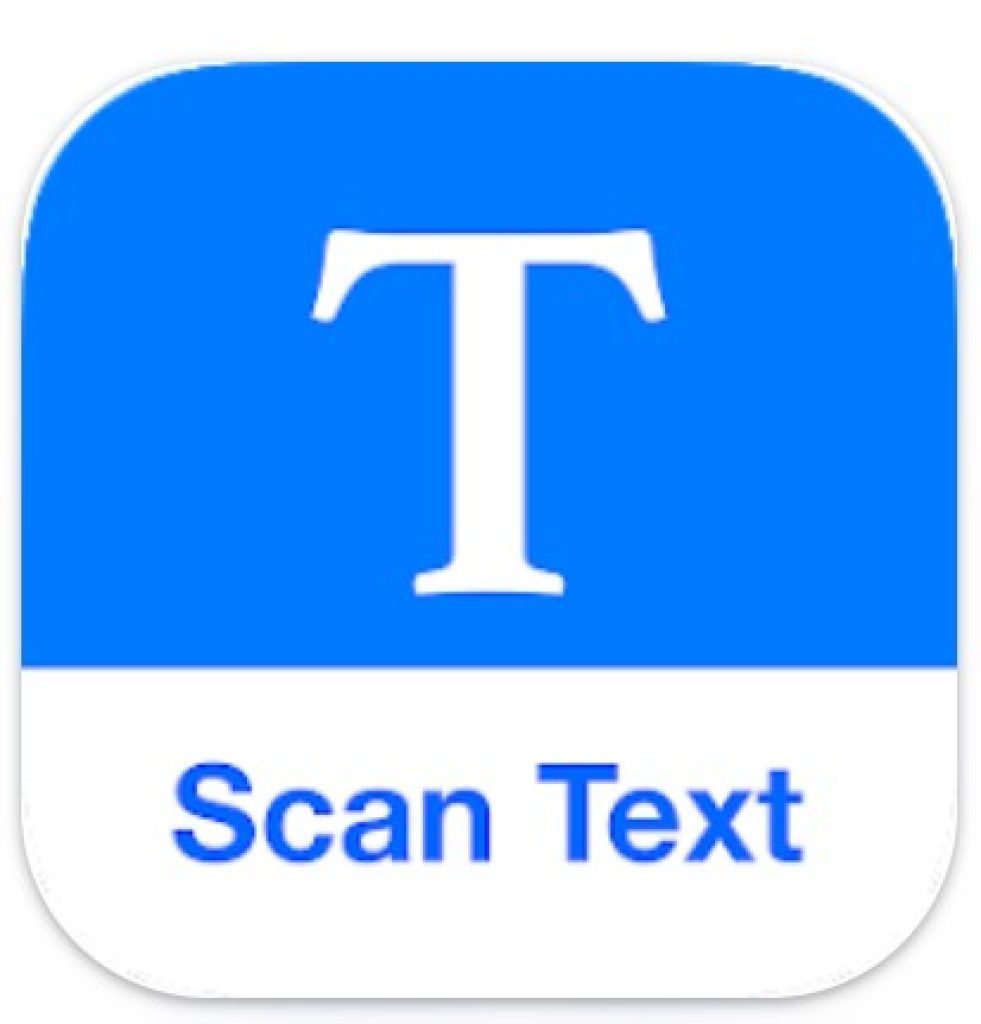 This app is a typical representative of apps with segments, but not in a bad sense. Intact, is one of the most popular apps in this category.
It supports more than 100 languages, and this is a feature that not so many apps can brag about. It is able to scan text from any service, you just need to point the camera at it. Just use this can function and any text will be transferred to your phone.
What is more, a text scanner makes it easy to exchange text with other apps. Do on possible drawback of this text scanner is that it has a little bit obsolete interface design and some users may find it distracting.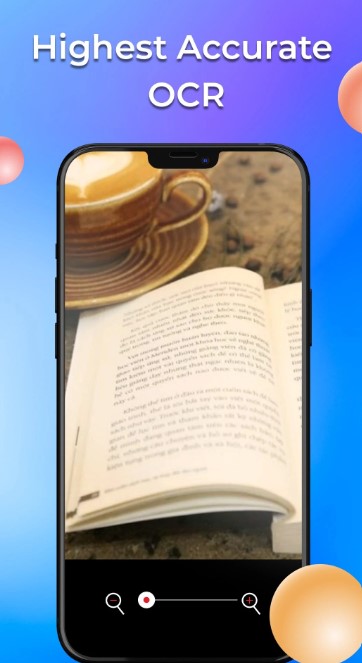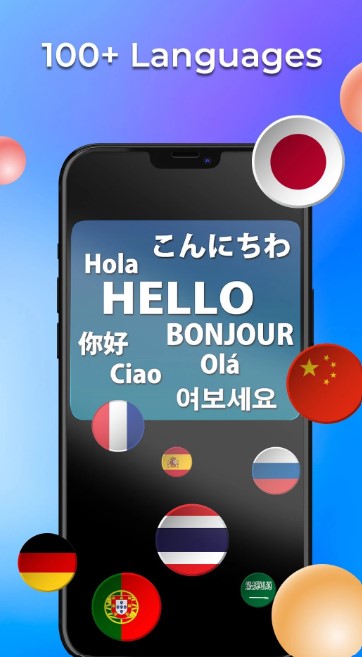 However, for older Android devices and for those who don't care about looks, the functionality and the abundance of languages will be the main factor for choosing the app. All in all, This is a decent and reliable text scanner and reader and it's so easy to use it.

Image to Text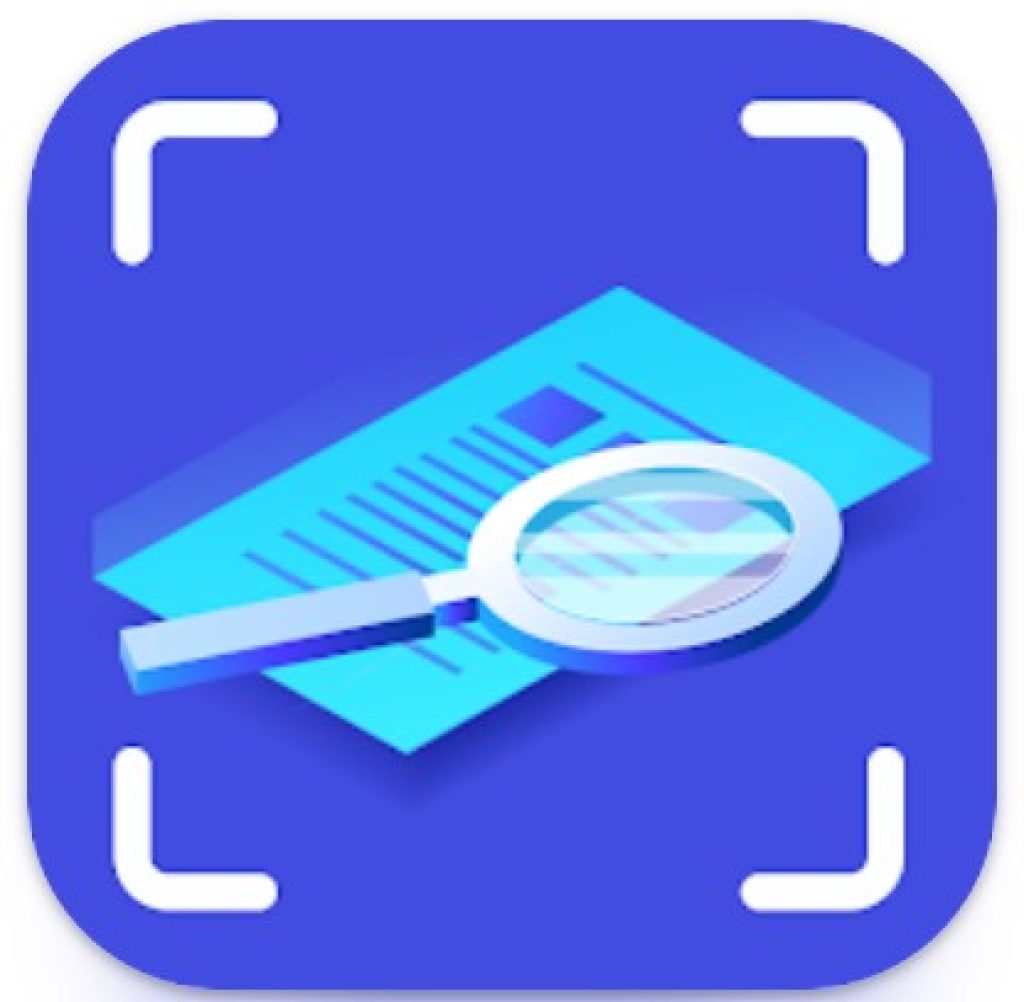 This is another text scanner app and even though you might be a little bit tired to read about the apps that all perform the same function, we still want to present it to you because of its high-level functionality. First of all, this is a completely free app that you can use to scan and read text.
The app works precisely and it can read texts from any surface. You will be able to turn any photo or image into text and then translate it later. What you need to do is just open the app and go to the converter feature.
One of the prominent features of image-to-text is that it has special technology and a scanner for each language, which makes its recognition of the text more precise than in the case of other apps. What is more, here you can scan multiple pictures at once, and later group them into one piece.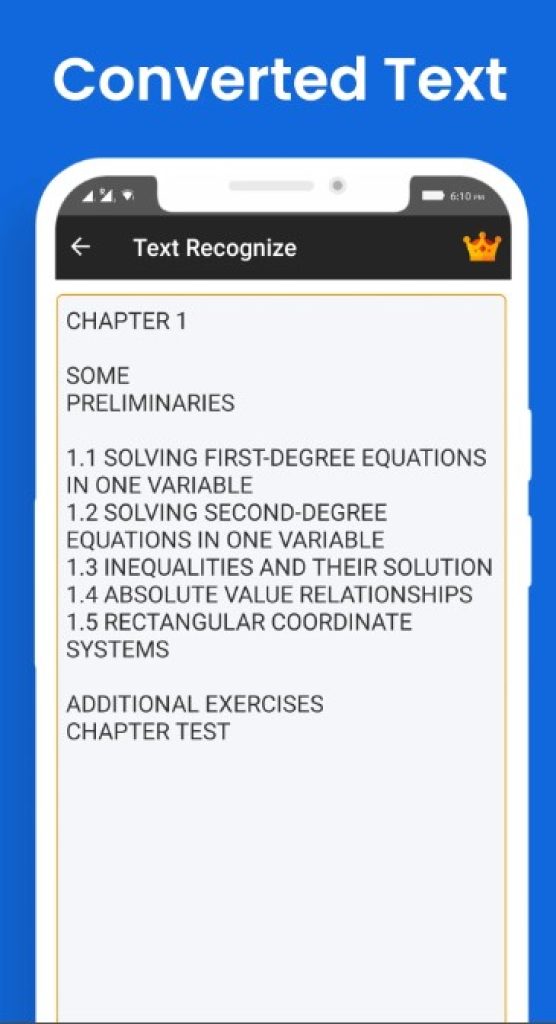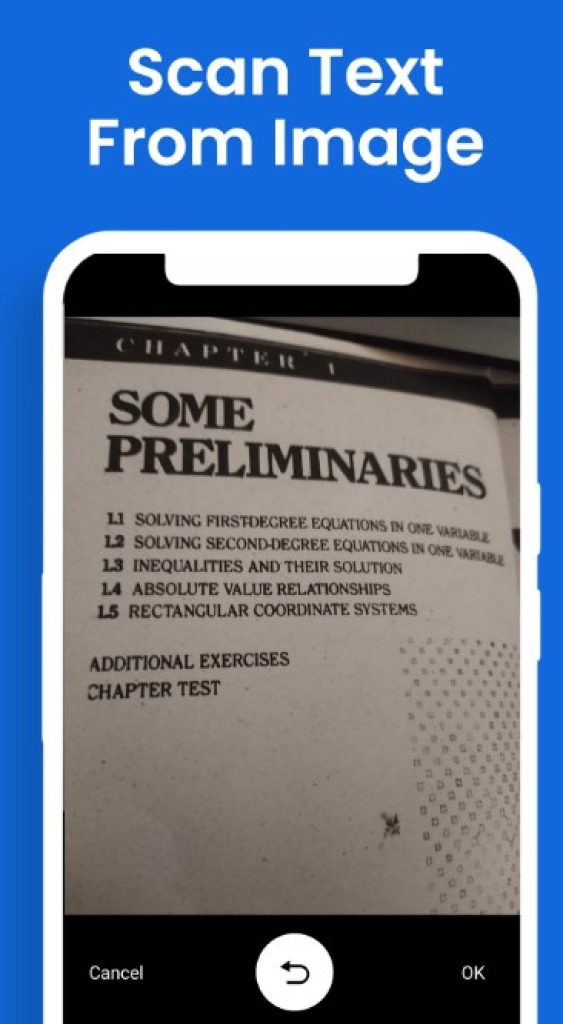 All in all this app will be useful for those who just want to scan and read the text from surfaces just from time to time or for those who need to do it on a daily basis because it's super easy to use and it doesn't occupy much space in the phone's memory.
However, there is a number of users that complain about boxes in the app, for instance, they say that the app cannot recognize the text on some surfaces.

You may also like: 11 Best document scanner apps for Android
ML Scanner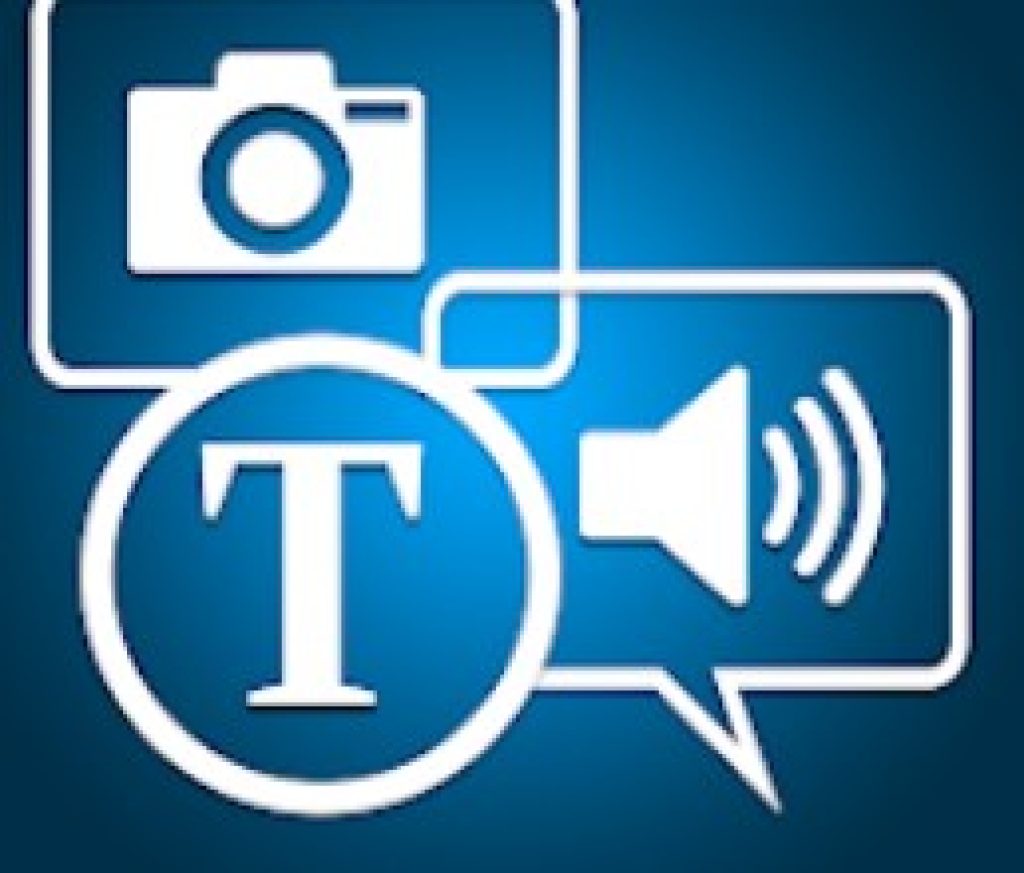 This app will be suitable for those who have older Android devices. Even though the developers claim that this OCR app uses the latest Technologies and text recognition, in fact, its functionality is rather questionable.
One advantage of this app is that it can convert the image into text and then read the text aloud. The app is capable of extracting text from files and images of all types, including PDF and other formats.
What is more, here you will find some editing features, for example, you can search for specific extracts of the text, convert pictures to text documents, cut and edit images, and so on.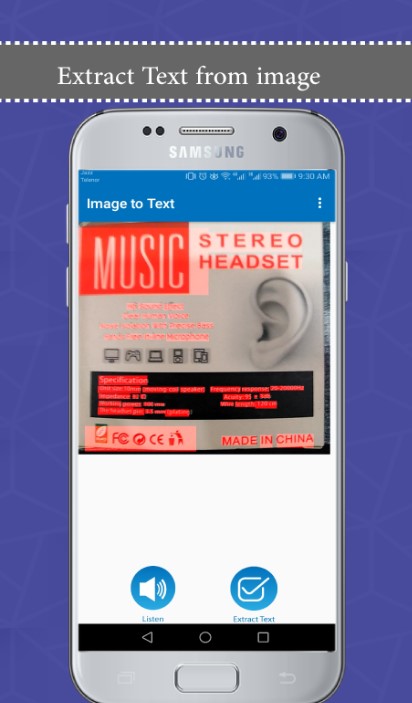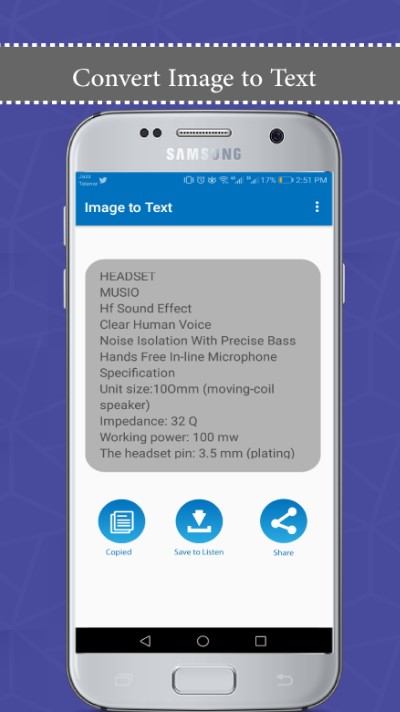 In addition, you can upload the images from your phone's gallery, and I just take pictures right in the app. All In all, the features are quite standard and the interface design is obsolete.
We would like to say something more positive about this ml scanner but lots of users complain that the app has some issues with its functionality and often cannot recognize the text. Once again, we only recommend this app in case you have an older Android device.