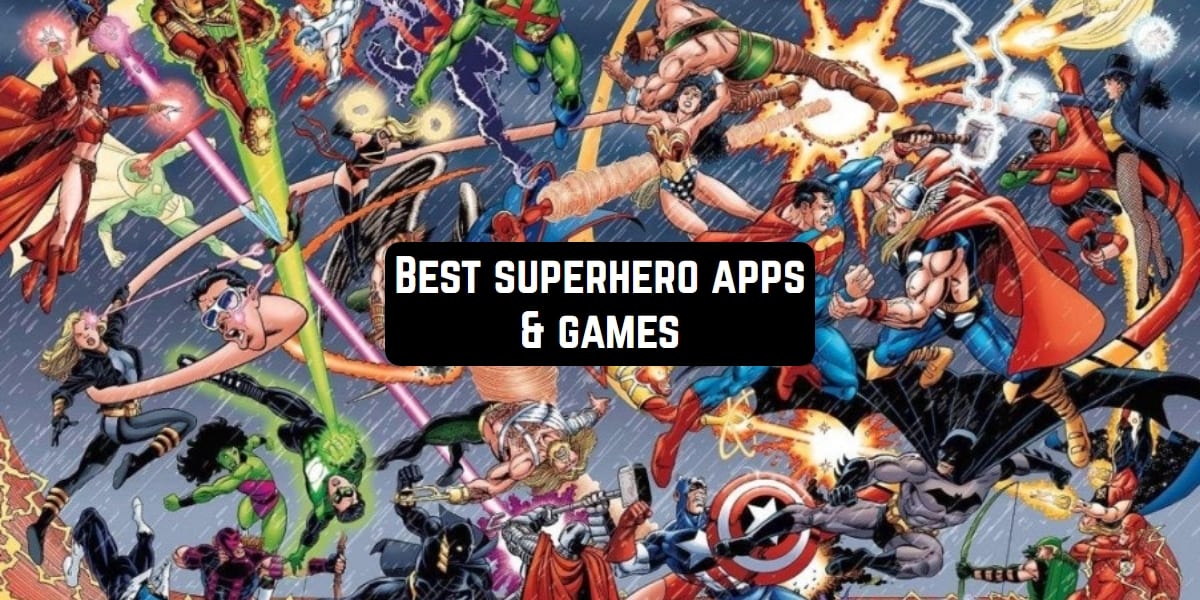 Comics – it is a cartoon story, Hollywood manga, and a book in pictures. Whatever they are called by people who are far from all the fantastic worlds and who are not their fans. Comics are popular among people of all ages for several decades and do not lose popularity to this day.
In recent decades, films about superheroes from comics have become incredibly popular. The Marvel and DC universes have won the hearts of viewers around the world, not only on paper pages but also with movies.
On the wave of this popularity, well-known companies began to develop applications in which everyone can feel like a superhero. People can try on the role of a real hero, get superpowers and live the storyline as a famous person. Fans especially appreciate these games – it is a way to stay with their hobbies and object of adoration, even when no other new products come out.
Of course, come up with something new conceptual will not be possible, but to create a really exciting game based on the exploits of superheroes and with stories from comic books developers have turned out. So, we want to present you 11 best applications about superheroes, that you can play in your spare time on your iOS or Android device.
Marvel: Contest of Champions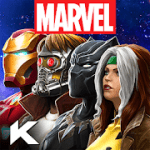 Marvel's universe is often full of new content for its fans.
Marvel: Contest of Champions is a battle game for mobile phones, available for iOS and Android platforms. As you can see, the main characters in the game are all the key characters of Marvel.
The storyline is that the superheroes have arranged a battle "all against all" in order to find out who is the coolest, strongest, smartest and, in general, the best of them.
To win, you need to gather an indestructible team of the strongest superheroes and fight it with other players, as well as perform the most difficult tasks. By the way, to pass the game and perform each of the tasks is incredibly difficult.
If you do not plan to invest your money in the game and expect that in the free Marvel application there will be no purchases, then you are wrong. Without donations, you will be going through all the tasks for an incredibly long time – and this is what the developers expect.
You must competently assemble your team: combinations of heroes and villains can be different, and some combinations will even give you additional benefits. For example, you will get additional bonuses by collecting all the Galaxy Guardians in your squad.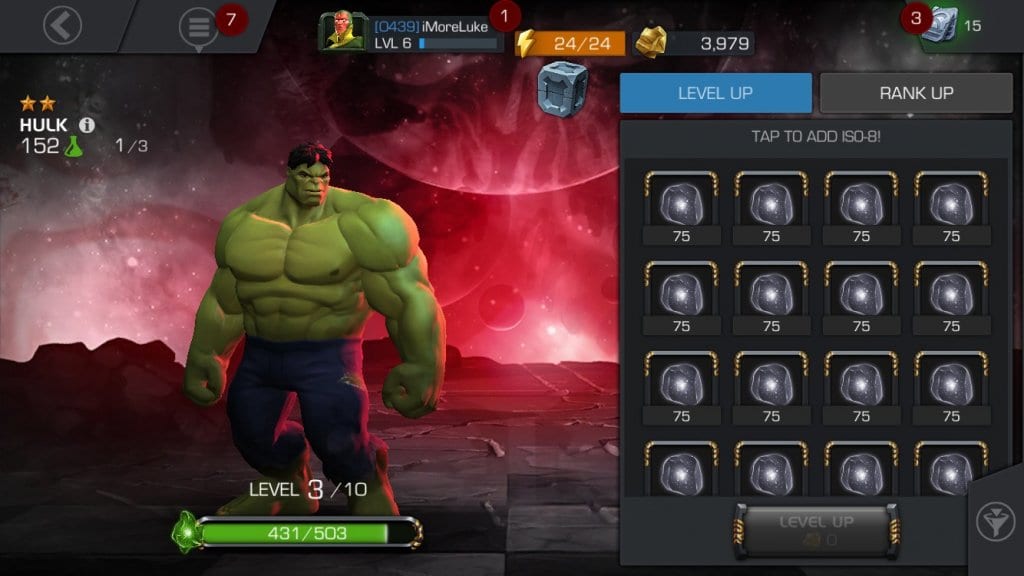 During the course of the game, you will improve your team's skills and sharpen your skills. The further you move along the storyline, the stronger your characters will be. Superheroes develop in tasks such as killing Tanos or challenging Kang.
That is, the game is completely held in the atmosphere of the comics themselves and the plots of the films. Your task is to fight in short battles and become the champion among other players. It will be difficult, but it is worth trying.
back to menu ↑
MARVEL Future Fight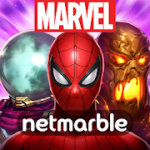 Another game based on MARVEL stories, but already from Netmarble developers. If you are acquainted with the universe from comics, and then switched to animation and movies – then you will be delighted. If you have watched only movies, you will have an interesting meeting with new characters.
In the game, you will be able to study each character separately: its history, brief description, and biography. Since the number of characters is more than 160, the full introduction will be long, but you can learn everything right in the game.
The characters are divided into several categories: combat, universal, strike and speed. Each category and character has its own unique skills and characteristics, so it is worth paying attention to when choosing your avatar.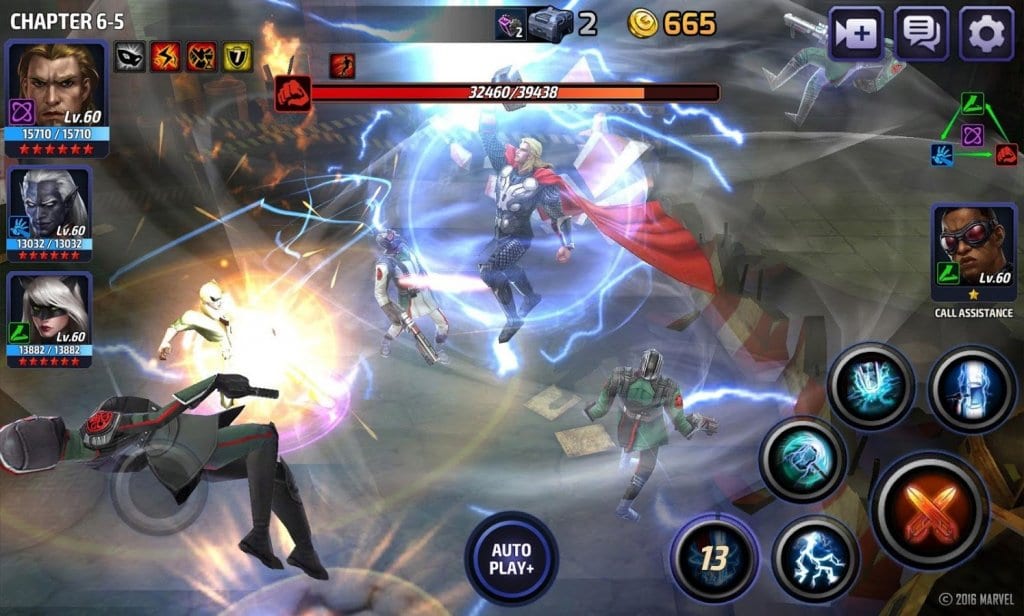 In case you have already decided that this is a card game because of the abundance of characters, then you are very wrong. MARVEL Future Fight is a game with third-person gameplay. That is, the whole gameplay is like playing games on a computer – you watch your character from the outside and take action.
In general, you always take part in some fights and battles, deal damage to your opponent and defend yourself. Naturally, everything happens on the storyline comics. As we know, the abundance of events for the universe MARVEL – a normal phenomenon, so the plot does not make you bored.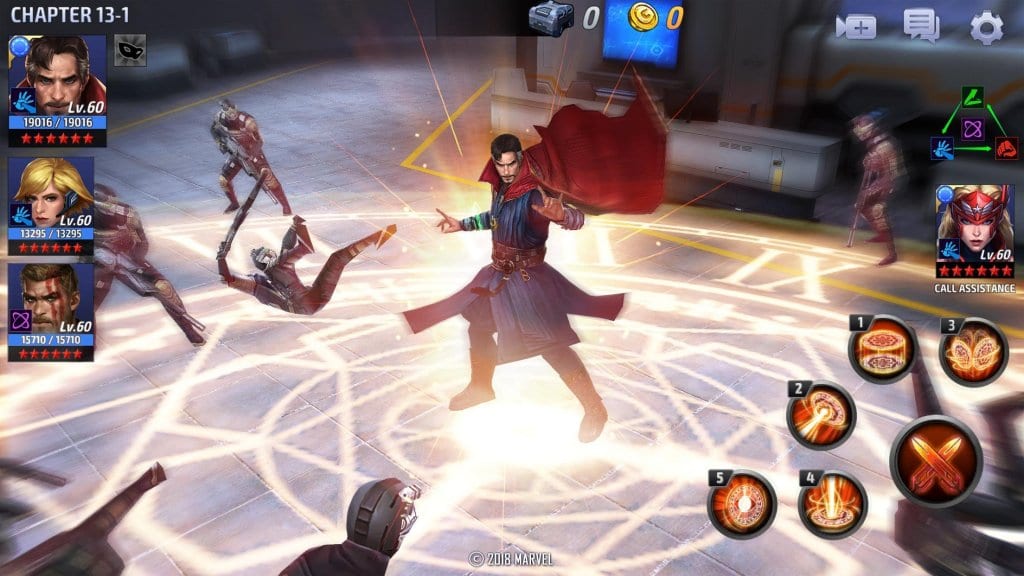 You can carry out the fights in 3 by 3 mode. In this case, you will need to gather your team and show that you are the strongest.
Control is carried out by a virtual gamepad and it is very convenient – players intuitively understand what actions they can make a combination. A huge number of characters, convenient control and a story – a great set in order to enjoy the gameplay.
back to menu ↑
Injustice: Gods Among Us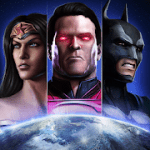 Injustice: Gods Among Us is a semi-free game where you can take part in epic battles and incredible battles. Now the main characters are superheroes of the DC universe.
Injustice: Gods Among Us is a card game, where you can collect a unique collection of characters. Each of them has unique abilities and techniques. You build a team and fight in the arena in 3 by 3 mode with other players from all over the world. In online battles you can qualify for a place in the standings and rankings, that is, get recognition.
Raising the level opens up new cards, as well as gives you the opportunity to develop the skills of characters. Everyone has their own superpowers, which you can pump during the game. Also, they improve their health and damage.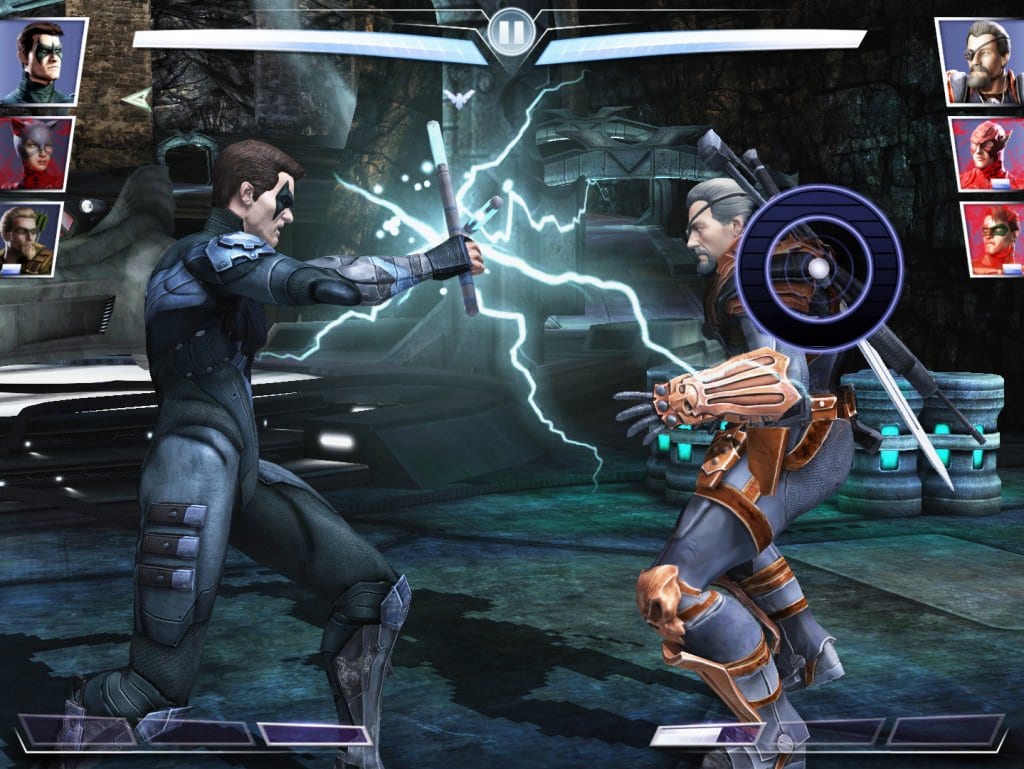 The battle system in the application allows you to push the multi-level characters. Sometimes it looks even comical: a fragile girl can easily beat and crush a huge bouncer. You will also learn the locations of battles: they are easily recognizable by real fans. For example, it can be the Batman Cave or even the Watchtower – the legendary places from the DC comics.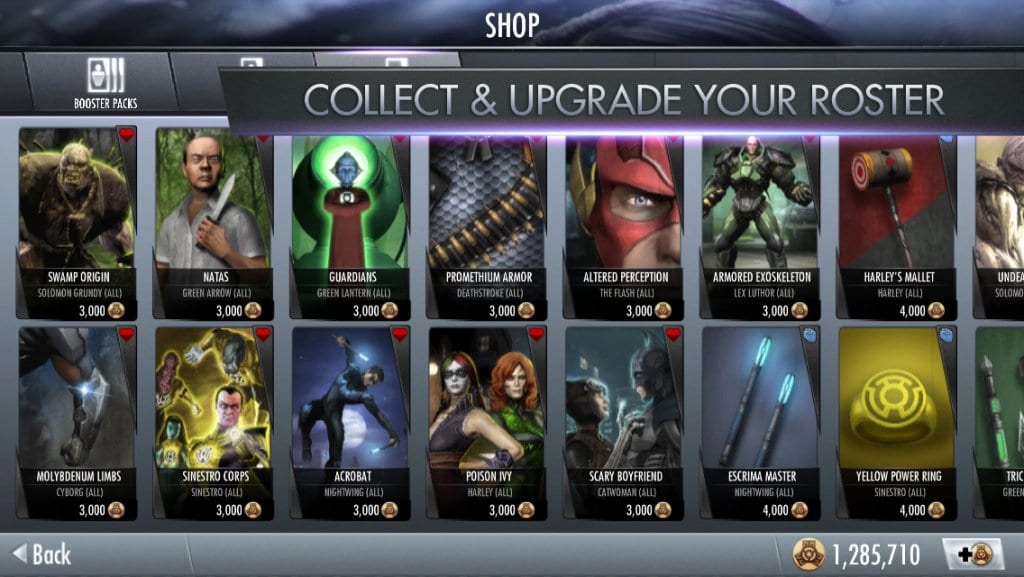 For every round you win, you get in-game credits. Spend wisely – because the amount of money you get is small, and you will need to invest real money for big purchases.
The graphics of the application is impressive: all the characters are well-drawn, and the movements in the game and the animation at the level of good console applications. You are guaranteed to enjoy the plot moments and exciting battles.
back to menu ↑
Injustice 2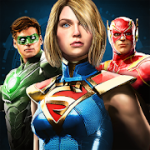 Have you heard of the Justice League? No? Unbelievable! Injustice 2 is a battle game where you can join your favorite characters from the DC universe – both superheroes and villains. Gather your team and show them your fighting power.
The game will attract you from the first seconds. There is a storyline, some scenes from which are played incredibly beautifully, a battle arena, and battles with bosses. All game modes open to you gradually with the reaching of new levels, so if you want to try everything – you will have to work hard.
As well as with the characters: initially you are only available to incredibly sexy Harley Queen and the famous Batman. The rest of the characters will be either bought by you for the game currency, or collected in pieces from the awards and treasures.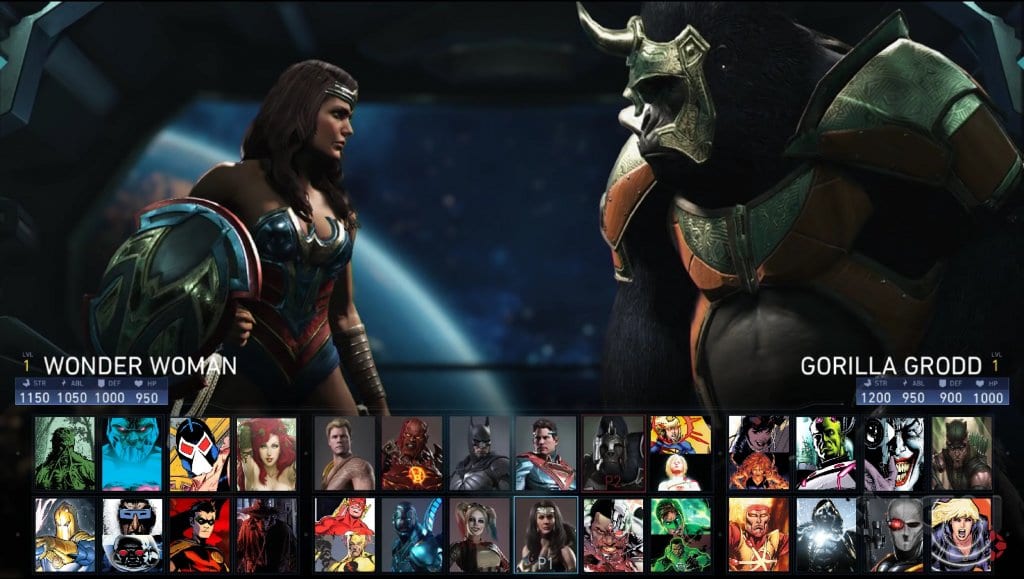 The game currency is mostly bought for real money because it is hard to accumulate certain amounts of money just by performing tasks. To increase the chance of losing fragments, buy boxes for crystals and open them. They are exceptionally good and necessary items – it will not be a waste of crystals.
You collect equipment for each of your heroes. The characters do not change much visually, but the gear upgrades or gives new abilities. You can collect them by participating in battles against enemies, as well as performing tasks.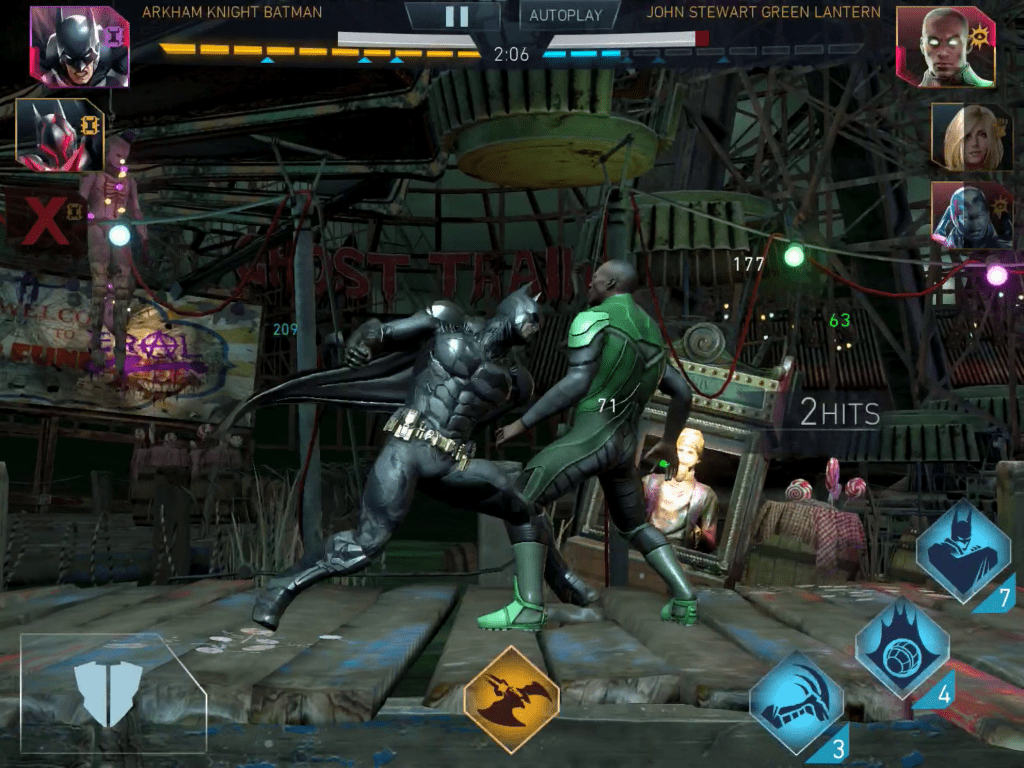 In battles, you can use special techniques and combos, which are able to smash everyone with the first blow. Graphics at the level of Injustice: Gods Among Us – that is even better than in some console applications.
You can watch the epic battles of your favorite characters – Superman, Flash, and many others. Control is also designed for small touch-screen smartphones – a convenient game is guaranteed even on a small iPhone 5s.
back to menu ↑
Power Spider 2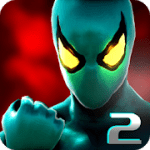 The game is based on a story that looks like Spider-Man. Power Spider was once a policeman who fought against crime every day.
Circumstances are such that the spider, who slept in hibernation for hundreds of years, bit Chris Anderson, thus awakening his superpowers. A simple policeman became a superhero of Power Spider, which protects the city not only from criminals but also from more serious villains.
Scientists who investigated this phenomenon have found out that before biting Chris Anderson. Spider also bit (attention!) the master of martial arts Zeus Leeroy. Having been cured, the policeman acquires all the skills of a martial arts master (we remind – people spend years studying martial arts).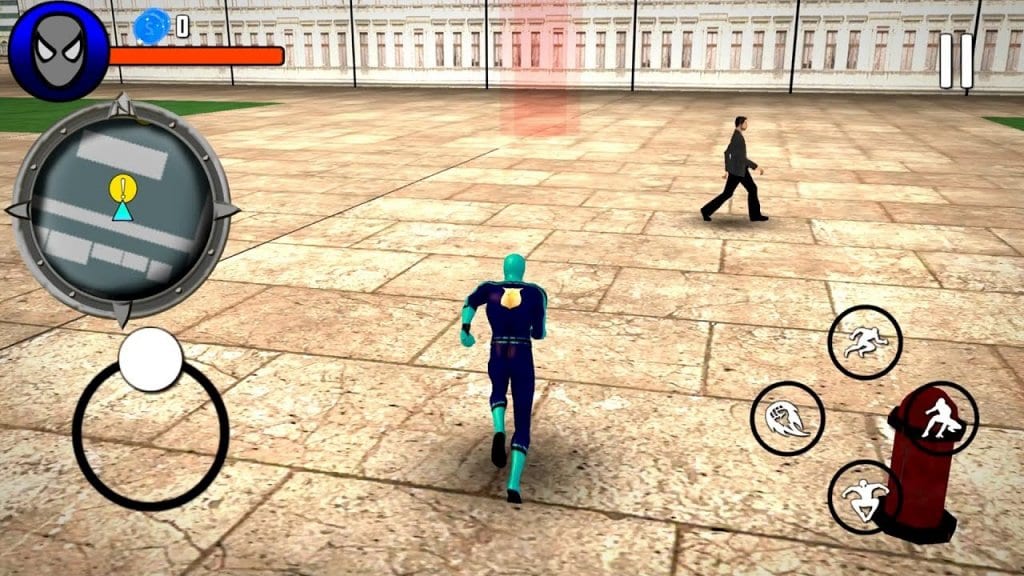 Having scientific knowledge, Chris creates an innovative superhero costume Power Spider. The suit's capabilities and abilities make Zeus Leeroy an ordinary police officer a threat to world crime.
Now he wants revenge on the bandits who woke up the spider and infected him with a terrible disease. He will search for them all over the city and the main goal is revenge at any cost.
As you can see, the game is a parody of Spider-Man. Peter Parker has a slightly different story, but the developers exaggerated it and added humorous accents.
All other characters in the game – villains dreaming of world domination, bandits and other terrible creatures incredibly remind us of the familiar superheroes. But in the game, they are changed and a little adjustments are added. Consider this game a copy of the superhero universe – just with minor inaccuracies.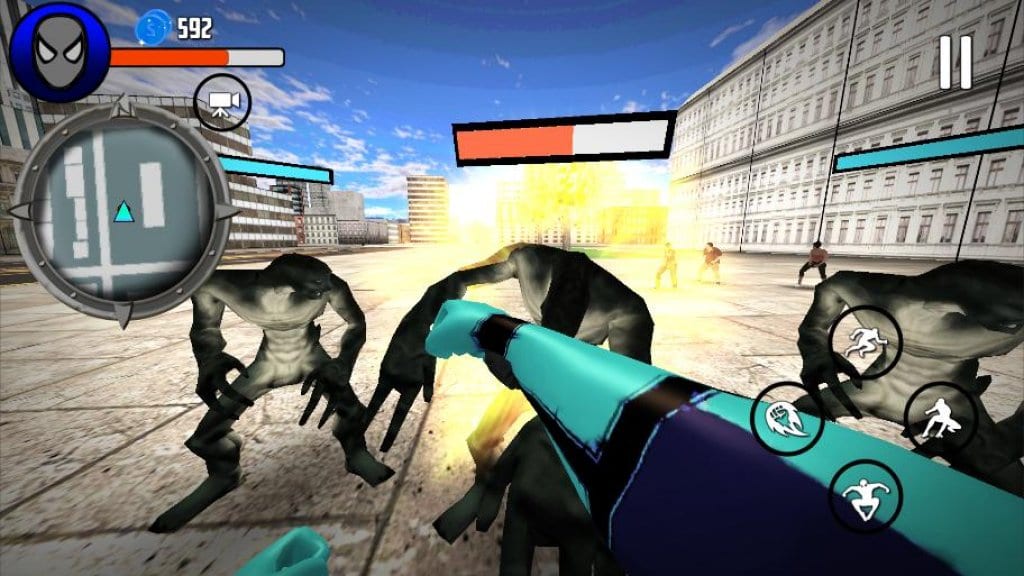 The application is developed with detailed graphics. Power Spider provides animation of the spider web swaying mechanism. Since the whole gameplay goes from the first person, you just watch this mechanism on yourself when you jump.
During the whole game, you will have tasks and missions that end with battles with the bosses. By winning them, you prove your advantage and get a reward. Buy new costumes, change your look, study the storyline – Power Spider 2 will shift your attention from the interest in Peter Parker to real battles.

back to menu ↑
Hero Tycoon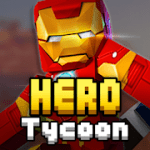 This is not exactly the usual game about superheroes. Here, no one fights against popular villains, does not teleport things with the power of the mind and does not save women and children. Hero Tycoon is a game in the genre of sandboxes.
Fans of this genre will be able to combine their favorite game with the universe of superheroes, without changing the meaning of the application.
You can feel like a real superhero. During the game, you fight for the resources you need and look for them all over the map. They are necessary for you to build a home or shelter. You create an exclusive home for the selected character.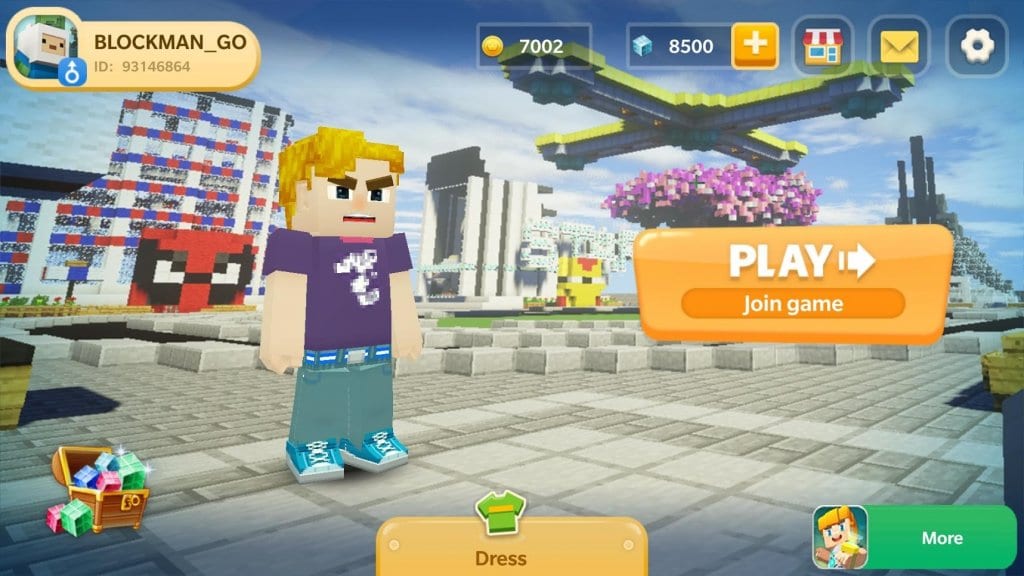 The choice of the hero you carry out at the beginning. Become the superhero you like the most and get the starting territory. You can expand it during the game. Your goal is to build an exclusive home for the selected character.
To do this, you need to collect resources throughout the map and get them. After completion of construction, you get unusual abilities and unique skills specifically for the selected hero. Also, you have the necessary equipment, which will give you an advantage over other players in the fight for valuable resources.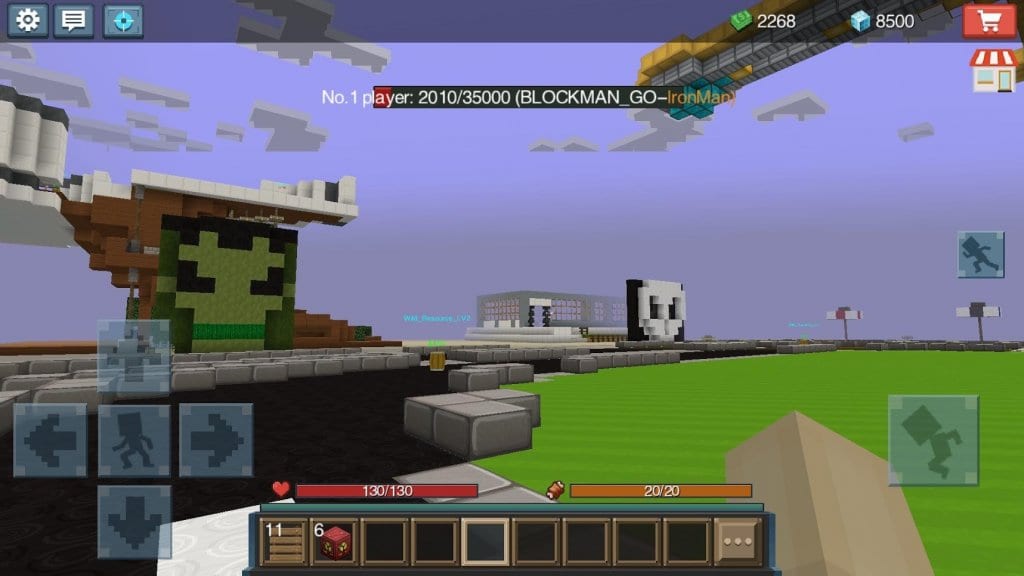 As soon as you finish building all the buildings – you are rightly considered a winner. Each of the superheroes has a unique outfit so that the resources will be given to you with different difficulty when playing different characters. An unusual genre for superhero games, but sometimes you need a variety.

back to menu ↑
LEGO Batman: DC Super Heroes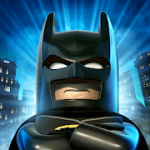 The unification of two legendary universes promises to be insane! At LEGO Batman: DC Super Heroes, two legendary companies – Lego and the DC universe – have started working together. Now Batman will be the first square bat, and the smile of the Joker will be angular.
In the application Wonder Woman, Batman, Superman, and other famous superheroes will join forces against Lex Luthor and Joker. The villains want to destroy and exterminate Gotham and his people again – do not let them do that!
In total, there are 80 game characters for every taste in the game. Among this variety, you will find your favorite one. Initially, you are shown the Man of the Year ceremony, where the whole story begins.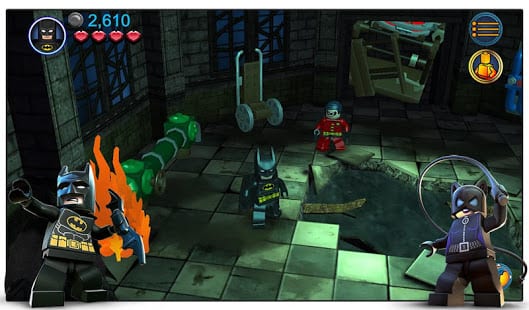 The first time you are introduced to the control of the game – but it is quite simple and intuitive. All the superpowers of the heroes you can apply during the game – they are saved in the story for each of the characters.
LEGO Batman: DC Super Heroes even has an open world – the city itself. Gotham is made entirely of Lego, and there is even transport going around the streets – so you get even more involved in the story.
Green Lantern, Wonder Woman and Flash will help you, and so can Catwoman. Among the heroes there are many humorous dialogues, so the atmosphere is relaxed. LEGO Batman: DC Super Heroes will help you to relax and distract from the problems in the Lego World of the DC universe.
back to menu ↑
MARVEL Strike Force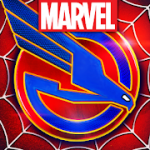 MARVEL Strike Force – role-playing game in the universe of Marvel, in which you gather your team of superheroes to oppose… But not the villains! According to the story, the Earth was attacked from the outside, and now the superheroes and supervillains for a while will have to become allies and fight side by side with each other.
Your squad can consist of Galactic Guardians – even the Groot, Loki, Venom, Elektra and many other Marvel universe residents. You need to fight back the threat – because the Earth is your shared home.
Each character's abilities can be developed or enhanced with special items. Equip superheroes so that their powers become stronger.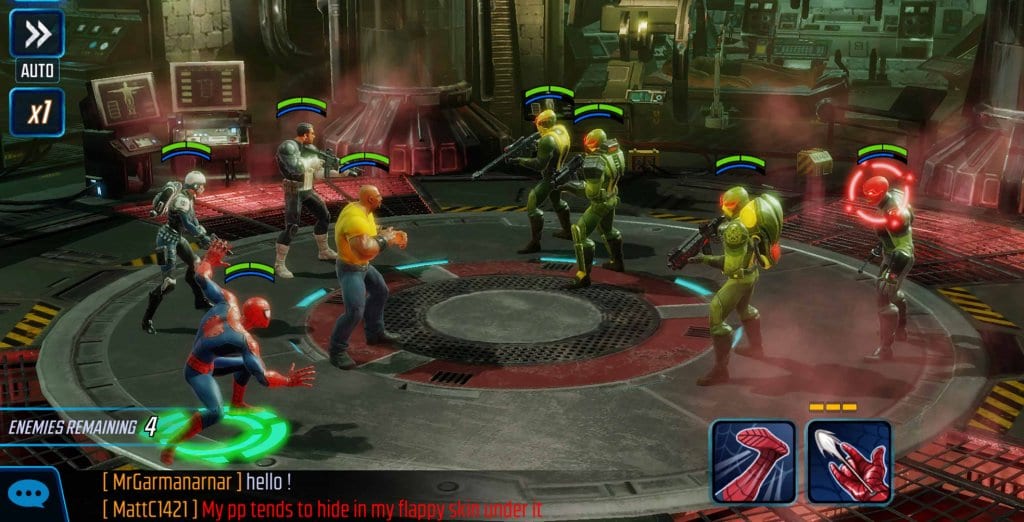 Keep in mind that the heroes can be combined with each other in the team. The battle is fought in 5 by 5 mode, so you can pick up 5 characters so that they mutually reinforce each other. That is, the ability to create powerful combo to destroy the enemy.
Every day you get a unique task, which will make you a happy owner of the crystals. The in-game currency is necessary for buying resources, equipment and much more.
Convenient gameplay allows you to plunge into battle completely. If you are lazy to play by yourself or you are just tired – that is, the mode of automatic control of the battle.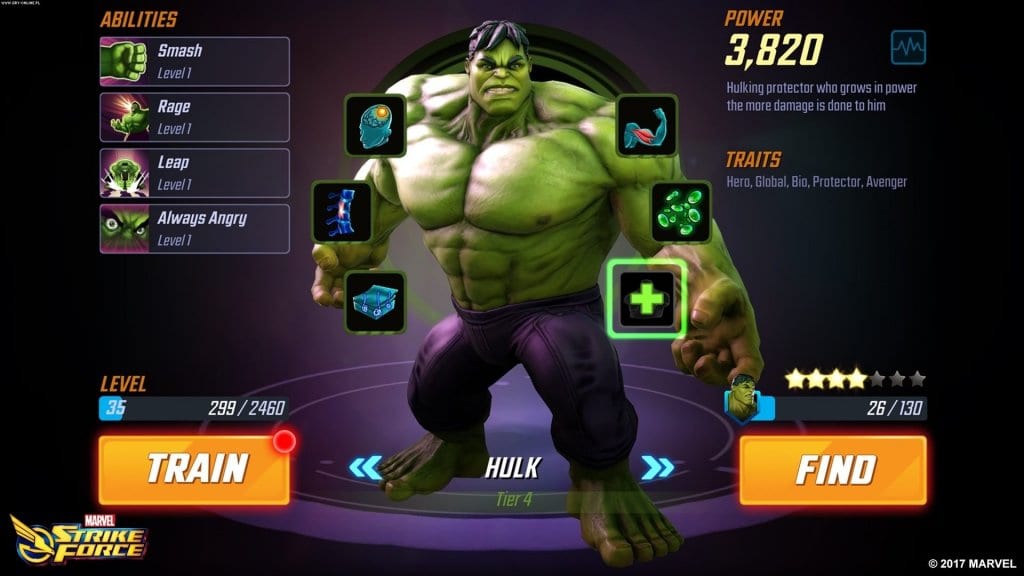 But note: for each victory you are entitled to a reward and in the case of an autopilot the probability of victory is much lower. Graphics is of high quality and totally unaffected by the use of a mobile version or small screen.
Super villains and superheroes of the universe Marvel can become a whole right in your device. Download MARVEL Strike Force and protect the Earth from invasion by joint efforts.
back to menu ↑
LEGO Marvel Super Heroes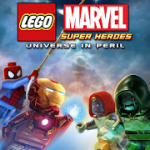 Now we can see the union of two other huge and cult universes – LEGO and Marvel. The developers joined their efforts and fantasy of comic book authors to give the fans a great product with a good visual part, nice gameplay, and game story.
The action takes place in the Marvel universe, but all superheroes look like Lego characters made of blocks. You can play for any of the presented characters – Iron Man, Hulk, Wolverine and other representatives of the legendary comics.
Your goal is to resist Loki and not to let him realize his plans. He gathers super-weapons, capable of destroying everything in his path.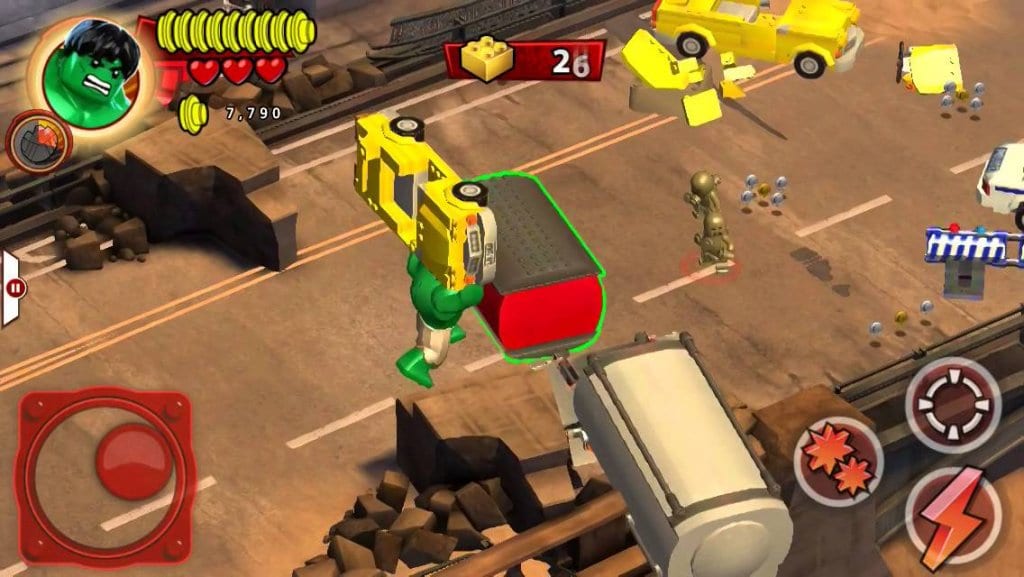 More than 80 characters are available in total. All of them have long been known to fans of comics and movies and now you can become one of them. All superheroes open to you step by step, during the game. If you want them, you can just buy them in the store for in-game currency.
All your battles with your enemies are part of a series of tasks. LEGO Marvel Super Heroes has a total of 45 quests to complete. These can be battles, battles searches for items, and travels across the universe of Marvel Super Heroes.
All the places and locations are also familiar to the fans – though they are made in a unique style of LEGO. The tasks can be your challenges. Everyone is entitled to a reward for their performance, which you can spend in the game shop.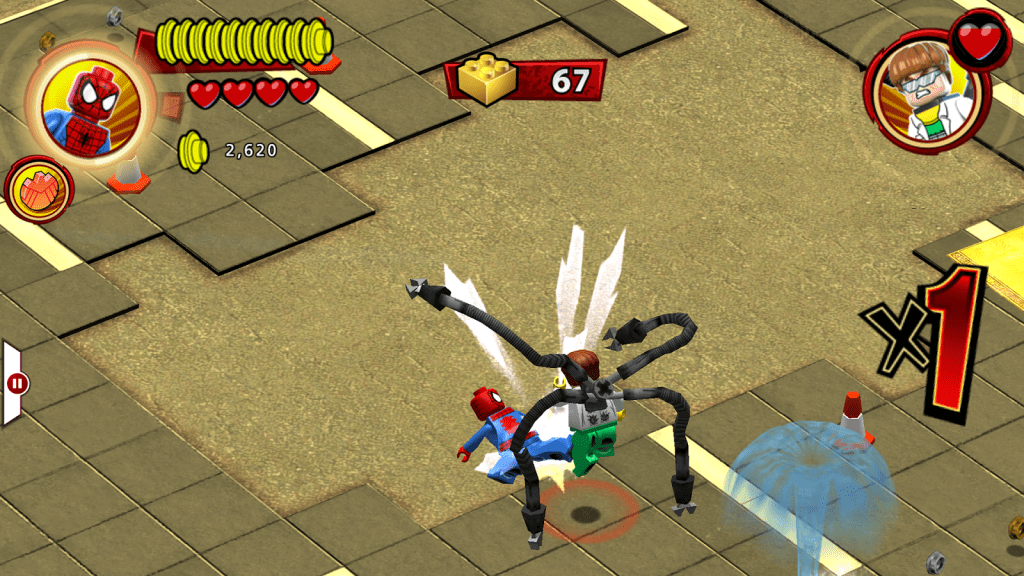 In battles and fights, you can use the superpowers of the heroes, as well as use combos and super techniques – each hero has its own. For example, the Hulk has a battle blow.
The control mode in the game does not go by default: you can choose the most convenient mode for yourself – console or touch.
Marvel's favorite universe with its heroes has become a cubic one – and it does not prevent you from using superpowers as well! Play superheroes and literally assemble your LEGO team right in your smartphone.
back to menu ↑
Marvel Puzzle Quest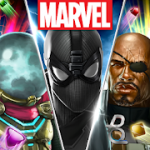 In case you like puzzles and like to spend time at role-playing games, Marvel Puzzle Quest is worth considering as an option for the evening. This is the official Marvel game in which you will play the "Three in a row" puzzle game, but with the use of combat techniques.
The game has a plot: according to the idea, the villain Norman Osborne begins to implement his plans. And to face him, it takes super villains and superheroes to join forces!
Your team for the game consists of the legendary characters of the universe Marvel. You choose who you want to play. You are provided with more than 185 characters, each with its own characteristics and personality.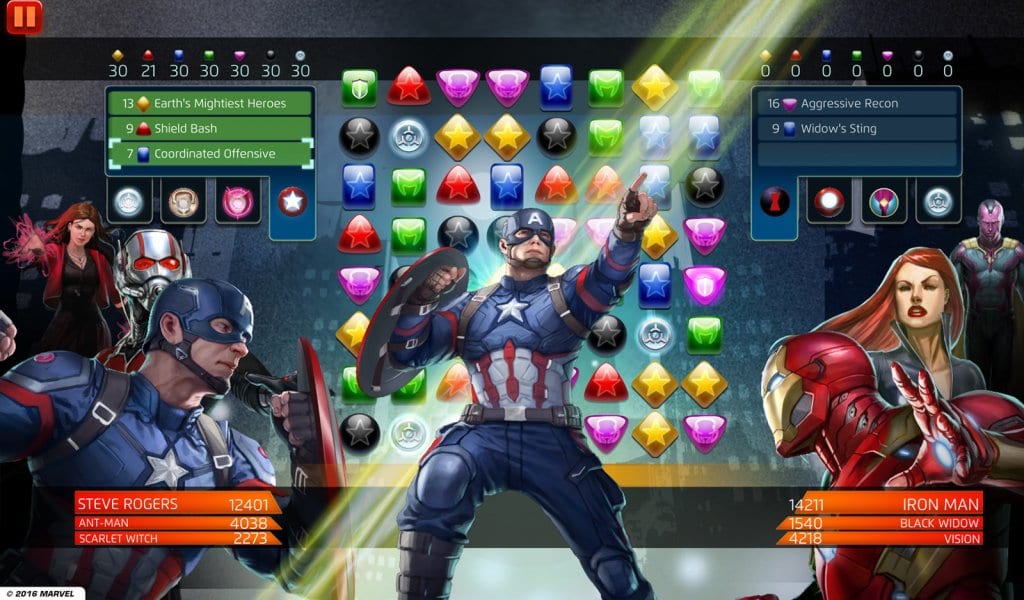 Collect the winning combination to get the maximum benefit. During the game, you will pump up your skills and discover new superpowers. In tournaments, you will be able to fight against other players around the world, as well as against your friends. There is even a special one-on-one mode for this.
Marvel Puzzle Quest has a script in it, so you will not be bored.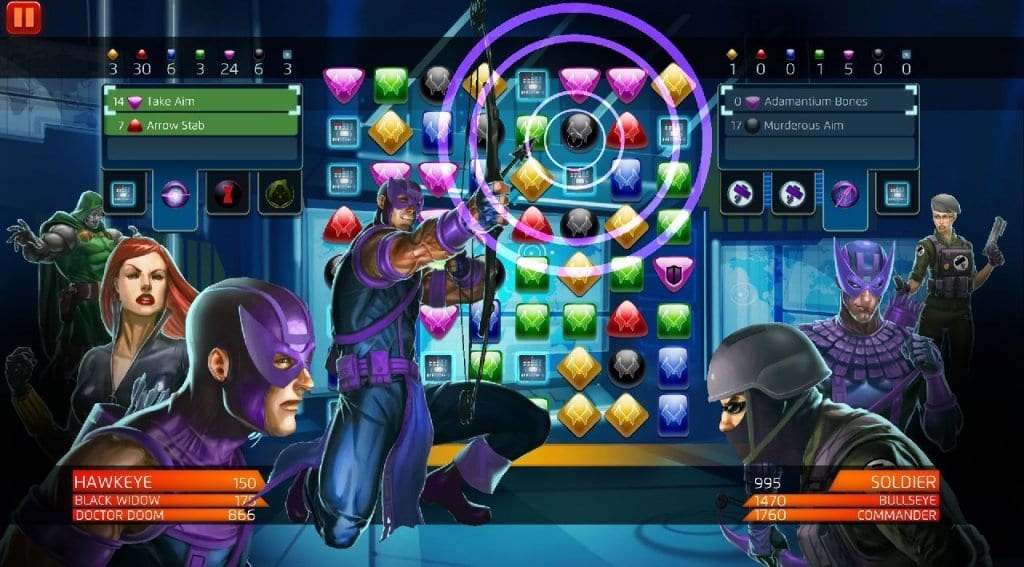 In battles, you collect Marvel books. They will give you access to new abilities in the future. You use the heroes' superpowers during the matches – for example, Professor X's mental abilities will help you to control the game field.
You can put anyone in your team – even Venom and Spider-Man! And most importantly, Marvel Puzzle Quest has a Deadpool. It seems that one advantage should definitely attract you!
You can also check: 7 Free Fighting Games For Android & IOS
back to menu ↑
MARVEL Battle Lines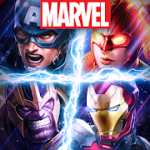 MARVEL Battle Lines is another Marvel puzzle game that will make you think hard and stretch your brain. As in all cases, Marvel could not leave the game without a storyline. In our case, the Red
Skull destroyed the Сosmic Сube, which created a catastrophe and plunged the entire Earth into Chaos. In order to restore order, superheroes need to unite, because only in this way they can overcome the villain.
The plot is shown in the form of images of the heroes, all the replicas are presented by the banners. Looks like a similar story as comics right in the smartphone – all on the canons of the genre.
The playing field is a space of 3 on 4. You create a deck of 12 cards – each card is a separate character. You can choose from 200 heroes of the Marvel universe – perhaps there will even be someone new for you.
You can activate the team mode or just create game combinations from your heroes. The merger can have an incredible effect and boost your turn several times. Think of a strategy – it is not just tic-tac-toe, it is a complicated version in a fantasy world.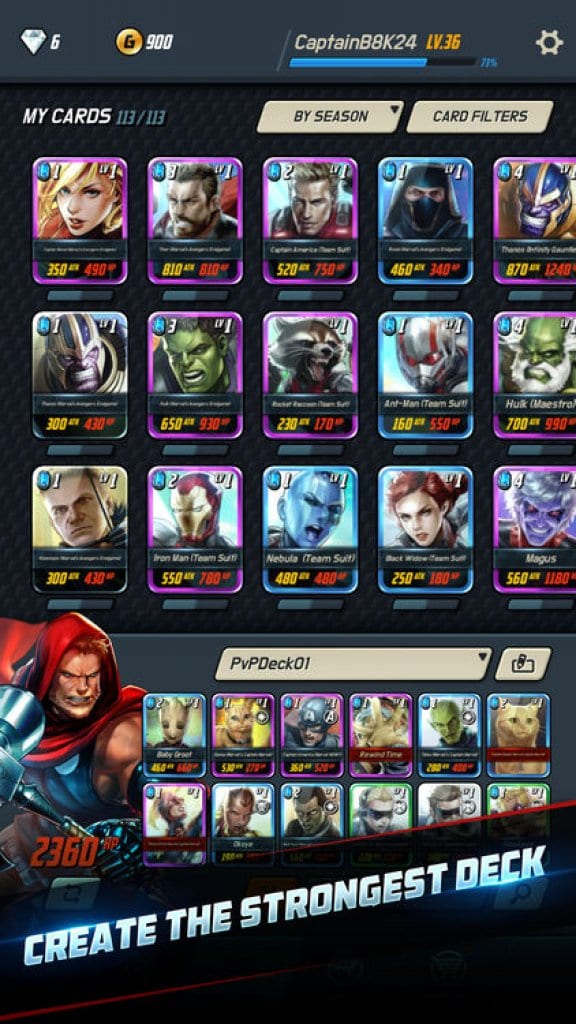 You can play both in battle mode with other players and with artificial intelligence. This will allow you to sharpen your skills and try out combat combinations in practice. You can also update your deck of cards in training mode.
Get to know comic book fans right during the battle!
Superhero universes are incredibly large and expanding every day. They can intersect, exist in complete parallel or even contain each other at all. Also, single superheroes are rare. But the two most famous universes – Marvel and DC – have long and firmly established their position in the hearts of people and the world market.
Games, symbols, and comics themselves – all these people buy up simply because they have a superheroic theme. Superpowers attract by the fact that they give superiority. Now you can feel what it feels like to have superpowers in one of the games presented in the top.
From puzzles to role-playing games, superheroes are present in every genre. Show your superiority right on your smartphone.