Do you think nowadays nobody's making slide shows anymore? Actually, people do still make those, but this thing is kind of on totally another level. Now you can't just use iMovie or Movie Maker and add some dumb music there. You need to add logical transitions, and all the files that you add should be high quality.
What is more, pictures with sounds are quite popular as well. You might think that this is an impossible thing to do, however, there are some excellent apps for that – explore the list down below and discover the best of them!
Turn even the worst vocals into the most accurate ones using these best pitch correction apps.
SlideLab Add Music to Photos
The first tool that we are going to review is SlideLab. The app allows you to apply music to pictures or videos and create amazing slideshows.
First of all, we have to admit that this is a stable and reliable app that does not take much storage space. Plus, it does not crash or hang. Moving on, the app enables you to edit every downloaded picture one by one. Moreover, you can customize a great variety of editing features and parameters.
In case you want to use a certain special effect, the app will add it to every picture of slideshows. Another feature there that many people will find very useful – the app supports a wide range of foreign languages.
By the way, SlideLab provides an extended number of options. So, you can adjust such features as picture formats, add animations, filters, and transitions. In addition to the aforesaid, the app contains a wide collection of musical tracks.
The app offers responsive customer support. So, if you face any technical issues, the assistants will help you at any time. The major drawback that we have found there – many useful options are available only in the paid version. Besides, some people find the paid versions a little bit expensive.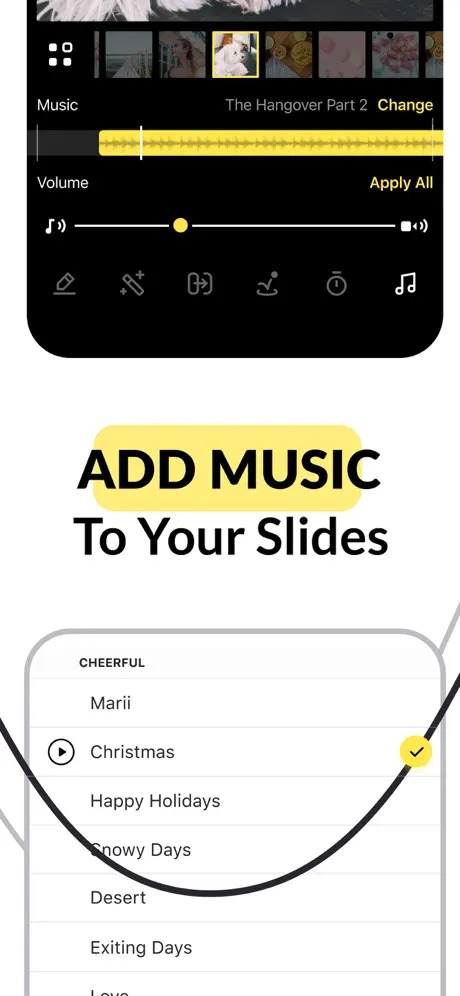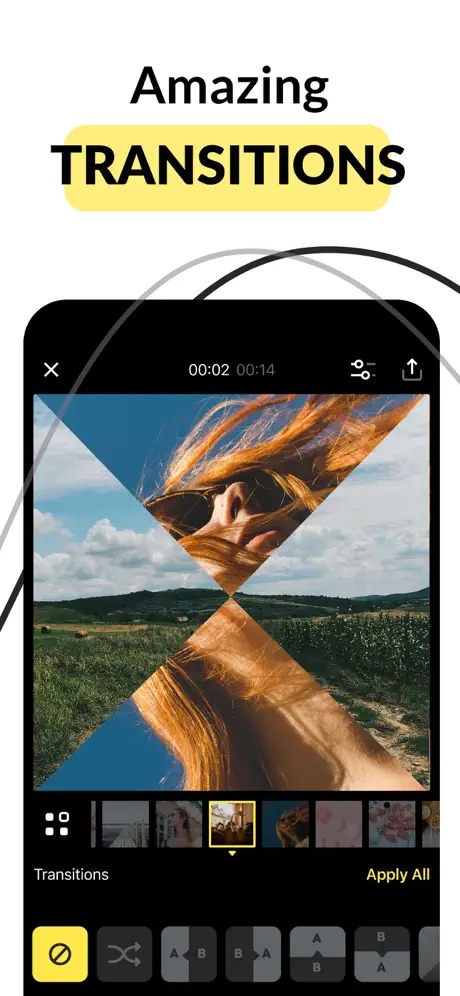 All in all, we believe that SlideLab is truly worth downloading. With this tool, you will instantly create magnificent slideshows without any effort. Highly recommended!

You may also like: 11 Best Apps Like Audacity for Android
Pixgram – video photo slideshow
The second app in our rating list is Pixgram. This is a very popular app that installs in a couple of seconds. It is quite lightweight and quickly fulfills all the tasks. As in the previous app, this one contains a built-in editor. So, you can choose the desired format, filters, and add music.
By the way, there is nothing difficult in this app. So, all you need to do – choose a preferred picture, add special effects, and music. After that, you can easily share your results with friends or relatives via social nets.
We have to admit that this tool provides you an extended list of music tracks and special effects. This is certainly a great bonus there! Pixgram boasts an intuitive interface that offers simple navigation. Plus, the app is very fast, so you will not waste too much time.
As for the app's drawbacks, it comes with irritating ads and in-app purchases. However many users complain that sometimes this app does not operate well, as they have faced lags and bugs.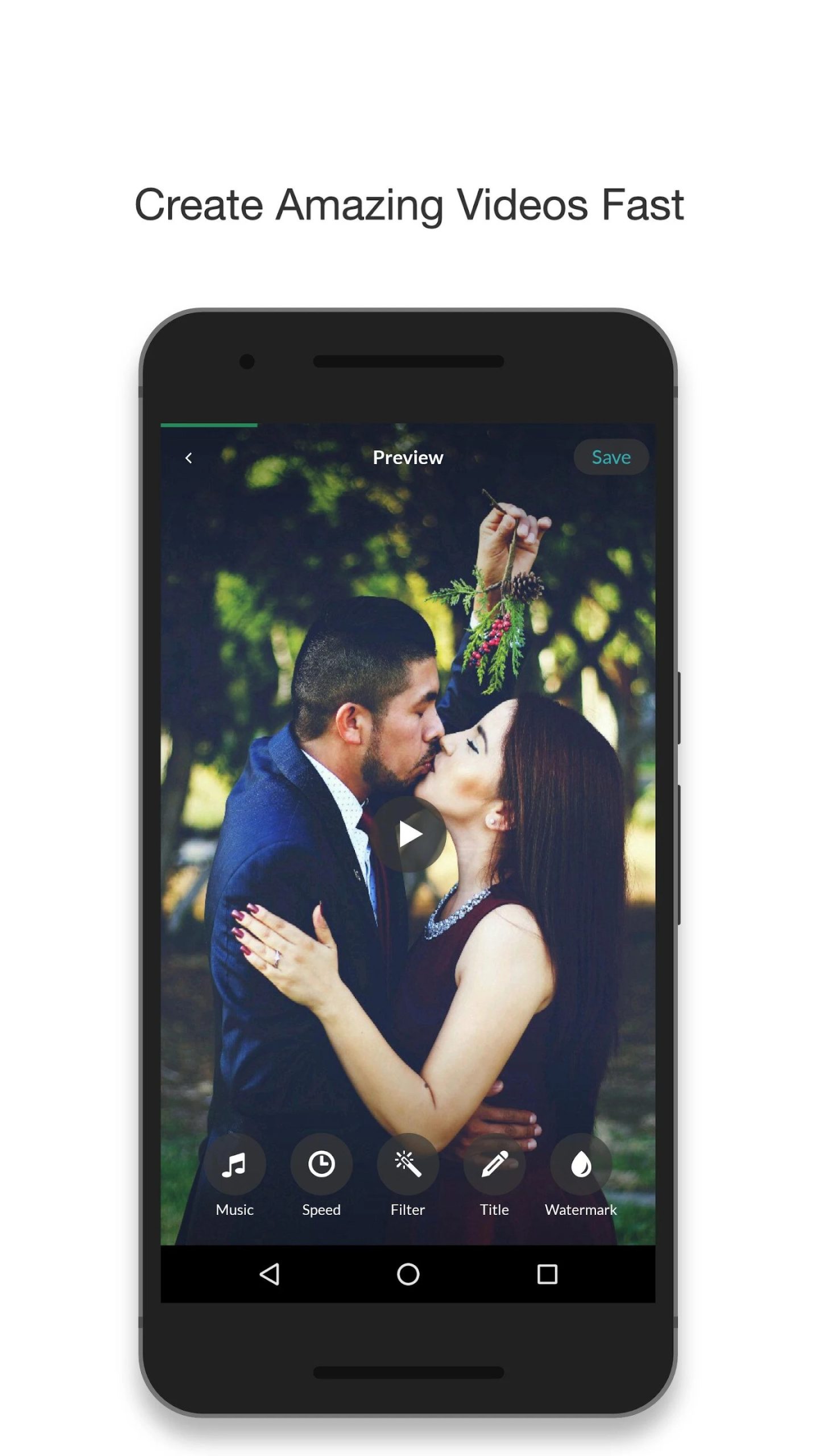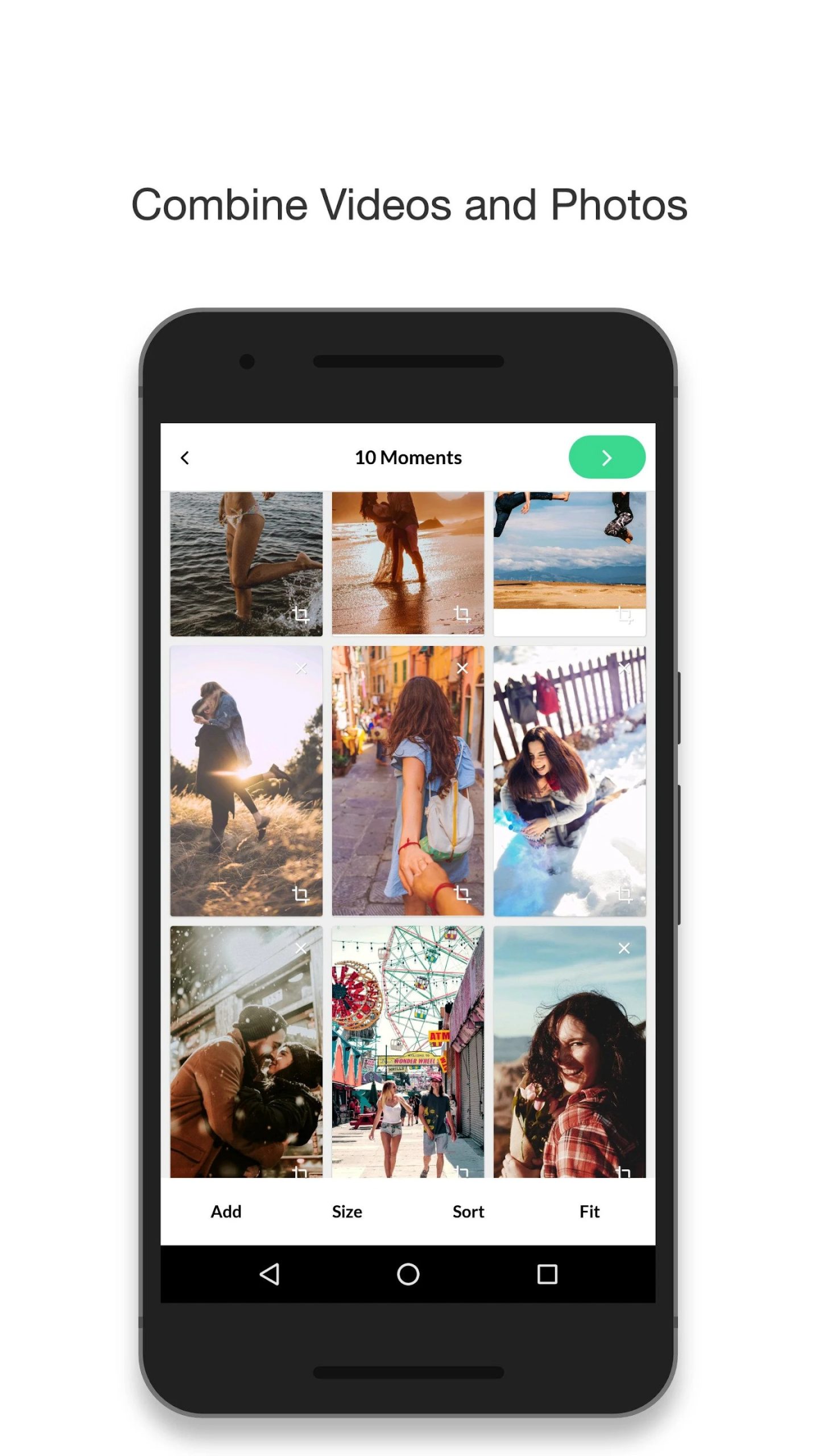 Summarizing all the points mentioned above, Pixgram is a must-have tool if you want to quickly apply music to your photos and videos and create slideshows.

VivaVideo
VivaVideo is one of the pioneers of the industry and it is one of the most evident apps for adding music to pictures. Even though the app is running behind in the category of video editors, it is surprisingly good for creating live pictures and GIFs.
For the whole access to all the editing features, you will need to acquire the paid subscription but there is a 7-day free trial that you can quickly use when you need to add the music to the picture.
First, you upload the pic to the app or several pics and you see the timeline in the lower part of the screen. You can drag the picture, therefore, choosing the timing of the video (yes, a picture with music is also called a video). Then, you can choose a track to add to the pic.
You can choose files from cloud storage or from your phone's memory card. Edit the track, crop it, add effects and then compile the video. What is more, you can add the effects and filters. And, trivial, but you can add various captions and text to your slideshows.
When everything is ready you can export the result to your phone's storage, choosing the quality in advance.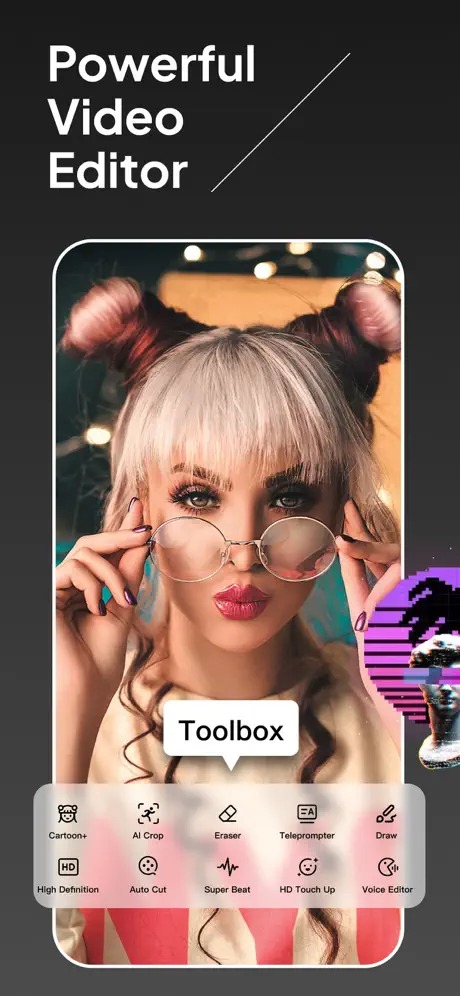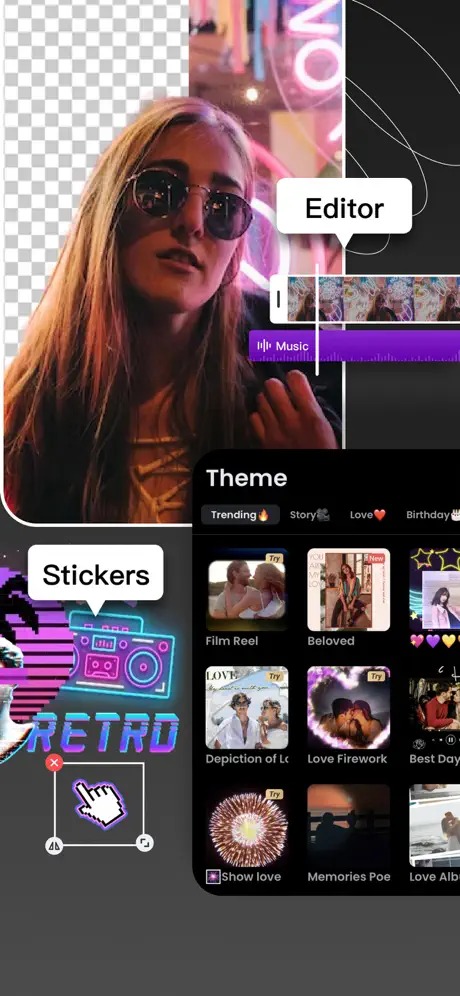 There are various formats available for video conversation. Overall, VivaVideo is nice to use for creating slideshows, but for creating any other types of videos we wouldn't recommend it.


Pic Music – Slide show maker
Now we would like to bring your attention to our next magnificent tool – Pic Music. This tool is full of various magnificent options. The app does not take a lot of storage space – it weighs just 28.5 MB. It runs very well and has convenient navigation.
Moving on, Pic Music offers you a built-in editor. In this section, you can easily control the duration of all photo slides. Additionally, the app allows you to choose a preferable playing speed.
If you are going to add music to your media files, you should open the Audio section and tap on the + button. Then, you can record your voice or select a recording from iTunes. Plus, you can adjust the sound volume or cut the song's duration.
We have to admit that we were pleasantly surprised by the app's stylish design that offers a user-friendly interface. So, you will quickly find out how to use this app. But it has one significant disadvantage – it puts a watermark on the slide shows. If you want to remove watermarks, you will need in-app purchases.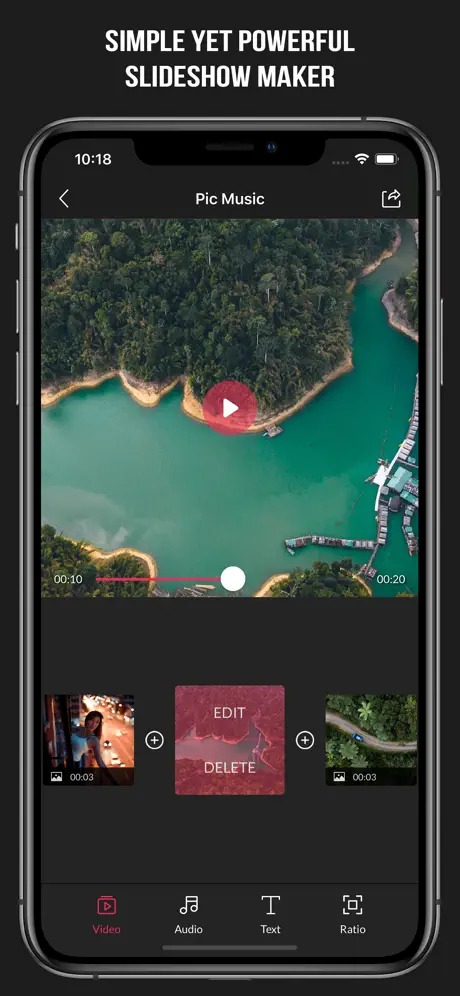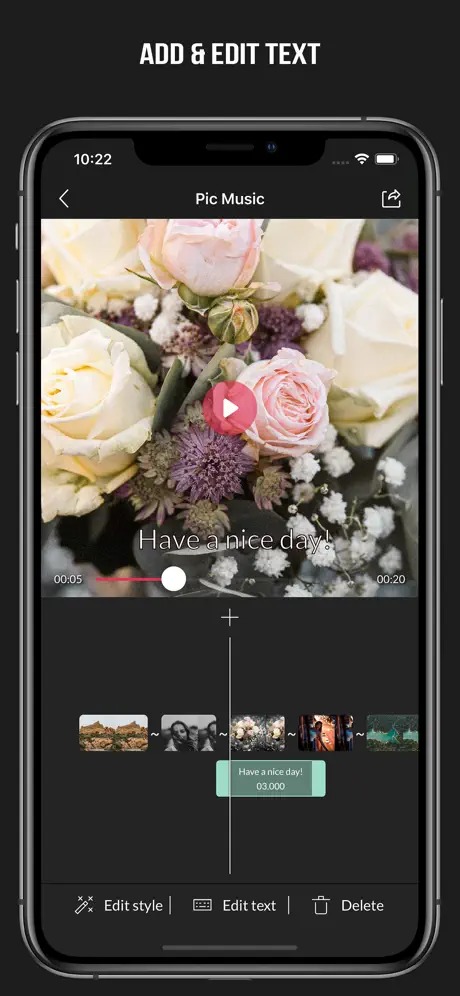 Moreover, many users complain that in this app there are not enough editing options. To sum up, Pic Music is an excellent solution for simple slide show creation. Hurry up to try it – we believe you will not regret!

SlidePlus – Photo Slideshow Maker
SlidePlus is another multifunctional application that will help you to add music to your pictures and videos. This is a quite well-known app and more than 5 million users have already downloaded it. The app does not require much storage space.
Plus, it is very easy to use: choose a preferable photo/video and select the theme from the app. In the last stage, you can add music and texts. The excellent feature there – it offers more than 100 themes for any occasion. Additionally, you can edit pictures, add subtitles, adjust the duration, and use other useful options.
Besides, SlidePlus offers a clever facial recognition that will not let you inappropriately cut the picture. We were impressed by a well-developed app's design that guarantees a user-friendly interface. So, you will quickly find out how everything works there!
By the way, we have to admit that the developer constantly updates the app's version. No doubt, this is a great advantage there! The app comes with a paid version as well. It includes HD video export, specially designed themes, and so much more other useful functions!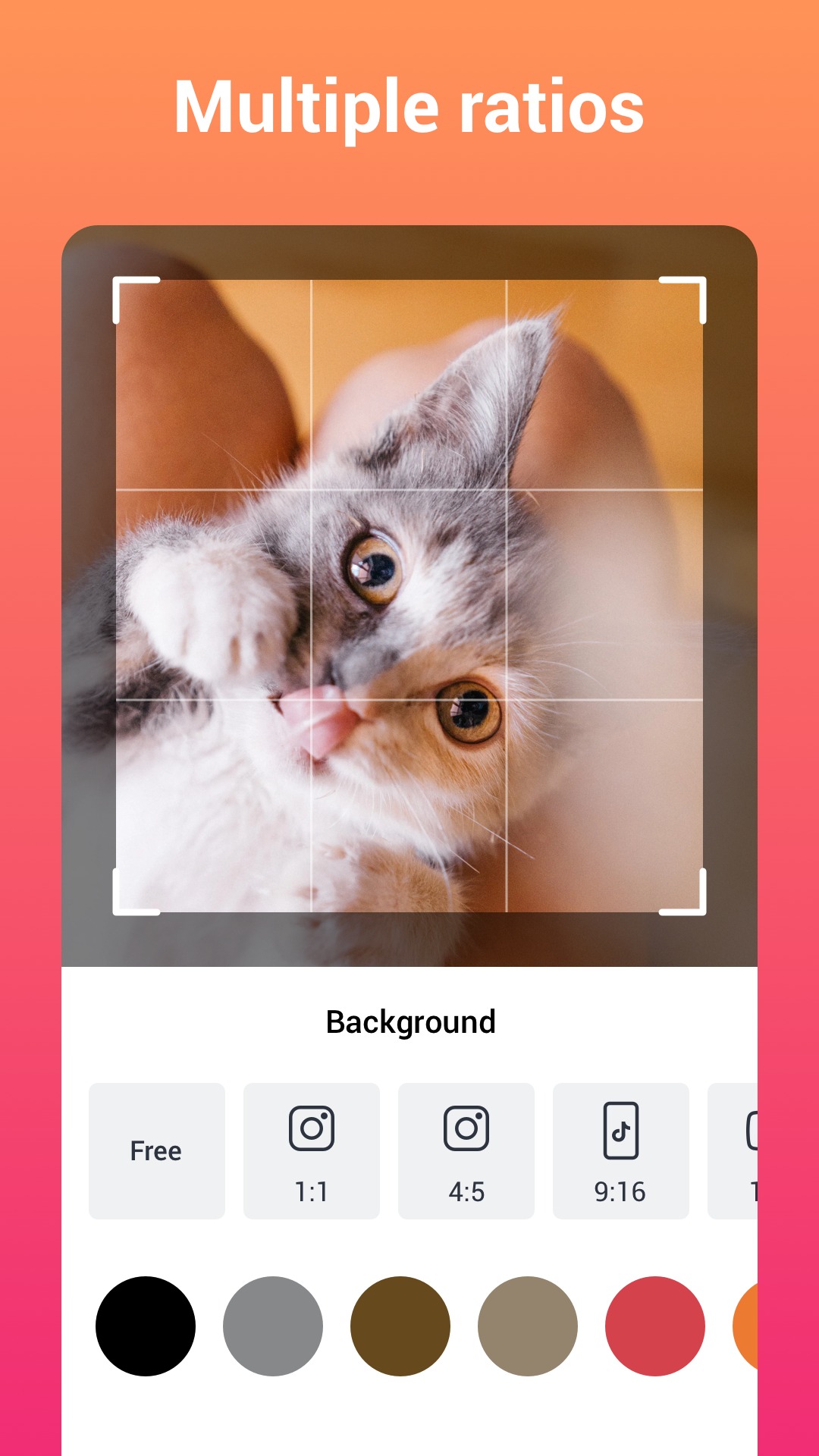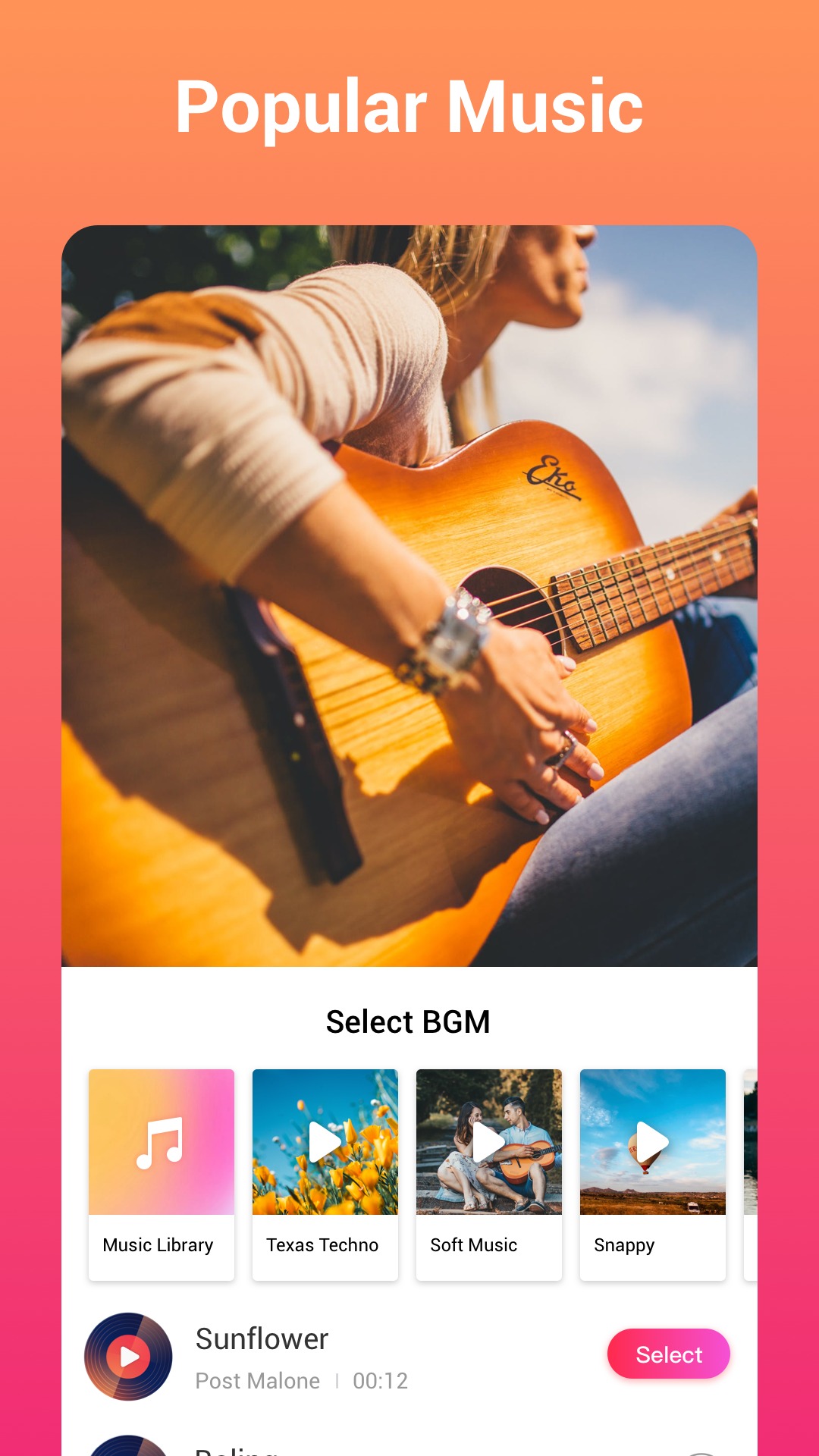 We have to mention that many users highlight that this app crashes quite often. However, we have not faced such things. So, SlidePlus is a magnificent photo slideshow maker with music.

Scoompa Video – Slideshow Maker and Video Editor
Do you want to try a simple and convenient slideshow maker? In this case, we have to recommend to you Scoompa Video. It has more than 10 million downloads all around the world. First of all, we have to admit that this app features its simplicity of usage.
If you want to add music, you can choose from the soundtrack options or choose a song from your mobile phone. Moving on, Scoompa Video offers a wide range of useful options. For example, in this app, you will find more than 100 stickers and 55 fonts.
Besides, the app allows you various tools to edit your pictures. So, you can rotate images, add filters, texts, and stickers. As for the app's interface, it is very user-friendly. Plus, the app quickly fulfills all its tasks. So, we can surely say that you will not face any difficulties while using the app.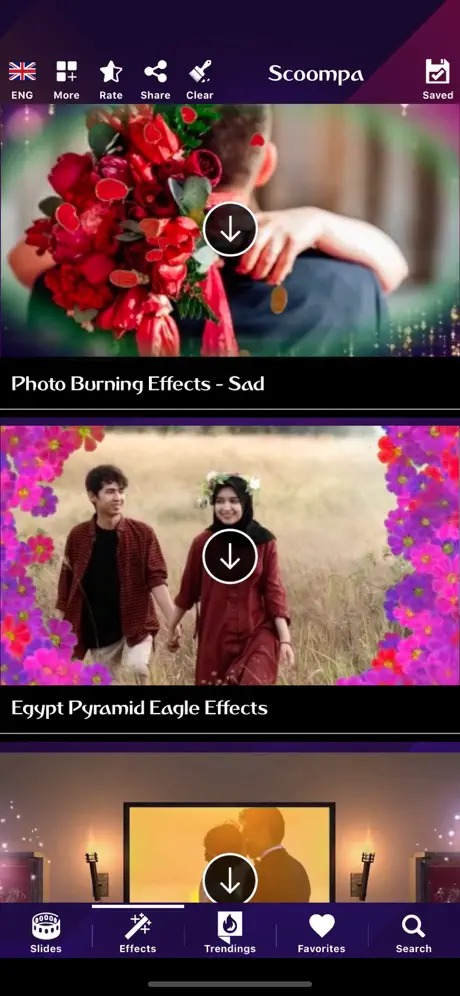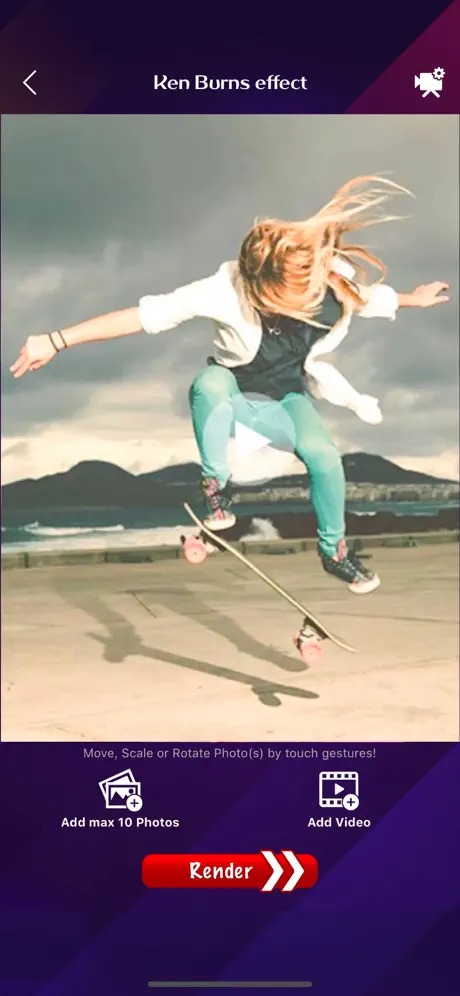 In general, we have not found any negative feedback from users. But we have to warn you that this tool contains ads and in-app purchases. But they are not intrusive. We have to highlight that Scoompa is a well-developed app that will certainly suit even inexperienced users!


You may also like: 11 Free Music Visualizer Apps for Android & iOS
Sound Story – Add music to your photos & videos
Create videos that will catch the eye.
Share your highlights with your followers on YouTube, Instagram, Facebook, Snapchat, Viber, and many other apps.
Sound Story will help you to be in the center of attention, just choose a video or photo from your gallery and put a song that you like and that fits the topic. Choose songs from our extensive library. All the songs that are on YouTube are also available here.
Simple steps and a friendly user interface make up for a seamless user experience. How it works:
pick a photo or video from your phone's gallery
if you don't have any ready-made content, create it right now
upload your content in the app
choose music from our library
save the result and download it to your device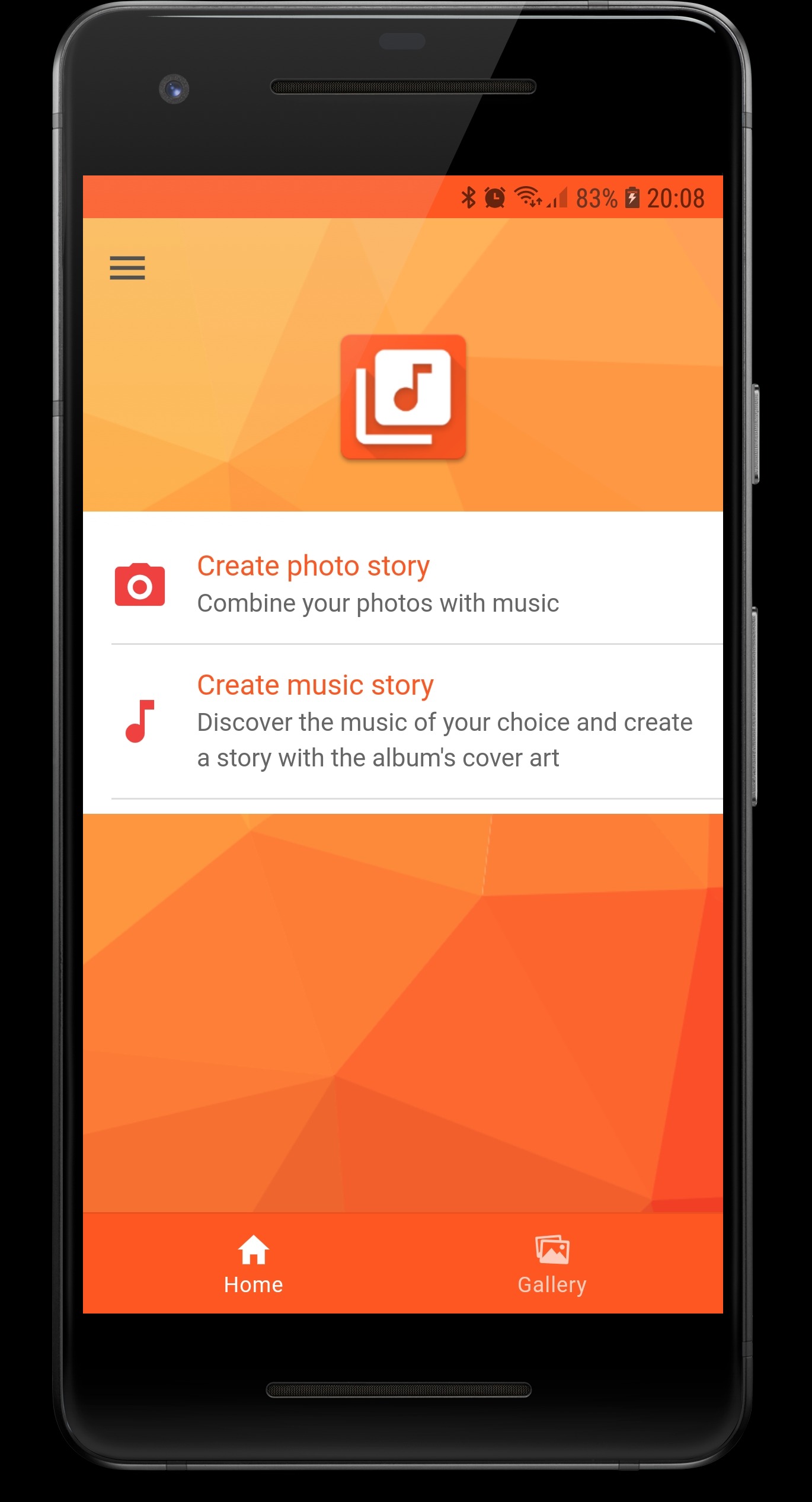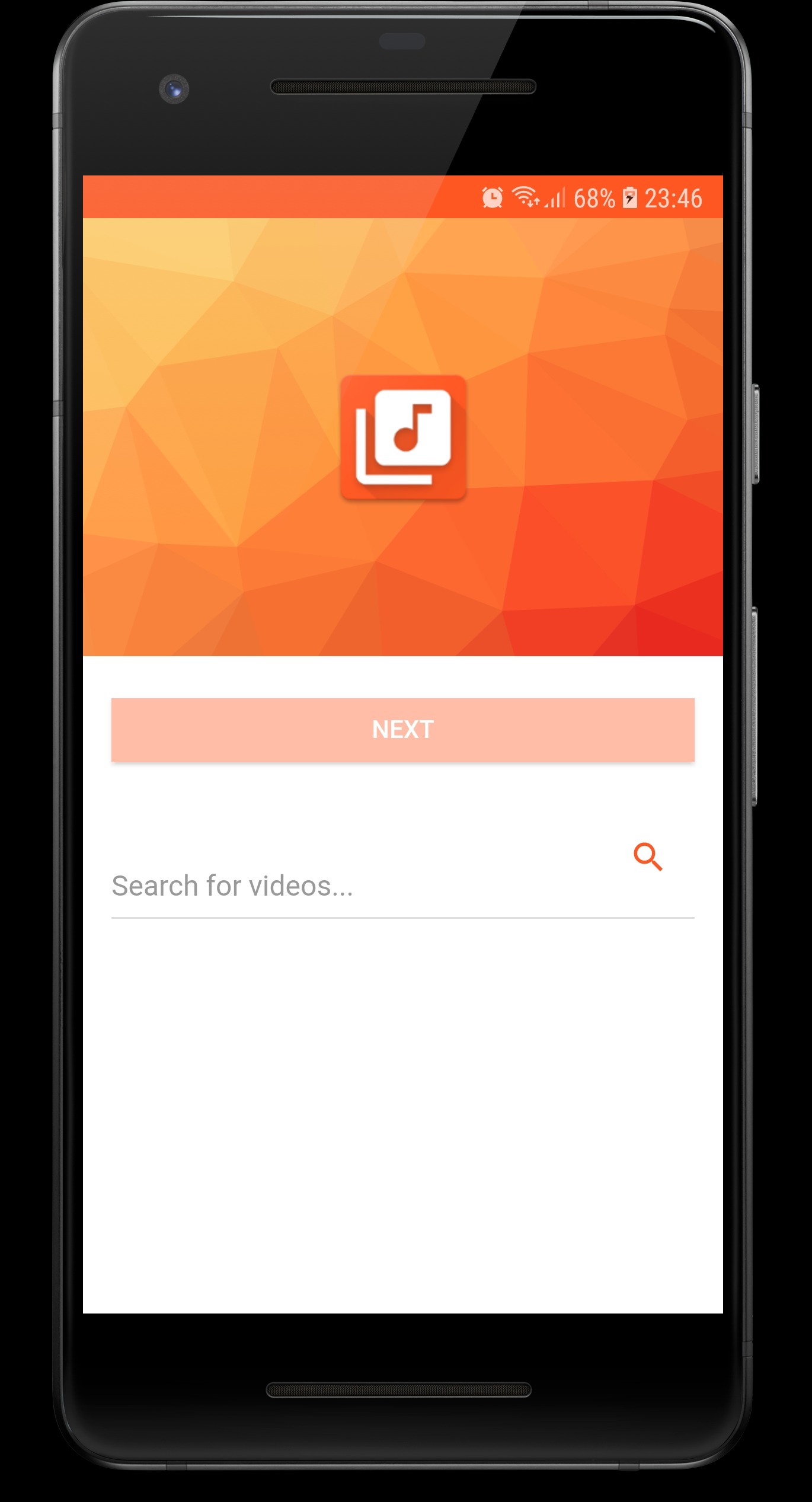 It is a piece of cake. Create your own story.

Add music to video & editor
We all always want to capture good moments on video. But there's always something missing… How about some pleasant music in the background? This app can help you. Beautify your own video from a family dinner, wedding, or birthday party with sweet music.
What you get by installing this app:
easy addition of background music
25 different music genders
record your own voice
effects for your voice (Chipmunk, Monster, Echo, Chorus, male or female voice, etc)
one touch to stop, pause or resume recording
you can import your favorite song from your gallery or choose it from the app's library.
you can search for your favorite song or find original covers
thanks to the recorder function you can record your own cover
adding music to your video is absolutely FREE
trimming the sound or applying filters such as fade in or fade out
you can adjust the volume according to your requirements
you can create an atmosphere not only with music but also with additional filters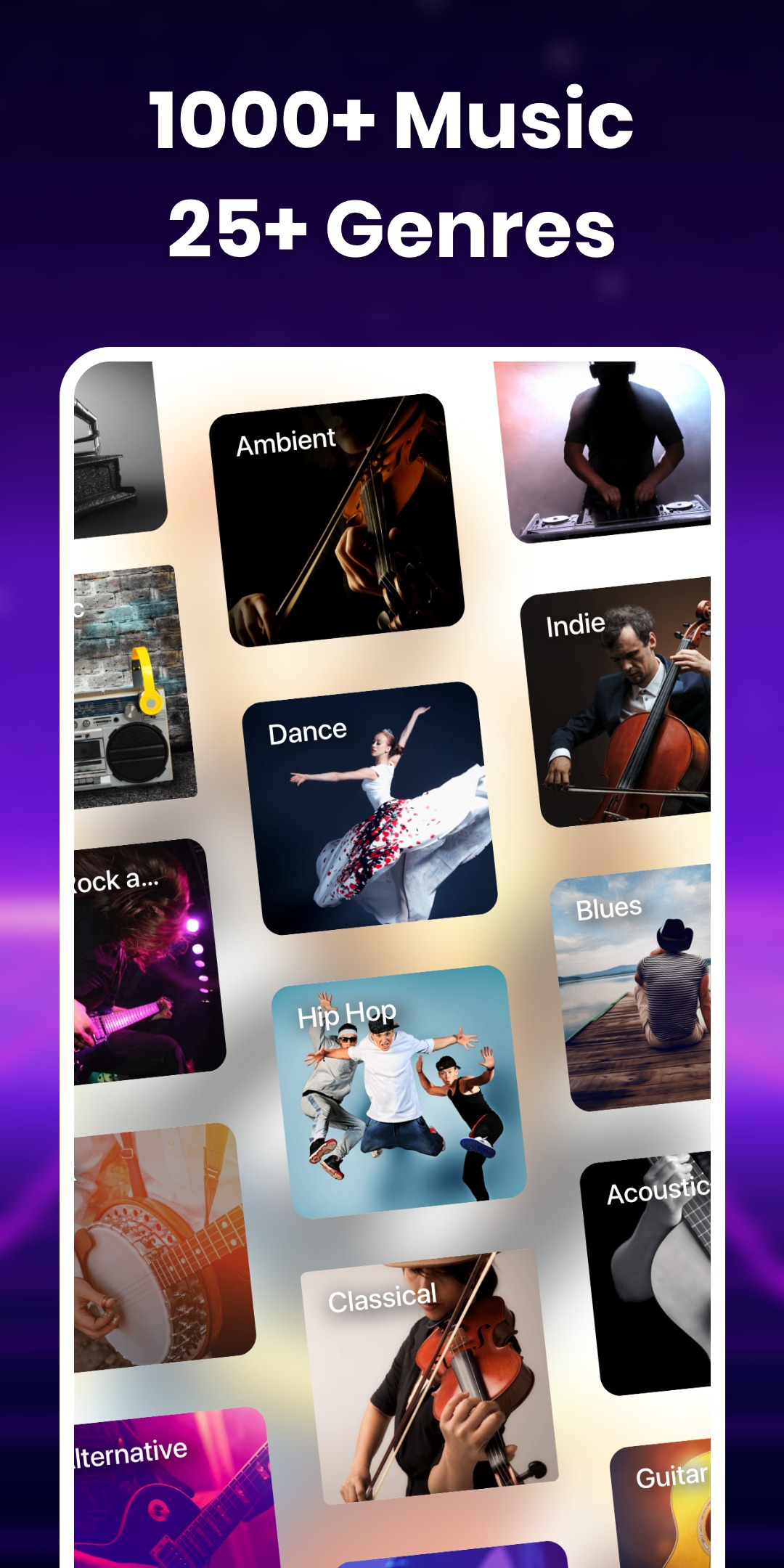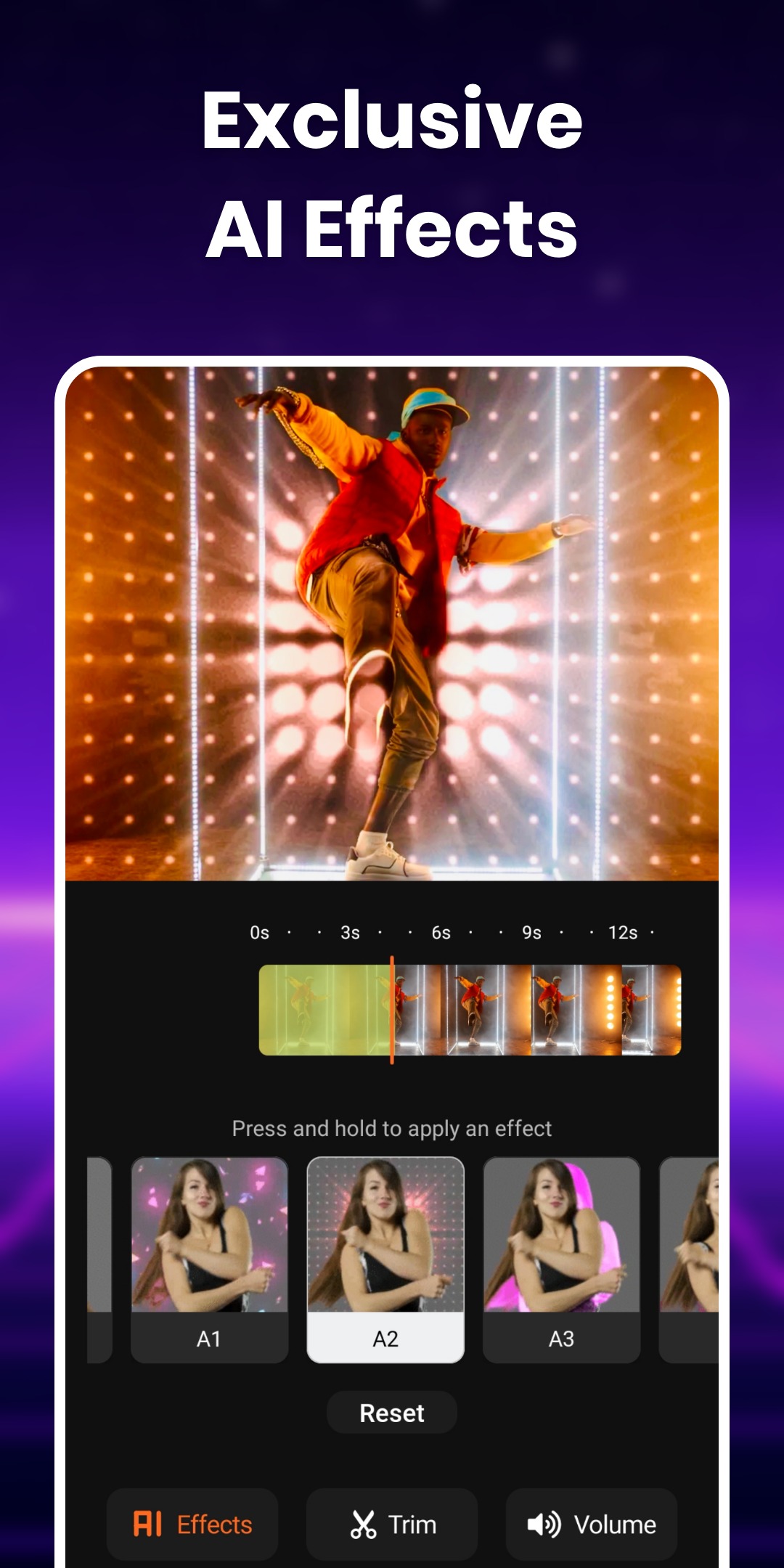 All you have to do is follow these simple steps to create a masterpiece.

Photo video maker
The next app that we would like to show you is Photo video maker. This is a high-quality tool that allows you to easily add music to your pictures and videos.
This is an extremely lightweight app, so you will install it in a few seconds. The app works quickly and simply, so all you need to do – just download the image and choose your favorite music.
After that, you can apply various photo filters, sound effects, stickers, add texts, photo frames, and so much more! Besides, the app allows you to adjust video speed – up to 8 seconds.
Moving on, the app offers a wide range of editing features. For instance, you can cut pictures, add texts and stickers. Moreover, you can apply various special effects and filters to your pictures and videos.
Photo video maker comes with a minimalistic design that makes its interface quite easy to manage. So, we can surely say that you will not face any technical issues while using this app. However, some people may find the app's interface a little bit outdated.
As a whole, all the users have a positive impression of this app. However, some people find that ads are very intrusive.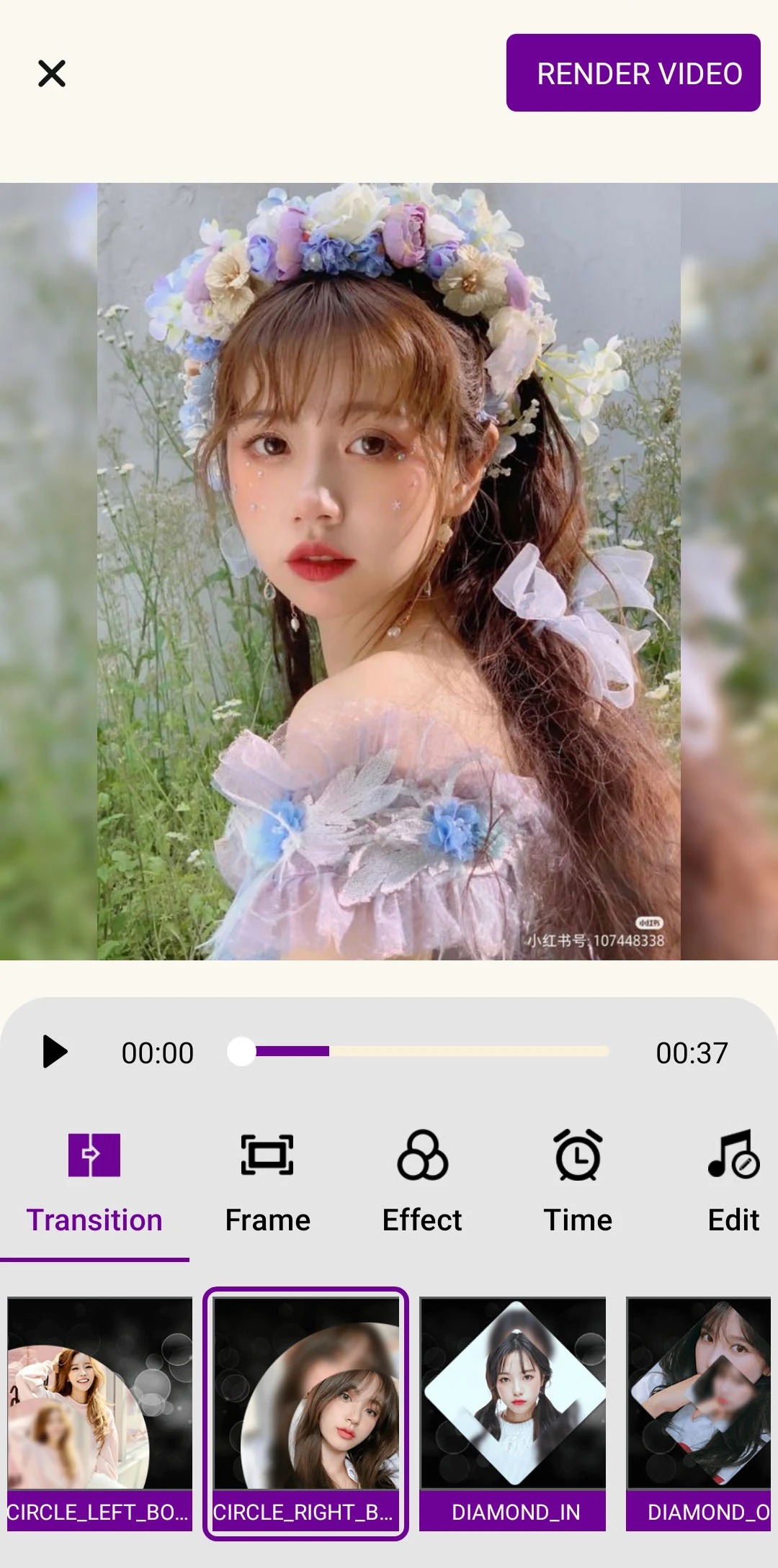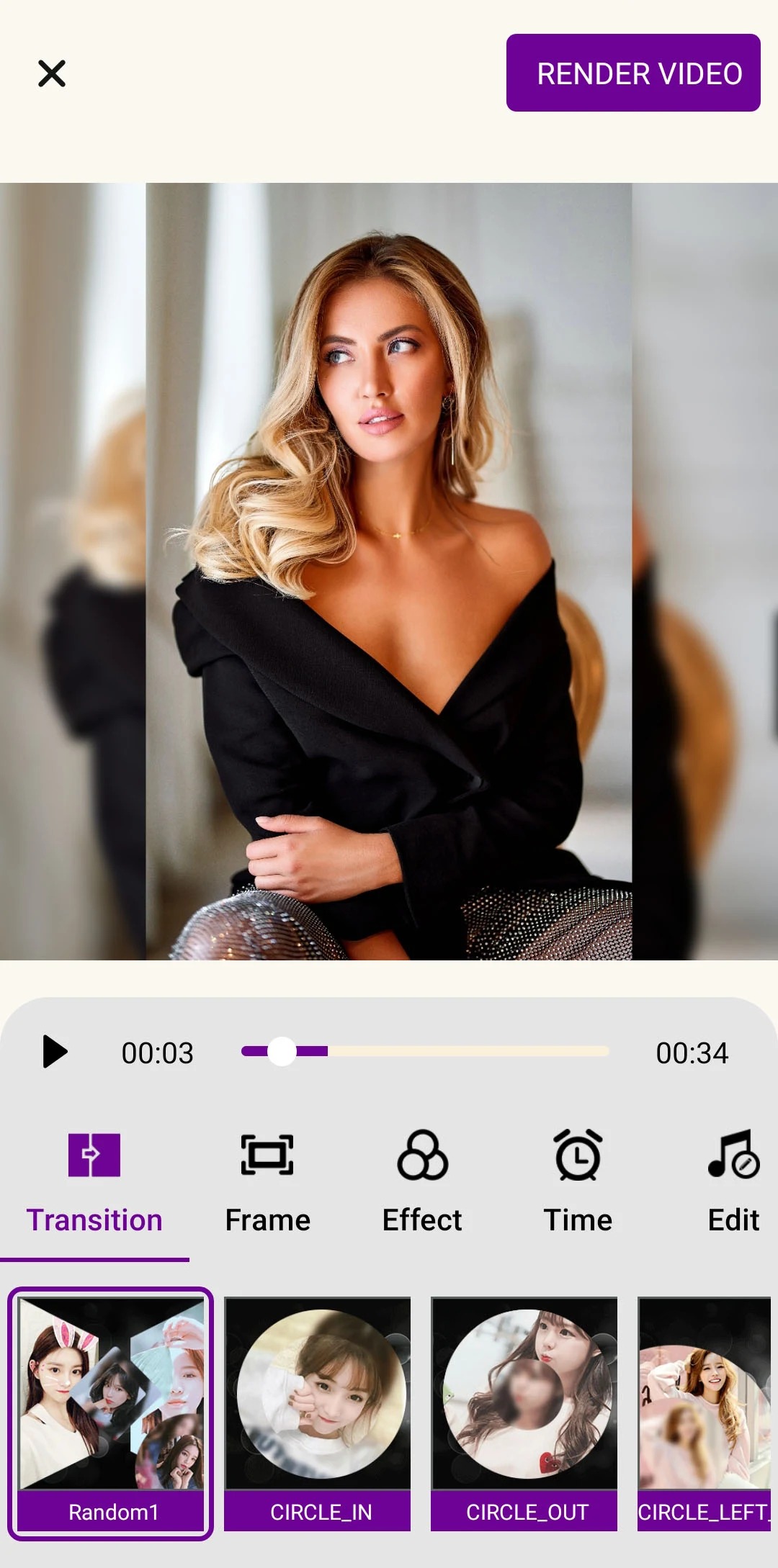 In conclusion, we have to admit that Photo video maker offers excellent user experience. For us, there are not any significant flaws in this app. So, if you can not find a simple tool that will instantly add music to your pictures, hurry up try this option!

Video Maker Music Video Editor
Have you ever wanted to feel like a video producer? Have you ever wanted to create videos that go viral and blow up the internet? Then this app is for you.
Following simple steps, you can create an unforgettable video combined with active music, animated stickers, popular themes, your own subtitles, and incredible transitions.
Filmigo video trimmer to work provides powerful tools for splicing/reversing/rotating/trimming/splitting/duplicating your videos.
You can cut videos into pieces, merge images from your gallery, or glue multiple videos into one. There is a huge supply of licensed music in the library of this app.
This is very important because this way your work won't get blocked for copyright infringement. Besides, you can even record your own voice and put effects on it to preserve the atmosphere of the video.
The video editor offers 720P/1080P HD export without any quality loss or time limitation. You can save your video or slideshow at any time, and background blur and voice enhancement features make your work more appealing.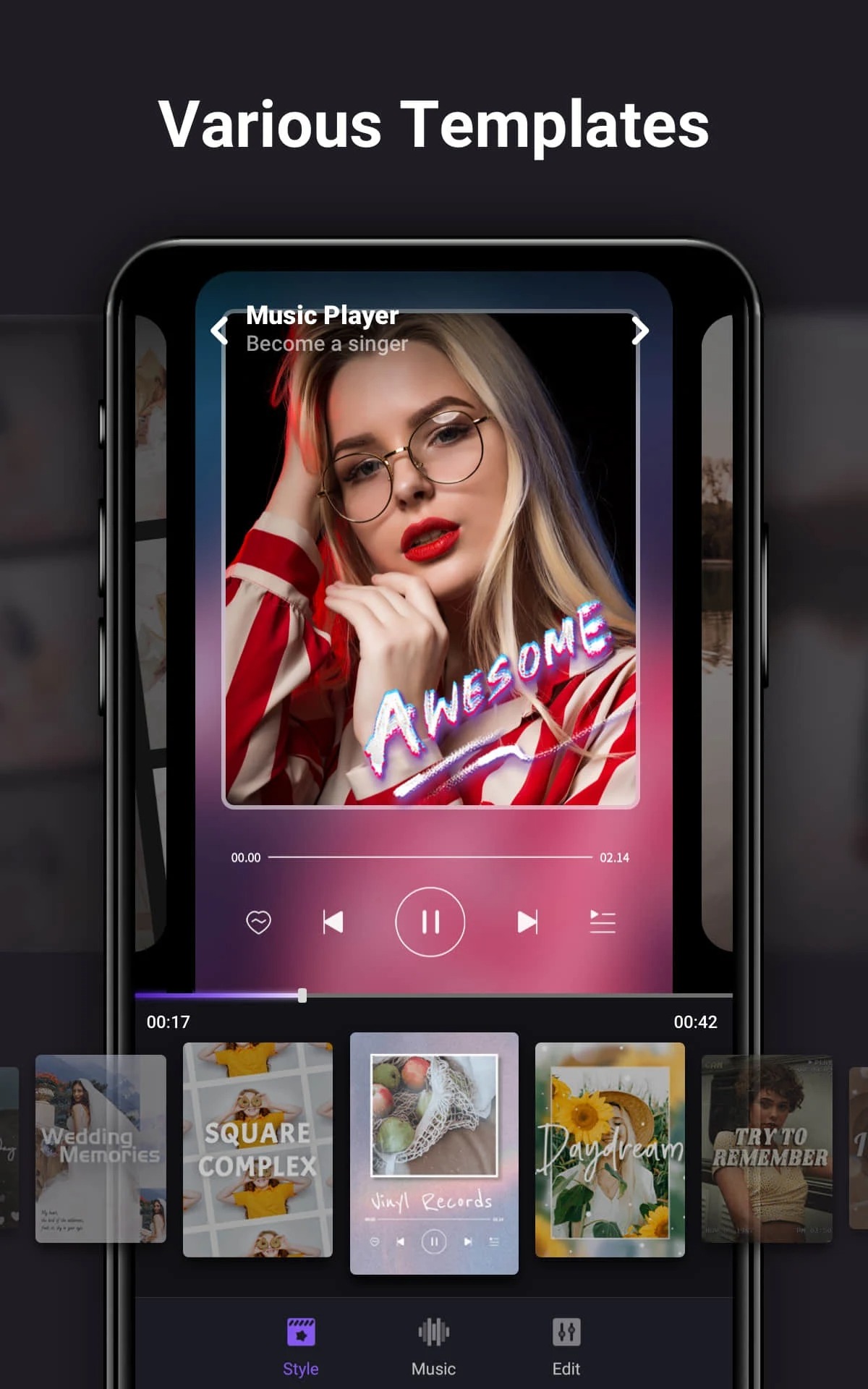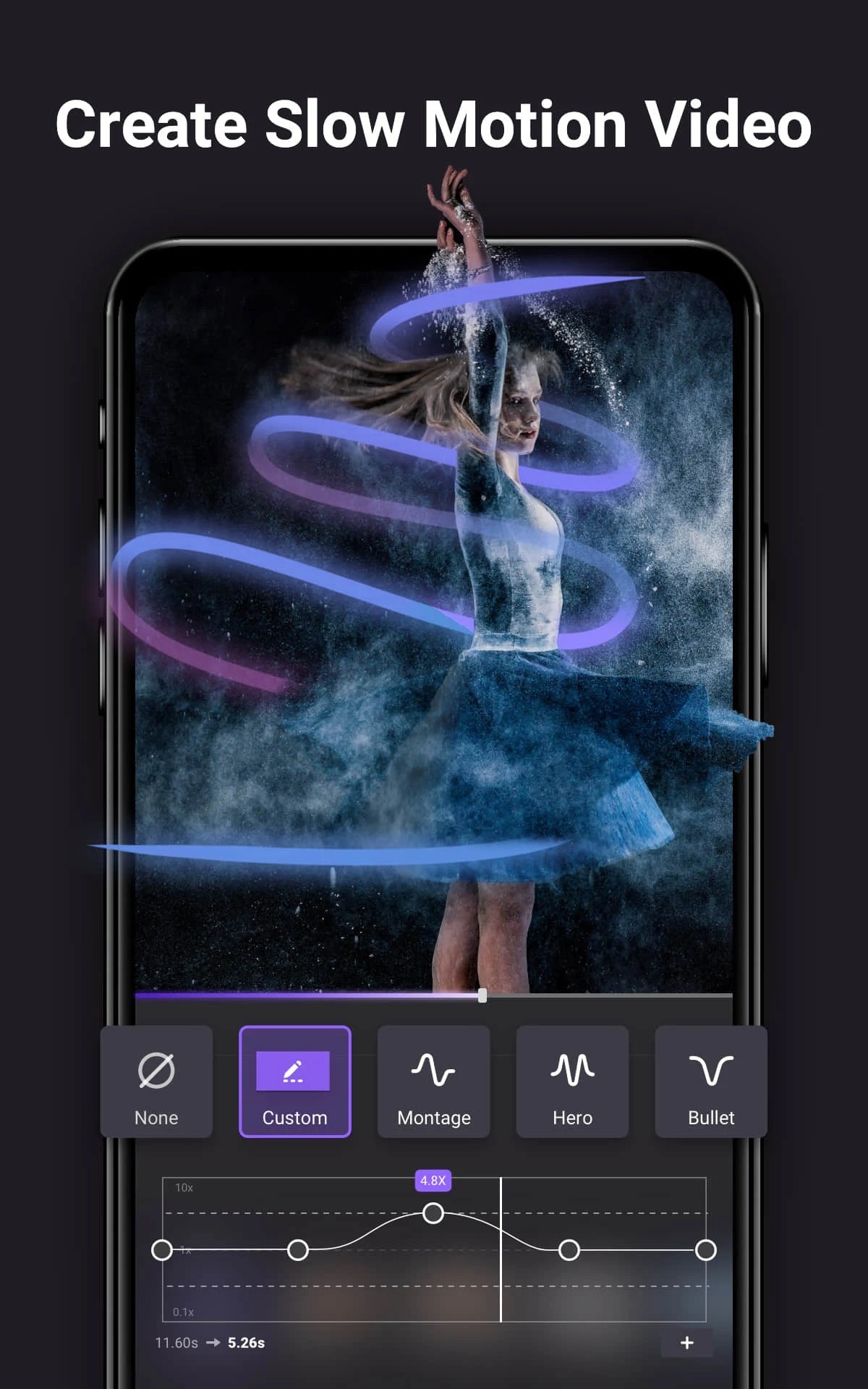 Create your own style of video, gain an audience, become popular – because it's all possible with Filmigo video trimmer.

You may also like: 11 Free Lip Singing Apps for Android & iOS
Photo Slideshow Director
And the last app that we would like to provide you is Photo Slideshow Director. This tool installs quite fast and it is available only for iOS. The app is basically an analog of the previous app, but it has a little bit different interface and much more interesting options.
Like the previous apps, this one has a built-in editor that allows you to apply a wide range of editing options. For example, you can add special effects, remove red eyes, add texts or transitions, and so many other features! The best part of this app – it supports HD quality. This is certainly an excellent advantage there!
Another option that many users can find very useful – the app supports a wireless connection option. That's why you can transfer your slideshows to other devices. For example, you can easily watch the slideshows on the TV big screen.
Photo Slideshow Director features a modern design that contains a simple interface. So, there is no need to be very tech-savvy to understand how this tool works. However, we have to admit that many users complain that customer support does not work well. Moreover, some people mention that the app crashes quite often.
The major disadvantage that we have to note  –  the app comes with a paid version. Summarizing all the points mentioned above, Photo Slideshow Director offers a wide range of options.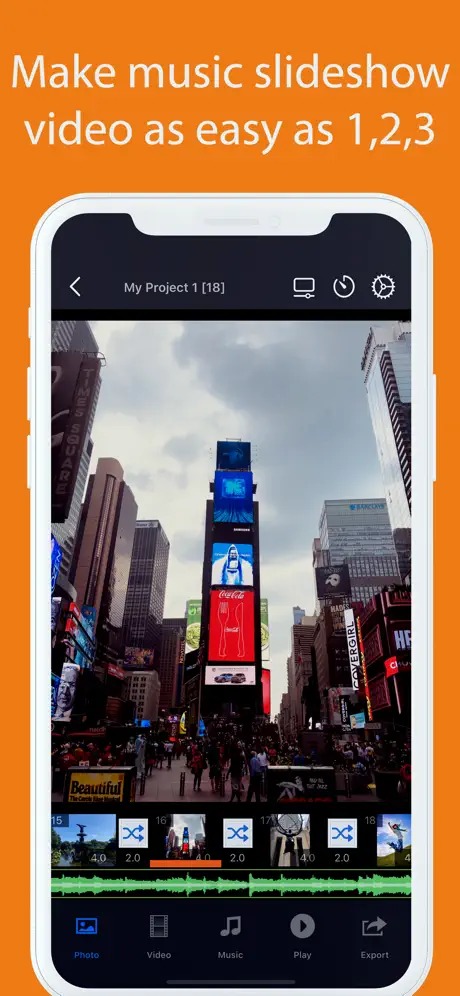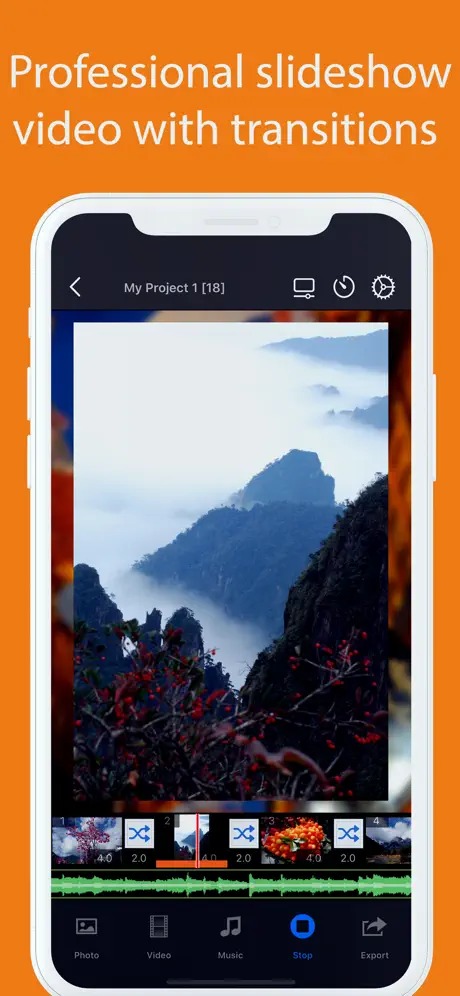 Stylish design, convenient navigation, and an extended number of useful options – all these features are waiting for you in Photo Slideshow Director!