Finding a high-quality grooming service might be tough, especially if it's your first experience with it. Well, we're here to assist you on the way.
Take a look at our list of the 7 best dog grooming apps for Android & iOS for you to try. These apps let you find the best grooming salons and independent groomers nearby. You'll get to look through dozens of listings and read real people's reviews right away. Some of these apps cover some other services like dog walking and pet product delivery. Let's dive in!
BringFido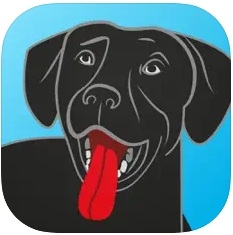 This is a handy app that lets you find dog-friendly places and dog services.
This app is an absolute must-have for all dog owners, actually. It lets you find dog-friendly restaurants, hotels, and more. It comes with a wide range of dog services for you to search through and book. There are plenty of grooming salons and freelance groomers in here, so you can find the one that works perfectly for you.
All the listings come with comments and ratings, so you can actually see comments from real people and avoid bad experiences. The app uses your GPS data to show the nearest groomers out there. You can also use filters to search for specific services and view the groomers that are available to book.
You can book a series right away and get instant reservation receipts. It works for hotels as well, which is great if you're traveling with a dog. Along with that, the app covers a list of dog parks and trails where you can meet other pet owners. You can also search for upcoming events to visit.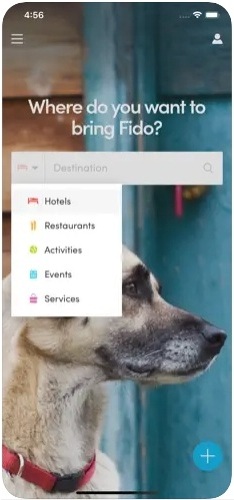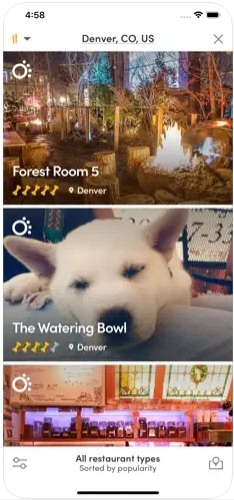 You may also like: 7 Best Pet Sitter Job Apps & Websites
Pawsh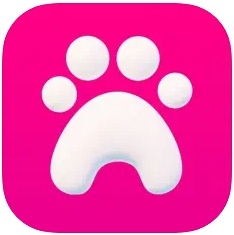 Next, there's an app that helps you find the best care specialists for your furry friend.
This app is fully dedicated to finding and booking grooming appointments, and it comes with a wide selection of grooming salons you could try. Besides, it lets you get the best pet care in your home by booking freelance specialists (or salons that can send a specialist to your place).
This app lets you make sure the specialist has exp with your exact breed, which helps to avoid an unpleasant surprise. It uses your location to find specialists within 10 miles, but you can customize the radius if needed. The app comes with a bunch of filters, so you can search for specific services with no effort.
You'll get to read real people's reviews and contact the groomer right away to ask any questions required. You can book an appointment right away, which is handy. The app also covers an entire section of grooming tips and product recs you can use to take care of your furry friend better.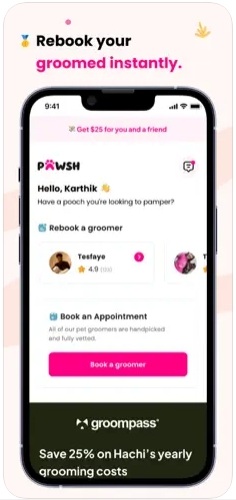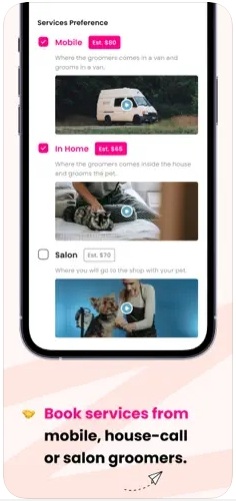 PetSmart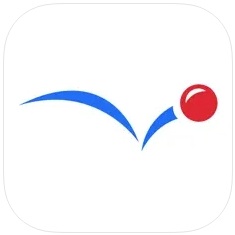 This app is here to help you become a better dog parent.
It lets you shop for dog items with ease and get the best deals for your fave products. In fact, the app will assist you through all stages of dog parenting. The app covers a bunch of educational articles, product deals, services, and other stuff you may need.
As for the services, you get to search and book groomers, pet hotels, training courses, and even dog camps. The app provides you with all the tools for appointment management. You'll get to look for available groomers, sort them by location, search for specific services, and so on.
The app also covers reviews from real people, so you could find the best service for your dog. You can also build up a calendar with all the pet-related activities you're about to do. The app even comes with a full-on pet store that can get your order delivered in only an hour after purchase.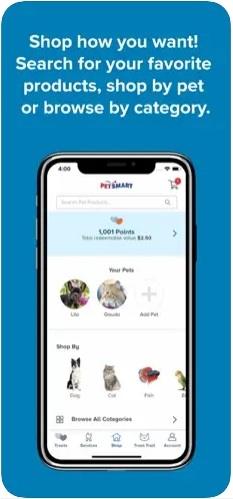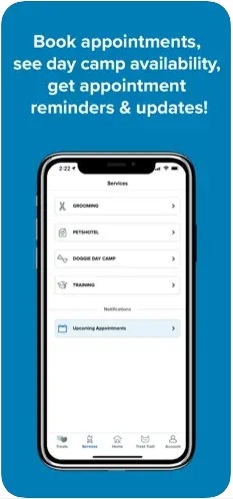 GROOMIT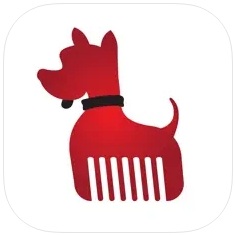 It's a grooming assistant app that lets you book grooming services on the go.
This is some kind of pocket pet salon that lets you book grooming services with a few taps. The app covers a wide range of salons and freelance groomers, so you can pick the one that works for you. You can also bring a groom right to your home if needed, which is handy.
What you need to do here is to make a profile for your dog and pick the grooming package you need. There are a bunch of filters that let you search for specific services right away. For instance, you can also search for specialists with exp with your dog's breed. The app even shows you what kind of products will be used for your dog.
Once you've matched with a groomer, you can communicate in a built-in chat to pick an appointment date. You can chat with several groomers to pick the one you like most. Once the sessions get done, the payment will be taken via an app. You'll get to rate a groomer and add a comment about your experience.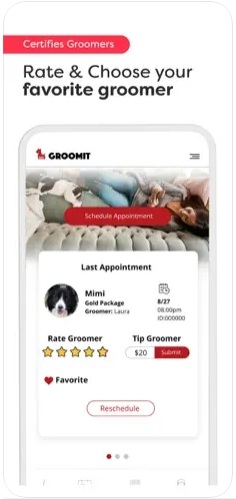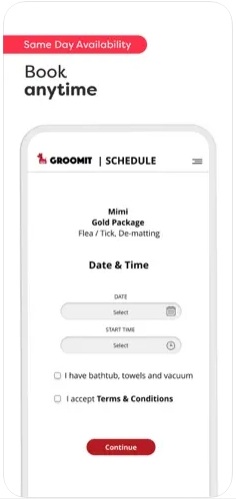 Check also: 11 Best Dog Training Apps
Monkoodog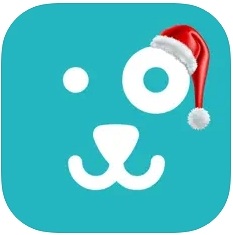 Here's a pet care app that lets you find the best dog services nearby.
This app runs as a full-on dog community that lets you elevate your dog parenting. It covers everything from pet care to training courses, so you can search for any kind of advice and service. You start by making a profile for your dog and filling it in with all the important info like vaccinations and planned checkups.
You can also add a couple of pics and descriptions of your dogs' characters to find potential friends. As for grooming, the app lets you keep track of coming grooming appointments and tasks. It lets you find the nearest salon and contact the masters right away.
It works in the same way with health care, so you can quickly search for the nearest vet clinics or veterinarians and book an appointment as well. The app also comes with a map of dog parks and a list of activities you can do along with your furry friend.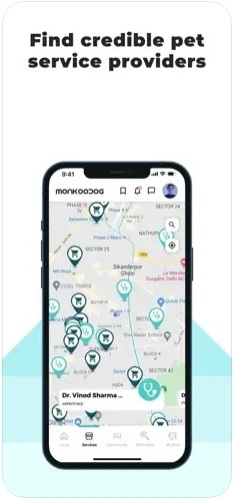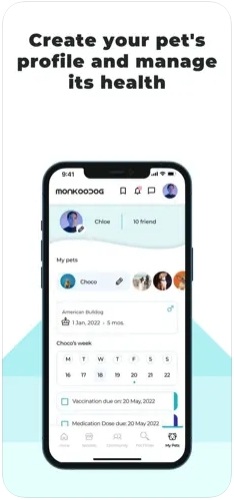 Pawgo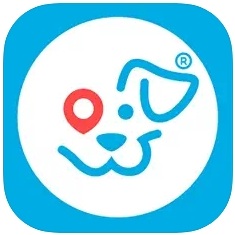 This is another app that helps you find the nearest groomers nearby.
The main goal of this one is to make sure you get the best pet care at any time needed. You can use this app to search for grooming salons and book grooming services delivered right to your home. It covers dozens of listings of salons and freelance specialists for you to explore and book.
The listings there are pretty detailed, though. You'll get to read multiple reviews, before and after photos, and more. The app also provides you with all the prices, so there won't be any unpleasant surprises. There are also plenty of filters that let you narrow down the search.
You can also make a full-on pet profile with all the vaccine certificates, checkup schedules, and more. Plus, you get to connect with other pet owners to ask for advice or go for a walk together. The app comes with a built-in chat, so you won't need to share your private number.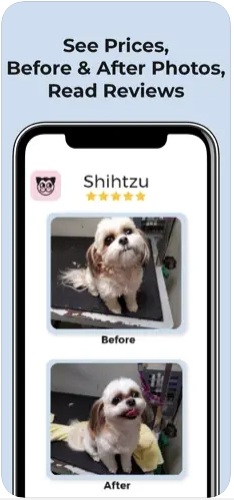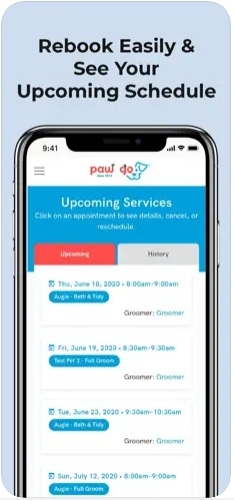 You may also check: 7 Best Dog Food Apps in the USA
Groomeer
And lastly, there's an app that helps you manage your dog grooming appointments.
This app actually provides on-demand grooming services. It's a full-on mobile grooming salon that will get to your door at any time needed. It comes with an intuitive interface that lets you book a grooming session in a couple of easy steps.
You may rather search for services by groomers or availability, with us quite handy. You can find a day you'd like to get a service and start looking for the right specialist. The app lets you pick the type of services your dog requires, and you can customize the request as needed.
You'll get to communicate with a groomer directly to discuss all the details. Feel free to ask about the groomer's exp with your dog's breed, the kind of products they use, and more. The app also comes with a calendar that lets you manage upcoming appointments with ease.