Stickers are commonly used to help your photos look amusing and entertaining. It is effective, especially if you want to express your emotions with your friends, followers, and loved ones particularly on social media or through messages and texts.
On a general note, free apps to add stickers to photos is one of the best consideration tools that you may have. And we enumerated some of them to help you do the task fastest way possible. Besides, if you want to make your photos more cheerful, you can also animate them using special apps.
PicsArt
The photo-editing application PicsArt has given users the ability to freely compose and use stickers.
All the authors of the stickers are listed, and the stickers themselves are grouped in one place.
This gives users the opportunity to see the most popular variants that have already been processed by other authors.
At the same time, each user can edit the available stickers, using, for example, a variety of "smart" Magic Effects, tools for drawing or editing.
As well as more than 6 million photos from the free-to-edit (FTE) database.
Stickers can be kept on your personal page, used when editing and commenting on photos, distributed in the Remix PicsArt chat room. As well as on Instagram, Facebook, Messenger, WhatsApp, or other social networks.
PicsArt stickers can be created from anything. For example, from photos of your pet, putting your face in a photo with celebrities, creating a kaleidoscope of stickers, making birthday cards, making special stickers with your favorite cartoon characters, or timing them to specific holidays.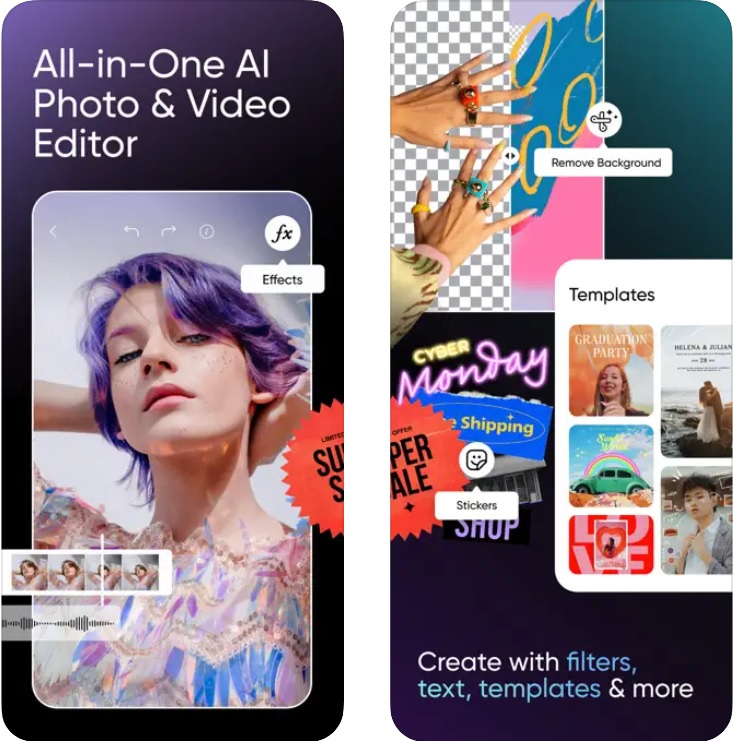 You may also like: 12 Free Apps to Add Your Face to a GIF (Android & iOS)
Canva
Any photo can be made brighter, livelier, more interesting by adding colored stickers and icons.
Many programs for social networking, and social networks themselves, offer sets of stickers for decoration.
But they get bored quickly and are used everywhere – you can't call it a unique design. Canva offers something different.
Add your photo via "Downloads," and then drag and drop it into the workspace. Now you can decorate it with extra graphics.
Find a suitable one in the "Elements" tab – "Graphics". In the search box, you can enter a keyword and find an illustration of any subject.
It's easy to drag and drop the favorite graphics to the photo, and then edit with the buttons at the top. Such as select color, transparency, size, centered relative to the sides of the image.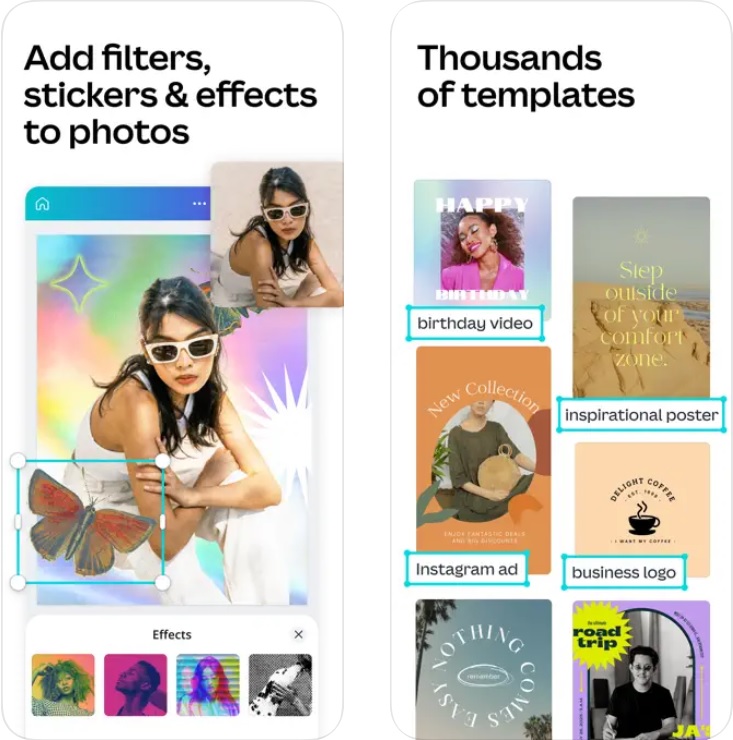 PhotoSticker
The Photo Sticker app is the perfect template for developers who want to create an app for adding stickers to photos.
Developers can use ready-made sticker templates or create stickers for their app.
Then app users can drag and drop those stickers onto photos, either taken with the built-in camera or from the photo library. Users can move, scale, or rotate stickers.
After users create their composition, they can share it via Facebook, Twitter, Instagram, WhatsApp, etc.
The app supports AdMob and iAD for easy monetization.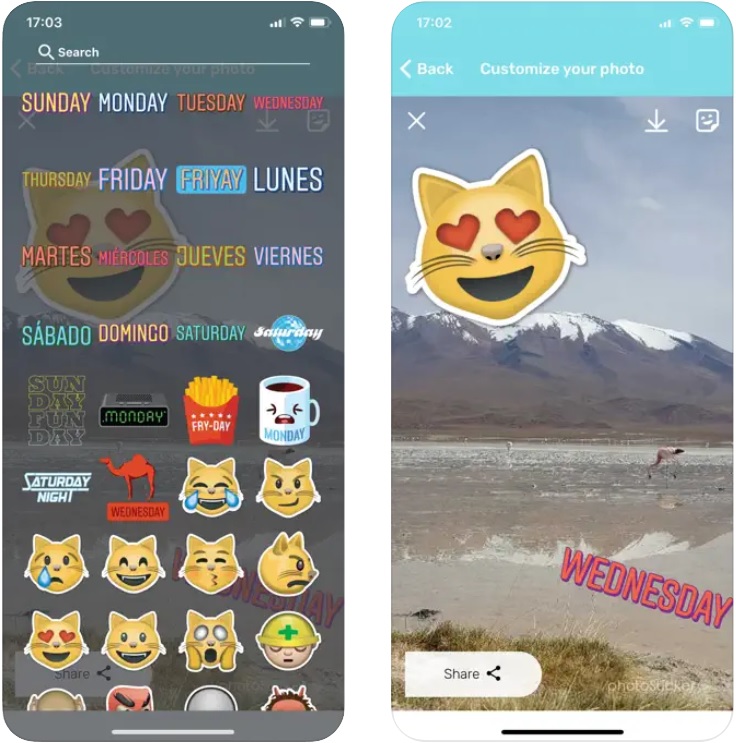 YouCam Fun
One of the best photo sticker apps for iPhone users and it comes with lots of realistic stickers that can be used to change your photograph totally.
This app includes different types of fun photo stickers that can be placed easily while taking selfie photos.
The app contains realistic funny face filters that can turn your face into funny faces with animal face effects.
Very funny live photo sticker app for iPhone users.
With the help of the YouCam Fun app, you can easily turn your photos into funny photos or you can also generate a different photo by using a different style of live face filter effects.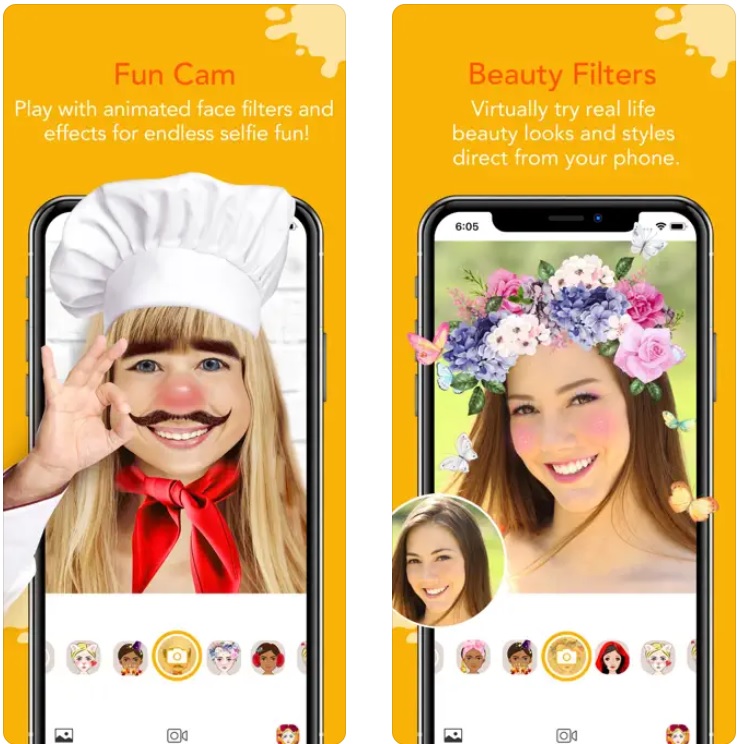 Picsa
Picsa is a custom photo and collage editor.
High-quality templates and all the tools for size tweaking and light adjustments are advantages of this program.
A unique feature is the creation of pictures from photos. Combine photos that are close in tone and stitch them into one collage.
You are to use an unlimited number of frames you like. Use the manager's tools to find the right filter and choose the perfect design.
Create colorful masterpieces and share them on social networks. The free content of this app includes more than a hundred different templates.
A large selection of frame colors and many backgrounds are collected to meet the needs of any user. Colored stickers and layouts are perfect for creating your own unique content. The program does not require a lot of space in your phone memory and is quick to set up.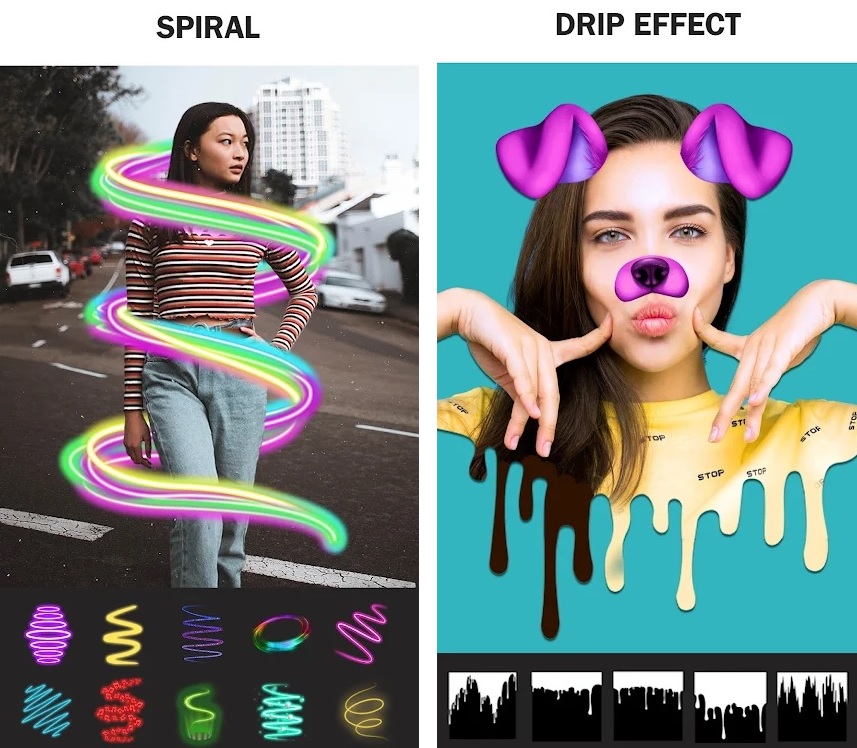 You may also like: 8 Best Selfie Sticker Apps for Android & iOS
Photo Editor Pro
This service can become a great tool for those people who would like to make the
ir photos more beatiful by adding stickers.
The app is user-friendly, with a simple interface that makes it easy for beginners to navigate.
There are a lot of of editing instruments there. For example, filters, effects, and adjustments, as well as the ability to add text and stickers to photos.
Speaking of stickers, this app has a wide range of them, which can be added to any picture to make it more interesting and unique.
Another issue that some users have encountered is that some of the features, such as stickers and text options, are only available for purchase.
This can be frustrating for those who are looking for a free app, as it can limit their options and make the app less enjoyable to use.
Advantages:
Easy to use.
Wide range of editing tools.
Ability to add stickers and text to photos.
Drawbacks:
Graphics can sometimes look pixelated.
Some features require purchases.
Some users have reported glitches and crashes.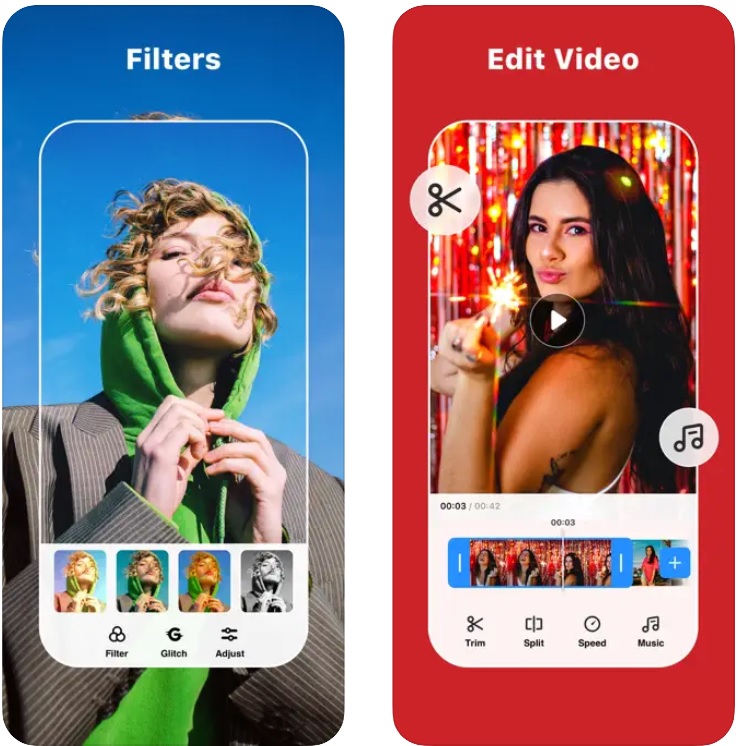 LINE Camera
Great free photo app that comes with lots of stylish photo effects and cool stickers.
With the help of Line Camera, you can easily make your photos more stylish by adding cool effects and photo stickers.
The app comes with many useful photo editing options such as a photo collage maker, an animated sticker with sounds, a photo stamp, a photo filter, a video recorder with cool stickers, and many other functions that can be used to make your photos more attractive.
One of the best fun sticker apps for iPhone users. With the help of this app, you can easily record videos with fun stickers.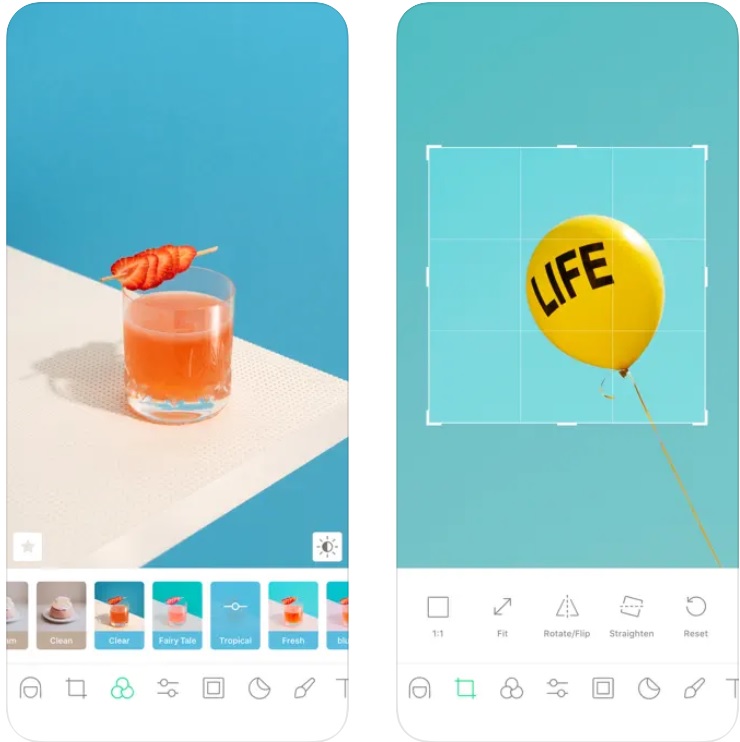 Makaron
This is a photo editing app that offers a variety of features, including the ability to add stickers and text to your images.
There is a vast collection of different stickers. It is possible to find funny, emotional or stylish stickers to decorate your pictures. Just pick one or several you like the most and add them to picture.
The app offers a variety of editing tools, including filters, effects, and frames, which are all easily accessible from the main screen.
Advantages:
User-friendly interface.
Wide range of editing tools.
Ability to add stickers and text to photos.
Drawbacks:
Occasional crashing.
Slow performance at times.
Difficulty saving edited photos.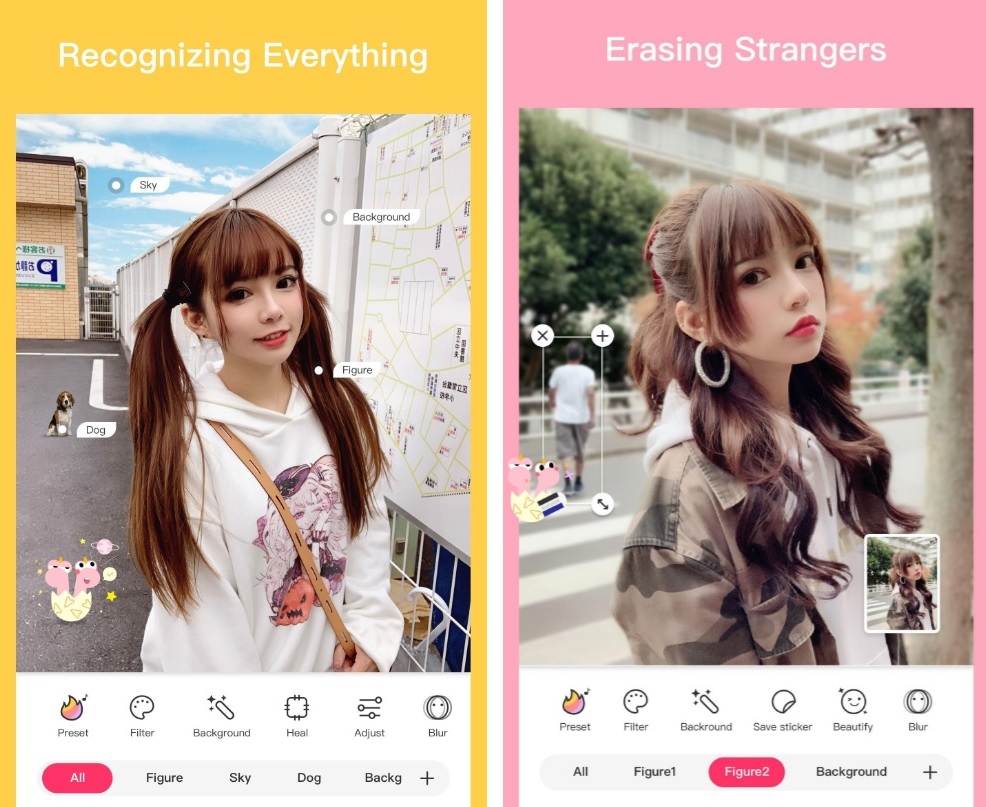 B612
B612 is a worth-using app for people who like to take selfies and enhance their photos. This service is popular and has received mostly positive reviews from its users.
It has a user-friendly interface that lets users navigate through its features without any difficulty. The app provides various filters, stickers, and effects to enhance photos and selfies.
The app also has a beauty mode that can make users look more polished, and it can be adjusted to the desired level.
One of the disadvantages of the app is that it requires a stable internet connection. The app has a feature called "AR Live". This feature is useful and leps you to create stunning photos and videos.
Advantages:
User-friendly interface.
Wide range of filters and effects.
Beauty mode for polishing photos.
Drawbacks:
Requires stable internet connection for some features.
Some filters and effects are only available for a limited time.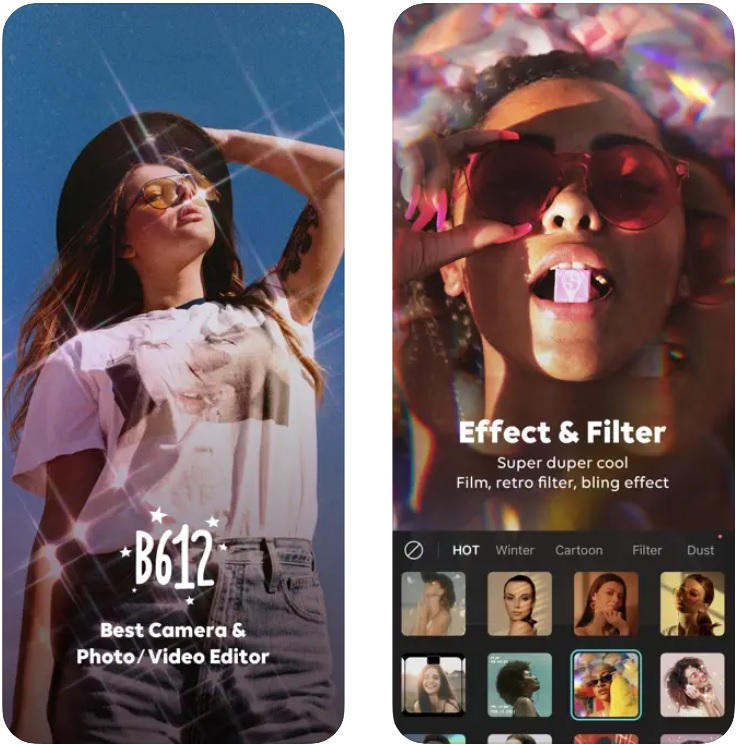 Desyne
This app differs from others in that in addition to adding stickers to your photo, you can use different templates that add a twist to your layout.
Additionally, you can use stock images. In addition to adding text to the photo, you can choose a ready-made text, such as Happy Birthday or Have a nice day.
The text can be changed in size, font, and color.
The app has ready-made icons and stickers, which can also be added to the layout for free.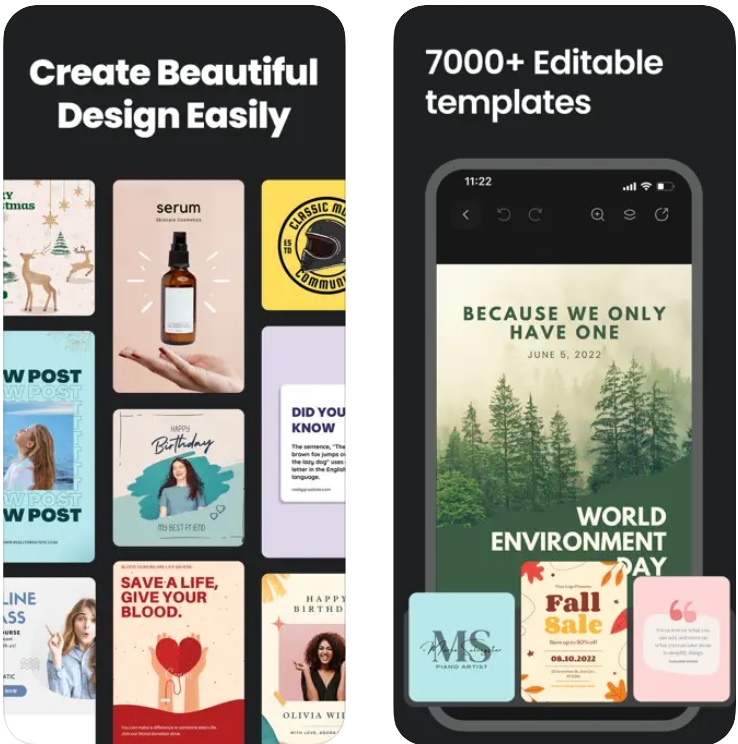 You may also like: 11 Best Apps to Unblur Photos for Android & iOS
Word Swag
Word Swag additionally offers many stock images that can be used as backgrounds instead of your own photos.
You can apply standard corrections to stickers and text in this application.
For example, change the font (for Cyrillic, the number is limited), slope, color, color saturation (make it semi-transparent).
The application has its own filters that allow you to adjust the image, including you can brighten or darken the picture and apply the blur.
You can choose different formats based on where you place them. For example, for the Instagram feed square, for stories 9:16, pin for Pinterest, for a Facebook post, and so on.