7 Best clone picture apps for Android & iOS
Photos, selfies and any other images have long been an integral part of our lives. We take pictures ourselves every day, in memorable moments, with friends and at any time – but we can never take pictures with ourselves. "It's impossible," you say.
Indeed, if you don't have a twin brother or sister, you can't make such a picture. But sometimes you just want to imagine or pretend that there's someone who's completely like you!
Since there are a lot of photo editors, photo editing applications and many other phone software nowadays, you can do it with it. In fact, in addition to the standard photo editors, there are also more specialized photo editors.
They allow you to create an absolute copy of yourself in a photo with the help of… yourself! You will "split up" in the picture, it remains only to decide what application to install on your smartphone for this purpose. We have selected 7 best photo clone apps for Android&iOS for you.
Clone Camera
Clone Camera is one of the most famous applications in this field, which can be used both on Android and iOS. It is quite popular among users and occupies one of the first positions when searching for such applications.
Naturally, in this case Clone Camera has a significant number of downloads. What is so good about this application? It copes perfectly with its task, without requiring from you essential skills of photoshop or editing photos.
All you need to do is give Clone Camera permission to access your phone's cameras and take a few pictures. Next, simply select a few of the best images you can get. Now you just have to do two things – select the area you want to clone in the images and select the main image. That's it, your work is done!
Clone Camera will save the result to a separate folder on your smartphone or offer you to upload it to social networks.
You may also like: 21 Best picture in picture apps for Android & iOS
Clone Foto : Echo mirror with multi photo
Some applications by the word "clone" mean simply your reflection, doubling of the image or something similar, that is, just duplicating the same photo. In the case of Clone Foto : Echo mirror with multi photo you can go beyond this functionality.
In addition to the mirror effect, which is the most standard for many similar applications, you can use the echo effect, clone the image from another photo and much more. Since "clone" in this case means the same person, but in different poses, you can go beyond one or two photos.
The application works in horizontal mode, so most of the photos you can take with it will also be horizontal. You can either choose the background to place the images on or process your own photo.
You will need to give access to your smartphone's gallery, select the photos you need and process them from there. Each photo will need to be cropped and edited with an eraser. For the rest, Clone Foto will tell you what to do – the application's interface is so simple and straightforward that even the most inexperienced user can handle it.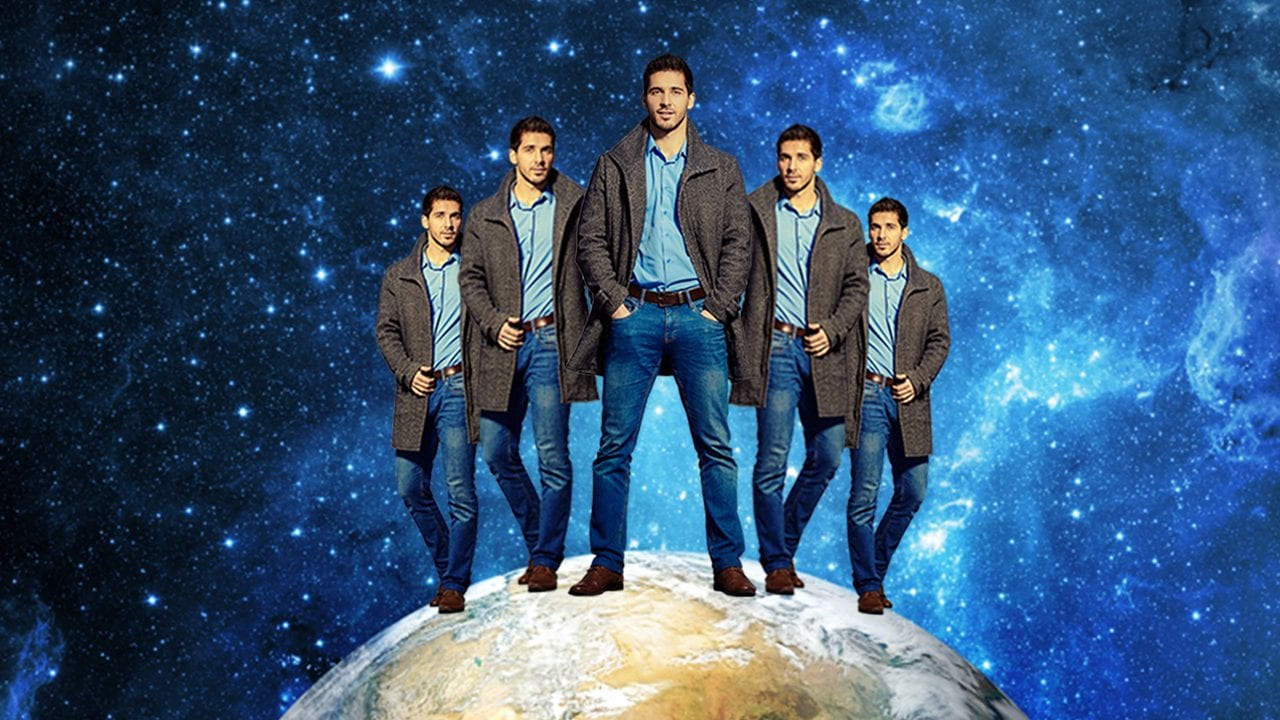 ManyMe
For those of you who don't want to bother editing photos, cutting out images and removing backgrounds, ManyMe is the perfect app for you. Owners of Apple technology no longer need to make an effort to to take the perfect picture with your twin or clone themselves.
The principle of work of the application is simple: you make some photos directly in it, and ManyMe independently connects them together. But there is one nuance: you can work in it when you will statically fix position of the smart phone.
Adjust the timer and position for shooting and you can consider that you are ready to create your own twin! For more convenient use and accuracy of photos, ManyMe helps you to use the grid of third shots – so that one your image does not overlap the other.
You don't even have to use a timer – just slam your hands to take a second shot. In our opinion, this is the most convenient and effective option for clone pictures in real time.
Ghost Lens Free – Clone & Ghost Photo Video Editor
In case a twin brother or other similar wishes imply a real person, the Ghost Lens application does absolutely no such thing. We think that you have already guessed by the name of the application what it is about.
Have you ever wondered what a soul is? Film directors often use a special technique to show how the soul comes out of the body. Usually it is shown as a translucent silhouette of a person who is separated from the main body and becomes a separate picture.
In our case, you can either make a video like this or simply capture it in a photo. Ghost Lens turns you into a kind of ghost that comes out of your body and stands alone. A great indicator is that you can even create a video of the process!
Apply creepy music, a little visual effects, darken the image – and the result is the real moment from a horror movie! In case you also want to play with your friends, you can send them the result right after the processing directly from Ghost Lens.
You don't need the skills of a great photo editor. Simply upload the material you want to edit – for example, a few photos, videos or a background image. You just have to follow the instructions given by Ghost Lens and you'll get the perfect result. No one will even suspect you of tricking – what if you're really a ghost now?
Twin Me! Clone Camera – Free
There is a type of twin application that is designed for static shooting. With this simple use, creating your own twin will be incredibly fast and easy, so anyone can do the job.
The design of TwinMe! itself is designed in the style of minimalism. In fact, you can easily take the app as a standard camera interface. It's immediately clear that you'll have to give the app access to the camera, mobile phone memory and gallery. TwinMe: Allows you to create images of yourself and your clone in just a few seconds.
When you start up, the main camera of the phone opens up with a small markup. To create a photo you need to lock your smartphone, start the process and take the desired position. Since the screen is divided into parts by a grid, you immediately know where you need to stand.
Once you've taken your first picture, you can start creating a clone in another part of the picture right away. In general, you can then assume that you now have a twin! All you have to do is save the result to the gallery.
PicClone – Clone your photo
You may have noticed that many applications are shot in a purely horizontal orientation. PicClone also allows you to create both horizontal and vertical applications. Easy frame adjustment allows you to easily create exactly the frame you need.
In fact, you can combine the shots you've already taken. This way, you can create images with two or more different images. Initially, you will need to choose the orientation of the finished collage, adjust such parameters as the position of the image, capturing it from the gallery or creating it right during the work. Once you've finished selecting images, you can edit them immediately. Various modern and popular effects are available in PicClone.
Directly from the application you can upload the snapshot to social networks – Facebook, Twitter or Instagram. If you don't want to share the result, it's enough to save the image to the gallery or send it by mail. Careful results, adjustment according to the smallest parameters and absence of excessive functions – these are the main advantages of PicClone.
You may also like: 11 Best cut and paste photo apps for Android & iOS
Split Pic Collage Maker Layout
Is there Wi-Fi on Mars? In case it is true, you can make use of the Split Pic Collage Maker Layout even there. You can use it to edit your photos as well as create your own. Any templates and projects you start but don't have time to finish will be saved in a special folder in the application itself. You can work together on a single layout instead of with your friends by simply connecting to it over the network.
In addition to creating a twin or mirror image, you can also use the usual editing tools. Effects, tools, color and light adjustments, and so on, even stickers, are all available while you're working on your project.
The only thing that is worth noting in a special way in addition to the convenience of use – is the payment for the application itself. Yes, Split Pic Collage Maker Layout is paid for, and the subscription is paid weekly. But in any case, you get a wide range of features for a permanent fee.
Of course, not all of us were lucky enough to have a twin brother or sister. Even twins are rare nowadays! But with the help of modern technology, all of this is easily possible. Using modern photo editors, you can easily duplicate yourself – almost without experiencing problems.
Now you should not dream about the development of modern technology, science and technology – at least in the photos you can get your own clone.