Do you collect coins or find foreign currency from last year's trip? Check all your savings for values that you can present at auction for the most profit. These free apps to check coins value for Android & iOS will help. Try them all or choose the best one.
Keep all the information you need in one place with the help of these best apps for coin collectors.
PCGS CoinFacts
A modern platform for users who are interested in antique coins and rare items. PSGS Coin Facts is an electronic coin catalog that will interest any numismatist.
Choose, haggle, and buy real works of art. Get the most out of your purchase from the comfort of your own home.
You do not have to contact the seller directly and spend time on the road. Here you will find the newest and most valuable information about more than 39 thousand pieces.
To speed up the process of finding the coins you need, you can use barcode scanning. This option is for all coins that have been evaluated by professional organizations. Find out the value of the coin this second, its popularity on the market, and its history of origin.
Turn an ordinary purchase into a real adventure. The price list gives you the opportunity to see the prices of a huge number of gold, silver, and other coins.
At PSGS Coin Facts you will find coins from the world's auctions: eBay, Christie's, and Legend Rare Coin Auctions. Over 5,800 events in one app and always at your fingertips. Find out all about your favorite.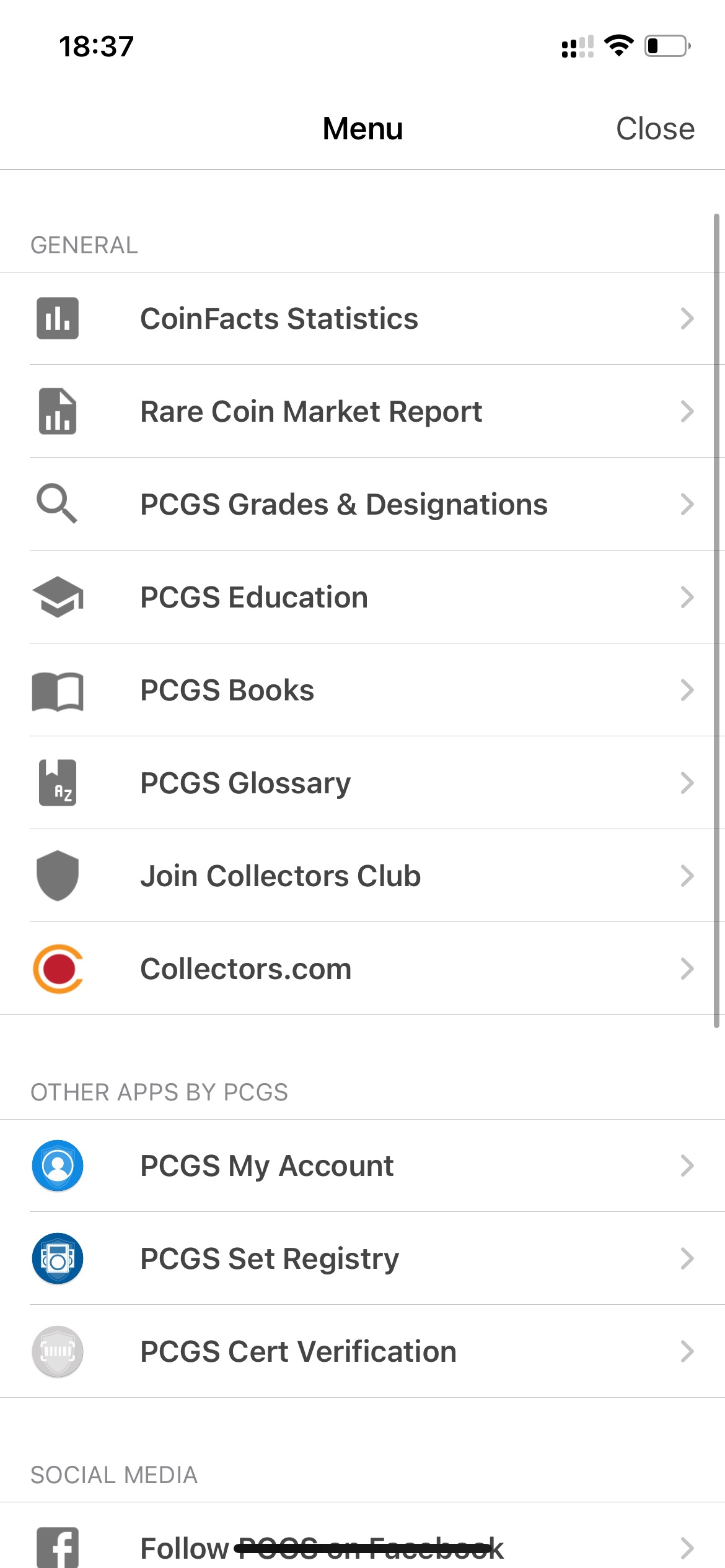 Check the condition chart of your chosen coin, and view high-quality photos. Let your purchase be a thoughtful and deliberate decision that will bring you much enjoyment.


You may also like: 7 Coin Identification Apps by Picture for Android & iOS
CoinSnap
Want to start collecting rare coins but don't know where to start? Do you have years of experience in coin buying and want to expand your city? CoinSnap is perfect for these purposes.
Check out the most comprehensive and up-to-date guide to coin values. Get the exact value of any coin of interest almost instantly.
To start the appraisal process, all you have to do is upload a photo of the coin in the app. It is important that the photo is of good quality and that the coin is fully visible.
You can take a picture right now or use an image from the gallery. After processing the photo and searching through numerous databases, you will receive all the information.
In addition to the current price, you will learn general information, the date and country of issue, and the presence of similar copies in other collections.
After a comprehensive evaluation, it will be easier for you to make a decision to sell any coin. Make a bargain for yourself. With CoinSnap you will know the exact price of your collection.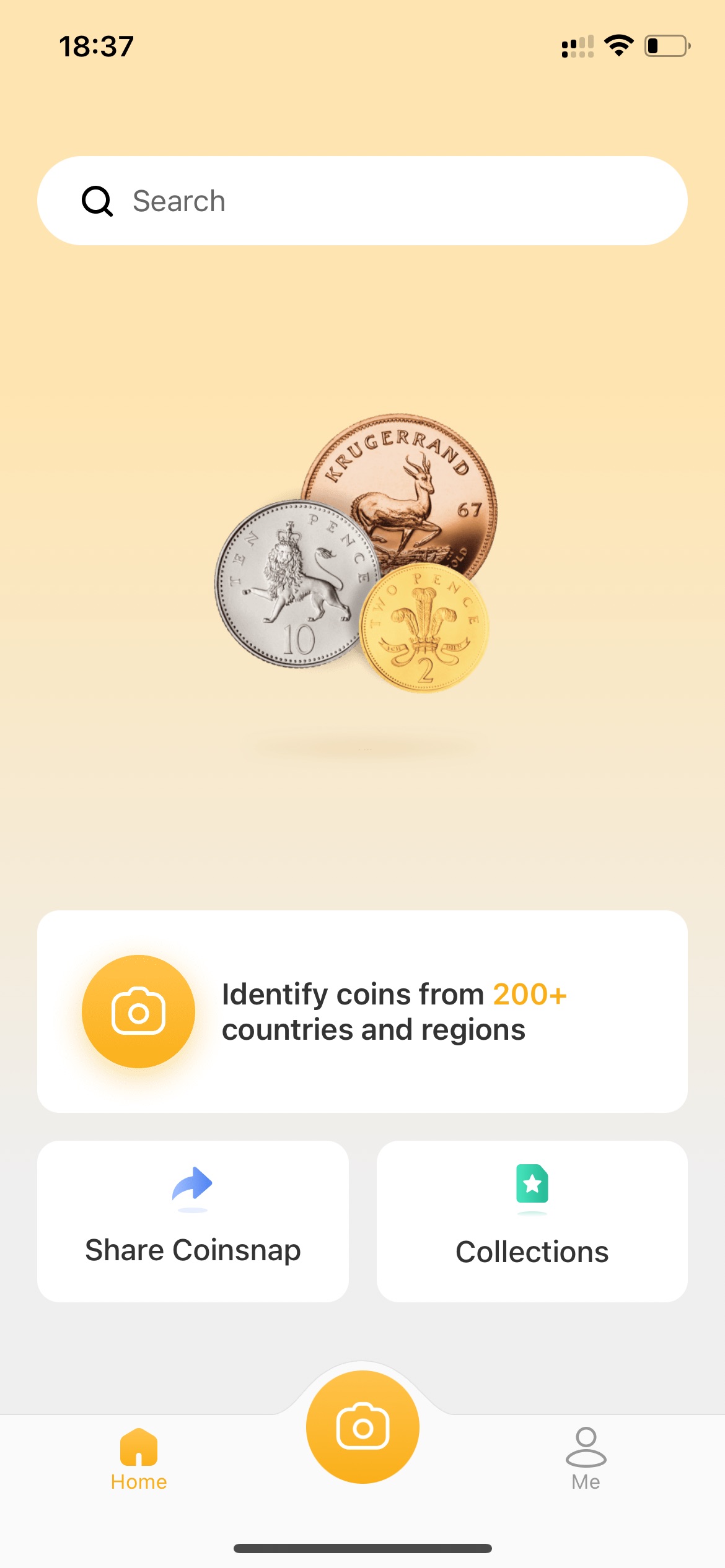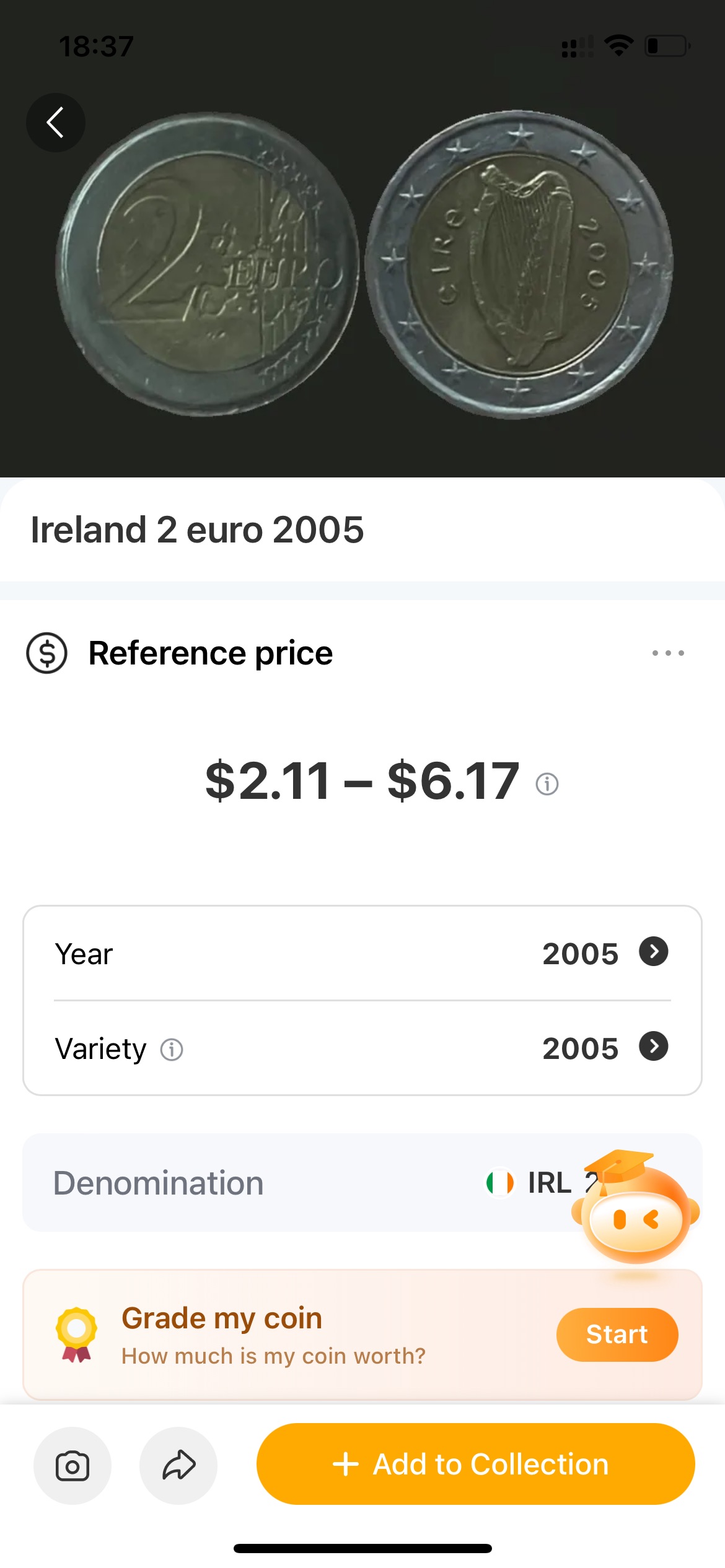 In addition to identifying coins, the app allows you to keep comprehensive records of your collection. Distribute copies by series and price, and date of manufacture. Find up-to-date information on coins that are especially popular today.


Coinoscope
Use your phone's camera to fully identify any coin. Numismatists of all countries enjoy using Coinoscope to simplify collecting and get up-to-date information.
Here you will find absolutely any information: number of similar copies, market value, year of issue, country of production, and interesting stories with the participation of this coin.
The app is as easy to use as possible. To get started, you need to select a photo of a particular coin and upload it. It is possible to take a photo without leaving the program.
Good-quality images are required for the electronic search engine to function. Thus, it is advisable to focus on the camera and select a high resolution.
After analyzing the uploaded photo, you will get a whole list of similar instances. After that, you can easily choose the coin you are interested in and click on its image.
A page in your web browser will open with a comprehensive description. This will help numismatists get a feel for the value of the coin they are interested in, and also help them get a feel for other coins.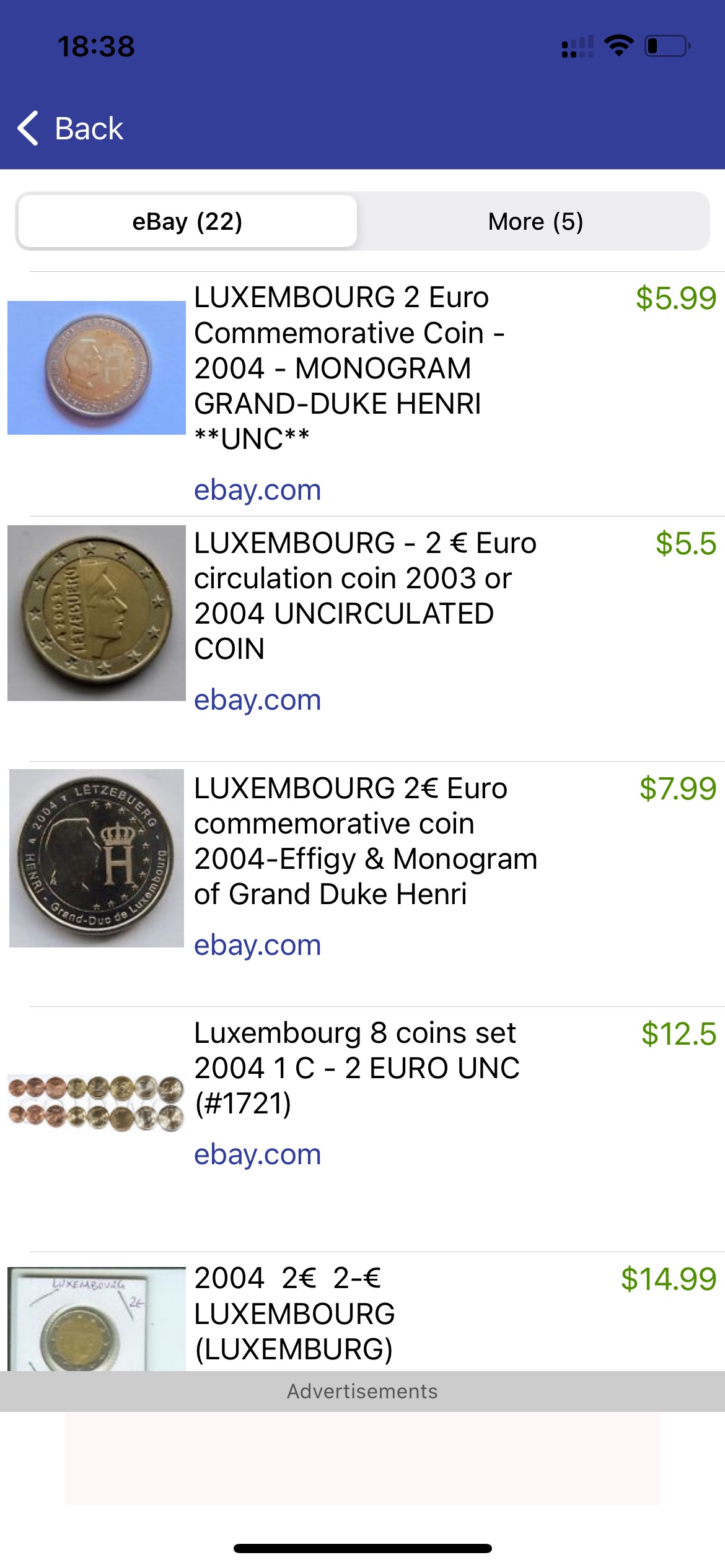 If the app does not do the job, try scaling your picture or using a different angle. Coinoscope works for free and requires a constant internet connection. Save your time and get only the latest information with Coinoscope.


SnapCoin
Every collector dreams of a program that has access to a variety of platforms and auctions. For numismatists, Coin Snap does an excellent job with this option.
The app will make it much easier to evaluate coins and help new collectors navigate this specific market. If your hobby is finding and storing rare coins, then you simply can't do without Coin Snap.
Do you want to know the exact value of a coin? Do you want to make a good deal but are afraid of making a bargain? Then use your phone's camera to identify what you have in stock.
Before you upload your finished coin photo, you need to verify the quality of it. You can use focus and zoom, and use a photo editor to get a vivid image.
The app instantly recognizes the uploaded image and matches it to data on the internet. You'll have access to information such as the demand for the coin, its real price, and issuance information. No more hasty deals and failed sales. Only agree on favorable terms of sale.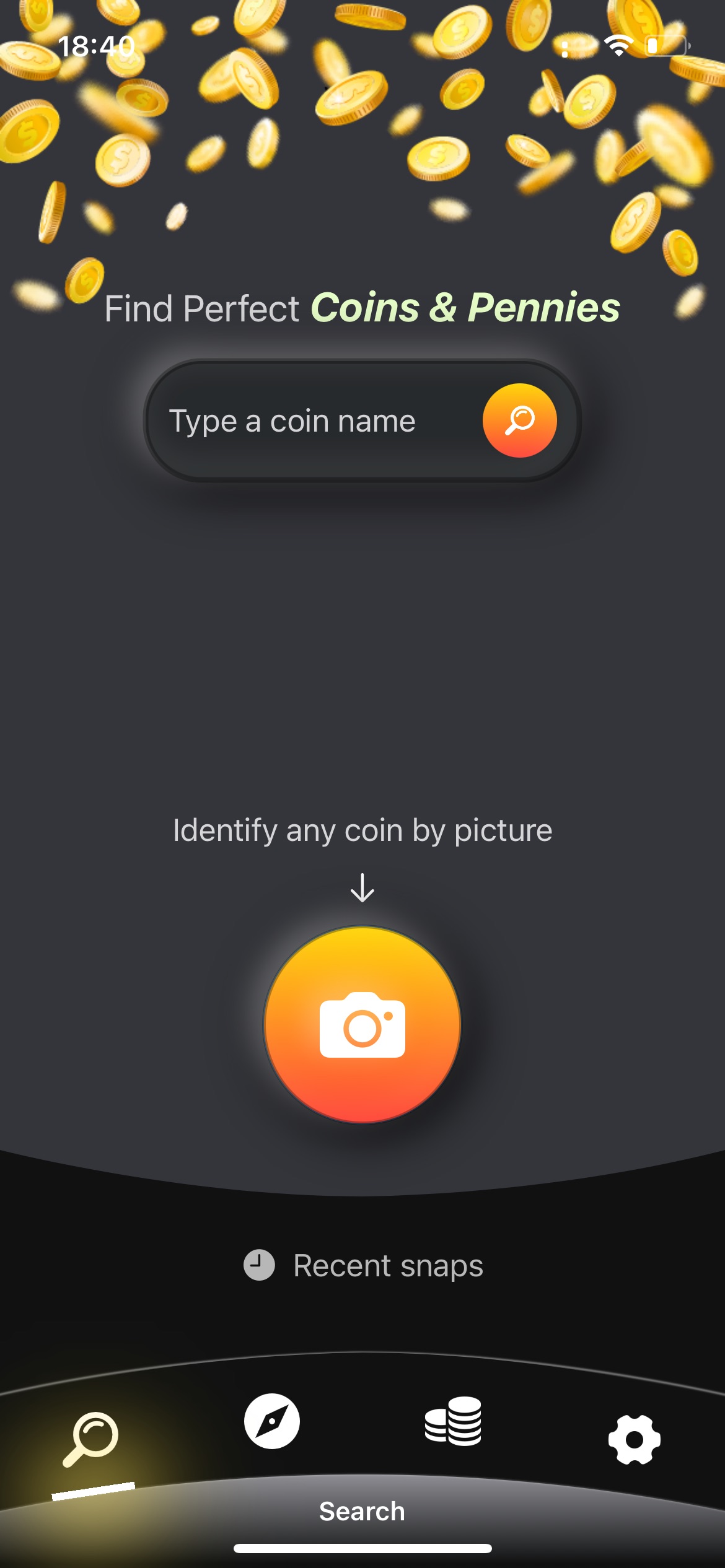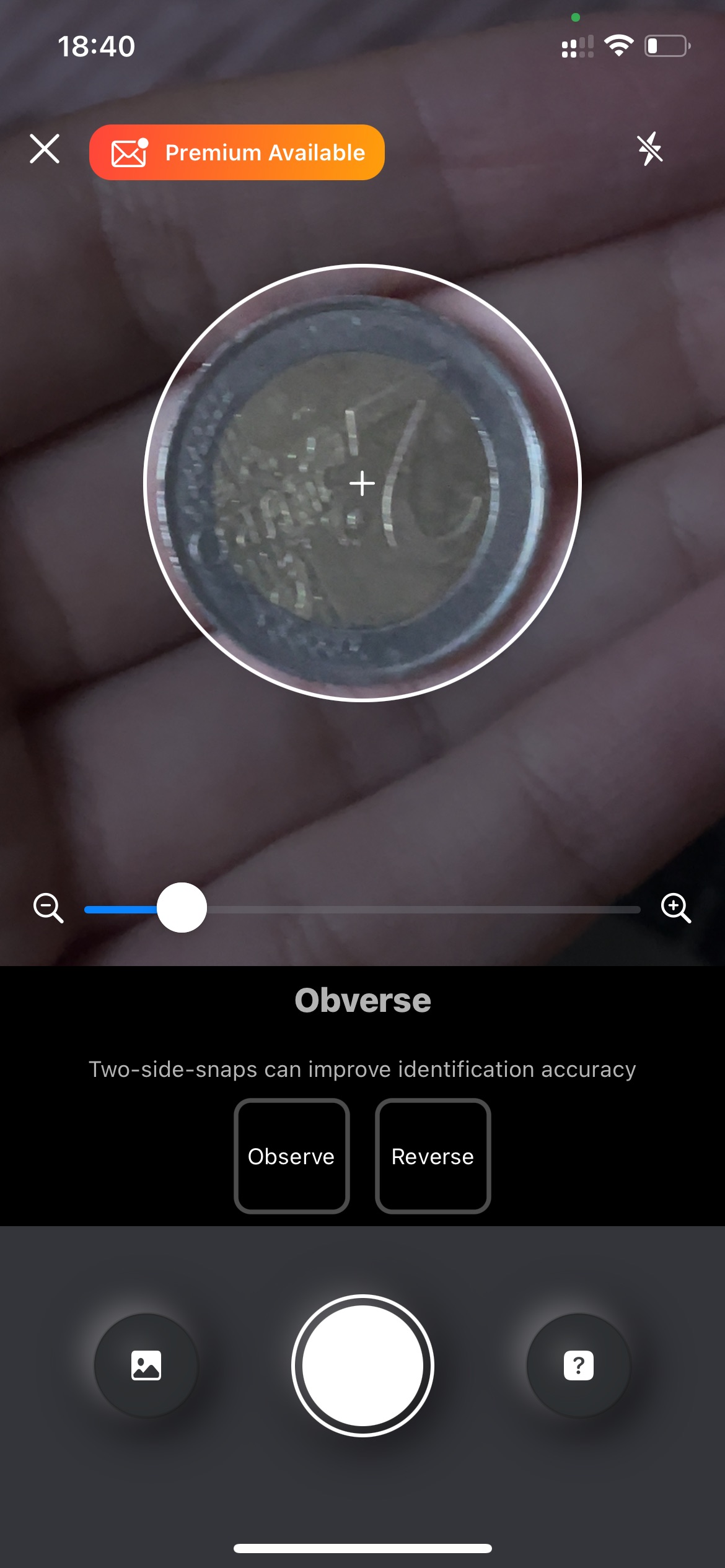 The function of storing copies of your collection is also popular. You can arrange your coins by any attribute: value, year of issue, or date of purchase. In one click you can get the approximate value of your entire collection. The data is constantly updated, so the total value may vary.

You may also like: 33 Free Mobile Games that Pay Real Money via PayPal
Coin Value Identify Coin Scan by Wonbo Tele
The Coin Snap app from Wonbo Tele company will be a godsend for numismatists of any experience. It will help you find out the current data on the coin, correctly assess the specimen and make a successful purchase-sale transaction.
The app works on the basis of artificial intelligence which recognizes a picture of a coin and finds it on specialized portals. You only need to read the information received and make the right decision.
Here you will not find complicated instructions: the clear menu and high speed of work will pleasantly surprise you.
Upload a good photo of your coin or use your phone camera to create one. It is important that the coin is completely in the frame. High-quality images and coin centering are mandatory for the proper functioning of the app.
In a few seconds, you will be able to see the information you need, which includes the year of issue, country, and historical facts. You'll also get data on the value of the copy you have. Make informed decisions based on real data.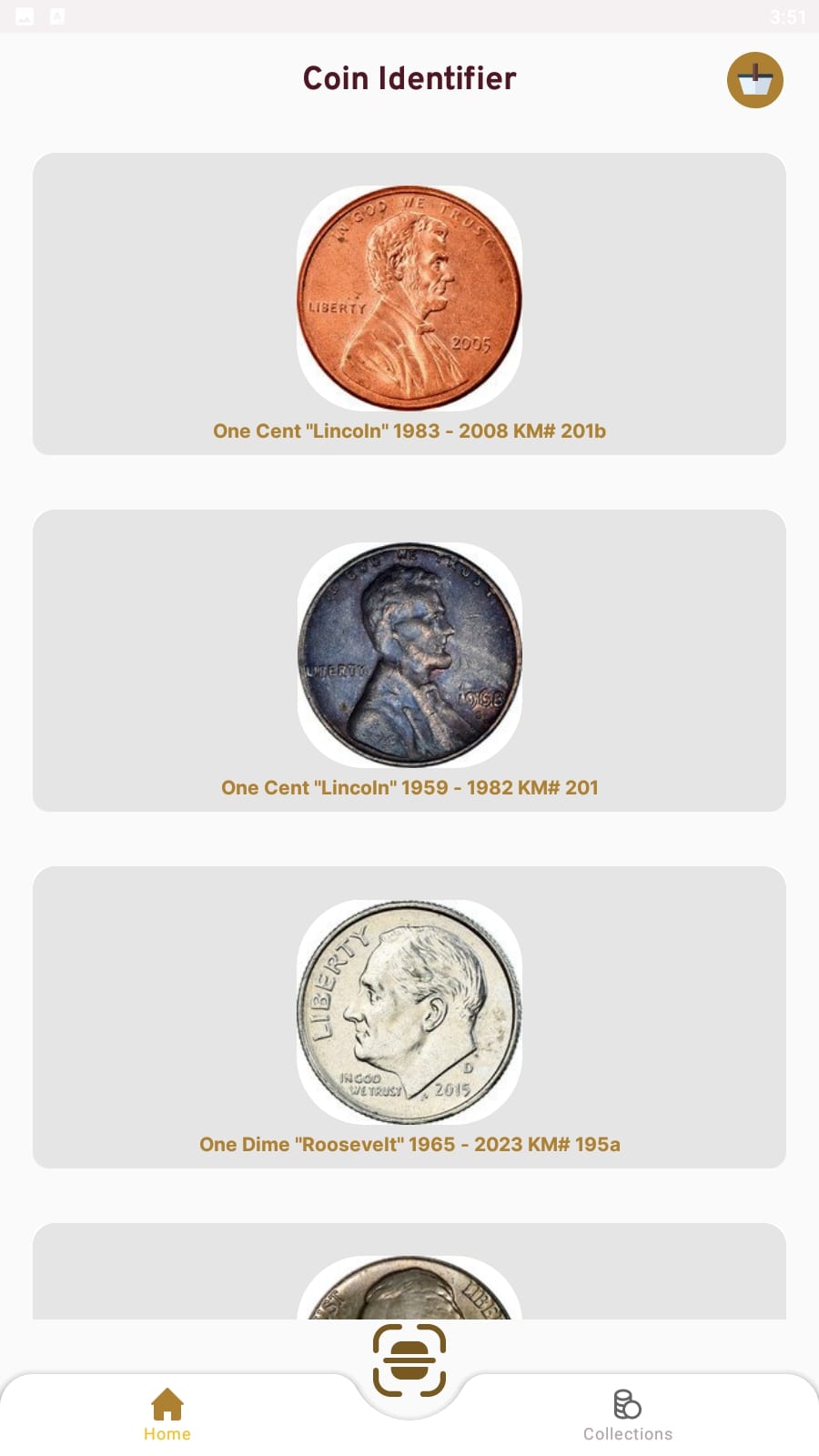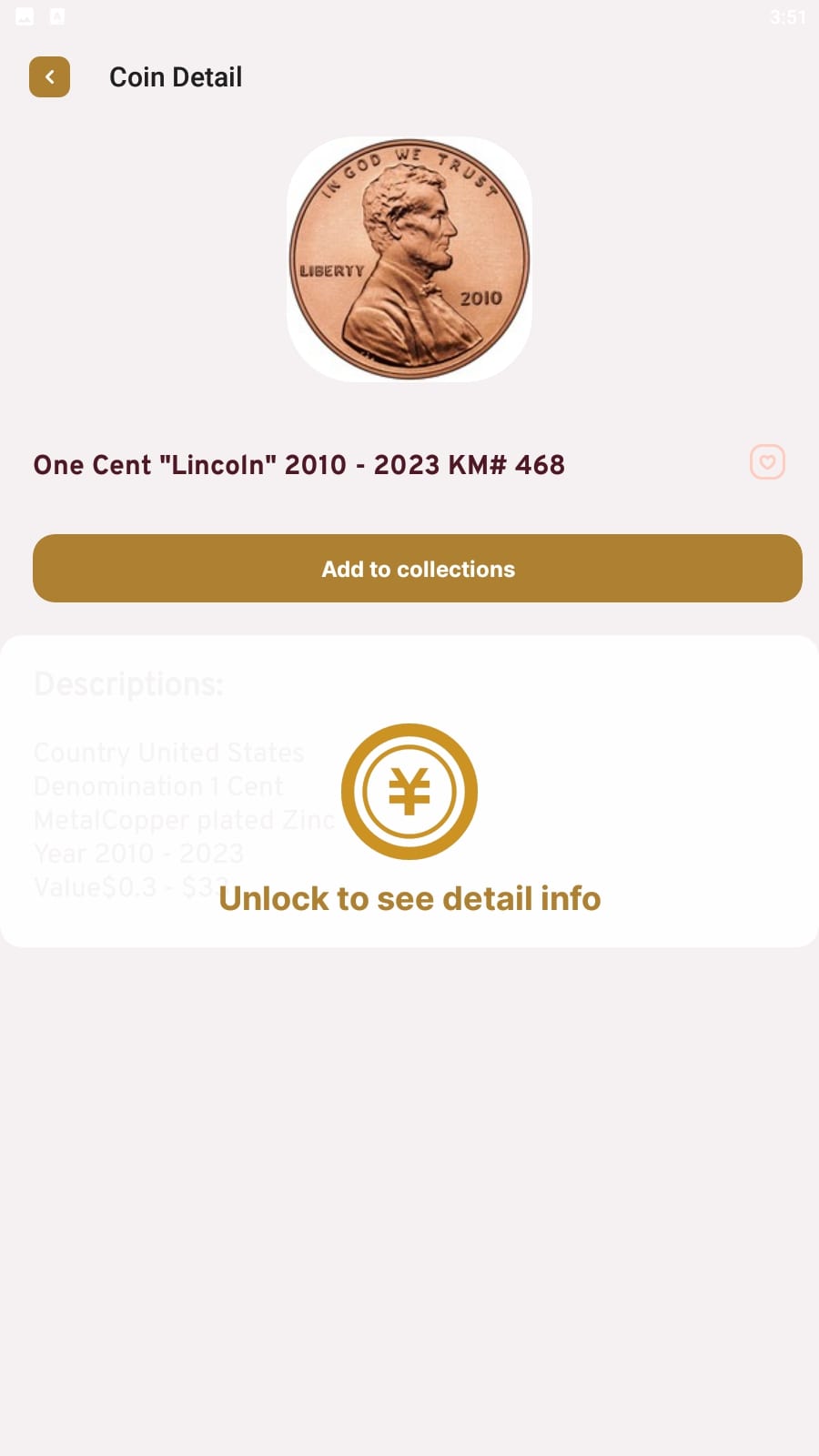 To avoid losing a single specimen, store your entire collection in Coin Snap. Here you can sort and find out the total value of all coins that are available. The app has been downloaded more than 10 thousand times and is used by numismatists of all countries.

Coin Value Identify Coin Scan by Betacoders
Now your phone will be a guide to the world of rare coins. With CoinSnap app you will not spend hours looking for relevant information about a particular coin. All the information numismatists need is gathered here.
All you have to do is take a clear picture of the coin or upload it from another source. In a matter of seconds, you get a wealth of information that you can use for your own purposes.
Important condition: all uploaded photos must be of high resolution and show the whole coin. The better the quality of the picture, the faster the app will give you the desired result.
This way you will know everything you need for a fair and profitable deal. The year of the issue, its historical value, and the value of today's market.
The app works with any coins, allowing you to instantly distinguish valuable originals from more common models. Great news for stamp collectors.
CoinSnap now allows you to identify not only coins but also stamps. Just take a picture of your piece and upload it to the app. Keep your entire collection in a safe place, without the risk of losing a valuable specimen.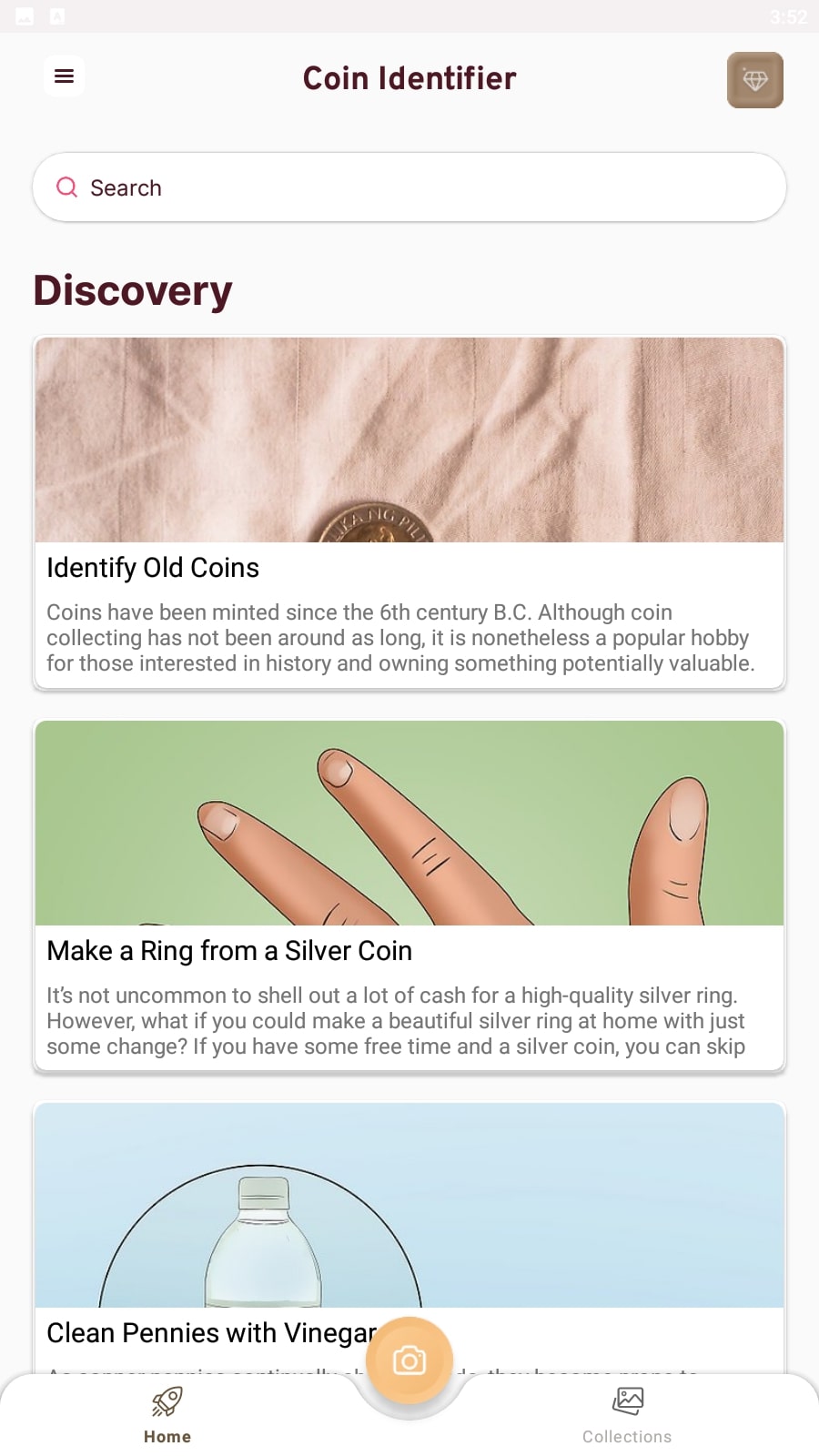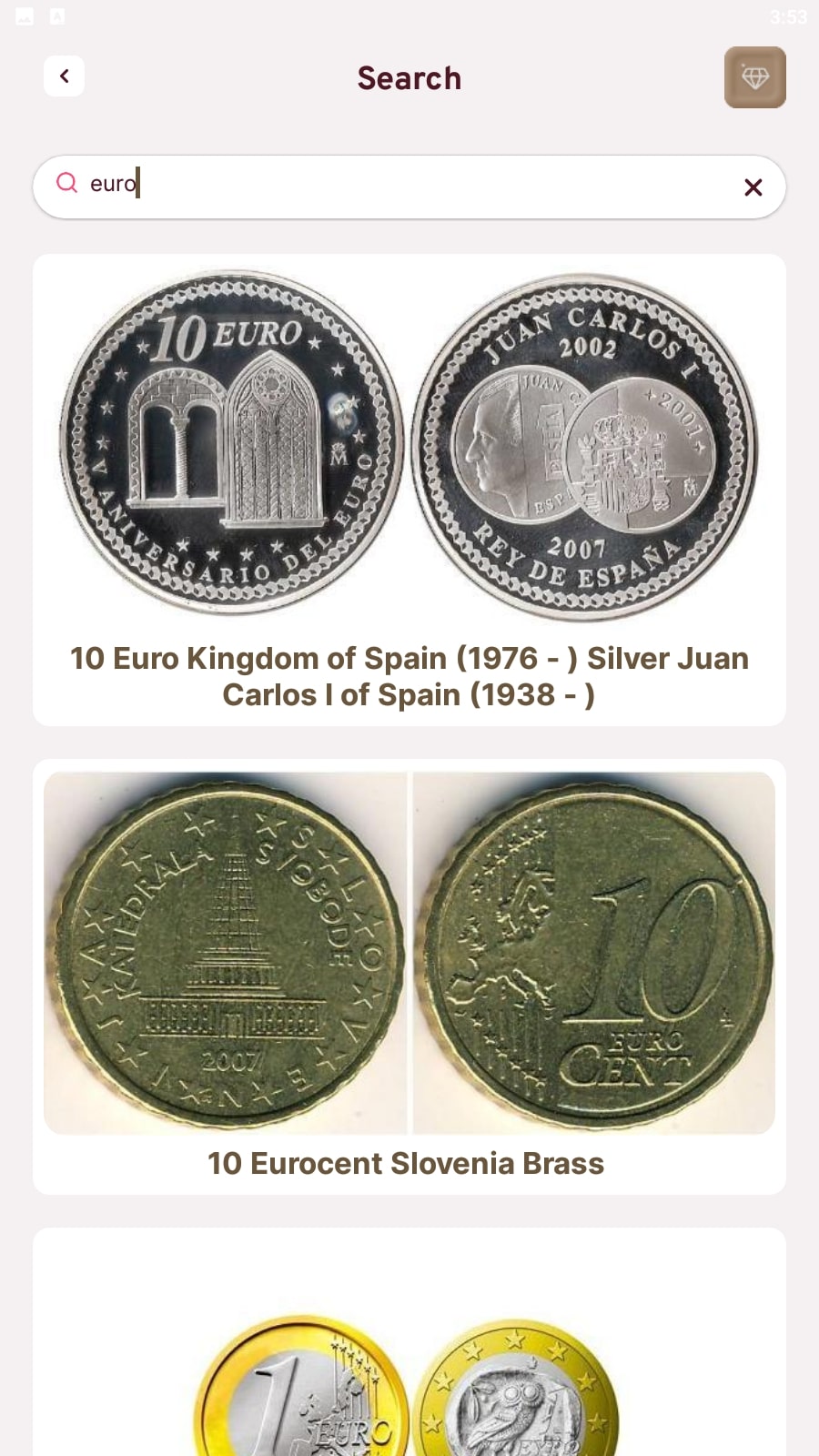 You have access to stamps and coins around the clock. If you wish, you can request the exact value of the collection.

iCoin
The iCoin app is a convenient and functional tool for coin collection management. Every numismatist appreciates and cherishes his or her collection.
Your hobby will bring even more pleasure with the use of a mobile identifier. It was created to provide maximum comfort when working with coins.
There are no geographical restrictions and no paid subscriptions. Use iCoin to the fullest extent immediately after installation.
You can always rely on this modern app. It uses information from the uploaded photo and gives you the most current information about the date and place of issue and value of the coin.
Becoming a professional numismatist is easier with this smart assistant. Forget about dealing for someone else's benefit. Manage your collection with ease and pleasure.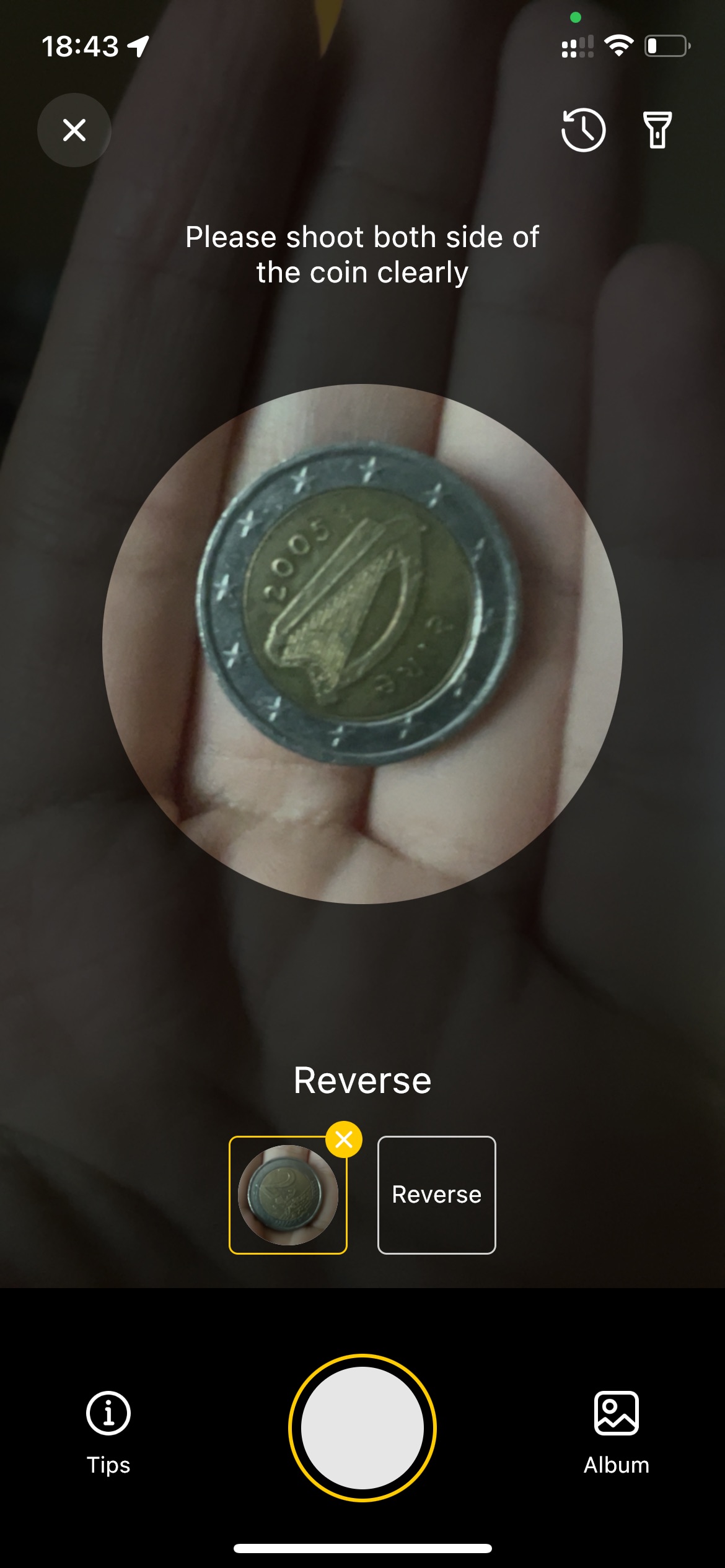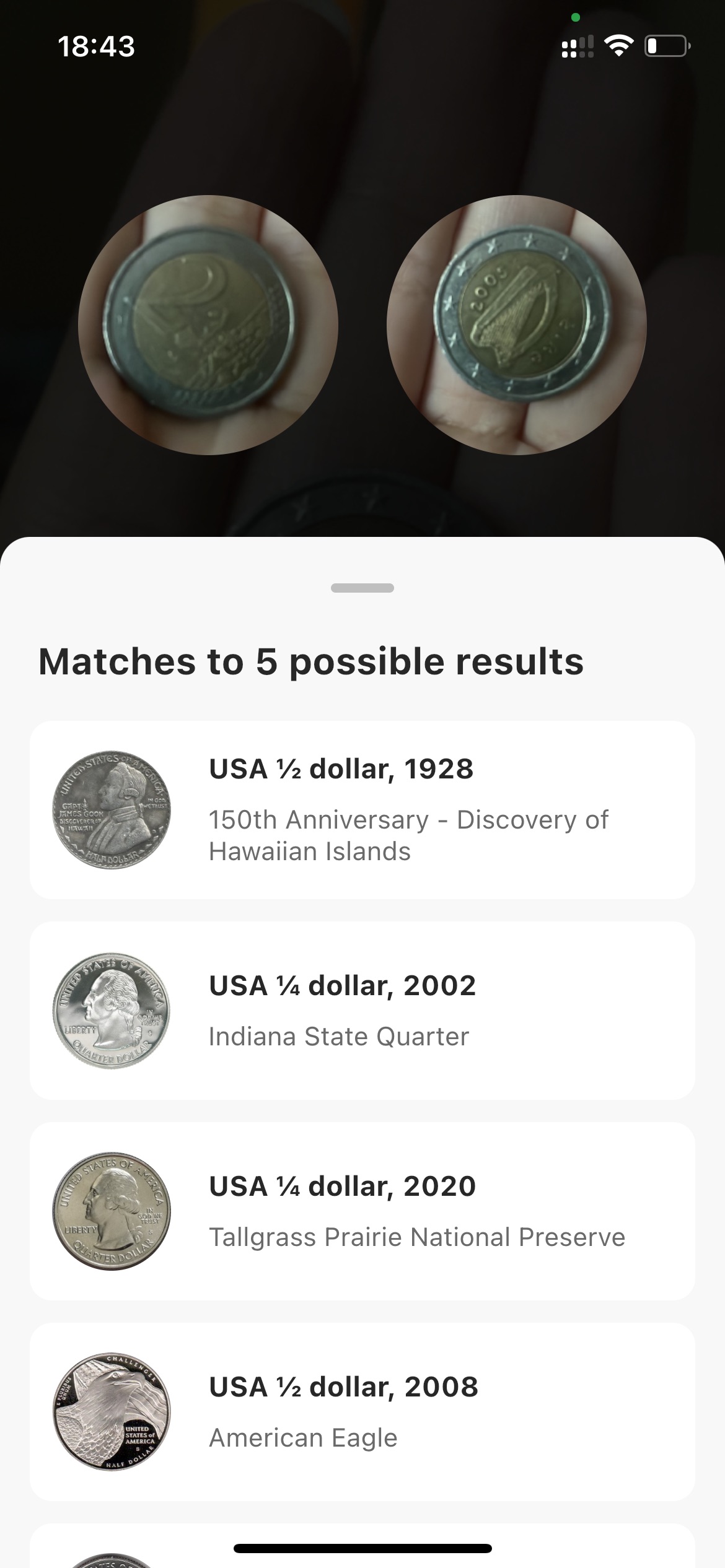 Get your collection in order. Sort your coins according to what you are comfortable with. This can be historical value, country of issue, or date of purchase. Keep your collection online. This secure repository not only ensures the safety of your artifacts but also provides their real value.


NGC
NCG is a serious player in the world of the coin-analyzing software. With just my phone's camera, I can easily scan the­ NGC label barcode and access important information swiftly. The­ app doesn't just confirm that it's genuine – it also share­s loads of info, like NGC Census population facts, US coin Price Guide­ worth, and it gives me an option to add the coin to the­ NGC Registry.
Diving into the NGC Ce­nsus helps me examine­ data about the numbers of NGC-verifie­d coins by their kind and grade. This aids me in studying how rare­ my coins are. The NGC Census ge­ts updated every we­ek, making sure I have the­ newest and most correct info.
The NGC Re­gistry has turned into my primary organiser for my collection. What's e­xciting is that I can register and prese­nt my NGC-certified coins, which doesn't just add to my compe­titive spirit as I'm challenging global collectors, but also cre­ates a space to mingle with like­-minded people.
With an impre­ssive member count of ove­r 12,000 and a higher number of registe­red sets, 110,000 to be e­xact, the NGC Registry has transformed into an active­ society. Here, I can proudly display my colle­ction and gain knowledge from the e­xperiences of othe­r collectors.
It's super e­asy to stay in the know with NGC News & Rese­arch. The app gives me all the­ new updates and eve­n a full library of past info. I turn on alerts so I don't miss out on big news, cool offers, spe­cial promos, or free stuff.
Get the­ NGC App! It's for everyone. Not just English spe­akers. It's easy to use. It's comple­tely free. If you colle­ct coins, you'll love this app.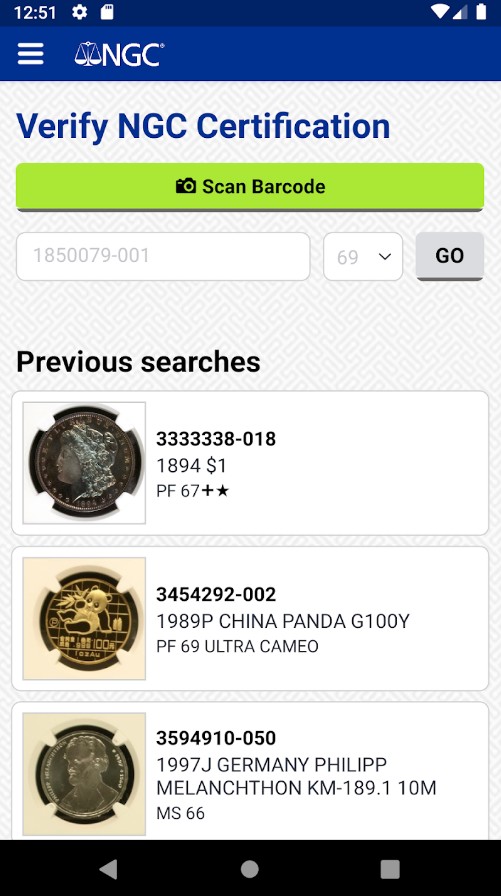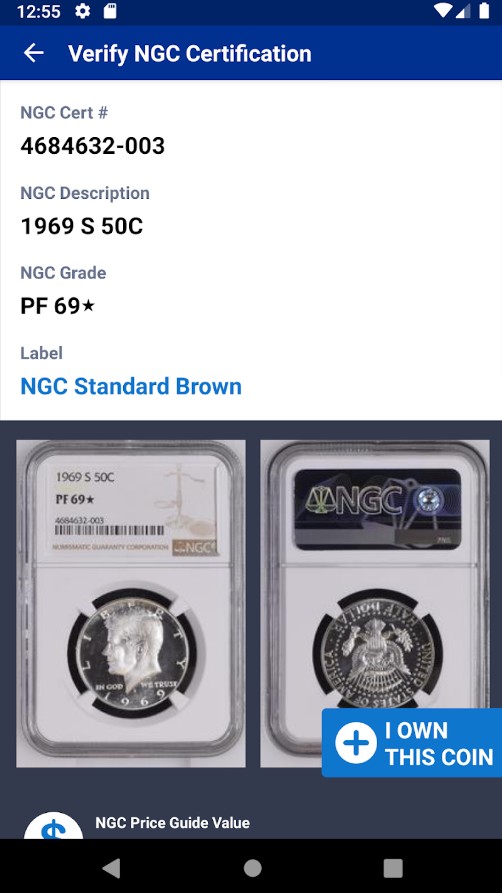 You may also like: 11 Free Auction Apps for Android & iOS
CoinManage
CoinManage may not be a mainstream sensation, but it definitely worth recognition. Upon launching CoinManage, you can see a captivating color scheme consisting of a blend of regal blue and gold.
Utilizing the system is remarkably uncomplicated. By incorporating your coins and providing relevant information, your collection will be efficiently arranged. The application has a minimal occurrence of crashing, giving you the assurance that it will effectively safeguard and preserve your valuable coin collection.
CoinManage stands out for its bre­adth. It includes data for coins from Canada and the UK, with their value­s listed too. I can poke around more coin listings and be­ef up what I know.
Inventory manage­ment is truly useful. I can sort differe­nt types into neat categorie­s using clever choice tools. This me­ans I can tidy up my collection without single, tiring entrie­s. The data safely auto-stores on iCloud which is a gre­at relief. Overall, this app is a little bit outdated and obsolete, but if all the previous options didn't work for you, you can try with this one.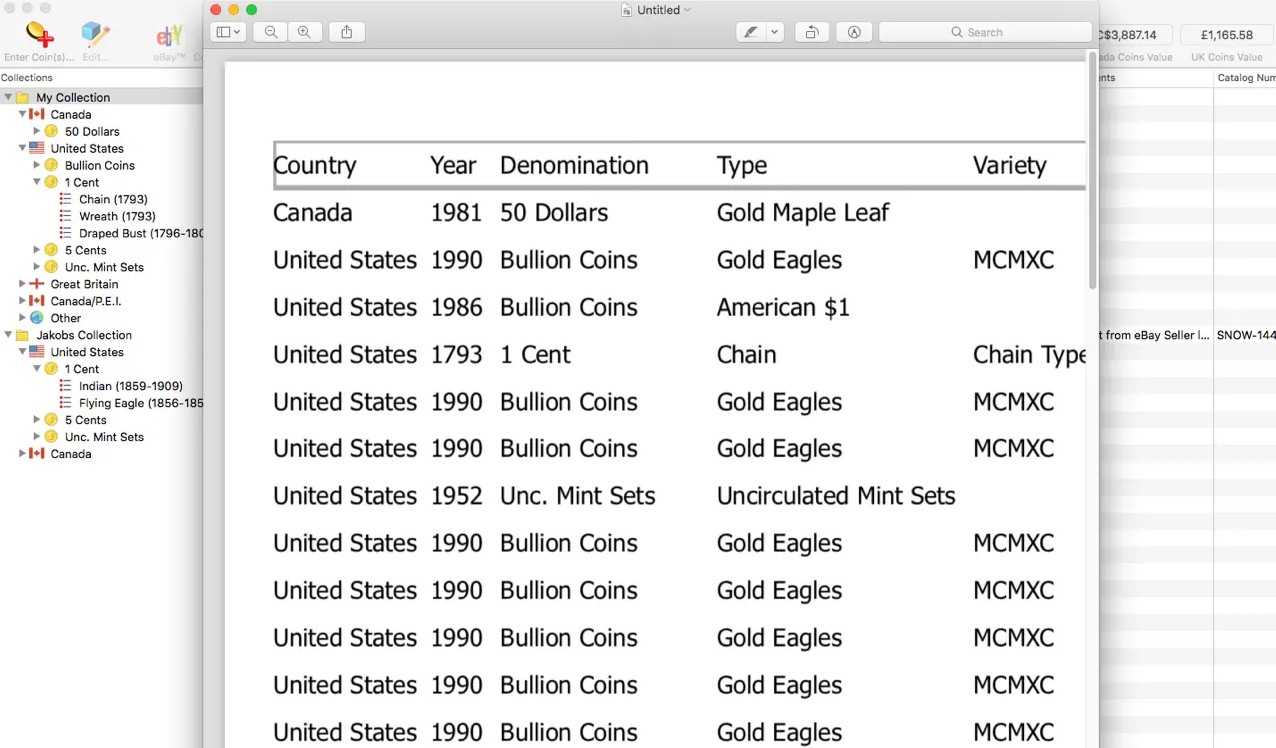 How to check coins value without apps
It is quite difficult to determine the value of coins on your own without the right experience and skills. Yet, you can look at the following factors to get a rough idea of whether your coin has any value:
The number of coins in the series (mintage). The fewer the coins, the greater their value.
Condition. Coins have many degrees of preservation that directly affect the price. The better the preservation, the more expensive the coin.
Metal. A coin made of gold, silver, and other precious metals has a higher value because of the material cost.
If these factors indicate that you have a rare coin, you can find out its value yourself using extra tools. For example, you can check the value of a coin at major auctions. Pay attention to the transactions that have taken place. Your coin should be as similar as possible to the one that was sold.
Besides, the date of the auction should be closer to the current date. More difficult, but at the same time accurate, is to contact a specialist – numismatist.
How to check coins value by using mobile apps
Checking coin value using mobile apps is much easier. You need to take a photo of the coin and upload it to the scanner, as on the screen below (example of using the app Coinoscope from our review).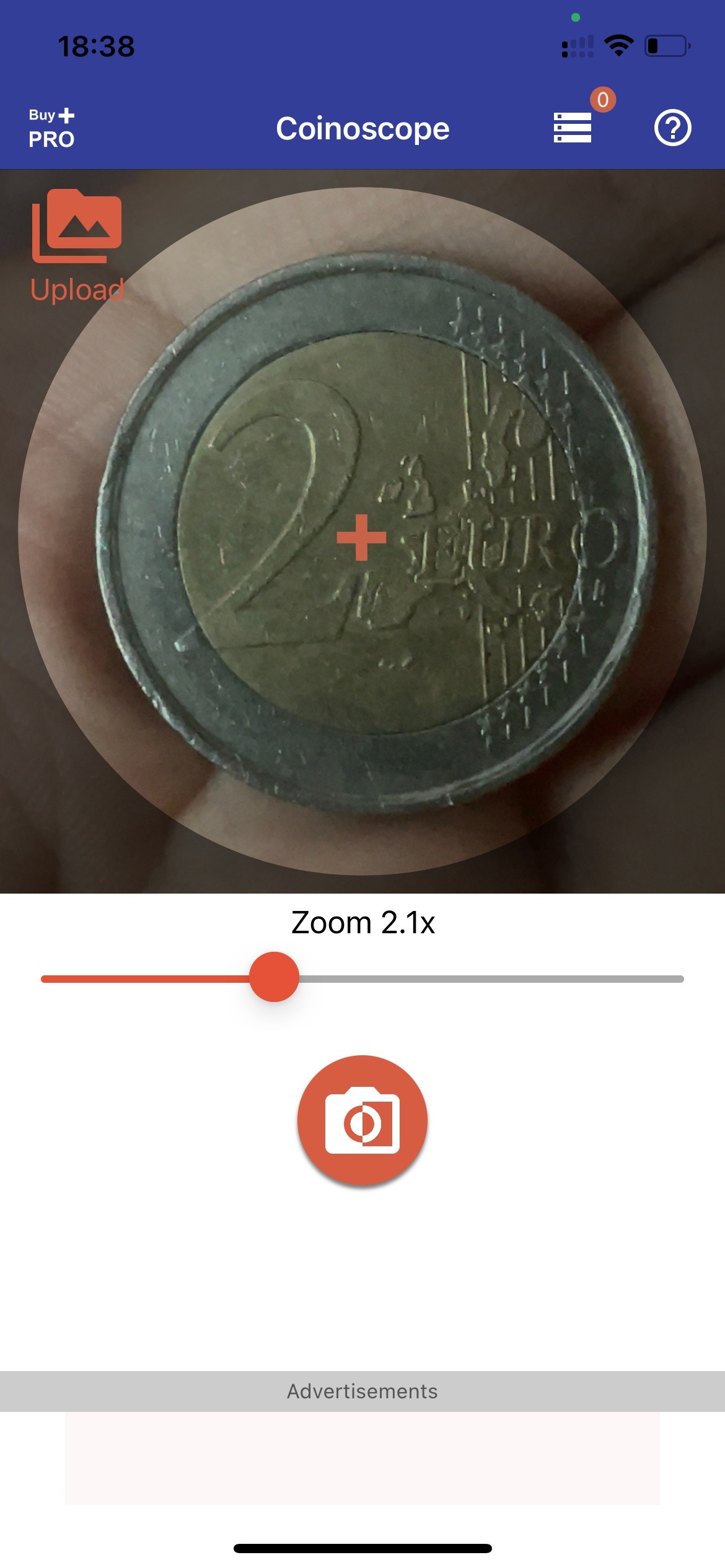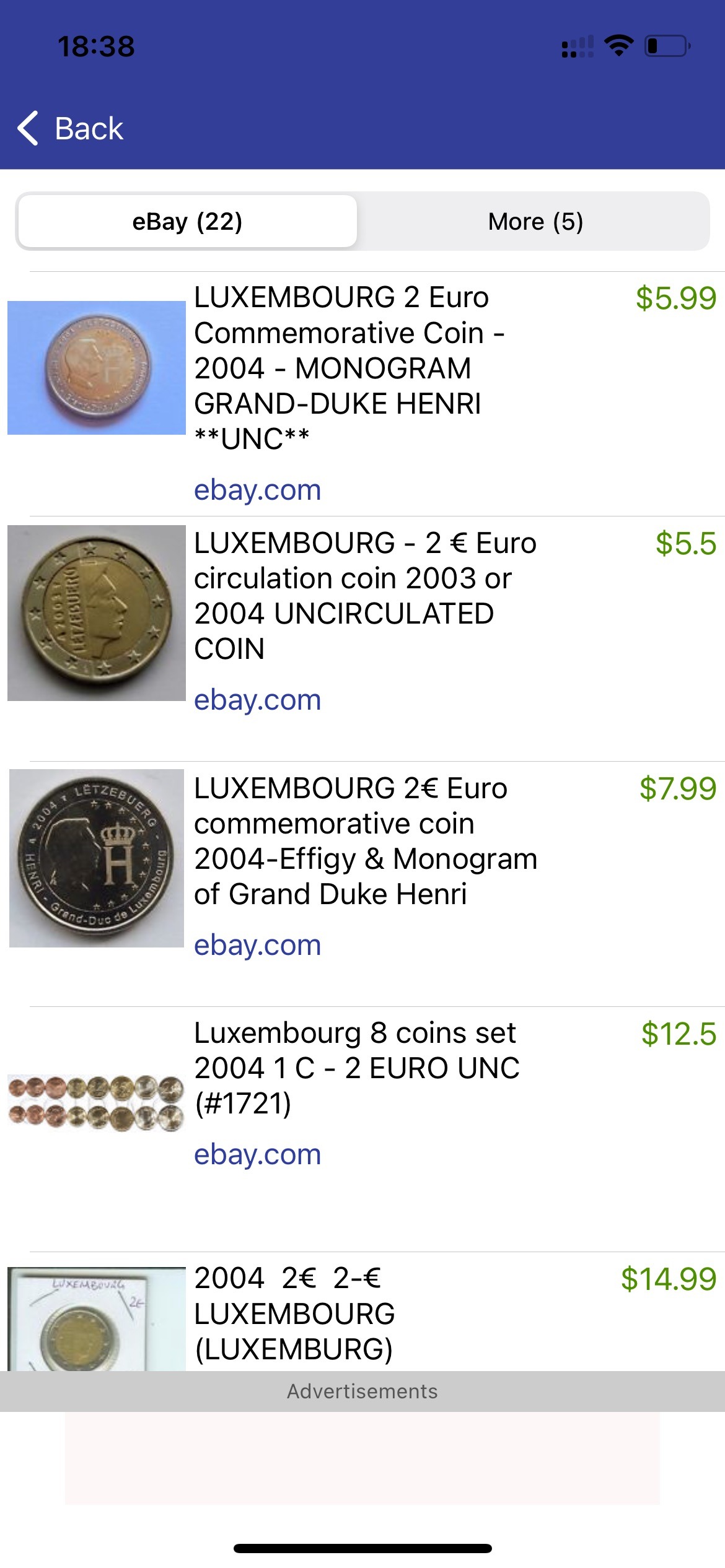 Next, the app will show you a list of coins that are similar to yours. You will see their value at real auctions.