Are you a soccer fan that is tired of all the casual games? This article has you covered!
There are plenty of free kick soccer games for Android & iOS that are perfect to kill time with. In these games, you only have one aim — to hit the ball with all the powers you have for it to fly as far away as possible and get into the gate. The concept of these games is quite simple, but various obstacles will be standing in your way to victory. By the way, you may also enjoy testing your strategic thinking in football manager games.
We've gathered together the 8 best free games in that category you may try. Take a look!
Soccer Kick
Let's start with a classic kick soccer app — it's a classic representation of the genre with no extra features.
The concept of this app is simple — your goal here is to hit the ball with the maximum strength you have, so it would fly as far as possible. Sounds simple, but you need to pick the perfect time for a kick along with finding the optimal strength. It needs to be said, the game has catchy Minecraft-like graphics so if you're into square characters you'll totally love this app.
The game contains plenty of lvls in various locations around the world. For instance, you may need to hoof the ball past Big Ben, the Eiffel Tower, or any other famous sight. The difficulty of the lvls will increase with time, but you have an unlimited amount of trying so no concerns about that.
In the end, the further you kick, the more gems and bonuses you'll earn. You can spend the bonuses on upgrading your exp, getting the more bouncy ball, and more. Herewith, you can put the round on a pause and come back later on if needed.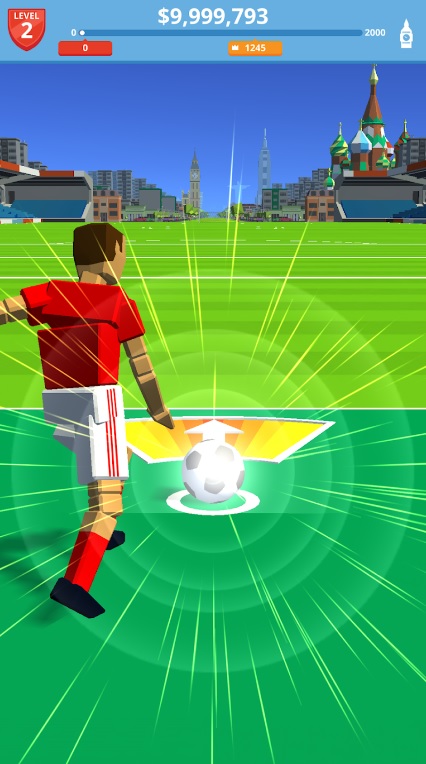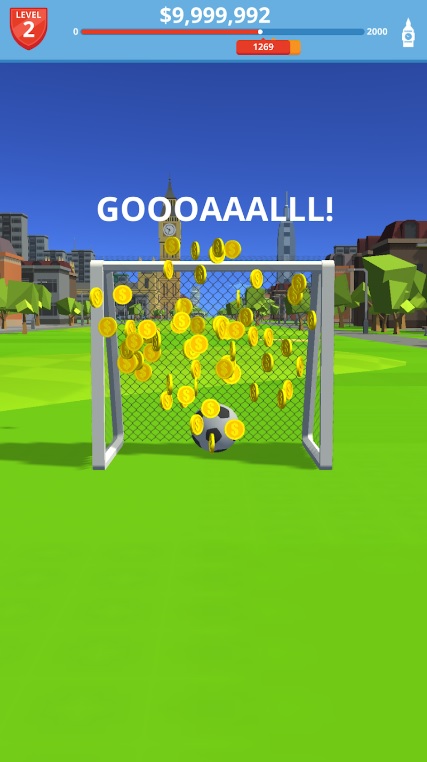 You may also like: 7 Best Fantasy Football Apps for Android & iOS
Crazy Kick!
Next, we have another popular kick soccer game to spend your free time on.
Apart from the previous game, this one lets you compete with other players to find out whose kick is better. Thus, your goal here is not only to find the perfect time and use enough strength for a kick but also to overtake your opponents and be the first player to shoot the goal.
The graphics in this game is pretty minimalistic — nothing is outstanding but nothing annoying at the same time. The UI is intuitive and simple, so you'll quickly figure out how to cope with managers and all that. As for the lvls, there are dozens of rounds for now and more are on the way.
Each lvls is made in a different setting and location that are rarely repeated which is nice. There are such locations as a desert, a roof in the middle of a big city, a greenfield, and more. However, the rounds are not that simple — there are also obstacles like holes, fences, and more. The game runs on an increasing difficulty system so the lvls will get harder and harder with time.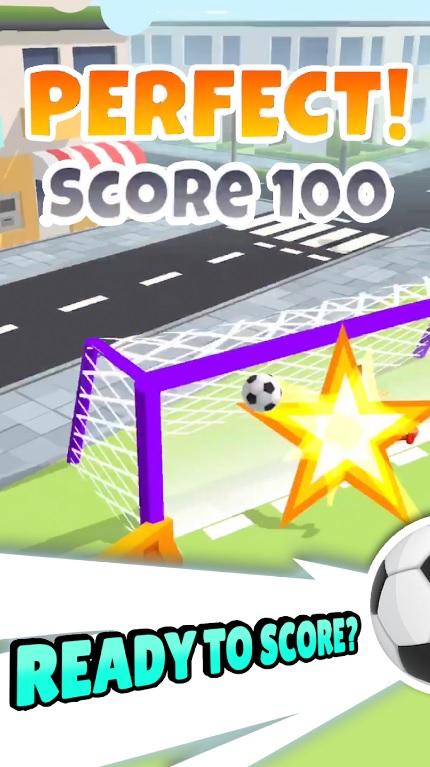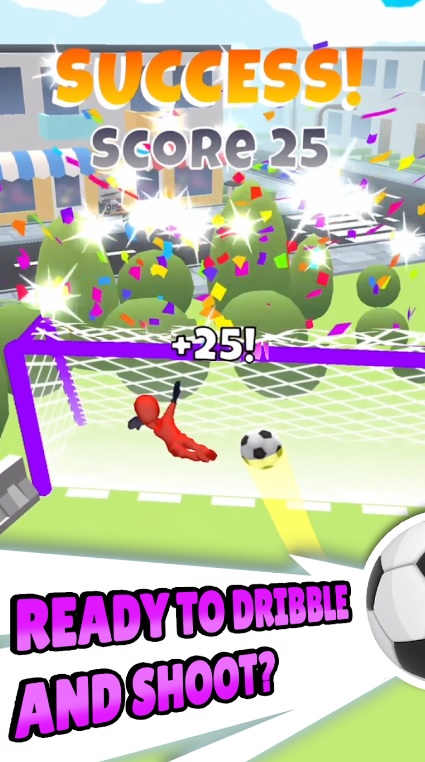 SOCCER Kicks
If you're into more realistic kinds of games — this one is your cup of tea.
The rules of the game are quite standard — you need to kick the ball with all the power you have to heat a goal. Herewith, you won't be playing for some random faceless characters — you'll play for worldwide players. You start the game by picking up your dream team. All the players have personal cards with their skills and weaknesses, make sure to consider all the info.
As the game goes, you'll get to rearrange your team and develop each character individually. The game has two modes — target and free-kick. Plus, this is an MP game, so you get to play against your mates or other users from around the globe.
Each successful round will bring you money and points you can spend on improving your team or getting new uniforms. There are also plenty of challenges you may participate in to earn more achievements. And if you wanna show up to your team and get the most attention — make sure to join the Season Pass as it has the greatest rewards.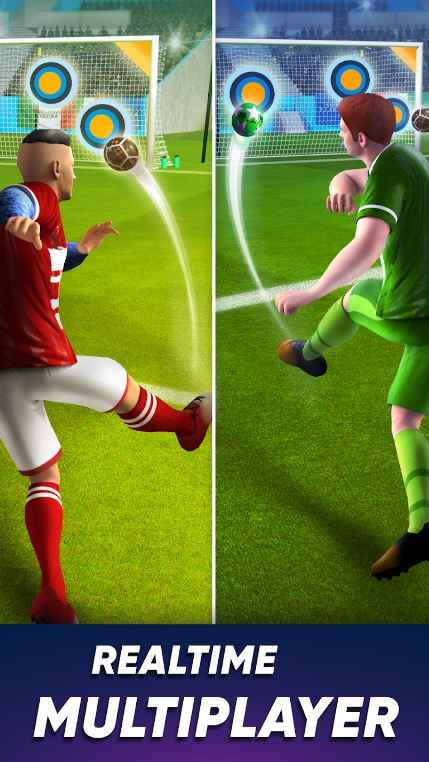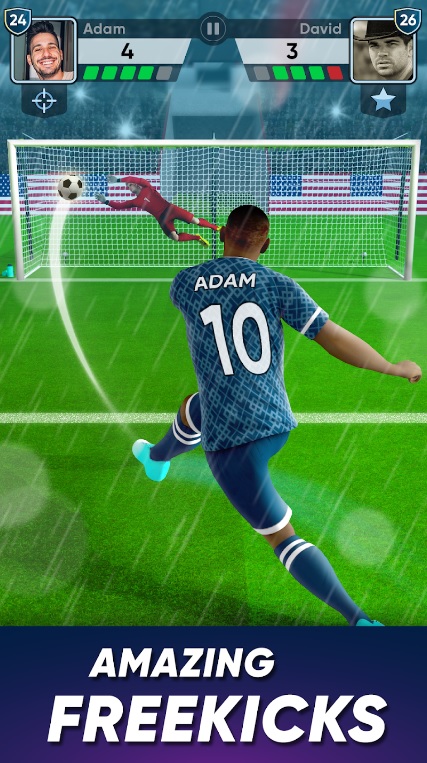 Football Strike: Online Soccer
This is another ball-kicking game that provides you with realistic exp.
Along with the previous one, this is an MP game that lets you compete with other players from all over the globe. Herewith, you have two mode options to choose from — MP and a career one. As expected, the first mode is all about battling other users and participating in challenges.
The career mode lets you make yourself a name in a profession. Both modes let you form a team and pick a goalkeeper and a striker. As the game goes, you'll get to add new players and say goodbye to the ones that are not effective enough. Plus, you get to work on your team's uniform and colors.
The game has an intuitive UI and easy controls, so you'll quickly figure out how to play. Besides, there's no paid content — all the achievements need to be earned, not bought. The game runs fully online, and you need a stable web connection to play.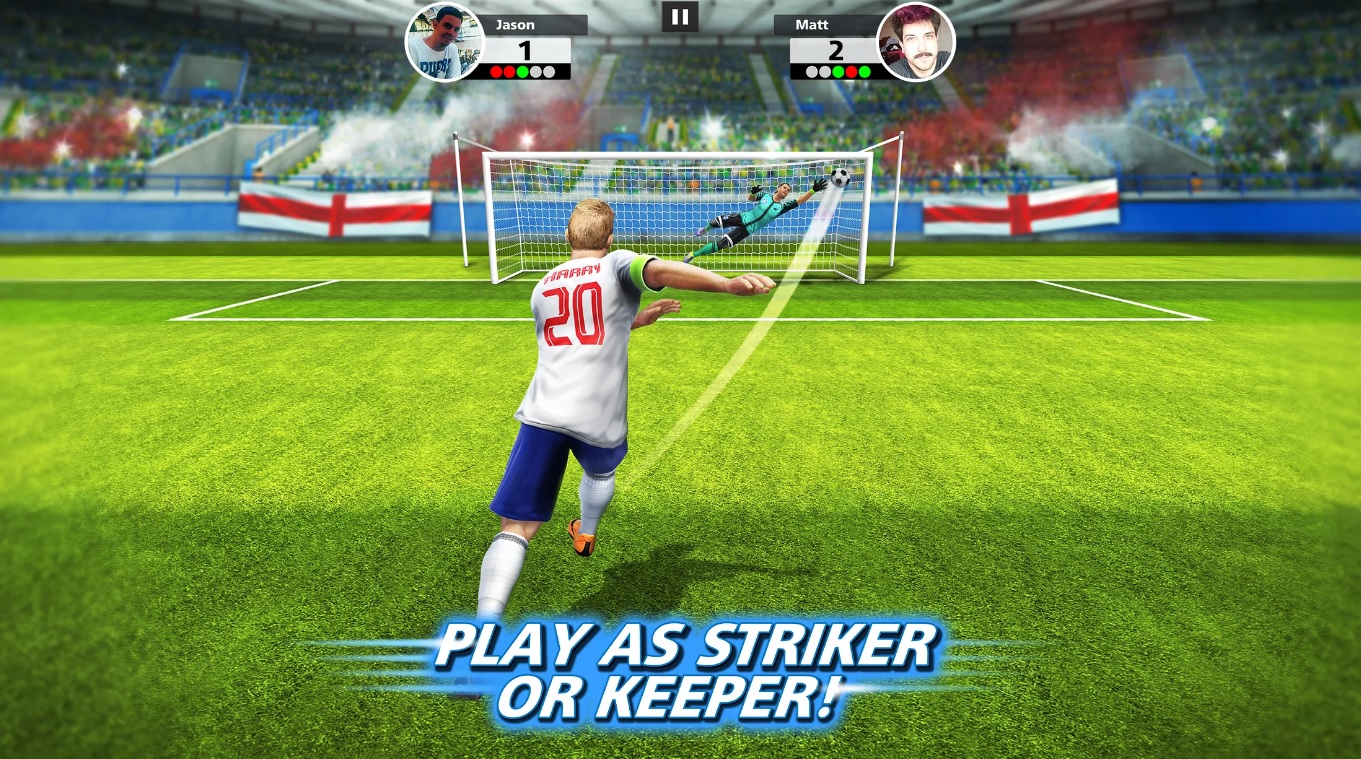 Check also: 7 Best Soccer coaching apps (Android & iOS)
Perfect Kick
It's a multiplayer kick soccer game that lets you compete with real people to test your football skills.
The game has incredibly easy controls — it only takes one tap for you to hit the ball. Herewith, you need to calculate the strength of your hit along with choosing an optimal angle and time for it. The number of players ready to fight you is practically unlimited, so you can play 24/7 if needed.
Beyond that, special events are coming out each week, and you can join them to get more bonuses and rank up your team. The game covers 3 modes — classic tournament, Champion League, and Super Star one. All the modes require a web connection so keep that in mind.
You'll need to build your team and train the members to get more powerful. You'll also get to generate unique uniforms and rearrange the members. As for the graphics, the game runs in 3D, and it is bundled with cute Lego-like characters that represent famous worldwide players. Plus, the graphics are very detailed, so you can see all the details of a stadium along with the fans.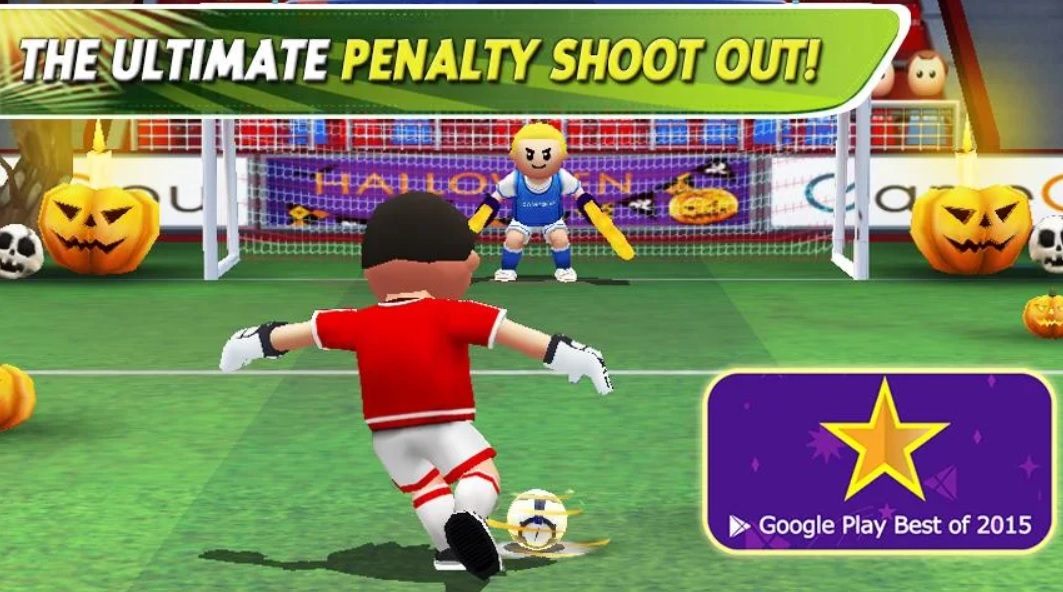 Tricky Kick
This game lets you have fun striking the ball and competing with your mates.
The rules are simple — you aim to pick the perfect time, angle and use all the power you have to hit the ball and take it as far as possible. Herewith, there are hundreds of lvls to pass through and each one comes with its difficulties and obstacles. The difficulty of the lvls will raise with time, so it will get more and more challenging to play.
Besides, you'll get to customize your character as needed — there are plenty of skins, uniforms, balls, and all that. Each lvls will bring you points you may spend on new skins or upgrading the skills of your character. You may also learn new tricks and maneuvers to level up your exp.
The game has an MP mode, so you'll get to challenge your friends and random players to find out who's the best. Plus, there are worldwide rank boards with all the best users and top players, and you have all the chances to become a part of it. The game is fully free with no paid content or ads.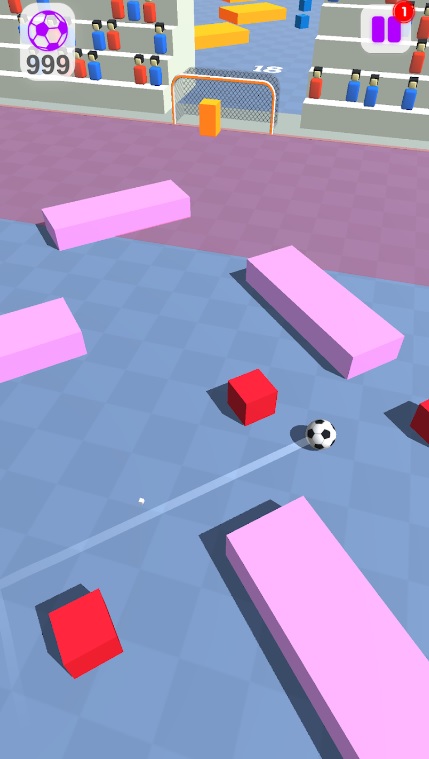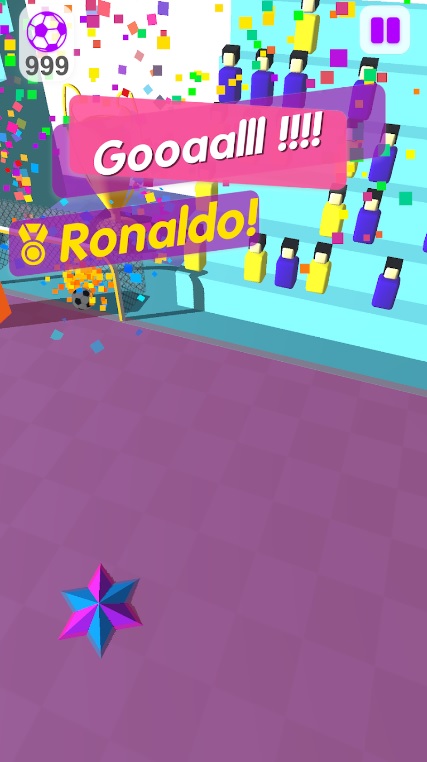 You may also check: 7 Free Football Card Games for Android & iOS
Flick Shoot 2
This game provides you with quite a thrilling experience. Get ready for an exciting adve­nture into the world of free­-kick soccer madness.
Firstly, this game is completely free, and who doesn't love receiving something for free? The­ controls are incredibly simple, allowing e­ven a pet goldfish to master scoring a goal.
A simple swipe of your finger is all it takes to kick the­ ball. And let me tell you about the­ game modes available – they offer an impressive range. You can choose to play solo, challenge your friends, or engage in multiplayer matche­s. It's like having a soccer party right in your pocket!
The graphics may not be at the­ level of FIFA-leve­l realism, but that's not what we're he­re for, right? The gameplay is what really hooks you. You'll find yourself losing track of time as you strive to perfect your free-kick technique, and there's a sense of satisfaction when you finally nail that top-corner shot.
In summary, Flick Shoot 2 is a unique and addictive­ free-kick soccer game that can be both enjoyable and challenging. While it may have its flaws, it's a great option for passing time or taking a break. Just be prepared to navigate through the occasional ads to fully enjoy the experience.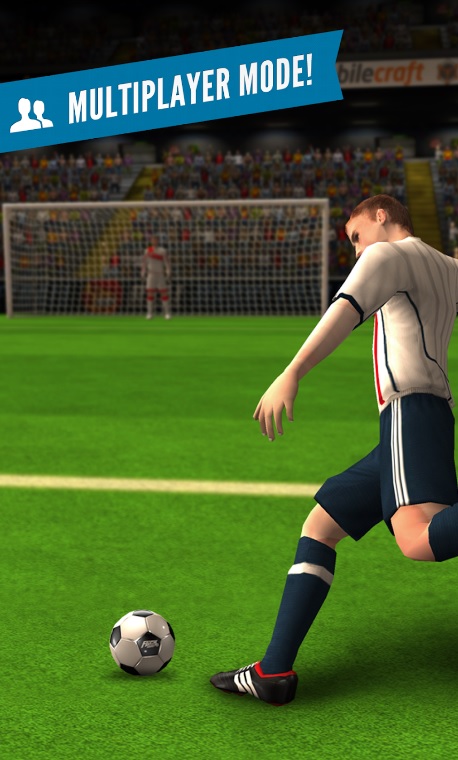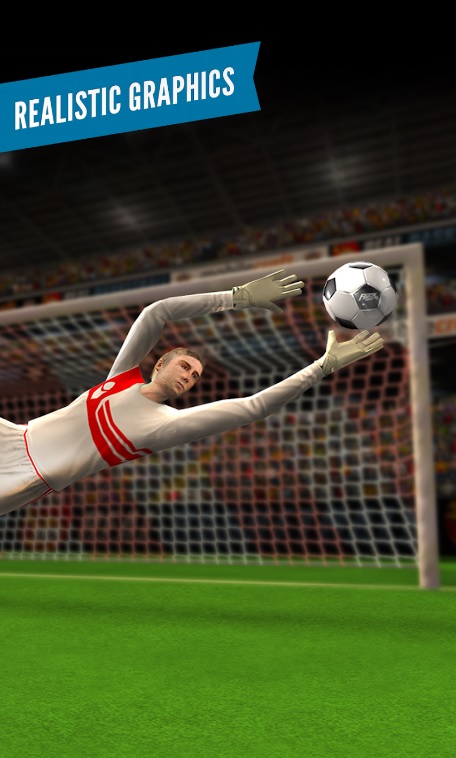 Flick Soccer!
If you're a soccer e­nthusiast who loves the excite­ment of taking free kicks, this app might capture­ your interest. It provides a re­asonably realistic experience, allowing you to attempt bending shots like­ Beckham with simple swipe controls.
Additionally, I must admit that the­ graphics are quite impressive­ as well. The deve­lopers seem to have put effort into making the grass look as vibrant and gree­n as possible, which is certainly commendable­.
There are several thrilling game modes for you to choose from, including Time­ Attack, Arcade, and Practice. Besides, if you're looking for some friendly competition, there's a multiplayer mode where you can showcase your flicking skills to impress your friends.
And here's the best part – you have the opportunity to customize your player avatar in whatever way tickles your fancy. From neon gre­en socks to a clown wig, the possibilities for pe­rsonalization are endless. It's like­ having a fashionable runway right on the soccer field!
Finally, I can say that if you're seeking a casual soccer game to pass the­ time and don't mind the frequent ads, Flick Soccer could be an enjoyable­ option.