If you're a huge fan of cycling analytics – monitoring your improving speed, fitness level, and ride pace – you're probably aware of the many powerful cycling computers out there.
They're powerful tools for upping your game, improving your times, and reaching your athletic pinnacle.
Once upon a time, a good cycling cadence and speed sensor would cost you hundreds. They would require extensive wiring and water protection, and they wouldn't necessarily work all that well. Otherwise, there are the best free cadence tracker apps that essentially turn your phone into a cycling computer.
You may also like: 11 Best Stationary Bike Apps for Android & iOS
Strava
It is an excellent service for runners and fans of cycling.
It records all the activity indicators and displays your speed, pace, distance, calories spent, route, and much more in a convenient form.
Strava allows you to keep in touch with like-minded people, organize group races, or simply follow the progress of your cycling friends.
The application has a simple and not overloaded interface.


You can also check: 9 Best Apps to Rent a Bike Near Me (Android & iOS)
Bike Computer
It is a stylish and feature- freecycling computer with support for light and dark theme interface.
All metrics on the main screen are customizable, allowing you to select the list of indicators to be displayed.
Synchronization with Facebook and Strava is available as separate options, allowing you to save travel information and share it with friends.
The application can also offer a useful feature Keep me Safe.
It will send a notification to your favorite contacts about a dangerous fall, indicating the location of the accident.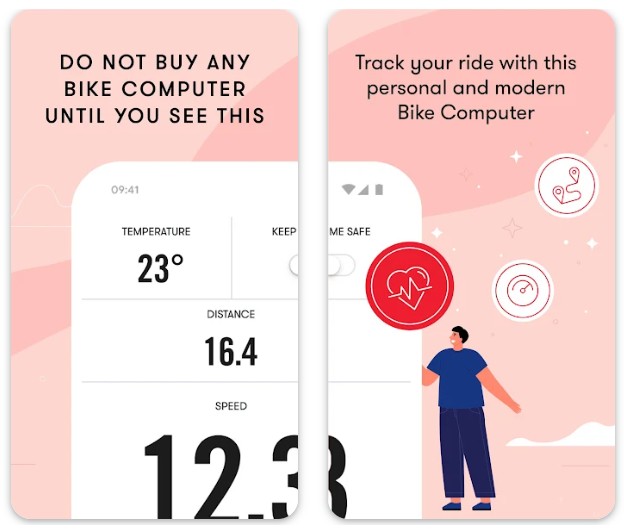 Cadence Running Tracker
It is an excellent service for fans of cycling and runners. It is one of the best and most popular.
It fixes all the activity indicators and in a convenient form, displays the movement speed, pace, distance, spent calories, route, altitude gain, and much more.
The key feature of this application is all kinds of the motivation of the user. There are many different achievements, and a competitive element, and a strong social component, and medals.
The software allows you to create your own cycle routes so that you can share them with other users.
Also, this application allows you to keep in touch with like-minded people, organize group races, or just follow the progress of friends-bikers. The application has a simple and not overloaded interface.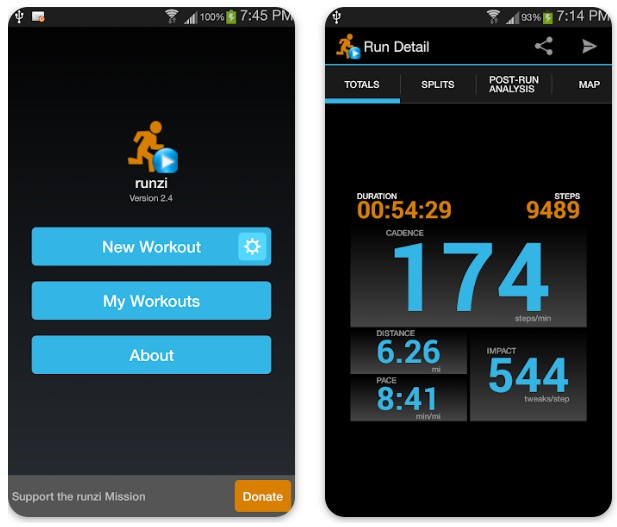 Wahoo Fitness
Wahoo Fitness is an all-in-one fitness app. It is designed to help users track and improve their fitness levels through a range of features including workout tracking, goal setting and personalized coaching.
The app works by using the GPS feature on the user's phone to track activities such as running, cycling or swimming.
Universal application for sports
Allows you to track your results and dynamics
It also has the ability to connect to various fitness devices such as heart rate monitors or bike sensors to provide more accurate tracking and data analysis. You can track the number of steps taken, the number of pedals cycled and your heart rate.
Here you can also create customized workout plans based on the user's goals and fitness level. And in the best traditions of fitness apps, of course here you can create personalized workout plans.
The app is extremely funny to because here you can compete with friends, earn rewards, and participate in virtual competitions. There is also a social aspect, allowing users to share their progress and connect with other fitness enthusiasts.
One problem with the app is it doesn't work correctly on some smartphones. But that's rather an exception and everything should be fine.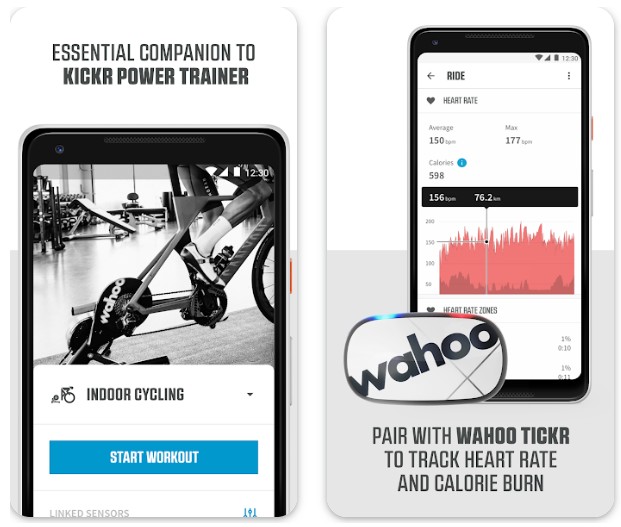 Samsung Health
This is a branded application Samsung, dedicated to fitness. One of the sections is perfect for cyclists.
The application will help you to record the passed route, superimposing it on the map, calculates the speed (maximum and average).
It will also give information about the ascents and descents, calculate the number of calories spent, as well as award a medal for achievements.
You can compare your results with other users. Training is automatically interrupted when you stop and starts when you start driving.
The rider simply selects the distance in S Health, presses the start button, and puts the smartphone in his pocket.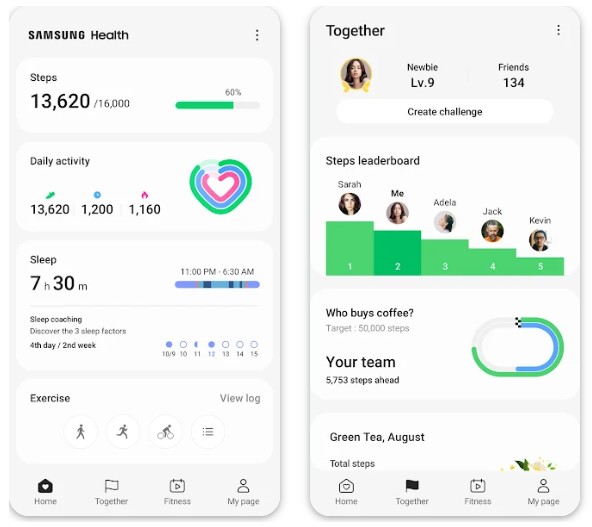 You may also like: 9 Free Spin Bike Apps for Android & iOS
ROUVY AR
Rouvy is an indoor cycling app that offers a growing number of real-life routes and augmented reality courses for you to ride on.
This app uses video recordings of real roads and combines them with elevation data to provide an interactive riding experience.
On certain courses, the app can also generate animated 3D riders.
Beyond augmented reality, there are also – at the time of writing – approximately 2,036,020km of route films to 'ride' on, which should keep you entertained for several lifetimes.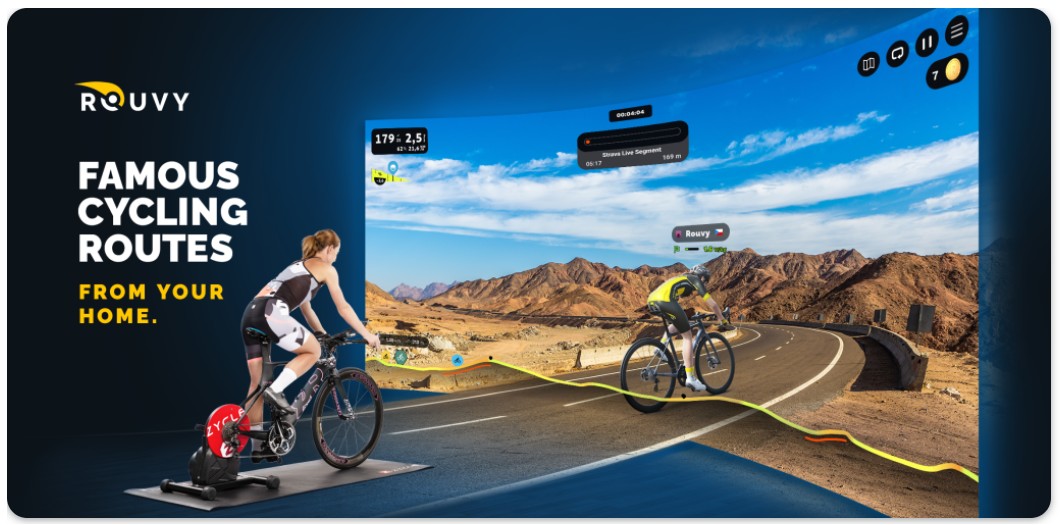 Komoot
Komoot uses the open-source OpenStreetMap database and allows you to plan road, mountain bike, and gravel rides as well as commutes.
The big difference over Google Maps is in the routing, where Komoot tries to choose the most efficient route. It takes into account how bike-friendly a road or path is, as well as your fitness.
Using a start and endpoint, Komoot will tell you the difficulty, fitness required, what road surfaces you'll come across and an elevation profile to boot.
Once you've started your route, it will give you speed, distance traveled, distance remaining and allows for easy on the fly route changes. You can also check out other route recommendations in your local area.
Komoot also features curated highlights, as suggested by local riders and Komoot ambassadors. These can be a great way to discover unknown gems in your local area.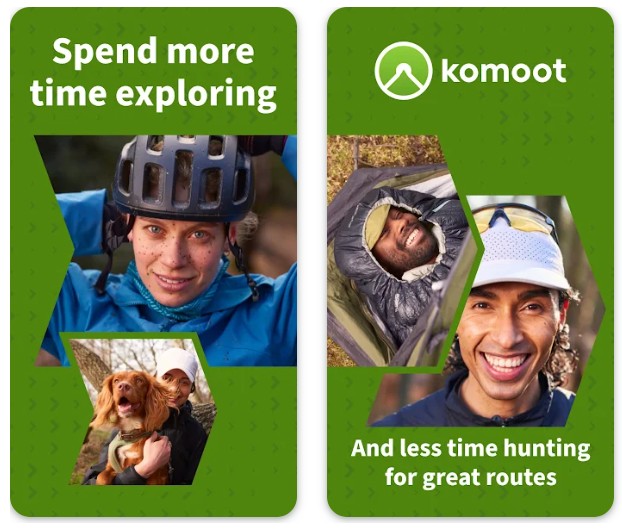 TrainingPeaks
If you've ever had a cycling coach, you've probably used TrainingPeaks. Heck, even if you haven't had a coach you may have used TrainingPeaks.
For everyone from coaches and high-performance athletes, to data-hungry office-based crit enthusiasts, TrainingPeaks offers one of the most comprehensive tools for tracking fitness and fatigue.
However, it is not to be confused with a social network, navigation, or route-planning app, so look elsewhere if that's what you're after.
The app allows you to create and schedule workouts or choose from a wide selection of training plans crafted by coaches such as Joe Friel and Frank Overton.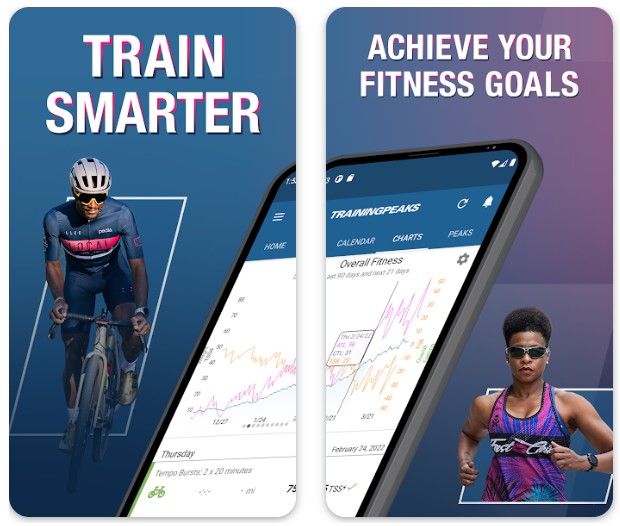 You can also check: 12 Best Free Bike Trainer Apps for Android & iOS
BikeComputer
This is another version of the cycling computer which, unlike its analogs, does not need any registration.
It also allows you to track your physical activity and get detailed statistics for each race.
The possibility to lay a route is available both online and for maps downloaded through the application.