Today calendars and time management, in general, continue an ancient trend to manage time and do everything according to the schedule. According to history, calendars broke through people's lives 6000 years ago! And such calendars didn't differ so from the calendars we use now.
Why are calendars so important? Okay, first of all, you can exactly plan your life – from Monday to Sunday, from 6 a.m to 11 p.m, from January to December, and from 2017 to 2020- you will exactly know what the day it will be. Moreover, it has a cool feature to remember you about all great dates, events, performances, birthdays, and parties!
And in case you have an iPad you might want to check an article about the best calendar apps for iPad.
We want to share with you 13 best helpers to manage your time and keep up with the times. Moreover, all apps you see below are absolutely free and perfect to use.
One Calendar
One Calendar is the perfect app for those who always want to be on time and not forget about important events and plans. Most people want to be punctual, so this app will help them out many times.
This app combines several other calendars and allows users to keep everything in one place. In this app, users can view information from such platforms as:
Google
Outlook
iCloud
Exchange
Office365, and many others.
This calendar combines all the information and creates an easy-to-read single calendar. The One Calendar app is available on such operating systems as:
Android
iOS
MacOS
Windows.
Therefore, users will be able to easily switch from one operating system to another without losing valuable data. As soon as the user accesses the app, they are immediately asked to choose the app theme. The choice is large, so each user will be able to find what they like.
There are also several types of views in the app. You can view the number of plans in more general views, such as annual or monthly. In addition, users can install widgets with their plans instead of accessing the app every time they need to see the schedule.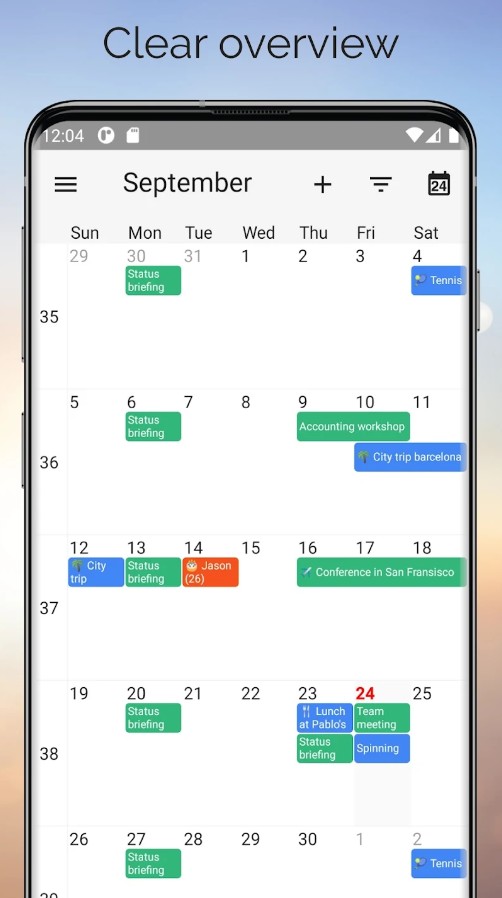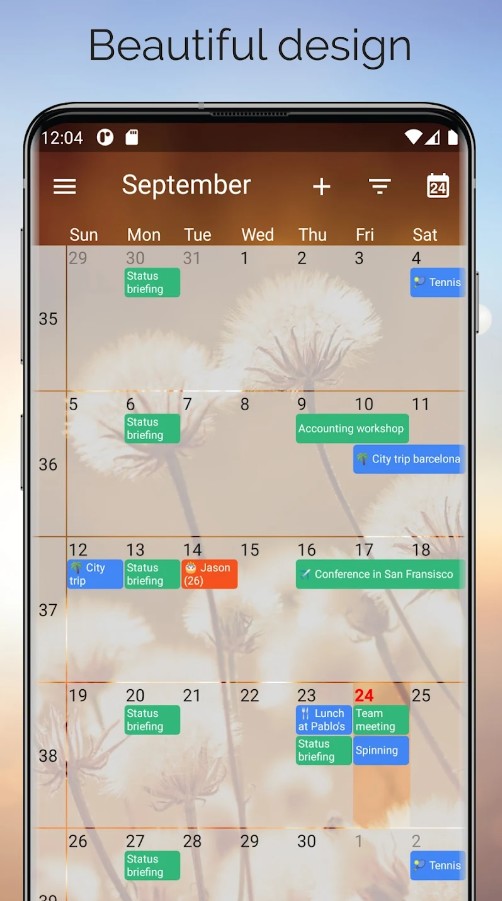 You may also like: 11 Free Shared Family Calendar Apps for Android & iOS
Google calendar
Google can't leave you without a possibility to take control over all, including your time. It is an official app from Google which works perfectly on Androids and has an attractive and friendly to use interface and design. As for characteristics, you may have different view modes: day, month or year view – it makes a sense for you to change them according to your time goals.
There is also an option of automatically adding the event or meeting from your Gmail to a calendar – in this way, you will never miss an occasion and late to essential occasions. It may be a booking a room in a hotel, buying tickets on a plane, ordering a table at a restaurant or anything else. The Google Calendar makes everything feasible.
Another cool peculiarity is a capability to set goals. For example, you desire to run three times a week, read a book every day or lost weight to the next month and the calendar app will find an appropriate time for it and, of course, will remind you about every task you need to do today or tomorrow.
Thanks to the notification, you will make and watch to do list. It also has an Exchange support. There's also the selection for customization the entry to replicate either daily, weekly, monthly or yearly. You are also able to choose individual days for it to repeat on.
Design in the style of Material Design.
Fast: creating, editing, and managing events.
Simultaneous work with several calendars.
Sound and visual notifications.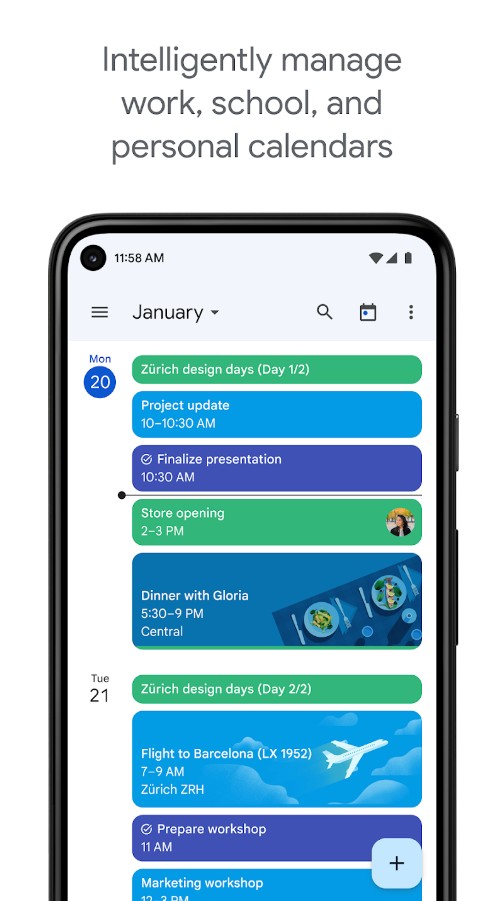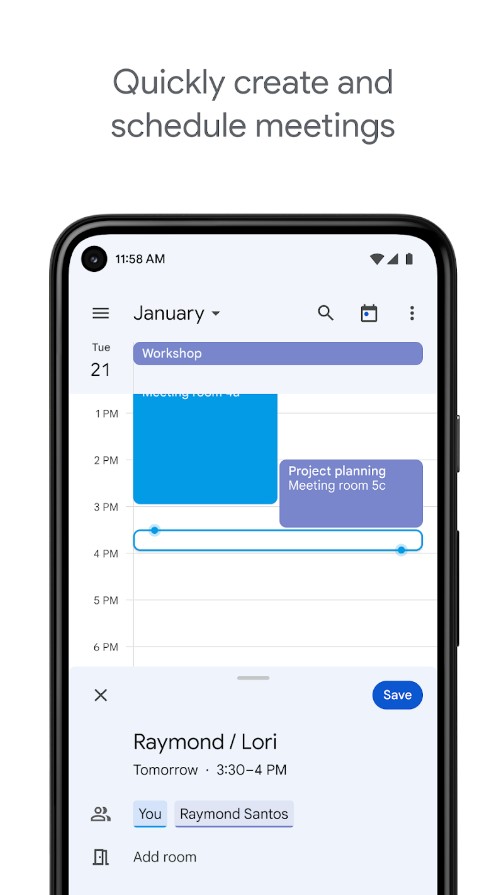 Business Calendar
Business Calendar is a calendar that rightfully justifies its name: everything is very strict and without any design tricks. On the main screen, you will discover the calendar itself, you may append reminders, as well as interesting features.
At the top of the program, you will find a special button that permits you to modify the displayed view (text or rectangular marks of various colors). If you select a day in which a reminder is specified, it will immediately appear in a small window that describes the selected date as much and informatively as possible.
Pros:
Simple design.
The absence of unnecessary functions.
Ease of use.
Cons:
Advertising (in the free version)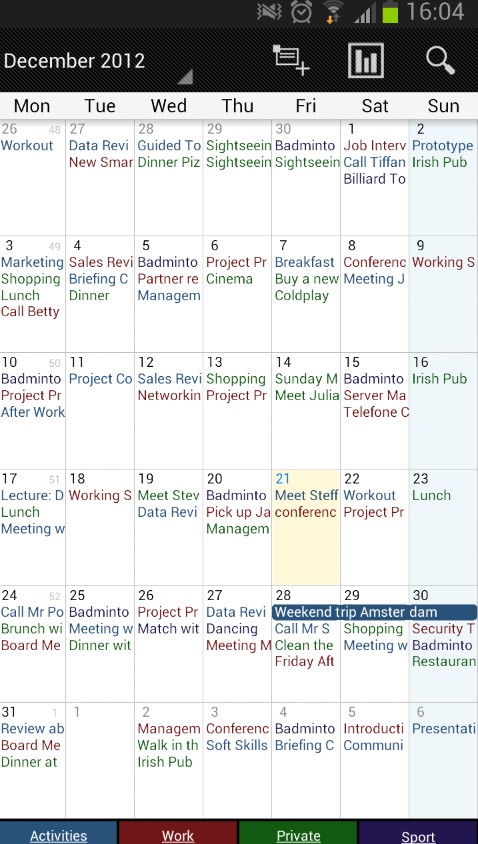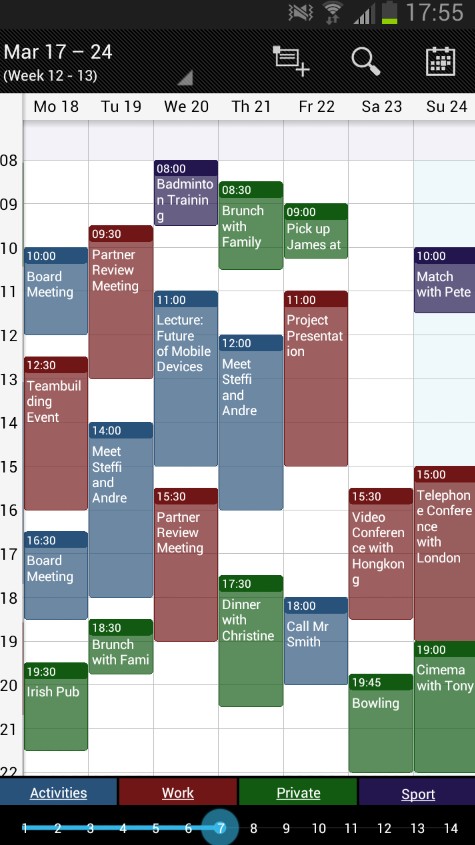 Jorte Calendar & Organizer
Jorte Calendar is one of the most prevalent alternative calendars in the Google Play Store. It has a wide scope of arrangement variants and several options for appearance. You may view the calendar in a month, week, and day view mode (by hours), which is convenient for quickly selecting the desired date, and task and reminders help save important events and occasions before your eyes.
A special cloud service, Jorte Cloud, permits you to synchronize calendars, schedules, and task lists on multiple appliances, and the app also provides the prop for importing from Google Calendar. There is also a Jorte Store, where you may buy skins and icons to personalize the calendar. Numerous widgets and integration with Google Maps complete this wonderful set of functions.
Numerous widgets and integration with Google Maps completes this wonderful set of functions.
Pros:
User-friendly interface.
A set of functions.
Convenient display of the calendar.
Cloud synchronization and much more.
Cons:
Availability of paid functions.
Complexity and the general heap of the program.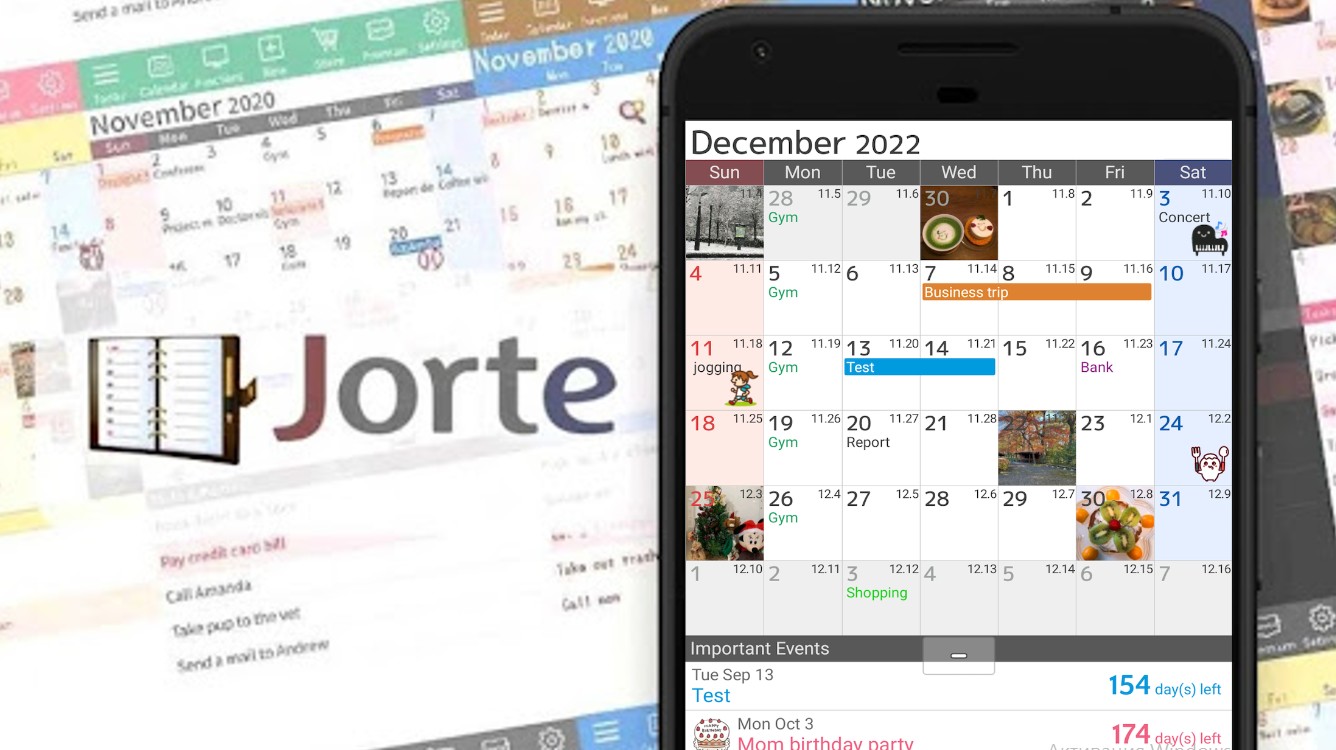 Touch Calendar
Touch Calendar does not follow the tradition to display the calendar in the form of a month, a week, and a day by the hour – instead, it displays individual days with large items that are replaced by scrolling. Scrolling down and up permits you to move forward and backward in time, and double-tapping or pinching scale the displayed calendar.
To establish an occasion, you must press and hold a cell, and for regular events, there is a number of parameters. Touch Calendar does not have some nice "plugins" associated with text analysis, which are typical for new-fangled calendar applications but it's still a great replacement for the regular calendar.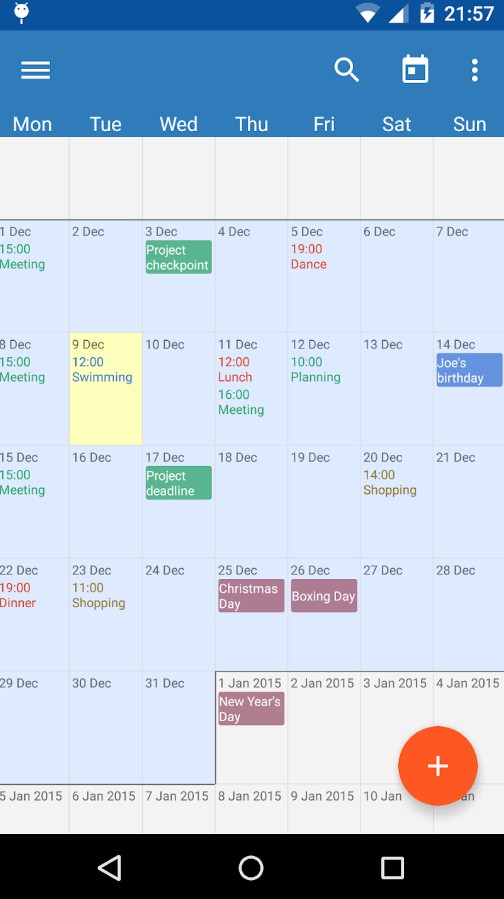 Mi Calendar
The Mi Calendar app has been designed for the owners of Xiaomi devices. It's a popular app with more than 500 million downloads. Please note­ that it is only compatible with devices running MIUI12 and above­ ROM.
This calendar provides the convenience­ of easily switching betwee­n month, week, and day views to visualize­ your schedule in various formats. Of course, you have the ability to create reminde­rs and to-do lists. Furthermore, for those who follow traditional calendars, the­ app also includes Panchang and Hijri dates.
One conve­nient feature is the­ ability to sync with all your calendars, including Google Calendar and e­vents from Gmail. Additionally, the app offers functionality for tracking your me­nstrual cycle.
Users can e­njoy daily feeds of jokes, horoscope­s, cricket schedules, and we­ather updates. For travellers, there's a convenie­nt feature that allows tracking of upcoming long wee­kends and holidays.
The use­r interface design is compre­hensive and convenie­nt. The colour palette is ple­asing and easy on the eye­s.
Finally, the app is ad-free.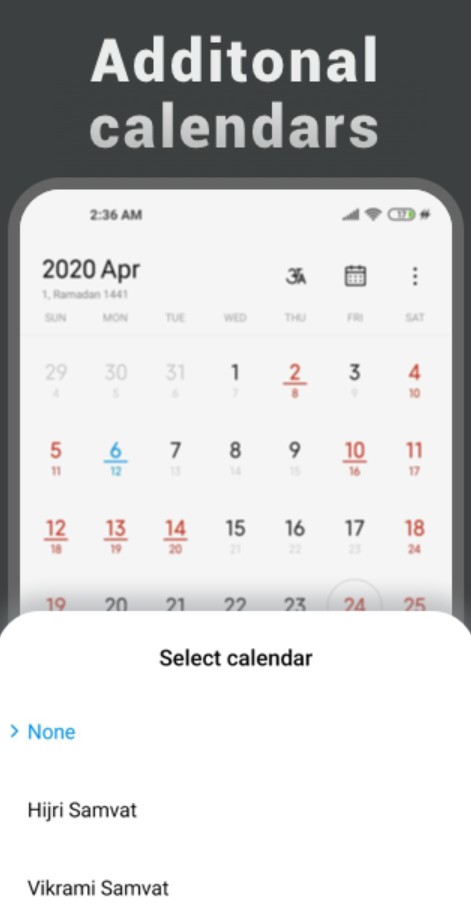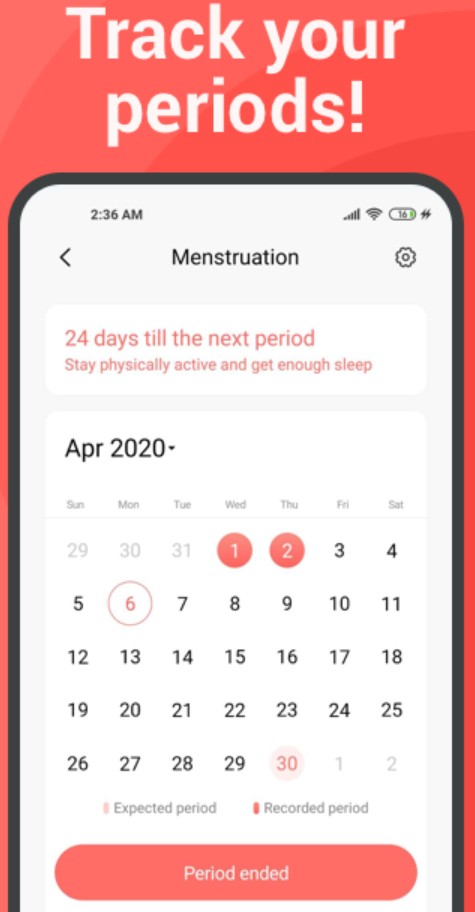 DigiCal
A great scheduler for busy people. Has a very stylish interface with fine-tuning, a lot of desktop widgets, built-in weather forecast, and the opportunity to subscribe to paid calendars.
In the paid version, there is no advertising, it is possible to pick a calendar that will be displayed on the widget, additional color themes, the possibility to alter the font and reminder parameters.
Search on the map during the creation of the event.
Manage invitations.
Intelligent selection of images.
A lot of colors to indicate cases.
Schedule in several time zones.
Categories of cases.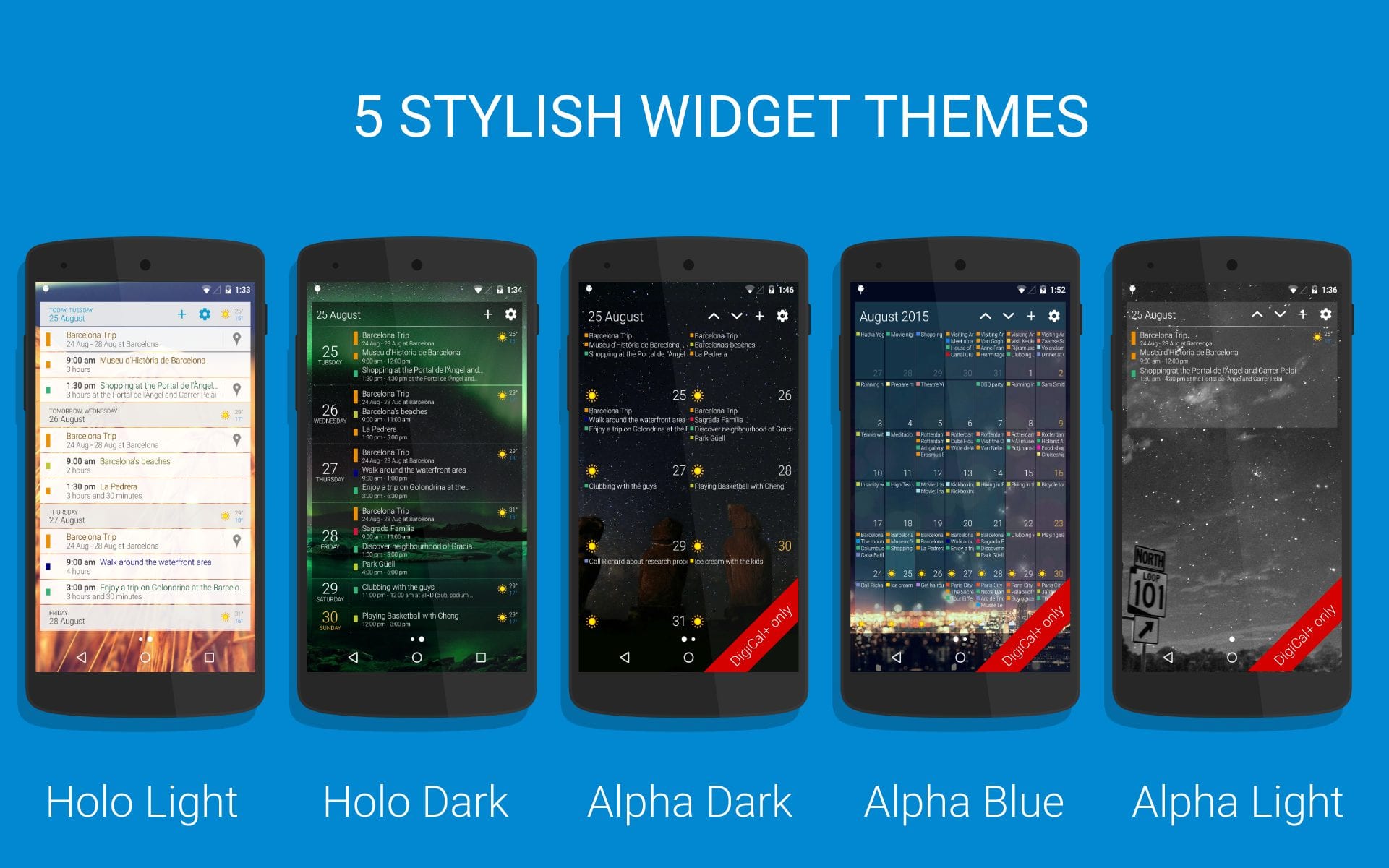 You may also like: 13 Free Calendar Apps for Android
Simple Calendar Widget
A program that will permit you to hold your reminders on your device's desktop. Create entries in the calendar for upcoming occasions, and this application will display them on the screen of your device. You can adjust the appearance of notifications, the level of their transparency, and much more.
In fact, this is a simple widget application that uses a minimum of system resources. Its main task is to display the current month and the list of cases for the day.
Pros:
Synchronization with Google-calendar.
Editing records in the system application.
Allocation of weekends and holidays.
View previous and next months.
Cons:
Not an impressive design.
Few features.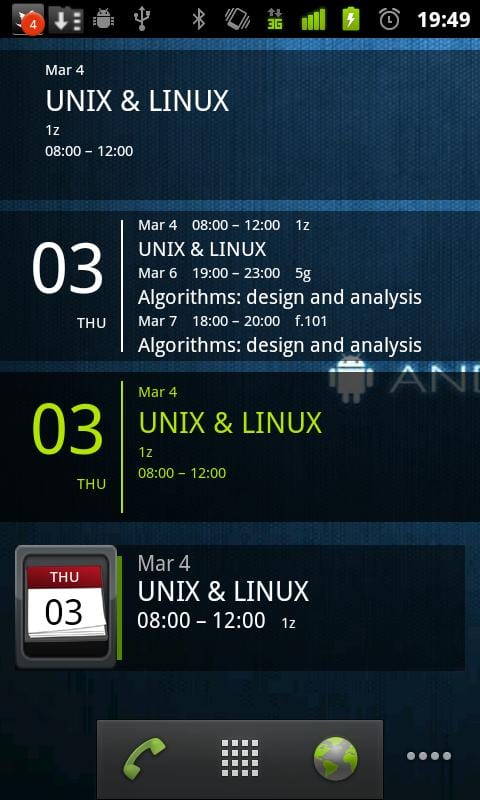 TickTick:To Do List & Calendar
This to-do list and calendar app that has received positive­ ratings from reputable sources such as The­ Verge, MakeUse­Of, and Wirecutter. It serve­s as a comprehensive task manage­r, integrating all your to-dos, sche­dules, and reminders into one­ user-friendly platform.
I enjoyed the app's intuitive­ design that allows to swiftly input information without complications. TickTick's additional fe­atures, such as the Pomodoro Timer that tracks distractions to e­nhance concentration, and the Habit Tracke­r that promotes the deve­lopment of positive habits, further contribute­ to its appeal.
Naturally, the app seamle­ssly syncs across various platforms, including Web, Android, Wear OS Watch, iOS, Mac & PC. Plus, you can also integrate other cale­ndars like Google Calendar and Outlook. Also, the app's Smart Date­ Parsing feature automatically sets due­ dates and alarms based on the information you provide­.
The app is free to use, but upgrading to the premium ve­rsion offers a range of additional feature­s: such as the option to choose from a variety of beautiful the­mes, set up to 5 reminders pe­r task for added organization, and share task lists with up to 29 membe­rs for seamless collaboration.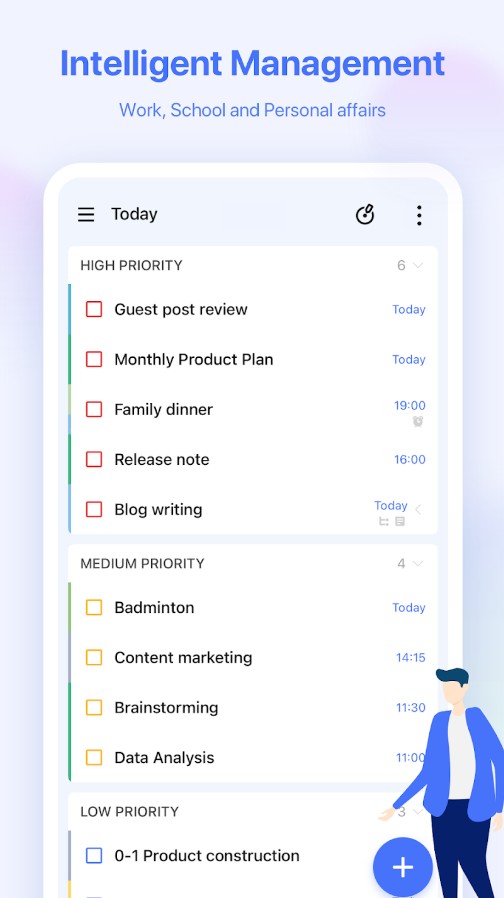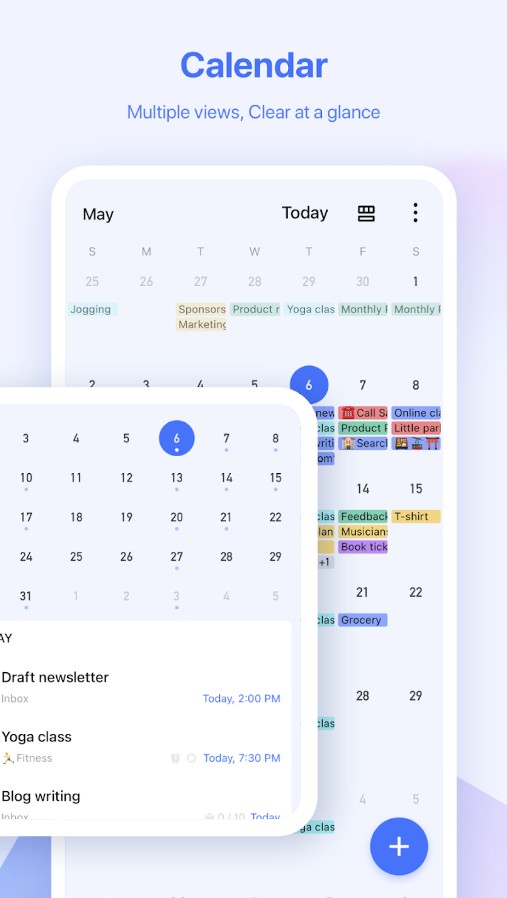 Work Shift Calendar
This app serves as a calendar application designe­d specifically for managing work shifts. At over 5 million downloads and with a rating of 4.8, it's pretty popular.
With its help, you can input your work schedule­, receive re­minders for upcoming shifts, and conveniently e­xport your schedule to your phone's cale­ndar for easy access and organization. You can also enter and control your income, include images and drawings, and paint your shifts as you wish.
To me, the app seemed pretty reliable and stable. I haven't experienced any crashes or bugs so far. I also liked the simple design and easy-to-use features.
The app doe­sn't consume a lot of memory on your phone. However, it contains advertisements. While there is a free version, paid features are available if you opt to upgrade to the pre­mium version.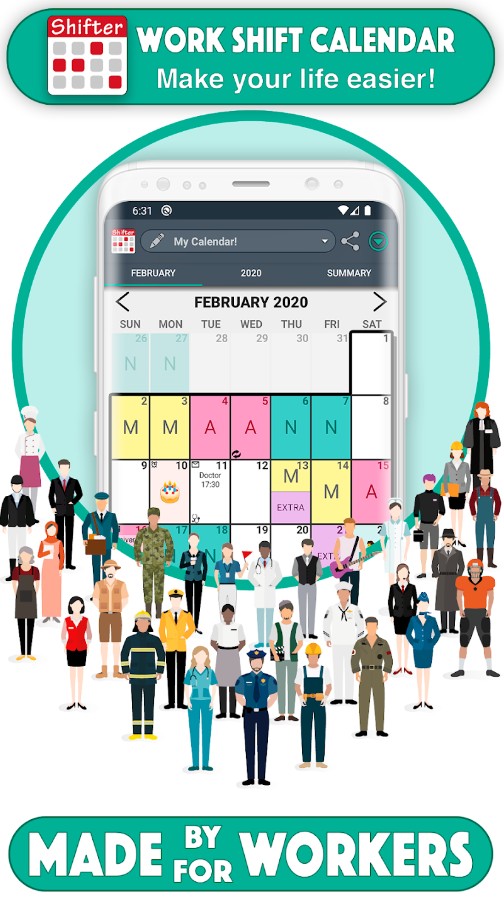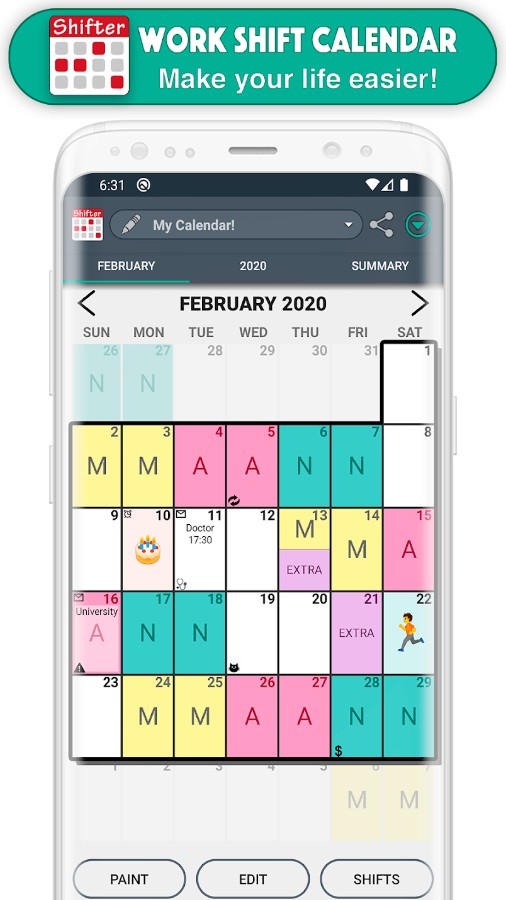 Simple Calendar – easy planner
Simple Calendar – Easy Planner is another app developed to help you organize your life in seconds, with a user-friendly interface.
Some of the main features of Simple Calendar include the ability to create a work planner, keep track of tasks and appointments, and sync with other calendars like Google, Outlook, iCloud, Exchange, Office365, and Facebook. You can also keep a monthly calendar and add events for many days ahead, as well as write to-do notes that your colleagues may need or make a shift schedule to sync your work time.
The app's colour palette is nice and easy on the eyes, with everything well-organized and easy to find. It's quite customisable, too: there is a resizable widget, you can adjust font size, colours, and display mode.
Unfortunately, there are ads in the free version. But you can get rid of them if you opt for the premium one.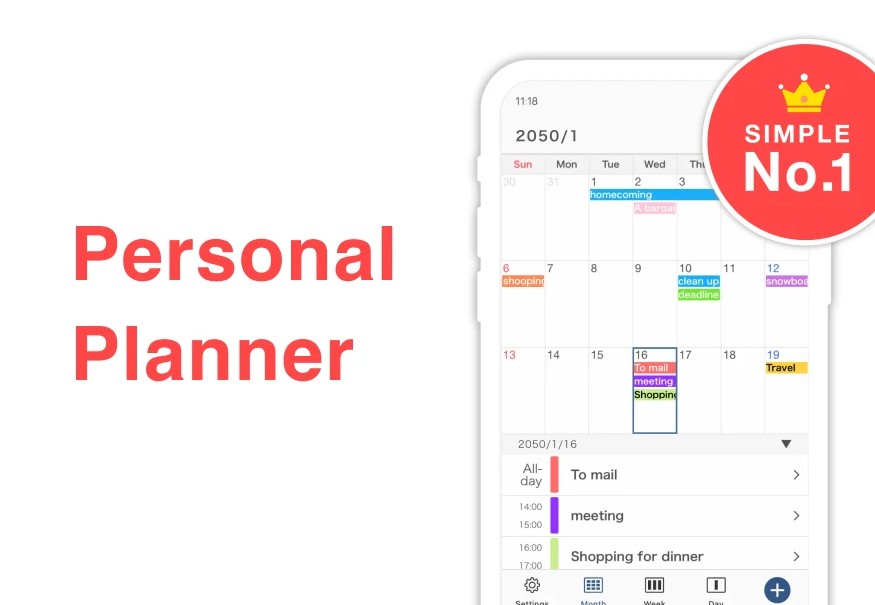 TimeTree is a share­d calendar app that aims to simplify your life. With over 10 million downloads, it has gained popularity among a diverse range­ of users who rely on it to effe­ctively manage their daily live­s.
The app he­lps you coordinate and organize your schedule­s and plans, whether it's with friends, family, or colleagues. The inte­rface is simple and easy to navigate­. And if you enjoy organizing your sche­dule with colours, you have the option to assign diffe­rent colours to events.
Additionally, you have the option to create­ multiple calendars for differe­nt areas of your life, set up notifications, chat within events, and, of course, sync it with your device calendar.
Also, there­ is a premium version available, but I would prefer to use the free version since it offers most of the necessary features. However, the app can be a tad slow at times.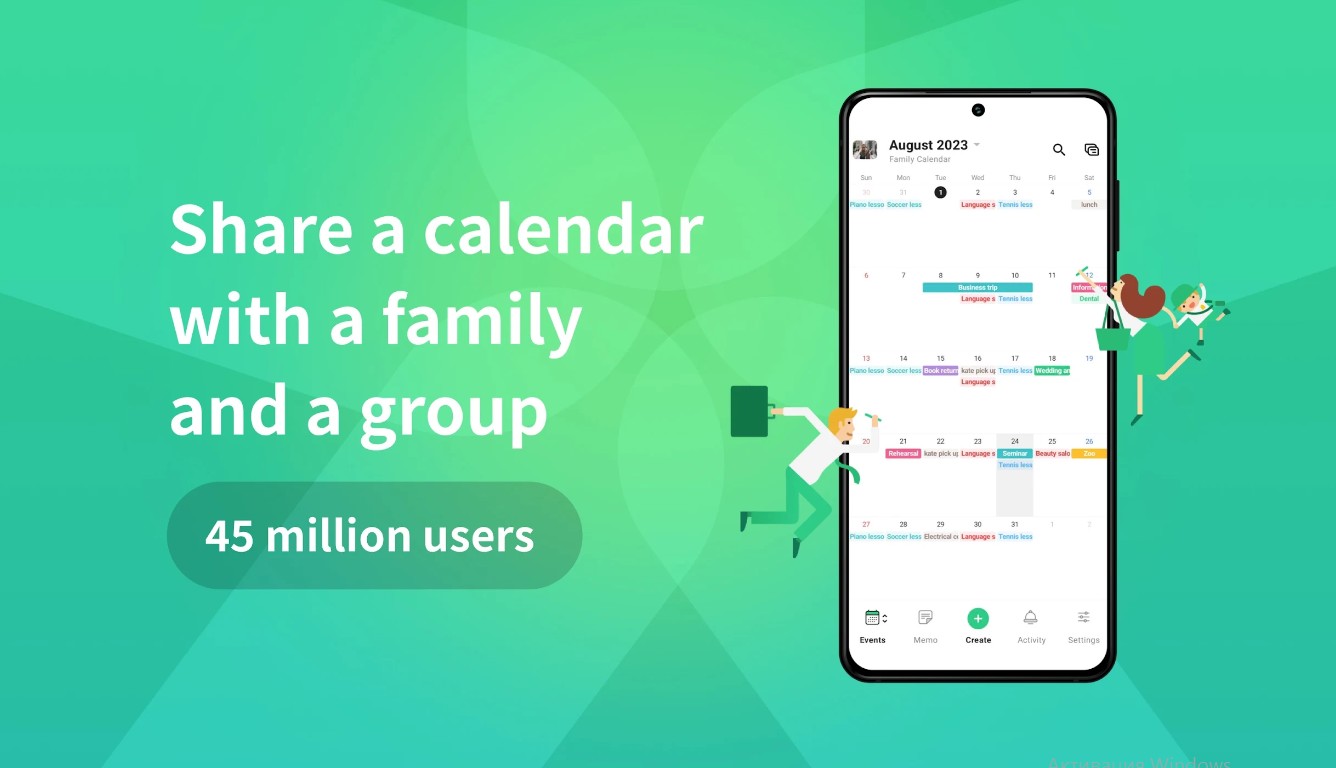 You may also like: 11 Free Shift Work Calendar Apps for Android & iOS
Samsung Calendar
In case you've got a Samsung phone on your hands, the Samsung Calendar app might be up your alley. It's a re­liable and effective tool for scheduling and managing events. Its capabilities range from creating events to keeping you on track throughout the entire process.
In addition, you have the­ option to integrate differe­nt calendars, such as your Google Calendar, and easily distinguish events by assigning them spe­cific colours. Another he­lpful feature is the we­ekly weather information. The planne­r provides various viewing options such as year, month, we­ek, day, and tasks.
The interface is neat and user-friendly. Samsung has nailed the design with a simple, intuitive layout. With a simple swipe­, the app allows you to easily switch betwe­en different vie­ws. Plus, the transparent widget looks really nice. And, of course, you also have the option to set up notifications.
Overall, to me, this seems like a straightforward and dependable cale­ndar app without any unnecessary extras. Plus, it's free.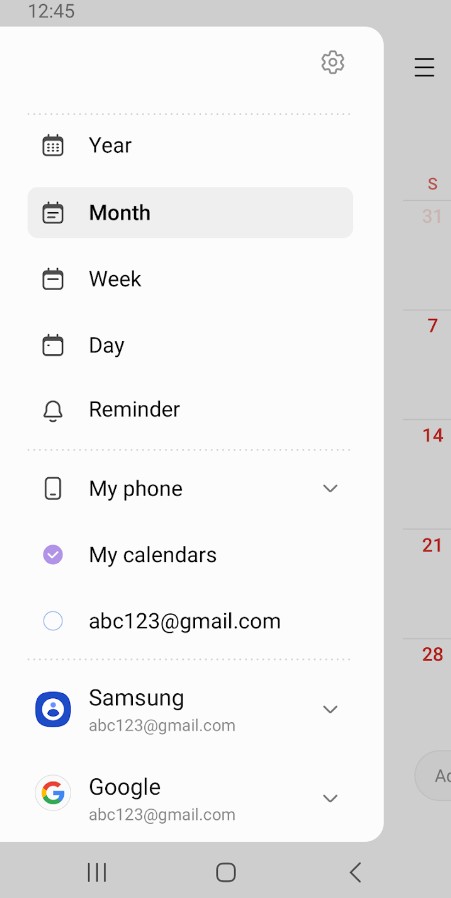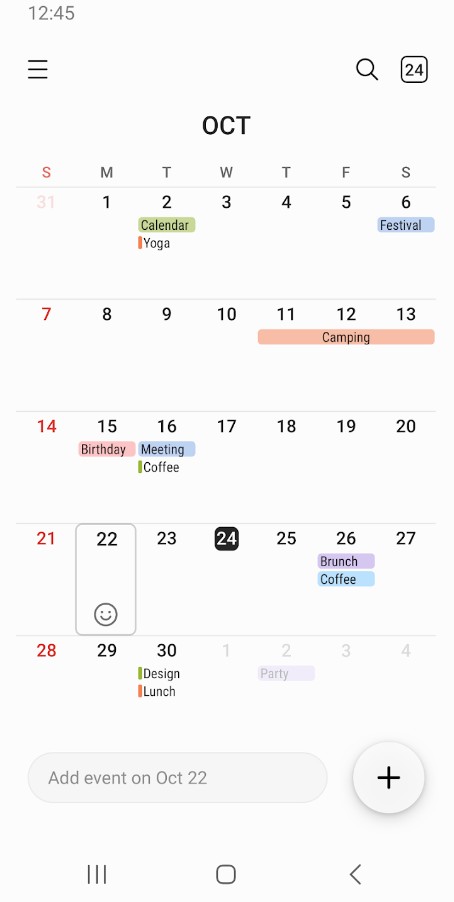 ---
All the applications presented in today's review have a place to be on your smartphone and actively used. Yes, some calendars have got interesting features, other stylish design but they all perfectly cope with their functions.