Despite all the variety of games, additional applications with all sorts of functionality, we should not forget that the main function of the smartphone are calls.
Originally phones were created specifically for constant communication between people, but now this function is no longer the main and important.
Nevertheless, each of us makes calls several times a day or less frequently – you contact your parents, friends, or children. But this process can also be facilitated with the help of various applications. You may check 15 Free calling apps 2020 for Android & iOS if you need such an app.
For example, there are great services that help you prevent and get rid of spam calls or unwanted annoying callers. The applications also help you to schedule calls at a certain time, to view statistics of your conversations, with whom you communicate most often, and which calls prevail – incoming or outgoing.
Multifunctional services are able to provide you with a huge number of different functionalities, which you will use for your own purposes. We offer you to get acquainted with 7 Free Call Manager Apps for Android.
Call Control – Call Blocker
Call Control is a modern application with many functions for call and caller management. It allows subscribers to protect themselves from unwanted and annoying advertising calls, from collectors, and the like.
Call Control has truly complete control over your calls so that you don't get distracted by unnecessary and unwanted communication.
In order to start using Call Control, you just need to install the application on your smartphone. It has a special "Do Not Disturb" mode so that you don't receive any incoming calls or messages during a certain period of time.
You can also automatically blacklist all unknown callers or do it manually if you are afraid of missing a really important call. Call Control works completely invisibly, you won't even realize you've received a spam call.
To control spam and advertising calls the service uses special databases that contain all numbers of such callers.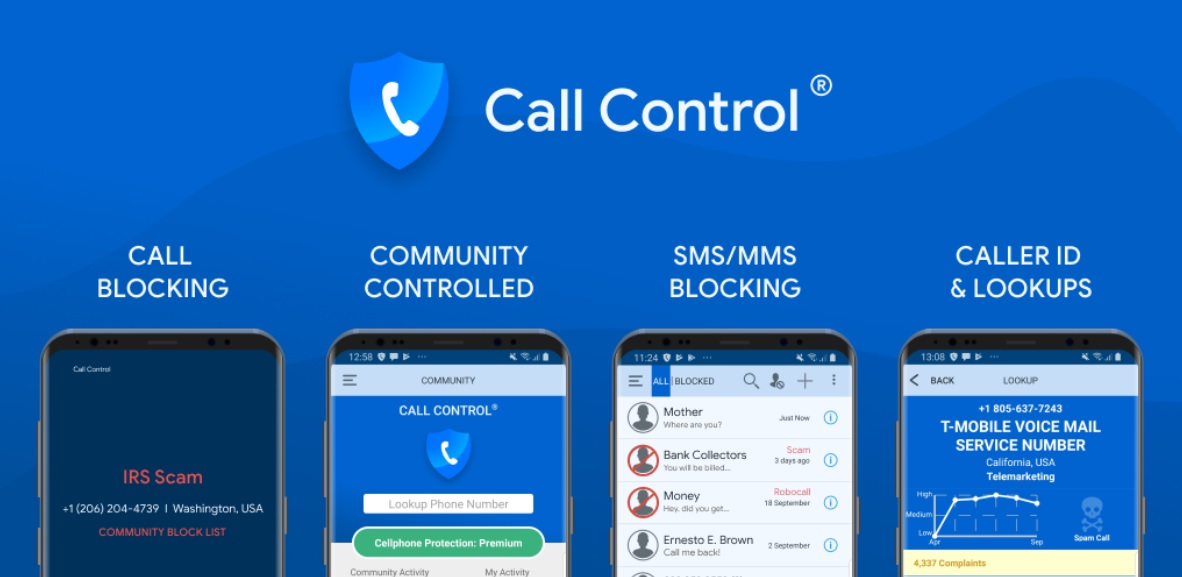 You may also like: 11 Best missed call alert apps 2020 (Android & iOS)
CallApp: Caller ID, Call Blocker & Call Recorder
Conveniently manage all your contacts, calls, and blockers with CallApp. It is popular around the world because any user can easily get rid of spammers, blacklist your detractors, record important conversations, and much more.
Moreover, CallApp performs some functions that mobile operators are not capable of – for example, identifying the numbers of all subscribers that call you.
For the most important talks, calls, and romantic conversations, you can use the call recording feature – as a result, you'll get a saved audio file in your documents. You can also set up automatic recording of all incoming or outgoing calls.
CallApp does this completely free of charge and without the need for a subscription. Management of your phonebook on your smartphone is also worth mentioning: CallApp automatically adds those contacts that you have in your friends on social networks to your contact list.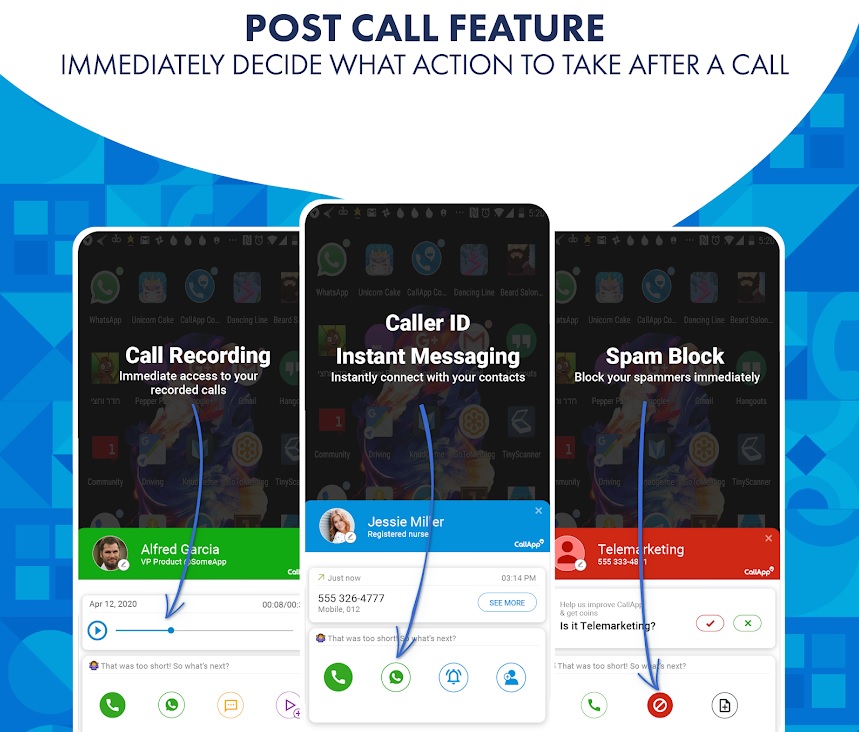 Call Assistant: Call Screener, Hold Music, Dialer
Call control and management is not limited to locks. The Call Assistant app can prove it to you, which works with voice calls, video communication, screen sharing, and even holding music during a call.
The app will help you stay connected and online even when you're continuously on the phone, as well as preventing unwanted calls from other callers.
Call Assistant has a free version and a subscription. The Lite version includes all the features, but with limited usage options. For example, it will check incoming calls and callers only for a while after you have installed the application.
It's the same with blocking contacts, voice greeting and even holding music. In fact, Call Assistant gives you the functionality to test it for a limited period of time after which you can buy a subscription and continue using it for a fee.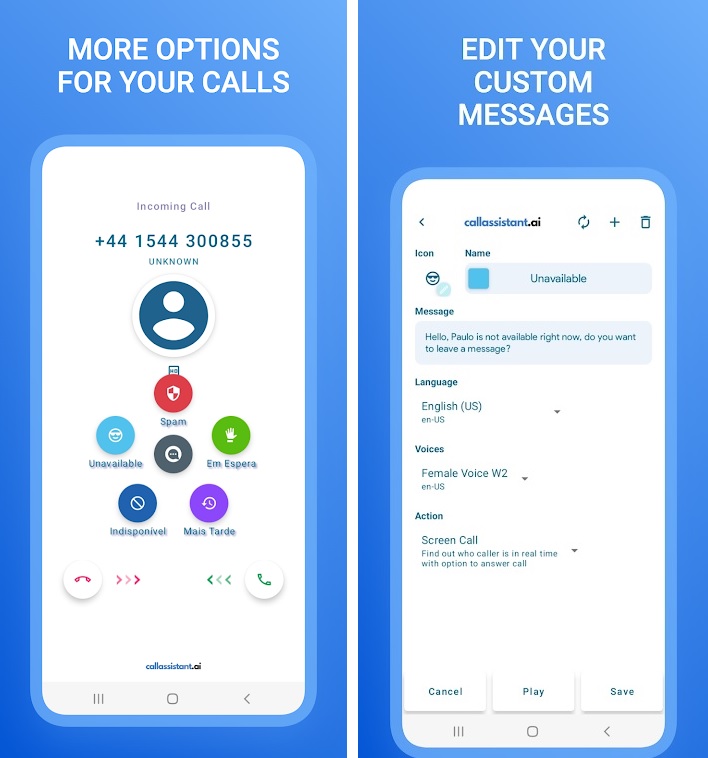 You may also like: 10 Best business conference call apps 2020
CircleBack – Contact Manager
CircleBack is an app designed not so much for calls, but for your phonebook. Each of us has a huge number of numbers in our contact list that we no longer remember anything about – maybe you don't communicate with this person or wrote down his name incorrectly.
CircleBack allows you to fully organize convenient contact management, so you can delete, add and even clone phone numbers. At the same time, the app prevents duplication – so you won't find 8 identical names in your contact list.
CircleBack lets you sync your phonebook with your cloud storage or one of your social media accounts. This way you're guaranteed to keep all the numbers even if you lose your phone.
With this sync, CircleBack will also retrieve your friends' numbers from social networks – so you'll prevent some calls from unknown numbers because now you'll know who wants to contact you.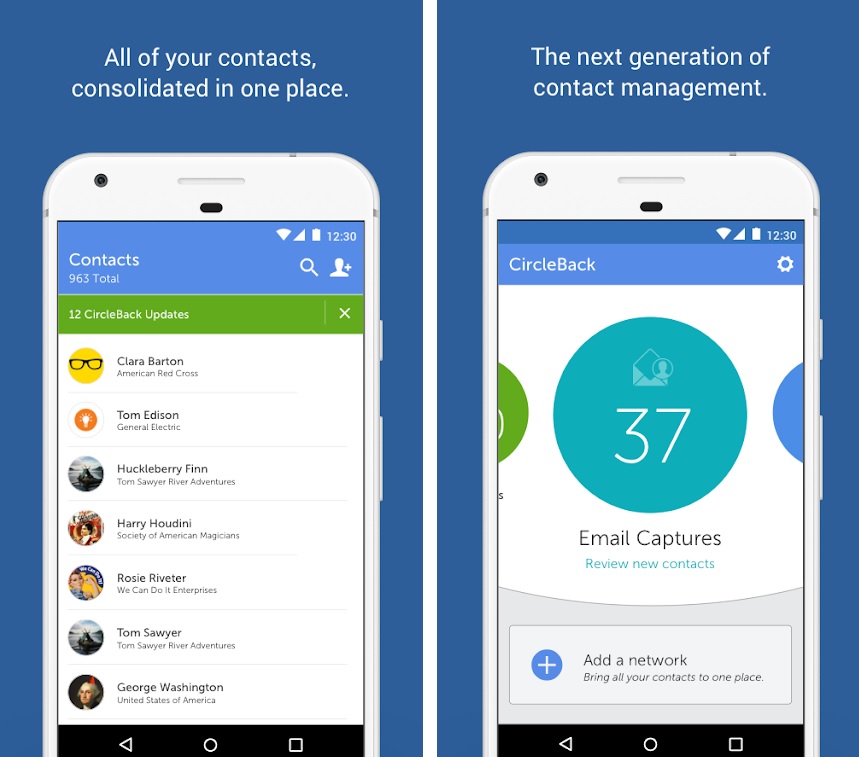 Contacts, Phone Dialer & Caller ID: drupe
If you're still using the built-in app to monitor your contacts and calls, you're missing out on a lot. We suggest you try the drupe app, which will collect all the contacts of your acquaintances to communicate in one list.
You will have access to it from any of your devices, so if you suddenly feel like chatting, you can always do it. Calling, texting, or leaving information in your voicemail is even easier with drupe.
To get in touch with someone, all you have to do is click on the right number. Drupe has also recently introduced a smart dialing feature that works with different applications.
Note that the service works and collects information at all times – even when you're not on the phone. At the same time drupe does not consume your battery power, which will be an obvious plus for every user.
There will be no more confusion in contacts and calls – even your call and message logs from all the applications will be collected in one place – you can always remember exactly who you talked to yesterday and for how long.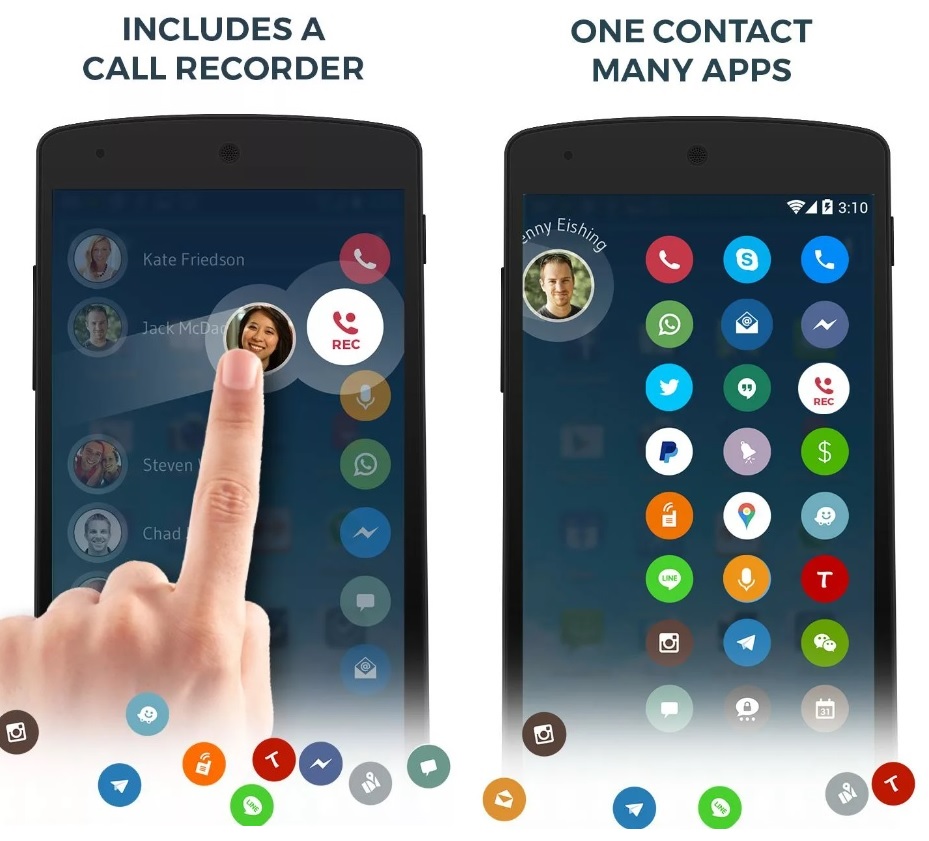 Simpler Dialer is a useful app that can simplify your calling experience. It has many features that make calling more convenient, such as a smart search function and call blocking.
The app is designed to make the calling experience as effortless as possible. The user interface is straightforward, with large buttons and an intuitive layout.
Moreover, the app provides a range of features that make calling even more convenient. For instance, it has a smart search function that allows users to quickly find the contact they want to call.
The app also integrates with your device's native dialer, making it easy to make calls from within the app. Additionally, it has a feature that allows users to block unwanted calls, which is Incredibly useful.
However, it can be slow to load at times, which can be annoying if you need to make a quick call.
Advantages:
Simple and intuitive user interface.
Smart search function for quick contact lookup.
Call blocking feature.
Integrates with the device's native dialer.
Drawbacks:
Occasional crashes.
Slow loading times.
Issues with contact syncing were reported by some users.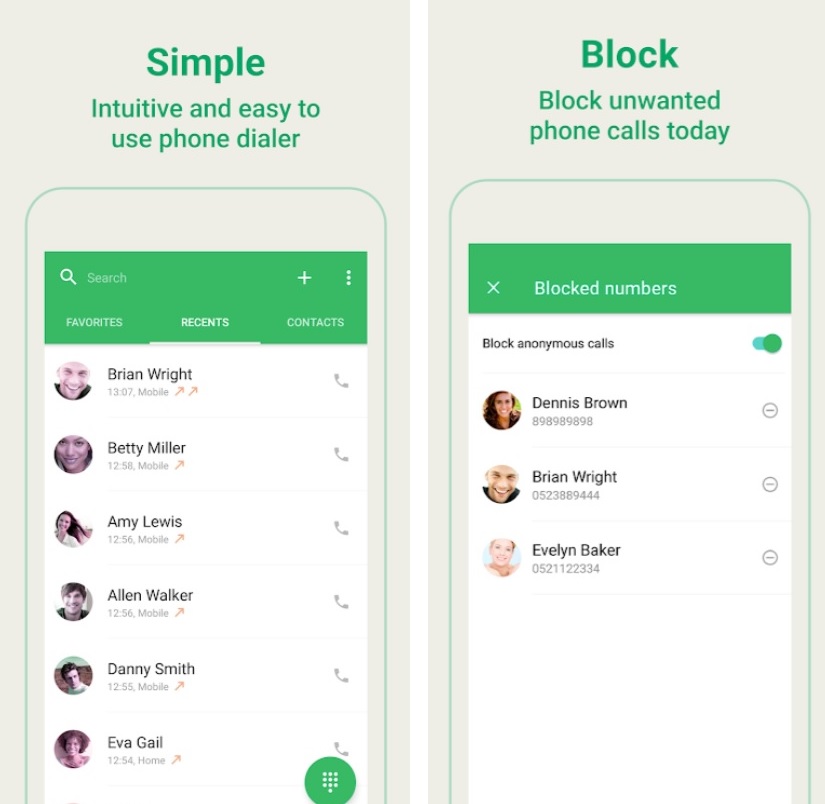 You may also like: 11 Best clipboard manager apps for Android & iOS
Call Manager by mCarbon Tech Innovation
The Call Manager app is an extremely straightforward interpretation of the manager for your smartphone. This service completely manages your status, thanks to which other users will know whether you can be contacted at the moment.
Call Manager determines what other users see: you can set the status to "Busy", "Driving", "On vacation" and so on. In case your status changes, the subscribers who wanted to contact you will be notified accordingly.
Call Manager allows you to change your status at any time and it doesn't matter how often you do it. The application also has a blacklist, where you should put those contacts from whom you receive unwanted calls. These can be advertising centers or people who annoy you.
It is also worth noting that Call Manager allows you to set a schedule, according to which you will be available or unavailable for a call. For example, you can set the status of "Busy" on a timer – right from the moment you come to work.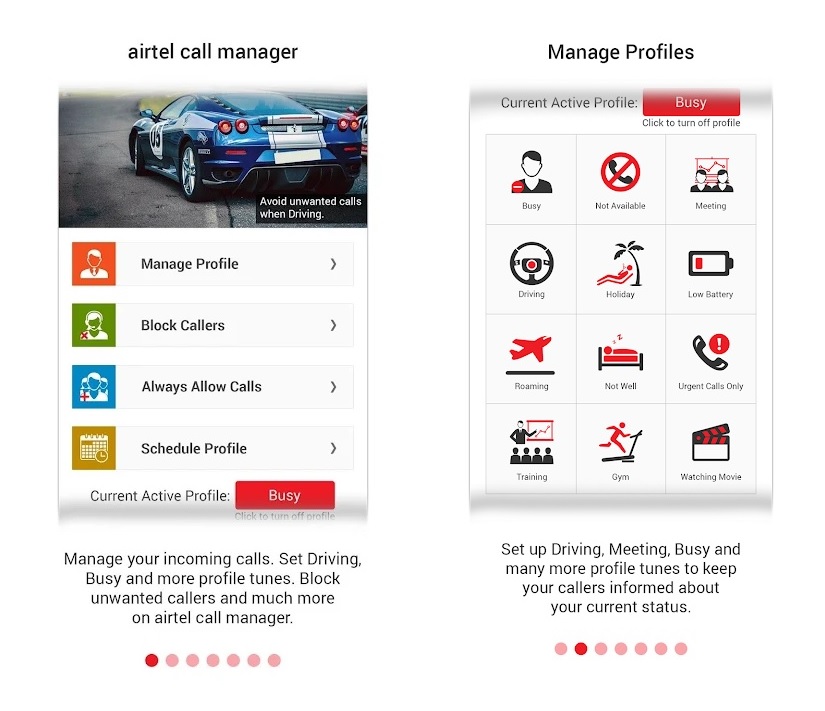 Android users boast a huge number of different apps for all occasions. Among them are interesting sophisticated games, time-management apps, call organizing apps and even work communication apps.
Call Manager Apps have completely different functionality, despite the common focus of the applications. Among them, you can find special blockers, applications for scheduling, statistics, and much more.
We have tried to find for you the most diverse in terms of tools and features services that will facilitate your use of your smartphone in everyday life. We hope our article was really useful for you – install Call Manager App on your smartphone and manage all your calls.